prepared weekly or so by Ian Byington
April 8, 1999
Shop busted in: Can you believe someone would break into Printonyx? Chris tells me she got some of her coinage back (they had even taken the Skate Park donation can!) but they're still looking for the thieves. You just don't expect that kinda thing...
Occasional weather report: Yesterday's weather report said rain & thunderstorms today, with occasional clearing. So far, by midday, it's been sunny and nice.
Volleyball & more: You already knew the elementary school has its Spring Fair tomorrow night, but did you know the volleyball girls are hosting a spaghetti feed from 5-7pm on the 16th at FHES to raise money for camps and stuff. Put it on your calendar!
Taxing times: The newspaper reported that the sale of the Mariella Inn will generate over $180,000 in taxes. Cool. What's our cut?
You can WIN! Kelle Wilson from the town tells me non-profit youth organizations can earn money for their group with the W.I.N. program (Work Involvement Now). Call her at 2810 for your application (due by 4/30).
April 5, 1999
Mariella moves: News has it that the Mariella has sold to some ex-Microsoft folks ...the long-time estate & inn will be used as a home, by report.
1989 rocks: Did you graduate from FHHS in 1989? Check out the website Angela Morrison has put up to bring people together.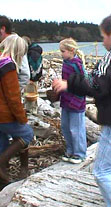 April 4, 1999
Easter, an hour later: At today's annual Easter Egg Hunt at Jackson Beach, I kept wondering if the turnout would be hurt by the clock-change of daylight savings time...but if the numbers were lower, the enthusiasm wasn't.
Here's the way it works: The Fire Department and their volunteers get out to the beach a couple of hours early and hide a zillion eggs among the driftwood, then divide the beach into areas for different age groups (so the six-year-olds don't have to wrestle the 11-year-olds for eggs). Then promptly at one, everyone runs into the wood & all over the beach, looking for real eggs and plastic eggs which are good for prizes donated by local businesses.
Although it was a little cool and gray, egg-hunters like Megan McCormick (above) not only found all the eggs but some also stayed and scoured the beach with litter bags, picking up trash.
Chris DeStaffeny tells me the Fire Dept. put out some 2000-2400 eggs each year, donated by King's Market, and it's always a great event, rain, gray, or shine (I heard a kid a couple of years ago tell his mom he was "soaking hot.")
The other big Hunt is over at Roche Harbor, on the west side of the island.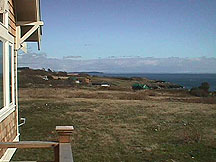 Weather: Sure was nice yesterday - blue skies and warm! Looking out over the Sound from Chuck Cooper's house (right), you could see the Olympics, Victoria, and why we live here.
Going, going gone: Was the island on sale yesterday? There was the Theatre's Incredible Edibles fundraiser yesterday morning, Spring Street School's annual fundraiser in the afternoon, and an auction last night to raise money for Anthony Lee's medical expenses (he and Ann closed Annikin's a couple of months back now).
Comings & goings: Scott over at the Labs says they've hired a new computer lab assistant named Noe, who starts in a week...Debra Emry has tendered her resignation at the Community Theare...Dan & Missy bought it, now you can see them doing shifts over at Video Express...
April 1, 1999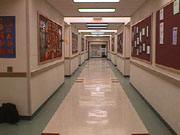 New & improved: The high school looks great! Although the commons & eating areas are still under construction, the teachers & students have moved into the new classrooms and are already enjoying the new building.
Try and drop by the Open House on Friday at 12:30 to check it out in person if you can!
Travelers: I heard that Juan Lopez just got back from three weeks in Peru, where he took a tour group; he just got back, and now Heidi Lopez is visiting family & friends in Switzerland...
Sonia Nash and her boy Eddie are in Honduras for a visit...
FHHS' Cal Johnson tells me he got to see a Padres exhibition game in Arizona, and yes, the rumors are true: singer Garth Brooks did some late-inning duty for San Diego, including accounting for the last out of the game & playing in the outfield....
Meanwhile, our 7th-8th grade soccer team - the Spitfires - have raised enough money for a late-April trip to play in a California tourney. Most of the donations came at a dinner-auction in February.
March 31, 1999
War notes: Interesting take on the war around town...reaction ranges from folks like James Lockwood (who has friends in Sarajevo) who say anything to stop the Serbs (the ones committed to "ethnic cleansing" and genocide) is justified & necessary, while others contend (like this non-local editorial) there has to be a relation between the means and the ends: to take military action that kills innocents to save those same victims raises the question of who's helping whom.
Overall, though, people seem to go on about their business, with the war this dark thing in the background. Pretty quiet...with any outrage muted by a sense of wonder and amazement that one gets when people make their decisions to act on their hate. There are maybe no easy answers except one: Stop killing folks.
Hope it's over soon.
Moon over Griffin Bay: Were you up last night? The full moon over Griffin Bay was daylight-bright...the second full moon this month (sometimes called a "blue moon.")
Wasn't blue this morning...it was walk-around bright. Beautiful....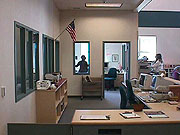 School's back: Lindsey Spaulding tells me the new part of FHHS is great! After most of the year in portables and makeshift classroom situations, the students were welcomed by teachers into the newly rebuilt parts of the high school on Monday - classrooms and the wonderful library (shown at right). She tells me it's like being in a whole new school.
Construction remains to be done on the $11.4 million project, but you can check out what's done at Friday's FHHS Open House from 12:30 to 1:30 and see that your tax dollars (voted in overwhelmingly by an 80+% vote two years ago) have been well spent.
Side notes: Did you know Avery Adams was born on the ferry? He's nine or so now, but Mike & Annie's boy remains the only known person actually born on the boat...most folks fly off to have their kids these days to have them on the mainland.
There's a new term starting at Skagit Valley College this week...
Did you know The Trading Company is re-opening this weekend after its winter slumber? New manager Tim takes over from parents Chris & Beth: check out what he's doing this weekend.
There was a retirement party for Dr. Patterson last Saturday....

Free Lolita Campaign continues: Howie Garrett reports: For more on Lolita, to hear her family and see a video of Lolita in her tank, check out the Free Lolita web site. He also says an editorial on MSN's Insider site has gotten positive reviews.
Lolita is an orca born here who is currently imprisoned in the Miami Seaquarium...pretty interesting to see their site making it sound like a good idea. Meanwhile, her family here awaits her....
March 27, 1999
Remember: Light a candle for the children in Kosovo.
Weather - hail, Mary, and a little of everything: By this morning, we'd had it all: rain yesterday morning, a nearly-half-hour hail shower in the middle of the day, and clearing skies in the evening. This morning's blue skies offer a good reason to get outside...

County park at sunset: Dale Roberson tells me this is one his favorite Park/sunset photos (click on it to make it bigger).
He says: "I think this photo captures the essence of County Park better than any others I've taken. I just wish my flatbed scanner could do it justice...."
Toys & More: Last night's big happening - the Toy Box opening up in its new First Street home. With wine by Dave & Katherine from the Wine Shop, cheese & crackers & painting the back wall & friends everywhere, the place was packed. David & Nancy have much more room in this new spot, and have packed it with...everything. Drop by & check it out!
A new collectibles shop will open in their old spot.
Meanwhile, Scott Spadafora and his friends packed Katrina's, and the Middle School plays continue tonight and Sunday (we went Thursday - Fred Yockers put some 30+ kids to work in four one-acts...great stuff. Impossible to leave the theatre without a feeling of hopefulness about our kids. Totally cool & fun.
Other business news: Vivien has opened her new shop in Annikin's old spot, next door to Bella Luna (which used to be The Electric Company)) which is next to The Blue Dolpin (which used to be What's Cookin') which is next to the restaurant that used to be Roberto's which is next to Serendipity Books (which used to be Nature's Images). That, of course, is across from Napier's Sculpture Gallery, which used to be something else.
Anyway, drop by Vivien's shop & see her new space, plus some art by Kristi Burton.
Sunshine Gallery has moved to that spot behind SoftWear (next to Windermere & the Park Service) on Spring Street....Howard Schonberger (he was at the Toy Box last night) says they get MUCH more foot traffic there...
Tom and Linda Hemphill have sold the retail part of Emerald Seas (locally known as the Dive Shop)...Tom will be concentrating on training now & can finally look into the offers he's had from around the world to help people offer training at their places.
Spring Breakers: Jen Bowman (one year left at Evergreen State) dropped by, as did Kristen Bull (junior at Kent School, a prep school in Connecticut)...seen on the streets this last week: numerous other former grads of FHHS.
Band on the run: Bobbi Percich writes that the Middle School/High School Band is gearing up for their trip to Paris & Barcelona next month. She says they'll probably have a free concert before they go...
Passing: Heard Dan Schuman passed away - sudden heart attack. He was 47...his cheerfulness and good nature will be missed...
Today's quote: "Find your place on the planet. Dig in, and take responsibility from there." - Gary Snyder
March 24, 1999
Newport gets the good ones: What's the attraction? After he left the Jazz Festival here under fire (and after balancing their budget), former director Peter LaPonte headed for Newport, Oregon, and then on to Sweet Home; then former Theatre director Frank Geltner left the Theatre in November, only to take a comparable job in Newport....
Now, Jon Luke, former associate director at the Whale Museum who was eased out in last June's budget crunch, has landed a position with the Hatfield Marine Center there. He says he's happy with the results of a long job search, and is looking forward to staying in touch with folks here. One of the most likeable people you'll ever meet, he and his friend Robbie plan to get married in the late summer as well.
Whether or not: Ok, so the weather got gray. Go inside & play.
Trance: By all reports, last week's fundraiser at the high school - a hypnotist - was a huge success, with reports from my fifth-grade buddy Lillan that the things he had Student Body Prez Shaina Sekey do were worth the price of admission.
Meanwhile, the Middle School's drama nights this week are Thursday - Saturday...don't miss Fred Yockers' junior varsity in action! Call the Theatre for details.
Nurse: FHHS junior Lauren Holt tells me it's going great: she and a group of other students are taking training at the Convalescent Center to become CNAs (Certified Nurse Assistants)...the program, overseen by vocational ed teacher Larry Wight, gives kids a chance to attain first-hand the experience of caring for folks in that setting.
Lauren says she wouldn't miss it, and is really glad she's getting the chance to participate & to help out at the Center.
Grayed out: Wasn't that a great write-up in the paper last week about Dave & the great job he's doing at Gray Matter? With all the discussion about giving kids a place to go & do something constructive, he's gone out & done something about it.
Drop by & cheer him on, then go next door & check out the new bakery - Felicitations.
Speaking of cheerful places, drop by the new Toy Box - across from the Bistro - when they hold their grand opening on Saturday at 10am.
March 23, 1999
Sunny days: Could it be more perfect? Sunny in the mornings, warm all day (proof: people wearing less coats - some not even wearing sweaters!), with just enough rain to remind people we need it to grow things....so far, the days after the equinox are going well.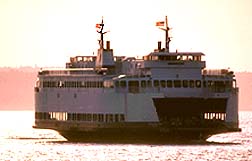 Ferry tales: You won't read this anywhere else: the ferries ran great this last week. Super job.
Notes here & there: Remember Jayne Atkinson, the woman who played the mom in Free Willy? She writes that she's due to deliver a little boy in about a month...she owns the old Madrona Center (Harbor House) here....
Don at Trumpeter Inn is recovering from knee surgery nicely, thank you - saw him on his feet....
Did I tell you Allison Pemberton wrote from Argentina where she's an exchange student & says girls don't play soccer there? Last year's All League goalkeeper from FHHS says she's having a great time...some exchange program: we didn't get an Argentine keeper in return....
Did you see Janet Thomas' article in the latest issue of Spa magazine (she's the editor)? Nice picture of Janet as a soccer player in the 70s, plus a photo of our Spitfires (7th - 8th grade soccer) and local soccer diva Sherri Byington, who lives at my house & runs the local soccer youth association. Oh, yeah, the article's about soccer...
Tom Gonser's RVers Online page enjoyed its first 1000-hits (pageviews of the front page) day a couple of weeks ago...he & Stephanie are on the road again...
Library Computer Guy Wade writes that the Library's spring technology training schedule is out.
Return, oh ye orcas: Bill Wright & San Juan Safaris is putting on a shoulder-season (that's May) event called Return of the Orcas, with lots of activities scheduled at Roche Harbor. Check it out!
County's out: Talk about huge undertakings - Bruce MacDanold at the County has pulled together his site by asking (and training!) each department to update its own part of the site. Check out the results at http://www.sanjuancounty.org ...looks & reads great!
Quote: "A thing is right when it tends to preserve the integrity, stability and beauty of the biotic community. It is wrong when it tends otherwise." - Aldo Leopold
March 16, 1999
CIX bites the dust: Over on Orcas Island, internet service provider and web hosting service CIX apparently has decided to close up shop, leaving, according to a customer who spoke to me yesterday, some 800 subscribers there and on this island looking for a way to get their e-mail.
Project Nature Connect: Snug Harbor and PNC are kicking off their partnership this year as 22 Nature Connect folk from all over will convene at Snug April 1-4. Mike Cohen tells me anyone interested can drop by and check out how it all works.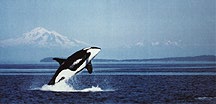 Movies & film: As we (as an island) continue to angle for film dollars, it's fun to watch the Australian folks trying to land Baywatch, the famous anatomically-correct TV show which has beaches in it. I guess it didn't work out...
If we had something like that here, it'd probably be called Crabwatch or Whalewatch or Digital Watch or something....
Over to Church: Retired but not tired science teacher Mary Ann Church is monitoring her Appalachian Trail hike online - check out how she's doing. Her goal: To hike the 2100 miles solo. Something to think about for when you're in YOUR 60s.... Dick Wright is helping her keep her journal up to date. FHHS junior Lindsey Spaulding had Ms. Church as a teacher, and says the whole thing is pretty awesome. Agreed.
The hills are alive: I heard that the Chamber San Juans concert last Saturday was jammed...should be. They do a great job.
Meanwhile, some management folks from Adobe had a corporate retreat at Roche Harbor last week, which, by all reports, went quite well. I was asked to drop by and sing with them on Thursday night - about 25 folks singing around that big fireplace in the Pavillion Room, with events coordinator Ally Kelley doing a surprise visit (she was Maria in last year's Sound of Music here - she sings in a memorable, clear style that contrasts well with my efforts at thrash folk).
The Adobe people were very nice, and professed to having had a great time whilst here on the island. Seventeen-part harmony sounds good on a windy island night....
Even up: The equinox rolls in this weekend...so the days, finally, are longer than the dark. Sunsets around 6:30 or so...
Generator sales up: Steve & Nancy at Diesel America West tell me sales for their generators are up an amazing amount this year. The reason: Concern for the Y2K situation...they hear stories from all over the country.
They've outfitted the Town, Cape San Juan's water pumps, Pacific Pride (gasoline pumps), Entertainment Tonight, Rock Island (the internet folks), and others locally.
Bits & bytes: Video Express has new owners at the end of the month, with Missy Reitan taking over then, and previous manager Talicia probably moving on to greater things off-island. Drop by to say goodbye....In the last week, I've heard from the whalewatchers: Rik at Bon Accord, Jean at Western Prince, Darrel at San Juan Boat Tours, Tom at Deer Harbor Charters, Lynn at San Juan Excursions - they're all hustling around town setting up things for the upcoming season....lotta wind lately, it seems, mixed with sun.
March winds bring April showers. April showers bring May flowers. May flowers bring pilgrims.
Which is good for the tourist stuff here.
March 11, 1999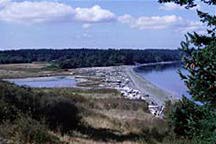 Have you been to the beach lately? Why not?
Too much sun yesterday. Hard to work.
The joys of noise: Remember I mentioned to you that Harbor Air had begun to do morning flights at 6am, in spite of the opposition of the dozens of folks who like to sleep at that hour? (In case you haven't checked the layout of Friday Harbor lately, our airport's basically right in the middle of town. There's been a generally accepted understanding - unregulated - that folks won't fly before 7am or after 10pm.)
Port of Friday Harbor Commish Greg Hertel tells me that the Port voted last night to allow limited flights...kind of a compromise between an outright ban on pre-7am trips (which would be much supported by light sleepers, AND people who prefer courteous businesses around here, which I feel Harbor Air isn't being at this point, about this) and an outright allowing of flights at any time.
Some have suggested that this kind of thing is inevitable, and is good for the growth of the island, and somehow good for business. I'd contend that waking folks up when they're sleeping isn't good for the livability that goes with good business sense, and it makes people cranky.
Hmmph.
Journalism, on and off-line: Bob Weimer tells me he's starting up an on-line publishing house, Chiron Press, scheduled to be fully operational in April. The website, currently being developed by Melonie Walter, ace web page maker at Rock Island, is under construction at www.chironpress.com.
Bob's plan is ambitious, and he says he's gratified by the response to his Pre-publication Invitation for Submissions. This should prove to be one more way for this talented island (and other writers in Puget Sound) to share their creations.
Bookmark the page & check back next month.
Meanwhile, I hear Chris Minney is moving over to do tech support & some graphic arts stuff at Rock Island from the Journal, where he's worked in production for the past 2 1/2 years, laying out the paper & producing the paper's website each week.
Also - Jim Morrison has sold his little printing biz (Visions Printing) to Rick who used to work at King Typesetting. Jim mentions the new shop will set up in Starr Storage, over off Malcolm, next to Blake Howell's shirt-printing place.
Also, Peter Fromm's closing in on the manuscript for Whale Tales: Human Interactions With Whales (volume 2)...he tells me he's got over 50 stories ready. His first volume has sold over 7,000 copies in two printings - not bad for self-published work.
Doggone lost dog: Tom and Linda Hemphill wrote:
Please keep your eyes out for our 8 month old 
chocolate Labrador Retriever.
He got out of his kennel last night 
(Tuesday March 9) around 6 PM.  His
name is Charlie Brown. Our neighbor saw him near Park 
and MargueriteStreets.  Please call us at 378-2772 or 
378-6511 if you see him.
Auction fever: Jane McAdams wrote to tell me to tell you:
A group of islanders is planning a benefit 
auction for Anthony Lee (saxophone player; 
Annikin Gallery, etc.) to help defray his medical 
costs. Planned for Saturday, April 3, 1999, 7:00 p.m., 
at Herb's. Live music and lotsa good stuff on auction -- 
services, items, etc.

Can you make a mention of it on one of your UPDATE reports? 
(P.S., I read your UPDATE every week and am glad you do it!) 
Person to contact for donations, info, etc. 
is Kris Jarvis, -3932.
Any help will be greatly appreciated! Thanks.
X X X O O O
Community calendar: The site has a new URL...Wade Guidry (the Computer Guy at the Library) says it's now at http://www.sanjuan.lib.wa.us/cgi-bin/calendar.pl ...so change your bookmarks! He says:
We've moved the 
calendar so that we can provide better support 
and provide more future enhancements.
Sundown written up: Did you see the nice writeup about Joseph Bettis' Sundown Cruises doing Canadian cruises in the Sierra Club's online newsletter? Photos and everything...
Oil spill - the update: Yup, the Legislature is still wrasslin' with the no-brainer of providing tug escorts to oil tankers swinging by our islands. Ex-Sierra Club chief and present Friends of the San Juans boss Doug Scott filled in the Chamber of Commerce on his organization's efforts to get Olympia to figure this one out.
You'd think the Oregon mess would have gotten their attention. And we have more rocks off our islands...
Bits & pieces: Went to get some eggs at King's a couple of nights ago...couldn't find them where they used to be, but before I did (they're in the corner, near the milk) I ran into Laura from Coldwell Banker, who says things are going fine there with her new job as an agent assistant - Chris Covington took her place at the front desk...saw both Dick Barnes the tennis coach (season started last week) and Dick Barnes who works at Friday Harbor Grocery...teacher Gary Sawyer says things are going well at school. FHHS is lucky to have someone with his energy....
Ya run into all sorts of folks in the produce section.
Have you seen Samantha Garl and her new broken leg? Right below the petalla...
New sidewalk going in between Friday Harbor Grocery and China Pearl...looks like it's nearly done. Work's being done on the docks as well...did you see the cranes and pile drivers?
Rock Island celebrated their third year of providing Internet service here on the island last month...Mike Greene and his crew do good work keeping us connected with the world.
March 5, 1999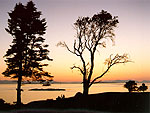 Whoosh, redux: The winds finally let up....Dale Roberson lives on the west side of the island, near County Park, where he monitored the shooting of Practical Magic last spring. He files this report, with photo (click on it to make it bigger):
Yesterday's storm claimed the 
majestic old Madrona tree 
(on the right in the enclosed 
photo) at County Park. 
Now you'll have to 
rent Practical Magic to see it.

The storm also claimed a couple other trees 
in the park, including a large fir next to 
the cyclists' camping area.
Are you ready? Is anybody? There was a useful community Y2K meeting back in January (as reported earlier) - it was useful to hear from community folks how it'll work. Looks like another one is set for the 20th at the Gubelman Room at the Theatre from 9 - 11am.This San Juan Island Y2K Preparedness Seminar is sponsored by the Chamber of Commerce, and will feature reports from
Participants: 
Darcie Neilson, San Juan County Commissioner
Steve Dubail, Town of Friday Harbor Systems Administrator
Dick Kneipp, President, Islanders Bank
Jerry Wilson, President, InterWest Bank
Tom Small, OPALCO
Bob Jarman, Century Tel
John Zerby, San Juan County Undersheriff
Mona Meeker, American Red Cross Coordinator
Mike Greene, Rock Island Communications
Jim Skoog, Financial Advisor, Salomon Smith Barney
If enough people go, I won't have to write it up here... Try & make it, willya?
Get your garden going: Robin Jacobson checked in to report:
Here I am ---one of your website 
fans hoping to get some publicity for an
event coming up. 
Our next event open to the public is:
The Third Annual Gardening Workshop, 
produced by the WSU/San Juan County
Master Gardeners.
It will be Saturday, March 27, 8am-4:30pm at 
Friday Harbor Middle School.
It's a very popular event and brings 
in over a dozen noted experts in their
gardening fields (vegetable gardening, 
pruning, organic gardening, rock
gardens and more.) Registration forms are 
available at the Extension
Office (see below).
Testing, testing: My boy Cameron has spelling tests in second grade this year with ace teacher Linda Cooper...he mentioned that on Mondays they take the pretest and on Fridays they take the protest.
March 3, 1999
Whoosh: You might have heard today's forecast, but I felt it...the wind's expected today to kick up to maybe 50-60mph. It's been an incredibly windy since late fall, hasn't it?

Air it out: Remember I mentioned to you the folks from Pilots Getaways magazine - a magazine for small craft pilots - were here a couple of weeks ago? Click on this little bitty picture of west Orcas Island to see a great big picture which gives you an idea how cool our islands look from the sky. (Picture swipers: Forget it. It's copyrighted....)
They're doing a feature on us in their summer issue.
FHHS sports start: Softball, track, baseball, tennis, and golf kick into gear this week...most began on Monday.
Boating, even now: Of course, most of the whale watching folks pack up in October after our orcas take off looking for other salmon (would you eat at the same place all year? Think about it...)
Makes sense.
But not all of 'em quit...Rik Karon with Bon Accord Charters runs year round, with naturalist-oriented visits to the waters around the islands, occasionally seeing transient orcas but mostly catching the seals, eagles, and others who live here with us year round. If you're hankering to get out on the water in our quiet
season, check out Rik.
I love the picture of the upside down breeching orca calf on his web page - her dorsal fin (that's the one on her back) is skimming the water. Great shot by Michael Nolen (also copyrighted, swipers.)
Speaking of specials: Lakedale has a deal on cabin rentals in March...
Mayor bows out: Nice story about former mayor Jim retiring at OPALCO after 30 years...
Gravel pit closes: More as we find out more, but several people at the post office (which, besides the produce section at King's Market, is where I gather news for you) told me it's secret the pit has closed.
Don't tell anyone.
Quote: The real work of planet-saving will be small, humble, and humbling, and (insofar as it involves love) pleasing and rewarding. Its jobs will be too many to count, too many to report, too many to be publicly noticed or rewarded, too small to make anyone rich or famous." Wendell Berry
February 28, 1999
Sun: That was the sun this morning. It was gone by noon, but that's what it was. The sun. Check it out again in April.
Rock on: Party, party, party...I heard last night there was a huge '70s party somewhere on the island last night, the announcement of which led to run on polyester stuff at the Thrift Store.
Rock off: My friend Kenny tells me there was also a big party Friday night celebrating the closure of the gravel pit...a closure which had been promised & rumored for years. No details yet about what'll arise in that spot to take its place.
Computer thing: Has anyone ever noticed that "Micro" & "soft" might be synonyms for "small & squishy"? Just a thought...
Clipper chips in: There was a meeting the other day to iron out the details of the Victoria Clipper's summer schedule, which includes offering $10 whale watching tours...Rik Karon of Bon Accord says big companies have come in before, and they do their thing and then leave - he professes not to be worried about it. The effect on the local whale watching outfits remains to be seen....
Coach of the Year: Mixed in with the disappointment of the boys basketball team getting knocked out of the running for state, a bright spot: Coach Dave Anderson was named Coach of the Year by the league, as he guided the Wolverines to an 18-5 season.
February 26, 1999
Dream ends: Last night the FHHS boys ended their quest for a state playoff berth with a 62-57 loss...ahead most of the game, the Wolverines got behind with four minutes to go & were unable to close the gap.
February 25, 1999
The morning notes: When will this wind let up? Everytime it seems to die down, it seems to rev back up...it's been doing this since late fall.
Burgandy Waite's back working at Emerald Seas after three months in Thailand - drop by & she'll tell you stories....did you know Doug Bison, the guy who manages the American Legion, is the grandson of Bigfoot, the Sioux chief killed in the Wounded Knee Massacre? He also tells me the Legion's museum is coming together, with their opening later this year.
Among all the basketball excitement at FHHS: Janet Chamberlain reminds me the last time we went to state was 1984, when her boy Wolfgang played. Jeff Roberson played as well....he went on to play at the University of Washington, and is presently still on the island - married to FHHS girls' coach Tracy Marble. Janet plans on traveling to the game tonight to cheer on this year's edition of roundball stars.
Jessica over at Panacea Bed & Breakfast has a special she offers: If you stay for a couple of nights on your anniversary, you get 2% off for each year you've been married. She tells me she just booked someone who's been married for 60 years, so I guess she owes THEM money for coming...she says her previous record was 57 years...
Did you hear Jim Cahaill is retiring from OPALCO where he's worked for 30 years? The former mayor has seen electric use grow with the islands' population, with more and more miles of cable being laid over the past decades...someone with his long view of the island's history is impossible to replace
Store moves: Dolphin Arts (the shirts & casual wear) is opening a store in Annikin's old spot...I hear the Toy Box is moving up to Dominique's old spot, across from the Bistro, just up from Griffin Bay Books...
History is doomed to repeat itself:
Review the Update from January 3, 1998 - February 26, 1999
Review the Update from November 1, 1998 - January 3, 1998
Review the Update from August 31, 1998 - October 31, 1998
Review the Update from July 2, 1998 - August 30, 1998
Review the Update from May 25, 1998 - July 2, 1998
Review the Update from April 3 - May 25, 1998
Review the Update from January 22, 1998 to April 3, 1998.

Review the Update from November 24, 1997 to January 22, 1998.

---
The information here is simply stuff we here at By Design think is important around Friday Harbor or on the Island. Some of it's news, some of it's old news, and all are just things we wanted to mention, with most of it about the things that make living here great.
There will be more next week, if anything happens.

Ian Byington
bydesign@byd.com
To comment, feel free to add to our guestbook, or view it.
Other places with info about the island:
Everything. Simply everything about the island.
Pretty complete site about the island.
The Journal's Site
Includes news and classifieds!
IslandCam
The camera's pointed at Roche Harbor and Friday Harbor.
Updated every five minutes.
---
Return to the Web Directory....
This site prepared by our friends at By Design in Friday Harbor.
The information contained here is
©Copyright 1998, 1999 - By Design, Friday Harbor.
Unauthorized reuse of the content of these pages is prohibited;
links to other sites is intended to be to the benefit of those sites,
and for the edification of our readers,
and does not constitute endorsement or
agreement with views expressed there.