---
May 18, 2007
High school kids do it again: OK, I'm a true believer in the high school drama program, but this year's edition of the Ryan Smith Memorial Festival rocks, in oh so many ways.
Fred Yockers & his kids put together an evening of one-acts, skits, and songs knitted together with kick-butt acting & singing that is simply the real deal.
Included in the evening is a play written by Clayton Banry (left) featuring brother Sam, as well as a end-of-evening piece with a real family & a real mom of the year (or month) directed by Brittany Ingram (below) and featuring her & Avery Adams. And much, much more.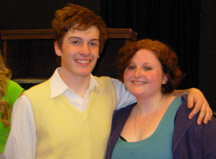 Look - you can't go anywhere & get Tennessee Williams, Elvis & more Elvis, an explanation of fat & skinny names, singing to make you cry, the real reason car mechanics are rich, a little piano music, two women engaged to the same guy, and three chimps, all in the same evening.
Tonight's show is nearly sold out, and I'd be surprised if Saturday's isn't closing in.
Chim-chim-in-nee in the Lie-brair-ee: Tonight at the Library at 6:30pm, with free popcorn & refreshments, it's Mary Poppins. Everyone's welcome - bring the kids.
United Way goes for the gold: I love hearing from the always upbeat Bonnie Gilmore, but even more when she's wearing her United Way of San Juan County hat & has good news. Here's her report:
United Way of San Juan County ended its 2006/07 campaign on April 30th with a record $161,386; more than $15,000 raised during the previous year's fundraising effort. A wholly local effort, United Way of San Juan County supports more than thirty human services agencies and programs. Over its ten year history, over $1 million has been raised to help islanders who need it the most. Through its "Community Safety Net" approach, United Way support ensures that resources are available and that no member of the community falls through the cracks. United Way thanks our community for your caring support.
Update on Tom & Connie: Connie Odegard continues to amaze, in this report of her slow but steady progress after her accident last month (thy'er still in California) by their friend Catherine, who comments on last month's poetry reading at the Library:
Hi Ian,
So glad to hear that the reading went well & people appreciated Tom's poetry. As you may know, Connie was released from the ICU & is in rehab now as her muscles & neck need lots of strengthening. It sounds like there will be a long road ahead to recovery, but the fact that they're even where they are now is a miracle.
I know Tom was so appreciative of the well wishes the islanders sent to them... I think he's finally managed to get someone from the island to bring his car down so he has some mobility to get beyond his hotel & the hospital. I do know that he still worries about getting things taken care of on their property--despite all the hundreds of emails from people, only a few have actually volunteered to pitch in with work that needs to be done.
If you talk to folks, is there any way to let them know that while their accident is not fresh news, there's still a lot they need help with on the island? I'm sure you're all gearing up for summer tourist season & everyone will be very busy!
Hope you are enjoying this beautiful weather & thanks for all your help.
Take care, Catherine
Protecting the orcas: Last summer, when I saw a dumb kayaker paddle straight into J pod, there was a small part of me that was hoping he'd be the first human eaten by J-1 on record (we're not exactly sure what he eats when he's away for the winter). Well, that didn't happen, so now it's getting to be clear we need to back some of these clowns up, at last.
Supported by the whale watching operators around here, the County is looking at ways to put some teeth into the marine mammal guidelines, especially related to how far people need to stay away from animals that are certified endangered. Here's more on that.
Legal? Who knows? Good idea - well, yeah! If needed, time to change the law.
Speaking of whale protectors: Our friends at the Whale Museum are honoring a great one...here's the word from Jenny:
We hope you can join us for a reception to recognize Rich Osborne and celebrate his more than 30 years in the San Juan Islands.
Reception for Rich (and Rowann!) will be May 24, 2007 at 7 p.m. at The Whale Museum. The event is open to the community -- so if you know of someone else to share this invite with, please do!
Calling all thespians! Yvonne from the Benefit Players says there are a bunch of chances to get involved coming up, to wit:
The Benefit Players Theater is holding our second round of auditions for our Repertory Summer season of original plays and monologues on Sunday, May 20 and Monday, May 21 at 7:00 PM. The Benefit Theater is located on the corner of Tucker and Guard Streets.
The first group of short plays and monologues starts June 29 and runs for three weekends, while the second set will begin July 20, also for three weekends. This is a great opportunity for new actors or experienced actors who want just a short role this summer.
Support the Home Trust: Director Nancy DeVaux says it's gonna be great:
The San Juan Community Home Trust is hosting an elegant dinner to raise funds for its next new neighborhood of permanently affordable homes on San Juan Island. "The Buck Starts Here" event will kick off the challenge of matching a land donation valued at $750,000. The parcel of land is currently owned by the Buck family, who are collaborating with an anonymous Home Trust donor. The event will be held at the SJ Island Yacht Club, May 31, 2007 and will begin at 6:00 PM.
Guests will be treated to musical entertainment, dinner and an auction. David Bayley will perform tunes from his new CD entitled, "Island Time", which features classical piano rags. Guests will dine on a choice of savory prime rib or herb-crusted halibut prepared by Yacht Club manager and chef-extraordinaire, Gayle Rollins. The lovely songstress Roberta Leed will entertain accompanied by Bayley. And, the effervescent Boo Boo Keane will be the evening's auctioneer.
Tickets are $75, (this includes a tax-deductible donation of $45) and available through the Home Trust. RSVPs are required and needed by May 22. For more information call, 378-5541, or e-mail us at info@hometrust.org to reserve your place.
Quote: "One day Alice came to a fork in the road and saw a Cheshire cat in a tree. Which road do I take? she asked. Where do you want to go? was his response. I don't know, Alice answered. Then, said the cat, it doesn't matter." - Lewis Carroll
Leadership class graduates: Liz Illg tells me the third Leadership San Juans class has their last time together tonight - here's the scoop:
Leadership San Juan Islands Class III will hold its graduation ceremony Friday, May 18, 5:30-7:30 p.m. at Skagit Valley College San Juan Center. Fourteen islanders from Lopez, Orcas and San Juan will graduate. Keynote speaker will be Paul J. King, I.T. Director for U.S. programs with the Bill and Melinda Gates Foundation. LSJI alumni and the public are welcome to attend.

Class III graduates will include: Shannon Davis, San Juan (sponsored in part by Friends of the San Juans); Bill Evans, Lopez (sponsored by Lopez Island School District); Michael Greenberg, Orcas (Sustainable Orcas Island); Steve Hussey and Dana Kinsey, Orcas (sponsored by San Juan Islands Conservation District); Jennell Kvistad and Michelle McDarmont, Lopez (sponsored by Blossom Organic Grocery); Carrie Lacher, San Juan (sponsored in part by San Juan Community Home Trust); Carla MacDiarmid, San Juan (sponsored by San Juan Islands Visitors Bureau); Alisa Schoultz, San Juan (sponsored by Albert Jensen & Sons, Inc.); Martha Sharon, Lopez (sponsored by San Juan County Health and Community Services); Cynthia Stark-Wickman, San Juan (sponsored by San Juan Island Prevention Coalition); Bill Watson, San Juan (San Juan County Economic Development Council); and Gay Wilmerding, San Juan (Citizen of the Salish Sea). The San Juan Island Community Foundation assisted with six of the sponsorships.

Leadership San Juan Islands is now a certificate series offered in conjunction with Skagit Valley College San Juan Center. This year a total of six, day-long seminars explored leadership and San Juan County's "systems" of governance, education, economics, environment and community/health. Morning "systems" classes were open to the general public for a fee. For more information see www.leadershipsanjuanislands.org.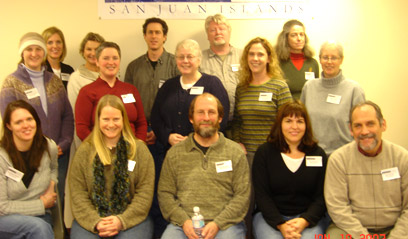 Photo (click on it to see a bigger one!):
Back Row: Alisa Schoultz (SJI), Cynthia Stark-Wickman (SJI), Michael Greenberg (Orcas), Steve Hussey (Orcas), Gay Wilmerding (SJI)
Center Row: Michelle McDarmont (Lopez), Jennell Kvistad (Lopez), Martha Sharon (Lopez), Carla MacDiarmid (SJI), Carrie Lacher (SJI)
Front Row: Dani McCutcheon (SJI), Shannon Davis (SJI), Bill Watson (SJI), Dana Kinsey (Orcas), Bill Evans (Lopez)
---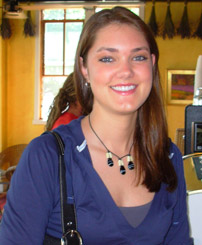 May 17, 2007
Back in town: It's always good to see a familiar face - I ran into Lourich Foley earlier this week. She's here for a week, visiting from Ohio where she's finishing up her degree in nursing, some of the work for which she began at Skagit Valley College here after graduating from FHHS. She tells me she's probably heading for Detroit after graduation, but that it's good to come home once in a while.
Lecture you'll want to catch: Makah artist Greg Colfax will present a lecture entitled, "Origins and Fears of Northwest Art," Sunday May 20th , 2 PM Grange Hall, Friday Harbor. The lecture is free and is sponsored by The San Juan Island Library, Skagit Valley College and the Arctic Raven Gallery. Refreshments and a dessert potluck will follow a question and answer period. Contact Barbara Marrett or Lee Brooks 360-378-3433 or arcticraven@rockisland.com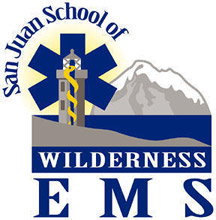 Wilderness EMS: Most everybody knows we have one of the best-equipped, best-trained, and speedy Emergency Medical Service (EMS) units around (here's more, if you haven't seen their regularly updated site lately - Jim Cole does a great job of keeping people informed).
Did you know they also offer Wilderness EMS training? Check it - and what a natural extension of what they do, and we need, living where we do.
Sports update: This week our tracksters are still going in the post-season (more on that next week), and our boys & girls tennis friends & softball girls are still going as well.
The tennis boys sent Pablo Lopez & Zach Milkis off to Coupeville to try to earn a second doubles spot in sub-district play on Tuesday as they came just short of moving ahead in the playoff series. That leaves the FHHS's number one singles (soph Peter Duggins) and number one doubles (soph Josh Lehr & senior Keller McNairy) to play in the quad-districts in Seattle this weekend. The top four out of that bracket go on to the state tourney.
Meanwhile, the tennis girls go to bi-districts at Federal Way this weekend represented by FHHS's first doubles Lindsay Youngquist-Chelsea Pascoe and second doubles Hanna Burke-Maddy Carlson. Our singles girls, Jenni Staudt and Charlotte Guard played valiantly at districts last weekend, but came up just short.
The softball girls continue to surprise - Tuesday they stayed alive in playoff action by recovering from a morning loss to Lynden Christian by beating Coupeville in the afternoon game. Coach Kevin Carlton says he's pretty pleased with the girls, as they play again this Friday.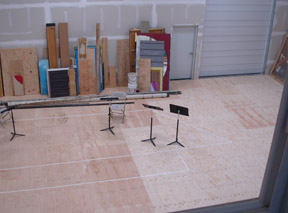 It's a dream come true: It sounded like a lot to ask for - extra space for our performing arts center, but we sure needed it. Whenever a play is going on at the Community Theatre, there's usually another one rehearsing (somewhere), getting costumes made (somewhere), and getting the stage built (somewhere).
Now there is a somewhere - thanks to a $850,000 capital campaign, and a $193,000 grant from the state, the dream's happening. You can check it out this weekend at Sunday's celebration of the PARC (Performing Arts Resource Center) from 2-4pm - it's about a mile out of town on Beaverton Valley Road at the Beaverton Business Park.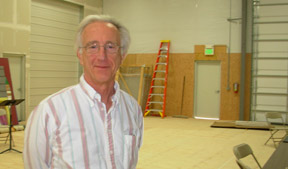 I dropped by to see what was going on yesterday afternoon, and director Merritt Olsen showed me around...wow. The place is 6000 square feet downstairs & 1400 square feet upstairs, with plenty of room for set-building, costume storage & making (that's upstairs), and with an open space that allows for a full-stage rehearsal away from the theater itself (above). Looks like there will be a dance space, too...it's all pretty expansive, with a lot of room for creative efforts to be born.
When you drop in on Sunday, you won't see a finished space, but what Merritt is calling "a place for potential to grow."
Quote: "Erotica is using a feather, pornography is using the whole chicken." - Isabel Allende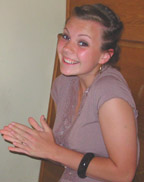 May 15, 2007
Happy birthday: Last night I ran into FHHS senior and all-around great kid Emerald Fire (right) at Mi Casita as she was out for dinner with her friend Miguel (you remember him, from the soccer team - leading scorer. That Miguel.) She was surprised when Greg & the crew brought out the candle & cake & everybody in the place sang...it's a tradition. Many happy returns!
Steve Maas' party remembered: If you were there you know it was a great party - and now there's a chance to see some 400 pictures of the night, and even buy 'em as more help fundraising for Steve...here's more from Marie DiCristina:
Hello Ian,

I hope you can make sense out of my excited jibberish here (please correct my poor grammar):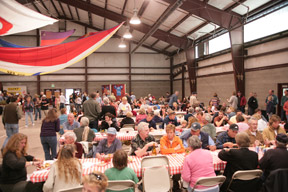 There was one heck of a fun fundraiser last Saturday. It was the Steve Maas Fundraiser at the Fairgrounds May 12. I am guessing at least 600 people (right)…and I hear they raised over $60,000 (and climbing) for Steve's expenses. He has leukemia and has had successful stem cell surgery with huge expenses. For all the event details contact Mary Elford at 378-5029 or Tami Ashcraft at 378-3167. Steve's brother Dave Maas is absolutely delighted as is Steve.
In the auction, Steve's sister Toni Lobue won the trip for 100 friends on the Pintail. The Ed Ashcraft Family and John Sandwith family both bid on the fabulous London Trip for 4. It included airfare, lodging, a tour of Animal World and a tour of the set of the upcoming Harry Potter movie. The bid war between those two was great fun - finally Ed won the final bid with $14,000 and the donor, Gary Gero, offered a similar trip to Gina Sandwith for her last bid of $12,000.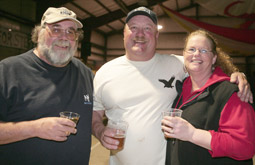 That's generous bidders John & Gina Sandwith with Ed Ashcraft (center). Ron and I took pictures to create a slideshow for Steve. But the event had such a wonderful life of its own that we decided to turn it into a fundraiser as well. We have posted all the images to our website with proceeds going to Steve's Islander Bank account. Here's the info on that:

View the Steve Maas Fundraiser!

There is now another avenue to continue the Steve Maas Fundraiser – order photos! 400 images from Saturday's event are posted on DiCristina Photography's website. You can View the event and Order prints. ALL PROCEEDS from web orders will go to the Steve Maas Fundraiser. If you attended the event then you are more than likely on the website. The site will be active for a year.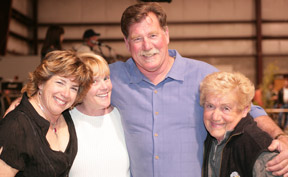 To view the event: go to www.dicristinaphoto.com and click the View and Order tab. The username is Maas Fundraiser and the password is 10169. There is a Web Slide show to view the entire event, or you can click on a category like Friends and Family and look for your photo! Enjoy and thank you for your support.

Ian, the music was so much fun…I heard from several people that this was just like the parties used to be in Friday Harbor – lots of good clean fun. I wish you could have been there! It really rocked. The happy photo at left is Steve's immediate family who could attend: his sister Toni, sister in law Connie, brother Dave and mother Annette Maas. Many thanks to all who attended and contributed!

Marie DiCristina
New old bookstore: It's been thirty years this year since Susan Eyerly opened Griffin Bay Books here in Friday Harbor, and the store will celebrate a new re-birth this year as new owner Laura Norris moves the shop from its longtime spot on First Street to the spot where the Toggery closed a couple of weeks ago.
I stuck my head to say hey last weekend, and let me tell you, it's gonna be cool. Much more spacious, with more places to sit, and Laura says she'll have coffee & a little café in the back as well. She told me she's pretty sure she'll be open in the new place for Memorial Day - something to look forward to.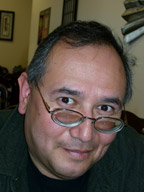 Walks with Thunder - coming: The shaman (right) will be here for a workshop this Friday, and he's added an entry to his blog about how Friday Harbor is a special place...here's more.
Wargames commence: Holy moly....remember when you had your first kid & you tippy-toed around the house so you wouldn't wake 'em up?
We got a baby - the new calf in J pod - and folks are stomping around the house.
That's what's happening out in the Strait as the Canadians have given the US Navy a warship to blow up out there....although they say they'll stop the operation if any marine mammals are around, the idea of not doing it in the first place doesn't seem to have occurred to them. Hey, whales are acoustically way more sensitive, especially as sound carries so well in the water - it's not just a matter of being close. Here's the rest of the story, from Canadian news sources.
Sounds dumb to me.
Quote: "Noise proves nothing. Often a hen who has merely laid an egg cackles as if she laid an asteroid." - Mark Twain
May 14, 2007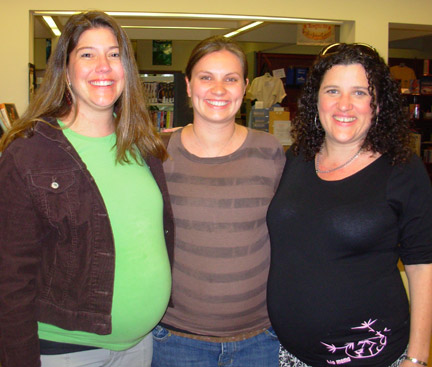 Happy Mother-to-be's Day! Saturday night at the Library, author Ariel Gore offered a delightful, sometimes edgy, sometimes poignant, often funny reading from her three books...you know, we're pretty lucky to have folks like her drop by & visit us here on the island.
Afterwards, Ariel (who is due in August), compared notes with Libbey Oswald (formerly Howard, in the center, who is due in July) and with ace FHMS science professor Val Curtis (in green, who is due May 28.)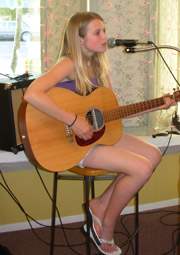 Mob scenes all weekend: What a cool weekend for the island, with tons of chances to hang out with other islanders. Friday night's Little League Hitathon fundraiser had a mob, while across the way there was a crowd to see the Elementary School Talent Show, which is always great.
Meanwhile, there was more talent shown as Rhiana Franklin was one of several featured singers at Dominique's first anniversary (she was backed up by Bob Leytze) - that's one sweet-singing seventh grader.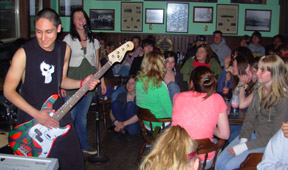 Meanwhile, over at the Ale House, Heliocentric rocked a full house downstairs as Avery, Rachel, Miles & Shay entertained about 40 high schoolers (that's wall-to-wall, baby) and kept the grownups in their seats with a tasteful selection of tunes. Here are a few photos for you....
Saturday night was more of the same, with the big event of the evening that fundraiser at the Fairgrounds for Steve Maas, which as far as I can see is further proof islanders look after each other. Beats me how many people went, but it was hard to park around the fairgrounds building, so that gives you an idea. Toni Labue says Steve's stem cell deal is going well, and that he's deeply grateful for all the love the island showed.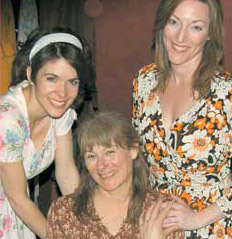 Crime to miss it: I was already pre-disposed to love it: I love Beth Henley's plays, I've seen three other productions of Crimes of the Heart, and you know that it had a great cast. Even with all that, this weekend's show way exceeded my expectations with an awesome show. It rocked.
For starters, it's a show with wonderful energy & pacing, as the three veteran actresses who play the three main characters turn in their usual well-crafted jobs. Lorie Narum's Lenny (center) is a mixture of sad & hopeful & funny & dedicated who slumps, stiffens - and prospers - as the lynchpin of a pretty whacky Mississippi family. It's pretty easy to feel the frustration, and joy, of dealing with her two wayward sisters - the wannabe-glamourous Meg (played by Julie Greene, right) and the wide-eyed Babe (played by Natalie King), who has just shot her husband & offered him lemonade. The women stretch themselves as actors, and turn in a show that makes you laugh, might make you mist up, and for sure will remind you of relatives you might have.
Susan Williams has pulled together a cast that makes going to the theater a joy, with so infectuous a spirit you'll find yourself saying "y'all" or "I reckon" or "whatchdoinoutder?" later.
Go get your "don't miss this" and stick this one on it. You got two weekends left. You'll be glad you did.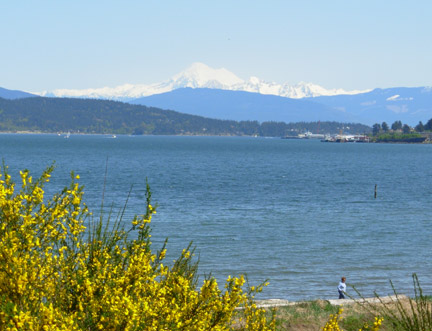 Scotch broom - pretty, but it's lousy: It called a noxious weed because it's so invasive & so hard to pull up once it's rooted. It looks pretty, but do yourself a favor & pull it out on your property when you first see it. Here's a writeup from a Powell River writer who tells more about it, and how it got here.
To the right: A photo of Mount Baker from the parking lot in Anacortes, with scotch broom in the foregound (the yellow stuff.)
Baseball season comes close, ends: We'd have gone to state if we had won, but our league-champ baseball boys lost 7-6 to Orting Saturday to come on home for the season.
With a cadre of talented sophs & pinpoint pitching, the future for the team next year is bright, and there's much to celebrate in this season's effort. Way to go, guys! Here's more from the Tacome Tribune.
Softball, meanwhile, remains alive as they take on Lynden Christian tomorrow in subdistricts.
More Mother's Day: I heard that ABC carried a bit about J42, the new calf in J pod, over the weekend. It's nice to celebrate, with the rest of the world listening in....here are some pictures of J pod from over the weekend.
Kayakers from Canada: Here's blog by a guy who kayaked all the way down to here from Canada on Saltspring Island...wow. Check it out, and check the map at the bottom of his page.
Quote: "The U. S. Constitution doesn't guarantee happiness, only the pursuit of it. You have to catch up with it yourself." - Benjamin Franklin