---
May 29, 2007
When was the last time you talked to an astronaut? Jan Bollwinkel-Smith says the Brownies got to - here's the scoop:
Friday Harbor's Brownie Troop 183 recently returned from a great off island trip where they were Space Explorers for the day! They visited Western Washington University where 3-time Shuttle Discovery astronaut, Dr. George "Pinky" Nelson, lead a wonderful space workshop. Nelson is pictured in the attached photo with the troop and its leaders in front of the portable planetarium the girls visited. In addition to the stories by Nelson (including some fun tidbits on how you go to the bathroom in space), the girls watched a video of Nelson on the shuttle, visited the planets thanks to computer technology, and drew their own constellations and made up stories to go with the stars.
The Space Explorer trip was funded by the troops activities, including selling Girl Scout cookies and making and selling pies for Thanksgiving.
In June the 12 Brownies will hold a bridging ceremony and become Junior Girl Scouts.
Pictured: Front Row (L-R): Celia Roth, Claire Boden, Hailey Ott, Isabella Brown, Lucy Urbach, Jillian Urbach, Emma Visser. Second Row (L-R): Jan Bollwinkel-Smith, Emma Wickman, Cady Wilson, Clea Lean, Dr. George "Pinky" Nelson, Julia Smith, Wendy Wood, Echo Wood, Jill Urbach.
He's here! Jacquelyn Reiff dropped me a note about the new baby on the island:
Just wanted to let you know that Val and Neil Curtis welcomed their adorable baby boy, Cole Parrish Curtis, into the world on May 27th at 5:51pm in Anacortes. Cole weighed 7 pounds 9 ounces and measured 22 and 1/4 inches long. Val, Neil and baby are all doing well and expected home in a few days.
Lin's missed: One of our friends slipped away earlier this month...Lin Bowman passed away after a long bout with cancer. There's a nice writeup of the full life he lived here (on the San Juan Islander), and our sympathies to Sonja...he was a great one, and we miss him.
The long run: Along with the Golf Classic & a couple of other million thngs we'll talk about this week, the fifth annual Marathon will be run Sunday...it just gets better every year. See ya there.
Third at State: It's cool that Josh Lehr & Keller McNairy placed third in the state tennis tourney last weekend, but even cooler that it's two of the nicest guys on the island who played so well. Congrats to the guys, and congrats to coach Dick Barnes for guiding them so well, so far.
Quote: "Build me a son, O Lord, who will be strong enough to know when he is weak, and brave enough to face himself when he is afraid, one who will be proud and unbending in honest defeat, and humble and gentle in victory." - Gen. Douglas MacArthur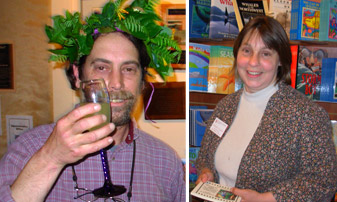 May 25, 2007
Goodbye to old friends: It was thirty years ago that Rich Osborne came to the island to join the Whale Museum & the research community here.
In that time he has been instrumental in helping start the SoundWatch program, train hundreds of naturalists, and in forwarding the cause of research of the marine biosphere of the Salish Sea area, serving as lead scientist and, lately, as director for the Whale Museum.
Last night at the museum, it was time for stories, laughs, a little music & dance, and a hugs & tears as Rich and Rowann Tollman (whom he met eleven years ago, when she came to volunteer at the museum) say goodbye to the community to move to their new home & adventures outside of Port Angeles.
In his remarks last night, Rich noted that this area - the Pacific Northwest (and southwest Canada) is still relatively pristine, and serves as an example of hope with our environmental protections and sense of stewardship of the planet, its seas, and their inhabitants. He said it's important to maintain that leadership role that's been established, as we look toward the future.
His contributions (and Rowann's, through the very successful Beachwatchers program she set up three years ago through the WSU Extension) are key building blocks in establishing the positive direction we're headed. Thanks, you guys - you'll be missed.
You'll love this blog: Elizabeth examines the harbor as she passes through. Enjoyable writing, by a collective of writers...see what you think.
Quote: This week at Yolanda King's memorial service, poet Maya Angelou wrote a tribute that was read during the memorial service.
"Yolanda proved daily that it was possible to smile while wreathed in sadness. In fact, she proved that the smile was more powerful and sweeter because it had to press itself through mournfulness to be seen, force itself through cruelty to show that the light of survival shines for us all."
May 24, 2007
Grisly killer whale scene: It's uncommon to find a dead orca because when they die they usually sink in the ocean, but it's even rarer to find parts of a deceased whale...Robin Baird reports they found a whale's dorsal fin Tuesday, apparently cut away from his/her body, down near Westport (that's on the coast, almost due west of Olympia).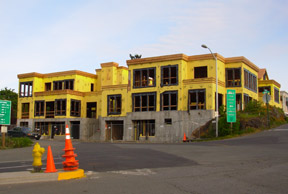 He and the Cascadia Research Group are looking for the rest of the remains, and hoping for help in that... here's the rest of the story (with a photo of the fin) on his website.
The place that used to be Churchill Square: Looks like Charles Thomas' project is coming right along, and beginning to take shape on the hill at the top of the ferry lanes (right.)
Car cleanup: The FHHS Band is doing a car washing fundraiser this Saturday at Islanders Bank from 10am-3pm....since someone wrote "WASH ME" in the dust on mine, I'll see ya there.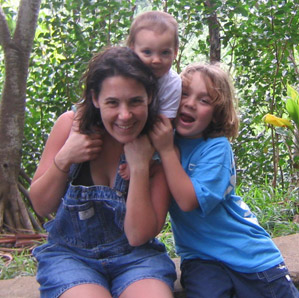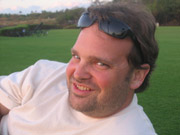 Family pix from our friends: That's a picture of Laurie Paul with Sam and Talulah when they got away to Maui in February (yep, Talulah's nearly 16 months old, now...wow).
That's Tim relaxed on the beach. Looks like they had fun.
Peace, this weekend: Lesley writes in that the monthly peace vigil has moved up a half hour:
Island friends - It will soon be time again for our monthly "Peace Vigil." We will gather a half hour earlier as the ferry schedule has changed for the season. I hope everyone can make it, the support to end this war is growing daily. If you can't make it, perhaps you could make a sign advertising the next event, and in your own time stand for a ferry loading and unloading!
This month's Peace Vigil will be May 26th, at 10:30am-1:00pm, Memorial Park Spring St. Be sure to bring a sign and a friend.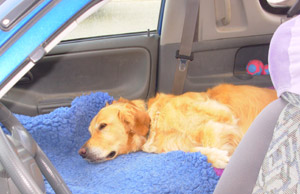 You're not the only one who took a nap yesterday: The golden retriever at right came here to relax, I think....
Art & Nature - all in one place: The Westcott Bay Sculpture Park welcomes the public to a celebration of Art & Nature at the 2007 Art & Nature Festival - Saturday May 26, 11:00am – 5:00pm.
Come and join the Westcott Bay Institute in celebrating the installation of more than 20 new sculptures installed this spring, for a total of more than 100 works of art displayed in this beautiful 19-acre setting.
Wine tasting this weekend: Just got this note from Yvonne:
It's San Juan Vineyards' 6th Annual Barrel Tasting this Saturday, May 26, from noon to 4 p.m. Wine Specials -- Barrel Tastings -- Drawings.... $10 per person includes: Barrel Tasting, Tasting Tickets for Varietal Stations, Refreshments, Souvenir San Juan Vineyard Glass, Lots of Fun.
Meanwhile, Stan tells me there's a deal tonight at his place:
At Brazenly Lucid Wines on Thursday, Doyle Hinman from Henry Estates in Oregon will be on hand to present their wines. The event will be from 4:30 to 7pm. There will be a $5.00 tasting fee which includes appetizers and special pricing on the wines present.
Hurry up & file: The filing deadline for candidates around here has been the last week of July for as long as anyone can remember, but last year the state lege changed that to the first week of June (probably because of Iowa & New Hampshire - that's my theory).
Since San Juan Update readers are the most informed on the island, that makes you the natural candidates, people. Since you gotta have your application to run filed by June 8 at 4:30pm, you need to get to work.
Elections supe Dan Gillespie tells me these elections will be contested this year (primary on August 21, general election in November):
Town of Friday Harbor:
Council Member, Position #1
Council Member, Position #2
Council Member, Position #3
Council Member, Position #5
Treasurer
San Juan Island School District #149
Director, Position #1
Director, Position #3
Director, Position #4
Director, Position #5
San Juan County Fire Protection District #3 (San Juan)
Commissioner, Position #1
Port of Friday Harbor
Commissioner, Position #1
San Juan Island Park and Recreation District
Commissioner, Position #1
Commissioner, Position #4
San Juan County Cemetery District #1 (San Juan)
Commissioner, Position #1
San Juan County Public Hospital District #1
Commissioner, Position #1
Commissioner, Position #2
Commissioner, Position #5
Cape San Juan Water District
Commissioner, Position #1
Cattle Point Water District
Commissioner, Position #3
In order to file for office, the prospective candidate must be a registered voter in San Juan County and be a resident of the district represented. Call Dan at 378-3357 for more info.
Quote: "It vexes me when they would constrain science by the authority of the Scriptures, and yet do not consider themselves bound to answer reason and experiment." - Galileo Galilei
May 23, 2007
Village at the Harbour gets going: It's a dream coming true - Seanene Kennedy & Brian Brown tell me they'll have the groundbreaking for their big, $5,600,000 assisted living center (called "Village at the Harbour") next week on the 30th at 2:30pm, with the goal of opening in early 2008 or so.
The whole deal is located on the acre and a half next to the Mullis Center. They tell me the "Village at the Harbour" is a 36 unit assisted living complex of 28,350 square feet in the heart of Friday Harbor, Washington. The single story project consists of one bedroom and studio residences. Financing is a partnership between private members, most of whom are San Juan Island residents, and Islanders Bank.
Shipwreck: When Lori Stokes went on a cruise to Alaska earlier this month, she ended up with more adventure than usual....and she says she CAN swim. Here's the story she sent me.
New to the hospital board: I called Keri Talbott to congratulate her on being appointed to the board, and she dropped me this nice note:
I did want to let you know that I am very excited about being appointed to the hospital board. It's a great opportunity for me to work with these people that I respect and have the utmost confidence in. Our community is very fortunate to have the people involved in the EMS and Medical professions that we have. I've seen these people as professionals doing their jobs, and knew a long time ago that I'd like to be a part of it. - Keri L.Talbott
Grant lands on UWSJC: Bonnie Gilmore tells me the United Way has received a $2K grant from the Wells Fargo Foundation - way to go!
New guesthouse on the island: Darin Erp & Wendy Brown have opened up their place on Egg Lake Road, which they're calling Rose Garden House - check it out.
Quote: "The one thing I remember about Christmas was that my father used to take me out in a boat about ten miles offshore on Christmas Day, and I used to have to swim back. Extraordinary. It was a ritual. Mind you, that wasn't the hard part. The difficult bit was getting out of the sack." - John Cleese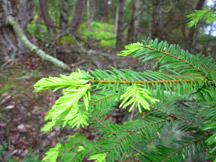 May 22, 2007
Tinge of doubt, removed: It might have been cold enough & wet enough this weekend to have fooled you into thinking it wasn't really spring, here on our cold & wet & windy island....so I took this photo of a hemlock on the westside, sprouting its new leaves.
Proof.
Besides, it was nice yesterday. Here. Not like Arizona.
Mailbag: Well, let's see who's been writing:
Hey, Ian - What was that crack about AZ? It's GREAT here, hoser!
The Arizona Vistors Bureau (Our motto: "Move here! Now!")
Hey, I got no problem with people's choices. You wanna live in a place that looks like a dried up golf course that's 115 in the shade in the summer, rock on, baby. Here, trees grow whether we water 'em or not.
Sorry. Didn't know you were so touchy about it.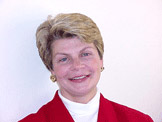 Other off-island news: There's a woman out East named Gayle Friday (even cooler - her nickname is "Stormy" Friday) who has a series of children's books published called "Tails of Friday Harbor" coming out. Here's more (and proof I'm not making it up.)
Founded on the notion that it's a good idea to read to your kid, these books are made to be easy-to-read-aloud.
Another place to run: Here's another installment (with photos) of a run out at the Roche Harbor watershed from runningmeister Clark Gilbert's blog. It'll make you reach for your shoes...
In the eye: You gotta click here to see this amazing seagull. Click & see, I think you'll agree.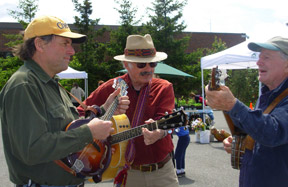 Singin' at the Farmers' Market: On Saturday, Kirk & Don & Mike (right) were singing for the Saturday Market shoppers...photo by Charlotte Cleland.
We're in the top seven: In this editorial about the Seven Wonders of Washington, Gregg Herrington (for the Vancouver Columbian) lists several state folks' top seven spots in our state, and you might notice the islands keep popping up in their lists.
Read it.
Since they did that, I'll tell you the top seven things to do on this island, according to me:
Visit the Whale Museum/see the orcas
Go kayaking
Go wine tasting
Walk on the beach - South Beach, Jackson's Beach, Fourth of July Beach - with no deadline to get home. Take your dog. If you don't have one, get one.
Eat Thai food. If you don't care for it, eat anywhere else. Can't go wrong.
People-watch. If you get bored with those of us that live here, just wait until June.
Get involved with helping folks...we have neighbors, too.
You can send me your list, too, if you like.
Remember the promise of the new ferries? We were supposed to get that going back in '01, but there's have been obstacles & disagreements. Maybe now the parties will come together & build the two ferries we were promised...here's more.
Quote: "You have to have a lot in common, choose well and be really fortunate. It's not like you're sprinkled with fairy dust. You have to believe that love will be there when you need it." - Claire Danes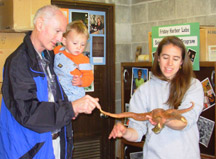 May 21, 2007
Labs rock: One of the great things happening on this island is the Friday Harbor Marine Labs, which was begun in 1904 and has held a leadership spot in marine biology for over a century.
One of the other great things is when there's Open House to show off what they do, and Saturday was great.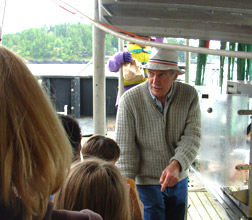 As you wander around the campus, checking the different exhibits, presentations, speeches, and equipment, it's easy to get the idea that a lot is going on. Alana Hysart showed off her friend the starfish (above) and former longtime Director Dennis Willows staffed the popcorn machine, as he has for decades (right). And much, much more.
Sports wrapped up, almost: Over the weekend, the softball girls were playing for the chance to go to state, but lost their two games (to Chimacum (record 20-2) and to hard-hitting nemesis Lynden Christian, who we played for the third time in eight days) Friday to finish the season.
There's a lot to celebrate with these girls, who were expected to have more of a rebuilding year, and far exceeded expectations with their play this spring. Wait'll next year! Way to go, girls!
Meanwhile, super golf soph Jordyn Taylor qualified for the state tourney this weekend in Bellingham, and soph Whitney Porter high jumped her way into the state track tournament, also this weekend.
Over in Yakima, FHHS will be represented in tennis by the doubles team of senior Keller McNairy & soph Josh Lehr, who battled their way into the state tournament by winning in Seattle Thursday and Friday. Meanwhile, soph Peter Duggins lost in singles in his effort to join the guys in Yakima, and the girls representatives (doubles teams Chelsea Pascoe/Lindsay Younquist and Maddy Carlson/Hanna Burke) didn't advance either, although Maddy & Hanna spooked the number one seed from Vashon with a 6-1 opening set before Vashon's comeback. "It's always tough winning down there, with year-round players and all that, but these kids did a great job," coach Dick Barnes told me last night.
New kid on the block: That's Misa & Morgan's baby Kam (left), with proud grandma Aimee Urata & proud grandpa Chad Peterman (just out of the pic) wandering around Farmer's Market on Saturday.
Whales are about: It's nice when it happens - I went with friends over to the westside yesterday in time to see J pod come swimming by.
We were looking for them from the Land Bank property...didn't get to see the new baby, but Bob Otis tells me they could see her (J-42) earlier in the day, when they went by the lighthouse at Lime Kiln.
Wine-tasting for the Fire Department: Michael at Lakedale tells me he has a benefit wine-tasting set up for June 9th from 4-6pm.
Limited to adults over 21 years old, the event is $25.00 per person and includes six wine tastings. Proceeds will go to Tom and Connie Odegard, in gratitude for their many years of service to the Fire Department.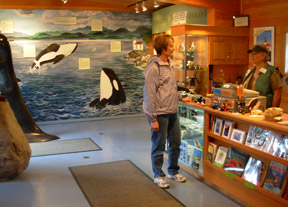 Speaking of Lime Kiln: The whale watching park opened its interpretive center & gift store late last summer, and it's already going this year.
I dropped by yesterday to see how it looked, and I like it - it's like a tiny Whale Museum, with film & information, plus a little bit of stuff you can buy. Marolyn behind the desk (talking with Josie) just completed the Beachwatchers Training, and provides a friendly way to find out more about the marine environment on the westside. It's right there at the trailhead at the parking lot - check it out!
Quote: "I was born in a very small town in North Dakota, a town of only about 350 people. I lived there until I was 13. It was a marvelous advantage to grow up in a small town where you knew everybody." - Warren Christopher. former Secretary of State