June 13, 2007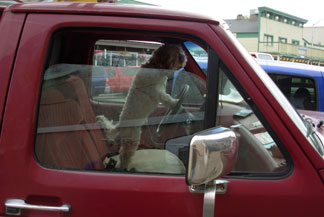 Traffic problems in Friday Harbor: OK, we got problems.
First off, there's the construction going on down near the ferry as they re-pave the area in front of the loading dock, and re-pave that street that goes down the hill. If you hear anybody whining about that, tell 'em forget it - it's better this way. And to slow down. And to go around.
Then there's the matter of people going too fast in town...just yesterday I saw two different vehicles (one a car, one a truck) going way too fast in town - one on Spring Street & one going by Mi Casita last night. While this is a problem that will take care of itself in a couple of weeks when all the tourists come, when there are enough cars to approximate gridlock on the LA freeway, it'd be cool if folks would slow down in the first place.
Finally, there's the matter of dogs driving trucks (above). This simply has to stop.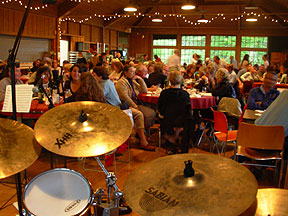 Jazzy: The Jazz at the Labs last Saturday was great - great food, the music was awesome (and well mixed for a hard-to-mix room), and it's always great to see so many friends in one place, especially people who are there to support what the Friday Harbor Marine Labs are doing.
Money raised for the evening goes to the Labs program of bringing marine science into the schools here on the island. and that's the most awesome thing of all.
Quote: "We only regard those unions as real examples of love and real marriages in which a fixed and unalterable decision has been taken. If men or women contemplate an escape, they do not collect all their powers for the task. In none of the serious and important tasks of life do we arrange such a 'getaway.' We cannot love and be limited." - Alfred Adler
---
June 11, 2007
Graduation days: Well, Skagit Valley College held their commencement last Thursday, and Spring Street International School put theirs on yesterday, and FHHS will hold theirs at the gym this Saturday at 6pm. Then summer really begins....
Candidates file: Most of the incumbents are staying put, but it's nice to see Alisa Schoultz (Park & Rec Board), Carrie Lacher (Town, unopposed), Steve Wehrley and Chris Wolf (facing each other for a Town Council spot) join up to run. Town Council member Liz Illg dropped me a note:
Hooray for Carrie and Alisa! I'm pleased that two graduates from Leadership San
Juan Islands 2007 have chosen to run for office. It confirms my belief the program
creates the confidence for potential leaders to make the next step. Having been
involved in the curriculum, I also know these candidates have a well rounded depth
of knowledge to serve their community. Cheers to Alisa Schoultz and Carrie Lacher!
Liz
---
June 8, 2007
Fly like an eagle: That's a bald eagle who flew over my head out at Roche Harbor this past weekend...
Gastropods at the Labs: You probably always wondered what was going on - there's a gastropod conference at the Labs this week...here's a blog from Bjoern Brembs, who is attending this week.
Warning: Fairly graphic discussion of snail sex. ;)
Jazz - tomorrow! Do you have your ticket to Jazz at the Labs this Saturday?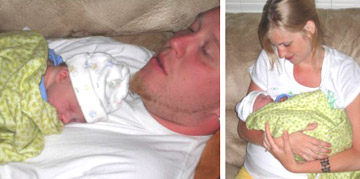 Proud grandma reports in: Cere Demuth tells me her son Nate has made her a grandma & that all are well...
Nate (Demuth) Penny and Stacy Bova are proud to announce the birth of their son, Carter Syre Penny. He was born at the Bellingham Birth Center on Monday, June 4, 2007 at 5:47 a.m., he weighed 6 lbs, 11 oz and was 20 inches long. Mom, Dad and baby are thrilled and resting at their home in Anacortes.
Who's running? Yesterday at the Town Council meeting, incumbent Debbie Emery surprised folks by announcing she wasn't running for re-election this year. Chris Wolf says he is running, and the rest of the story will be clearer after today's filing deadline passes. With Wally Gillette leaving the Council this year as well, things will look different next year, for sure.
Sharon's over at Browne's, now: Sharon Spangler's been working at Browne's Home Center since last summer, and has been named for the employee spotlight there - here's what it says: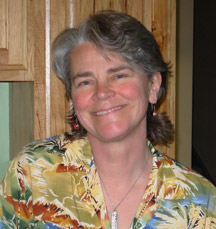 Nearly 30 years ago in Seattle, Sharon graduated from college and put her art degree to use as a carpenter. She framed and poured concrete and made cabinets, doors and windows. In 1986 she moved to the island and did finish work.
By then, 10 years had gone by, and a second 10 years had begun. This 10 was dominated by parenthood and part-time work in areas other than construction. Soon after that second ten years, she went to work for herself doing small contracting jobs, installing cabinets, doors, and windows as well as making cabinets, doors, gates, trellises and decks.
She started working at Browne's Home Center last August, in the finish room. This past May, David Reitz, known to many as the Cabinet Guy, moved to the mainland to care for elderly parents, leaving the cabinet design consulting position open. This seemed a natural fit for Sharon.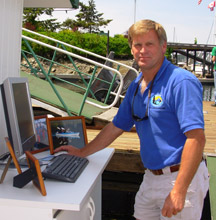 Currently, in this new position, she is looking forward to the next 10 years of designing kitchens, bathrooms and furniture cabinets. With her art degree and all those years of construction related work, we know Sharon will be a great asset to the Browne's Home Center team.
Pix with Nick: When you go on a trip with San Juan Safaris, you'll have a chance to get your photo shot by ace photog Nick Schuller (left)...he'll have it printed & ready for you when you get back from your trip. Neat idea.
French students rock: FHHS French teacher Nancy Jones tells me some of her kids are winning awards, even at the national level - here's more from FHHS Principal Patricia Scott:
Friday Harbor High School students Alinson DeJesus-Nash, Hanna Burke, Meaghan McCormick, and Michelle Mullin, each ranked high in the 2007 Le Grand Concours.
In the Level II category, Alinson DeJesus-Nash (center) ranked second in the country, earning a second place Silver Medal, a Fraternité pin, and new French dictionary; both Hanna Burke (right) and Meaghan McCormick (not pictured) received a Certificat de Réussite for placing in the 20-50% top scoring.
In the Level III category, Michelle Mullin (left) also received the Certificat de Réussite for also scoring in the top 20-50% group.
More than 104,000 students nationwide participated in this year's contest.
The Grand Concours, an annual French language competition held in the 50 states and abroad, sponsored by the American Association of Teachers of French, consists of students of French in grades 1-12 competing against each other for prizes. Grades 1-6 enter the Foreign Language in Elementary School Contest, grades 7-12 the Secondary Contest.
To participate, students take a listening comprehension and written test, with the scores ranked against students with similar educational backgrounds. Students enter via their French teachers, who contact local Chapter Contest Administrators for local deadlines and entry fees.
Le Grand Concours, or National French Contest, is a French event in the form of a 60 minute national examination, designed, written, financed, and disseminated by the members of the American Association of Teachers of French. Its purpose is to help stimulate further interest in the teaching and learning of French and to help identify and reward achievement on the part of both students and teachers. This year's students were led by FHHS French teacher Nancy Jones.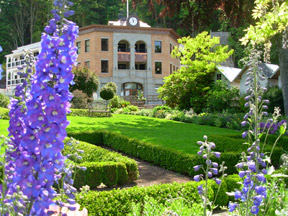 New building open: Candice from the front desk at Roche Harbor tells me hotel guests have been staying in the new building (right) already, and thet the new spa is still on schedule to open in July.
As you can see, the new building (which is called Quarrymen's Hall) is just to the right of the the Hotel de HAro, as you face it from the water.
Click on the picture to see a bigger version. Go ahead, try it.
Quote: Paul McCartney, who will be 65 on June 18, says he now regrets writing the Beatles classic "When I'm 64."
"It just draws great attention to that age and reaching it," he said. "In actual fact, it's actually not been bad, you know, really. People still feed me and one or two people still need me."


---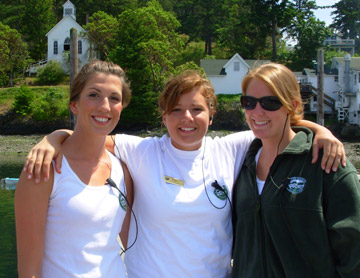 June 7, 2007
Roche Harbor in full swing: It was great to get out to Roche Harbor this weekend & see the summer in full swing. One way you can tell is the coffee place is open; another is that the shops are open for business; another is that the folks who work during the summer are on-island & getting things going.
That includes FHHS grads Natalie Chevalier (left), Pearl Schuman, and Madison Judkins all back from college, out on the docks.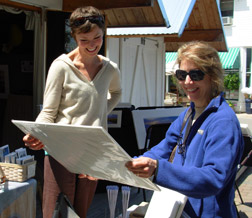 Meanwhile, in the artists' booths, Rachel Goodremont was showing off her paintings (you can see her work on her website at www.artbyrachel.com) to my admiring cousin Anne from Atlanta...Rachel's husband Brian works across the way with San Juan Safaris, which sounds like a clever setup to me.
There are weddings & flowers (the gardens are looking great, thanks to Alana, ace gardener) & boats & food - be sure and get out for a visit. Oh, yeah, the new building next to the hotel is nearly done - check it out when you're there.
That's where the spa is - here's more about that, scheduled to open the first of July.
Speaking of weddings: This is the week that Ann & Jack get married - here's photos of them in '87 and last week in King's Market...here's the little story Jack Casey sent me to fill in the blanks of my curiosity: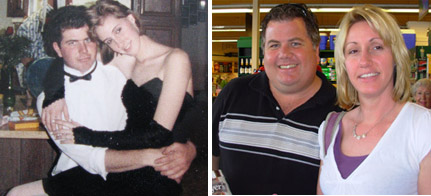 Hi Ian,
Here is the picture of Ann and I in 1987. It was the last day we actually spoke to each other for 20 years. A few years after the picture was taken, she married someone else.
Throughout the 20 years, our parents kept us updated on each others' lives and what was happening. It was not until I got word from my parents that she was no longer with her husband, that I decided to give her a call. And the rest is history.
Our wedding will be at 1:15 on Friday, June 8, at the Courthouse. We wanted to just have a simple quiet wedding. Figured we waited 20 years, who wants to wait another year so family and friends can come too. Next year, we will have a vow ceremony with family and friends on our one year anniversary. Thanks, Ian, Jack
Tom & Connie are back! Not only are the Odegards back, but there's a fundraiser for them at Lakedale this weekend - catch up with their friend Catherine's blog here. And welcome back, you two!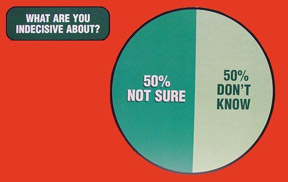 Finger on the pulse: This is the week that candidates need to sign up for different offices here on the island (we have spots open on Town Council & the school board & more), so I asked around to see what people most cared about. The results are published at right.
They're kinda unofficial & somewhat unscientific. So, like most of the maps around here, don't use 'em for navigational purposes.
Sports awards: Way cool to see FHHS celebrate its spring athletes last night at school, with a bunch of parents, coaches & kids in attendance. Surprises: Senior Matt Rothlisberger was named League MVP for the baseball Wolverines, who finished as league champs again this year (with coach Rich Warin as coach of the year). Softball had six player named to first & second team honors for all-league, and all the teams (golf, tennis & tennis, track & soccer) had team GPAs above 3.1...that's worth celebrating, right there.
Rumor: I hear ace FHMS teacher Chris Wolf is gonna run for Town Council. Cool - he'd be a great one, I thnk.
Walking across Spain: I was gonna tell you about Robbie's talk (it WILL rock) on Saturday, but I think my friend Louise tells it better in this nice note she sent over:
Hi Ian -- I hope you can put up something about the program planned for Saturday at 7:30pm at the Library, when Robbie Lawson will speak on "Hiking the Camino in Spain." She's done parts of this long walking trail in three different years, and she'll give a slide show of her walk and talk about the history, the countryside, the people, challenges, and logistics of this fascinating adventure. After her talk (and a question period) the Trails Committee will share information about the work they are engaged in here on San Juan Island.
Hiking and walking enthusiasts of all kinds, from armchair to extreme, are welcome. This event is free and open to the public. Thanks. Louise
Co-sponsored by Friends of the Library, and San Juan Island Trails Committee.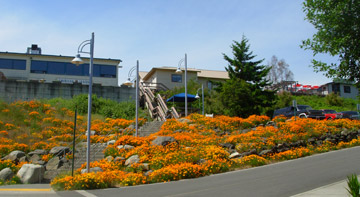 Poppies everywhere: Tony Surina's legacy is the outpouring of color we get each late May/early June of what seems like poppies all over the island, including looking up at the Legion building & the back of the Grange building, from the Port of Friday Harbor.
He planted 'em as a wonderful, natural gift to each of us each year.
Dancin': Bill and Rita Ament's "Dance Happy" makes its 22nd appearance at San Juan Community Theatre on Friday (yes, Friday), June 15. Curtain time is 7:00pm. This is a treasured island tradition, showcasing the talents of dance students and other entertainers (75 in all this year!) in a fun-filled, family show. One thing everyone looks forward to on the program is Vanessa's performances. She's just graduated from Cornish College and is about to embark on a career in music.
Tickets for the Dance Happy show are selling fast, so reserve yours right away. $14 for adults; $7 for student reserved ($5 RUSH, if available, at the door). Call 378-3210.

About the whales: At the Library on Friday, June 8 at 6:30pm - there's a Whale Museum Lecture in which you can learn about the natural history of the cetacean species native to the Salish Sea, their aquatic adaptations, the differences between baleen and toothed whales, environmental threats they face and conservation efforts.
Booksigning at the Spirit Tree: Kenneth tells me that Jean's got a book out: He says local author Jean Hendrickson will be presented for a book signing for her book, We All Have A Purpose For Being Here – A Memoir. Starts at seven pm.
Marathon results: Whoa, I didn't know you were THAT fast, speedy! Here's the results from Sunday's race...see who you know!
Art! Tonight! It's the Gallery Mezzotint House Party!
Meet house artists and see fine prints and photographs by Cynthia Church, Anthony DiMichele, Paul Aiello, Carol Kirchner, Joan Benny, Bill Curr, and Karen Nishiyama. It's tonight from 6-9 pm. 301 Tucker Ave. #7. Also, come to see Anthony DiMichele's new large prints.
Quote: "The only gossip I'm interested in is things from the Weekly World News - 'Woman's bra bursts, 11 injured'. That kind of thing." - Johnny Depp, probably after reading the San Juan Update