July 7, 2007

Where the kids are working this summer...
Josh Lehr & Shay Byington shot a bunch of photos of where kids are working this summer, so I'll start with letting you know Katie Strasser (left) and Judy Finn graduated last month & are working at Roche Harbor Sportswear.
(Here's a bit about the store...). I saw Hanna Burke working there last month, too, as well as Jane Westmiller. That's the place run by Dominique (see yesterday's posting.)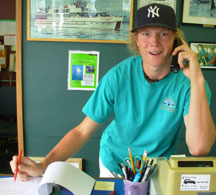 Meanwhile, just-graduated Matthew Rothlisberger (left) is ready to take your reservation at San Juan Excursions, located just below Downrigger's.
waterworks art opening tonight
Come meet Tim Schumm tonight at 5:30pm at waterworks as he opens his show that runs till the 27th. Take a peek at his landscapes here.
ARC begins online place for county farmers to connect...
From their website:
Agricultural Resources Committee (ARC) of San Juan County offers an electronic bulletin board (web-based forum) so that you may communicate with others within the farming community on issues of relevance to you.
This is a good place to put questions to the ARC on any subject pertaining to Farmland Preservation, Marketing, Regulations, etc. This forum may also be used to ask questions and offer answers or tips on farming practices.
Start here.
The story of two Mikes...
Well, it all began years ago with two fellows named Mike. Their paths have been different, but their, well, uniforms have been similar. Here's Mike Vouri in the parade on Wednesday (he's the one out front of the troops in 1860), with Mike Cohen on the accordian behind the troops.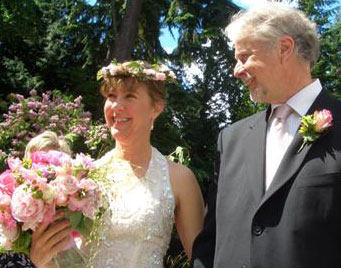 Mike V is the Chief of Interpretation for the Parks Service while Mike C is possibly the island's most famous (deservedly so) musician who runs Project Nature Connect. Way cool.
Both are in the news. My news, anyway.
Mike Vouri got married to Julia Coffey a month ago, so if you miss him around the park, that's 'cause they're out honeymoonin' in the Yucatan. Julia's the sister of Rebecca Smith, while Mike is the island's favorite son.
They were married June 10 in Woodinville at the home of a friend. Their immediate families joined them from as far away as Manhattan, Los Angeles and San Juan Island (Francis and Rebecca Smith of Cape San Juan firehouse).
Meanwhile, Mike Cohen has a show coming up you'll want to see...here's more from Laura at Griffin Bay Books: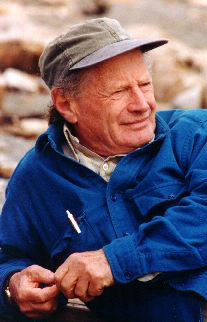 New Documentary DVD Film Discussed: Naturally Attracted, Connecting With Michael J. Cohen
For good luck in our efforts to achieve greater inner peace and global peace, on Friday, July 13 at 7:30 PM at the Griffin Bay Book Store, 155 Spring Street, Friday Harbor, Dr. Mike Cohen, of San Juan Island will informally discuss his new documentary DVD film and Reconnecting With Nature book. Using traditional music and sensory research, each of them help us improve personal and environmental well-being by helping us think and feel with the natural world within and about us, rather than against it as has been common practice.
Cohen promises to demonstrate how the use of his award-winning natural attraction art and science increases the grace, balance and and restorative powers of natural systems in the life of our psyche.
A preview of the DVD film Naturally Attracted, Connecting With Michael J. Cohen can be seen online here or it can be explored in depth, via http://www.SaneEarth.com. Several residents of San Juan Island appear in this compelling presentation that was produced by Ph.D.'s in Neuropsychology and Anthropology.
Mike Cohen can be contacted at 360-378-6313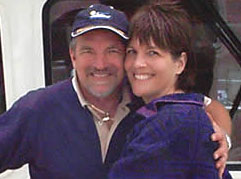 The kids are doing alright, tonight...
Just got a note from Sasha, who married longtime islander Brian Calvert a few years ago...they live downsound & she keeps their website up & happening - check it out! They both say hi to all their island friends.
Poem for the day
Here's a bit from Shel Silverstein that you might like, especially if you have voices around you telling you what to do:
Listen to the mustn't, child,
listen to the don'ts,
listen to the shouldn'ts,
the impossibles, the won'ts,
listen to the never haves,
then listen close to me -
anything can happen, child.
Anything can be.
---
July 6, 2007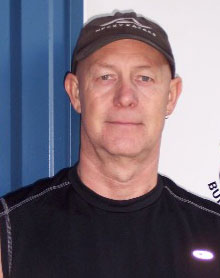 Glen's back
You may have heard that our good friend Glen Gullickson had a lawn mowing tractor roll over him about a month ago...pretty awful stuff, with broken ribs, chipped vertabrae, whacked his head. When I ran into him this week, he tells me he's really lucky to have survived the experience.
The good news is that he's walking a bit slower but OK now - he was out & about at the Fourth of July picnic on Wednesday, and was his usual funny, cheerful self. He said to tell you all he appreciates all the good wishes, care, and concern over the past month as well.
Good to have you around, Glen.
My friend Rocky...
See the raccoon in the masthead above? I saw him hanging on the tree & he waited till I took his picture before skeedaddling back in to the woods. That was when I was coming back into town from the Marine Labs, on that nice wooded road.
He likes it here...
Here's a little blog by a comedy writer who doesn't sound like he's kidding when he says this is the coolest place he's ever been. Here's more.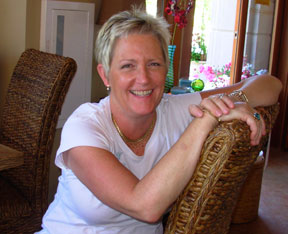 Dominique's new house....
Does this woman ever sit still? You know that Dominique Soracco opened the dress & clothing shop (called Dominque's Clothing, located next to the Little Store, now owned by Teri McPadden & Maureen MacNally) and has run the sportswear shop above Roche Harbor Market for years.
Last year she got Dominique's House going, offering fine furnishings & more, down near the corner of Spring Street & First in town. This past weekend, she opened the Roche Harbor version of Dominique's House in the new Quarryman's Hall next to the hotel.
When I visited in the middle of the week, I heard people who were looking around in the shop say, "Wow, this is cool!"...because it is. Dom says she's open 9:30am-6, seven days a week - drop by!
Community Theater - it's this weekend....
Tonight it's Michael Vouri's historical drama, The Life and Times of General George Pickett. Tickets are $12 for adults; $6 for students reserved.
Then this Saturday, July 7, they are hosting the renowned father-son sitar duo from India: The Mishras. Tickets are $20 for adults; $10 for students reserved. $5 student RUSH is available at the door only. Here's more.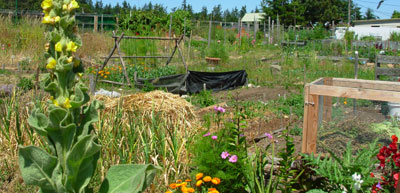 The Community Gardens - looking good...
You've seen them next to the baseball field, by St. Francis Catholic Church...the community gradens are leased to folks from all over the island who don't have a space to grow of their own.
The water is provided (there's a bit of a fee) by the Catholic Church, and it's looking great this year - drop by & take a peek!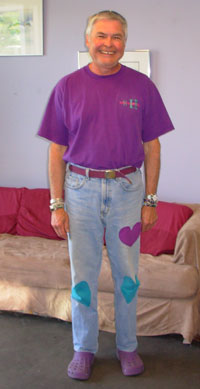 Wearing his heart on his...leg
I love it when people who have more flair than most stop by the corporate offices of By Design (we do graphic design! We do websites! That's a plug for ya)...earlier this week, Christian from Olympic Lights B & B dropped in to say hey & let me know they're in the mastering stage of his marimba band's new CD, which they recorded at the Community Theatre the other day. He's gonna let me know when it's released, so I can tell you.
Meanwhile, he's better dressed than most of the island.

Reading & writing...
This weekend the Library has a couple of chances for you to connect with a gifted writer & teacher - on Sunday the 8th at 7pm it's the Local Author Talk with Judith Azrael. She'll will read from her novel Wherever I Wander and answer questions about her experiences as a writer.
Then, on Monday, the 9th at 7pm, she'll offer a Journal Writing Workshop where you can learn about Journal Writing (travel, nature, personal and artist). She tells me all levels of interest are welcome! Writing materials will be provided for you.
Quote
When you get to readin' about where the music and John Steinbeck and all those people like that come from, the further you go the more interesting it becomes. - Merle Haggard
---
July 5, 2007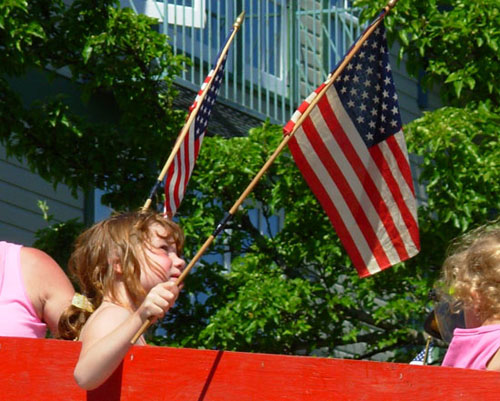 Happy Fourth on the San Juan Island
Wasn't yesterday the best day for a holiday? It had all kinds of things going for it - awesome weather (sunny and warm, in the high 70s), an awesome parade, an awesome outpouring of love as islanders met up downtown & at the dance at the Port & at fireworks all over the island & picnics...just couldn't go wrong.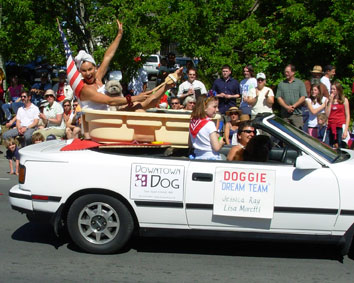 Here's a 114-photo portfolio of the parade, mostly - there were over 50 entries in the parade this year, which still moved along smoothly. In these pictures, you'll see your friends & neighbors (and yourself, probably), so check 'em out.
Like, that's Lisa Moretti from Downtown Dog - she & Jessica Ray (driving) wash dogs, so that's one of the dogs in the tub with Lisa.
The EMS folks put on the Pig War Picnic after the parade this year, which was crowded & sunny with lots of music & food & friends gossiping.
Meanwhile, out at Roche Harbor, they had a full day of activities & games & the mayoral election, along with log rolling, blindfolded dinghy races... and with the whole day wrapped up with the fireworks at dusk.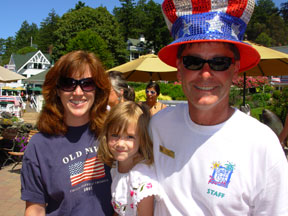 General manager Brent Snow (with wife Kelly & their girl) did his traditional MC job to direct traffic all day, and it was easy to find him in the crowd with his hat....
Of course, not everyone did the planned events - one friend of mine has his annual Volkswagen repair day every Fourth, another friend does her James Bond marathon at home because she dosn't care for crowds, and a mob of people went to the beaches and took to their boats to relax in the sun.
The fireworks at Roche Harbor & Friday Harbor put a nice end point on the day...hope you had a good one.
Quote
"What is government itself but the greatest of all reflections on human nature? If men were angels, no government would be necessary. If angels were to govern men, neither external nor internal controls on government would be necessary." - James Madison
---
July 3, 2007
Ready for the Fourth
You already know the drill - the parade is at 10:30am (heck, you're probably in it, so I'll take your picture like I did last year, all 120 photos of 'em), followed by the Pig War Picnic at the Historical Museum with the EMS guys in charge of it this year with hot dogs & music & games & all kinds of stuff.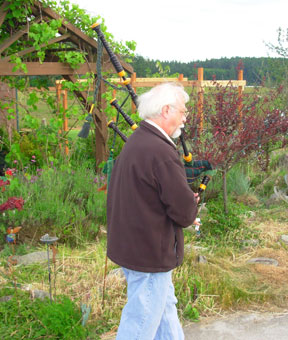 The Rock the Dock concert gets underway at 6pm down at the Port, with fireworks later in the evening, probably around 10pm. Meanwhile, there are games, events & fireworks at Roche Harbor all day as well - here's what's happening.
Music Man....
It's always good to hear a master musician, and one of the best around is Pat Mayo (left), the Port of Friday Harbor's Operations Manager. He's been playing the bagpipes for decades, and you've head him at different events around the island for years. I last hear him a couple of weeks ago at Steve & Nan Simpon's anniversary party, playing - just like he did at their wedding.
New islander coming, off-island...
I just heard from my good friend Elliot Pemberton that he & Kari are pregnant with their first child, and hope to find out in a few weeks if it's a girl or boy.
You'll remember Elliot was our quarterback at FHHS who took us to the playoffs & also started a school newspaper before he graduated. Great guy, doing great things....not sure if the new kid qualifies as an islander, but hey, close enough, if you ask me.
K pod's coming
You may have noticed that when I talk about the orcas, I've mentioned J & L pods this year...K pod hasn't been around, which is a bit late for them. However, they've been spotted at the north end of Vancouver Island over the last couple of days, so hopefully they'll come this way soon.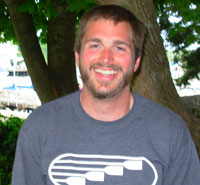 Speaking of old islanders...
It was cool to run into Wayne Foley (right), who was visiting from Seattle last weekend - yep, he's till into programming, and doing really well at it. Another island boy makes good. Wahoo!
Artist Book Signing!!!
Remember on June 29th I told you about Orca Encounters – Images of Southern Resident Killer Whales by Monika Wieland? Well, Lime Kiln Point State Park is sponsoring a booksigning out at the Interpretive Center from 4-6pm on Saturday so you can meet her.
Quote
Just because you know someone doesn't mean you love them, and just because you don't know people doesn't mean you can't love them. You can fall in love with a complete stranger in a heartbeat, if God planned that route for you. So open your heart to strangers more often. You never know when God will throw that pass at you. - Heather Grove