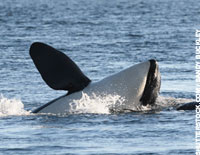 Good photos, good website....
What a nice surprise to see that the Puget Sound Partnership used a bunch of local islander & ace photographer Sandy Buckley's pictures (including the one to the right) for their site, all properly crediting her.
An even nicer surprise is the good job this state agency does as it articulates the problems & challenges facing the orcas and other marine mammals in Puget Sound.
After you look at Sandy's awesome pix, read a bit, then get to work. We have a lot to do to set things right in our waterways.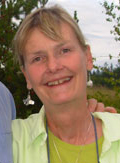 Love & logic, round two...
Dozens & dozens of island parents have taken Nan Simpson's Love & Logic classes (that's Nan on the left), and now there's a brush-up being offered on August 6 & 7 for folks who have attended the previous classes. Here's Nan's note explaining what's going on with the refresher classes...
The real estate update....
Whenever I'm wondering what's going on in real estate, I check out Merri Ann Simonson's newsletter on her site for the latest. Currently there's about 350 properties on the island for sale, and there's good reasons to buy now. Here's more.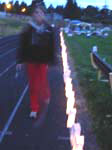 Relay for Life - this weekend....
If you get a chance (if you're not already in it), drop by the high school soccer/football field & check out Relay for Life, the annual fundraiser & consciousness-raiser for cancer research. Here are some pictures from last year, which especially show the party the event has become. The all-night event is open to everyone, especially the Survivors' Lap at the first (around 3 or so) and the Luminaria Walk (right) and reading of the names of survivors & those who have passed away, around ten pm.
---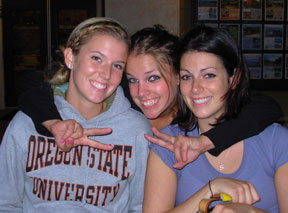 July 26, 2007
In the streets....
It's always good to see old FHHS grads when they come back for the summer.
So it was good to run into Isla (left) who is finishing up at Oregon State and Shane (right, the familiar face from King's Market, back from school in Ohio) over the weekend, with a friend of theirs whom I'll admit, I hadn't met.
Good to have everyone back in town.
Meanwhile back at the bank....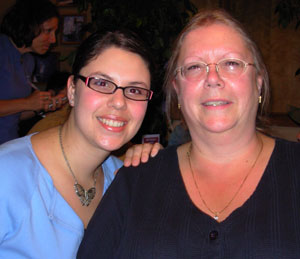 Running into old friends is always fun - Sharon Adler (left) is living in Seattle, but came up last weekend to visit her mom Carolyn, who you'll recognize as one of the friendly faces at Wells Fargo Bank.
On Friday night they were part of the crowd downtown waiting to buy the new Harry Potter book at midnight, presumably so one of them could stay up all night reading.
Speaking of reading...
This week is the weekend that booklovers the island over have been waiting for - the Friends of the Library book sale. It starts Friday night if you're a Friends member at the elementary school, and opens up to everyone on Saturday.
It's so cool to see the entire gym at FHES stacked high with books the library can't use or have taken from the shelves...join the throngs, wade in, and stock up for the long hard winter ahead.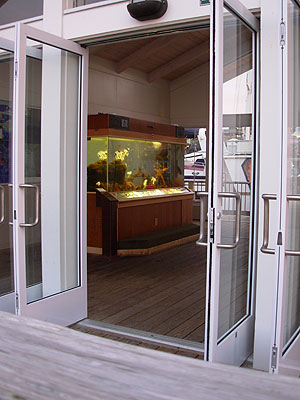 The aquarium rocks....
Down at Spring Street Landing (that place at the end of the dock, as if Spring Street just kept going), there's a sort of terminal where people can hang out if they want to while waiting for boats & such...also a good place to take a lunch & look over the harbor.
Well, inside that building (right) is an aquarium which is the brainchild of Mike Kaill & Sandy Harold, and it's way cool. It's got a bunch of examples of the sealife around the harbor & the island, with interpretive art to help you identify stuff. Here's a writeup that describes more about it. It's definitely one of the marina's gems - go check it out. And thanks, Mike, for keeping it up!
Smoke on the Mountain is on stage, this weekend & next...
There are a lot of firsts in this weekend's show...here's more about that. The shows have had a lot of interest, so get your tickets now.
Passing...
There will be a celebration of Nancy Jo Cavenaugh's life at 1-3 p.m. on Saturday, July 28 at the American Legion. She passed away earlier this month, and the shock of this longtime islander being gone is still being felt around the island. There's a nice write-up about Nancy Jo in the San Juan Islander - she is much missed.
Quote
"It isn't enough to talk about peace. One must believe in it. And it isn't enough to believe in it. One must work at it." - Eleanor Roosevelt
---
July 25, 2007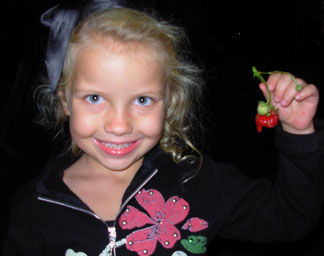 The Backdoor Kitchen rocks...
Well, I'd like to tell you I ate at the Backdoor Kitchen & it was great, but I didn't eat there Monday night...because they were so busy. On a Monday night!
So I went with friends later at about 8:30 or 9 for just a drink & there was a seat or two by then, plus Mollie (right), who showed me her half-eaten strawberry & a great smile.
I used to think the BK was one of our best-kept secrets around here for a good place to eat, but baby, I think the secret is OUT.
Opening next month...
You know the building at the top of the ferry lanes that Charles Thomas is building? It's on the tail end of construction, and Charles tells me that on August 15th a convenience store and Mi Piace Coffee House will be opening, as well as another retail spot. I met Ada who is managing the coffee place, and she's pretty excited to get going - drop by & tell her hey!
Nice...at last
It's finally nice outside, after a week of rain & cool & clouds & grey.
Get outside & play. Music on the Lawn is tonight, and Shakespeare's at Roche tomorrow, and the play's on at the Community Theatre, and there's beaches to walk on and kayaks to take out & hikes to go on, and picnics to prep (why ARE you eating inside?).
Get outside & play.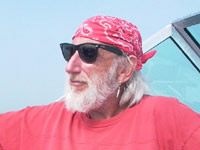 Spotlight on those minkes...
If you don't know much about the minke whales around here, tonight is a super chance to find out more - internationally noted researcher Jonathon Stern is making a presentation tonight at 7 at the Whale Museum.
Featured in National Geographic articles and othe prominent publications, Jon is one of the world's leading experts on minkes, and just happens to be doing his research this summer here in the islands. Always entertaining (please don't come if you want a BORING lecture), you'll enjoy getting to know about the "little whale."
More wildlife watching...
I got to go out last night with Jim Maya for an evening boat ride.... aboard for the trip were a woman from the state fisheries & oceans place and a woman who does humpback identifications for an outfit in BC & Hawaii. It was cool to get to sit in on a wide ranging conversation that dealt with what's happening with stellar sea lions, what the range of humpbacks is (answer: the same whale has been spotted in BC waters & in Japanese waters), what Jim thinks of Tom Cruise, whom he met during "Practical Magic" filming years ago, about the leper colony (or prison) at D'Arcy island...all on a calm, sunset-lit sea between here and Vancouver Island.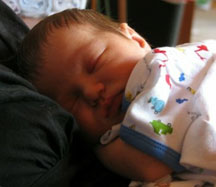 Jim operates out of Snug Harbor, and he does a super job.
James arrives...
It was great to hear from Kate Sears that her baby was born last week, and that everyone's doing fine:
Dear Ian,
Hi! We wanted to let you know that one of our babies has arrived-- Kate and Jerry's son, James Winton Sears! He was born on July 17, 2007 at 7:12pm. We're thrilled to welcome him to the family! Everyone is home and resting... and eagerly anticipating Dori and Dennis's baby later this summer! :) Dori and Kate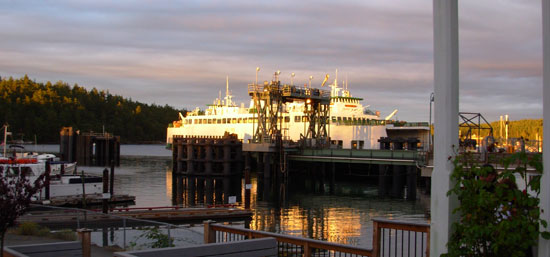 The sunset on Monday night in the harbor lit up the ferry for the first time in a week
Quote
"A person writing at night may put out the lamp, but the words he has written will remain. It is the same with the destiny we create for ourselves in this world." - Shakyamuni
---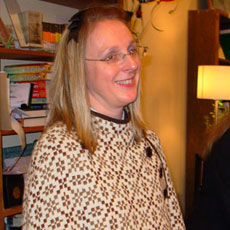 July 24, 2007
Harry redux - photos from the evening...
When I dropped by Griffin Bay Bookstore Friday night, it was cool to see everyone all dressed up & in the mood. I was able to shoot a few photos, but it was tough because it was so crowded! That's bookstore owner Laura, dressed as Mrs. Umbrage.
If you'll excuse the quality of the pictures (hey, YOU try & shoot in the middle of a mosh pit!), here's a little sample to give you a flavour of the evening.
Super orcas in a superpod...
The folks at Prince of Whales in Victoria posted some photos from the superpod late last week - take a peek! People who blush easily should know that the orcas usually mate during these meetups (that's where the expression "free willy" came from...). So, check 'em out!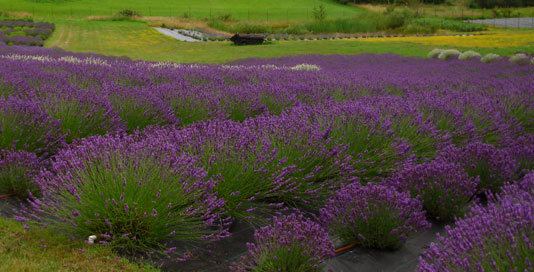 Lavender fields on Sunday, during the Lavender Festival at Pelindaba
Looking for a friend...
I got a note from Marlene up in BC, who's looking for a friend & asked if I'd help....so I guess I'll ask if YOU can help. Write her if you know anything:
Hi Ian....I am looking for Paul Dunn, last address 475 - Marble St., Friday Harbor, which was supplied to me recently, but to no avail. He's retired Navel personnel, but I can't locate him., We met in Hawaii in mid 60's. Looking at your wonderful website, I'm curious to know if by any chance, you can punch in a person's name and maybe there would be something archived.. any idea of where I can go from here?? I've read many of your recent stories, what a wonderful community of excellent events/stories. I'm planning on visiting soon, I have not been to Friday Harbor for many yrs. Keep up the good service to your people and visitors of your beautiful islands. I would be grateful if you could pass on some info. Thanks so much and have a great day! Sincerely Marlene...(mjkelly1@shaw.ca)
Quote
"We are living in a time in history when the mass media can no longer be counted on to provide a free and independent voice in political debate, or to be a countervailing force against large corporate commercial interests."
- Jenny Uechi
adbusters, jan/feb 2007
---
July 23, 2007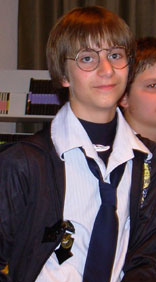 Harry Potter books make their way to the island....
If it seemed a little crazy in the streets of Friday Harbor on Friday night, there were three bookstores involved.
The publishers of the last Harry Potter book had a deal with booksellers that the earliest they could sell the 700+ page book was a minute after midnight, which is Saturday, actually. So everyone had a party.
Over at Harbor Books, they called all the people who had pre-ordered the book & they had a get-together at midnight. At Boardwalk Books, they played CDs with readings from the other books & had food & a costume contest, while at Griffin Bay Bookstore packed over a hundred folks in, as they had contests & food & an crowd throughout the store, generally dressed like witches & wizards, like Sam Asher at left as you-know-who.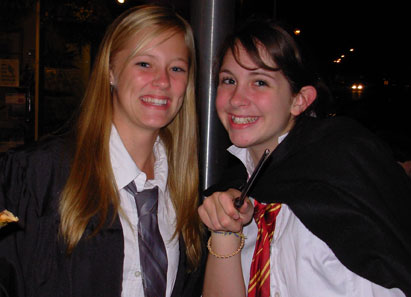 Mixed with all this was a need for wands... I asked several FHHS students what they were going to do for wands & they went to China Pearl to see if they could get some chopsticks, but the restaurant part was closed.
Foggy days & cool nights...
It's been pretty foggy the last few mornings (the photo of the Victoria Clipper in the masthead was shot Saturday morning in the harbor), as well as this morning, which is why you keep hearing the ferry's foghorn. The weather's supposed to begin to break later this week, with a little sun.
Meanwhile, I think our series of wet days has served our theater & laundromat well, although it did mean the Saturday outdoor show of Comedy of Errors had to be cancelled. Try & catch it this weekend at Roche - it's playing Thursday through Saturday.
Report from an old friend
I wrote Leigh Freeman the other day to see what he's been up to - he's a longtime islander who has moved up to Vancouver with his wife Julian (Olivia has graduated from high school, while FHHS soph Alex still lives her with her mom.) He's still selling real estate, and is already getting pretty involved in the community:

Hey, Ian - It's good to know what's going on with the Update.
I'm forging on into a hot real estate market up here, much of which is establishing a network with local folks and neighbors. The Vancouver City Council chose me to fill the one open seat on the Vancouver Heritage Foundation board of directors, which has been a wonderful opportunity to meet up with the movers and shakers of this town, while serving the cause of preserving as many fine, heritage homes as possible. This is no small matter given the huge influx of newcomers who don't appreciate the beauty of the older "character homes" and prefer to raze them and build new.
All the best, Leigh

Lecture series continues....
Amelia at Pelindaba wanted you to know:
Our second lecture on The Comedy of Errors is Monday night, 23 July, at 7:00 pm at Pelindaba Downtown. The evening will begin with a short presentation followed by question and answer with the audience.

Tonight: " Methinks you are my glass, and not my brother", dicscussing gender and identity in The Comedy of Errors, Elizabethan society, and the public theaters, led by Mary Janell Metzger, Ph.D., Western Washington University.This event co-sponsored by Pelindaba Downtown, Island Stage Left, and Skagit Valley College. Admission is free.
Quote
"I believe in the division of labor. You send us to Congress; we pass laws under which you make money... and out of your profits, you further contribute to our campaign funds to send us back again to pass more laws to enable you to make more money." - Senator Boise Penrose (R-Pa.), 1896