prepared weekly or so by Ian Byington
May 17, 1999
Baseball rocks: The FHHS ball team advanced to regionals with their 4-1 win this weekend over the mighty Lyndon Christian Lyncs...cool!
Weather: The weather Sunday: rainy, then nicer. The weather tonight: dark, since we're so close to the new moon.
Shaina scores: FHHS senior & ASB prez Shaina Sekey was awarded the Channel 13/Ewing-Kelly Award this Sunday...she was one of 40 chosen statewide from over 900 applicants. You'll remember, that Maggie Muzik-DiGiovanni won the same deal two years ago.
Ruben recovers: Heard Ruben Woodruff (FHHS coach & ET guy) had a heart attack, has been treated, and is back home resting. Get well, Coach.
Island on the cover: The San Juans (and, of course, our island) are featured in the just-out summer issue of Pilot Getaways magazine, which includes a nice spread on Roche Harbor as well. The aerial photography is cool...it's great to see how we look from the sky! The cover (click here to see a bigger version)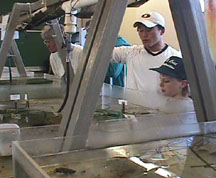 features that red biplane from Orcas over the islands...makes you want to go up. Check it out.
Labs fans: According to someone I talked to who was running the census, some 600 folks went to the Labs Open House yesterday, which featured experiments, demos, and lectures all over the Unversity of Washington's favorite outpost (our favorite, anyway). Kids (like in the photo on the right) and inquisitive adults everywhere..
Going to the dogs & more: Of course, that wasn't all...
For dozens of island kids, yesterday was a great day to play baseball, as
tee-ballers (like Megan Cuomo, right) all the way to high school took to the fields all day. The sun was out all day....maybe we will have summer this year, after all.
Also yesterday, there was a show at the Fairgrounds which featured dogs from TV & movies: Eddie from "Frasier" was there, the dog from "Good as It Gets," and another from "Homeward Bound." It was cool, because we had actually seen some of those shows. Hundreds attended: the show was a fundraiser for Wolf Hollow, our local animal rehabilitation center.
Did you see Bob & Barbara Buck coming back on the ferry yesterday from Lyle Lovett in Seattle?
Did you see those crazy tourists from Alabama on the ferry, feeding french fries to the seagulls? Said they thought they were pelicans or something.
May 13, 1999
Dates, dates, dates: Grab your calendar & let's make sure you have all these down.... in reverse order:
The high school's graduation - arguably the best attended local event besides the fair - is set for June 12 this year, a week after Island Rec's summer program signups at the Fairgrounds on the 5th (10:30am - 12:30pm - call 4953 for more info). Fall soccer signups are part of that, as well....
The Yacht Club's "Round San Juan Island Race" is this weekend & includes a bbq at Snug Harbor on Saturday. Also, the Friday Harbor Labs have their every-two-years Open House on Saturday, with music at the theatre in the evening.
Meanwhile, the Junkyard Jamoree (that's a huge rummage sale) is being set up for the 22nd at the Fairgrounds, and will include stuff for emergency preparedness for sale at reasonable prices as well, according to Red Cross dude Bruce Conway.
And it looks like j-pod's back, so make a date with them to go over to the west side and welcome them back for their summer visit.
Marine news & whales to watch over: A government agency report details the effects of over-fishing...it's not too hard to establish the relationship between the possibility of less salmon on the westside and then less whales, who come to dinner...
Famous Orca Keiko continues his rehab for a return to the ocean in Iceland.... Elizabeth Petras has returned to the waters with her Notes From the Field Journal she keeps for Deer Harbor Charters. She reports on the Makah situation (they tried to kill a grey whale this week), with an analysis of what they're up to & also says the Dall's porpoises are putting a show on this spring.
Quote: "A man who has lost his sense of wonder is a man dead."- William of Saint Thierry
Side notes: The Inns at Friday Harbor's Marketing Manager Michelle is off to a trade show in Florida this week...Helen Ellingson told me last week that husband Dave's wrapping his work helping put in sanitation systems in Albania; his engineering expertise is much needed as that country deals with its refugee crisis...Snug Harbor's Eric Concord says a new whale watch outfit called Salish Seas Charters will be operating out of the resort this summer....
Are you ready to volunteer? As the Chamber gears up for the annual Fourth of July bash, Jeff Van Dyke at the Office Supply's looking for good vols...call him up - he'll put you to work.
Did you see the new map on the Windermere page? Terrie made it clickable so you can see where their vacation properties are located.
FHHS baseball: The boys put their 12-4 season record on the line in playoff action against Charles Wright Academy on Tuesday, thumping them 17-5 with a nine-run first inning. They return to play at SeaTac on Saturday. Meanwhile, softball starts its playoff trek this week, as does golf and tennis.
May 11, 1999
Art walk: You know, you don't have to wait till June 5-6th when the annual studio tour happens to see great art on the island: a number of businesses and banks downtown have art from the elementary school in their windows. Whether it's the Mrs. Cooper's second graders emblazenin' Sam's Shoes, or Ms. Cope's and Mrs. Sandwith's kindergarteners decorating the health club, or the good looking work at all the banks, at the pub, in the stores - looks good. Great chance to see how talented our kids are!
It's the principal of the thing: The elementary school will be headed up by Carolyn Haugen next year. Jodi Bell was part of the on-site team that went to California to see her in action, and came back impressed with "the quality of education that appeared to be going on in the school we visited, with an environment of respect and responsibility."
Sounds like we got a good one.
Small notes: The Soroptomists pulled in some $2200 in their weekend rummage sale; heard the Seniors Sale went well, too...at the sale, I picked up a small Macintosh SE for cheap, carried it home to test it for word processing, and was surprised to find it was my old machine from when I taught school in Oregon six years ago. More proof it's a small world: people who have owned it include Lee Bryant, a fellow named Dudley; it made a couple of trips to the dump & got donated to the school - and now it's home again.
Think they'll make a movie? They could call it, "The Mac is Back."
Carol Jackson bought the last ticket sold to Saturday night's sellout of the Theatre's "Hello, Bijou, Hello" show, and she said it was a great show, with wonderful performances by community members...
The Chamber of Commerce has asked to Jody Price to take Peter DeLorenzi's place in the office...she brings a great deal of organization and enthusiasm to the position - she may be one of the most famous volunteers on the island! Good choice.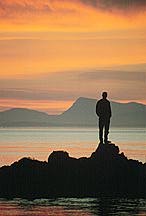 May 6, 1999
Sun still sets: We've been having some incredible sunsets lately...have you been over to the west side lately?
The photo to the right was taken by Johannes at Crystal Seas Kayaking...(it's copyrighted, by the way, so don't swipe it.)
Land Bank moves: Have you seen the Land Bank's new page lately? They just moved to a new location, with info about what they do with the money they get from 1% of every real estate sale in this county. Check it out.
Garage Sale Junkies Alert!: The Soroptomists are holding a massive rummage sale as a fund raiser this Saturday at the Grange from 9am - 2pm...included in the deal: a table of used Macintosh software & hardware.
Open House at the Labs: They only do it once every two years at the University of Washington's Marine Sciences Labs...call there for details. One of our better kept secrets.
Yacht Club News: The 23rd annual "Round San Juan Island Race" will be held May 15 and 16 with a barbeque at Snug Harbor the night of the 15th. The event is sponsored by the San Juan Isand Yacht Club...check with them for details.
May 3, 1999
Opening Day: Yep, yesterday was Opening Day, with all the festivities, music, and boats that go with this traditional event. Perhaps best of all - the weather was great...sprinkles didn't start till about 5pm or so.
Same on Saturday - we woke up to rain in the morning, and those of us with Little League baseball wondered if we'd get our 9am game in...it was pretty wet! But the rain stopped at 8:15, we kept an eye on the sky, and played two games at 9 - with the sun out about 10:30 or so for the rest of the day. It was great - wonderful day to be outside.
Whales, whales, whales: Lotta people at the Return of the Orcas shindig at Roche Harbor, which featured food, art, and marimba music as the sun came out on Saturday...Teri Jones was showing her art from Moon Alley, and she told me it was a pretty good deal. It's on again next Saturday...make a plan & take the fam.
Speaking of whales, Bon Accord's Rik Karon tells me those whales off the west side are j-pod, with K & L-pods usually showing up near the end of May each year for the summer...meanwhile, Jean at Western Prince got her near-sightedness "lasered' up in Canada, and can now see pretty well with her new eyes. Should help her see the whales, now (not that she was missing them before - they're pretty big. Like a school bus...)....glad to hear the operation was a success.
Band stories: Well, the FHHS & FHMS band is back from Europe...while Gerard from Elan Video's boy David had to miss his baseball game (FHHS upset Concrete), but he was able to come back to a good film of the game his dad shot....junior Lindsey Spaulding reported one of the amazing things was watching painters at the Louvre re-painting the masterworks there so accurately...
Macs on the increase: People keep telling me they're getting iMacs & Macs - Carol at Serendipity has one ordered, and Barb Starr just got a nice purple one...
Report: Our friends at the Island Times (see their site if you haven't lately - Liam does a super job) report that in the last legislature (besides increasing teacher salaries):
The San Juans were also the beneficiaries 
of a shift in the definition of "distressed"
counties. Starting soon, San Juan County will 
be allowed to withhold up to a .08 percent
sales tax that would normally go to Olympia. 

The county can use this largesse to improve
local infrastructure, such as water or sewer 
improvements.
This is good news: If we don't get out water & sewer problems addressed in the short term, we'll be paying in the long term...good to hear there's the beginning of help on the way!
Ad-venture: Did you see that new National Geographic publication called "Adventure"? It's a magazine about what people do for adventure, and includes the suggestion you go kayaking, and mentions our own Outdoor Odysseys.
April 29, 1999
Congressman pays fine: Our congressman didn't fill out the forms right, according to a note in USA Today (4/27):
The political action committee of Rep. Jack Metcalf 
agreed to pay a $7,000 civil penalty to settle 
charges it failed to provide occupations & employers 
for many individual contributors in 1996.
The Center for Responsive Politics has a web site charting where congresspeople get their contributions from, including Metcalf, as well as Senators Gorton & Murray...it's always interesting to match up the votes with where the money comes from. Check it, and then let's get around to campaign money reform soon. Good place to start.
Newsworthy as we are, here: Roche Harbor will be featured on Evening Magazine, a tv show on Seattle's channel 5 tomorrow night at 7pm. Meanwhile, the Return of the Orcas Festival happens this weekend and next as well....
Big Award: Lee Sturdivant's web site for her Bootstrap Guides has been named a finalist in the Publishers Marketing Association (PMA) annual Ben Franklin Awards, with the winner being announced at a dinner in Los Angeles tonight. The site - designed by By Design's talented Yona Burdge, features an animated hummingbird made by Yona and an attractive, eye-appealing layout.

April 25, 1999
Earth Day, tar balls & the work to be done: Yep, those were oil-spill type tar balls you saw on the south end's beaches and tidepools a couple of days ago...apparently, some of it made it over to the south end of
as well. This was news all over the state: Larry Wight told me on the ferry last night he heard about it on the news in Walla Walla.
Although our Island Oil Spill Association folks (volunteers all) did a super job cleaning up this mess, the Coast Guard says it was only 100 gallons of heavy oil...what's it gonna take to get some protection for the islands? Oil tankers are escorted in Canadian waters, and farther down sound...why not here?
Commissioner Darcie Nielsen checked out the scene and reported:
"The Coast Guard) did say if the spill had been 
any bigger they would have called in a larger oil 
spill response team, as IOSA efforts, although heroic, 
would not have been enough (apparently with school out 
they had trouble rounding up all the usual volunteers).

I told the Coast Guard that this is just a precursor to 
the BIG ONE that is likely to happen given the over 600 
ship movements per month we have in and around the waters 
of the San Juans and why it is so important to have tug escorts, 
rescue tugs, and well prepared response teams in place.

He agreed we are at risk.

We need to keep the pressure on the legislature on this issue!

Even though this was just a small spill it truly sickened me 
to see oily clumps stuck on rocks and oil sheens on the 
tidepools in one of our most beautiful places.
It was truly a shock to the senses!

Please encourage your readers to call/e-mail their legislators 
and ask them to support adequate funding and 
oil spill response measures in the San Juans and join IOSA!
Meanwhile, folks from the National Parks, Department of Natural Resources, Department of Ecology, and the Coast Guard are investigating.

Photo takes first: Each year San Juan Excursions holds a "best photo" contest for the folks who go out with them and photograph the orcas. This year's winner: Carol Janssens of Snohomish, WA, who shot the picture at right. (Click on it to see a bigger version.)
Speaking of wildlife, in the past week I've seen a great blue heron flying out near Scott Schwinge's place, a HUGE bald eagle standing on the road on the way to Roche Harbor - it flew up into a tree with easily an eight-foot wingspan; a fox brushed by me when I got out of class the other night at Skagit Valley College, and finally, the whales were cruising the coast about a week ago when I visited the west side to see the sunset.
People ask us what we do here.....
Lime Kiln upgrade: Got a note from the San Juan County Republicans saying Lime Kiln was going to be closed this summer. The note said:
LIME KILN PARK SCHEDULED FOR CLOSURE
Summer 99

Due to delays in obtaining  
the necessary permits from San Juan County permit center, , (sic)
the state of  Washington has scheduled the closure of 
Lime Kiln Park (Whale Watch Park) for the summer.
Amazing news, so I called Permit Center Director Grant Beck. He tells me the State has had their permits for some long-needed and long-planned upgrades since 1994, and as far as he knows the Parks people and the Commissioners won't be doing any work until fall. He said, "As of late Friday, I believe the situation is under control."
Wouldn't that make sense? Heck, the State folks couldn't get any work done with all the tourists showing up in the park anyway.
Quote: "You'll never miss the water 'til the well runs dry." -"Father of the Blues" W.C. Handy
Stan missing in action; the show goes on: On Wednesday, Stan Kramer was flown off (that's what we do with serious medical situations here) with a heart attack...the longtime director and writer (and puppeteer)'s show Hello Bijou Hello! opened this weekend with a big hole in it, with him missing. Apparently the show went OK; he remains in the hospital this morning.
Roche Harbor cam: Folks at KING-5 (that's a Seattle-based tv station) tell me they're adding a live camera to add to their newscast, looking out over the water. Of course, Eric's IslandCam has had its camera pointed at the harbor for a year now...
By the way, have you seen the tulips & flowers in the gardens out there? Go see 'em. Lookin' great.
Teacher pay: Liam's Island Times discusses the teacher pay issue with a visit with local teachers in the islands, where the issue of low pay takes on an even darker shade: it's hard enough to try to make ends meet here. A vote this week in Olympia may favor the teachers, according to news yesterday which showed a Republican crossing the aisle to vote for the Democratic plan in our 49-49 people legislature.
At bottom: It's not only the teachers who are hurt by low wages, it's the profession; by extension, it's the kids. And that's who matters.
Dragonfly launches: Bob & Morningstar tell me the first issue of the subscriber-based, online Dragonfly Review launched on the 9th this month...they're now accepting submissions for the summer issue of their literary journal.
Baseball rocks: FHHS coach Rich Warin tells me the Wolverines (8-3) jumped league-leader Concrete (10-1) last Tuesday...he says using seven freshman hasn't slowed up the Wolverine express.
Rumor squelched: You know Julie Greene, who works for Orcas Spas' new place in Friday Harbor? She's neither married to nor related to the guy named Greene who owns the place. So there.
She's also not related or married to Mike Greene at Greene's Diesel Repair, Mike Greene at Rock Island, or the jolly green giant. She DID used to work at the Journal selling ads, so nearly everybody on the island knows her.
Travel: Have you seen the specials on Roberta's Great Getaways Travel page? Why not?
Water painted: If you've been thinking about learning to watercolor, there are a couple of options you might want to consider: Teresa Smith offers classes through her studio, and Skagit Valley College here offers classes usually taught by Kristi Burton and Sam Connery.
April 19, 1999
Weather report: It was great. About 3 seconds of sprinkles Saturday night, with a pleasant weekend all around. Hope you got outside.
Stan & Ted's Excellent Adventure: It starts this weekend at the San Juan Community Theatre - Hello, Bijou, Hello! - another show by Ted Soares & Stan Kramer (written directed, and choreographed by....)
Reporting from rehearsals, Anne Williams tells me it's REALLY FUNNY (she said); that it leaves her laughing so her stomach hurts. Brenda Larson left the last two Chamber meetings early to rehearse for it, so you know she's committed to the show. Check it out - the fun starts this weekend at a theatre near you.
April 17, 1999
Sail on! Sailing team wins! The high school sailing team won the state regatta (that's district level) today. Woo hoo! According to Keith Wight of the Sail Loft, this makes them eligible for a trip to Detroit.
The event, usually held in Seattle, happened today out at Roche Harbor.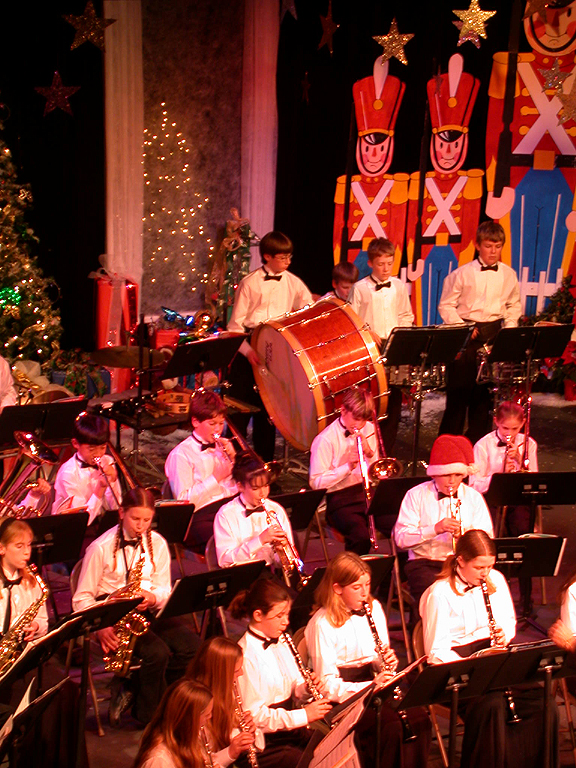 Band on the run: The Euroband took off yesterday on the 8am ferry: first to Seattle, then flying to London, then France. These talented middle- and high schoolers have been practicing and fund raising for what seems like forever. They gave a farewell concert at FHHS earlier this week, with Band Director Dan Hammond waving the baton (photo by Eli Black; click on the photo to see a bigger version).
Weather - whoa! After all the rain, wind, and gray skies this winter, this last week has been awesome. Mostly blue skies...a friend told me it was 85 outside, so I went an looked at the thermometer, which read 62 degrees. That's how cold we've been - we can't tell warm any more. It's been great.
Empty: If town seems kinda empty, it's because of Spring Break at the schools...the island's last scheduled vacation till all the vacationers come to see us.
Speaking of breaks - the school board voted last week to keep the winter break...there was some discussion about ditching it, since it breaks up sports and other activities - including school! - but some 65% of parents surveyed indicated they'd like to hang on to the status quo.
Overheard at the FHES Family Fun Night last week: A dad asking his kid if he knew what a square root was - the kid replied, "No, but I know what a paper root is. It's where you get on a bike and deliver newspapers...."
Chill out: Carolyn at the Little Store asked me: "Q: What does an Eskimo who sits on the ice get? A: Polaroids."
Children's Festival: The Island Rec folks have chosen Robin Jacobson (you know her from the WSU extension place) to run this year's event, set for the 16th of October...bright, cheerful, and organized: Robin'll do great. Good choice.
Other Island Rec news: Cindi Baker tells me the Skate Park should be finished in May, weather-permitting.
Trips: Globe-trotting FHHS teacher Jim McNairy reports from Thailand that he, Dotty, and the boys are doing great, and are looking forward to returning & seeing everyone by Fair-time in August.
Biz news: At the Chamber of Commerce meeting, different things came up, including committee reports. Looks like the Fourth of July folks are planning things pretty much like last year, with the notable addition of a street dance in the middle of town (a neat idea - the Jazz Festival's street dance over in the Port parking lot has become one of the highlights of that event. Started by then-director Peter LaPonte three summers ago, it brings together people from all over the island.)
Last year marked a departure from the festivities being held at Sunken Park, as the party was moved to the grounds of the Historical Museum. Lost in the move: the crowdedness that made it feel so homey & small-town & kid-oriented - it was impossible to go there and not see someone you know, or get hit by an egg in the Egg Toss. Gained: More space for both events and parking, a bigger sound stage area, and more vendors with food.
An article by Steve Brandt in the Sounder this week suggests some sense of community may have been lost in the move...feedback the Chamber would want to hear, I'd think. My humble suggestion: More stuff for kids to do at the new venue.
Also discussed: The proposed summer ferry schedule which has boats leaving Anacortes for here at seven-something a.m. and 11-something, with nothing in-between. Lynn Danaher (San Juan Excursions) says she'd like to see the Sidney run stop off here with at least walkons...otherwise, people will be arriving after lunch. Discussion continues.
Other biz: Have you dropped by Island Body Art for your new tattoo by Linda & Gary? At least stop by to say howdy....
Chris Combs and his wife Leslie have made plans to purchase Harbor Press from the Journal folks. He's worked there 2-3 years now, so he knows what he's getting into...the deal should be final in May.
Alarm clock: According to the population clock on the Facing The Future page (maintained by FTF from Lopez Island), we've got some 5,980,000,000 folks in the world, on track to hit 6 billion by October 1999. It's not just islands that are getting crowded...
Wood you? Robin Atkins tells me there's a carving contest, centered on that tree we showed you a picture of last month:
This is an invitation to island artists to join 
in a celebration of the life of one great 
madrona tree, the one which fell a few weeks ago 
on the lawn at SJ County Park at Small Pox Bay.
The Parks Department is hosting a meeting of all 
artists interested in creating a commemorative piece, 
using part of the tree: Monday, April 19th, 6:30 pm
at the park office at Small Pox Bay
Art created from the tree will be displayed at the 
SJ County Fair and 
later at the park.   
Deadline for completion of your artwork is August 
15th.  There will be no controls imposed on the 
type, size, etc. of 
the work. The meeting will concern logistics of 
removing parts of the 
tree.
For information: Doug McCutchen,378-8420 
or Robin Atkins,378-5917

Saints alive: Have you seen the new web page Dick Wright made for Saint David's Church? Or the one Melonie at Rock Island made for Doug Bison, grandson of Souix chief Big Foot (murdered at Wounded Knee in 1890) & his sculpture? Good stuff...
April 12, 1999
Burnt: Over the weekend Beth Hudson's house burned, with no apparent cause...she and daughter Bridget are staying over at her brother Joe's for a while. You remember Bridget: the narrator of one of the middle school plays last month and ASB prez for the eighth grade....
Mob scene: When the high school decided to forego its annual carnival this year, the FHES PTA decided to stage its own family fun night, which they called Family Fun Night. Featuring hot dogs & hamburgers & games & entertainment (Homer Smith's singers & Fred Yockers' clown act amazed the masses), the event drew a couple zillion folks to the gym area...I don't think I've seen that many folks in one place since the Fair last summer. Once again, the elementary school emerges as a leader in bringing the community together. It was great.
Sculpture at Roche: Danielle Napier tells me Roche Harbor will be placing one of husband Jason's bronze sculptures "Osprey" on the grounds there...good move by Roche, using local talent to make their place look good.
Meanwhile, out at Roche Harbor Resort, Chris Watling has been named marketing director...something she's really good at. Another good move.
Get prepped: If you missed the Preparedness Fair over at the LDS Church this weekend, that doesn't mean you have to miss Bruce Conway's island preparedness page, which anyone who has paid attention to living here oughta read. Hey, we're living in a seismic zone, we have electricity supplied by underwater cables, ferries bring us food, and occasionally we have storms. Get a clue, get informed, and get ready.
Homer Simpson, Robinson Caruso: name game: Couple of years back, it wasn't lost on the casual observer that when Homer Smith team taught with Nan Simpson over at FHES that their combined names evoked images of Bart's dad.
Similarly, it would make for interesting nomenclature if first grade-teacher Bruce Robinson teamed up with the fourth grade's Ms. Caruso...kind of an island thought.
Gas prices zoom: $1.84 at the Little Store over the weekend. Time to walk.
Changes & new stuff: Did you see that webpage in the County's website aboout safe cycling on the island (& in the islands)? Designed by FHHS soph Eli Black, the page includes a map of bike-friendly spots in the islands....
Peter DeLorenzi has resigned as Executive Director for the Chamber of Commerce, effective last week....
Did you hear that Rock Island Computers now sells iMacs and other Mac stuff? Call 'em at 5884 for details....
Jill Bull mentioned that daughter Kristen (away in school in Connecticut) was named MVP of the week for her school's lacrosse team...
April 8, 1999
Shop busted in: Can you believe someone would break into Printonyx? Chris tells me she got some of her coinage back (they had even taken the Skate Park donation can!) but they're still looking for the thieves. You just don't expect that kinda thing...
Occasional weather report: Yesterday's weather report said rain & thunderstorms today, with occasional clearing. So far, by midday, it's been sunny and nice.
Volleyball & more: You already knew the elementary school has its Spring Fair tomorrow night, but did you know the volleyball girls are hosting a spaghetti feed from 5-7pm on the 16th at FHES to raise money for camps and stuff. Put it on your calendar!
History is doomed to repeat itself:
Review the Update from February 26, 1999 - April 8, 1999
Review the Update from January 3, 1998 - February 26, 1999
Review the Update from November 1, 1998 - January 3, 1998
Review the Update from August 31, 1998 - October 31, 1998
Review the Update from July 2, 1998 - August 30, 1998
Review the Update from May 25, 1998 - July 2, 1998
Review the Update from April 3 - May 25, 1998
Review the Update from January 22, 1998 to April 3, 1998.

Review the Update from November 24, 1997 to January 22, 1998.

---
The information here is simply stuff we here at By Design think is important around Friday Harbor or on the Island. Some of it's news, some of it's old news, and all are just things we wanted to mention, with most of it about the things that make living here great.
There will be more next week, if anything happens.

Ian Byington
bydesign@byd.com
To comment, feel free to add to our guestbook, or view it.
Other places with info about the island:
Everything. Simply everything about the island.
Pretty complete site about the island.
The Journal's Site
Includes news and classifieds!
IslandCam
The camera's pointed at Roche Harbor and Friday Harbor.
Updated every five minutes.
---
Return to the Web Directory....
This site prepared by our friends at By Design in Friday Harbor.
The information contained here is
©Copyright 1998, 1999 - By Design, Friday Harbor.
Unauthorized reuse of the content of these pages is prohibited;
links to other sites is intended to be to the benefit of those sites,
and for the edification of our readers,
and does not constitute endorsement or
agreement with views expressed there.