T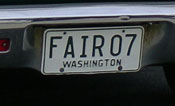 he County Fair starts today!
It's a beautiful morning, it's gonna be a beautiful day - so get out & play! See you at the Fair!
More memory lane stuff - I put the photos from previous Fairs down below - here's one more lot for ya - here's pix from the 2003 show. See who you know!
Quote
"Forgiveness is the answer to the child's dream of a miracle by which what is broken is made whole again, what is soiled is made clean again." - Dag Hammarskjold
---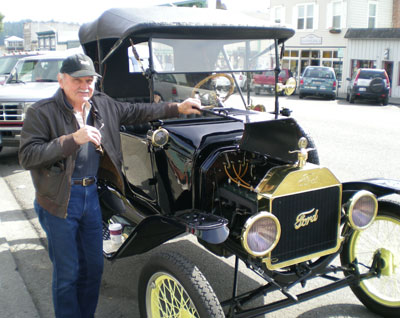 August 14, 2007
Like back in the old days....
I've seen a lot of restored automobiles, and I've gotta say the job that Wally Weaver has done on his 1915 Model T is among the best I've seen.
He has the original trunk, restored leather, restored tires, even a good-looking spare. And yeah, the engine gets pretty hot when it's been running. You can tell that carmakers were still making the transition from carriages to autos, by the frame & the suspension, and the way the car only seats two.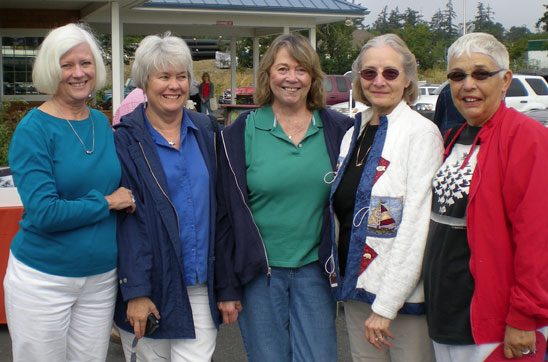 A whale of a good time....
At the Mullis Center garage sale on Saturday, the Whale of A Good Time women were there to show off their handiwork: (from left) Carol Capps; Linda Marble; Alyce Payne; Jo Ann Karpf (teacher and owner of Whale of a Good Time); and Barb Clary.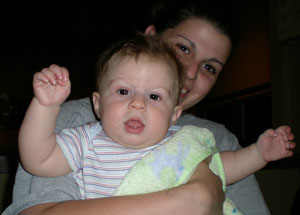 Six months and growing strong....
I ran into Leila and her boy Nicholas the other night...he's six months old now, and still growing - a happy & healthy baby. Papa Jared is healthy & happy, too (he's to the right in the picture - you can't see him 'cause it was getting dark at Downriggers).
Poem for a day....
i thank you God for this most amazing day,
for the leaping greenly spirits of trees,
and for the blue dream of sky and
for everything which is natural,
which is infinite, which is yes.
e. e. cummings
---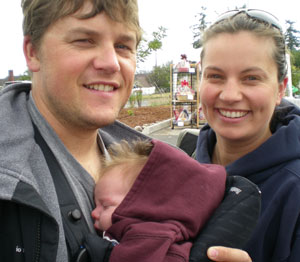 August 13, 2007
Strapping boy, out on the town....
He's only a month old, but Oliver is getting bigger every day, which gives you some idea why Nigel & Libbey Oswald are looking so proud of him.
It's Fair Week...are you ready?
It's pretty much a residency requirement to drop by the San Juan County Fair this week...it's a great chance to visit neighbors, see all the animals, hang out & listen to music (yep, I'm singing at 12 on Wednesday at the Main Stage - see ya there!), as well as dancing all night & eating at the Food Court.
And now, it's history time...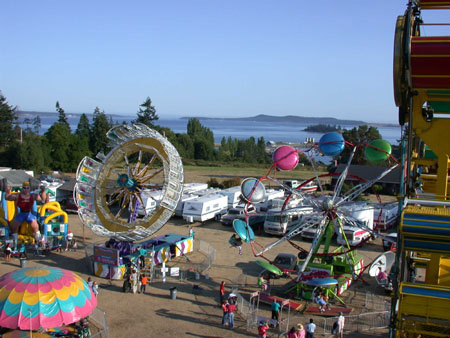 Here are some portfolios of photos - hundreds - of past Fairs, which range in depth & detail depending on how busy I was that Fair.
It'll take a while, but see who you know (and for the kids, how grown up they have become....!)
2006: A little writeup
2005: A portfolio of dozens of pictures of faces
2004: A portfolio of over a hundred pictures
2002: Hundreds more, including seventh graders who just graduated
Biggest garage sale in the world....
It was a bit gray early on, but the garage sale at the Mullis Center was great - they sold 48 spots to different groups so they could raise money all in one place. Pretty much a mob scene, and great fun.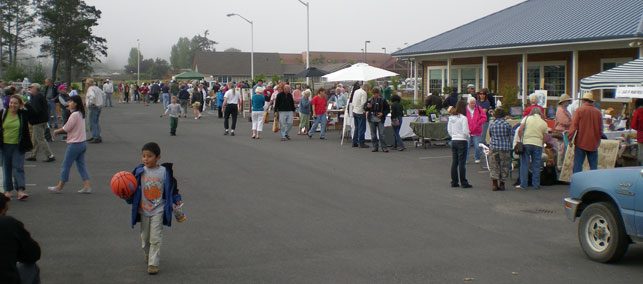 On the web....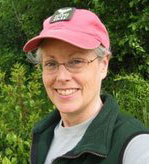 Carrie Lacher (right) is running unopposed for Town Council, but wants people to get to know her, so she's started her blog. Check it out - I'm glad she's going to join the Council. She'll be a good one for us. She's currently working at the Home Trust & at the Library, which should help keep her in touch with what citizens need....
Relay for Life was cool....
I know it was a couple of weekends ago, but Sharon from the San Juan Islander just posted her portfolio of photos & stories from the event, which raised over $50K for cancer research. Here are her pictures, and just for the record, here are the ones the Update posted that weekend.
Speaking of the Library....
They just painted the trim on the windows a week ago, and it looks really good.
What they think of Steve...
.....and it's good. Here's an article in the Sonoma news about our new fire chief, Steve Marler - sounds like they liked him and were sad he's leaving them.
"I was drawn to Sonoma's small-town feel, but now it's more active, it's a quicker pace of life," he said. "The San Juan Islands are the Sonoma that old-timers of Sonoma long for."
Quote
This morning's bit of writing is from the 13th century poet Rumi, who often spoke of the intertwining of divine love with the love we share with each other...this is one of my favorite poems of his...hope you like it!
Looking For Your Face
From the beginning of my life
I have been looking for your face
but today I have seen it.
Today I have seen
the charm, the beauty,
the unfathomable grace
of the face
that I was looking for.
Today I have found you
and those that laughed
and scorned me yesterday
are sorry that they were not looking
as I did.
I am bewildered by the magnificence
of your beauty
and wish to see you with a hundred eyes.
My heart has burned with passion
and has searched forever
for this wondrous beauty
that I now behold.
I am ashamed
to call this love human
and afraid of God
to call it divine.
Your fragrant breath
like the morning breeze
has come to the stillness of the garden
You have breathed new life into me
I have become your sunshine
and also your shadow.
My soul is screaming in ecstasy
Every fiber of my being
is in love with you
Your effulgence
has lit a fire in my heart
and you have made radiant
for me
the earth and sky.
My arrow of love
has arrived at the target
I am in the house of mercy
and my heart
is a place of prayer.