---
September 5, 2007
Sunny days ahead...
The weather report pretty much promises clearing after last night's fog bank rolled in & enveloped the island - it'll be a bit cooler, though, so bring your sweatshirt.
Steppin' out...
I got a chance to shoot Laurie Paul & Tallulah a couple of days ago in the street - I wanted to show you how big that child has gotten, and how cool mom's shoes are....
Ironman Paul celebrated....
Clark Gilbert wrote up a bit about what an achievement it is that Paul Hopkins did an 11 hour & 140 mile+ Ironman competition a couple of weekends past - biking, swimming, and running. Wow....check out Clark's blog for the details. Way to go, Paul!
Seven years with more ahead...
Shannon & Jason Minikin spent the weekend in Victoria celebrating their seventh wedding anniversary - Shannon's the smiling face you see at Duck Soup & Haley's...way to go, you guys!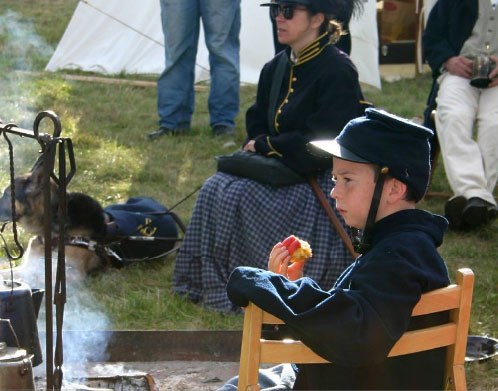 Max Haenel relaxes at the Encampment two weekends ago.
Well-attended Encampment 2007 in pictures....
Just got this note from the Parks Service's Mike Vouri:
Hello, Everyone!
Encampment 2007 was a blast.
To view 80 selected Encampment 2007 images click on this link below and scroll down to "Encampment 2007." You can either view the photos as an album (in which you can use a magnifying tool to zoom in on the photos) or as a slideshow.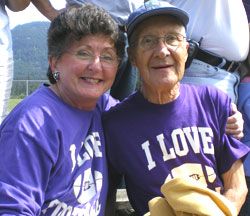 Enjoy! Thanks, Mike
Well-attended football game has a note, too...
My friend Cathy Cole added this footnote to the Wolverines' success last Saturday on Orcas:
Hi Ian,
This is a picture of Christian Johnson (right) and his good friend, Jenny Ledford rooting for the Wolverines. In 85 years of life, this was the first football game Christian has ever attended. Jenny did a great job explaining the game to him between her encouraging cheers for the team. Go FHHS!
Cathy
Aerial feline rescue technician does her job...
Carolyn Hudson dropped me a note about a story that turned out nicely for a cat & everyone involved: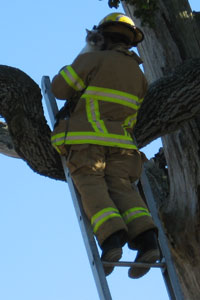 Early Wednesday evening, the San Juan Island Fire Department responded to a call of another kind. Around 5:30 p.m., Mary Fuhrmeister, a resident at The Oaks, called for help in rescuing Peeps, a six-month-old kitten who had been stranded in a large oak tree for several days. The department responded in E311 with Lt. Noel Monin and Firefighters Robin Dyer and Michael Henderson. On scene a ladder was deployed and in short order, "Peeps" was reunited with his happy owner without incident.

On a lighter side to the call, Firefighter Robin Dyer, the current holder of the Chief Justice Hugh Rosellini trophy, can now add "aerial feline rescue technician" to her resume.
New baby with island links....
My friend Jamie tells me:
A friend of mine had her baby yesterday - Sheila Coleman (formerly McCrillis and of Friday Harbor), daughter of Jesse Littleton. She is now living in Kentucky, married to a man in uniform serving with the US Army who is presently stationed at Ft.Campbell.
Travis Curtis Jr. was born in Oak Grove, Kentucky, on September 2nd, 2007 at 11:22AM. He was 7 pounds and 10 ounces and 20.5 inches long. Mom & baby are doing great!
Quote
"It is in the space of mastery over paradigms that people throw off addictions, live in constant joy, bring down empires, get locked up or burned at the stake or crucified or shot, and have impacts that last for millennia." - Donella Meadows
---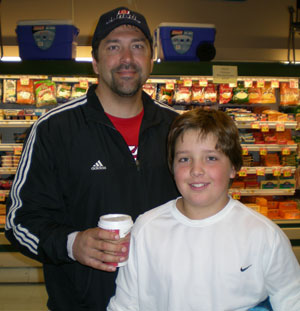 September 4, 2007
School gets underway today...
A new school year gets going this morning on the island as everyone except Skagit Valley College begins classes (they start the week of the 20th).
There will be the usual mob of parents at the elementary school, and the last-second schedule hustling at the middle & high school before everyone settles in for the year.
New at the high school this year is just-hired-in-June principal Fred Woods, who comes to the island from Idaho with his family, including new sixth grader Jay. The staff at FHHS have been telling me they're enjoying working with him, and he tells me he's excited to be here & ready to get the school year going.
Drop by & welcome him to the community when you get a chance.
A look at us through the eyes of a visitor...
It sounds like Andi Wolfe enjoyed her trip to the island & the Marine Labs - check out her pictures & comments on her blog.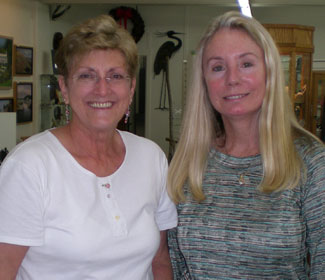 Weekend change in town at Island Studios....
It was six years ago that Pat Lawrence (left) began her tenure as owner at Island Studios, and what a great time it's been.
Diana Manning had brought a brilliant idea to the spot where the shop now is - turn the former Ace Hardware spot into a place where dozens of island-related artists could show their stuff. When Pat bought it from Diana, she built on that dream and kept it going, and now the shop is one of the most-visited stores on the island. Not only that, but the store has made it possible for artists to sell their wares in a highly-visible, bright & cheery place (as well as online!).
Over the weekend, Claudia Fullerton (right) took over as the owner of the store, while Pat and her husband Ken make plans to do a little traveling. Claudia is a glass artist in her own right, and she tells me she has no big plans for change any time soon, noting that Pat's done a super job with Island Studios the way it is.
Drop in to the store to meet & welcome Claudia when you're down that way.
Football brings it home this week....
The football Wolverines got the season rolling last weekend, cruising past interisland rival Orcas 13-0 at their place. FHHS will host King's High this Saturday here at 1:30pm - King's opened the season by traveling to Gold Beach, OR where they lost 47-7 to a tough team that likes to pick on $A schools sometimes.
Quote
The philosophy of the school room in one generation will be the philosophy of government in the next. - Abraham Lincoln
---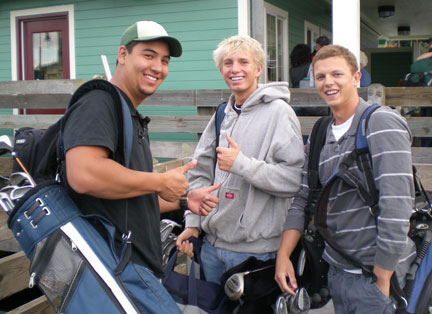 September 1, 2007
Off to Golf...
I caught FHHS grads Dylan Gerhardstein, Chris Benz, and Eric Rothlisberger heading offisland for some golf before they head away to their second year of college this fall.
Who it was....
remember I told you about the article in National Geographic Traveler about Juniper Lane Guesthouse? Here's more about Theresa Blackinton, the writer who wrote the article.
A new look for an old friend....
Since the early '90s, people who want to get around the island have used Emily Reed's Emily's Guides to navigate their way around what we have going on, and she has sold simply zillions of the handy books.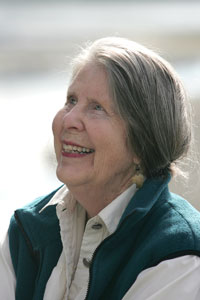 Now Emily (right) has come up with a new way to present the guides - as a map & guide, all in one piece. You can take a look at it, and order one, on her website - check it out. This is the tenth edition of her work, and I believe it's the best. See what you think! One of the things I like about Emily is that she has the long view - she was the counselor at FHHS for decades, and is one of the most knowledgable people on the island about or arts scene, as well as keeping track of what's going on.
Photo by Marie DiCristina.
Quote
"Let every individual and institution now think and act as a responsible trustee of Earth, seeking choices in ecology, economics and ethics that will provide a sustainable future, eliminate pollution, poverty and violence, awaken the wonder of life and foster peaceful progress in the human adventure." - John McConnell, founder of International Earth Day
---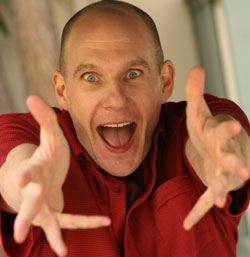 August 31, 2007
This weekend at the Community Theatre
Tonight it's comedian David Crowe & Friends (left), then a preview of "Coupla White Chicks Sitting Around Talking" on Saturday, followed by piano player Michael Kaeshammer on Sunday - here's more (including their package deal if you're up for all three shows).
See ya there!
Moving on...
The folks at Wells Fargo Bank tell me that Michele Morton has moved to Montana last weekend with husband Dave (late of King's & the Sweet Retreat) and baby Natalie - they'll be working with Dave's dad...they'll be missed - seems like they were always smiling....
Moving in....
Meanwhile, now that Sam's Shoes is closing up, Pat O'Day & John L. Scott Real Estate will be expanding into that space.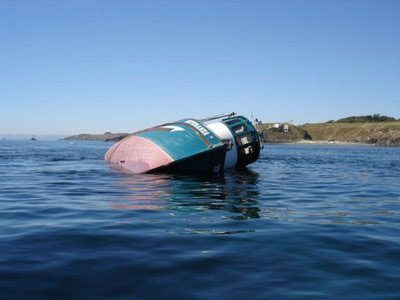 The seiner Esperanza sank off South Beach Wednesday...Capt. Richard Rodriguez
was there, with this report. He says the boat will need to be attended to, as it
sank with some 300 gallons of fuel aboard. The folks aboard escaped
on their skiff.

Moving up....
Cole Franklin's mom Suzanne tells me he (left) made the varsity traveling team at Linfield College as a quarterback, which is a pretty good achievement for a freshman...Cole's continually working on his game, going to football camps & staying in shape.
It's great when one of our grads does well...way to go, Cole!
Moving around....
Shannon Bailey from Pacific Catalyst sent me this note about a couple of locals you know, whom she took on a trip:
Hi, Ian! Carolyn and Krissy Haugen (right) joined us aboard the Catalyst for their CATS auction trip from Petersburg to Craig this July 29-August 4th. Attached are two photos, one their first ride in a kayak and second caving on Prince of Wales Island. Along on the same trip were John and Joan Fletcher of Orcas Island. A good time was had by all. Godspeed - Shannon Bailey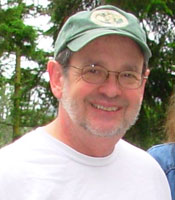 Moving over....
Patrick (right) from Inn to the Woods B&B tells me he'll become the general manager at Friday Harbor House in mid-September, so he'll be closing up the place after this coming weekend......
Moving like crabs....
When Kristi & Kevin made their trip to the islands, their blog entry about it includes some nice photos AND a video of crabs they found...check it out.
Looking for pictures
Charis from London checks in, looking for pictures from the movie Practical Magic, which was shot here in 1998 - drop me a note (address is below) if you have any leads, and I'll forward them to her:
Dear Ian,
Sorry if you are the wrong person to ask about this but in your site archives there is a section on the filming of Practical Magic and talk of some photos taken of the constructed set. I was wondering if and how I could get hold of some copies as I am a film student looking at set construction and there appear to be very few of this ambitious project.
Thanks,
Charis Bury, London England

Here's the only one I have....it WAS a pretty cool set, and it was fun having Nicole Kidman & Sandy Bullock on-island for a while....I liked Aiden Quinn, too.
Quote
I wonder if I've been changed in the night? Let me think. Was I the same when I got up this morning? I almost think I can remember feeling a little different. But if I'm not the same, the next question is 'Who in the world am I?' Ah, that's the great puzzle! - Alice in Alice in Wonderland Quotes