---
September 14, 2007
Baby news....
I didn't have any new baby news for this week, but looking at this picture, I'd say something is afoot.
Respect is happening at the Elementary School....
My friend Debbi tells me they had a cool assembly at FHES yesterday (that says "Respect" in the photo, on the banner):
Hi Ian,

I wanted to share some good news from FHES today. The K-5 graders were treated today to two assemblies from Taproot Theatre Touring Company from Seattle. The dynamic educational plays included Star Power (helping students to recognize, reject and report bullying behavior) and Camp Super Friend (helping students to make friends).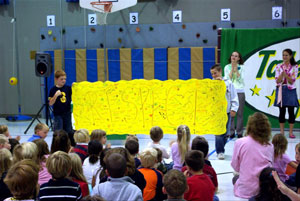 Our children benefited from a generous grant from the San Juan Island Prevention Coalition which paid for the assemblies.

In addition, Jody Metzger and her staff chose a key word of the month, created a banner and all 371 students and 45 staff/teachers signed this banner as a way of pledging to be more respectful of one another. (This month's word is RESPECT.)

In the following months, they will chose another key word that best describes "who they are or who they want to become" as a school, and they will sign those banners, too. The 10 banners will soar throughout the halls and cafeteria of the school by the time next June rolls around. What a powerful message that will send.

I am grateful for the positive change and commitment that these teachers and leaders are making for the sake of our kids. Good job today! Thanks for your hard work and effort - FHES teachers and staff. Sincerely, Debbi Fincher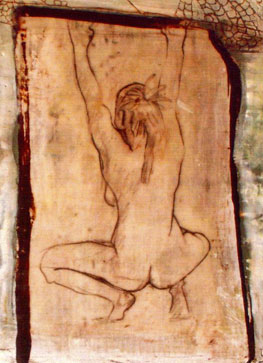 Art show opens today....
My pal Halley at Lavendera Day Spa says there's a happening there tonight (with free massage!):
Lavendera Day Spa is pleased to present "Portals" a show of the works in Encaustic painting by Yvonne J. Buijs-Mancuso. The two hour show is being held at Lavendera Day Spa at 440 Spring Street and will begin at 6:30pm on the evening of 9-14-07. It is free and open to the public. Beverages will be provided as well as a free fifteen minutes of massage to anyone who attends.
Meeting for barn fans on Monday...
Sandy from the Town's preservation effort writes to tell you:
The Heritage Barn Initiative and Grant meeting will be held from 3:00 to 4:00pm on Monday, September 17th, at the SJ Historic Museum archive and admin office. If you plan to come, please reply by email. For the meeting, Chris Moore of the Washington Trust for Historic Preservation will be on San Juan Island. He has agreed to meet with anyone interested in applying for the Heritage Barn Initiative (inventory and grant program) to answer questions and give information about this competitive grant program.
Thanks - Sandy Strehlou, Historic Preservation Coordinator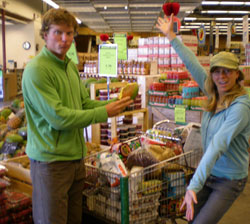 Feeding great crowds....
See all that food in the cart? Tom & Aria from Outdoor Odysseys are shopping for their five-day trip...the kayak company celebrates its 20th year in operation this year, and is pretty famous for the food preparation it offers on multiday trips...and the guides are pretty cool, too.
Quote
"You've got to be very careful if you don't know where you're going, because you might not get there." - Yogi Berra

---
September 13, 2007
Sports update
At FHHS this week, the volleyball girls went over to challenge a tough LaConner team Tuesday night & our young team played well & with a lot of heart before losing to the more experienced Braves...the Wolverines are at home tonight against Concrete, so it's a good chance for you to get off work a bit early a catch them at the high school.
Meanwhile, the tennis team came home last night & said things went well in Marysville yesterday - today they head for district action at Coupeville, which should be a tougher situation. They play at home on Saturday at 11 - if you want to sit in the sun & watch great kids in action.
Quote
This is from the 1994 Inaugural Speech of Nelson Mandela:
Our deepest fear is not that we are inadequate.
Our deepest fear is that we are powerful beyond measure.
It is our light, not our darkness, that frightens us.
We ask ourselves,
'Who am I to be brilliant, gorgeous, talented and fabulous?'
Actually, who are you not to be?
You are a child of the power of the whole universe.
Your playing small doesn't serve the world.
There is nothing enlightened about shrinking
so that other people won't feel insecure around you.
We were born to make manifest
the glory of the power of the whole universe
within us.
It's not just in some of us; it's in everyone.
And as we let our own light shine,
we unconsciously give other people
permission to do the same.
As we are liberated from our fear,
our presence automatically liberates others.
Island Museum of Art exhibits Lopez Artists
I got this writeup from the Westcott Bay folks about their next big show:
Island Museum of Art opens "A Wild Nature", a five person exhibition bringing diverse work from neighboring Lopez Island September 14 through November 17, 2007. Opening reception: September 14, 5-7 pm.
Curated by artist Jean Behnke the new exhibition presents a scope of art and process, each artist forming connection to nature and to their own wild nature. She says, " In large part, we work in relative isolation from conceptual constraint and limitation and in some way we all manifest the dream of wild nature in our art work. Despite or possibly because of this common ground, it is interesting that each artists impulse speaks to the universal as well as the completely personal."
Included in the exhibition, Bruce Botts, painter and printmaker, responds to the wild nature of things, where an emotional imagination bends in a kind of magic realism and extraordinary, aberrant animals gather in his work to celebrate the weird life, carousing in awkward friendliness. Fluently making the translation between self and nature, Janis Miltenberger is an exceptional glass artist lampworking in a remarkable scale, transforming rods of utilitarian glass into ethereal vessels and extraordinary tableaus of shapes. (Janis's work can also be seen at Waterworks Gallery in Friday Harbor.) Summer Moon, photographer and visionary, honors a relationship with nature in her exquisite black and white photography by offering a tranquil invitation to experience Nature through a precise focus. Jeffrey Hanks, an artist in every sense of the word, exhibits his ambitious ceramic forms reflecting an evolving natural process from wet earthen clay to commitment into red-hot sagger firing. Jean Behnke, printmaker and sculptor reveals her inquiry into imaginations of the wild human/nature hybrid as inseparable from environment. As reclamation of self she overlays a personal narrative with the myths of Flora, Fauna and the universal Tree of Life producing large hand pressed block prints.
Behnke says of the group exhibition, "In a melancholic way, this art celebrates the incorrigible tangle of a wild nature pushing through internal and external orderliness with beautiful tenacity. As in the writings of Gabriel Garcia Marquez there is a sense of the wild that is saturated with nature's heartiness and its reality as original home."
For more information about the exhibit please call the Island Museum of Art at 370-5050.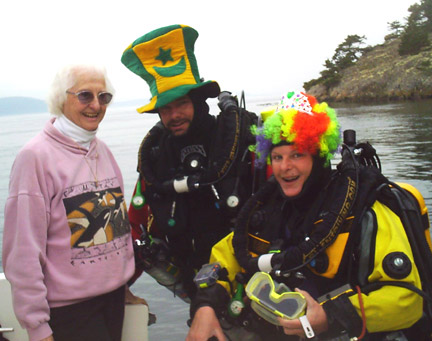 Jean's reading is tomorrow....
Jane Buck asked me to let you know our old friend Jean has a reading form her new book on Friday (that's her on the left, serving as the wedding officiant for Mike & Dawn a couple of years ago):
Hi, Ian! Could you post this about the reading? There's a Talk & Book Signing with local author Jean Hendrickson and her book "We all have a purpose for being here: a memoir." It's tomorrow night at 7pm at the Spirit Tree Gifts store.
If you are ready to be challenged and inspired to stand up and go about your life's work with a new vision and new energy, join Jean Hendrickson author of"We all have a purpose for being here", as she shares pearls of wisdom from her life and spiritual journey. Jean's life has taken her through being a wife, mother, secretary, massage therapist, counselor, advocate, spiritual healer and teacher, channel, minister and wedding officiant. What a delightful model Jean provides for those who want to find their life purpose!
At the theatre... Coupla Chicks & Chamber Music....
"A Couple of White Chicks Sitting Around Talking" continues at the Community Theatre this weekend on Friday & Sunday, with music scheduled for Saturday.
Saturday's show features Chamber music by Brahms, Prokofiev, Mozart and Handel at 7:30 p.m., with a pre-concert lecture by Michelle Fillion, PhD, at 7:00 p.m.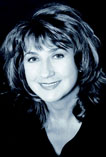 Brahm's piano quintet, featuring internationally acclaimed pianist Arthur Rowe, infuses the classical form with a Romantic sense of emotion in a work that combines great energy with meditative passages.
Artistic director and clarinetist Patricia Kostek (right) joins the ensemble for the Prokofiev work. The composer wrote this Overture for a group of schoolmates from the St. Petersburg Conservatory who asked him to write a piece for their klezmer ensemble, Zimro, consisting of piano, clarinet and string quartet.
The Chamber Music San Juans concert also includes the violin/viola duo of Ron and Roxanna Patterson; Kwan Bin Park, violin; and Kevin Krenz, cello.
---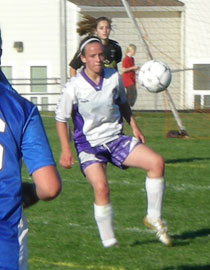 September 12, 2007
FHHS girls scare LaConner, lose 3-0....
The Wolverines put all their potential on the line and turned in an entertaining match for the biggest crowd to see a girls soccer game in a few years. The girls cobbled together a valiant 0-0 draw for three-quarters of the game before the Braves struck for one with 22 minutes to go, followed by the game-breaker six minutes later.
That's senior captain Beth Ware settling the ball in front of soph keeper Hannah Snow before clearing it away (left). Below - Soph Lauren Zander finds senior Kate Fyrqvist open on the left and passes away from pressure.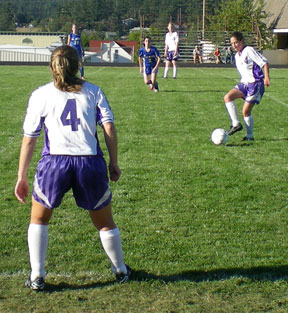 The mark of a champion (I believe) is how one plays when she is behind - and these girls are great. On a sunny day that clearly was taking its toll, the Wolverines kept up the offensive pressure in the last ten minutes of the game - outscored perhaps, but not beaten.
FHHS is a young team- 13 of its 20 players are freshman or sophs - but showed maturity in its first match. The girls are back in action on Saturday at South Whidbey.
Trails Committee/Invitation To Bike Ride On Sunday....
We have probably the most active Trails Committee around - here's a note from David Dehlendorf, Chair of the committee (that's Dylan Roberson on the left, below, who was out riding on Pear Point with his mom & dad on Sunday last):
You and your family are invited to the San Juan Island Trails Committee's first recreational bicycle ride on Sunday, September 16.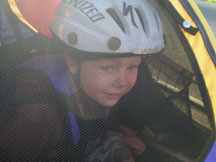 We will meet at 12 noon at the entrance to the San Juan County Fairgrounds. We will end at approximately 2 pm. The ride will be led by Tracy Roberson. It will be approximately 6.5 miles long and will cover part of the paved Airport Trail and then the Pear Point Rd./Turn Point Rd. loop, returning to the Fairgrounds via Argyle. This ride is for all ages, with the pace to be adapted to suit the ability levels of all participants.
We will stop for lunch at the kayak launch area on the beach at Turn Point, weather permitting. We will also stop at least once along the ride to re-group, enjoy the view, and discuss trail opportunities. Bring your own sack lunch and water.
Please join us for this great opportunity to exercise, enjoy the fall weather, and meet other members of the Trails Committee.
Moved away....
FHHS librarian Lisa Salisbury is teaching math (she's really good at that) in Bellingham this fall...her spot at the library has been taken by Catherine Buchanan.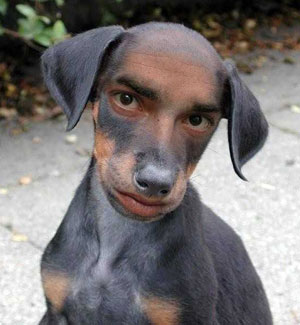 This dog (left) is not at the Animal Shelter.....
But there are a bunch of others that are. Check 'em out here & think about adopting one, willya?
Never too late....
It's not too late to register for Fall Quarter classes and workshops at Skagit Valley College-San Juan Center. Fall Quarter begins Monday, September 17.
SVC offers academic transfer degrees, professional/technical career options, courses in basic skills and English as a Second Language, citizenship preparation, job skill upgrades, as well as diverse personal enrichment courses and workshops. Call 3220 for more info.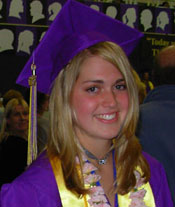 Quote
"See people for who they are, not for what they are not." - Lindsey Youngquist (right), re-delivering her address from graduation 2007 last month for the returning teachers' inservice.
Boys Basketball Registrations in Process
Most families are likely busy with either the current soccer or football seasons but now is the time to register for Island Rec's Boy's Basketball League open to boys in grades 4th through 8th. Deadline to register is October 1 with the season beginning early in November. All games are played on San Juan Island on Sunday afternoons.
Registration forms can be picked up from the schools or from Island Rec located at 580 Guard Street or printed off www.islandrec.org. Registration fee is $35. Depending on space availability, registrations will be accepted after October 1. The late registration fee is $40.
Contact Sally Kerr at 378-4953 for more information about the league or if you are interested in volunteering as a coach or official.
---
September 11, 2007
Soccer kicks off today....
The Wolverines get the 2007 season underway at 4:30pm at home against archrival LaConner - drop by & see what changes a year can bring. This year's team may be the most experienced young team we've ever had (when I coached the girls in 1997, we had 2-3 girls who had played before seventh grade; now, almost all the girls have played since their U-8 days). They pass, they move away from the ball, and they play defense - they're the real deal.
See ya there.

Orcas playing off the foggy west side last week...these are J pod killer whales,
and that may be the this year's new baby. Photo by Jim Maya.
Meet the principal....
There's an open house for new FHHS principal Fred Woods on Wednesday at 5:30-7pm at school - drop in & say hey if you're in the neighborhood.
Pyg the hedgehog makes it big...
Keith's albino pygmy (hence the name) hedgehog from down at Harbor Books is turning into an attraction of her own - she has her picture here, in Lesley's blog.
Reminder....
Maya Corrie asked me to remind you there'll be a gathering in memory of Art Seels at Vic's Thursday morning 10pm...see you there.

Peggy Sue is a writer - here's proof....
My favorite new blogger to read is Peggy Sue, who is working these days at the Whale Museum.
I love her blog - in the last week she has addressed where the islands came from, what the place was like before first contact with Europeans, and a couple of readings at the Whale Museum next week & the week after, by Mary Getten & Astrid van Ginneken...read more, and enjoy.
Kudos to Cathi & her yoga classes.....
Cathy Cavanagh tells me Cathi Brewer's yoga classes have made a world of difference to her & her health since the first of the year....She says:
Anyone can do Yoga and the more you do it the better you feel inside and out. Cathi is so great about customizing her teaching for each person. AND - even the working person can fit into her noon schedule. Cathy
You can contact Cathi for more info & a schedule at 360.298.1679, 360.370.5388 or email: cathibrewer@msn.com.
---
Quotes
After Reagan became governor of California and then president of the United States, Jane Wyman kept a decorous silence about her ex-husband, who had married actress Nancy Davis. In a 1968 newspaper interview, she explained the reason:
"It's not because I'm bitter or because I don't agree with him politically. I've always been a registered Republican. But it's bad taste to talk about ex-husbands and ex-wives, that's all. Also, I don't know a damn thing about politics." - Jane Wyman passed away earlier this week at the age of 93.