November 2-3, 2007
Those orcas of ours....
Sandy Buckley said when she went out with friends to see the superpod of killer whales earlier this week, she & the folks with her noticed that subpods L11 & L12 were "missing." Well, they turned up in a report by Greg Schorr of the Cascadia Research Collective from Bodega Bay, California a couple of days ago, so just to let you know - they're not lost.
Babies in costume....
OK, so I'm a sucker for baby pictures, especially when they're all dressed up for Halloween AND they're island babies, which means they're all above average...Christine Martz sent these to me (too), but since the San Juan Islander posted 'em, too, I don't mind if you look over there at how cute our kids are. Here's more from Christine: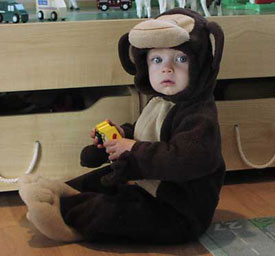 We had a little Halloween costume party at the Infant Parent group at the family Resource Center today. I thought you might like to see Friday Harbor's tiniest trick-or-treaters! That's my Holden Martz as Charlie Brown, and Cole Curtis the turtle, Anthony Nixon the Hotdog, Stuart and Graham Knight the tigers, Louise Davis the turtle, Lila Horn the Bumblebee and Phoenix Davis (right) the monkey! Not in the group shot, but single shot included, Cohen Ross as Superman.
Football ends season at Coupeville.....
I hear the boys came oh-so-close but lost by one in their playoff game yesterday afternoon. After graduation hit the Wolverines hard last year, this year's bunch did a super job of showing what determination & a strong work ethic can accomplish. Way to go, guys - and wait'll next year!
Teaching the three R's.....
This was probably my favorite sign in the parade on Wednesday (right.) Shows they're teaching the right stuff at the elementary school.
More sports....
I've heard from a fairly reliable source that Paul Hopkins has closed a deal to purchase the Fitness Club this week...I'm pretty sure I'll hear more from Paul soon, and I'll let ya know the rest of the story.
The fires down south.....
Islander Alex Shapiro was down in Southern California last week & recorded her thoughts about what she saw, smelled, and saw was lost during her visit in her always thoughtful blog, which includes a few photos from the air...check it out. I liked the little bit where she said: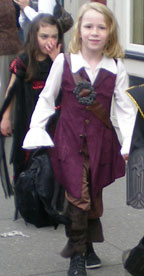 Home isn't only where our possessions reside. Home exists simultaneously in another place where our memories were created. Many of us have lost things we cherished, but nothing can take away remembrance.
---
November 1, 2007
All dressed up & somewhere to go....
It was fun to see folks dressed up all over town yesterday, including the kids from the elementary school (right), who paraded through town at mid-day...here's an 81-photo portfolio to show you how cool that was...click here.
The ferry pictures....credited!
You know those pix I posted at the bottom of this page (scroll down) of the ferry in the storm? Those awesome photos were shot by Ross Fotheringham - you can visit his website and see more - he does a super job!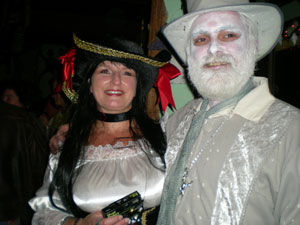 Twenty-two & sailing along...
The Combs are celebrating their 22nd anniversary on the 4th - besides running the Ale House, Peggy & Oren dressed up for the concert by Anthemology at the pub last night, as you can see.
What to do....now you know.....
The next few days there is tons to do.
You decide, but get out of the house, willya? Here's what I know about:
Thursday (like, tonight, dude): The Island Stage Left production of Doubt has its first show at Roche Harbor tonight...here's more.
Our football guys take on the Wolves at Coupeville tonight at 4pm in playoff action...go, FHHS!
It's All Saints Day - drop by church.
Friday: There's an Open House at Vanderyacht Propane on Mullis Street next to Guard Electric on both Friday & Saturday from 9-4:30pm. The BBQ includes grand opening specials & door prizes! You can get $200 off a Heat-N-Glo Fireplace & 50 gallons of propane free with purchase.
Saturday: Rainshadow PhotoGraphics will host an open house from 2-6pm at the studio in the Surina Business Park on Malcolm Street. For more information go to www.rainshadowphotographics.com.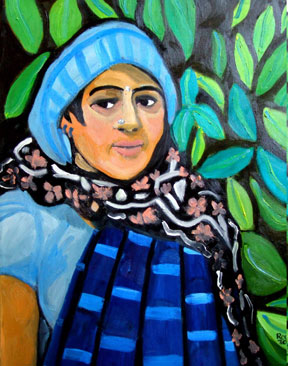 waterworks gallery's November show opens with three woman artists. They share a love of color, texture and pattern in their respective medium. Holly Durham of San Juan Island uses clay to create texture, line and form on her organic forms. Mary Ann of San Juan Island uses color, texture and form to create portraits of people from around the world. Cathy Schoenberg of Guemes Island continues her portrayal in patterns of women at rest, at play and at work (right). waterworks gallery, established in 1985, represents a group of eclectic contemporary artists who live and work in the Pacific Northwest. Hours in November are Wednesday through Saturday, 10:30am - 5:30pm and Sundays noon to 5:00.
The 6th Indoor Winter Farmers Market starts this weekend in the Grange building. Time is as usual, 10 - 1. For their winter schedule this year and more information get in touch with the new market manager, Grisha Krivchenia grishakriv(at)gmail.com.
Go whalewatching! Maya's Whalewatching Charters are open all year long, and are still seeing Orcas and Humpbacks, in addition to seals, sea lions, eagles, porpoise, and returning migratory water fowl.
Susan Eberhard of the US Coast Guard Auxiliary in Friday Harbor tells me that members of the Auxiliary in Friday Harbor are offering a pubic boating safety class on Saturday, Nov 3 at the Mullis Street Firestation. Here is a press release about the class.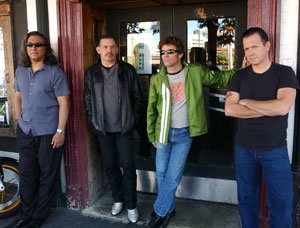 Sunday: Mi Piace Coffeehouse's Open House - from 10-2, drop by for free samples & free drip coffee.
At 6pm at the Library it's the Knit Lit Book Club discussing the mystery Died in the Wool by Mary Kruger. Check out your book club copy at the Library, and bring your knitting or crocheting with you!
At 7:30 pm it's rockin' blues with the Tommy Castro Band (right). "The blues is in good hands," according to Carlos Santana. Get your tickets early! Tickets: 378-3210 or at their site.
The Anti-Litter Potluck at the Grange (see below) from 5-7pm - everyone's welcome!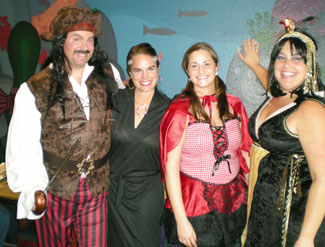 The Island Trail Riding Club's first organizational meeting is this Sunday at 3pm at Rik Karon's Ranch on West Valley Road - anyone interested in trail riding is welcome to attend. They hope to share knowledge of trail riding techniques & share riding locations & opportunities, and lower the cost of trailering by sharing expenses for day rides or longer. Call Rik (378-5921) or Tess (378-8332) for more info .
Did you know?
The Place Bar & Grill is closed till Friday November 9th.
Did you know?
That's the Rocky Bay Cafe crew dressed up yesterday - from left, John, Rachel, Sarah, and Kira!
Quote
Hold fast to dreams, for if dreams die, life is a broken winged bird that cannot fly.
Langston Hughes
---
October 30-31, 2007
Halloween tomorrow....
What are you dressing as? Wednesday there will be the annual kids' parade from the elementary school through town (here's the five pages of photos from last year's parade - see who you know!) The kids come to town around one pm - check 'em out!
Then comes the evening, when some 500-600 kids descend on the Greenway neighborhood for trick or treating (and other spots around the island as well), which is before the Island Rec Teen Halloween Party at the fairgrounds which kicks off at 7:30pm. Besides all the costumed & un-self-conscious dressed up adults running around to costume contests in watering holes downtown, there will be a special performance by Anthemology at the Ale House from 7-9pm. They rock - see ya there.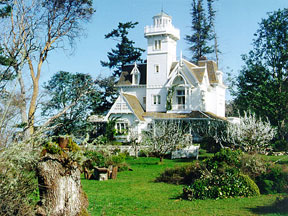 The old Practical Magic house
One of the neat things that has happened here on the island in the past was about nine years ago the film Practical Magic was filmed.
While it was cool to have Sandy Bullock & Nicole Kidman & Aiden Quinn running around the island for a while, it was also interesting to watch the house that was used as a set get built (and then torn down in two days). In her blog, Sabina DeShazo says she felt the house was as much a character in the film as the actors...here's more, including pictures from the film.
The news it just repeats itself....
I looked in the Update archives to see what was happening in 1998 about Halloween & Practical Magic back then...the movie had just opened here & the account of what happens at Halloween sounds a lot like now, except there's way less vandalism these days (I think). Here's the old news...it includes a mention of the FHHS girls losing their first ever playoff game by a 2-1 count, to Lynden Christian (the girls lost their first-rounder last week to the same team).
Dark days coming....
Daylight saving time goes away on Saturday....but there's still stuff to do. Men's open basketball starts this Thursday at the big gym at FHHS, and badmitton & teen basketball kick off, as does open skate - it's all posted on the Island Rec page. Check it out!
Flu shots or no?
There are some questions about whether it's safe to take those flu shots...the mercury in the shot raises questions about what lengths we should go to, to stay healthy. Here's more.
Potluck this weekend....
Lori Stokes with the anti-litter initiative says there's a nice feed this weekend, with thank:
In order to thank and to celebrate the individuals, businesses, and organizations that are participating in the island's regular roadside and beach clean-up campaign, "Imagine No Litter!", the San Juan Island Anti-Litter Initiative is hosting a potluck and social get-together for the more than 100 volunteers who are helping to keep our island clean and beautiful. Several of the founding partners of the Initiative will also be joining the party to show their appreciation for all of the participants. It'll be Sunday, November 4, 2007, from 5 to 7 p.m. at the Grange in Friday Harbor.
Bring a dish to share, and something to drink. Plates, cups, utensils, and napkins will be provided. If you have any questions, you can call one of the numbers below.
Thanks for your efforts to keep our island clean.
David Dehlendorf, 378-1082 & Lori Stokes, 378-4643

Poetry next week
Adrienne at the Library has a show planned next Friday:
Once again, the San Juan Island Library, in cooperation with Friends of the San Juan Library, will host Poetry Night. Poet Tom Odegaard will facilitate this next event. Three featured artists (Susan Wingate, Earnest Pugh, and Wendy Wood) and will present their work and then there will be an open mic session for audience members to get up and read their poetry! 7-9pm on the 9th.
New captains....
Capt. Richard Rodriguez (I love his blog) tells me there's a new captains' class graduating...here's more: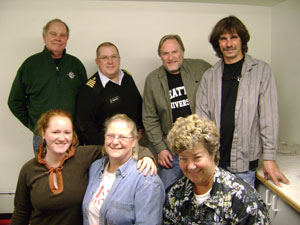 New captains at right: Hannah Delapp, Dawn Hilliard, Cheryl Rawson, Travis Smith, Capt. Richard Rodriguez (instructor,) Gregg R. Dietzman and Bob Mancuso. Not pictured are participants Matthew Daum, Les Hilliard and Maggie Hilliard.
New Coast Guard Captains Qualified: United States Maritime Academy graduated six students October 26, 2007 in Friday Harbor. Graduates are qualified to operate passenger vessels for hire up to 100 Gross Tons.Friday Harbor, WA. (October 26, 2007) --
United States Maritime Academy (USMA) has been training mariners to become Captains for over twenty years. Thousands of USMA graduates operate vessels throughout the world and received their licenses through our approved training as an alternative to stressful Coast Guard Examinations
USMA operates courses across the country. The course focuses on teaching the material rather than test preparation. The USMA is a approved United States Coast Guard School and as such tests on site, after each segment is completed.
You can find out more about the Untitled States Maritime Academy by visiting www.usmaritime.us.
Quote
Peace hath higher tests of manhood, than battle ever knew.
John Greenleaf Whittier
---
October 29, 2007
Welcome to Monday & another week...
Last week's sunny skies & that one 70-degree day last Tuesday have all dissolved into the grey & chill of winter this past weekend...stay warm & cheer up - we've just started.
Meanwhile, this coming weekend Daylight Saving Time switched back on Saturday night, meaning we get an extra hour of sleep (wahoo!) Here's more.
Ferry rocks & rolls.....
In the wind storm a couple of weeks ago, the ferries were rolling with the waves - caught by a photographer named Ross Fotheringham downsound, here's a set of incredible photos. Click here.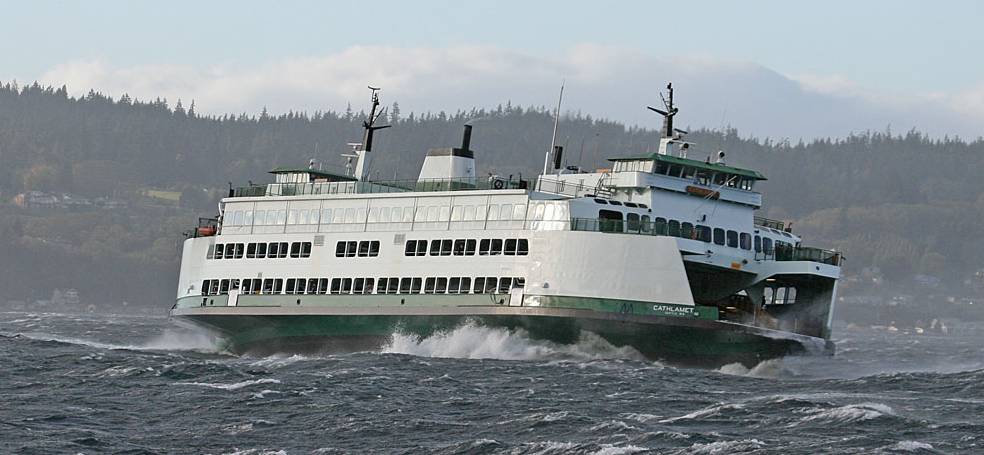 Sports update....
The Junior Tigers won this past weekend 8-0 over the Lakewood Maroon team in Anacortes, setting up their semi-final game in either Oak Harbor or Sedro-Wooley this coming weekend - a win there sends them to the championship game the week after in Mt. Vernon. Way to go guys! Here's more.
Meanwhile, the FHHS girls ran into the top-seeded King's girls in the end-of-season league tournament Saturday, and lost 3-0 after playing well...King's went on to win the whole tourney - here's more.
On Thursday, the football guys (4-4) head to Coupeville (also 4-4) for our first playoff game, with gametime set for 4pm.
The Chautauqua's coming! The Chautauqua's coming!
This Friday at the Community Theatre the New Old Time Chautauqua comes to the island, and this is gonna be great (I've always liked the Flying Karamazov Bothers, for starters). Robyn from their group has more:
Ian, I wanted to let you know about 3 upcoming vaudeville shows in the islands the weekend of November 2, 3, and 4 on San Juan, Orcas, & Lopez. We are a group of vaudevillians called the New Old Time Chautauqua, a non-profit that takes education and entertainment into rural communities. We have an especially great line up of acts, including the Flying Karamazov Brothers, the Mud Bay Jugglers, two people from the Dream Science Circus, a great band, magic, poetry, and so on. I am hoping you can post something on your website. If you would like photos as well, they can be found on our website at www.chautauqua.org. These shows will help pay for our summer tour (three weeks somewhere in the Pacific Northwest), and the Friday Harbor show will also partially benefit Wolf Hollow Wildlife Rehabilitation Center and Islands Oil Spill Association.
You don't wanna miss this one.
Quote
Strike an average between what a woman thinks of her husband a month before she marries him and what she thinks of him a year afterward, and you will have the truth about him.
H. L. Mencken