November 16, 2007
Closing for remodel....
On the 25th, Haley's Grill & Bait Shop will close for 3-4 months for an extensive remodel....now in its eleventh year, the place is gonna look really different when Bobby's done...meanwhile, be sure & get one last bite before they begin re-construction!
Meanwhile, back at Linfield College...
I asked my friend Lillan Roquet (FHHS '06) to keep me posted what's happening at college this fall, especially with last years FHHS quarterback Cole Franklin trying to make a mark on the football team there, and she filed this report:
Hey Ian! Thought I'd drop you a line and let you know all of the exciting news down here!
First of all, Cole got in when Linfield played Menlo in California October 27th, and he threw one completed pass. That game clinched Linfield's 52nd winning season, the longest streak in NCAA history no matter what division of the sport. In the last home game of the season last weekend, Cole got in for an entire quarter, runnng the ball for two first downs, and throwing a 17 yard touchdown (bringing his college stats to 2/2!) ... here's to a lot more playing time next year!
When Linfield played against Pacific Lutheran University, there was a warm reunion of the formerteam mates after the game with Tim Cumming (#50). Pete Shanks (Class of '05) also drove down from George Fox University to watch the game.
Well, that's all for now, excited to make the trek home for Thanksgiving, hope all is well with you! Lillan
Ppeaking for football heroes
You know the Tigers won the whole thing, right? Here's the full story with pictures - way to go, guys! This week, the Mayor of Friday Harbor declared today Tiger Football Day in their honor - way to go!
Turkey Trot - get ready!
It's that time of year, again. The race is Thanksgiving morning....here's more.
Marimba CD release tonight.....
I've got my copy of the new CD, and I love it! Here's the deal tonight, from Amelia Powell for Pelindaba:

Pelindaba Lavender is proud to help Kubatana Marimba Band announce the release of their first CD – FROM THE HEART. The CD is a compilation of the traditional music of the Shona People of Zimbabwe and other contemporary pieces.
The Band derives its name - "Kubatana" – from the African word, "to be close, to touch one another, to be united".
True to this spirit, the local members include:
Christian Andrade, Lea Andrade, Jane (Alia) Buck, Jack Clay, Jeanine Earnhart, Wynne Higgins, Laura Holden, Marilyn Karon, Joanne Terry and Susie Wampler.
Everyone is invited to come and celebrate this special occasion. CD's will be available for sale. Refreshments will be served.
Leadership Class is coming together....
My good friend Liz is looking for a few good leaders in this really successful program (everyone I know who has taken it tells me it is very worthwhile...) Here's more:
The Leadership San Juan Islands (LSJI) deadline for applying for the Class of 2008 is Monday November 19th. We seek candidates from all sectors of the community, from businesses and non-profits, to education and government. For further information or to download an application see www.leadershipsanjuanislands.org or call Liz Illg, Program Coordinator, at 317-4010.
Roche Harbor's Annual Salmon Classic Invitational 2008
My friend Debbie Sandwith tells me it's the "The Largest Black Mouth Tournament in the World!" Here's more:
February 7 - 9, 2008 marks the fifth Annual Salmon Classic Invitational at Roche Harbor Marine & Resort. A three-day sport fishing extravaganza that attracts anglers from all over the Northwest & Canada. With over $25,000 dollars in cash & prizes this event brings out fishermen from all walks of life to fish our island waters. Cash Prizes include $10,000 First Place; $5,000 Second Place; $1500 Third Place; * new for 2008~$2,000 Mystery Fish and Best Boat Total weight prize of $1,500 all in CASH!! Each night donated prizes are drawn from the Northwest's favorite fishing tackle and accessory companies ie. Frabill; Scotty; Shimano; Laminglass; Simrad; Berkely. In addition, each Angler qualifies for the grand prize drawing: A top of the line Sport Fishing Boat package as a part of the Northwest Marine Trade Assocation Derby Series!
Derby entries are limited to 100 boats with 4 anglers per vessel. $600.00 per boat, which includes moorage and meals.
For more information & derby registration packets please contact Debbie Sandwith, Roche Harbor Market, at 360-378-5562 or email at market@rocheharbor.com.
Quote
The weak can never forgive. Forgiveness is the attribute of the strong.
Mohandas Gandhi
---
November 14, 2007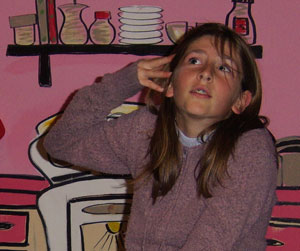 First SJCT Children's Theatre Production November 16 & 17 this week....
The folks at the Community Theatre tell me the first children's show is this weekend - we've had the Missoula guys (they're from off-island), and of course the way-cool middle school & high school shows, but this is the first home-grown show with our elementary kids in it. Here's more:
The jazz fly buzzes, an angel food cake dazzles and a nature hike jaunts, in the San Juan Community Children's Theatre's first stand-alone play, The Jazz Fly and the Angel Food Cake presented on November 16 and 17.
Thirty-five young elementary school age actors and the island's Teddy Deane Jazz Quartet star in this charming play adapted by local storyteller Tifni Twitchell Lynch from a combination of children's stories: The Jazz Fly by Mathew Gollub, The High Rise Glorious Skittle Skat Roarious Sky Pie Angel Food Cake by Nancy Willard and Henry Takes a Hike to Fitchburg by D.B. Johnson.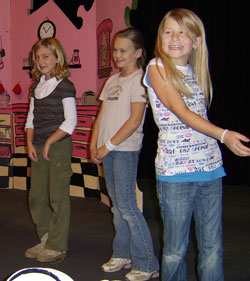 The play brings three worlds together in a fantasy that includes angels, animals, a magical angel food cake and a jazzy fly. The story's theme centers on appreciating our surroundings, whether it be family, nature or music. "It's slowing down and enjoying the moments, something we don't get to do too often these days," said Twitchell Lynch.
Parents and other adult volunteers have worked to design a colorful set, creative costumes and makeup that will bring audiences of all ages into a world where music, family, friends and nature come together.
The Jazz Fly and the Angel Food Cake is sponsored by Rocky Bay Cafe. Curtain time is 7:00 pm on Friday, November 16 and 2 pm on Saturday, November 17. Tickets are $12 for adults; $6 for student reserved. $5 student RUSH tickets are available at the door. A private donor has made provision for free tickets to anyone needing financial assistance to attend a Theatre event.
The Box Office is open Tuesday-Friday, 11 am to 4 pm, and Saturdays 11 am to 2 pm. Call 360-378-3210, or go to www.SanJuanCommunityTheatre.org.
Here are all the kids:
Macalister Hull Arendt, Claire Boden, Dakota Gabler Brown, Katherine Close, Helen Davis, Isabella Davis, Jaclyn Domenech, Ula Grace, Savannah Hoffman, Kera Kovats, Kylie Kovats, Joely Loucks, Sophie Marinkovich, Hayden Mayer, Gene McCauley, Stella McCauley, Coey McPadden, Megan O'Brian, Devin Oliver, Jessie Pachuta, Gemma Richard, Mia Saccio, Zoe Saccio, Elisabeth Scott, Rachel Scott, Grace Shaw, Madeline Schroeder, Mckenzie Serratt, Julia Smith, Matt Stepita, Piper Taylor, Halla Rose Warner, Emma Wickman, Vida Wight, Megan Wilson

Deported...
Last week the INS folks came and took away Mexican Lino Ayala & his family....Lino was a popular presence around the island, working lately at the public schools as a custodian & singing at shows, with his sunny personality & infectious smile. He reports in an e-mail that he & the family are staying with former islander Clare Vedder in Tijuana, Mexico, and are moving back to their town in Michoacan. He sends his best and "a big hug" to all the students.
I'll report more as I find out more about our friends' abrupt departure.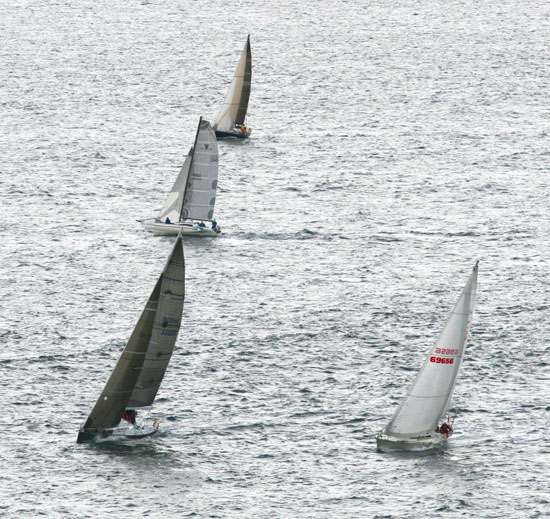 This past weekend's Around The County sailboat race was captured on by eagle-eye photographer Sandy Buckley on the west side. Here's more about the two-day regatta.
Quote
The more that learn to read the less learn how to make a living. That's one thing about a little education. It spoils you for actual work. The more you know the more you think somebody owes you a living.
Will Rogers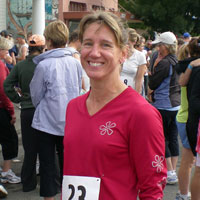 ---
November 12, 2007
Nationally, number 24....
According to Clark Gilbert's running blog, islander Jane Hutchison was #24 in her age group in the national Ironman competition at Clearwater, Florida this weekend - here's more.
Windy night, windy day....
Today's morning came alive with the grey clouds we expect this time of year, along with winds left over from yesterday evening that left branches all over the place. Most of the power on the island has been restored, but we'll keep an eye on that.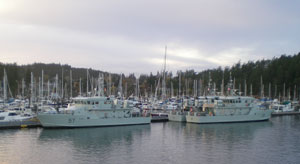 Canadians come visiting....
There were three Canadian Coast Guard boats in the harbour this weekend (right) - I hear they couldn't get away Monday morning because of the wind....
They weren't the only Canadians stuck on the island - the international run of the ferry to Sidney, BC didn't run because the Strait was so choppy. They expect it to run tomorrow....
Server maintenance....
I had scheduled server maintenance for the Update this weekend, which is why it's so short today. Looks like everything's working pretty well, so let's get together tomorrow & see what else you& I have to talk about. Thanks for reading the Update!
Cheers, Ian, your reporter