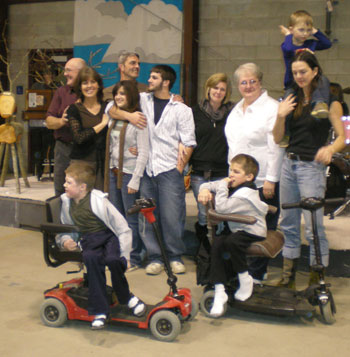 December 10, 2007
The Banry fundraiser was a spirit raiser....
Friday night it was a mob at the Fairgrounds...EMS chief Jim Cole told me they sold 650 food tickets, and there were even more who didn't eat but threw in a buck or two for the silent auction, the big auction, and stayed to dance after all that. It looked to me like there were over a thousand folks at it's most crowded, and I probably was undercounting.
That's Sam (left) and Clayton on the scooters the kids have been using since mid-year, along with the rest of the family, just before the auction. The reasons for the event are detailed on the auction's website (click here) - it was cool to see a family so beloved on this island that has been so giving to so many of us get their due. The outpouring of love and care that evening was, as I was hearing over & over again that night, the reason we live here.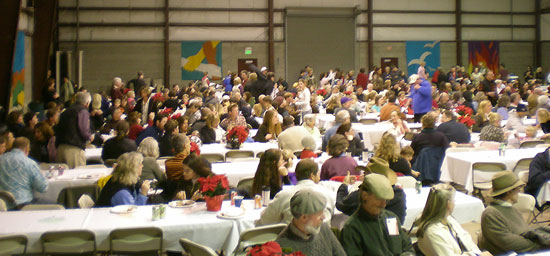 I wanted to get a picture of the crowd, but it was too big to get into one picture - FHHS senior Katy Chevalier (she's taller than me) stood on a chair to shot this one of perhaps a third or so of the folks who were there halfway through the auction.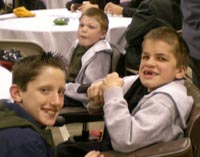 One way to measure the success of the evening would have been to count the hugs & tears & smiles of the evening....it's the sort of thing that brings out the best of our island. The fundaraising goal is $200, and according to the Monday morning edition of the San Juan Islander (here's the link, with a bunch of pictures), the campaign had about $70K after the evening was over.
Way to go!
Ferry news....
The international run isn't happening on Tuesday this week, because of annual inspections & such; meanwhile the WSF continues to play musical boats...here's their report:
On Sunday, Dec. 9th, beginning with the 2:40pm departure from Anacortes to Friday Harbor, the 144-vehicle M/V Kaleetan will replace the 90-vehicle M/V Sealth while the Sealth undergoes scheduled vessel maintenance.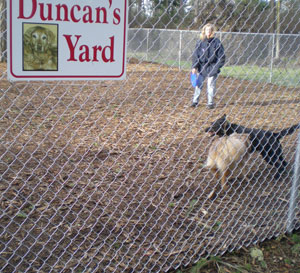 Out in the yard....
At the Animal Shelter's open house on Saturday, I got to see for the first time Duncan's Yard.
Our animal shelter does as good a job as any getting dogs & cats ready to be adopted - shots, cleaning them up, and loving them so they're ready to get loved by the folks that take 'em in. The other thing the dogs need is exercise, and now the Yard gives them an easy way to do that. The large fenced space gives them plenty of room to run, as you can see with my two friends wrestling at right, under the watchful eye of Erin Braybrook.
The space is named after Susan Eyerly's golden retriever Duncan, who was a familiar site at Griffin Bay Bookstore until Susan passed away April a year ago.
Open for the holidays....
I just heard from Valerie that she's open for you:
Hi Ian,

Would you be so kind as to help me get the word out via the SJI Update? Dockside Treasures at Cannery Landing next to the Ferry Terminal will be open for the Christmas shopping convenience of islanders from this Friday Dec. 14-31st. I will have lots of specials on jewelry, gift items, and souvenirs for friends and relatives in less beautiful locales. Hours each day will be 10AM until the last shopper drops from exhaustion.

Thank you, Ian, for your help and your GREAT community news site!

Happy holidays,

Valerie Boyd
Dockside Treasures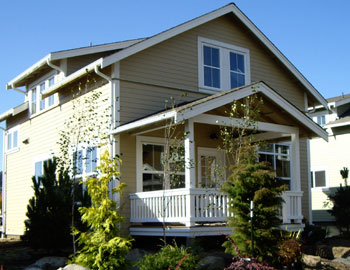 Houses for sale....
Bill & Chris Carli have been building those nice houses right across from Marketplace for most of this year, and now they're all done & are for sale! They have all the details on this little web site I made for them - take a peek & see what you think.
Roche's Christmas festivities are this Saturday....
Debbie from the Market sent me the writeup about the Lighted Boat Parade, the food, the singalong....it's all from 3-7pm this weekend. Here's more!
More holiday planning - New Year's is coming....
Cynthia at the Prevention Coalition says this year's New Year's Eve part is coming together - here's the scoop:
December 31st, New Year's Eve Community Celebration at Mullis Center! 7:00 to 9:15 P.M., FREE!!!! Dancing and music for all ages! DJ: Shamrock Sounds, with games and activities! Hat decorating, board games, and crafts. Children 12 and under must be accompanied by an adult. Please bring "finger food snacks" to share! Join this alcohol and drug free event to have fun with friends and family. Donations accepted! Sponsored by the San Juan Island Prevention Coalition. For more info, call Abby Span, Recreation Specialist at Island Rec 378-4953 or email abby (at) islandrec.org. Thanks!
Quote
A film is never really good unless the camera is an eye in the head of a poet.
Orson Welles
Down one road lies disaster, down the other utter catastrophe. Let us hope we have the wisdom to choose wisely. - Woody Allen
---
December 7, 2007
New faces in town....
There are a couple of folks I talked to yesterday who are new islanders you might want to meet....Ada Hung (left) is the manager of Mi Piace, that new coffeehouse at the top of the ferry lanes in the new building where Churchill Square used to be. She moved here this summer from Las Vegas and opened the place around Labor Day....you can check the menu on her web page, and get down there & say hey. The coffeehouse is open from 7am-8pm most days - check it out!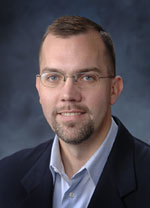 Meanwhile, over at Luxel, they have a new owner as of August - Travis Ayers (right) came along to the island in August after buying the company from longtime owner Forbes Powell.
Prior to acquiring Luxel, Travis worked in various aspects of high-tech manufacturing, from product engineering, production management, and sales, to corporate management. It looks like he's getting used to the island & he seems like an easy guy to like, so I'd say the Luxel folks are lucky to have him. Here's more about the company, with a bio about Travis.
Orcas about....
There have been a few reports earlier this week that J pod was heard on the hydrophone & has been about on the west side, some.
What's happening this weekend?
Here's a place to check, from earlier this week...click here.
Holiday party scheduled at English Camp
Mike Vouri tells me there's a party, and you're invited on Saturday, during the day: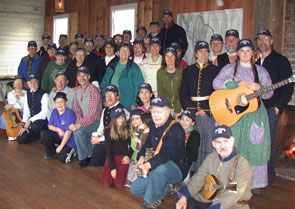 Join San Juan Island National Historical Park staff and volunteers for the annual old-fashioned Holiday Social, tree-trimming and cookie potluck from noon to 3 p.m., Saturday, December 8, at English Camp.
Visitors are invited to bring holiday cookies and ornaments to hang on the tree, which will be erected in the old British Royal Marine Light Infantry barracks building -- just as it was likely done in the mid-1860s when the camp was in its heyday.
Admission is free. The park will provide beverages, two crackling fires to warm the bones and entertainment to include staff and volunteer re-enactors in period uniforms and dress, storytelling and folk dancing with "Sugar on
the Floor." Volunteer awards also will be presented.
A motorized golf cart will be available in the English Camp parking area for persons with accessibility needs. For information, call 378-2902.
A hug is always good....
Here's proof: This woman rescued a malnourished lion & eased him back to health, and here's a little video of their reunion, six years later....
Quote
Patience is the ability to idle your motor when you feel like stripping your gears." -- Barbara Johnson, literary critic and professor
---
December 6, 2007
So when was YOUR last reflexology appointment?
Drop by the Lavendera Day Spa to check out the different ways you can treat yourself well - whether you're looking for a way to help improve your health or to pamper yourself (or someone special, when you give them a certificate!)
Like a lot of folks, I dropped in last Friday for their Open House, and was happy to see that reflexologist Laura Greenan is back...she'd been off-island for a while but is now set up at the Spa & taking appointments...call her today at 378-3637!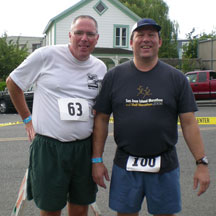 Stan's back at King's.....
I visited with Stan Reitan (on right, with Clark Gilbert before last summer's Loop Run) a couple of days ago at King's Market, where he's wearing his King's uniform along with his nametag that says "Stan - Wine" that he wore for so long.....he's running the wine store he started earlier this year, Brazenly Lucid (here's his site), and now helping out at King's, too.
The United Way helps us all....
The United Way's Bonnie Gilmore tells me this is a good time to give:
As United Way of San Juan County wraps up its campaign on December 31, we look forward to continuing to provide essential support to more than thirty human services programs in 2008. For more than a decade, your United Way has worked with local agencies to make a significant community impact; helping thousands of individuals, children and families throughout the county.
In November of each year, agency programs develop and submit grant requests to United Way which are carefully reviewed and considered by a committee of qualified professionals. Requests for funding for 2008 exceed $190,000, representing a significant community need. Your financial partnership will make a valuable difference in our ability to continue help others. As you plan your holiday giving, please consider that:
Thirty-plus Local Supported Programs depend on United Way for their operating expenses- those funds that allow them to keep their doors open day after day and provide services for the entire community.
Yes, there are many organizations asking for your donor dollars – that's one of the benefits of helping through United Way as agencies do not have to come to you separately!
We're cost effective since there is only one expenditure for fund raising, leaving agencies to do what they do best – provide services to our friends and family members who need help.
You can give with trust and confidence, knowing that the United Way Board is made up of experts who carefully screen how donations are spent in order to make certain that real changes come about because of your investment.
Finally, as you include United Way of San Juan County in your giving, remember this is not just one organization asking for your help, it is many; please plan your giving accordingly. Donations may be sent to United Way of San Juan County. P.O. Box 3181, Friday Harbor, WA 98250.
Thank you in advance, and happy holidays!
Quote


"It is not the critic who counts; not the man who points out how the strong man stumbles, or where the doer of deeds could have done them better. The credit belongs to the man who is actually in the arena, whose face is marred by dust and sweat and blood; who strives valiantly; who errs, who comes short again and again, because there is no effort without error and shortcoming; but who does actually strive to do the deeds; who knows great enthusiasms, the great devotions; who spends himself in a worthy cause; who at the best knows in the end the triumph of high achievement, and who at the worst, if he fails, at least fails while daring greatly, so that his place shall never be with those cold and timid souls who neither know victory or defeat." - President Theodore Roosevelt

---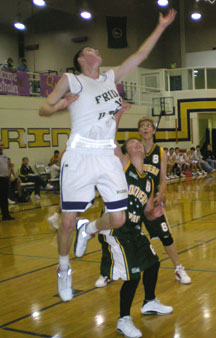 December 5, 2007
Australian basketball teams come visiting....
Last night the Wolverines played host to girls & boys teams from Australia who were playing their third game in four nights since arriving last Friday in the US. Although the game Aussies came up short in the two games, they were cheerful & hustling the whole evening, and a delight to have around as we got to visit with them after the game as Purple & Gold put on a little pizza feed for them.
Here's an article in their online news about them
That's one of the visitors holding onto Tommy Fowler's shirt last night, but it's gonna take more than that to hold down the high-flying FHHS senior this year.
In other basketball news....the Class of '08 came out ahead after last week's fundraiser when the Harlem Ambassadors came to play....Cathy Cavanaugh reports:
Ian – Just to let you know, we netted a little over $3000 after expenses on the Harlem night – so, it looks like the 2008 Senior Class had a great night for adding funds to Grad Night. Thanks so much to such a great community. Elements donated the rooms for the team, all their food was donated – our Senior Sinkers (the great local players) all had sponsors at $100 apiece – thanks to all! Thanks - Cathy

Ferry rumors....
Thing One: I heard that Evergreen State may need repairs, so the Hiyu (above) would take its place. Here's more about the Little Ferry That Could, which holds 34 cars & provides a much more intimate ferry experience than those great big boats. It's also a chance for folks who have just moved to the island to see what it was like in the old days. Here's more about the boat.
Thing Two: Meanwhile, I found this little mention about the Elwa's occasionally sullied rep (although when she whacked into the Orcas dock & caused a six-week suspension of service & three-quarters of a million dollars in damage - well, sometimes you deserve what they say about ya). Anyway, on a site called evergreenfleet.com here's a bit about the boat that currenntly makes the run to Sidney for us (and no, I couldn't find a copy of the song)
Unfortunately it was in the Islands that the Elwha would began to develop an unsavory reputation. Perhaps the most famous incident for the vessel happened in 1983 when her captain "discovered" an uncharted rock in Grindstone Harbor while showing a female passenger what her home looked like from the water. The event, while hardly comic as it resulted in a tear in the Elwha's hull did have some soap opera-like qualities to it. Soon thereafter the woman in question began being referred to as "the Siren of the San Juans" and local bars began selling a drink called "Elwha on the Rocks." A local band in Friday Harbor cut a 45 with a song of the same title.
Thing Three: By the way, the Elwa isn't running its international run next Tuesday (the 11th), so you'll have fly over. Or swim. They're doing Vessel Sea Trials.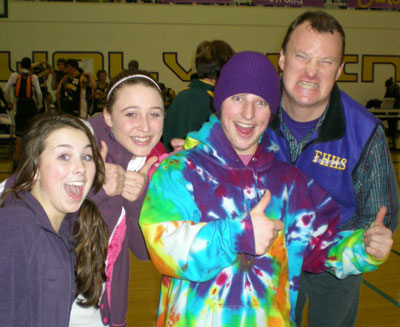 Kids at the game....
I asked Kevin O'Conner if I could take a picture of him in his new tie-dyed hooded sweatshirt, so he posed with pals Molly Taylor & Lizzy Guard, as well as FHHD AD Marc Vermiere.
As you can see, I asked them to smile.
Drop by the Whale Museum tomorrow night!
This is what Cindy Hansen tells me (you need to know about the Thursday deal - that's a great time for you to take your lunchtime & visit the Museum if you live here):
Please join us at The Whale Museum on December 6th from 5:00-7:00pm. We will have holiday punch, ginger cookies and hammered dulcimer music by Chinmayo as we celebrate Friday Harbor's Thursday evening shopper festivities. The Whale Museum will be staying open until 7:00pm the first three Thursdays of December. Regular hours are 10:00am-5:00pm Thursday-Monday.
Admission to the Exhibit Hall is free for locals every Thursday.

Things this coming weekend...
There's a ton of things happening! Here's some ideas for ya:
Thursday night: Whale Museum open till 7pm, with music by Chinmayo.
FHHS Band Concert at 7pm, at the Community Theatre.
Friday Harbor Marine Labs: Their research apprentices will present their end-of-quarter presentations on Thursday, December 6 in the Commons. Here's more. 378-2165 for details.
10:00 a.m. - 12:00 Pelagic Ecosystem Function in the San Juan Archipelago.
1:30 p.m. to 3:30 Marine Subtidal Ecology
Friday: The Helping Hands Fundraiser for the Banrys - at the Fairgrounds starting at 6pm. Click here for details.
Pearl Django at 7:30pm, at the Community Theatre. Here's more.
Endgame, by Samuel Beckett, at the Benefit Players Theater at 7:30pm.
Dominique's Clothing - You are invited to Dominique's annual Holiday Party on Friday, December 7th from 5 to 7:30pm at 285 Spring Street. Bring along your friends and spouses and enjoy some fantastic food, wine, music and holiday cheer!
Saturday: Book Fair & Breakfast at the Elementary School! 9am-12:30pm. Don't cook - eat here! Don't shop - buy here!
Animal Shelter Open House - 1-4pm. Here's more!
Endgame, by Samuel Beckett, at the Benefit Players Theater at 7:30pm. (again)
Lighted Boat Parade & Santa Ship - 5:30pm.
"Holiday Festival of Whales" at The Whale Museum featuring Nancy Spaulding. 11am-4pm. Children and their parents are invited to celebrate the 2007 births of four baby Orcas.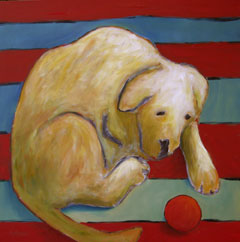 Sunday: Endgame, by Samuel Beckett, at the Benefit Players Theater at 7:30pm. (If you STILL haven't seen it!)
waterworks gallery's December's Holiday Show opens with two San Juan Island artists, Jaime Ellsworth (that's her painting called "Yellow Dog" at right) and Tom Small. The show runs December 8 - January 6, 2008.

Teddy Bear Picnic at the Community Theatre at 11am.
"Tours to the Top" at Lime Kiln Lighthouse from 1-4pm.
The Friday Harbor Group of Amnesty International is pleased to invite the community to participate in our annual Bizarre Bazaar at the Grange Hall on Saturday, December 8, 2007, from 10 am to 2 pm. In addition to a wide range of sale items and gift certificates kindly donated by local businesses, there will be baked goods, and a silent auction that includes, but is not limited to, Private Salsa Lessons, Classical Opera Arias by soprano Corinne Stevens, Portrait sitting with Photographer Danielle Dean Palmer, Landscape Design from Site Elements, and Fine Art Gourd by Local Artist Dona Reed.

Amnesty International is a worldwide movement in support of the International Declaration of Human Rights. The objectives of the Friday Harbor Group are to educate the local community of the need to protect and extend human rights and to contribute to the relief of human rights abuses, both nationally and internationally. The funds raised locally support such activities as human rights talks in Friday Harbor, community participation in write-a-thon events that direct letters of hope to prisoners of conscience and appeals to government officials, and contributions to the national organization. For additional information, contact Roger deRoos at (360) 378-6323.
Report from the other side of the world....
Last week I posted a map showing where Update readers around the world are located. Here's a report from Piet Visser, who moved with his family to Uruguay earlier this fall (it's spring there, as you can see in the photo):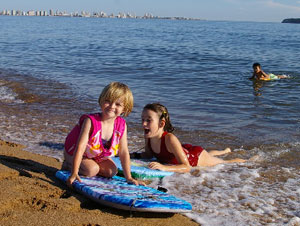 Hey Ian! I see you caught us peeking! Unless you know of other former Islanders in Uruguay!
Life is good! Everyone has gotten into the rhythm of life here including school for the kids. In 2 weeks they will be on Summer vacation again! Emma's class along with the other primary school kids had a concert at a local theater. They sang in English including "Mrs Robinson", "Georgia" and "I'll be watching you". Erin and her kinder classmates did a play in the same theater about traveling in space to different planets and making friends. It was a real joy to watch the kids (and the parents in the audience) having so much fun.
Today the weather should be a balmy 85F! It is Summer here after all. Emma and Eli have taken a real liking to boogie boarding. This is a picture from last week (taken at 7pm). The buildings in the background are Punta del Este peninsula, the island on the right is Goretti Island.
The Hundred Dollar Christmas.....
I'll admit I didn't believe it. I was talking to a loan officer friend of mine who told me that people actually max out credit cards, borrow against their mortgages, even skip house payments so they can buy stuff for Christmas.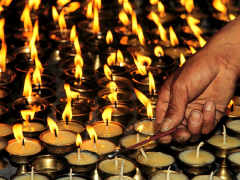 Ya go into debt for that?
Well, do what you gotta do, but I'm not going along with that. For about ten years now, I've celebrated the season by giving gifts and sending cards, just like anyone else, but with a $100 limit. In the words of Bill McKibben, it's not simply about "less stuff," but also about more joy.
So, for today's posting, I'm offering this essay by Bill, which is tons more articulate than I could be about things...see what you think. And give & love & make gifts the best way you know how, and I will, too. Best of the season to you, and Merry Christmas!