January 4, 2007
Sarah Heeren (right) was one of a bunch of university students who were home on winter break at last night's FHHS basketball games.
Wolverines roll over MVC Thursday night....
It was a night where the cheerleaders who get the crowd going with yells of "Wolverine Power" were right. The girls & the boys had good nights in front of an enthusiastic crowd.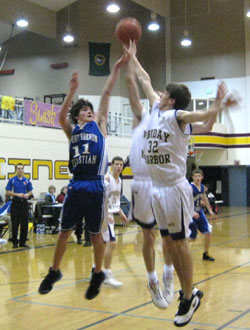 The boys steamrolled Mount Vernon Christian as they ran up a 34-3 halftime advantage before coasting to a 53-18 win, with lots of guys getting lots of playing time. Senior Tommy Fowler told me afterwards that the team's record is 7-1, with a bucketful of home games coming up, starting with tomorrow's game with Bellevue Christian.
That's Cole Howard doubleteaming the MVC shooter & getting a piece of the shot.
Meanwhile, the girls led 10-1 over the Hurricanes in the nightcap after one period, but MVC kept creeping up until they went ahead 38-36 with a minute left.
The Wolverines showed poise in settling things down to tie the game, then Kiersten Radden (who missed much of the fourth with a funky ankle after she came down hard on a rebound) buried two free throws with 6 seconds left for FHHS's first win (40-38) of 2008 (and first win since that Australian game in late November.) They're showing signs of improvement, as Kelsey Barnes gets more comfortable in the paint and as the team gets more & more sure-handed. They're fun to watch - and they never give up.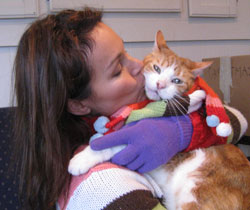 Downtown Dog is happening....
Things are going well over at Downtown Dog, as they offer a full slate of services to keep your dog (and occasionally, cat!) happy. Lisa Moretti (with friend at right) and Jessica Ray offer dog day care, grooming, and you can even go wash your dog yourself! Jess gives what she calls "Training & Boot Camp!" to help you train your dog in both group & private lessons, and I've seen the results with now-well-behaved dogs who come when you call them by name, unlike the other 80% of the dogs on the island.
They also have cat care & grooming, and the place is open so you can drop by just about any time at 1021 Guard Street, just up past the Library & Discovery Inn where the road turns.
The word over at Printonyx....
Kris says they're having a sale:
On January 2nd, we'll start a close-out sale on discontinued paper and 20% off every paper in stock before we do inventory on January 7th. We appreciate your business throughout the year and will look forward to serving you in 2008!
Quote
(After last night's Iowa win, it looks like we have one more candidate that can't do math, or at least doesn't know there more to a marathon than 1/50th of a race (for more of these, see FactCheck.org, which tracks how candidates misappropriate numbers & facts at times.) From Yahoo News, this morning:
"I wish it was all over tonight and we could celebrate the whole thing," Mike Huckabee told the crowd. "But unfortunately if this were a marathon we have only run half of it, but we have run it well."
---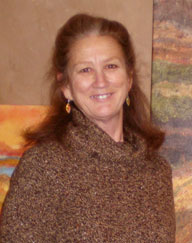 January 3, 2007
Gallery San Juan moves around the corner....
After nine years as what Barbara Dollahite (right) called being "the best kept secret" in Friday Harbor, she & Matt have moved their shop around the corner into the new building, across from Serendipity & the Market Chef. I dropped by to see the new place yesterday & it's really cool - Matt & Barbara designed the inside & it shows off their art and their framing options really nicely. (Here's their website.)
Drop by & see what they're up to...Barbara tells me they have an openhouse planned for later this month - I'll let you know more then!
Rescheduled - now it's here:
Yesterday our friends at Mount Vernon Christian agreed that instead of going there tomorrow, they're coming here today for the basketball games - Connie in the front office tells me game time at FHHS is 4:30pm for our boys (they're 6-1, and on a roll) and 6 for the girls. See ya there!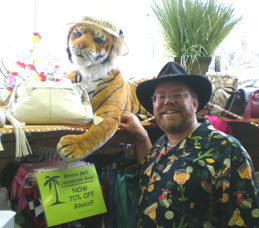 Big sale at the Banana Belt....
I dropped by and chatted with Moon yesterday & he says last week's big sale is going on till Saturday, as he empties the store to do a re-model (Not as extensive as Haley's, though - I checked). Here's more:
Dear Ian:

For the Update, we are letting you know that Moon & Jules' Banana Belt Boutique is carrying its sale over until this Saturday, January 5th. After that we will close for remodel. We decided to keep the doors open while we do inventory. What that means for the good people of San Juan Island is one last chance to get 50% to 75% off on great brand names like Cutter & Buck for Men & Women, Makers MU American Jeans, Christine Alexander Swarovski Denim, Hyde Belts, ILI and Derek Alexander Handbags, Sarah Arizona reversible skirts and dresses, Oh DEER! shoes, and many other designer names that don't allow us to advertise how low we have their prices right now!
We are giving these great deals so you can come on in and carry it out for us so we don't have to during the remodel! New items are put out daily as we empty our stockroom; many have come back and scored again on brand new sale items. This is the last chance to get such great deals on men's and women's clothes, shoes and accessories. And many aren't aware that when Toggery closed, we became the dealer for Tommy Bahama for Men & Women. We also locked in Indigo Palms, Tommy Bahamas denim company. Then we obtained Brighton, one of the best names in the country for accessories like belts, jewelry, and handbags.
On top of that, we also got Erin London, a very affordable line of clothing Toggery carried for years. There's just a whole lot of new at Banana Belt, and we hope people will stop in to see our new look! We are open 10:30 am to 5 pm through Saturday. After that, we will remodel and should reopen by the end of January or first part of February. Of course, the sale will be over then.
Fame & ethical economics, close by....
Did you know that Orcas islander Mike Hurwicz's dad won the Nobel Price in Economics this year? Leo lives in Minnesota - but his other son's remarks about the event touch a wider part of the humans on the earth...here's more. I especially like his notion of the "interveners," who are the people who make progress possible.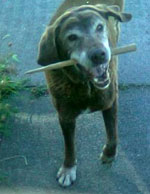 Passing....
Scott Bell wanted to share this his longtime friend Mocha has passed away:
With a big heart and a pure spirit Mocha chased a stick into Heaven.
A well-known Island native, Mocha was a comfort to many foster children, a playmate to countless daycare kids, an enthusiastic running partner, and a devoted friend.
In a big way she is missed by Mario and Spooky, Paul and Audrey, Jacob and Cady, and Scott and Kim. Please remember Mocha by supporting her local favorites: Sweet Retreat, Uptown Espresso, Islanders Bank, and especially Vic's (thanks Linda!).
Quote
Music was my refuge. I could crawl into the space between the notes and curl my back to loneliness.
Maya Angelou
---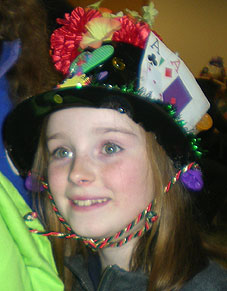 January 2, 2008
New year's party was a blast....
Monday night's party over at the Mullis Center went really nicely, with over 200 people showing up to cheer in the new year. Open to the community, there were babies & kids & seniors & everybody in between. The hat contest was won by April (right) and two other girls, with beadmaking & Tim Thomsen's bingo games (below, there were a lot of winners!), and dancing all night long.
Because it was mostly for kids, the event observed a "New York" new year, with the countdown at 9pm PST, so folks could go tuck 'em in, or stay up late at home.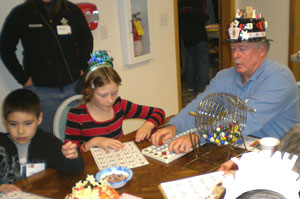 The event, co-sponsored by Island Rec and the Prevention Coalition, was another community gathering that reminded ya how nice it is to live in a place like this, and a great way to usher in a new year.
Take the kids to a film at the library....
It's the Winter Family Film Series - Join them to see these G-rated family films on Friday nights during January and February. The films will start at 6:30pm. Fresh popcorn and drinks will be provided by the Friends of the Library. This week's: "The Shaggy DA" with Dean Jones
Quote
Today the world changes so quickly that in growing up we take leave not just of youth but of the world we were young in.
Peter Medawar
---
January 1, 2008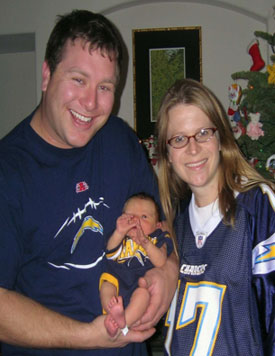 New baby!
Elliot Pemberton (FHHS '99) and his wife Kari reported to me that baby Siri arrived on the 22nd and weighed seven pounds and 10 ounces.
If she's as nice a kid as her parents she's gonna be a pretty awesome kid.
Newly retired....
I hear the they're celebrating Tom Metke's retirement after 30 years with MPD Engineering and Surveying Companyon Saturday from 5:30-8:30 pm at Pelindaba, First Street, Friday Harbor
Hors d'oeuvres and refreshments will be served.
New version (digital) of the old song....
Remember I told you about the song "Elwha on the Rocks"? (Here's the writeup, most of the way down the page.)
Well, Judy over at the Community Theatre found a tape copy of the song by George Burns & the Island City Jazz Band, so I digitized it with the help of Devon Schwinge (he's great at that stuff), so I could put it on here for you to hear it. Click here, and take a trip back to 1983.
New space.....
The remodel over at St. David's Episcopal Church went great, according to everyone I've asked. I asked David Bentley how Christmas Eve services went:
Christmas Eve at St. David's was awesome. Lots of visitors. Good music. Great space. Very lovely.
New hours
Island Studios' Claudia says her hours will be a bit shorter, starting this week: Thursday through Monday, 10:00am to 5:00pm, closed Tuesday and Wednesday.
Newly recycled stuff....
You know, Frank Penwell and his friends at Consignment Treasures are celebrating their fourht year, and they do a good job, recycling stuff & helping the community a LOT. Here's more....
Quote
It may be hard for an egg to turn into a bird: it would be a jolly sight harder for it to learn to fly while remaining an egg. We are like eggs at present. And you cannot go on indefinitely being just an ordinary, decent egg. We must be hatched or go bad.
C. S. Lewis
---
December 31, 2007
What are you gonna do for New Year's Eve?
Here is an idea.....
First, from the Island Rec/Prevention Coalition folks:
It's the New Year's Eve Community Celebration at the Mullis Center! 7 - 9:15pm, And it's free! Dancing and music for all ages! Games and activities! Hat decorating, board games, and crafts. Children 12 and under must be accompanied by an adult. Please bring "finger food snacks" to share! Join this alcohol and drug free event to have fun with friends and family. Donations accepted! Sponsored by the San Juan Island Prevention Coalition. For more info, call Abby Span, Recreation Specialist at Island Rec 378-4953.
And...Sally from Island Rec tells me the night will kick off with middle school band Stop, Drop & Rock palying a few songs, beginning at 7. See ya there!
Meanwhile, over at the Ale House....
Here's the word from Oren:
We hope everyone is enjoying this Holiday Season!
Just a reminder that trivia night returns Thursday, Jan. 3rd. Please check with your team members, if your team looks like a no-show, let us know before hand, we have people that would love the opportunity to play!
And...Chef Matt is putting some wonderful meals together for the New Years! In addition to our regular menu, Matt will be featuring Prime Rib NY eve, as well as Bouillabaisse! He's also presenting a wonderful fresh beet salad. We're sure there will be more goodies, as well!
Join us 11AM-1PM New Year's Day for brunch items..... including a baked Egg Strada!

Cheers,
Oren & Peggy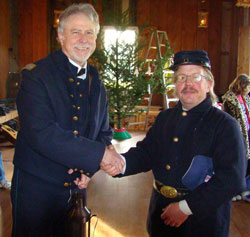 Volunteer of the Year!
Mike Vouri says they've picked this year's vol - here's the man:
San Juan Island resident Eric Ellison was named San Juan Island National Historical Park's 2007 Volunteer of the Year in recent ceremonies at the park's English Camp unit.
A blacksmith and landscaper, Ellison contributed hundreds of hours to the park in 2007, fashioning tools and other implements in support of the park's living history program. He also participated in park education programs such as Fourth Grade Field Day and with his fellow volunteer and smith, Stuart Stern, regularly explained blacksmithing to park visitors throughout the summer.
"Volunteers such as Eric are the heart of our interpretation programs," said Mike Vouri, chief of interpretation. "Eric's skills and commitment of time and energy save the park thousands of dollars annually."
Ellison was presented with a 19th-century period copper lantern and will have his name inscribed on a plaque to be displayed in the American Camp visitor center. The center, located at 4668 Cattle Point Road, is open year round. Check the park's web site at http://www.nps.gov/sajh for current hours.
In 2006-2007, volunteers gave more than 11,000 hours of service to the park, of which 5,396 involved visitor services. Of those hours, nearly 600 were provided by Canadian volunteers.
"As you can see, it is no cliché to say that we literally could not operate the park as successfully without them," Vouri said. "And a special tip of the hat to Battery D, Sysco and the Front Street Ale House (managed by Oren and Peggy Combs) for their continued community spirit and generosity."
Those interested in participating in the volunteer program may call Mike Vouri or Darlene Wahl at 378-2902.
Passing....
He'll be missed...Wade Sundstrom's memorial service is today (Monday the 31st) at San Juan Valley Church, with reception after at the American Legion (in the basement.) The longtime islander passed away the day after Christmas att he age of 83.
Quote
As we turn the calendar page on another year, it's time to start thinking (and acting!) about things in our future that would be desireable to change.
In 1955, Economist Victor Lebow wrote in the Journal of Retailing,
"Our enormously productive economy demands that we make consumption a way of life,
that we convert the buying and use of goods into rituals,
that we seek our spiritual satisfaction, our ego satisfaction, in consumption.
We need things consumed, burned up, replaced, and discarded at an ever-increasing rate."
And we have, for the past half century, to disastrous results. Here's more. And a Happy New Year to you as we work towards a sustainable future!
---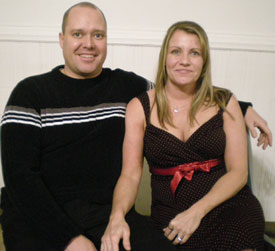 December 28, 2007
Just married, a couple of months ago....
I dropped by the party they had for Mary Roth & Richard Uri on Wednesday night, celebrating their wedding on October 9th. The two former islanders now live in Bellingham, and Wednesday's get-together gave folks here a chance to wish them well.
The good news - and here's more....
Remember yesterday I posted a link to the "Top Ten Good News" stories for 2007? One of 'em was that a guy was gonna pay for all the grads of a high school in Arkansas to go to college, for the next twenty years. Pretty cool. Turns out a local here knows those guys:

Ian, Talk about small worlds! I was reading your top ten happy stories of 2007 and got stopped cold when I read story #5 about Murphy Oil Company offering college scholarships to all graduates of El Dorado (Arkansas) High School.
You see, Ian, I graduated 11th in a class of 364 from El Dorado High in 1971. Charlie Murphy's son, Chip, and I were classmates. I used to teach private swimming lessons in the Murphy's backyard pool. Murphy Oil Company has done a lot for that town of 20,000 over the years, but I had no knowledge of the scholarship story. Thanks for sharing it.
David Bentley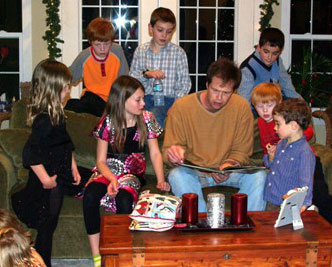 Right before Christmas.....
Debbi Fincher passed along a sweet photo of her husband Brad with a ton of kids:
Hi Ian! I was encouraged to send this photo onto you, this is our 9th year of going to our friends: Jen, Mark, Brian, Allie and Tyler Fleming's house on Christmas Eve. A tradition has ensued, where Brad reads the "Cajun 'Twas the Night Before Christmas" version of the great tale. Brad brings the words to life and it captures everyone's imagination. We are so fortunate to have good friends on the island. Happy Holidays! Debbi
The ferries to go wireless....
Sam Churchill reports in his blog that the Washington State Ferries are going wireleess - they have already put wi-fi in on routes downsound, and are projecting to install the Anacortes-San Juans system in the coming quarter. And yeah, it'll cost ya to use it. Here's the story.
Friday Harbor's traffic situation eased, for a day....
Are you one of those islanders who gets caught near school times at the Spring Street/Blair Street intersection with TWO WHOLE CARS ahead of you & mutters, "Getting crowded here. Gotta move." Or, like me, do you wonder what the streets will look like when the effects of Peak Oil kick in...
Or maybe, you wonder & enjoy how it feels when things are simply quiet....here's a quick pic from our friend Steve of downtown Friday Harbor on Tuesday:
Ian,
My wife Karen and I were making a quick Christmas afternoon trip around the island to see just what was stirring. I snapped the attached photo of Spring Street. I wonder how many times we get to see the street without a single car in sight?

Happy Holidays.
Steve Marler
San Juan Island Fire Department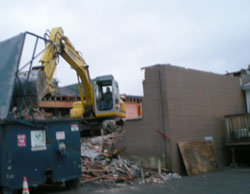 Haley's remodel REALLY underway, now...
Yep, that's the view from behind the place yesterday, in the alley behind Haley's, coming up from the harborside end, as the remodel/rebuild continues....
Passing....
Sad to hear of former FHHS principal Tom Higgins passing away....here's more from our friends at the San Juan Islander.
Quote
The one thing that unites all human beings, regardless of age, gender, religion or ethnic background, is that we all believe we are above-average drivers.
Dave Barry
December 27, 2007
In the days after the holidays....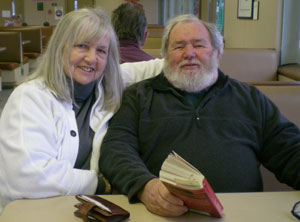 That's Mitzi & Bear Johnson coming back after Christmas from the Saanich Peninsula on the international ferry, where they spent Christmas with friends.
When I was on the way back from my Canadian trip yesterday, I saw Shannon Plummer and Richard Foote & Angel Michaels going over for a holiday to Victoria.
The once-a-day ferry to Sidney ends its run next week on the fifth, then is presently scheduled to pick back up in early April or so.
News, news, news...
I know you're a news junkie, at some level, because you're reading the Update. This noted, I know this is the time of year that regular news-rags (this one's irregular, at least since Sunday) name their top ten news stories of the year, which are usually the world's biggest disasters.
So, since you can get that anywhere, I thought I'd offer the top ten "good news" stories of the year...see what you think. Check 'em here!
I'm compiling my top ten things for news around here, so if you have one to nominate, pop it to me at the e-mail below. It'll be great to hear from you.
Speiden up close....
It was cool - the Elwa swung close by Speiden Island yesterday, so I shot this photo of what I believe to be Sitka deer on the hillside. If you don't know about the island, here's more. If you can't see the deer, click on the picture for a much cooler, huger version.
And the winners are....
Here's how it worked: Claudia from Island Studios asked the artists there to offer up an ornament for the annual ornament contest. from mid-November to December 23. All the customers who came in during that period got to vote for their favorite ornament, and nearly 400 did. The winners received a donation to their favorite charity, made by IS.
And the winners are:
First Place: Dona Reed
Second Place: Doris Schaller
Third Place: Clark Warren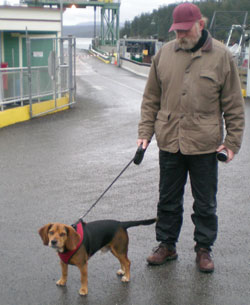 In the steets....
I ran into just-retired Elections Supervisor Dan Gillespie walking his dog on Sunday.
Take a moment for Sadie....
The incredible energy of prayer has helped so many people on the island this past year (you can add that to the top ten stories list you send me - I'm thinking about all the positive healing energy people sent Connie & Tom back in April, and a bunch of others around here who have been bouyed up by their neighbors' good wishes....)
So, I'd like to direct you to this e-mail I got from Edgar & Maria Msdrigal, whose daughter Sadie is having a tough time. They're not asking for money, just your prayers - here's the story.
Quote
No one should negotiate their dreams. Dreams must be free to fly high. No government, no legislature, has a right to limit your dreams. You should never agree to surrender your dreams.
Jesse Jackson