Sunny days....
Hope you saw the full moon rise last night, and hope you got out to play yesterday!
Poetry & Spoken Word....
I sure enjoyed the high school Poetry Slam last Friday at the Library....this Friday, the regular poetry reading is back. Join host Tom Odegard in front of the Library fireplace for readings by guest poets George Smith & Mike Vouri. An open-mike period will follow - bring your work to read & share!
Mason can still knock it down....
I know you've heard it before - Mason Williams can still play the guitar like a champ - here's Classical Gas, played with the Umpqua Symphony in Roseburg, Oregon back in September '06...see whatcha think (click here to see the 1960s version from the Smothers Brothers Show.)
Author/Illustrator James Owen at Griffin Bay Bookstore - Wednesday, January 23....
Laura at GB says this is a really special event - here's more: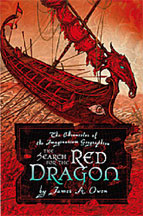 Award winning author and illustrator James A. Owen will appear at Griffin Bay Bookstore on Wednesday, January 23 at 4pm. Owen will draw while speaking about his new book The Search for the Red Dragon, the second book in a fantasy series for young adults entitled The Chronicles of the Imaginarium Geographica, published by Simon and Schuster. His first book, Here, There Be Dragons won numerous awards. The third book in the series is already underway and entitled The Indigo King.
Owen personalizes each signed book with an illustration. Here's more....
Another way to get involved....
The Chamber of Commerce holds monthly forums to discuss issues, plans & solutions related to what's going on downtown in Friday Harbor, and you're invited. Here's more from the Chamber's Debbie Pigman:
The Chamber Downtown Forum - mark your calendar! The San Juan Island Chamber of Commerce is holding its next Chamber Downtown Forum meeting on Thursday, January 24, at 8:30am at the Best Western. The Chamber Downtown Forum program provides an opportunity for those with interests in the Town of Friday Harbor - employers, employees, owners, and other community members – to communicate.

What concerns do you have? What ideas do you have? What questions do you have? Bring these with you on Thursday and we will discuss and, as appropriate, determine an action plan. No concerns, ideas or questions? By all means, join us to learn and provide your input!

For more information, contact the chamber office, 360 378-5240 or chamber@sanjuanisland.org.Potry slam 25th
K-9 Carnival Seeking Vendors....
Sally at Island Rec is planning already for this March happening:
Januray 21, 2008
Remembering Martin....
It's hard to believe it's been nearly 40 years since he left us, but I'm pretty sure that if he were here, he would be reminding us that there is much work left to be done.
The night before a bullet was to silence him, Dr. King comments that he knows he may "not make it to the end" of a long life. In the little film clip below from that last night, I hope you feel his bravery, his determination, his love for life & freedom, as he faced daily personal threats on his existence; I hope we can stand taller hearing his words & his energy, as we fight against the forces that remain in the world that enslave & disenfranchise & hate.
Passing.....
I heard that Norman Reynolds passed away last week....as soon as I hear more about memorial arrangements, I'll let you know. He'll be missed.....
Quote
Have we not come to such an impasse in the modern world that we must love our enemies - or else? The chain reaction of evil - hate begetting hate, wars producing more wars - must be broken, or else we shall be plunged into the dark abyss of annihilation.
Martin Luther King, Jr.
---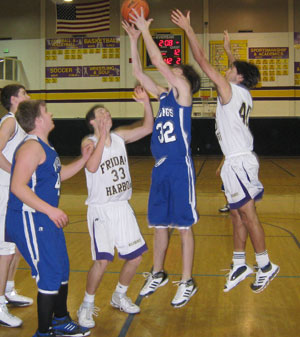 January 19-20, 2008
Basketball rolls on.....
Last night, cross-the-water rivals Orcas came visiting FHHS, and the Viking boys ran into a buzzsaw as FHHS led by 25 before coasting to a 53-33 win.
The opportunistic Wolverines had allowed only nine by the half, and turned the second half into a pressure drill with a lot of players getting a lot on time on the floor.
Challenging every shot (as you can see with Tommy Fowler, Jordan Nash (33), and Pablo Lopez (40) closing in on the Orcas shooter), Friday Harbor is now 10-4, including Tuesday's 10-point win over Shoreline Christian, with a week off till next Friday's home game with Concrete.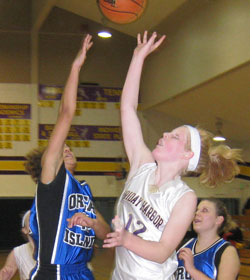 Meanwhile, the FHHS girls continue to play teams close - they lost to a very tough 12-1 Shoreline Christian squad by only 11 on Tuesday. Friday was more of the same, with the seesaw game with the Vikings tied with a minute and a half to go at 35-35, but Orcas nailed ket FTs at the end to pull away with a 41-37 heartbreaker over the never-say-die Wolverines.
The girls won the hearts of the crowd with their scrappy play and aggressive offense (that's freshman Maggie Anderson attacking the hoop in the fourth quarter), and hope for a better result next time.
With reports of whooping cough breaking out over on Orcas (see the report in the San Juan Islander - over 40 cases reported), it was nice to see the visitors weren't coughing at all, and the only sound of sniffling was San Juanderers with our snizzles. We're all hoping they get a handle on the coughing over there - that's tough stuff.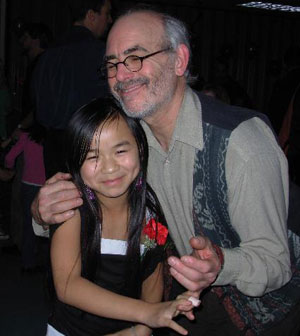 The Father-Daughter Dance is coming!
Papas - hurry up and ask your favorite gal to go! Abby at Island Rec says it's just around the corner (here are about 65 photos from last year's dance - see whom you know! Like Fred & Jade at right....):
The Third Annual Father-Daughter Dance will be on Feb. 8th. This is a chance for girls and women of all ages to spend a night out with their fathers or significant male figure in their lives.
Tickets are $20 per couple, $6 for each additional daughter. Stop by Island Rec's office today to purchase your tickets! Questions? Call 378-4953.
Check Your Driver's License....
Somebody sent me this to share with you - see if you're in there:
Now you can see anyone's Driver's License on the Internet, including your own! Thanks Homeland Security! I definitely removed mine. I suggest you do the same.

Go to this web site and check it out. Just enter your name, city and state to see if yours is on file. After your license comes on the screen, click the box marked, "Please Remove." This will remove it from public viewing, but not from law enforcement.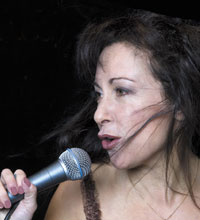 Mullis Community Senior Center fundraiser!
It's next week, so make plans now:
Make your reservations now for the Saturday, January 26 fundraising concert by Devorah with sumptuous banquet by Farhad at 7:00. Devorah will present a musical history of her various styles including original compositions from her last three years' performances in Seattle and New York.
Tickets are $50 each and the show will be great whether you can make it or not! Call 378-2677 for information or stop by the Mullis Center to pick them up and help fund the programs of the Senior Center.
Quote
The most important single ingredient in the formula of success is knowing how to get along with people.
Theodore Roosevelt
---
January 18, 2008
Facelift ...
When you swing by Island Studios, it'll sure look different - Claudia had the ceiling painted this week (it's black now - good effect), and has decided to go ahead & paint the walls since everything's all a bit scattered anyway. She tells me she hopes to be done by Monday - next time you stroll by, check it out!
Quote
Friendship needs no words - it is solitude delivered from the anguish of loneliness.
Dag Hammarskjold
---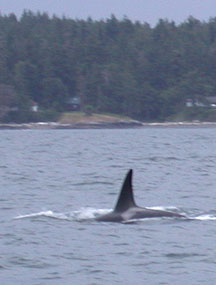 January 17, 2008
Endangered whales put even more at risk.....
Yesterday the administration set aside rules made to protect whales from the use of mid-range sonar by our Navy...even though there have been guidelines/laws set in place by Congress & a court ruling in support of prohibiting the use of sonar around whales, the action by the administration overrides all that.
The science has shown this is harming the animals.
In 2003, the last time the Navy used it here, Tom Averna reported to me that he was out on the water when the tests were being done. He saw frightened marine mammals, including minkes, swimming frantically to escape the sound, and dead Dall's porpoises were later found afterwards. Here's more in the Seattle P-I, this morning.
This is, simply, a rotten deal for the whales.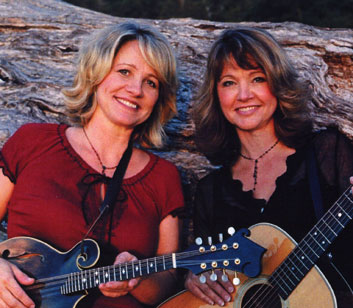 Music tomorrow at the Community Theatre.....
The Dunton Sisters are coming to town tomorrow night with their bluegrass band...every time these talented folks come to the island, they're a big hit. During their Friday Harbor appearance, Jen (guitar) and Bev (mandolin) will be accompanied by their mother Gae on string bass, Michael Savatgy on banjo and Bryan Thurber on fiddle. The sisters have a new CD, "Singing in my Heart." Here's more, on the Theatre's page.
The warmup act for the evening is Spoonshine Duo, whom you might remember sang at the Lavender Festival last summer. I sure enjoyed them then, and so did my friend Frankie the minke whale scientist, who wrote me from Vancouver:
I will also add that Spoonshine is a great band that I have seen a number of times both on island over the last few summers and also at the 2007 summer Meltdown music festival. Highly recommended! Cheers, Frankie
Song for today.....
Sometimes on a grey, drizzly day you just gotta have a song to go with it - here's my favorte Cat Stevens song, from "Harold & Maude," with this guy lip-syching it (I don't think there's film of CS singing it, that I know of....). Happy Thursday to you!
---
January 16, 2008

Sports update at FHHS....
It was cool to see the gym full (if I had a wider lens on the camera, you'd see the crowd from end to end!) at last night's wrestling meet...that's Conner Johns taking on his opponent from Concrete...although we had a tough time (Concrete has at least a couple of state-contenders), the crowd was grateful for the chance to see our guys & gals here at home. On the San Juan Islander, Matt just posted his pix & story from last week's match, which includes the story of Lindsey Banry winning her first match with a boy - check it out!
Meanwhile, the girls and boys basketball teams ran into a buzzsaw at Nooksack Valley on Monday - the girls lost 51-32, after being down only 6-4 after one quarter. Here's more from the Bellingham Herald.
Then, in the boys' game, they (8-4) led 16-11 after one only to fall 57-45 to the Pioneers (8-4) on their road trip to Nooksack...here's more (with a gallery of photos) from the Herald.
Quote
"It is a question of discipline," the little prince told me. "When you've
finished washing and dressing each morning,you must tend your planet."
Antoine de Saint-Exupery.