prepared weekly or so by Ian Byington
To comment, feel free to add to our guestbook, or view it.
December 7, 2000
Clear & cold & sunny: The last few days have been delightful, each with a cold start in the morning that turns sunny by midday...did you see the sunrise with its beautiful colors the last couple of mornings? You don't even have get up early; sleep in till 7:45 and still catch it.
Not crop circles: Those dug-up doughnuts on the football/soccer field - where someone drove their vehicle around & tore up FHHS' nice field - are no joke. It's outright vandalism...a couple of ararrests have been made. Good.
Thanks: The Community Thanksgiving dinner over at the Grange on Turkey Day attracted more than 400 guests, according to Lions Club's Minnie Knych. Better advertising of the event led to its best turnout ever...
Coming & going: Lisa Duke gave birth to Henry, according to Tori over at Friday Harbor House, where Lisa was working. Everyone's fine, including proud papa Andy...
Big turnout for kid basketball this fall: there will be six teams for the 4th-5th grade boys this year, up one from last year, according to Island Rec director Sally Kerr...
Sure gets crowded on the ferry when it's holiday time, especially when islanders are slipping away to see grandma and grandpa. Watch for overloads next Friday and Saturday when school lets out....
Lights on the water: The Lighted Boat Parade graces the harbor this Saturday...I've actually met islanders who haven't seen this annual event. Don't be one of 'em. There's pictures of this and other harbor holiday events at the December in Friday Harbor website, as well as an updated calendar of events.
Whalestop: The ferry going to Anacortes the Wednesday before Thanksgiving was held up by a slow-moving podlet of orcas...the whales were huddled in a group of 6-8 and didn't break up at the approach of the boat, so the ferry waited & watched. Free whale watching trip, with the ferry only 5-7 minutes late because of the slowdown.
Shopping: Heck, before ya go off-island to buy stuff for Christmas, take a look a round town first. There are a number of good deals to be found, and you can save yourself a ferry ride.
722, huh?: Stay up to date with the effects of Initiative 722 on the island by checking out the unfolding saga on the San Juan Islander site... Matt & Sharon keep up to date with everything.
Roundball: The FHHS girls are off to a nice 1-2 start, with a two-point win over Lopez brightening things for the season.
Quote: "An eye for an eye makes the whole world blind." - Gandhi.
November 19, 2000
The vote is in: The student council elections over at the elementary school were conducted on Election Day, and there were no ugly-designed ballots here: the new SC includes Priscilla Hawkins, president; Alex Jackson, vice-prez; Sonia Anderson, secretary; and Cameron Byington, treasurer.
Brr: Yep, it's been cold, but that's a good reason to get out & enjoy the island when there are less visitors here. Been frost on the ground & windows these last few mornings...the sunrise this morning over Griffin Bay was beautiful.
Home for the holidays: The Chamber of Commerce's new website at www.decemberinfridayharbor.com reminds folks on and off island that this is a good time of year to do your shopping here...and a good time of year to visit. Included in the site is a calendar of things that are happening in December, as well as a nice scrapbook of photos from Matt Pranger from last year.
Speaking of home for the holidays, Chris Mikulasek is back from Italy, where she was teaching sculpting and stuff. She's going back in three weeks....
Fired up: Carolyn over at the Fire Department tells me the new fire station being built on the corner of Argyle and Mullis is coming along nicely, and should easily be operational by its July 1st due date.
Shed, water: The county's new watershed management plan has just been published - it's a key to understanding some of the decisions being made in this area...and to preserving the island's beauty. Check it out.
Arty: The Artisans' Fair is this weekend (Friday and Saturday) at the elementary school - this is a great opportunity to take care of holiday shopping, check out how talented folks are around here, AND catch up on gossip. See you there!
Santa Ship, OK!: The Santa Ship was nearly knocked out this year when the Victorians let us know they couldn't make it this year. But the Lions are picking up the ball. Here's the story from Jim Maya:
Dear Fellow San Juan Islanders...
Bad news!

For the first time in 40 years, the Santa Ship from Victoria will not be coming to our island.

Good news!

We are going to do our own Santa Ship. The Lions Club, in conjunction with several other clubs, individuals and businesses on the island, is organizing this year's arrival on December 9, at the Spring Street Dock at 5:30 pm. Santa will be on the lead ship in this year's Lighted Ship Parade. He will be met at the dock by musicians and then will be escorted by the Friday Harbor Fire Department to the Convalescent Hospital.

After that, the Jolly One will proceed to the Junior High where he will meet with over 200 children, listen to their wish list and give them several toys and other goodies to start off their Christmas Season.

Jim Maya
Chairperson
November 9, 2000
Election & so on: While the world holds its breath waiting for the final word in the national election, via Florida, we're still waiting for the word on our Senate race between Cantwell and Gorton...this page may have the news if you want to check...it was 49% each last night with 99% of the vote counted. Gore carried the county easily, while Nader picked up 10% of the vote-for-prez balloting here.
Meanwhile, folks didn't have to wait long for the election results to discover the incumbent commisioners hung onto their seats, as John Evans (R) beat Democrat Steve Hopkins in the Orcas side of things, while Darcie Nielsen (D) was recruited for her second term over former Dem Greg Hertel, who mounted a surprisingly strong campaign which led to a 55%-44% loss.
And...the hospital levy passed.
Check the final results at the County's website.
NPR: Yep, that was our own Emma Eden being interviewed on NPR Tuesday morning. She was serving as a poll-watcher for the morning over at the FHHS gym...she allowed as how folks around here are mavericks, and there wasn't any way to know how they'd vote. Nice to hear her voice on the airwaves.
'Course, you gotta be a maverick just to live here, don't you?
Busy, busy: According to the San Juan Islander, over 700,000 folks rode the ferry between July 1 & Sept. 30 this year between Friday Harbor and Anacortes. Wow.
Meantime, our Chamber of Commerce is trying to drum up more off-season biz with their Home for the Holidays campaign...check 'em out at www.decemberinfridayharbor.com. Nice calendar of community events on there, plus some nice pix from last year's events where you'll see someone you know.
Quote: I know nothing grander, better exercise, better digestion, more positive proof of the past, the triumphant result of faith in human kind, than a well-contested American national election." - Walt Whitman, American poet (1819-1892).
November 5, 2000
Election's near: Only two days from now we'll get an idea how all the commotion's going to turn out...you'll be able to check the results online at the County's website, as well as the Journal's and San Juan Islander's pages.
Speaking of the County - did you see their website got the Digital Government Award of Excellence? The site is continually updated by Information Services manager Bruce MacDanold and the different departments in the County. Good one to bookmark.
Long season ends: The winless FHHS football team closed out the school's fall sports season with the Island Cup game vs. Orcas last Friday under the lights here.
The team's struggles this year were highlighted with a playoff-bound Orcas team scoring 9 in the first 1 1/2 minutes, and hitting 52 points by the half. The Wolverines did score in the second half - giving some hope for next year when our young squad will be a year older & a year bigger.
Chalk nazi walks the beat: Matt Pranger has picked up the job marking tires (with chalk) to give tickets to people who overpark downtown, then listening to the sad stories about how it's not their fault they parked too long...he and Sharon Kivisto continue to combine their "day jobs" (she works at the school superintendent's office) with producing the San Juan Islander.
Passing: Serendipity Books' Dilys Goodman's husband Lee passed away a couple of weeks ago after suffering a stroke late last year; Bud Rodenwald's wife Arden passed in late October as well. They're missed....
Lucky potluck: Sam and Jane Buck are putting on their annual vegetarian potluck at the Grange tonight at 5:30pm - see you there for good meatless eating.
Speaking of great eating - the boys and I went to Tapas on Tap for pizza the other night. Lon and Tamara serve Chicago-style deep-dish pizza with their own spicy sauce, and it's great, as were the salads they make. Fans: by the time we left, the place was full, too - not bad for a Wednesday night in the off-season in Friday Harbor.
More eats: Vic's is non-smoking now. Cool - now you can smell the food.
Did you know Jeannie & Mitch sold the Blue Dolphin?
Southern tales: It was fun to run into Dixie Lee Ducote and her mom at Island Studios yesterday at the same time as Laura Bolton showed up with her mom, Dixie Lee.
More news: Check out the Sounder's new online website.
October 27, 2000
Sunrise & sunset: You saw the sunrise Wednesday, didn't you? The sky exploded in reds and purples and brilliance - good start for a beautiful day, don't you think? It was easy to find people looking for an excuse to get outside...
Then it was gray yesterday & this morning...it's important to have days for reading inside & getting introspective, as well.
Besides, we get some light in the morning - finally - when Daylight Savings Time kicks in this weekend. Problem: Now the sun goes down sooner in the afternoon...
Changes: Lon Richter's Tapas on Tap (used to be Roberto's) is closed till the first while he recovers from foot surgery....Lawrence DeLay is recovering from surgery down at Unversity Hospital in Seattle (cancer of the tongue, I hear).
Melissa McKay has resigned from the Community Theatre, where she was doing marketing work (like most people on the island her degree - technical theater - is peripherally related to the job you get...).
Andrea and Miles Wallace are moving to Olympia this weekend, after living here five years.
Meanwhile, Chris & Leslie Combs from Harbor Press tell me they are expecting a kid next June...Chris does good production work at HP, so it'll probably translate in this enterprise.
Over at Friday Harbor House, Tori tells me that Lisa Duke is expecting a boy at the end of November - the proud papa is Andy from Duke's Sporting Goods; the proud grandpa is FHHS boys' soccer coach Ron.
I know I told you it would be done a month ago, but the county dudes really are paving that stretch of Argyle in front of the Fairgrounds...they hope to finish today or the first of next week, rain remitting. Really. I looked at one of the new concrete sidewalks and someone had scratched "L+I" in it - do you think that's the state Labor and Industries guys?
Helen Ellingson tells me Katie is in Utah, on her way to spending her first year out of high school in Italy.
Showtime: "And Then There Were None" opens at the Theatre tonight...catch the show!
Sports: Football seeks its first win tonight at 7:30pm under the lights, while girls soccer closes out its first season under Randy Martin against LaConner at noon tomorrow. (Randy is going to head up the Elderhostel Program at Skagit Community College after the season ends.) Boys soccer ended its season last night with a 2-0 loss against Mt. Vernon Christian.
Other sports - bunch of San Juan Island soccer players (adults) went and played their counterparts on Orcas last Sunday on Buck Field, in the sunshine. We beat 'em, but the score wasn't as important as how much fun it was to play each other. Plans are being made for them to come visit here, soon, we hope.
Meanwhile one of our players was hustling to the 4:30 ferry that afternoon, and got nailed with a $138 speeding ticket, going 51 in a 35 mph zone. Ugh.
Election selection: An astute observer on the street last week remarked the media's obsession with "undecided" voters in the presidential race might more accurately be described as an obsession with indifferent folks. Heck, if someone doesn't know by now, they're just not paying attention...
Meanwhile, I read in a British journal where a commentator there said, "You Yanks really haven't THAT much difference between your two parties. You really have a one party system, but with typical American extravagance, you have two of them."
Hoping the local races stay civil...one of the local candidates sent a flyer around a week ago citing the reasons only "intelligent" people would vote for him and not his opponent. Typical island backlash: I've heard from some of HIS supporters that they didn't like the tone and intent of that, and several said it made them inclined to change their support to the opponent.
Let's stick to the issues, guys.
Quote: "One of the great dreams of humans must be to find some place between the extremes of nature and civilization where it is possible to live without regret." attributed to Devin Hibbard.
October 18, 2000
Run, run: That was Jane Hutchison coming in with an impressive 3:32 in the Victoria Marathon last week...Jane came in second in The Journal Run here back in August....
Notes: Theo Pratt & his mom and dad just got back from their visit to Washington, DC....
...Angela Bolger tells me the reason Thane was on the ferry this a.m. was because he goes to play hockey on the mainland once a week...
...Did you see the moon lighting p the sky n between the raindrops last night? even waning moons brighten up the place. Did you see Kelley Balcomb-Bartok's new mural at the Whale Museum? Nice photo of it on the San Juan Islander site.
Japanese friends: Jean from western Prince reports:
For your info: A group of mayors (5) from remote islands in Japan are here on San Juan Island. We are taking them (22 visitors) on a cruise this morning to view our islands and wildlife from the water.

They are staying at the Inns, will be here just 2 days and will be going on to Victoria and Vancouver tomorrow.

The most interesting item I learned from Dan Ward just last evening, who has been providing them transportation, is that they chose our islands from a search off the internet. Apparently, every year these folks choose different islands to visit to investigate the infrastructure and how we live.

So my opinion is that your work on our websites helped bring these folks to our island.
Cool. And thanks.
Quote: "Saint George killed the last dragon, and he was called a hero for it. I've never seen a dragon, and I wish he would have left at least one. Saint Patrick made a name for himself by running the snakes out of Ireland, leaving the place vulnerable to rodent infestation. This business of making saints out of men who exterminate their fellow creatures has got to stop. All I'm saying is, it's starting to get a little lonely up here at the top of the food chain." - Excerpt from the book "The Big Picture" by comedian A. Whitney Brown
October 9, 2000
Whether the weather, whatever: Saturday was easily the most beautiful day this fall, reminding people who live here why they live here, reminding people who visit why they visit, and reminding people who work here why it's hard to work inside on a day like that.
Sunday, of course, balanced it, with gray skies and early evening rain last night.
Oh, well.
Soccer rocks: It was totally cool to watch both the girls and boys soccer squads play under the new lights at FHHS last Friday. The girls celebrated their first evening game here ever with a nice 2-0 result over LaConner; the boys were close at the half, 2-1, but the game snuck away from them for a 4-1 final with the LaConner boys.
Deputy Jeff Asher said he was flying in Friday night from work off-island, and that the lit-up field is pretty impressive from the air.
Argyle rocks, too, and dust: Hey, the construction work on Argyle Street near the fairgrounds is nearly done! Paving/chip-sealling may happen this week.
Tami gets a deal: Did you hear about Tami Oldham getting a $500,000 advance from a publisher for "Red Sky in Mourning," her gripping self-published book from last year? It was reported in the Seattle papers...
Maps: Want to see some nice maps of the area? Check out this page that the people for Puget Sound folks put out, suggesting Marine Protected Areas ... good ideas for saving the Sound, as well. See what you think. (And if you haven't started thinking about this, please start.)
Hill resigns: Susan Hill (yes, she was on the school board for years) has resigned from the Medical Center, raising important questions about what's happening over there. According to the San Juan Islander website, the hospital district is "having financial difficulties and has instructed staff not to speak to the public about conditions at the clinic." Susan leaves after seventeen years on staff at the clinic.
Birthdays: Big birthday week, eh? Today is John Lennon's (he would have been 60), while last week's included St. Francis, Paul Simon, and Gandhi's.
In honor of which, here's a list of what the Mahatma called the Seven Deadly Social Sins:
Politics without principle
Wealth without work
Commerce without morality
Pleasure without conscience
Education without character
Science without humanity
Worship without sacrifice.
Print 'em out & have 'em handy when you watch the presidential debates....
Music in the air: Yep, that was Octoberfest at the Fairgrounds over the weekend; coming up this next weekend is the newly revived Jazz Festival. Don't miss out.
Whale watch: Kari Koski from Soundwatch tells me some transient whales - orcas, of course - came strolling by late last week. Our resident whales are already off on their seasonal salmon-search...
Baseball: Our Mariners play the Yankees this Tuesday, beginning the series for the American League championship. You'll remember we beat them 6-4 in our season series with them; next thing: finding people in Friday Harbor who are excited about this. Actually, we're famous for celebrating quietly, so it doesn't mean we didn't notice the M's are on the brink of their first World Series ever.
Quote: "Traces of nobility, gentleness and courage persist in all people, do what we will to stamp out the trend. Resolve then, that on this very ground, with small flags waving and tinny blasts on tiny trumpets, we shall meet the enemy, and not only may he be ours, he may be us. Walt Kelly, "The Pogo Papers."
September 20, 2000
The vote's in: With yesterday's primary results in (you can see the whole story on the San Juan Islander), it looks like the race for commish is down to this:
For this island, incumbent Darcie Nielsen handily turned back Kelley Balcomb-Bartok's challenge so's she could be the Democrat in the November election (former Democrat Greg Hertel turned back the challenge by turning Republican, which means he'll face Darcie in the finals...did you know he - currently one of the science teachers at FHHS - coached Darcie in track when she was in school here?)
Meanwhile, in the Orcas race, Demo Steve Hopkins set aside Keri Rose's bid to try and make for an all-woman Board of Commissioners; he'll face the GOP's John Evans in November, as John tries to return for a third term.
Kid's Festival: One of the neater things we do around here is the Children's Festival. This free event is held each year at the Fairgrounds (which makes it easy to drop in on your way to soccer games or football - just cut through the back fence.) It's happening this Saturday - see you there.
Quote: "It's boring here. There's nothing to do." Overheard on the west side a couple of years ago by a woman with her friend, as they had a picnic during which an eagle flew by, deer graze nearby, two pods of orcas swam and danced by, and the USS Nimitz steamed through the strait. The woman and her husband later moved to Portland, and are much happier there.
People: Tim Spaulding tells me he has sold the Trading Company, and has been helping the new owners get things going...Tamara and Lon have decided to stay, and keep working the former Roberto's restaurant in its present incarnation as a Chicago deep-dish pizza place. Did you know he used to be an animator for Disney? And she's always helping as a volunteer at the elementary school...
Speaking of which, Principal Carolyn tells me FHES is off to a nice, calm, settled start this year...it's probably old news to you, but Richard Uri's moved over to Windermere to sell real estate - his mom, Cathy Cavanaugh, already works there...
Passage impossible: Flag lady Roxanne tells me it could take till the end of the month, so you may want to avoid the construction on the street on Argyle near the Fairgrounds.
Crowd: If you think it's crowded on the island (especially during the summer visitor season), you should see how the world's doing.
September 14, 2000
Oh, what a night: The last couple of nights the full (or nearly so) moon has lit up the island so that taking a walk in the dead of night requires no flashlight...with the nearly cool hear-it-comes autumn air, it's a reminder why we live here.
Quote: "To the dull mind nature is leaden. To the illumined mind the whole world burns and sparkles with light." Ralph Waldo Emerson
Play right: The Playwrights' Festival concludes this weekend at the Community Theatre...Alan Geddes (he was great in "Midsummer Night's Dream," wasn't he?) tells me last week's opening was wonderful. This year's lineup features three one acts and several monologues. Don't pass this one by.
Vote: Speaking of decisions, be sure and vote in the primary next Tuesday...or get your ballot so you can. The commissioners' race features Orcas' Keri, Steve (no website that I could find), and John, while our island offers Darcie, Kelley, and Greg. Check 'em out.
Movin': Did you feel that little earthquake Sunday morning around 7:30am?
People watching: You know, all those volunteers who work the summer to get ready for the kids to have a great youth football & youth soccer autumn - they deserve a round of applause. Both leagues got off to good starts the last couple of weekends. Whether it's scheduling refs, handing out uniforms, coaching, or lining fields, we're blessed that so many people care about our kids....
Fly: I know you want to fly here - have you looked at the specials on Kenmore Air's site?
Other: Roche Harbor's Chris Watling's taking off in a couple of weeks to visit daughter Kristi in Arizona, while Sonia Nash from their front desk is returning home to her native Honduras to see her sis get married in October....former Roche wedding coordinator Sandy Montana's working down at the Little Store with Bob these days; Bill Shaw's handling the weddings these days.
You can order a copy of the video from the 2000 FHHS All-Class reunion at http://www.fhhs2000.org/. Get yours now.
Did you know the high school (under the leadership of Larry Wight) pulled together a $50K technology grant with matching in-kind donations from tech pros in the neighborhood? They had their kickoff meeting today to start planning the year...
Go around: The guys with the big trucks are still working on Argyle Street near the fairgrounds this week (and probably next). Save yourself a wait and go around, Mullis-way.
Whales & Ralph this weekend: Jean from Western Prince sends this report about a 'do this weekend, sponsored by the Orca Conservancy:
Following the amazing & successful August 8th event on Whidbey
Island, Orca Conservancy is gearing up for several events scheduled on San Juan Island Sunday, Sept. 17th. And as usual, we are asking for your help & participation! The agenda for the day is:
~~~~~~~~~~~~~~~~~~~~~~~~~~~~~~~~~~~~~~~~~~~~
SUNDAY, SEPT. 17th, SAN JUAN ISLAND, WA

Noon - "State of the Pods Address"
Whale Watch Park, Lime Kiln Pt.
Join Secretary of State Ralph Munro & representatives from the
Center for Whale Research, the Whale Museum, & Orca Conservancy to get the latest information on the health & status of the Southern Resident
Community of Orcas.

3 - 5 p.m. - Panel Discussion: "Southern Resident Community - Endangered?"
San Juan Island Yacht Club, Friday Harbor
Join a panel of experts with diverse backgrounds & opinions to
become informed on the possibility & implications of listing J, K & L pods under the Endangered Species Act. Moderated by Ralph Munro.

5 - 6:30 pm - Food/wine/beer, Silent Auction, Educational Displays
San Juan Island Yacht Club, Friday Harbor
(admission to this event is $10/person)

6:30 - 8 pm - "Ralph Roast"
San Juan Island Yacht Club, Friday Harbor
Join Orca Conservancy & a host of Ralph Munro's friends as we thank him for all he's done as Washington Secretary of State, & for all he has done & continues to do for the orcas. This event is guaranteed to be pure fun & hilarity, as we honor (actually, ROAST!) Ralph.

We hope you can attend all or some of the above events - it promises to be an educational & fun day and evening, on beautiful San Juan Island. And if
we're lucky, the whales may even join us...
Whales, more whales: One of the Seattle papers reported several (3-4 dozen) orcas from one of the northern pods roamed by late last week...they haven't been spotted down here since whale researchers began recording pod movements over a quarter-century ago. Probably looking for food.
Sports: The first football game under the lights last Friday was a huge success, with an overflow crowd coming to see the first night game in island history.
Meanwhile, the girls' soccer squad got off to a hot start with a nicely played 0-0 shutout of tough visiting Blaine (we're 1A, they're 2A); they play again Thursday night & Saturday...the boys, however, dropped their first of the year to Orcas, while the young volleyball girls lost their opener.

September 5, 2000
Sunsets, going down: Doesn't it seem like the sun's in kind of a hurry to go down these days? Heading towards the equinox in a couple of weeks...do you think there's a connection?
School's out...for the weekend: It was great to see the kids out around town after their first week of school this past week. Most of the students I spoke to said they really like school this year...good start. After three days last week, we'll try FOUR this week.
Speaking of great school things, it was great to see Carolyn Haugen and Court Bell (principals of FHES and FHMS, respectably) on the ferry Sunday a week ago with all those summer school kids whom they took to a Mariners game. Over & above... we've got great folks teachin' our kids.
Candidates' Forum tonight: Go check 'em out. Then vote, willya? Primary's in a couple of weeks.
Quote:
"Nothing worth doing is completed In one lifetime
Therefore we must be saved by hope.
Nothing true or beautiful makes complete sense in any context of history
Therefore we must be saved by faith.
Nothing we do, no matter how virtuous, can be accomplished alone.
Therefore we must be saved by love."
Reinhold Niebuhr
Hike: Spoke to an eleven-year-old who told me he hiked a half-mile around the high school's new track (two laps). I asked him why he didn't run instead of walking, and he said the sign next to the track said for joggers not to run in lanes one & two, so he thought he had to walk.
Speaking of light moments, the first football game under the new lights at the football/soccer field is this Friday. Check 'em out.
People: Did you know Johanna who works at King's (upstairs) is planning to go to Honduras this fall? And Andraya (downstairs) is going to Seattle, speaking of foreign travel...meanwhile, Rene Polda is expecting, due in December...
Just heard Marilyn Madsen (she set up the Tourist Information Service, and has done a zillion things for the Chamber of Commerce & for promoting the island while keeping an eye on preserving its beauty) has traveled down to San Francisco to be with her family as she takes treatments for cancer...get well, friend...
Guard Sundstrom tells me there's a proposal to put in some 46 lots at the other end of Grover Street. The development would come in two phases, and is still be reviewed by the Town.
Whales: Kerry McNulty has helped update the Center for Whale Research's website at http://www.whaleresearch.com - the site features current whale news, streaming video, and the Orca Survey. Drop by and check it out!
Sam's show: He's calling it a "Painter's View of San Juan Island" - Sam Connery opens his show of 40 paintings at the Community Theatre on Thursday the 7th with a reception from 5 - 7pm. The show runs till the end of the month; the proceeds from any painting bought during the exposition will be donated to the theatre. The former Sunset magazine editor is an awesome watercolorist - be sure and see his stuff.
August 24, 2000
Fair and square: Whether you stayed up to hear Paul DeLay Saturday night or arrived early for the fire department's breakfast; whether you dropped in for an hour or stayed all day, it was great.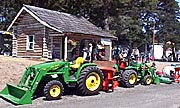 Our little county fair is a great way to visit with friends in the community - admiring a neighbor's chickens or rabbits, watching the horse shows, enjoying the music (and the comments: "I didn't know you SING!), watching the kids play on the tractors (right), running into folks while in line waiting for food...it was great.
Can't wait till next year.
Summerfest's last song: This weekend is the last show for the Community Theatre's Summerfest program, with easy-to-listen-to Tingstad & Rumbel playing. Next up: The Playwrights' Festival next month.
Gotta play: All the sports on the island kicked in this week, as the high school got boys' and girls' soccer going, football began with daily doubles (they're out there at six a.m. for the first session), and tennis & volleyball began as well. Games are scheduled in a couple to three weeks.
Youth sports are in gear, too: Football began the first part of August, while the soccer coaches held their meeting last night, set to begin next week.
Horse flips Marina: Scary moment at the Fair: Marina Bull was thrown off her horse during an event on Saturday she came away with a cracked shoulder which means the sophomore forward miss the first eight weeks (or all) of soccer season; more importantly, she's all right and didn't get hurt worse. Those Bulls are tough...
School's here: Classes begin for the island's school kids on Wednesday at the elementary, middle, and high schools. The 8 am traffic jams begin...schedule ahead! (An island traffic jam means you have to wait behind 4-5 cars....) Most of the kids I've talked to are pretty excited to get back to see their friends.
Same car: Isn't that yellow VW bug Emily Reed drives the same one she drove back in the late seventies when she was the counselor at the high school?
Award: Did you hear that Lee Sturdivant's latest book (about growing medicinal herbs) has won a national award? She got "Herb Book of the Year" from the International Herb Association
August 13, 2000
Here comes the Fair: The talk in town is "What day are you going to the Fair?"
The San Juan County Fair is many things to many people: The music, the food, the booths (it's great to see what people have been making), the rides for the kids (and adults who don't get seasick easy), and just hanging around and visiting friends. It is community in action - get over there. Starts Wednesday. (Did you hear the Paul deLay Band is playing?)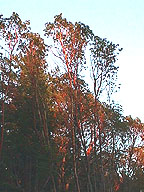 Fog rolls in: If you were on the west side yesterday evening, it was startling: the huge bank of fog swept over Victoria to the west, and headed our way, covering the island. There was a huge barge in the strait that simply disappeared, and the bright, clear evening turned...foggy. Wow.
The sun, an hour before sunset, turned the madrones near the shore a brilliant red, and lit up the water between your eyes and it. Great show.
I always wonder where all the visitors are. After all, there's this incredible show happening, and there were no more than a dozen folks at Lime Kiln Park when I dropped by. Someone I spoke to there suggested they were all watching TV: he'd seen the video section at King's was pretty crowded when he dropped in for food for his wife's and his picnic.
I know they're here somewhere.
Stop whining, start wining: Next time you're down by the ferry, drop in and see Dave and Kathryn at San Juan Cellars (Island Wine) right next to the ferry. It's a good place for a taste of wine, good conversation, and you can pat Beulah the dog on the head.
Book sells: It was fun to visit Harbor Books the other day and see someone buy their copy of Whale Tales while I was there - it's great to see locally produced books selling...
And don't we have the best bookstores? Griffin Bay, Harbor Books, Serendipity (with their used books), and Boardwalk Books all do a super job of keeping the literate part of the populace well-fed. Drop by and see 'em...you'll be glad you did.
So that's what's it's like: I was returning from a business trip on Friday, and had to get on the 3:10 ferry in Anacortes. Holy moly! I got in line to get a ticket at 1:15, barely made the cutoff (so I wasn't overloaded to the 5 o'clock boat), and the people just kept coming. Guess I haven't been on that side of the water at that time for a while.
Sure makes it look like a good idea to park over there and walk on the ferry....
Marketplace opens: The new grocery store next to the technology center opened a week and a half ago, and the reviews so far are favorable. I asked John Stimpson (who works there, and worked the old Mark N Pak as well) if he liked his new digs, and he said, "I love it!" One drawback, still: Like Mark N Pak, the store is still closed on Sundays. One benefit: Plan ahead, and don't plan on getting stuff on Sundays. Get outside and play.
July 30, 2000
Foggy: It made things look like Scotland, didn't it? The fog over Griffin Bay with the trees sticking out...
It also slowed up the ferries yesterday & today, which is fine - it's better to go slow when you're not sure what's ahead.
The sun was out by mid-day.
Book sale: The Friends of the Library's sale was VERY successful - people started lining up at 5pm for yesterday's opening at 6pm. Volunteer and Board member Ron Lehman says it's like a big treasure hunt - all those books take up the whole FHES school gym floor.
Teachers' meeting: Saw FHES teachers Desilee English and Nancy Cope with principal Carolyn Haugen down at the grocery store, chatting away...they say they're having a great summer while gearing up for the fall. By the way, it's been a year now since Carolyn moved to the island to take charge of the elementary school...she had a wonderful first year; good to have her back.
Filing: You know how we pick County Commissioners around here, don't you? There are three on the Board of Commissioners, and they live in one of those three jurisdictions. This is the year we pick someone from San Juan Island (and a few other smaller islands), and from Orcas (and a few of its satellite islands). In a couple of years we'll choose someone from Lopez/Shaw and the islands around them. Everyone in the county (that's ALL the islands - 172 at high tide, 700+ at low) votes for each of these folks to figure out who represents us.
That said, filing day was yesterday, and it looks like this fall's primary (September) and election (November) will feature GOP challenger (and former Demo) school teacher Greg Hertel and Democrat challenger & whale activist Kelley Balcomb-Bartok facing Democrat Darcie Nielsen, who is seeking her second term. That's the picture on this island, while Orcas has Democrats Steve Hopkins and Keri Rose taking on Republican John Evans, who's looking for a third term.
Quote: "Courage is the price that life extracts for granting peace with yourself." - Amelia Earhart
July 27, 2000
Tread gently: Not sure how to behave when you visit here? Or need a reminder for your houseguests? Read all about it.
Lighten up: Whoa - did you hear the thunder and lightening last Friday? It's rare for us to have thunder, but Friday's very warm day mixed with a little bit of a cool front set off the fireworks.
The rain made it interesting for Trent and Charlotte's wedding at Roche Harbor, but the clouds broke long enough on Saturday for them to have a pleasant (and dry!) ceremony in the garden. Like the wedding singer's song said, "Like sunshine on a cloudy day/You stand before me now..."(from Kate Wolf's "Give Yourself To Love.")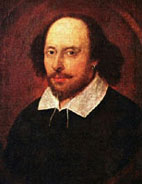 Bard on the rock: Now we're talking cool stuff: The Stage Left folks (directed by Helen and Dan; you've seen her at the Thai restaurant and he plays the leads, usually) are kicking off "A Midsummer Night's Dream" this weekend & next at their place on Wold Road (check the papers for info.) At right: the playwright, from a police photo.
May be the best show you'll see this year. Don't miss it.
Meanwhile, over at Roche Harbor this weekend, they have a traveling group coming through doing "As You Like It" there in front of the hotel. Call for details & check it out.
Sales of Whale Tales: Stories of people with their hands in a whale's mouth, orcas around their kayaks, looking humpbacks in the eye - and the way it changed their lives. Buy your copy of Peter Fromm's Whale Tales: Human Interactions with Whales online (No excuses! Do it now!) Both the new volume and Volume One are available.
Quote: "When one tugs at a single thing in nature, you find it attached to the rest of the world." - John Muir, founder of Sierra Club
New stuff to read, literally & literarily: Bob Weimer writes to report: "The Spring/Summer issue of the Dragonfly Review is now online. This issue features the winning entries of the Dragonfly Review 2000 Writers Awards, plus other excellent poems and short stories that reflect the unique nature of the Pacific Northwest...by writers whose work is touched by the sea."
Party on: The San Juan Islander says a local chapter of the Green Party has been formed, backing Ralph Nader for prez and hoping to undo what it describes as a "two-party, money-controlled political monopoly."
Party on, two: Reports of the demise of the San Juan Island Jazz Festival have apparently been greatly exaggerated...Bud Rodewold writes: "There is indeed a festival in Friday Harbor, the
date being Oct. 13-15. Look at our web site at www.sanjuanjazz.org."
Party on, three: Did you hear that local GOPer Minnie Knych will be one of this state's delegates to the GOP Convention in Philadelphia next week?
Meanwhile, folks running for local office have till Friday (the 28th) to file. After that, we'll figure out who's running & let you know.

Sun, down: The sun's setting before 9 now, if you haven't noticed. I love this picture of the sunset over Victoria, from the west side. Love the kid, too.
Runnin': The track at the high school is finished being resurfaced, and the well-scrawled sign next to it said it would open today. Get over there and take a lap.
Speaking of which, isn't it grand to run around town early in the morning? Everybody waves at you and usually yells some kind of motivating epithet like, "Great to see you running!" or "You're really dedicated!" or "Can't you go faster?" as they drive by.
Whales down: The Journal reports that the local pods (J, K, and L)'s number may be as low as 83 currently, down from 100 in '95. Causes for the declining numbers are under review, with increased toxicity in the water, decreased salmon supply, and other environmental stresses being looked at.
Meanwhile, the Whale Museum reports a new program, SeaSound, is studying the whales' vocalizations.

---
History is doomed to repeat itself:
Review the Update from April 21, 2000 - July 25, 2000
Review the Update from January 1, 2000 - April 21, 2000
Review the Update from October 21, 1999 - December 31, 1999
Review the Update from August 12, 1999 - October 21, 1999
Review the Update from May 17, 1999 - August 12, 1999
Review the Update from April 8, 1999 - May 17, 1999
Review the Update from February 26, 1999 - April 8, 1999
Review the Update from January 3, 1998 - February 26, 1999
Review the Update from November 1, 1998 - January 3, 1998
Review the Update from August 31, 1998 - October 31, 1998
Review the Update from July 2, 1998 - August 30, 1998
Review the Update from May 25, 1998 - July 2, 1998
Review the Update from April 3 - May 25, 1998
Review the Update from January 22, 1998 to April 3, 1998.

Review the Update from November 24, 1997 to January 22, 1998.

---
The information here is simply stuff we here at By Design think is important around Friday Harbor or on the Island. Some of it's news, some of it's old news, and all are just things we wanted to mention, with most of it about the things that make living here great.
There will be more next week, if anything happens.

Ian Byington
ian@byd.com
To comment, feel free to add to our guestbook, or view it.
Other places with info about the island:
Everything. Simply everything about the island.
IslandCam
The camera's pointed at Roche Harbor and Friday Harbor.
Updated every five minutes.
---
Return to the Web Directory....
This site prepared by our friends at By Design in Friday Harbor.
The information contained here is
©Copyright 1998, 1999, 2000 - By Design, Friday Harbor.
Unauthorized reuse of the content of these pages is prohibited;
links to other sites is intended to be to the benefit of those sites,
and for the edification of our readers,
and does not constitute endorsement or
agreement with views expressed there.