February 28, 2003

Evans in hospital: I checked in with Lill down at the Commissioners' office this morning...Orcas County Commissioner John Evans was flown off island Wednesday, and is resting at St. Joseph's. She says Wanda told her it was not a heart attack, and since I just called to see how he was doing, I didn't ask much more...seems to me that's his business. But she says he's doing better and says he wants to come home.

Get well, commish.

The play's the thing: My friend Mary Kate was invited to the dress rehearsal of "To Kill A Mockingbird" last night, and she said it's a good, solid play with the actors doing a good job. You'll want to get your tickets early, because this is gonna be a popular one. It opens tonight...

I saw Adam Champlin's mom, Bev, last night before the rehearsal. I asked how it's going & whether she was nervous about him with a big role - he plays Jem - and she laughed and said she can't wait till he gets a day job.

Don't miss this one, people.
Personal stuff: Just ran across a site that bils itself as the islands' first personal ads site...check it out at http://www.sanjuanpersonals.com/ - Jeff Dickson says it's hard enough to meet people on the island if you're single, so here's a site to help.

Dirt: Speaking of new sites, I like Brad Gislason's site that he made for his excavation biz - see it at http://dozerman.com/ and see what you think.

Indoor soccer moves: Indoor soccer has been held in the gym at FHHS for years, but in the last month moved over to the Fairgrounds. Here's the report from Sally at Island Rec:
Island Rec announced today that the Indoor Soccer Program has changed location and times. This drop in program will play on Thursday nights, at the fair building from 6:30-8pm. Program is open to high school students and adults. Cost is $2 per person payable at the door. Thanks to volunteer Tina Fisher for making this program happen.
Indoor soccer will run through the end of March. More information is available from Island Rec, at 378-4953 or www.islandrec.org.


Quote: Delays have dangerous ends.- William Shakespeare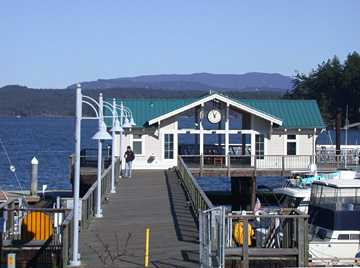 February 25, 2003

Good day, sunshine: Whoa...did you get outside yesterday or today?
Sunny skies on Sunday turned into more sun on Monday. What happened with that groundhog, anyway?

Get outside & play. (Photo of the dock Sunday afternoon by Shay Byington, ace photographer for By Design.)
From the mailbag: Yep, people write to the Update all the time. Let's see what's up this week.


Lynnea Whiting from Cannon Beach, Oregon writes:
I read your Update all the time, because the island is my favorite place to come during the summer. Someone told me the summer doesn't really start till July up there. Should I wait till later in the summer to come?
Actually, summer started last week here. People are mowing their lawns and putting in gardens and running during daylight hours & all kinds of crazy unseasonal things. Dig it.

Bolton Smith-Neiland checks in from Boise:
Did it snow there this winter yet? Should I bring my skis?
It's been unseasonably warm. Make 'em waterskis. And NOT jetskis.

Heather Durham from Calgary offers an international observation:
I've visited your island and you people aren't anything like other Yanks. You should secede from the Union and make your own country, or maybe turn Canadian.
Last time we had a meeting about this, everyone went and planted onions, because they thought someone said, "Seed the onions." Don't count on it. We like this country.

Mary Ann Schrieber from Bellevue wonders:
Are people on the island as depressed as people in the Seattle area?
This reminds me of Steven Wright, who said, "Depression is anger without enthusiasm." Most of us here - at least the people I hang around - get up in the morning glad to be alive.

Leslie North from Lynnwood writes:
How's your album selling?
Like hotcakes. Get yours before it becomes scarce. We're adding sound clips to the site later this week, if you want a free listen, ya music mooch.

Kerry Alton in Bellevue (we're HUGE in Bellevue) writes:
How come you didn't write anything in the Update last week?
Nothing happened.

Clue: I'm printing letters to the editor. Heck, I'm not really an editor & these aren't even really letters, just bits of e-mail notes.

Proof.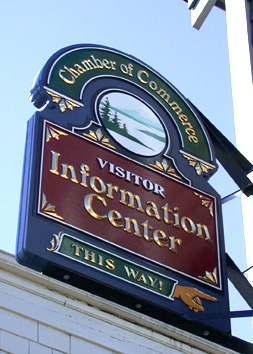 Chamber sign: Have you seen the Chamber of Commerce's sign on Spring Street at Amigo's (the Chamber offices are around back)? Looks good - very professional.
Drop by and say hey.

600K: If your business here on San Juan Island isn't listed on the San Juan Island Web Directory, you're missing out. Everyone's listed for free for this eight-year-old comprehensive compilation of all the sites in Friday Harbor and on the island.

And it gets hits...it registered 300,000 back in May, 2000, and hit 600,000 about a week ago. Wow. It was listed as second in Google when searching for the words "Friday Harbor" earlier this week

Check it out - look yourself up.

Weddings: Getting ready for summer - Roche Harbor just hired Jacquie Quigley as their special events coordinator, which includes weddings. Becki Day mentioned to me that Jacquie has been the captain for setup & breakdown of events for some five years at the resort, and that she does a super job. A sales person to work with Jacquie will be hired next week.

Honduran connection: I ran into Yvonne & her daughter Arielle Mancuso Sunday, coming back from eleven days in Honduras, where they visited a child they sponsor there.
Yvonne said the differences between the way the people live there, in their village, is markedly different from the way we live here in our village...an eye-opening and heart-opening experience.

Marathon - and they're off!: Our first ever marathon (that's 26.2 miles to run, rookie) will be held June 8. See the website to sign up & see the course. Registrations are already coming in, according to Clark McAlpine, who's in charge of the event. With ads in Northwest Runner and brochures in running shoe stores around the state, it could get crowded. Get your registration in soon.

Oh yeah, there's a half marathon, too. See ya there.


Basketball: The high school teams finished a couple of weeks ago, but the middle school plays on - our eighth grade "A" & "B" teams, and the sixth grade Black Tigers play this Saturday's season-ending tourneys at Sedro-Wooley & Mt. Vernon, while both seventh grade teams and the sixth grade White Tigers play on the 8th. The 8th grade "A" team and the Black Tigers won first seed honors for their brackets, based on their good records this season.
Meanwhile, the seventh grade "A" team ended their season with a two-win double header last weekend, while the sixth graders were shutting down league leaders Stanwood 27-21 the same day.

Bowling: You know, the bowling alley is doing great. Bruce (who runs it) tells me there has been tons of business, and things are off to a good start. When I dropped by on Sunday, Eddie Nash was having a birthday party for about 2,000 or so kids, including Albert Strasser, left, put on by his mom Sonia (below, helped by Ramona Miller), and there were adults playing and lots of kids shooting pool and playing video games as well.

And...the restaurant's open!
Dave from ET has helped set up the food service with both counter service, wait service to where you're bowling, sit-down service with tables &
everything. All pretty cool...go check it out.

Drums of war: Signs opposing the president's war are cropping up all over the island. There's a "No Iraq War" sign next to former Town Council member Edith Dickenson's US flag in here front yard, and bumper stickers on numerous cars in town that say "Attack Iraq - No!"
And on the ferry - Gretchen Allison and Kate Stone and friends were on their way to that massive Seattle rally a couple of weekends ago, signs in hand.

Quake: Did you feel the earthquake yesterday morning at 6:50am? Probably not - it was a 1.9 little one. Check out the stats at the University of Washington site for earthquakes.

Poem:

It's the dream we carry
that something wondrous will happen
that it must happen -
time will open
hearts will open
doors will open
mountains will open
spring will will gush forth from the ground
that the dream itself will open
that one morning we'll quietly drift
into a harbor we didn't know was there

by Olav Hauge

Peace work: Bob Weimer helped set up the leaflet campaign last weekend here in Friday Harbor.
This strikes me as balanced: The president's people are dropping leaflets in Iraq to tell people there their view of what's going on, so it's good to have it happen here, too. Bob & friends handed 'em out Saturday in town. In case you didn't get one (see them here), did you know:

Col. David Hackworth says US military officers covertly are saying an incursion into Iraq will be an unparalleled disaster.

Marine Gen. Anthony Zinni says, " We are about to do something that will ignite a fuse in this region that we will rue the day we ever started."

Although for some reason polls show over 50% of Americans believing Iraq had something to do with 9/11, both the CIA & FBI have stated they see no connection after over a year of investigations.



February 14, 2003

Valentine's Day: It's a nice day to have the day before mid-winter break at the schools be Valentine's Day...unlike Halloween, the kids can sleep in tomorrow if they get too much chocolate today.

There are lots of people not sleeping in, though. Seems like this is the time to travel for island folks:

Robin Atkins took off yesterday for Michigan and Georgia to give workshops about beads (her book continues to sell well all over the country).

Lots of folks are going skiiing - Scott & Susan Schwinge, Heidi & Juan Lopez, Teresa Foussard, Nancy Young & Jeff MacDonald, Becky & Pat Nash, and their families are all hitting the slopes. Nancy told me when they go to Big White it's got a local flavor to it, because so many island people are up there during the break.

Meanwhile, Travis and Kerri Goff are off to Mexico with parents Marilyn & Mike, while Sharon Hammell and son Taylor left for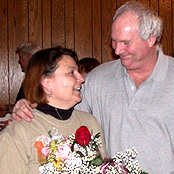 Florida earlier this week. Felicity of Felicitations Bakery came back this week from her trip to Tanzania in Africa (said she had a wonderful time), Auralee Jamison went to Daytona with her fella, and Rosa Forgie took off for a couple of weeks in her native Panama.

Oh, yeah, and Shasta Bishop's due to deliver her new baby any day. That's a different kind of trip.
Goodbye, Jessica: About 60 folks showed up Wednesday at the Grange to honor Jessica Ray for all the work she's done for the animals and people of the community.
Jessica and her husband Steve are leaving the island after three very successful years as director of the Animal Shelter. Board member Bob Christianson thanked her for all she's done & wished her luck. Jessica said how much she'd enjoyed being there, but couldn't have done it without all the hard work of volunteers and APS staff.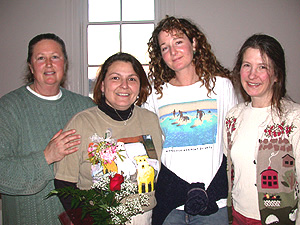 So she's on the ferry with Steve and her dog Briggs (who has a sister named Stratton) this afternoon with Sasha, Moki, Heather, and Klondike, some of the older dogs from the shelter, as they move to Idaho to open what she's calling a retirement home for dogs and cats. Steve worked with the County Park folks, and will also be missed. Good luck, you guys!

Shelter assistants Lisa (left) and Laura & Karen (right) wish Jessica good travels in the photo to the right by Mary Kate Panaro.)

Peace potluck: I heard there's a potluck to discuss the situation in Iraq this evening at the Grange from six on. Check it out.

Quote: "When any government . . . undertakes to say to its subjects, 'This you may not read, this you must not see, this you are forbidden to know,' the end result is tyranny and oppression, no matter how holy the motives. Mighty little force is needed to control a man whose mind has been hoodwinked; contrariwise, no amount of force can control a free man, a man whose mind is free. No, not the rack, not fission bombs, not anything--you can't conquer a free man; the most you can do is kill him." Robert A. Heinlein, If This Goes On...


February 10, 2003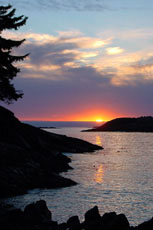 Island studio artists have a home: Island Studios continues to add more and more artists' work to its website's online store. If you haven't checked it out lately, take a peek - there is some great work in there, like Michael Bertrand's photo "Eventide in Islands," to the left.
And you can buy it right from your computer.

Flowers: Remember your loved one on Valentine's Day. and remember to get things locally. Plenty of flowers & gifts-type places. Get 'em here. THAT's love, too.

Ferry late, or early: Yep, there IS a new ferry schedule. It started yesterday. I know, 'cause I didn't look at it & got to Anacortes about five minutes after the boat left yesterday afternoon.

A friend once told me you're never late for a ferry - you're just early for the next one.

Quote: From a bumpersticker seen in town: "How you see is more important than how you look."

FHHS seasons over: The high school boys and girls basketball teams wrapped up their seasons Friday night with wins at home. Although neither team made the playoffs, they played well this year, showing great promise for next year.

Meanwhile, the wrestling team had 15 people win on Saturday to win the District championship. Way to go! See you guys at state! Dad Tim Alyward told me this may be one of the best years FHHS has ever had in the sport - sure looks that way.

Sixth graders win: Both sixth grade boys basketball teams played a home doubleheader last Saturday against a tough Concrete-Bird's View team, with the Black Tigers thumping the visitors 35-20 after the White Tigers nearly jumped them, losing 49-44.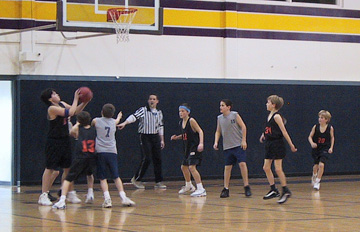 The White Tigers (4-1) were never behind in their game, leading by as much as 12 until less than two minutes remained in the game. Then the Blazers put on a stifling full court press that shut down Friday Harbor's high powered offense and delivered three key baskets that settled the game.
The Tigers were led by Tyler Miller's 14 points, followed by Michael Knowles with 10 points, Pablo Lopez 9, and Ryan Aylward 8.

The Black Tigers (3-2) had an easier time of it against the Blazers, taking the lead on Richie Ochoa's first basket of the game and never looking back. The Blazers closed to two at the half, but were held to five in the second half by the stingy Friday Harbor defense. Zack Hays pumped in 16 points and Ochoa notched 13 points as ten Tigers scored in the two games.
The Black Tigers' only losses this year are a close one to undefeated Stanwood and the White Tigers. They've outscored their last two opponents by an average of 18 points.

Both teams play better week after week. There's a natural rivalry between our two teams that is very positive, very competitive, because both want to show the other they can do even better. They cheer for each other no matter what's happening. These guys are a pleasure to watch.

Both teams have three games remaining in the season, followed by the season-ending tournament the first week of March. In the photo, Friday Harbor's Richie Ochoa rebounds a Concrete miss in Saturday's 35-20 win. Assisting on the play (left to right) are Dylan Galligan (13 in black), Zack Hays, Cameron Byington, and Grant Schwinge. Photo by Trina Terry (click on it, to see a bigger version).

Iraq, locally: The issue of depleted uranium was addressed in the Seattle paper in an essay/opinion piece by local nuclear scientist Roger Longley.

Andrea's out for wrestling: It was fun to be standing outside the movie theater talking to Mike and Connie Wargo when Kim came by to say hello - you'll remember Kim became the first girl wrestler for FHHS back in '98, when she was a freshman. At that moment, Andrea Champlin strolled by, and said hi - she went out for this year's team, and apparently did pretty well for herself.
Mike described both Kim & her decision as "gutsy," and I'd tend to agree.

Art: Have you seen Terrea Bennett's art? Check it out - she does great stuff.

Recycled rack on the rocks: I asked folks in the bowling alley what happened to the magazine rack that was outside for all the recycled periodicals - it had been there for years, and it's been gone since the alley opened. They said it was taken away at the request of "someone in the building," and that it's still looking for a new home.

Poem for the day:
It's almost that time of year, and this one seems especially appropriate as war clouds gather. What HAS man made of man?

Lines Written in Early Spring
William Wordsworth
I heard a thousand blended notes,
While in a grove I sate reclined,
In that sweet mood when pleasant thoughts
Bring sad thoughts to the mind.

To her fair works did Nature link
The human soul that through me ran;
And much it grieved my heart to think
What man has made of man.

Through primrose tufts, in that green bower,
The periwinkle trailed its wreaths;
And 'tis my faith that every flower
Enjoys the air it breathes.

The birds around me hopped and played,
Their thoughts I cannot measure:--
But the least motion which they made
It seemed a thrill of pleasure.

The budding twigs spread out their fan,
To catch the breezy air;
And I must think, do all I can,
That there was pleasure there.

If this belief from heaven be sent,
If such be Nature's holy plan,
Have I not reason to lament
What man has made of man?

Wishing Jess the best: The Animal Shelter's Jessica Ray is heading for Idaho with a new job, but you'll get a chance to say goodbye at the Grange Wednesday afternoon from 4-6.

Former Shelter bookkeeper Mary Kate tells me people are being asked to bring photos of themselves with the pets they adopted to show Jessica how much of an impact she's had. (The pix will end up in a scrapbook, so bring the non-returnable kind.)

See ya there.


January 30, 2003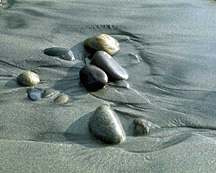 Rock in a hard place: One question that roils around the island - how's the economy going? How's the island economy?

Hard to tell this early in a season.
I know that many people are in a nice mixture of relaxing - it is, after all, the off-season - and gearing up. The weather's been nice enough for house & shop repairs and landscaping, and crummy enough (remember yesterday?) to get inside and plan and read and plot & scheme for the coming year.

There are signs of optimism - The Hungry Clam re-opened last month in the old Roberto's spot & Kristine tells me she and Stacey have been touched by the positive response they've gotten from the community. The pre-fire Clam has been resurrected on the hill, supplemented by what she calls more of a family atmosphere and more menu options for vegans, vegetarians, salad-eaters, and others. Their decision to keep their show going after the fire is, I believe, a testament of faith that Friday Harbor's a good place to do business and work.

Meanwhile, other places are making plans about what to do if this summer is slower than last. Rumors of war and decreased travel for the year are on many people's minds as I visit with business owners around town and around the island. There will also be ferry fare increases... should be an interesting season ahead. Stay tuned. And keep the faith.

Bits of conversation: One of the great things about living here is you almost never hear the whole story about anything. It's like, maybe that'll ruin the ending or something.

At the end of the contra dance Saturday night, I caught this bit of an exchange:
"Well, I think you're completely compromising your principles. Don't you?"
"I'm hungry!"
""Well, I have some tapioca in my refrigerator."

Run: Yep, plans are being made to put on a marathon in June. I visited with Clark McAlpine yesterday & he says the June 8 event has already been written up in Northwest Runner magazine last month.
Larry Wight's pulling together the website - soon as it's done, I'll let you know so you can sign up.
Start running now...Gary at the Post Office and Laura and half the staff at the Library have already been out, getting ready.

Run, redux: By the way, my CD "Love You On the Run" is selling well...thanks for asking. You can get your copy online.

Theatre is on a roll: Now the plays begin - this weekend and next, the high school drama group takes the stage; followed by next month's "To Kill A Mockingbird," the middle school offerings, and "Bye, Bye, Birdie" in mid-spring.

But first - the FHHS Drama Group presents "Three-for-One," three one-act plays that cover the waterfront: a parody of theater rehearsals, a tender love story, and a French farce. Fred Yockers directs the three-ring circus, with all three works performed each night. Sponsored by M&W Auto, Inc., and RE-MAX.

If you haven't seen the high school shows - or a show - it's time to start. These kids do a super job, at a level that surpasses shows put on by much bigger schools. You will love it. I guarantee it. Get your tickets now.

Quote: "The space between us: Is it a space which divides us or a space that unites us?" - June Singer
Yes, I'm talking to you.
Roche gets wired: Trina out at Roche Harbor tells me the Lime Kiln Café has a transmitter atop it that allows for wireless Internet access for boaters and visitors (and staff!) in the village. Next time you're out that way or come ashore there, bring your laptop & check it out.

Just don't be doing your e-mail during the sunset. Remember why you came here.

Travelers: If town seems kinda cleared out, it's probably because it is -- lots of folks have taken a break.

Jim & Judith closed Front Street Cafe for the month, Felicitations' Felicity is touring Tanzania, Trumpeter Inn's Aylene & Mark are in México, Libby Howard's in Idaho, San Juan Inn's Steve Judson is in San Diego, author & photographer Terry Domico's in Australia working on a new book, and you're probably making plans to get away a bit too.
.
Shoes, hung up - just another tree: Remember a couple of weeks ago I wondered about the shoes on the telephone lines around the island?
As you drive around the island, here and there you'll see them - old sneakers with their laces tied together, swung over the lines & hanging there.

I always assumed this was a mindless imitation of the deal in "Wag the Dog," in which they remembered a guy named Schumaker (get it - Shoe-maker) with hungup shoes.

Or that the people who swung 'em up there had nothing else to do.

John Sinclair shares his observations:

Ian,

Finally I've found the answer to the island riddle of all those sneakers
hanging on the power lines:

Legend has it that in New York City the (fairly common) sight of two shoes
hanging from an outdoor telephone wire indicates a drug deal or murder.
Alas, with little crack dealing taking place at the University of Minnesota,
students have been forced find another outlet for the primal urge to hang
shoes on things. Minneapolis' Star Tribune reported this week that a tree on
U of M's campus is festooned with thousands of old sneakers, tossed there by
jubilant undergrads after losing their virginity. Because - haven't you
heard? - shoes are for virgins. The students, some quite literally left
barefoot and pregnant, are participating in a ritual whose origins are
shrouded in the mists of time - one careful observer noted that he could
still spot the old brown-and-orange Pony sneakers upon the knotted branches.
Despite concerns that the laces may ultimately choke and kill the tree,
there are no immediate plans to remove the shoes. To do so would be to
destroy an endless source of profound philosophical contemplation. As one
student remarked, "This tree, without the shoes, we wouldn't even realize
it. It would be just another tree." Okay, so maybe there are a few crack
dealers at the school.

From http://www.nerve.com/regulars/thisweekinsex/01-10-03/
bottom of the page

Regards, John Sinclair


You decide. Then tell me.

Think about it: If Barbie is so popular, why do you have to buy her friends? - Steven Wright

Get outside: Got this note with a good idea from the Island Rec folks:

Many people put up bird feeders to enjoy their noisy chatter and observe their characteristics but do not know much about them beyond the obvious.
Sign-up for one of Island Rec's Birding for Beginners class and you will walk away with basic identifications skills; and understanding of bird biology, behavior and habitat needs. Instructor Barb Jensen makes birding fun and easy to learn. Sessions from 9:30 to 1:30pm on Sunday February 9 and Saturday March 8 are being offered. You can register for one or both for $18 a session. Deadline to register for the February 9 session is February 5th.
Comfortably paced four-hour field sessions are idea for those new to birding. The class will visit lakes, fields and salt-water areas around San Juan Island. Barb Jensen, local naturalist and president of the local Audubon Society will be your guide.
Play's the thing: Minnie Knych tells me there's a pretty cool fundraiser planned for this weekend:

Have you purchased your tickets yet?

Stage Left Production founders, Helen Machin-Smith and Daniel Mayes present an fun filled evening of songs, spoofs and reflections on life and wisdom to benefit Dollars for Scholars.

The event will take place at the Inns at Friday Harbor on Saturday Feb. 1 at 6:00 PM. Gourmet dinner, including wine, will be catered by Farhad Ghatan.

Tickets are $35 per person -- Special corporate price: $190 for a table of 6. Your contribution is tax deductible.

All proceeds will go to Dollars for Scholars. Please join us and support the Dollars for Scholars Scholarship Foundation. Call Curt VanHyning at 378-2117 for tickets.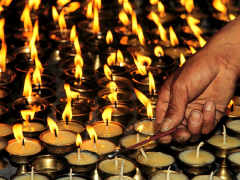 January 24, 2003

March for Peace: Last Saturday evening, over 200 people collected at the Courthouse in Friday Harbor, then took a walk up Park Street to St. David's Episcopal Church to sing, hear speeches, and think about the situation in Iraq. Terrea Bennet, who attended the candle-lit walk up to the church, said it was a sight to look down Park Street from the top of the hill and see all those candles and people. Her son Corey estimated the crowd at over 200 (Wendy Shepard told me she thought it was closer to 250 or more).

Kamala Tabor, who spoke that evening, said it was "uplifting" to have so many folks come together for the cause of avoiding war in Iraq, and avoiding the damage it would cause.

Liz & Janna, formerly of Post San Juan, left the island in early January to go travelling - they reported in this weekend from San Francisco, where they attended a similar rally that drew over 100,000, according to some estimates.

Nairobi-bound: I saw Helen Ellingson at the post office the other day - she says she and Dave are headed for Nairobi to work for the next year at an orphanage for Kenyan kids who are HIV/AIDS infected.

You'll remember Dave did a bunch of work during Kosovo conflict to help lay pipe and provide sanitation for refugees during that situation back in '99.

Passing: Just heard from Lee Sturdivant that longtime League of Women Voters member/officer Doris Blinks died of leukemia last night at her home on the west side, surrounded by her family. I got the chance to visit with Doris a couple of weeks ago, helping with her computer and e-mail, and she was in cheerful spirits and moving around well at that time...it's hard to believe she's gone.

She'll be missed.

Some eagles you can see from the sky: Bruce Robinson, who's on the local soccer association board and teaches at FHES, told me last night he borrowed some soccer sidelines-painting paint and drew a big eagle in the field. Then all the kids came out and made a school-wide eagle, which Kathy Ballard took a picture of from 900 feet from Lyle Tarte's plane. The photos are at the San Juan Islander site - check 'em out.

Quote: "Education is what remains after one has forgotten everything he learned in school." - Albert Einstein

January 17, 2003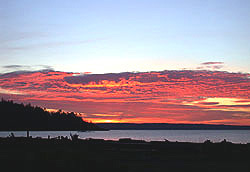 Shake: Did you feel the earthquakes last night? Around 5:15 & 5:45, according to the University of Washington site there were a couple that were in the 2-3 range.
I was sitting in the living room watching the sky (did you SEE the moon last night? Later in the evening...) and it felt like a frieght train going by.
Of course, we don't have trains around here...
The sun also rises: This morning's sunrise started turning reddish, well, red...about 7:15 this morning. It got redder and redder, then kinda broke up into blue and red bands like you see in the photo to the right, taken by Kelly Domico for By Design.

Wow. Great way to start the day!

Home Trust: The San Juan Community Home Trust is now taking applications for folks who might qualify for the houses being built over on Carter Street. Check 'em out at the Home Trust site.

Basketball everywhere: The 6th, 7th, and 8th grade boys play home games today (4:30 at FHHS it's the 6th graders) and 9 & 10am tomorrow. This is pretty unusual - they usually play on Saturdays in Mt. Vernon in the winter league they belong to...which means a ferry trip every Saturday to make it happen.

Come watch 'em play - it's a talented and dedicated bunch of players.Free admission, of course.

Shoes on the telephone lines: You've seen the sneakers with their laces tied together hung on telephone lines around the island for the last few years. I hear people's notions about why they're there & what they mean...what have you heard?

I've got some ideas, but I want to hear from you first.

MLK Day: It seems altogther fitting that there are going to be hundreds of thousands of people in the street this weekend in the US and millions around the world, asking that the US not invade Iraq.
Dr. King said, a year before he was killed, that the Vietnam War convinced him he could not speak against the violence coming from the ghettos "without having first spoken clearly to the greatest purveyor of violence in the world today — my own government."

There will be a local candlelight march opposing the war starting at 5pm at the Courthouse in Friday Harbor tomorrow. I've already talked to Democrats, Republicans, Green Party folks, unpolitical folks, and others who plan to attend...the support for peace is pretty widespread. See you there.

Peace.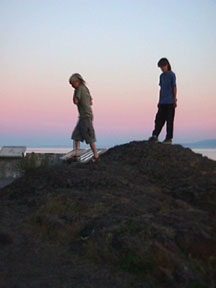 January 15, 2003

Passing: Friday Harbor Marine Labs administrator Scott Schwinge told me last night that John Lobue died yesterday. John had been sick for a couple of years...Scott described John, who worked in maintenance at the Labs, as a warm and wonderful person who will be missed.
Our regards to Toni, who was with him when he passed away.

Rally for teachers: Elementary teacher Bruce Robinson said a goodly crowd showed up on the courthouse lawn yesterday afternoon in support of not cutting funds to education for the coming year. Several teachers also attended a bigger rally in Olympia yesterday as well.

Quote: "Songwriting is like fishing. You just sit there and the songs go floating by. If you have a pen, you can catch them. Just don't sit downstream from Bob Dylan." --Arlo Guthrie, quoted in the New York Daily News.

Tan: You know, there's not much sun out these days. Which makes me think about when my friend Dawn asked me, "If people use sun screen when they're in the sun, what do they use for sitting in front of a computer? Screen screen?"


January 14, 2003

Kudos: It was cool to hear our local guys at Island Air received the Aviation Safety Excellence Award from Phoenix Aviation Managers. The nationally-recognized award cited the airline's safety record and procedures and overall performance.

Way to go!

Corrections: You know, sometimes I get things wrong in this Update, and sometimes I get them really wrong. I think it takes a really big person to admit he's wrong, especially if it'll keep people from calling to point it out.


• It's true that a fellow named Vinny is going to open a short order place with New York-style cooking in Jeri's Mall later this month. It's also true he's going to name his place "Cousin Vinny's." It's not true the original Vinny's across from Friday Harbor House will be re-named Uncle Vinny's. Sorry about that.

• It's been reported Charles Thomas is looking into purchasing Herb's Tavern. The irrepressible Charles, as you know, had a hand in the purchase of Bella Luna and the Donut Shop, and owns China Pearl, and at one point or another owned Roberto's and Mi Casita's. Reports that he is going to buy the rest of the restaurants in town are in error. At this point.

• It didn't snow on Christmas. We just wish it did. But the pictures were fake. That's what happens if you take too many Photoshop classes.

• Rumors that the Town wants to buy Browne's Lumber's old place to make it a topless bar are unfounded, and probably confused with a similar project being built on Shaw, next to the Motel 6.

We reported the school district was going to post signs that say, "No trespassing without permission." We regret the error.


Quote: Depression is merely anger without enthusiasm. - Steven Wright

Da Vinci returns: In case you missed the Leonardo exhibit that was in Victoria a few years back, the Theatre is presenting Peter Donaldson, as he brings the life and history of Leonardo da Vinci to life in a one-man show. Hear the character's first-hand account of his life, the developments that shaped the Renaissance, and the meaning of genius. That's this Friday - see their site for details.

Teachers go to Olympia: Several district teachers are going to Olympia today to participate in a rally to bring attention to planned cuts in educational funding.

Good for them. We may be short of money, but this is not the place to cut corners - our kids deserve better than that.

From the mailbag: Former Whale Museum store manager Leslie Strom writes from Washington the City:
I thought about you today - went to a production company for an interview and lunch, and after discussing a difficult client's behavior, I utterd the magical Ian line, "A gig's a gig." They found it quite profound. I think you should cross-stitch pillows saying that. You'd make a zillion dollars!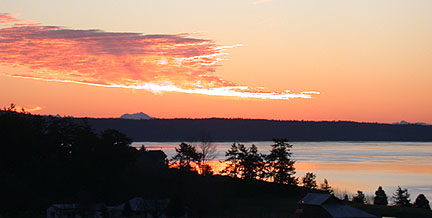 January 10, 2003

Good morning, sunshine: This week has prompted a lot of islanders to comment that the weather's kinda like summer, which it seems like, with the sun and clear days. The sunrise over Griffin Bay to the right was shot Thursday morning from the back of Skagit Valley College, over the airport.

Great way to start the day. (Photo by Shay Byington, family photograher.)

Notes: Are you still writing 2002 on your checks?....Remember your New Year's Resolution to not drink coffee any more this year? How's it going?

Passing: Over the holiday, Community Theatre director Merritt Olson's mom passed away. Our sympathies to him and his family....

Quote: The early bird may get the worm, but the second mouse gets the cheese.
(Think about it some more.) - Steven Wright
Vision of peace: The Board of County Commisioners passed a resolution urging that we not go to war in Iraq. Read the resolution & see if you don't agree.

Meanwhile, Democratic Party co-chair Collen Fowles e-mailed to say there's a peace demonstration planned for next weekend here in Friday Harbor:


There is going to be a candlelight vigil demonstration against the Iraq
War on Jan 18th, the weekend of Martin Luther King Day, at 5:00 at the
Courthouse. There will be speakers and music. At 5:30, the gathering
will peace march to St. David's Episcopal Church. Please bring your
candles.
January 6, 2003

Twelfth Night: Today's celebrated as Twelfth Night, or Epiphany, in much of the Christian world, which marks both the visit from the three kings and the end of the Christmas season.

While this generally means you can save any late presents you haven't sent yet for next year, it also means that we face the challenge of keeping the peace of the season happening the rest of the year
Peace be with you & hope you had happy holidays..

Town moves ahead on the Brownes' property: The town has made a non-binding (as I undersstand it) offer to purchase the spot where the old Browne's Lumber was, in town. I got a chance to visit with Gary Boothman, our mayor, on Friday...he thinks it's a generally good deal with some questions still to be answered. One of the major ones: Paying for the project, which could open up dozens of parking spaces in town and provide a center for tourist information and quasi-governmental office space. If the right mix of agencies use & rent the office space, that would really help pay the bill.

I like this idea - ever since Marilyn Madsen opened her tourist information booth across from the ferry lanes nearly eight years ago, we've need an easy-to-find information place for our visitors. I hope this works out.

Remember when the Town Council voted back in '94 to ask the Free Willy 2 filmers not to say this was Friday Harbor or San Juan Island in the film, for fear too many people would come? Well, they came anyway - as many as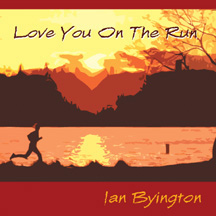 350,000 some summers - and it would be good to take care of our visitors. Finally.

Shameless plug: You wouldn't know unless I told ya: my new CD is now available online for you to order.
Called "Love You On The Run," it's an acoustic folk-type album with songs I wrote (with two covers), accompanied by Dan Gillespie (everyone's favorite drummer), Kirk & Cyrus Fuhrmeister, Whitney Lockert, Jennifer Yerkes, my boys Shay and Cameron, smooth guitar work by Tom Doenges, and the incomparable Joe Bongiorno on keyboards, bass, and a few other things.

If you want to see it before you get it, drop by King's Variety, Griffin Bay Books, Felicitations Bakery, Our Man Friday's, Island Studios, or Harbor Books - they got 'em for you.
Notes: Kelly Owen and Allan Marriner brought baby Josie home from Bellingham last week - she weighs in at just under 7 pounds - everyone's doing fine.

You know Lisa who does the bookkeeping for Snug Harbor and the Animal Shelter? She and her fellow John Ness (he owns SaltSpray, a window-washing outfit) are headed for Honduras for a few weeks.

Pat O'Day told me last week they had an evening celebrating his career down in the EMP in Seattle in November, with Steve Miller as the guest music. He also says his new book is selling well.

Paul & Andy from the hostel over on Malcolm Street went to a movie this weekend, their second night out since baby Jack was born in late summer. Grandma kept watch at home....

Classes start at Skagit Valley College this week...get over there and get registered.

Ferry full: If the ferry seemed a bit full this weekend with basketball players, that's because it was.
Both the girls & boys' varsity & JVs were aboard, and six teams of 6th, 7th, and 8th graders who play every weekend in Mount Vernon for winter basketball. Get used to it for the next few weeks....

Where's the shades?: The wind finally died down yesterday, but it was pretty ferocious Saturday morning, which opened up some sunny weather (remember the sun?) the rest of the day.

Soccer inside, birds outside: Sally at Island Rec tells me:
Saturday January 11th, Indoor Soccer for women, men, teens and middle school
age kids begins. No cost for this drop-in program. Participating youth
must have signed parental consent. More information is available on
www.islandrec.org or by calling Island Rec at 378-4953.

And....

Thursday January 23rd, Winter Raptors & Birding on the Skagit. The Skagit
and Samish Flats are the national hot spot for hundreds of wintering birds
of prey. Join Island Rec and local naturalist Barb Jensen as we set off to
find and view peregrine falcons and possibly gyrfalcons. This could be a
five-falcon day! Birders of all levels are welcome! Cost is $48. Deadline
to register is January 17. Call Island Rec at 378-4953 for more information
or visit www.islandrec.org.


Quotes: "Saint George killed the last dragon, and he was called a hero for it. I've never seen a dragon, and I wish he would have left at least one. Saint Patrick made a name for himself by running the snakes out of Ireland, leaving the place vulnerable to rodent infestation. This business of making saints out of men who exterminate their fellow creatures has got to stop. All I'm saying is, it's starting to get a little lonely up here at the top of the food chain." - Excerpt from the book "The Big Picture" by comedian A. Whitney Brown

"Nothing worth doing is completed in one lifetime
Therefore we must be saved by hope.
Nothing true or beautiful makes complete sense in any context of history
Therefore we must be saved by faith.
Nothing we do, no matter how virtuous, can be accomplished alone.
Therefore we must be saved by love."
Reinhold Niebuhr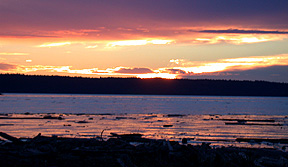 December 23, 2002

Pre-Christmas: "Twas the day before Christmas, and all through the town, everybody's running, looking for presents, really running around."
That's what's happening here.
Solstice sunrise: That's what the sunrise looked like Friday morning, the day before solstice kicked in. That's looking toward Lopez from Jackson's Beach. (Photo by Mary Kate Panaro for By Design.)

From the mailbag: Dick from Texas has the solstice skinny:

Re Winter Solstice: The sun actually starts setting later in the afternoons starting the first week or so in December-so it is now lighter in the PM. It still rises later for a little longer so that only after December 21 do the total daylight hours increase!
Dick Zartler <RAzartler@aol.com>
Plano, TX USA - Thursday, December 19, 2002 at 14:37:07 (EST)

Pat's book: You knew that Pat O'Day settled up here after his radio days were done...well he wrote it all up in his just-released book, It Was All Just Rock 'n' Roll: A Journey to the Center of the Radio & Concert Universe. You can check it out online - fascinating reading about the stars many of us grew up with. Way to go, Pat!
Bowled: Yep, the bowling alley - all eight lanes of it - is open, and it's pretty cool. Lots of kids there, and folks seem to be having a good time.

And open in time for Christmas. Nicely done.
December 18, 2002

Sun makes brief appearance: The sun actually came out for part of the morning today. Did you see it?

Santa visits the library: Santa Claus dropped by the library today around the same time as assistant librarian Laura Tretter (right, with friend Nina) was reading holiday stories and singing with the kids visiting from Tori Prescott's Head Start program.

I asked Santa (speaking through his alter ego, Michael Perrin) afterwards what the kids said they wanted for Christmas...he said there were a lot of Barbie shoes on the girls' lists; mostly candy for the boys.

Syd shot a pile of photos of the children (I helped a little, and got to sing a little, too.) See if you know any of the kids in this photo gallery.

Barn un-raising: Teresa Smith told me one of the casualities of the gale-force winds that rocked the island this last week was her barn, which blew over. Luckily, she got the horses out in time before it fell.

Night out: Get out on the town tomorrow and Friday! Debbie Pigman of the Chamber writes:


Members of the San Juan Island Chamber of Commerce want to offer you the chance to do some Christmas shopping after work or after dinner by remaining open until 8:00pm on Thursday and Friday, December 19 and 20. Enjoy shopping in the festive, holiday atmosphere that emerges as evening falls in our wonderfully decorated town.

Look for balloons, carolers, maybe a little refreshment here and there!

Shopping locally is important to our merchants and they want to make it
easier for you to do so.

Participating Chamber retailers include The Computer Place, Dan Levin Originals, Elephant Crossing, Giclee Printworks, Islands Studio, Osito's, San Juan Cellular and The Toy Box


Solstice: Nearly there. This weekend the days start to get longer.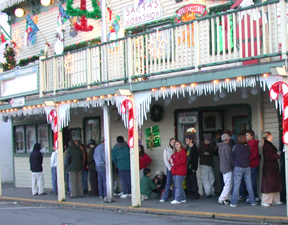 Two Towers opens: The line didn't stretch around the block, but at 3:50pm before the 4:30 show, there was a nice line collecting to see the Tolkien movie's opening today down at the Royal, oops, I mean Palace Theater.
As you can see in the photo (shot by By Design's Shay Byington), Aaron has decked the place out for the season again - always looks good this time of year.
Quote: When any government . . . undertakes to say to its subjects, 'This you may not read, this you must not see, this you are forbidden to know,' the end result is tyranny and oppression, no matter how holy the motives. Mighty little force is needed to control a man whose mind has been hoodwinked; contrariwise, no amount of force can control a free man, a man whose mind is free. No, not the rack, not fission bombs, not anything--you can't conquer a free man; the most you can do is kill him. - Robert A. Heinlein, If This Goes On...

---

History is doomed to repeat itself:

Review the Update from October 26, 2002 - December 18, 2002

Review the Update from August 13, 2002 - October 26, 2002

Review the Update from May 9 (the fire) - August 12, 2002

Review the Update from April 1, 2002 - May 8, 2002

Review the Update from December 15, 2001 - April 1, 2002

Review the Update from September 11, 2001 - December 14, 2001

Review the Update from June 7 , 2001 - September 10, 2001

Review the Update from March 17, 2001 - June 6, 2001

Review the Update from December 18, 2000 - March 16, 2001

Review the Update from July 25, 2000 - December 17, 2000

Review the Update from April 21, 2000 - July 25, 2000

Review the Update from January 1, 2000 - April 21, 2000

Review the Update from October 21, 1999 - December 31, 1999

Review the Update from August 12, 1999 - October 21, 1999

Review the Update from May 17, 1999 - August 12, 1999

Review the Update from April 8, 1999 - May 17, 1999

Review the Update from February 26, 1999 - April 8, 1999

Review the Update from January 3, 1998 - February 26, 1999

Review the Update from November 1, 1998 - January 3, 1998

Review the Update from August 31, 1998 - October 31, 1998

Review the Update from July 2, 1998 - August 30, 1998

Review the Update from May 25, 1998 - July 2, 1998

Review the Update from April 3 - May 25, 1998

Review the Update from January 22, 1998 to April 3, 1998.

Review the Update from November 24, 1997 to January 22, 1998.


---

The information here is simply stuff we here at By Design think is important around Friday Harbor or on the Island. Some of it's news, some of it's old news, and all are just things we wanted to mention, with most of it about the things that make living here great.

There will be more next week, if anything happens.

Ian Byington
ian@byd.com

To comment, feel free to add to our guestbook, or view it.

More info about the island:

Everything. Simply everything about the island.

This site prepared by our friends at By Design in Friday Harbor.
The information contained here is
©Copyright 1998, 1999, 2000, 2001, 2002, 2003 by By Design, Friday Harbor.
Unauthorized reuse of the content of these pages is prohibited;
links to other sites is intended to be to the benefit of those sites,
and for the edification of our readers,
and does not constitute endorsement or
agreement with views expressed there.