---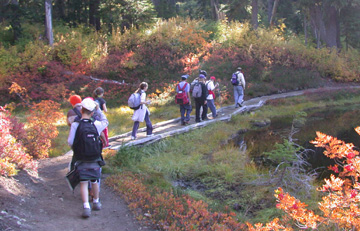 October 3, 2003
Hike to Mt. Baker: This is a beautiful time of year for hiking near and around Mount Baker. The trees are changing colors, the air is in that bracing not-hot, not-cold temperature range, and it's a wonderful place to get outside. (Photo to the left by The Update's Shay Byington)
Earlier this week, the eighth graders from Friday Harbor Middle School, took an all-day trip to visit over there, and by all reports it was great.
From catching the red-eye at 6, doing homework on the ferry, hiking over seven miles, and simply being surrounded by a beautiful fall all day, I heard nothing but good reports from teachers, kids, and parents who went.
Usually by the end of eighth grade, the kids in classes here are pretty close, and activities like this are part of the reason.
Island Rec kicks into gear: Keep yourself moving with Island Rec...they have open gym basketball, yoga, open volleyball, and lots more. Call Island Rec at 378-4953 or visit www.islandrec.org for more information.

Music tonight! Laura from the Community Theatre tells me there's a pretty good band tonight: "Join us Friday night for a joyous concert by the award-winning Evergreen Brass Quintet.

"This spirited ensemble performs regularly for festivities such as Olympia's Harbor Days, Centrum, the Canterbury Fair in Kent, Seattle's Bumbershoot Festival, and Tacoma's Summer Concert series, as well as numerous other Puget Sound-area venues. Their consummate musicianship, contagious warmth, and enthusiastic spirit attracts audiences as varied as the music they perform."
RuthE from the Theatre tells me there's also a playwright opportunity coming up:

Calling All Writers in San Juan County
Deadline for submission for original 10-minute plays, to be presented at San Juan Community Theatre in March 2004, is Monday, December 8, 2003. "The popularity of doing and seeing short plays is growing not only in our theatre but nationwide," said Merritt Olsen, Executive Director. "Why not get local writers involved in this phenomenon?"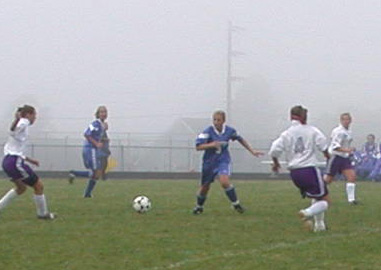 Soccer teams win a pair, football plays tonight: The FHHS girls won in a thick fog yesterday that gave a dusky feel to an afternoon game. They evened the score with a LaConnor squad that bumped us earlier this season, as we won this time with a stingy defense and a 1-0 count.
Meanwhile, the boys ran their surprising strong start to four wins with a solo loss with a win over at Orcas last night. The day before, the island's U-14 boys beat Orcas 4-1, as well.
Tonight, the football boys go to Tacoma Baptist with their unbeaten record tonight, with Orcas coming over the horizon next week.
Shaw news: It's bad enough the sisters are selling and moving away on Shaw. The ferry's got some funky scheduling to keep na eye on while the dock is fixed:
From the WSF site: WSF began an eight-week reconstruction of the Shaw Island Ferry Terminal slip. To complete work in a reasonable time and to control construction costs, a combination of reduced weekday ferry service and a four-day complete closure of the terminal is planned. The closure is tentatively scheduled for November 8-11, over Veterans Day. Shaw traffic has priority on the 7:15 a.m. sailing off the island and the 3:25 p.m. sailing back to the islands on weekdays with a 25-30 minute advance arrival for vehicle traffic during the mid-day closures.

Workshop tomorrow: Got this note about an important workshop being put on tomorrow:
I wanted to let you know about an upcoming Friday Harbor workshop being given by a really interesting Seattle-based curriculum development firm, the Edvita Corporation. Attached is a short flier about the Violence, Learning and Society
workshop that presenters Ari Cowan and Jim Sorenson will hold October 4, at the Mullis Center from 1:00 - 4:00. Teachers, parents, students and community members are all invited.

The mission of Edvita is to make a significant positive contribution to the health and well-being of people, their children, and their families through innovative, practical, and cost-effective life skills and character education. This program has been consistently rated "Excellent" by those attending it. It has been presented at the 2002 Partners in Peace Conference in San Diego (US Navy, US Dept. of Immigration and Naturalization, City of San Diego, and others), the 2003 Association for Supervision and Curriculum Development Annual Conference in San Francisco, and the 2002 and 2003 Washington Association for Learning Alternatives Annual Conferences.

You can also learn more about their workshop from their website presentation, at http://www.edvita.net/pages/info/vls.html

The program is sponsored by Spring Street School. There is no fee, however a $5.00 donation is requested from adults to support the school's scholarship program.

Thanks much and please spread the word!

October 1, 2003
San Juan Update becomes "America's San Juan Website": Well, it's official. This website is now America's San Juan Website. Of course, there are other sites that WISH they were America's website, but this one is it. Wonder no more.
How can I do this? The same way the Dallas Cowboys (an American football team who won 5 lost 11) became "America's Team", Rudolf (not Rudy) Giuliani became "America's Mayor", Sarah Hughes became "America's Ice Skating Princess", and MSNBC became "America's News Center."
They declared themselves to be "America's Whatever."

This, of course, sets us apart from all the others.
Thirsty Goose: Jim Lawrence from Thirsty Goose Farm says the farm's organic produce & lamb will be featured on the Food Channel next week on the 13th. Cool. If anyone deserves notoriety & fame for doing a good job, it's Jim & his family. They make good food. Really good food.
New baby: Tom from Deer Harbor Charters sent me a note about a new baby calf in K-pod:
Hey, Ian! Here's a note from the Whale Museum:

>> New baby joins K Pod! A new orca baby spotted in recent days has been confirmed by the
>> Center for Whale Research as belonging to K-14 (Lea). The gender of the new calf has not been determined.
>> K-14 has had three previous calves. However, the first two--K-23 (1988) and K-24 (1990)--did not survive. The third, K-26 (Lobo), was born in 1992.
>> We wish the new little calf a long and healthy life!
>> The Whale Museum, © 2003

Soccer in action: The FHHS boys won 5-0 last night in their first home game of the season, and are off to a roaring start this year.
Meanwhile, the U-14 boys play Orcas here at 3:30 at the elementary field in an unusual mid-week match. Drop by for some good passing & good defense. See ya there.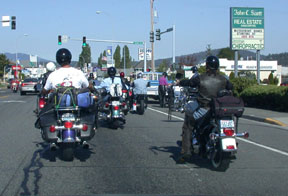 September 29, 2003
Off-island with the hogs: Coming from Burlington to Anacortes yesterday afternoon took about an hour and half...why? There were a few zillion motorcycles on the road doing the annual Oyster Run, all headed for Anacortes, like the ones in the photo to the right.
The roar was tremndous, the weather was in the 80s, and there were lots of happy bikers. You could tell by the bugs on their teeth. One guy told me there were between 50-60,000 converging on Anacortes from all over the state; another guy said there weree 16,000. Either way, it was a great number of hogs in the street. You can read about it here and here. When I got in line at the ferry four miles away, you could still hear the roar of bikes off in town. Wow.
I saw a few islanders who had ridden on the ferry over for the day, including Ken the tree guy & John and Lainey Volk.
Ferry tales: Also on the ferry were a few folks who had been to see James Taylor the night before, including Maryellen Foster, Tami & Tom Doenges, and their two year old Levi. Meanwhile, Aimee Urata had gone with her mom to the symphony, where they also saw Rachel and Greg Dietzman.
We got culture.
U-14 Boys, U-13 Boys Remain Unbeaten in Soccer: Halfway through their seasons, the two boys teams that play in the Skagit Valley Youth Soccer Association have risen to the top of their leagues with unblemished records.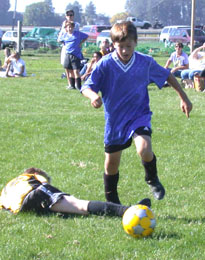 Island Gold 4, Anacortes 1
Island Gold (U-14 boys) beat a tough Anacortes team 4-1 with a tight marking defense led by Louis Paul and Kevin O'Coonor. The Gold put up three scores in the first half on goals by Erik Haenel-Nash, Jens Townsdin (off a long cross from the right wing by Dylan Marriner), and Shay Byington, who took Paul's long cross away from a defender to score.
After the half, Daniel English tallied his first goal of the season to set the final margin. That's Russell Asher in yellow getting the ball away to the left.

The team has had nine different players score 19 goals in four games. If you stop one player, someone else gets the ball and scores. That really spreads it around.

The Gold (4-0) play two games this week, with Orcas coming to visit on Wednesday at 3:30 at the elementary field, and then taking a trip to Mount Vernon (3-1) this Saturday. The San Juan team has outscored its opponents 19-3 this season.

U-13 Boys 9, Conway 0
San Juan's U-13 Boys (4-0) overwhelmed Conway behind three goals by Pablo Lopez and two by Cameron Byington, with an own goal and goals by Grant Schwinge and Cody Price rounding out the score. That's Geordie Marriner busting past a slide tackle to the right (photos by Dylan Marriner, by the way.)

"We're improving each game," said Lopez, explaining the team's success this year. "We're passing well, using good crosses to the middle, and we're finishing (scoring). Besides that, we have a defense that doesn't get burned."

"The season's going well and we're looking forward to the tournament at the end of the year," commented coach Alan Marriner. "Every player is doing a good job each week."

The U-13 boys head to Sedro-Woolley this Saturday, then return home for two home games the next two weekends.

September 27, 2003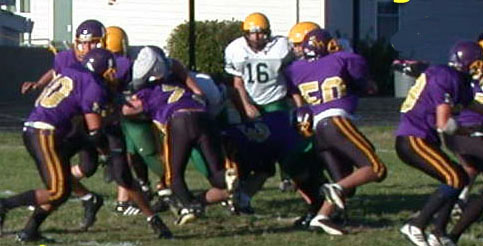 Football kicks record to 3-0: We beat Darrington 35-15 last night to continue undefeated in this still-young season.
Our boys played as well or better than they have in years...be sure and catch the next game!
Fishing Derby wraps up this weekend: The Neilsen Derby's prizes are given out on Sunday at 3 at Roche Harbor.
Weather: If you're reading this inside, open a window, and look out.
No excuses. Get outside and play. Need motivation? Think about what it all looks like in February.
Poem: A poem for you, when you take your walk:
It's the dream we carry
that something wondrous will happen
that it must happen -
time will open
hearts will open
doors will open
mountains will open
spring will gush forth from the ground
that the dream itself will open
that one morning we'll quietly drift
into a harbor we didn't know was there

Olav Hauge
September 26, 2003
Sports rock: The FHHS girls won their soccer game on Tuesday night against Somebody Christian High, while the boys nailed their first win with a 6-3 whumping of Shoreline Christian last night, according to the buzz at the grocery store last night, which I think Heidi Lopez started.. The girls next play here on Saturday against Concrete, while the boys' next home game is Tuesday. Hope to see you there.
Meanwhile, our incredible & studly football team is off to a 2-0 start that includes an impressive win over Concrete last week (they're called that 'cause they're hard; we haven't beaten them since the late 1990s). Tonight's scheduled loser: Darrington, here.
Speaking of undefeated, the U-14 Boys and U-13 Boys soccer squads are both unbeaten going into this weekend's matches at Anacortes & Conway, respectably. The U-14 Girls travel to Burlington, whom we nearly jumped last week.

Whales & helping them: Dawn Noren at the NOAA NMFS Northwest Fisheries Science Center asked for help from vessel operators to cooperate with the killer whale researchers they have funded in the San Juans by following certain guidelines that would help the researchers get their data.
For more information, click here. That's a picture of our marine mammal friends from her website, above.
Corrections: Every so often I screw up. I'm not only big enough to admit it, I'm big enough to say, "Hey, quit writing every time I screw up!" Here is proof I'm a dork:
When I told you about Cat Bordhi's book Treasure Forest earlier this week, I accidentally called it Treasure Planet, which is a movie, not a book. Sorry about that. And may the forest be with you.

Whoever that tourist was that I spoke to last week: He asked if there was water on the west side of the island, so I said, "Yes, but we get it from wells." I saw him later and he said there were no whales on the west side that afternoon. What kind of water did he mean? Anyway, we regret the error.

Which reminds me of the guy who came here to go kayaking and, in the boat, asked, "How far above sea level are we?" We regret that, too.

Three weeks ago, we reported that Cattle Point Road on the way to the lighthouse had slid into the sea, dozens of people were trapped in their homes, and that the entire marine eco-system in that area was near collapse. Sorry, all that didn't really happen, and isn't scheduled until 2006. Sorry for any inconvenience this may have caused.

When we reported that you can sign up to be a Reading Buddy at the library for elementary kids, there was a rush on nutty buddies at the Little Store, Elmer Fudd and the master gardeners showed up at the library because they thought I said "weeding buddy," and Sally Kerr's ace dog Buddy took out a subscription to Canine Review, because he liked the pictures. Sorry about the chaos.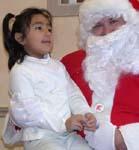 Tech guy returns: Jeff & Julie at Post San Juan tell me Michael Perrin's back in town. According to them, he and Beverly went to Ohio looking for work, examined the situation, and came back. Michael had last worked at the Library as their tech guy, as well as at the elementary school, and he tends to leave things in pretty good shape. Good to hear they're back.
That's Michael at library's Christmas hoorah for the Head Start kids last season. He's the one on the right.
Goin' to the chapel: After the longest engagement in modern history, Angie Brooks and Crystal Seas' Johannes Kreiger are getting married in Baja in November. Seriously, these are two of the nicest people on the island, and two people who will make a great married couple. Congratulations, you guys!
Meanwhile, in China: I ran into Jamie Ellsworth the other day.
We talked a bit about how cool it was that she has her glass work up on the Island Studios site, for sale. Then I asked her how her ace daughter Nicky's doing. Jamie tells me Nicky's in China teaching kids on a one-year contract, and having a blast. She told me a bunch of stories about her there, but I gotta check with Nicky to see if it's OK to tell you. Sounds cool.
Quakes in Japan: Reading about the tragedy that accompanies the earthquakes yesterday in Japan is a reminder we're sitting on pretty shaky ground ourselves, here on our rock. Here's more about our big fault line & what it's up to.
Quote: Here's my favorite Louis Armstrong song (here's the tune)...it kinda goes with how gentle and sweet the weather's been here this month, and the gentle way people have been with each other since that accident earlier this month. Miss ya, Ryan.
I see trees of green
Red roses, too
I see them bloom
For me and you
And I think to myself
What a wonderful world

I see skies of blue and
Clouds of white
The bright blessed days
The dark sacred nights
And I think to myself
What a wonderful world

The colors of the rainbow
So pretty in the sky
Are also on the faces of people going by
I see friends shaking hands
Saying, "How do you do?"They're really saying, "I love you"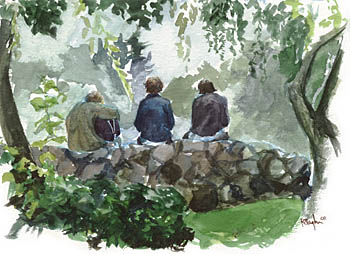 I hear babies cry
I watch them grow
They learn much more
Than I'll ever know
And I think to myself
What a wonderful world
Yes, I think to myself
What a wonderful world

Art: Have you seen Rachel Blagden's updated website? She's a true multi-media artist, with work in watercolors, charcoal, pastels and oils. That's one of her pieces to the right.
Meanwhile, drop by and see this one: Arctic Raven Gallery is proud to represent Native artist April White in an exhibition that opened last Saturday. The Gallery is located at One Front Street, Second Floor, Friday Harbor.

April White's watercolors and striking serigraphs of the Queen Charlotte and San Juan Islands reveal a keen observance of nature and reflect her gentle, contemplative spirit. Many of White's works also pay homage to her cultural roots. A Haida princess and direct descendant of renowned Native artist Charles Edenshaw, April has drawn inspiration from a lineage which includes many talented Haida artists. Her Native name Sgaana Jaad means Killer Whale Woman. White's transparent watercolors are often photographic in detail.
Drop by and check her work out.
September 22, 2003
Equinox: Yep, it happened over the weekend. The days WERE about the same length, now they're shorter than the dark.
So what? Get outside and play.
Ryan's memorial: Great crowd for Ryan LoBue's community memorial yesterday at the gym.
Remember his smile. Remember his spirit. Remember him.
And honor his memory by not drinking while driving. Please. The cost has been too, too high.
The island's latest great author: She went by Cathy Bordi when she taught here, and my friends, I cannot count the number of kids who have told me she was their favorite English teacher, and the one from whom they learned the most about writing. Whether it was her fifth graders for whom she networked together a bunch of old Macs so they could write & write & write, or the middle school humanities classes, she fired 'em up.
She goes by Cat Bordhi now, and her daughter Jenny tells me she's been working with a publisher in British Columbia for months now. Her first novel, Treasure Forest, is due to ship the first of next month, and it looks like a great one.
You can read more about the book, and the author, at Namaste Publishing's site, and order yours today. I'm gonna order mine.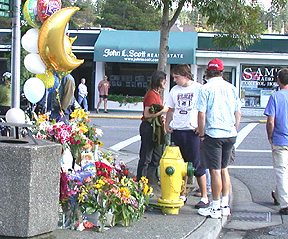 September 15, 2003
A pall over town: You all knew Ryan LoBue. He was the cheerful kid with the huge afro haircut that worked at King's. He graduated last June with the FHHS class of 2003.
Friday night he was hit by a car while riding his bike. According to an EMT friend of mine, they did all they could: got to the scene fast, airlifted him to the hospital, but he died Saturday morning.
Someone once told me that the worst fate we can endure is to have our kids pass before we parents do. Ryan's mom Toni has even more to bear - her husband John passed away in January.
Sunday started as a pretty grey day in Friday Harbor, but even with the sun out later it felt overcast with long faces, kids with red eyes, and adults with that shocked look all around town. There's a spontaneous memorial of flowers and notes and memorabilia (right) on the corner next to King's.
The people that hit him turned themselves in, and there is an investigation to see if they were drinking. They were young folks, grads of school here, and that's tough to bear as well. More on that later.
Meanwhile, remember Ryan. Toni, we're with you in your loss, again.
Sports: The weekend was pretty successful for Friday Harbor High & San Juan Island sports. The FHHS football team demolished Charles Wright Academy 48-6, while the girls' soccer team won their opener 3-0 over Evergreen Lutheran, led by two goals from Lillan Roquet (that's her scoring off a direct kick, over the wall of defenders for the first goal, below), and one from Ayanna Mancuso. It was a good warm-up: the girls play three matches in the coming week.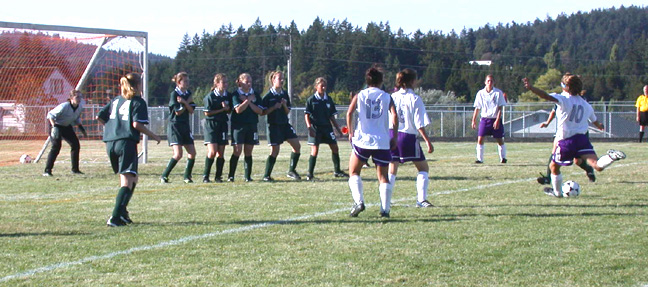 Meanwhile, I heard from Brett Simmons that the two older Tiger football squads (that's middle school and freshmen) won off-island Saturday, which echoes the success of the soccer squads. Here's their report:
Island Gold Stays Golden with Second Win
The Island Gold (U-14 boys) soccer team controlled the ball for much of the match in beating the visiting Mount Vernon Eagles 2-1 Saturday.

The Gold scored four minutes into the game as forward Justin James looped the ball in from the left side to breaking midfielder Erik Haenel-Nash. Although the Gold kept the pressure up, that was all that half's scoring as the visitors managed only two shots on goal.

In the second half midfielder Dylan Marriner found forward Shay Byington's forehead on a floating cross that hit the top corner of the net to put the score at 2-0. Although the visitors managed to sneak in a goal with 4 minutes left in the game, the result was never in doubt.

Mount Vernon was the league champs last year, so maybe our guys can contend for that this year.
The Island Gold (2-0) plays Burlington this Saturday at 1:30 at the FHES field.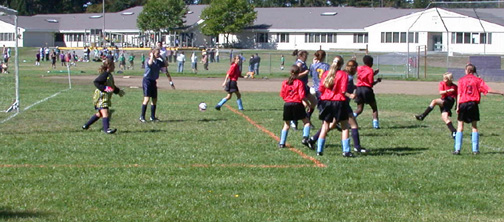 U-14 Girls Notch First Victory
The U-14 girls (1-1) started early in beating Burlington 3-2 Saturday. The girls struck first, as midfielder Whitney Porter scored a breakaway goal at five minutes into the match. Then it was forward Ashleigh Barnes' turn, as she scored a couple (including the shot above) to make the halftime score 3-0.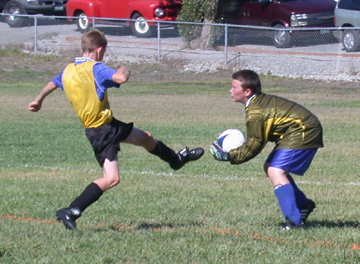 Burlington made it interesting in the second half scoring, their second goal with five minutes left in the game, but the islanders hung on for their first win of the young season.

"It's good to get the first one," a pleased coach Kevin Porter said. "This will be a good game to build on, for next week. The girls did a great job."

The girls play this Saturday at noon at the FHES field.

U-13 Boys Wallop Sedro 9-0
It was a full gallop for the U-13 boys as they scored two goals in the first three minutes in setting up a 5-0 halftime score. The second half's offense was much the same (like Cody Price's near goal at right, in a photo by Trina Terry), with San Juan punching in four more to remain undefeated (2-0) with a 9-0 victory.

"We had a really balanced attack," coach Alan Marriner observed. "Everyone wanted to get involved." The result: six different players scored. Pablo Lopez nailed three, including a penalty kick, Grant Schwinge two, with one each from Geordie Marriner, Zac Hays, Cameron Byington, and Forrest Dayton.

The boys play in Anacortes at 10:30 this coming Saturday.

The schedules for all San Juan Soccer teams are located at www.islandsoccer.org.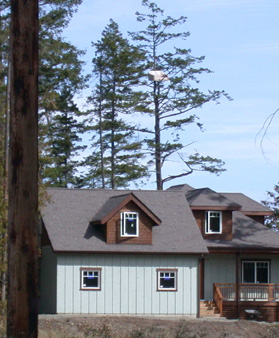 Chair in the air, or, more precisely, a couch in a tree: I know you guys think I make a lot of this stuff up. Some of it's just too weird...but there's this couch in the tree next to a house you can see when you're behind the elementary school.
Really.
To the right is a picture of the house with the couch in the tree. If you click on the picture, you can see what I mean.
Yes, I teach Photoshop at Skagit Valley College, but I didn't make this one up. Go see for yourself.
Actually, you probably get a pretty good view of Griffin Bay if you sit in it, but it's REALLY high up.
September 13, 2003
Flowers, and it's cool: You know Chris who works down at Haley's? As a belated birthday present, his mom put a thing in the newspaper asking all women between 18 and whatever who know Chris to drop by Haley's Thursday night and bring him a single rose for his birthday, which was July 4th. (That's island time.) The flowers could be (and were) to be picked up at San Juan Florist.
According to a reliable witness who was there, the place was packed last night with Chris' well-wishers, and something like 50 roses. Great to hear all those female voices singing "Happy Birthday!" Wahoo! Happy birthday!
Keep a close heart on the heart of mine: It was sad to hear of Johnny Cash's passing. It seemed to come up throughout the day...he touched a lot of people.
September 12, 2003
The anniversary, remembered: There were moments of silence. A ceremony downtown. Discussions at school. People at work saying, "It's been two years. I remember when I heard...."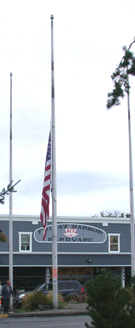 Flags at half-mast, like the one in front of Ace Hardware, to the right.
I remember how eloquently a guy in France said, in the aftermath of the attack, "We are all Americans." Here's hoping we can return to that expression of goodwill, compassion, and solidarity with the people who mean us well. We have much to re-build, including the faith of our friends.
Much reconstruction, and vigilence, lies ahead.
Commissioners online: Andrew Seltser told me he was gonna film the Commissioners' meetings and put them online, and he did. Here's what it looks like: http://www.bocctv.net/
And, yes, Andrew's birthday was last week.
Where have all the children gone? It seemed a bit eerie driving through town at 8:05 Wednesday morning with no school buses around, and the usual elementary school traffic jam not happening.
Thus began the school district's experiment in late start Wednesdays. If you hadn't heard already (ask any kid), school wlll get going around 9:45 or so each Wednesday to give teachers and other staff a chance to work on staff development things to improve the schools' effectiveness and climate.
This will mean less teacher inservice days during the year, and hopefully lead to real improvements. Folks in the district that I talked to the last couple of days said it was a worthwhile effort.
Quote: "For in the end, we will save only what we love, we will love only what we understand, and we will understand only what we are taught." --Senegal

Sports weekend: The seasons all get going, with plenty of sports everywhere. Last night the FHHS volleyball team kicked their season off in Blaine, with their first home game on Tuesday vs. Lopez.
Saturday the football team plays its first home game at two, followed by the girls' soccer team at 4:45pm. Boys' soccer captain Travis Hein tells me they play their first game next week, but don't have a home game till Sept.30th.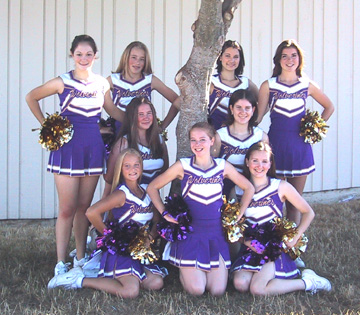 Meanwhile, cheerleader coach Jackie tells me the girls at the right make up this year's cheerleading squad: front row, left to right: Justine Terry (co-captain), Kelly Pope, Mariah McMurtrie (captain); 2nd Row: Claire Burke, Megan Pollock; 3rd Row: Talia Loucks, Lilly Price, Stacey Growden, Becca Funke. Not pictured: Maggie Shaw (manager).

Meanwhile, at the elementary school, all the youth soccer teams are playing at some point during the day...check the schedule at islandsoccer.org to see when. The Tiger football kids are all away these next two weeks, then back on-island to play Sept. 27.
See you at the games!
Saving the whales, and more: I'm pretty sure you heard about it, but did you understand how important it was? A federal judge told the Navy not to conduct its experiments with high-intensity sonar out in the water off our west side, and in the strait.

What's the big deal? Simply this: The sound would have hurt, deafened, and maybe killed marine mammals in our ecosystem.
This was not a small thing. Studies have shown that tis kind of acoustic trauma has marked effects on the animals in the sea, mostly negative. You can read about the decison in detail here.
The response to the decision among people who care about the health and safety of the denizens of the deep was strong. "The marine environment is an invaluable resource that we all must share," said Jean-Michel Cousteau. "I am very pleased that good sense has prevailed. The court has taken an extremely valuable step to protect a part of our life support system from destruction."

Local talent shines at the Theatre this weekend and next: Here's the press release about the world premiere of four locally written pieces:
Four very different one-act plays premiere at this year's Dan Weber Memorial Playwrights Festival at San Juan Community Theatre, September 12-13 and 19-20. The plays – "Courage" by Charles Bodenstab, "Dollar $ign$" by Chris DeStaffany, "An Impromptu Luncheon" by Ernest Pugh and "Home Security" by Ed Strum – explore the fortunes and foibles of both human- and animal-kind.

In two pieces, it was the characters that led the writing process.

"I didn't believe this at first when other people told me, but it happened to me," says playwright Chris DeStaffany about writing "Dollar $ign$."

"The original concept for this piece was a particular moment, a confrontation that has several possible outcomes but takes a completely different turn. I asked myself, 'how did we get to this situation?' From there I crafted each of the characters, and only then did the plot begin to unfold."

"I never start with a fixed plot," says veteran playwright Ernest Pugh, whose entry this year captures a wry conversation between three distinctive animals. "Most of the time I start by picturing something a character is saying. When I can hear the voice of a particular character, then I develop the back-story of that character. Once I get a feel for dialog between the characters, then the story tends to drive itself."

Ed Strum took a different approach with his play, "Home Security," which takes place 30 years into the future. "I started by writing a history of the world to set up an understanding of how we arrive at the scenario. Then I tried to build dialogue that both conveys the sense of history and the way each character would react in that situation."

As his story took shape, Strum looked at it both technically and critically.

"Will an audience be able to anticipate what's going to happen," Strum asks, "or will they be asking themselves what's going to happen next? If you can keep them guessing, you might have a winner on your hands."

Writing the play is not always the hardest part of the process. "You have to learn to wrestle with doubt," DeStaffany says, "because there's a long time between when you write it and when it's performed. Is the joke still funny? You can lose that perspective along the way. Ultimately the audience is who you're writing for, and their response is worth all the agony."

The Playwrights Festival is sponsored by Key Bank. Performances are at 7:30 p.m., Sept. 12, 13, 19 and 20. For tickets, call 378-3210, or visit www.sanjuanarts.org.

Quote: "Every gun that is made, every warship launched, every rocket fired signifies, in the final sense, a theft fom those who hunger and are not fed, those who are cold and are not clothed. The world in arms is not spending money alone. It is spending the sweat of laborers, the genius of its scientists, the hopes of its children.... This is not a way of life at all, in any true sense. Under the cloud of threatening war, it is humanity hanging fom an iron cross." -- Dwight D. Eisenhower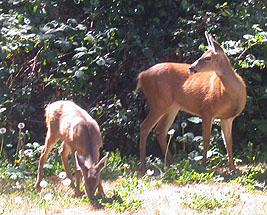 September 9, 2003
School starts in earnest: I ran into Superintendent Michael Soltman yesterday and he tells me the school year is off to a very positive start, with teachers excited to be back, kids smiling at the end of the day, and just a generally positive feel in the air. I'd say that appears to so - every teacher I've talked to this last week has said he or she is enjoying getting going again.
Good start.
Oh, deer: Yeah, the deer like to hang around my back yard - the two at the right were eating blackberries when Cameron captured this picture. Most of you know I live in Friday Harbor, within the town limits...this summer I've seen more fox (three), a raccoon, and, of course, deer than usual.
Island Soccer kicks off: The three middle school-age teams for the San Juan Island Youth Soccer Association hit the road for their first matches last Saturday. Their two-month long season wraps up the first week of November with their respective league tournaments.

Meanwhile, the younger teams begin play at the elementary school this coming weekend. All team schedules are located on the Association's website at www.islandsoccer.org.

San Juan (U-14 boys), 6, Stanwood 0
The Island Gold (U-14 boys) team took on a game Stanwood squad, which held us to a 2-0 halftime lead, as Erik Haenel-Nash scored twice, assisted by Jens Townsdin. In the second half Dylan Marriner scored twice (assisted by Daniel English), while Shay Byington and Russell Asher added one each. The boys take on last year's league champs, the Mount Vernon Eagles, on Saturday at 1:30pm at Friday Harbor Elementary field.

San Juan (U-13 boys) 2, Burlington 1
Meanwhile, over in Burlington, the U-13 boys broke a 0-0 halftime knot with a breakaway goal by forward Cameron Byington and a penalty kick by Pablo Lopez to win 2-1. Coach Alan Marriner liked what he saw in the team's first game: "The guys played the full 60 minutes, and controlled the ball when we had it. The defense was solid, and will just get better."

San Juan (u-14 girls) 1, Mount Vernon 3
The U-14 girls team visited a good Mount Vernon team and came away feeling good about losing only 3-1 with a goal by Whitney Porter. "These girls had fun today," said coach Kevin Porter afterwards. "For a young team, they did a lot of things right. This is a good group to work with."

This Saturday the girls play at noon on the elementary field, while the U-13 boys play the first game of the day at 10:30pm. Admission is free, but seating is limited to the first 300 spectators.


September 5, 2003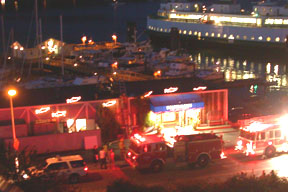 Smoke on the water: There was a kitchen fire Wednesday night at Downrigger's restaurant that was dealt with efficiently and quickly...it sure is nice to have the fire station only a couple of blocks away, and even better to have a crack volunteer crew that gets to emergencies quickly.
The photo at right was taken by By Design photographer Shay Byington just after the smoke had been suppressed.
The Prince's heir apparent: I just met Ivan Reiff, who purchased the Western Prince whalewatching and charters operation from Bob and Jean Van Luevan, who have run an environmentally-friendly and ethical business these last 18 years.
The transfer of ownership happened Monday this week...Ivan's wife Jackie is teaching at the high school and coaching cheerleading as well. Drop by and welcome them to the community.
Congressman Larsen drops in: Last Friday, Rick Larsen came to visit the island, dropping by to see the seniors and holding an open meeting attended by some 156 folks (I counted) at the Fairgrounds. He articulated his positions on the Patriot Act (he voted for it, but opposes PA 2), the need for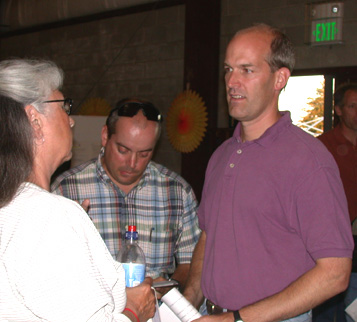 accountability for paying for the reconstruction of Iraq and the post-war security force there, and strongly registered his opposition to almost everything the governing party is up to, from the war to the environment to energy to deficit spending.
He proved to be a good listener, taking questions afterward about tough subjects, and a good, thoughtful responder to questions that were posed as black and white issues that have grayer solutions.
Haze: If it seems kinda gray outside, the Seattle TV guys are saying the wildfires in BC are dropping a bit of haze this way....
Bronzed: Pat Lawrence at Island Studios tells me Tom Pemberton will be at the store from 2-4 tomorrow to celebrate the placing of several of his pieces there. Drop by and say hello, and see what Tom's been working on. He makes great stuff.
Island baby: Did you know Sherry and Derrick Windham are nearly five months pregnant? Sherry works at Islander's doing customer service. They'll make great parents....
August 25, 2003
New beginnings: A number of cultures in the world have the first day of the year begin the first day of the spring, or January first, or some time....
I've always felt the year here starts this week, as school kicks in next week, all the teachers & coaches get their plans together this week, and fall practices get going for all those sports and clubs.
The tourist season is waning (or will in a couple of weeks), and things slow down for us all.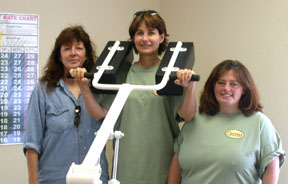 And a happy new day to you.
Curves: Rebecca Barnard (in the photo with her assistant Deborah Mason to the right and first customer Trisha to the left) is holding the grand opening for her new business - Curves - this week.
You can drop in & visit at the corner of Spring Street and Caines, next to the Presbyterian Church, and say hi to Rebecca, who is managing the business, and to owner Jennifer, who is visiting from Seattle this week. The focus of the business is to provide a place for women to exercise & stay fit in a non-threatening environment...drop by and see what they're up to.
Meanwhile, over at the Flying Burrito yesterday, Rebecca's husband Bryn was signing copies of his new book, Danerous Planet: Natural Disasters That Changed History, with a mob big enough to where they had to invite everybody over to the house afterwards. The event was sponsored by Griffin Bay Books - owner Susan said Bryn is a wonderful speaker & sales were good.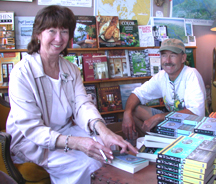 She said the event was excellent., and that although the book is aimed at nine to twelve year olds, the stories would engage any adult.
The book is available at the store. I know I'm gonna go get one.
Meanwhile again, over at Harbor Books, islander Sharon Duncan was signing the new book in her series, the Dead Wives Society (it's a mystery) and had a nice line of folks there to purchase them. That's her with store owner Skip to the left. I got mine signed & am halfway through it already.
It was a good day for local authors here on the island, my literary friends.
The weekend, it rocked, historically: A couple of cool things happened this weekend. One was the Classic Boat, Car & Airplane Show out at Roche Harbor. There were a ton of boats from the 1920s berthed at the marina, as well as cars and a few planes from that end of the century. Pretty cool, if you're interested in that kind of history,. Nice sized crowd walking around checking it out.
At British Camp (below), it was the weekend for the re-enactment of life at the camp 150 years ago. Folks dress up as the military people and civilians that populated both American Camp on the south part of the island and British Camp, and when you talk to them, they answer in character...as the surgeon, the cook, a soldier.
They sleep there for the weekend, which includes a candlelit ball in the barracks building. Lots of local folks participate in the show...living history. If you missed it, plan on next year.
Quote: "You're only young once but you can stay immature indefinitely." Odgen Nash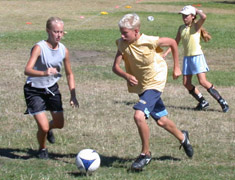 August 22, 2003
Sports in the air: I was over at the field at the high school last night when a ton of guys in helmets & pads came out for a run...Dwight from the football team tells me there's 37 kids out this year, and that drills and practice feels sharper than last year already, and that the team is very optimistic for the year ahead.
Meanwhile, there were a good 35-45 players at adult pickup soccer last night, and some 102 players at the weeklong British Soccer Camp this week sponsored by Island Rec (photo, right.) High school soccer starts next Monday with regular season practices.
Wolf Hollow in photos: One of the more satisfying jobs people around here sign up for is to volunteer out at the animal rehab place on this island, Wolf Hollow. My friend Sahale Casebolt did this summer, and took some pretty fine photos of some of the seal pups. Check 'em out here.
August 20, 2003
Goin' south: That's South Beach to the right. Get out & play.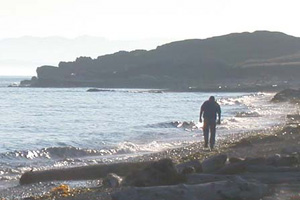 Good morning on a sunny day: Hope your day's off to a good start. Here's some news & thoughts from the e-mail bag:
Hey, Ian,
I'm getting tonnes of nutty e-mail from people I don't know. The subject lines say things like "Re: Details" and "Your advice." How do get rid of this? Looks like a virus or worm or something.

Clare
Northampton, UK
Hi, Clare - I've started posting fixes (or at least stories about this stuff) on http://www.bydhost.com for your convenience. A lot of clients like you have written in, so you're not alone! I got 74 notes from the SoBig worm this morning, too. Yikes! Read the stuff...it'll help.
Victoria's here for a visit - the former "At Home" publisher has been in New Jersey most of this year:
Hiya, Ian!

I'm coming back to FH for a few days and I'm setting up a S. beach BBQ on 8/20 starting around 3 pm. - wanna come? It's a potluck...Hope all's well with you - I sure miss you guys!

Victoria

P.S. Please forward this message to as many people as possible. I need as much good FH people energy smooshed into me as possible while I'm there.

Wahoo! A new site:

Hi Ian,
Finally, this morning the trails website is ready to explore.

<http://www.sanjuanislandtrails.org>

Hooray!

John, Louise and Tim Dustrude
Meanwhile, out at Roche Harbor this weekend:
Ian,

Pat Carver suggested that I get in touch with you regarding your including news on your web-site of the upcoming event at Roche Harbor on Aug. 23 & 24.
The Classic Yacht Assn. will have about 15 classic wooden yachts, all built prior to 1944 tied up at the foot of the ramp leading to the new docks. Most of the boats will be open for public inspection.

The San Juan Car and Croquet Club will arrive at Roche at 1:00 PM on Saturday the 23rd and between 30 and 40 classic sports and touring cars will congregate on the lawn near the swimming pool. The public is invited to view them.

Antique aircraft will be flying into Roche starting Friday the 22nd and will park at the western end of the air strip.

That's the bare bones of it.
Thanks -
Les Gunther

From the Post-Intelligencer in Seattle:
In the latest round of dissing local companies comes this comment from BusinessWeek's "Future of Technology" issue, courtesy of Paul Saffo from the Institute for the Future. Asked what limitations there are on innovations, Saffo said "we've got a couple of gorillas holding back innovation. Microsoft is a big intellectual roach motel. All the big minds go in, and they don't come out."

Fairly done: Well, it always feels like summer's winding down when the Fair is over. The football and soccer folks are lining fields and getting ready for their coming seasons, teachers are prepping for school, and the stores and lodging places in town and on the island are bracing for the last rush of visitors to our shores. (Did you see the photos from the Fair & the Loop Run down below? You're in there, rookie.)
The Fair was great - it's always neat to see so many folks and get a chance to visit with them. To wit:
Allison Pemberton's back from college - she's getting married to her friend Chris next summer when she graduates with a degree in psych from Whitworth College in Spokane.
Remember Judy & her kids Liana, Clay & Jay? You can see Judy's photo in the "Faces at the Fair" gallery below....they live in Shoreline, now. Liana's off to Lawrence College this fall, Clay's becoming a cosmotologist, and Jay's going to fashion design school. Great to see Judy's smiling face.
She told me George & Milene at the Computer Place celebrated their 25th wedding anniversary the other day. Their girls both just graduated from university as well - good summer for the family.
Ben White tells me he's planning an action for this year's WTO meeting in Mexico next month, related to dolphin kills in the ocean.
Over at FHES, one of my kids' favorite teachers was Marty Moorhead...she's taking a leave for the next year, which corresponds to her husband Dick just now selling his bakery/wine shop at Kneadful Things. They have great things planned, but she'll be missed at school.
Ellen Gonser sold a bunch of her scavenger hunt cards that are about San Juan Island, the first day of the Fair. Pretty cool - check 'em out.
It was neat to see Christiane Biermann and her new husband Charles at the Fair at the Food Court...they just got married last month.
Old soccer players month: Not only was Cindi Baker in town (she started the girls' soccer program at FHHS as the first coach), but players Sharon Adler, Maggie DiGiovanni, Mandy Richardson, and Katie Leed have all been around at one point or another this summer.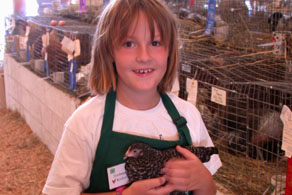 August 18, 2003
The Fair in pictures: You know, I could write and tell you all the folks who came to the Fair, or I could show you pictures.
Here's my library of this year's County Fair, with the best of about 800 photos shot by Sahale Casebolt, Emily Bayuk-Johnson, Shay Byington, and me.
There are approximately 300 recognizable people in these pix and in the Race pictures below - see if you're in there. You probably are, you know. And it was good seeing you.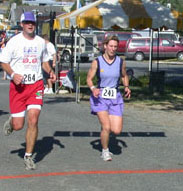 August 16, 2003
Loop Run in pictures: The 8.8 Loop Run was won (men's division) by a guy from the UW, Matt Frank in about 29:29, by my clock, while the women's side was won by islander Jane Hutchinson (right, in lavendar) in a little under 40 minutes. Yahoo! And....over 176 people ran, or walked, or strolled.
Here's pictures from before the race, and at the race's end. Check 'em out - you're in there! See the San Juan Islander for all the finishers and their times.
I'll be posting pictures from the Fair...we have several hundred - tomorrow. Check back!
Last night: By around 7:30pm, the wind was blowing up cooler winds that turned pretty cold by about nine, which made fair-going a bit chilly (but was good for business inside the Fairgrounds building). I heard lots of folks say they were coming back for more tonight, though.
August 15, 2003
The Fair continues: Here's the deal: The Local Harvest Band that Tom Doenges put together last night was one of the coolest ideas the Fair has brought, music-wise, to the Fair since I started going ten years ago.
Tom put together a little band and offered to back up local singer-songwriters for a song or two each. He got fourteen folks to sing, and it was wonderful. The music showed off the variety and talent of people on this island...you gotta love it. I hope Christine and Rev who schedule the music do this again next year!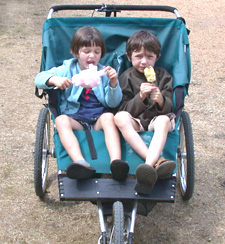 Playing last night: Kirk Fuhrmeister, Rev Shannon, Laura Chorba, Kate Schuman, Kathleen Wilson, Pat Gislason, Steve Keys, Kyle Wilson, Roger Mcgilvery, Mike Adams, Tom Doenges, Tami Doenges, and Debra Gottesman. Gotta love it!
The Fair goes on today and tomorrow - see you there!
Fair notes: Stories from the Fair:
Ian & Laura Bolton are back from Europe till around Labor Day. Meanwhile, Arielle Mancuso's getting ready to leave for France in two weeks, and Robbie Lawson just got back from walking across Spain.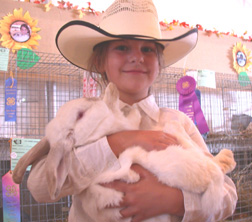 Erin Braybrook & Dan Gillespie are getting married on September 20 - wahoo! Meanwhile, Liz & Janna from Post San Juan (they sold it last year) report from the road that they got married in British Columbia last week, and will return to the island October first. They've been traveling for most of this year around the country & Canada. Congrats!
Talking to people at the Fair, I found seven different people who turn 50 this year. See if you can figure out who they are.
Did you see all the flowers in Chris Watling's flower show? She's the superintendent of that section - great stuff.
If your kids say the Fair's boring, take them around to the different sustainability exhibits. Fascinating stuff - and, it's their future. Without sustainability, we won't HAVE a future. Dig it.
Today's the day with the special for kids & rides. 12-5.pm. Check it out.
Talking to a friend last night about relationship stuff, who said, "Man, she not only came into this with baggage, she's holding onto the claim checks, too."
Visited with friends Matt & Sharon from the San Juan Islander online news deal yesterday. I mentioned that they had said they are "The only locally owned news source in the county." So I said, "Hey! What about me??!?"
Sharon said, "The only locally owned DAILY news source in the county." I said, "Well, OK." So thanks to you, for reading this, the San Juan Island Update - "the only locally owned sporadic news source in the county."
If you call this news.
Drop by the Medical Center booth & get your blood pressure checked. See if you're relaxed yet.
Stress: There's a sign down at Front Street Cafe that I like: "You came here to relax. Start Now. Please."
Sounds like the city of Denver is talking about finding a way to codify that - check out this story about the problems invoved with making a law that says you gotta relax.
Of course, it does seem like you wouldn't have to TELL people to do it.
Paul: Don't you think Pablo Lopez looks like Paul McCartney? (right, photo by Cameron Byington.)
---

History is doomed to repeat itself:

Review the Update from August 20, 2003 - October 1, 2003

Review the Update from June 19, 2003 - August 20, 2003

Review the Update from April 18, 2003 - June 19, 2003

Review the Update from March 1, 2003 - April 18, 2003

Review the Update from December 19, 2002 - February 28, 2003

Review the Update from October 26, 2002 - December 18, 2002

Review the Update from August 13, 2002 - October 26, 2002

Review the Update from May 9 (the fire) - August 12, 2002

Review the Update from April 1, 2002 - May 8, 2002

Review the Update from December 15, 2001 - April 1, 2002

Review the Update from September 11, 2001 - December 14, 2001

Review the Update from June 7 , 2001 - September 10, 2001

Review the Update from March 17, 2001 - June 6, 2001

Review the Update from December 18, 2000 - March 16, 2001

Review the Update from July 25, 2000 - December 17, 2000

Review the Update from April 21, 2000 - July 25, 2000

Review the Update from January 1, 2000 - April 21, 2000

Review the Update from October 21, 1999 - December 31, 1999

Review the Update from August 12, 1999 - October 21, 1999

Review the Update from May 17, 1999 - August 12, 1999

Review the Update from April 8, 1999 - May 17, 1999

Review the Update from February 26, 1999 - April 8, 1999

Review the Update from January 3, 1998 - February 26, 1999

Review the Update from November 1, 1998 - January 3, 1998

Review the Update from August 31, 1998 - October 31, 1998

Review the Update from July 2, 1998 - August 30, 1998

Review the Update from May 25, 1998 - July 2, 1998

Review the Update from April 3 - May 25, 1998

Review the Update from January 22, 1998 to April 3, 1998.

Review the Update from November 24, 1997 to January 22, 1998.


---

The information here is simply stuff we here at By Design think is important around Friday Harbor or on the Island. Some of it's news, some of it's old news, and all are just things we wanted to mention, with most of it about the things that make living here great.

There will be more next week, if anything happens.

Ian Byington
ian@byd.com

More info about the island:

Everything. Simply everything about the island.

This site prepared by our friends at By Design in Friday Harbor.
The information contained here is
©Copyright 1998, 1999, 2000, 2001, 2002, 2003 by By Design, Friday Harbor.
Unauthorized reuse of the content of these pages is prohibited;
links to other sites is intended to be to the benefit of those sites,
and for the edification of our readers,
and does not constitute endorsement or
agreement with views expressed there.