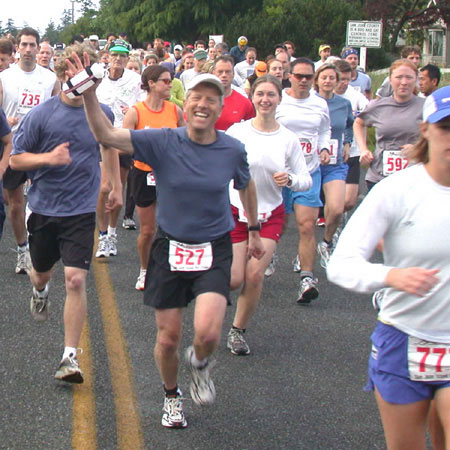 June 7, 2004
Special report: San Juan Island Marathon
Photos of the race (the start and the finish)
Complete results are posted here. And...see below!
Craig Hersh of Camas passed Bob McNaught of Bellingham at the 12-mile mark of yesterday's San Juan Island Marathon, and was able to win by 12 seconds as he took first place in the CATS Second Annual Marathon. On the women's side, Heather Griffith of Seattle copped first with a 3:12:30, just ahead of last year's winner Emily Mullen, who still managed to shave four minutes off her time from a year ago.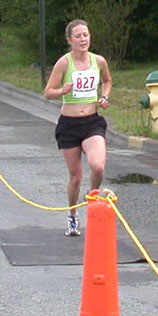 Local FHHS trackster Lucas (right below, runniing on Douglas Road) won the half marathon for the second straight year with a 1:22:59 time, followed closely by Jessie Swan of Seattle 46 seconds later.
This year's event drew 322 paid registrations, hundreds of supporters and families of runners, and drew praise from runners and locals alike. Northwest Runner magazine's Martin Rudow liked what he saw. "With all those hills, it's going to be a while before last year's course record is broken. But noneless, it's quite a beautiful run."
For the first dozen miles of the men's marathon, McNaught set the pace for the field. Running his 124th marathon, he laughed after the race, "So close, so close. I needed another half-mile and I might have caught him. It's a tough course, with all those rolling hills."
Hersh said, after the race in a note to Race Director Clark Gilbert, "It was a wonderful race. The course was always beautiful and well marked. The volunteers were so friendly and helpful. My family (here's a picture) and I had a great vacation on San Juan Island and hope to come back next year. Thanks again for a great race."
Personal fitness trainer Heather Griffith says she played it conservatively, and was able to get the lead for good around the 22nd mile. The 32-year-old said she ran the race for a friend's birthday (her friend finished fifth).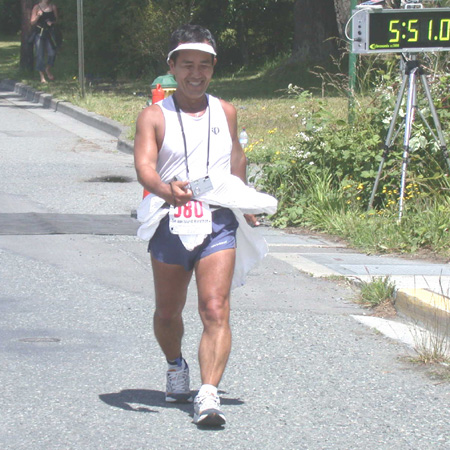 Franco agreed that pacing was the key. "I wanted to set a consistent pace, and it looks like it worked. I sometimes start out too fast, so it was good that I could get consistent early." The FHHS senior plans to attend Seattle University this fall, where he intends to try out for the track team there.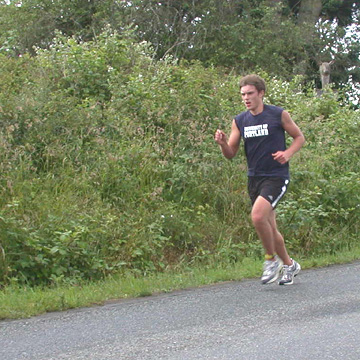 Marquette University grad Swan (finishing, above) said she had never run a 13.1 mile race before, but felt good afterward and said she could imagine doing it again. "My goal was to stick to sub-7 minute miles and then I thought I'd have a chance."
In a race that featured runners from all over the world, including Hajime Nishi (left) from Japan, running his 350th race and carrying a camera and a wide smile, local runners perfomed well.
Ross Lockwood's 3:21 marathon was good enough for third place on the men's side, while Jane Hutchinson warmed up for a triathalon next week by finishing first among local women in the marathon. Librarian Laura Tretter was joined by her sister Susan from Lopez and her parents Tom & Pat from Iowa to walk the half marathon; Darlene Wahl and her husband Ken laughed that the Tretters and they were competing to see who would come in last.
Bruno Pernet from the Labs posted a respectable 1:47 in the half-marathon, and a number of people who grew up here used the race as a reason to come home for a weekend. Randy Gaylord took off in good spirits (in the starting line photo above) and finished with a smile as well, which matched Julie Ochoa's - she just decided Saturday night to give the half-marathon a try.
The Marathon is directed by Clark Gilbert, and is a fundraiser for CATS for the San Juan Island Community Theatre. The race is sponsored by King's Market (show sponsor) and wells Fargo (course sponsor), as well as a group of local businesses mentioned on the event's website at www.sanjuanislandmarathon.com.
There are a couple of zillion pictures my ace photog son Shay & I took to show you what happened - lots of faces you know are at the place we have the pictures of the first of the race and the finish. Check 'em out, and see yourself in action!
Below - see who ya know: From the top (going clockwise): Jane Hutchinson, Ross, the Walkers; Julie; Vern Tator and Susan; Jen Fleming with the twins, doc Mark, and the best "Go Mommy! sign around; and Pat, Laura, Susan, and Tom.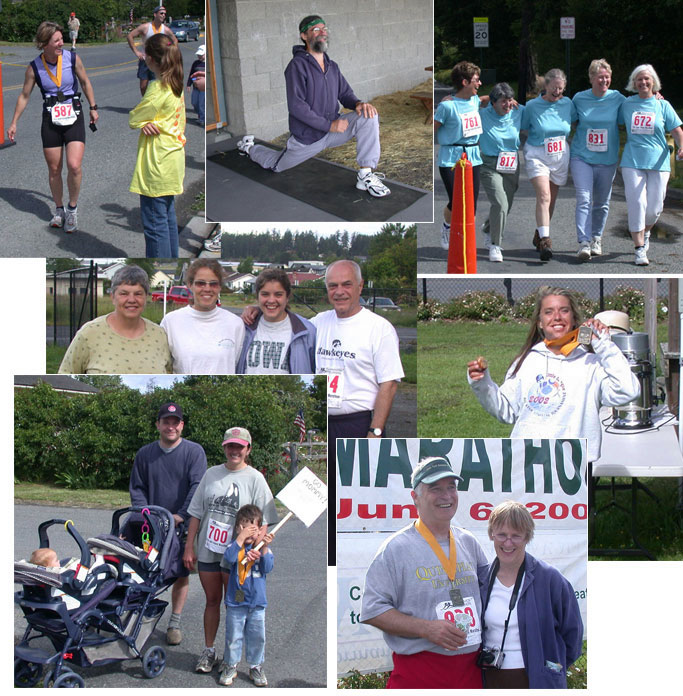 June 4, 2004
Marathon & Expo: Yep, it's this weekend. The Expo is Saturday from 10am to 7pm with all kinds of stuff happening at the Fairgrounds, and the run is Sunday at 7am.
See yourself: or your favorite runner: I'll be posting a scrapbook of photos here on Sunday or Monday, as well as posting the results on their website as soon as I get 'em.. See ya there...
Notes around town: All that commotion out at Roche Harbor yesterday afternoon was about Brian (he of San Juan Safaris) and Rachel (she of the beautiful paintings at artbyrachel.com) getting married - their 4 o'clock wedding pulled together a sizeable chuck of the community.
Congrats, you two!
Baby notes: Stephanie Buffum over at the Friends of the San Juans is five & a half months pregnant - she and Cy expect their late-summer arrival to be a boy. She's got that cool about-to-be-a-mom glow.

Piano notes: Former islander Joe Bongiorno's new album (left) just got reviewed online by Solo Piano Publications and the word is good. Kathy Parsons says, "The music is peaceful, and there are no hard edges. The pieces are quietly passionate and optimistic, making the listening experience a very calming and uplifting one." Get your copy on Joe's website at http://www.mellowsounds.com.
Help out: You know, I mentioned the group that Amber Peterman works for in Cameroon's website (Women for Health, Progress and Development)...they do great things for HIV/AIDS ophans & families. They DO take donations - go to the website to see how you can help some folks who really need it. she didn't ask me to say that...that's my plug. It'll make a difference.
Moon out: Go to the east side of the island tonight & check out that full moon over Griffin Bay - it was beautiful last night at around 11:30pm.
State Ferries hit the low tide: You may have noticed the water's kinda low. Here's the reoprt from the Washington State Ferries:
Puget Sound will be experiencing extreme low tides this Thursday, June 3, thru Saturday, June 5. This will impact vehicles with low ground clearance, including RV's, commercial trucks and some small sports cars seeking passage on WSF. On Thursday, low clearance vehicles should not plan to board from 10am-1pm.; Friday, between11am-2pm.; on Saturday, between noon and 2:20pm. Low clearance vehicles that arrive at the terminals during these time frames may be held until a later sailing.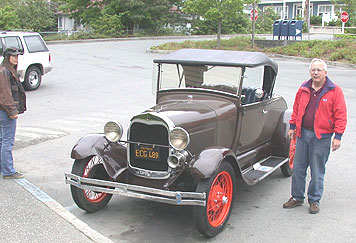 June 2, 2004
Featured artist: Hey, did you see the writeup about local artist Mari Williams in the April issue of the Crafts Report magazine? The article was called "Emerging Artist: Mari Williams — Each Creation Has a Different Personality" by Sue Wasserman.
The kids are alright: Amber Peterman (FHHS class of '99) dropped by this last month...she spent most of the last year in Cameroon working with HIV/AIDS education and helping improve the lives of AIDS orphans. Here's more about Women for Health, Progress and Deveopment (WHEPD), the non-governmental organization she was working with.
The former FHHS valedictorian is off to work on her doctorate at North Carolina this fall. She's doing great things...
Al's cool car: I ran into Al Commins over the weekend at the post office - he was taking his 1929 Ford Roadster out for a spin with his sister Mary, so I asked if I could take a picture of it.
June 1, 2004
Name hijacked, franchise established: When you drove by the place at the right in Oregon, I'm sure you thought the same thing as I did - either Greg & Carol Ford have started selling franchise rights to "Mi Casita" or maybe the people heard about their place & liked the name.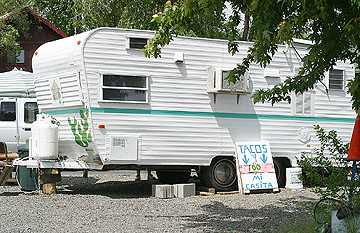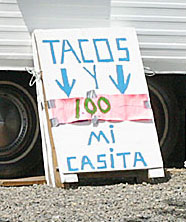 Or maybe they heard the saying, "My house is your house - Mi casita está su casita" - as well. Have you ever noticed that Mi Casita's is full for lunch & dinner, during the summer & during the winter? The friendly, welcoming atmosphere that Greg and his staff offer makes it a great place to eat.
By the way, Pierre LaBossiere shot the picture...he works at a paper down near LaGrande, Oregon. He notes: "I took this photo. Thought you might be interested. This is a taco shack in Island City, a few miles outside of La Grande. The Fords should sue for copyright infringement."
Crowded at the end of the long weekeend: Yesterday the ferry part of town was a zoo...people were getting in line so they could leave on the ferry after next. It was a pleasant day with a tiny bit of sprinkles and that nice, warmish weather in the 60s, even with a bit of cloud cover at times.
Celebrity Golf Classic: It's this weekend coming up. Plan ahead!
Softball rocks: The FHHS girls had a great time going to state last week, something Coach Kevin Carlton is gettin them used to doing each year. The San Juan Islander has the story, with a nice wad of pix. Great kids, great results. Way to go, girls!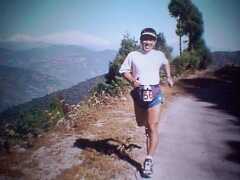 The Marathon - nearly here, with the 350th race for this guy: Yep, the San Juan Island Marathon is this weekend on Sunday at 7am...Race Chief Clark Gilbert tells me we'll have some famous company:
Hajime Nishi, author of ECOMARATHON DATA BOOK and LOSING IS WINNING: THE JOY OF SLOW RUNNING PHILOSOPHY will visit Friday Harbor to run the 2004 San Juan Island Marathon as his 350th marathon.

He's been running marathons around the globe since 1990. In 1995, he's started to campaign Ecomarathon, a run for ecology, to create a healthy, peaceful and harmonious planet for all and future generations. In the meantime he created a whole new way of running, Slow Running Philosophy, to enjoy the wholeness of marathon by focusing on connectedness of body, mind, spirit and environment.

He became the first person who ran 7 marathons in 7 continents in 7 months in 1997 that Guinness had created new world record, "The fastest time to run marathons on each of seven continents" or so called, "The Triple Seven" for his record and certified him as a world record holder on Jan. 1999.

In 2000, he became the first non-North American resident who ran marathons on each of all 50 US states plus DC and in 51 countries.

He'll keep inspiring the people around the globe through his century long Ecomarathon Mission, "We can live in peace, we can live in Harmony and we can live together."

Here's his philosophy:

Ecomarathon is not a race, but it's a way of life

Beyond competition, but with connection

Beyond conquest, but with harmony

Beyond dominion, but with sharing

Beyond possession, but with simplicity


Ecomarathon is not a race, but it has a goal

Everyone has equal opportunity to live with dignity

and to have enough food to eat with peace in mind

and with gratefulness to nature

No visa, no border

One people, one planet


Don't just run it, Ecomarathon it

Time is not essential, but the timing is

Back in town: You've seen him around - Adnan is back to open Maloula's for the summer...that's the great Mediterranean restaurant above Friday Harbor Yachts & the pub. His family moved to Damascus, Syria last winter.
Garage sale: I'm having a garage sale this weekend, with a food dryer, big office desk, hammock, life jackets, books, book shelves, and more. Drop by. 8-12...
Quote: "In 1920, Walter Lippmann and Charles Merz wrote that The (New York) Times had missed the real story of the Bolshevik Revolution because its writers and editors "were nervously excited by exciting events." That could have been said about The Times and the war in Iraq. The excitement's over; now the work begins. - Daniel Okrent, for the New York Times

May 28. 2004
Slug alert: Yep, that's what you get when you get enough rain...slugs. The photo at the right was shot on the sidewalk across from the ferry last night, so you know they're coming your way.
Get your beer tins and salt shakers ready.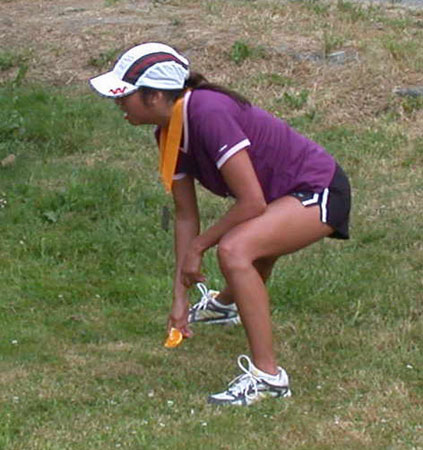 May 26, 2004
Why run? Why you? OK, I know you're dithering about coming here to run in the San Juan Island Marathon that's scheduled for the weekend after this.
You WANT to come & do the race (or the half marathon, 'cause your knees are like mine & you'll walk half of it). Time to get off the fence. Here are ten great reasons why you are crazy not to come:
1. It's nice this time of year. I have no idea if it'll be warm like last year (it was in the 70s at the end of the race) or cool, but it won't be freezing & it probably won't be unbearably hot.

2. Whoever you bring will be glad. While you're running, they will either sleep in, go walk on the beach, take a hike somewhere, go to the Blue Dolphin or the Bowling Alley or the Donut Shop & drink coffee & swap stories with colorful locals who are barely awake but who will let you read their copy of the P-I, if it's arrived from the ferry.

3. Drink coffee while all this is going on. We have more coffee places than you.

4. You want to rest your legs the day before, right? That's why God invented kayaking. Lotta arm action there.

5. You read the Canterbury Tales, right? We re-create that several times a day with a Ferry Trip. You ride to Canterbury, uh, I mean Friday Harbor, with a bunch of pilgrims with interesting stories & different reasons for coming. Good place to swap stories.

6. The cultural advantages! We have NO fast food places! We have no traffic lights at all. Heck, we don't even have much traffic - when there's three or four cars at an intersection people start mumbling about how crowded we've gotten. People don't honk when you're slow!

We have more dogs per capita than any place in the Western Hemisphere, half of whom come when you call 'em & all of whom are nice & not fierce.

We have music at night, somewhere in our little town.

We have a sense of history, usually back to around the time Free Willy was filmed.

7. Oh, yeah - the run. The reason it says "the most beautiful run in the state!" is because that's what people said after last year's run.

8. What if you DON'T run? That's cool - it's pretty awesome & downright inspiring to watch & cheer for those who do. You'll get an appreciation for what humans are about, as they reach for the limits of what being human can mean. Pretty amazing & way cool.

9. If you run, you get a cool shirt. When you wear it, everybody will see it saying San Juan & figure you've been to Puerto Rico.

10. You'll feel good about yourself, and about the other runners.
See you there. You know this is where you really wanna be.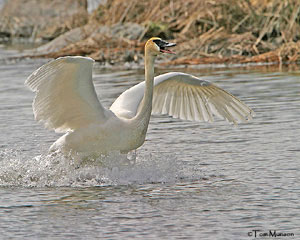 Swan rises: Mark & Aylene from Trumpeter Inn just posted some awesome photos by Tom Munson on their website, including the one to the right. You gotta see 'em to believe 'em. Better yet, get outside & look at the birds in person. Or in bird. Or whatever you say.
The Update turns 200! Yep, Santa Claus, there is a Virginia & it's true: The San Juan Update - America's San Juan Island News Source - is about to register 200,000 frontpage views.
See the counter at the bottom of this page to see if we're over the top yet. Wahoo!
Art Walk: It's next weekend...the Studio Tour is fun if you want to see how our famous artists make their wares. Here's the story: check 'em out.
The Labs have music & history in the air: Bob Schwartzberg from the University of Washington's Friday Harbor Laboratories asked me to tell you about these two deals:
Please join us as Friday Harbor Laboratories presents The 4th Annual Jazz at the Labs on Saturday, June 5, 2004. Featuring "The San Juan Jazz Quartet + 1"...and from Seattle, the phenomenal Jazz and Blues Group "Chimera" - Dinner and Music 6:00-9:30 p.m. $30 per person. Music only 7:00-9:30 p.m. $15 per person. Funds from Jazz at the Labs supports the Friday Harbor Laboratories' K-12 science programs in the San Juan Schools. For reservations and information call 360-378-2165.

And remember to visit the San Juan Historical Museum, featuring Friday Harbor Laboratories' Centennial Anniversary - "100 Years of Marine Science Excellence."