---
July 19, 2004
Strong earthquake off Vancouver Island (this is from the Associated Press:)

SIDNEY, British Columbia -- The second strong earthquake in five days rocked the west coast of Vancouver Island early Monday, the Pacific Geoscience Centre said.

The earthquake, at 1:01 a.m. PDT, was measured at magnitude 6.1. Like the magnitude 5.8 quake early last Thursday, it was centered in the Nootka Sound area.

Seismologist John Cassidy said it was felt in communities across Vancouver Island and as far away as the city of Vancouver. Several small aftershocks also were recorded, Cassidy said.

Other than some items being knocked from shelves, there were no reports of damage.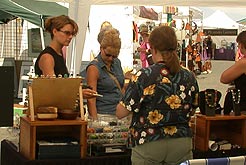 July 18, 2004
Arts Fair rocks: To have a good arts fair you need a good location, really good art, a sunny day, and good music.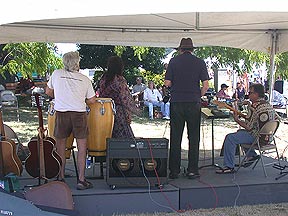 That happened yesterday as the fourth or fifth annual event happened right there on the in-town side of the courthouse lawn. The music was managed by Ed Wilson, who pulled together a great mix of talent that gathered a crowd each hour (the sound was mixed by Peter Boyle), and there was a steady flow of folks looking at the 42 vendor booths of paintings, glasswork, beads, photography, and kids' activities.
The Chamber's Debbie Pigman pulled it all together, organized the whole thing, and it worked.
That's Gary on congas, Michelle Franklin, Peter on sax, and Tim Franklin on guitar during their mid-afternoon set in the photo on the right.
Labs celebrates 100th: Over at the Friday Harbor Labs yesterday, they had an all-day celebration of their first 100 years, with food, and speeches by Bill Gates, Sr., Bill Ruckelshaus (first director of the EPA; he lives here), the president of the University of Washington, and more.
More visitors: In the last month, nearly 6,000 frontpage views for this Update have been recorded. Wow - thanks for checking in!
Around town:
In the last week I got to meet Amanda from the drug store's kid (a month old Friday), and heard Allison Posenjak's kid's doing great, too. Good moms with good kids.

Huge crowd at the Whale Museum's 25th anniversary party on Friday night. Former directors Howie Rosenfeld & Susan Vernon were in attendance, as well as present director Rich Osbourne, who noted his girl Megan wasn't born when he was working at the Museum as it started, and she's in her second year of college now. A generation passes to the next one.... There were also authors, volunteers, present staff, board members there...people who have helped shape the Museum, and who have been touched by it.

You know Danielle down at the grocery store? She tells me she's taking off for Tacoma in a few weeks to go to school there. I think she has a trip to Romania planned sometime before school starts as well.
Quote: "To the dull mind nature is leaden. To the illumined mind, the whole world burns and sparkles with light." - Ralph Waldo Emerson

Other quote: I've always thought this little bit describes the perfect way to wake up & meet each day - see what you think:
"I bind unto myself today, the virtues of the starlit heaven, the glorious sun's life giving ray, the whiteness of the moon at even, the flashing of the lightning free, the whirling wind's tempestuous shocks, the stable earth, the deep salt sea, around the old eternal rocks." - St. Patrick's Breastplate, Hymn 370 in the Episcopal Church's 1982 Hymnal

Photos & lots of them: Were you in the parade? Here, check.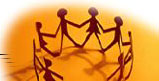 July 16, 2004
No hate, dude: One of the great things about living here is that there are seasons & there are seasons. You can tell them apart - when it's summer, it's beautiful outside most of the time, and people are at the beach and on the water and it's great. When it's winter, it's usually a good time to settle in inside and read or get the things done that are left from the summer.
Similarly, there are a lot of folks who come to visit during the summer, lots. We schedule extra ferries, we keep our restaurants and shops open more, we sell more coffee...just like you'd expect. It's different in the winter - things are pretty slow and quiet, and that's OK, too. It's why we're here.
Someone yesterday (from off-island) said something to me about our "love-hate" relationship with our visitors. I'm not sure whom he had been talking to, but I don't have much time for the "hate" part, even if it's a side remark or joke. Sure, we work harder during the summer - so do you, when you have guests over - but it sure ain't hate, or disdain, or anything like that. We're happy to have folks come visit - let's get that straight.
Now get outside and play.
This weekend: Hey, what are YOU doing this weekend? Two deals you might put on the calendar: 2004 Summer Arts Festival, tomorrow from 10 a.m. to 5 p.m. in Friday Harbor. In case you didn't notice, we're starting to get something of a reputation for being both an artists' community and a place to find good art. This event spotlights art, music, food, and includes activities for kids at the Children's Creative Center, as well as Island Rec's free sidewalk art contest they call Chalk It Up. I'll be singing there around one - hope to see you there!
Meanwhile, tonight at the Whale Museum is an Open House to celebrate their 25th anniversary from 7:30pm on...drop by and cheer them on! Free refreshments & memories...even if you're new to the community, come by & find out what they've been up to!
Two weekends from now: It's also the 25th anniversary of the Library's Book Sale on the 30th & 31st, at the elementary school. Mark it down & don't miss it!
That's the same weekend Island Stage Left gets going with Shakespeare's Much Ado About Nothing out on Wold Road for a three week run. All shows are free, and, speaking as one who wouldn't miss a summer with these guys, all shows are wonderful. They do a super job - you don't want to miss them. Showtimes and all that are on their website.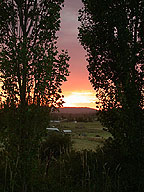 Quote: "To be whole. To be complete. Wildness reminds us what it means to be human, what we are connected to rather than what we are separate from." - Congressional testimony of nature writer Terry Tempest Williams, 1995
July 15, 2004
The sun also rises: You saw last nght's sunset, right?
It was great, right before the rain....I took this shot about an hour before the rain, looking out over San Juan Valley. Click on it to see the big version - it's even better, just before everything got wet!
July 14, 2004
Music on the Lawn: Get out there! The next five weeks at the Historical Museum it's the annual Music on the Lawn series, every Wednesday from 6:30-8:30pm. Go once, and it'll become one of your favorite things to do each week. Tonight, the solar Siblings are playing...check it out! Hope to see you there. It makes for a terrific family outing!
Sponsored by Island Rec!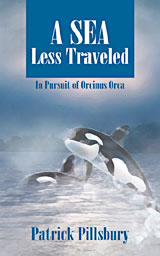 Twin books from different authors: Patrick Pillsbury's new book, "The Sea Less Traveled," is now available online (order yours here). The Bon Accord captain has prepared a book about what he's learned from his time on the water. Here are a couple of recommendations:
"A Sea Less Traveled—a voyage of one man's reawakening to a sense of wonder. An honest search for reconciliation between the desire to pursue others' happiness through the pursuit of the Orcas and the knowledge that the pursuit may be threatening the whales, their home, and everything that makes the San Juan Islands a special place of magic."
—Kari Koski, Soundwatch, The Whale Museum

"Join Patrick and the Bon Accord on this introspective journey through the San Juan Islands and ponder the questions that arise while cruising through this urban wilderness. Patrick explores the inter-connectedness of all things in Northwest Island life—from the forests that provided the planks for the Bon Accord, to the salmon that nourished those forests and the future of the salmon runs that nourish the Orcas—leading us to the hard questions about the impacts of an ever-increasing and consumptive human population on the land, waters, and whales we love so dearly. An honest, sincere look at the issues and threats our islands and whales face each day, and the importance of education about the fragility of this entire ecosystem if we want to preserve it for future generations."
—Susan Berta, Orca Network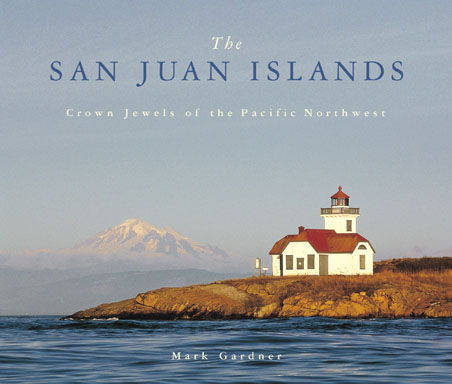 Meanwhile, Mark Gardner is re-issuing his book, "The San Juan Islands: Crown Jewels of the Pacific Northwest." Formerly published by Sasquatch Press, this wonderful collection of Mark's photos is something anyone who loves the islands will want around the house. Click on his website to see a slideshow of some his pictures, and you'll get the idea - he does great work.

The sounds of the whales: Whoa - this is great. Have you heard a whale sing? Here's your chance without having to get wet. You can here them churring, clicking, brutzing - you'll love it. Go here.

Quote: "The Constitution only gives people the right to pursue happiness. You have to catch it yourself." - Ben Franklin
July 12, 2004
Cooling and warming: After a pleasant, somewhat cool weekend, it looks like temperatures will probably head into the 70s this week. It must really be hot on the mainland: When I was downtown, I kept hearing visitors say it was nice that it was so cool here.
Speaking of cool: The long-awaited bathrooms on Sunshine Alley opened this weekend...all right! It's pretty important, I think, if we're gonna get better & better at promoting the island, and getting 400,000 people to come each summer, that we get better & better at taking care of our visitors. Good first step.
Open, now: Did you see Discovery Sea Kayak has opened its retail spot up on Spring Street in the old Second Act place, across from the Presbyterian Church? Drop by and tell Alan hi!
Meeting the needs: You gotta get in on this - it's a way you can really help the community. Here's the note from FHHS's Larry Wight:
The San Juan Island Community Council has completed its 2004 Needs Assessment for San Juan Island. The report is available for download on the web as a Microsoft Word document here. If you would prefer an Adobe Acrobat version, please browse here. Please contact Larry Wight (lwight@sjisd.wednet.edu) if you would like a paper copy of this report.

The Community Council is soliciting proposals from the community to address community needs. The 2004 Needs Assessment report contains, as an appendix, the Community Council's Request for Proposals. This Request for Proposals can be separately downloaded from here. Could you also forward this information on to any individuals or organizations that could benefit from funding by our Community Gates Grant?

The report confirms what many citizens already suspected: that crucial needs for our Island include substance abuse, affordable housing, our local economy, and services for families in need. The report, however, will also present some surprises to many citizens and leaders. The need for "safe" houses for victims of crime is clearly articulated, as is the need for improved land use planning and alternative educational programs. Other important needs presented by the experts include our water supply, sex education, parenting classes, and after school activities.

Most important, in the view of your Council, is the overwhelming call by the experts for increased collaboration between individuals and organizations. From both the private and public sectors, there was a feeling that "turf" is competing with progress and that we need to put aside personal or organizational egos and work for the larger goals. In addition, the experts frequently observed that we all need to increase citizen awareness and participation.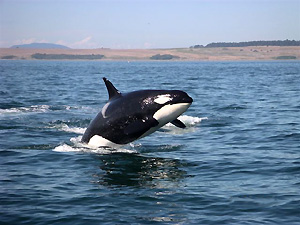 July 9, 2004
Missing whales show up late: Hey, we were worried about you guys.
The orca whales that make up our resident pods here usually come along in late May or early June, so it's been a surprise that our friends from K-pod have been somewhat tardy dropping by. But, as Tom from Deer Harbor Charters reports in his Notes from the Field, it looks like they've arrived:

8 July 2004: K pod is back!! They are travelling south on the east side of Orcas as I write this with J pod. This morning they were spotted passing the Fraser River off Vancouver. A few miles ahead was J pod. The J's turned around and headed north to meet up with the K's and now both are together.

We also had some L pod whales (L12's) on the southwest side of San Juan this afternoon in a flat glassy sea. We might see a superpod tomorrow if J, K and L stay around. Very nice!! At the very least it will be nice to finally see K pod after their long absence, back to the islands.

Editor's note: By the way, a superpod is what we call it when all three pods get together for celebration, eating, and mating. Pretty amazing if you ever see one.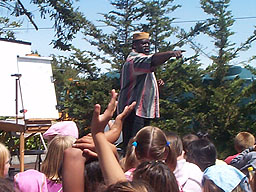 Egg makes it: About a month ago, the Cub & Boy Scouts had a jamboree at the Fairgrounds with a lot of cool scout-type stuff going on.
One of the more interesting contests was this deal where the kids had an egg wrapped up and dropped from the cherry-picker at right (photo by By Design's Mary Kate). The trick is to figure out a way to protect the egg so it'll survive the fall, which the egg shown in the picture did! That one was prepped by Taylor Hammel. Way to go!
Summer reading rocks: Tell me there's more important things going on. Then let me tell you about something that really matters, sports fan.
At a time when national surveys indicate reading among kids is at an all-time low (read this report), our great local library is doing its part with the kids' summer reading program. Heidi from the library files this report about Laura Tretter's program:
This last Wednesday, storyteller/illustrator Gregg Davis (above) entertained us with his stories and drawings with help from the audience. Most of the kids were able to participate by helping Gregg draw the stories he shared with the kids. Today's performer got everyone involved in the performance. Also, before the performance, Laura announced the winning bookmark entries.

Winners who were present autographed a copy of their bookmark and gave it to Gregg Davis.And here is the rest of the schedule for the summer reading program events in case you are interested:

Wednesday, July 14th -Come see the Magic Joe Show! Joe will amaze us with his tricks and if you are lucky, you may even learn how a trick is done.

Wednesday, July 21st - Magic Charlie and his basketball wizardry. Be entertained by such amazing feats as Charlie spinning four basketballs at once. Be inspired by his message about the magic of reading.

Wednesday, July 28th -Son of the Reptile Man Isaac Peterson will teach us about different reptiles such as snakes, alligators, and iguanas!

Wednesday, August 4th -The final show will be Sizzling Science with Ed Sobey from the Northwest Invention Center. Come see a cement block broken on top of your librarian who is lying on a bed of nails . . .

And if you meet your reading goal, you will receive an invitation to theFinisher's Party on Friday, August 6th at the San Juan Historical Museum. We will honor all who have met their goal, present special awards, and provide entertainment. Just bring lunch, a blanket to sit on, and come ready to have fun. For more information about this special party, see your program guide.

Thanks for the support.

Heidi
Quotes: "Treat the Earth well. It was not given to you by your parents. It was loaned to you by your children." - Kenyan Proverb

"A thing is right when it tends to preserve the integrity, stability and beauty of the biotic community. It is wrong when it tends otherwise." - Aldo Leopold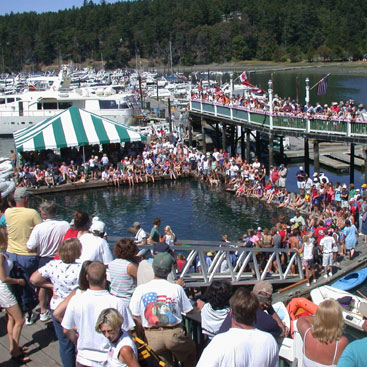 July 5, 2004
Photos of the log rolling contest at Roche Harbor/Fourth of July Celebration
Photos of people in and around the parade in Friday Harbor/Fourth of July
The Fourth rocks: You couldn't have asked for a better Fourth - there were things going on everywhere you looked, with sunny skies all day long.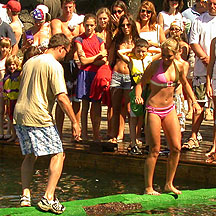 To help you remember all that, here are some photos from the parade in Friday Harbor and some shots from the log rolling contest at Roche Harbor. The odds are good you'll see someone you know! Including...
Shameless name-dropping: These people include Chelsea Knowles, Margaret Nash, the Price family, Kim Wargo, Ralph Hahn, Ray Bigler, Kevin Ranker, Pat O'Day, Mike Cohen, Carolyn Haugen, Denice & the twins, Dwight & Sarah Ware, Cynthia Elliot & the drummers, Bruce Robinson, Louis Paul, Johannes Paul, Sammy Michael, Tal Sturdivant & the Code Pink guys, Chinmayo, Jenni Mason, Bridget from Friday Harbor Suites in nothin' but a hula dress, Craig Staude, Isaac Taylor, Peter Duggins, Lizzy & Charlotte, Cheyenne & Susan on the fire truck, Mollie Heath, Teresa DeGraaf, Brian Calvert & Sasha, Heather Hankin, Lyndsay Buckingham & Gretchen, and more.
This is approximately 4% of the folks in the photos. If you're not mentioned, it doesn't mean I don't love ya - this is just a sampling of the crowd you hang with.
More about the parade: The parade was Grand Marshalled by one of the island's leading citizens, Andrew V. McLaglen, the director (Here's an impressive list of his movies).
Sure was nice to see Mary Keith & all the Presbyterians out in front of the church, watching the parade for the Fourth. They just lined up a bunch of chairs & had a pretty good review stand right there. Pat O'Day (the famous radio guy from Seattle who now sells real estate here) handled the announcing chores at the church, while Doug Bison - bless his heart, now that it works - handled the announcing downtown.
Meanwhile, out at Roche Harbor there was a dayful of things going on (heck, a weekend-full), which included the log-rolling shown above, with lots of people falling in the water & having a great time.
Then there were the fireworks, and we all went to bed. Ahhhh.
The holiday continues, kinda: This is one of those weird weekends where it's not clear whether today is a holiday, too...of course the post office & banks are closed, but you had to go to work, right?

Ferry crowded: They paved Paradise, and put up a parking lot.
It wasn't just crowded on Sunday, as people tried to leave the island - Monday was jammed.
This meant that the regular ferry parking lot was full by 8:30am, and the one across from Roy's was full, as was the one behind MiCasita's. This year the WSF (that's the state ferries system) started using Court Street (left) for overflow, as you can see in this photo sho by ace Update photog Cameron this morning. That's the little street between the Courthouse and the Rock Island offices.
News: Of course, wandering around on the Fourth lets you see a lot of people, who all tell you stories. To wit:
Carolyn Haugen tells me she is enjoying her "retirement" which, for her, means she'll take over as the part-time superintendent of the Shaw Island School District this fall. She has daugher Krissy and son-in-law Craig Miles around for a chunk of the summer, too.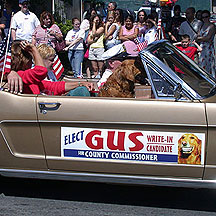 Besides the usual suspects, there were some new faces in the Commissioner's race - you could tell because they rode in the parade. Daniel Miller's running as a Republican, while Gus the Dog is running as a write-in candidate (he was unavailable for comment after the parade. Woof.) I thought it was kind of quiet as the candidates rode by - a few scattered cheers from the crowd - but I think that was because the people were thinking about all their choices.
Including Gus, I think there's something like eight candidates, with three weeks to go till the filing deadline. So, there could be more.
I know of at least two other people who SAY they're gonna run, but I'm not gonna tell you now because I don't want to embarrass them.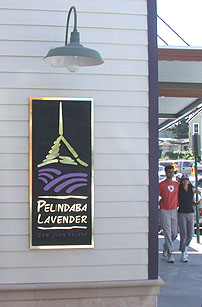 Meanwhile, Ben White is running for the Green Party - he'll have a rally Wednesday, July 7, at noon in Friday Harbor in Sunken Park, just above the main ferry parking area. At this rally Ben will speak, lemonade will be served, and everyone can bring their lunch and participate.

Did you know yesterday was Nate & Elisa Howard's anniversary?
Juniper Maas' guesthouse (Juniper Lane Guest House!) opened this summer and is off to a great start - a nice place to stay this summer when you visit or have friends come to see you.
Heeeeeeere's Johnny! Heard Johnny Carson was in town - brought his yacht to Roche for the holiday.
The building is now open! The Friday Harbor Center held their grand opening on Saturday, just in time for a zillion people to check it out for the weekend. The Windermere folks have moved in (you saw the Yarn Shop that took their place in their downtown Spring Street spot), the Thai Kitchen's second spot is open for biz, and Pelindaba Lavender has opened their downtown retail store & tearoom, which is pretty cool if you haven't seen it yet.
Meanwhile, San Juan Florist is back near their old spot, where they were when the building burned a little over two years ago, as the circles continue to go 'round.
July 2, 2004
The Fourth is just around the corner: There is a ton of Fourth of July stuff to do here on the island, whether you're at Roche Harbor for the dinghy-balloon contest, music, or fireworks, or the events happening in Friday Harbor, which include our parade, picnic, and dance & fireworks...it's a good time to get together with friends, family, and each other.
The San Juan Islander has all the events & times in one place on one page - check it out.
I just got a note from Debbie Pigman, Executive Director of the SJI Chamber of Commerce. She asked me to tell you: "The time of the 4th of July Parade in Friday Harbor was incorrectly reported in the Journal as starting at 11:00am. The correct time is 10:30am. Please help communicate this by telling your employees and friends, so that they, in turn, can tell customers and friends! Thank you!"
See you there!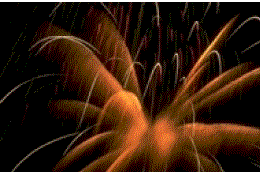 Notes from my corner of the world: Three things you might find interesting: My business, By Design, celebrates its tenth anniversary this month in Friday Harbor. We got going as a graphic arts & design biz back on July 1, 1994, morphed into a webpage outfit as the Internet rose, and now continue to grow with websites, audio online, online stores, website hosting, news reporting, tourist & local information source, and more. Thanks for the first ten!
Second: I'm singing a three hour gig at Roche tomorrow from 2-5pm. Special guest: My son Cam on bass for a few songs. Other special guest: You, I hope. Drop by!
Third: The Lasik procedure went well...I can see without glasses now for the first time since I was four. Pretty cool. Thanks to all of you who wrote & hoped for the best - I know your good thoughts & wishes are a big part of it all going well. It's cool to be able to see!
June 28, 2004
Eat out, early & often: Wow...if you haven't been by the Peppermill Seafood & Steakhouse yet, go check it out. Charles and Kelly have done a super job of creating a pleasant place to eat with wonderful food, with a full lounge as well. That's the lounge to the right...check out their new website to see what's for dinner tonight. Then go eat.
Clearing that up: This week I'll be updating the Update later in the week because I'm going off-island to do the Lasik surgery you've heard about on my eyes, hoping to make my vision a little sharper. When I get back I hope to see you! More on that soon.
Remember? You may remember back in 2000 when runner Lori Clark came to visit the island and won the Journal Run that year. Last week she ran the 2004 North Olympic Discovery Marathon down near Port Angeles & won the thing with a great 3:16. She's married to a fellow named Mike so her last name is Buratto now...watch for the headlines.
Grand opening! The new building is holding its grand opening celebration on the third - you can see everybody's nearly moved in already if you go by this week.
From noon to six next Saturday there will be an Open House with a lot of food & music. You can visit the new tenents, too: Arctic Raven, BC&J Architects, Golden Triangle (related to the Thai Kitchen), Island Fire Arts, the Mystical Mermaid, Osito's Pelindaba, San Juan Florist, and Windermere.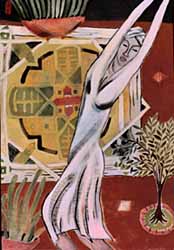 waterworks in july: One of my favorite galleries around here is Ruth's waterworks gallery. She just wrote to tell me & you about next month's show:
July 3 thru July 28: Cathy Schoenberg and Janis Miltenberger

waterworks gallery July show opens with the bright, sensual, metaphorical ink acrylic paintings of Cathy Schoenberg (left). Unique in perspective and imagery, colorful, fluid and mysterious we enter a world that is simultaneously intimate and inviting.

Janis Miltenberger's whimsical and witty lampworked glass sculptures are exquisitely crafted, subtly seductive, organic, and a delight to the imagination. On Sunday, July 4 the gallery is open 11.00 to 4.00

Gallery hours are Monday thru Saturday 10.30 thru 5.30


June 24, 2004
More commissioner runners: Wendy Stephens has announced she'll be seeking the Democratic nomination for the Board of County Commissioners' spot for San Juan Island... Ron Zee tells me she mentioned this at a meetup last night at Skagit Valley College-San Juan. Meanwhile, Ben White and Tom Munsey will vie for the Green Party nod this weekend at their convention at the Library.
These candidates join the already announced runners: Republicans Ray Bigler and Ralph Hahn, independent Tom Fenley, and Democrat Kevin Ranker. You'll probably get a good chance to shake hands with 'em on the Fourth, as that's pretty traditional around here.
In other political news: Looks like the Demos have landed the old Spring Tree Restaurant (right across from from Wells Fargo, next to the old Browne's Lumber spot & the old Osito's spot) as headquarters for the coming campaign season.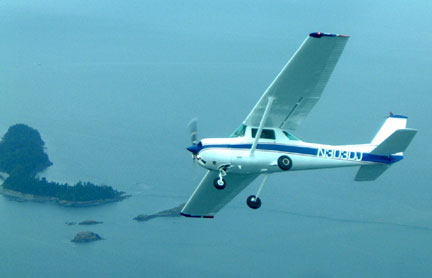 June 24, 2004
In the skies over Sucia: Dan DeShon teaches people how to fly, operating out of Friday Harbor. Check out his webpage and this photo of him flying over Sucia Island, north of Orcas Island. Wow.
The adventures of Luna: The Department of Fisheries & Oceans is still trying to sort out the best course for Luna, the orca who has been living alone off north Vancouver Island.
They'd like to capture him and try to re-integrate him with his pod down here, but the Native people up there don't think that's the right course. It's not certain the people-friendly whale even wants to be re-united with his pod, but orcas are such incredibly social animals it seems like it would work.
An outfit called the Luna Stewardship is posting daily reports about the day-by-day project here. It'll be more up to date than whatever I tell you.
Meanwhile, speaking of reports, Ivan & Jackie at Western Prince have been posting regular near-daily report of their whale-watching trips this season on their site here. It's a good resource for those of us that wonder how the whales are doing & what they're up to.
Tri, tri, tri again: The Triathalon was cool. The San Juan Islander posted the results: look for your friends there.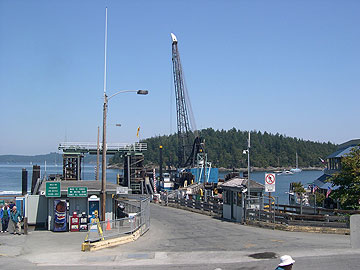 The ferry dock gets a re-working: You can see the construction at the ferry dock two ways - in near real time on the Island Cam site, sponsored by our friends at Kenmore Air, or by looking at the cool photo sent by Tim Dustrude at left. They're tidying up the second dock....
Look at us: Speaking of carmeras, you can see what it's like at Roche Harbor here, with THEIR cam of the marina.
June 19, 2004
Longest day: Well, it not only is the longest day this weekend, with solstice happening, but it FEELS like the longest - it's HOT. The clouds rolled in for a bit Friday afternoon to cool things off, but it's downright warm. Like summer in the rest of the country.
Happy Solstice to you!
Notes around the island: Nicky Rigg is coming back soon from her year teaching in China; Rachel who works at Warehouse Coffee is over there now. Meanwhile, Amber Peterman is studying for a month in India, while one of our favorite actresses & loan officers, Tracy James, is packing up to move to France next month.
Also on the move: Ev Tuller has sold her place and has plans to move to Seattle in August...she's been a big part of things here for so many years - her weaving, her classes, her B&B (Moon & Sixpence), her work with St. David's Church. She'll be missed...

The bed & breakfast that was the longest continuously owned on the island: Argyle House, begun in 1985. This week the sale was closed, and Bill & Chris Carli sold their place to Carlos and Tammra, who purchased Inn to the woods from Christine & David Taylor earlier this year. Bill tells me they have some sailing planned; Chris noted it'll be the first summer in a long time they weren't working at the B&B. Congrats to all....
Wild animals: The deer in the picture were spotted on Argyle Street at 5:45am yesterday morning. As you can see, they're at the Fairgrounds entrance, looking for new gardens to eat. Probably yours.
Skagit Valley College: Classes start next week....

June 17, 2004
Meanwhile, on the radio: Yep, that's Friday Harbor on the radio - Dave Walker (right) & Scotty VanDryver (left) from KAFE 104.3 FM are broadcasting this morning from the Crabhouse right across from the ferry for the station's Dave & Shari show.
Dave went on the air at 5:30am this morning, just in time for the sunrise coming over Brown Island across the harbor, as you can see.
The whole thing was set up by Paul at San Juan Airlines, who, as far as I can tell, does not sleep.
Friday Harbor Suites - new owners: Mikki over at the Suites tells me the Suites have new owners, as of last Friday. The former owners, the Adelman family, sold the Inn at Friday Harbor (now the Friday Harbor Inn) last December.
Today's quote: "If a child is to keep alive his inborn sense of wonder.... he needs the companionship of at least one adult who can share it, rediscovering with him the joy, excitement and mystery of the world we live in." - from Rachel Carson's The Sense of Wonder (In Celebration of Rachel Carson's Birthday

June 16, 2004
John to leave: I just heard that John and Peg MacDougall are packing up the family to move to Bend, Oregon next month. This leaves several holes in the community: John will have to resign from the school board, the soccer team will be missing Ian's steady goalkeeping, all the groups Peg has quietly helped around the island will have to find another great volunteer. They willbe much missed - they've given so much to the community.
Ferry space kinda short: The WSF just sent me this note about the impact of having the Kaleetan get fixed:
Beginning Wednesday, June 16th, the 100-car MV Sealth will replace the 160-car MV Kaleetan. The Kaleetan will be going into a shipyard for a generator replacement for approximately 4 days.

KISM was here: The guys from 92.9 FM were here yesterday morning. Although they're Bellingham-based, my guess is that they're one of the most listened-to stations here (besides The Village at 900AM).
Proof? The other day John Lennon's "Instant Karma" was on while I was driving in town, and you could see all these people singing along, "And we all shine on...." through their windows when you wave. Dialed in....pretty cool.
How do I know people listen to the Village? 'Cause they tell me when they hear my songs on there. Minor celebrity, that would be me.
Rainbow: Remember a couple of Saturdays ago, after it rained & there was that great double rainbow? This is the right side of it, dropping in over Cape San Juan, as you look south from Griffin Bay. Photo prepared by Shay Byington, ace photographer.
The President speaks on the environment: ""The civilized people of today look back with horror at their medieval ancestors who wontonly destroyed great works of art or sat slothfully by while they destroyed. We have passed this stage... Here in the U.S. we turn our rivers and streams into sewers and dumping grounds, we pollute the air, we destroy our forests and exterminate fishes, birds and mammals - not to speak of vulgarizing charming landscapes with hideous advertisements. But at best it looks as if our people were awakening." - Theodore Roosevelt, "Outlook" June 25, 1913.