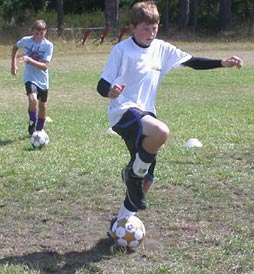 August 27, 2004
Sports get going on the island: Even with all the rain - over three inches this week - fall sports got started this week. All the high school sports are getting ready for games in a couple of weeks, while the football Tigers (middle school & below) have games tomorrow at the elementary field.
All week the British Soccer Camp (sponsored by Island Rec) has been firing up the younger-than-high school players at the elementary school. Here are some pictures taken in the sun on Monday before the heavens opened...see who you know in there. That's Cody to the left, with Peter right behind. Their mostly-eighth-grade U-14 team starts practice on Monday.
Candidate forum: The forums were held this week on the different islands so folks could get a look at the different candidates...the forums basically allow the people running to give statements, since it's not set up in a debate format. Most of the candidates have websites so you can get an in-depth look at what they're about. Do that.
It's nearly time for the election - even though the primary date is Sept. 14th, the absentee ballots go out next week to more than half the county. Do your homework & get ready.
Missing Frank: It was neat that the EMT center on Spring Street honored Frank Wilson this spring by naming the building for him. Frank's crediting with getting the island's first class EMT going back in the late '70s & early '80s. He was a great one...condolences to Janet and to us all, as he passed away earlier this week. He'll be much missed.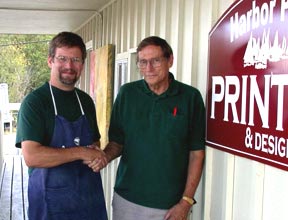 Senator at the Fair: It was cool to run into US Senator Maria Cantwell at the Fair last week...she was personable, easy to talk to, and blended in with the crowd well. Nice to have her here...
New pilot for Harbor Press: After years of delivering high quality press work to countless organizations on the island, Chris Combs (left) has sold Harbor Press to Dennis Smith of Everett, who has brings decades of printing experience to the business as he moves to San Juan.
Chris and his wife Leslie bought Harbor Press back in '99 from the Journal after working there for the three previous years with Ralph Smith, who is no known relation to Dennis. Chris starts work next week with a firm on Shaw Island.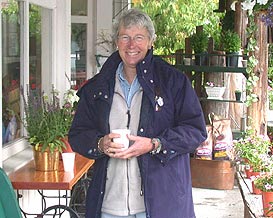 Shaw in good hands: As it happened, I went to Shaw this week to check in on some work with the school district, and ran into a familiar face: Carolyn Haugan just retired this June from our elementary school, and was chosen to serve as the superintendent - a part-time position, so she's still sorta retired. The little district has two classrooms with two teachers and 17 kids in grades K-8 this fall. That's here at the ferry landing on Shaw, in front of the store.
Global warming...yep: I mentioned back in 1999 that presidentail candidate Bush went on record as saying he didn't believe there was sufficient evidence to support the idea that global warming was happening. Looks like he's coming around.
And yes, this is local news...we HAVE to begin the process of adapting to the climate changes ahead, or we're going to be in a bad way. This island, this state, this country, this world....it's time for us to get our heads out of the sand on this one.
Quote: "If we would learn what the human race really is at bottom, we need only observe it in election times." - Mark Twain
August 23, 2004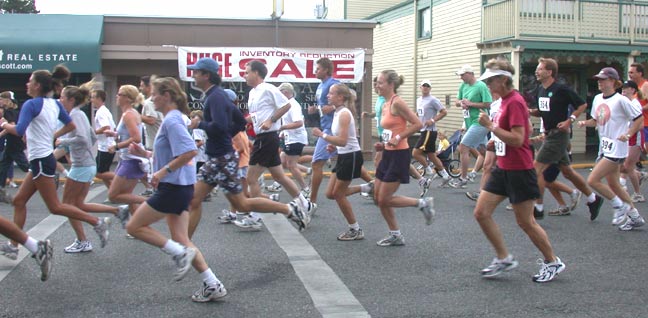 All's Fair: One of the interesting things about living here on the island is that we all have to make a living in a relatively short season, especially people in the hospitality biz...only 3-5 months of summer, with a concentration of effort in July & August, which is when great crowds of visitors come.
Well, it's even more focused for the Fair, with only four days to do THEIR business, so it was really something to have it start raining around 11:30 on Saturday, and keep pouring for much of the afternoon. However, there were still a lot of people who came anyway (after all, we DO live here...it's not a surprise when it rains) and even more in the evening to eat & hear music.
It was heartening to see so many folks.
Photos from the Race & the Fair: I didn't get as many photos this year, partly because of other commitments, partly because of the rain, partly because of dead camera batteries. But I did get some (with the help of Shay & Cameron)... Here's a mixture of the 8.8 K Loop Run and various scenes from the week.
People you see in the pictures include Tony from the bank and his daughter Kate, Marilyn & Kevin O'Connor, Teresa DeGraaf, Eric Nash and Max & Binney, Steve Dubail, Steve Garfield, Dylan visiting from Bellingham, Belinda, Eric Wells, Britt from the Lavendar store, Liz & Janna, Sandy Baxter, Wendy Shepard, Lee Sturdivant, David Bayley, the Lehman family, Louis Paul, Clinton Gautier, Mike Adams on bass, Laura Chorba, Tom Doenges, Gary Roberts, Madison in the race, Shay Byington, John Pachuta & Jessie, Boo Boo, Jen Fleming, with Kim right behind, Sally Kerr, Lucas Franco, Cady Seiler, Eric Rothlisberger, Renee Polda, and Tami Doenges. And more.
That's the short list.
Speaking of the run, over 160+ runners ran Saturday morning under grey skies... here's the results - you'll see a lot of familiar names on there, so check and see who you know!

They're out there: The photo set above was sent to me by Ivan from the Western Prince late last week, when it was nice out...he tells me he got a new camera. Looks like it shoots pretty well. Or pretty whale.
August 20, 2004
Through a glass darkly: If you were in town, you could hear the foghorns and it's good you could hear, 'cause you sure couldn't see anything. I took a walk on the dock to see how it looked from there, and you can get a pretty good idea how grey it was in the picture to the left, taken around 7:30am or so.
I just spoke to my friend Lillan who is over in the middle of the island and she says it's beautiful over there, so it's breaking up already.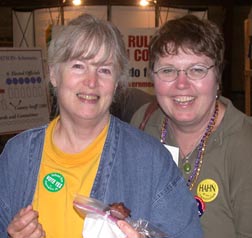 The Fair continues: The last couple of the days at the San Juan County Fair have had that usual gathering-of-the-clan feeling...it's always good to see who's in town, who's about to leave, and what people have been up to. The music has been fun - last night's Local Harvest Band was a blast with several hundred people hanging in there for a two and half hour set of local folks, led by Tom Doenges.
It was fun seeing all the babies - Mark & Jen Fleming's twins are huge! Leisha & Garrett's Kate is still smiling after a month, and there are bunches more.
It was fun to see the smile on Sam Asher's face after his bunny won a ribbon, and if you don't do ANYTHING else, be sure and see Robin Atkins' wall of photos from all over the islands inside the Fairgrounds Building...amazing stuff.
Sandy Baxter's visiting from the Midwest (that's her on the rights with Wendy Shepard), while Eva Wingren dropped by before taking off for college in Arizona yesterday. Tori Williams was there, and tells me her Artist Community page is doing pretty well.
I'm hoping to get over to the Fair today to take some pictures for you...mostly I've been busy visiting people at the fairgrounds instead of taking pix. Check back tomorrow. After the fog breaks.
The Animal Shelter checks in with a picture of charismatic metafauna: There are a good group of adoptable dogs & cats at our local Shelter. Leslie at the Shelter has a cat called Bobby Two Shoes to adopt, and she sent me this write up and photo: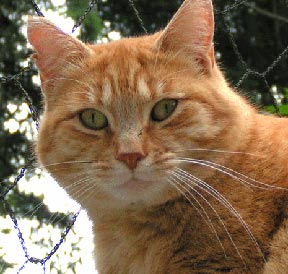 HERE IS A CAT FOR YOU TO PUT ON THE WEB SITE.
HER NAME IS BOBBY TWO SHOES. SHE WAS A STRAY THAT WAS FOUND BY LIMEKILN. SHE CAME TO US PREGNANT AND HAD 6 BEAUTIFUL ORANGE TABBY KITTENS. SHE IS ABOUT 5 YEARS OLD. SHE IS PETTABLE, BUT A LITTLE SHY. SHE WOULD MAKE A WONDERFUL PET IN A QUIET HOME WITH NO DOGS.

Quote: "The heart is a resilient little muscle." ~ Woody Allen
August 17, 2004
It all starts tomorrow: The Fair starts tomorrow at 10, with music, food, and all of us getting together for a few days. See you there!
Did you want to see several hundred photos of us all at last year's Fair? Click here to remember.
Rumble, rumble: Yep, that was thunder this morning right before seven - you could hear it all over the east side of the island. There's probably some rain today - you can hear all the gardens going, "Ahhhh."
I checked. It wasn't an earthquake.
Island Rec makes it clear: Probably THE issue in the upcoming Island Rec levy is this: What direction does Island Rec intend to go with regard to the gravel pit development? You'll remember the levy to begin development of the pit was soundly rejected last fall by voters.
Well, as far as I can tell, the Island Rec board got the message. The present levy is simply about maintaining what we have. That's it. The board explains that in a guest editorial on the San Juan Islander.
We get a lot for a little with this levy. Read the editorial if you have doubts, and please support it. I know I'm going to.
What to do with kids that drink, and their friends: Surveys have indicated this county has some of the highest teenage/underage drinking in the state. This Illinois town has begun an interesting, and controversial, approach: They cite not only underage drinkers, but also the other underage people at the party.
Hurricane: Mike Tranfro and his family just got back from Florida, where they were during Charley last week, He said the destruction was incredible....
With all the discussion about the damage in Florida, it's easy to overlook the other islands hit by the storm, including Cuba, where three people died.
Quote: Today's is a poem:
It's the dream we carry
that something wondrous will happen
that it must happen -
time will open
hearts will open
doors will open
mountains will open
spring will will gush forth from the ground
that the dream itself will open
that one morning we'll quietly drift
into a harbor we didn't know was there

Olav Hauge
Hitched: Over the weekend, Allison Pemberton married her friend Chris from Spokane with a mob of friends in attendance at Lakedale. She just graduated from Whitworth and they plan to settle in San Diego. Meanwhile, over at the Yacht Club, Susan Lemke and Jim McAdam brought their friends together for their wedding, with dancing that went on, into the night with brother Steve's band playing.
And a good time was had by all.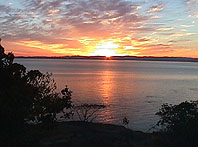 August 14, 2004
Surrounded: Overheard down near the harbor: A visitor to the island asked someone who worked there: "Nice harbor. Does the water go all the way around the island?"
My friend down there assured him it did.
We're good at answering those trick questions.
Soroptomist officers, announced: You know, I got a nice e-mail from Sally Kerr and Becki Day back in June when the Soroptomists installed their new officers, and some nice photos from Bette who was there...well, my scanner's on the fritz so I can't show you the pix till I get it fixed, but I can tell you who got elected & is now in charge. Here goes:
Judy Cornell President
Bette Cantrell VP
Judie Ross membership
Phyllis Davis Treasurer
Ellen Roberts Recording Secretary
Becky Day Corresponding Secretary
Bev Davia Director
Robin Jacobson Director
Vicky Thalacker Past President

Thanks!

Odd website of the day: I KNOW I haven't mentioned Britney Spears in this space since I mentioned that one of my eleven-year-old fans has a tape with me singing on one side and Britney on the other, so you've been wondering what's she's up to.
I was looking up something about semi-conductors the other day and found the Britney Spears Guide to Semiconductor Physics. Explains a lot.
Katie's here: Ran into Leisha Holmes at the bowling alley this afternoon - she had four-week-old Katie with her. Both kid & mom are doing great.
Much ado about Much Ado: The boys and I went to see "Much Ado About Nothing" last week and it was, as usual, wonderful.
The Island Stage Left production wraps up this weekend beginning at 8:30pm, so be sure and catch it - you'll be seriously missing out if you do! Admission is free (donations appreciated). Dress warmly and bring a blanket.
Quote: ''What is to give light must endure burning." - Viktor Frankl
August 9, 2004
Quote: "Hey, farmer, farmer, put away that DDT/ Give me spots on my apples, and leave me the birds & the bees - please!" - Joni Mitchell.

Warm days ahead: The weather may get a bit warm, with projected 90 degree days later in the week. But that's not all...you know how some places are hot & muggy? Here. it's more like things are hot & buggy - the yellowjackets & bees are all over the place. I went to pick blackberries last week and the bees were there first, so watch for them.
Meanwhile, here's a photo of the bees hanging out on Kelly Domico's sunflower plant, which she shot with her new digital camera. Click on the photo to see the picture in all its glory.
Donut Shop rocks: Since Bill & Monica bought that Friday Harbor tradition, the Donut Shop, back in June, the little cafe has really taken off. Now smokefree with waitresses who hustle and short-order cooks who cook in short order, it's really nice to eat there.
Circumstance took me there three times for coffee & breakfast this last week, and the food was on the table within ten minutes or less each time we ordered. Way to go! And THAT explains the crowds waiting out front.
Oh, yeah...the food's good, too!
Island Rec support: The levy to keep Island Rec going is on September 14, with absentee ballots going out this month to about 60-70% of the voters on this island.
I'm here to say this is an important vote that needs your support to keep the good things Island Rec's doing going. If you have any questions about that, drop me a note...I really think we'll be poorer as a community without what we get from Island Rec. Vote yes!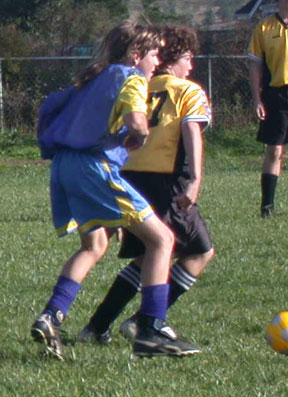 Peter & his pictures: Had a nice visit with Peter Fromm on the ferry last night as he returned from the Anacortes Arts & Crafts Fair this last weekend. Besides selling Whale Tales, he's been successfully hawking his photographs as framed pieces and as cards. As we sat on the boat talking, he was framing new pictures for the next show on Orcas next weekend, and kids and friends kept coming by to oooh & aaah his cool photos.
You can see them anytime you want at Island Studios (order them online!).
Teacher meeting: I keep running into teachers on vacation this last weekend - it was nice to get a visit in with Marty Moorhead - she and Dick have moved to Covington, and were up here working on selling their home, here. As always, she's full of energy and new ideas...I also ran into newly-retired Nan Simpson, who's gearing up to teach the Love & Logic parenting classes this fall, walking on the docks with Steve, who told me all about the renovation (see August 2, below) of the pier at the Port.
Then I saw Linda Cooper Saturday night at a potluck, who is team-teaching with Deslie English this fall (THAT is a power team). And Darrin Scheffer was on the ferry....it was good to see everybody.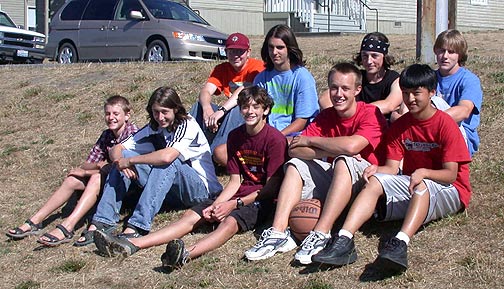 Soccer campers: At least nine Friday Harbor soccer dudes are at Camp Casey this week for the Northwest Soccer Camp with hundreds of other ball players from around the area.
That's them at camp, yesterday.
They include (top row, L-R) Clinton Gauthier, Pablo Lopez, Kevin O'Connor, Eric Nash; (bottom row) Cameron & Shay Byington, Dylan Marriner [who lives in Bellingham now], Louis Paul, and Daniel English.
Anniversary: Where were you? Born yet? Thirty years ago today President Nixon resigned. They recently found more on those tapes, which is related to what's going on today. Read here.
Singing: Did I tell you Shay & Cameron are playing drums & bass when I sing at the Fair next Wednesday at one? This is gonna be cool...come check it out. We're calling our band B3. Guess why.
Trails here: There are some good ideas about what this island could look like with walking trails...check here to see what the Trails Committee's up to.
Roche redux: Check it out - new site redesign for Roche Harbor.
Quote: Honest disagreement is often a good sign of progress.-- Mahatma Gandhi

August 4, 2004
Dee dee dee dee dee deet - you say it's your birthday: Happy birthday to all you Leos & leonine types.
Yeah, you.
Commish race set: Turned out like we thought. The filing deadline was last Friday, and there were no particular surprises, except that Tim White of the Green Party decided not to run for the Orcas seat. So it's Demo Alan & Republican John squaring off in that one in November, with no opponents in the primary next month.
Over here, it's Ralph & Ray & Dan running for the GOP spot, Wendy and Kevin going for the Dems' vote, Tom running as an Independent, and Ben for the Green Party.
That's seven, for those of you keeping score at home. You'll get to see all these folks at the Fair in a couple of weeks.
The election is September 14th, with about 60% of the county getting their absentee ballots in late August.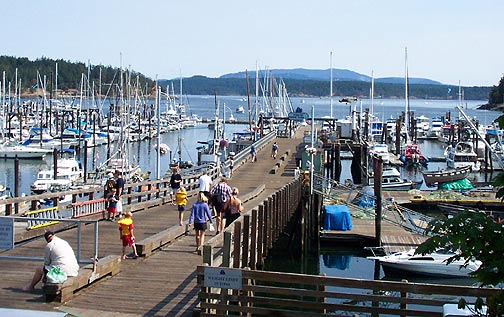 August 2, 2004
Marina re-building scheduled for a month from now: Port of Friday Harbor Director Steve Simpson says they're gearing up to re-do the main pier (see photo; click on it to see it larger) beginning the first of next month. The $350K re-building project is a huge deal, but it's due after thirty years.
Here's Steve's report:

Prepare for detours when the Main Pier rebuilding project begins September 1st. The choice of construction dates was not left to the Port. Permits from various State and Federal projects specify a very short window of time to pull and drive piling and perform work that creates disturbances for fish and protected birds.

The Pier was built in 1974 and has required little attention since then. Recently however problems with decking and deteriorating piling forced the Port to de-rate the pier from a 20 ton load to 15 tons. Some of the decking has worn from 3.5 inches to an inch and a half. Peratrovitch, Nottingham and Drage Engineering created plans and specifications and managed permitting and American Civil Construction (formerly Hurlin Marine Construction) submitted the winning bid of $349,980.

Included in this project is replacing the wooden portion of the walkway that leads to E, F, G and H floats along with the nearby supporting piling. The contract requires access be maintained to the entire marina during the time the project is underway. This will be accomplished with detours and temporary walkways. Please follow the temporary directional signs and keep clear of the construction equipment and call us if you have special needs or have questions on the project.

The 8.8K Loop Run - almost here: The race is in three weeks - have you registered? I know you're training for it - go to the Island Rec site to download the form (or drop by their office or San Juan Fitness) and get it in! See you there!
The race will start a bit later this year - 9:15am on Saturday the 21st - so folks from the other islands can make it in time.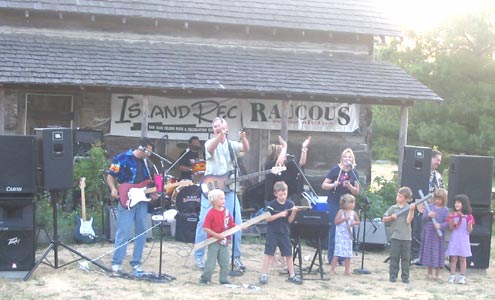 July 29, 2004
Music on the Lawn series continues: Were you there? If not, you missed a good one Wednesday night at the Historical Museum next to St. Francis Church. Island Rec's Sally Kerr reports (and sends along this photo, shot into the setting sun):
Please find the attached photo of last night's Music on the Lawn concert. 250 people or so where entertained by the band Raucous along with their band in training. These kids played the entire second set! Kate Schuman who performs at MOL next week might be a bit surprised when this entourage joins her on stage!

Kate performs on August 4th and our summer season ends August 11 with Uncle Otto. Come out and join the fun!

Sally
Mononame culture: You know, one of the cool things about living here is we know everyone by first name, and sometimes that suffices. I mean, do YOU know Madonna's, Cher's, or Donovan's last names?
So the result is you can say "Charles" and everyone knows you're talking about the guy who owns Bella Luna, Peppermill, and China Pearl, and probably is hatching a plan to start another restaurant somewhere.
Well, not this week. He and his wife Insok are expecting to deliver their baby anytime now...Way to go!
Felicity's back: Remember Felicity who ran Felicitations Bakery, who got a job (well, THE job) at the Marcus Whitman in Walla Walla...she writes that she's on her way this way. Write her if you know a place on Orcas she can stay:
Hey, Ian - I have just taken a job at Rosario Resort on Orcas Island as pastry chef. I wasn't even looking for a job since I enjoyed my current job so much but someone told me about this opening and I just couldn't help myself. I am so excited to be moving back to the islands. Things will be happening fast - I leave here in 2 weeks and begin work immediately. Still have to find a place to live with all my animals. Things will work out. I can always stay with my parents and commute to Orcas by ferry until I find something. Take care, F.

Now you know: Did you know we have a Conservation District here on the island? They work to identify where & how our natural resources are, and help figure out ways to keep 'em safe, protected, and clean.
Pretty good stuff, including a view of low-impact development and watersheds - it makes for required reading so that our children & grandchildren have a chance to see the island we once lived on.
SJICD's Lori Larkin did a super job of updating and re-organizing their website - check it out.
The Book Sale: The Friends of the Library's annual book sale is tomorrow - this monster event offers wall to wall books...go load up.If you've never gone, you'll love it. If you go every year, you get it.
And take the kids. There's something for everyone.
And blow up your TV (with a nod to John Prine.)
Passing: Tom Doenges told me his mom Mary passed away last week; Taylor Bruce lost her dad last week as well. Our sympathy to them.
Digging: This weekend out at Westcott Bay - go to Westcott Bay Sea Farms for their UPICK SPECIAL, Saturday 7/31/04.
.25 cents per oyster from the beach - bring your own boots and buckets and have a great time. Hours are: 10-5; the lowest tide is -3 at 10:17 am.

Man bites dog, dog bites man, orca bites...: There's the old journalism thing that it's not a story if dog bites man, but if man bites dog, you write it up.
Well, as you can see in this e-mail I got from the Orca Network's Howie Garrett, the Sea World view of tame orcas who just love to entertain people has a few cracks in it:

Many of you have seen the news about Kyuquat, the orca at San Antonio Sea World who attacked his trainer on Friday. This incident demonstrates one of the many, many reasons whales and dolphins should not be held in captivity, even those who are captive born such as Kyuquat.

Kyuquat was born at SeaLand Victoria in 1991, to Tillikum and Haida2. (Click here for the rest of the note...it's long & interesting.)
Quote: "A viable neighborhood is a community: and a viable community is made up of neighbors who cherish and protect what they have in common." - Wendell Berry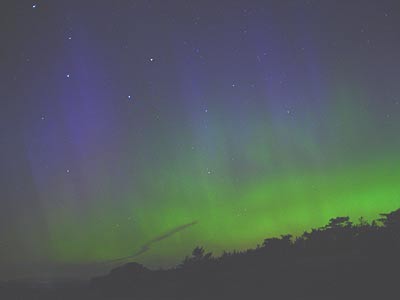 July 28, 2004
Aurora borealis from Mount Finlayson: Eli Black was home for the weekend to visit, and it was a good thing he brought his camera with him.
He and Kelly Domico were out last Saturday night and caught this quick view of the lights in the sky. Kelly described the sight for me: "Wow."
Eli lives and works in Seattle these days, doing computer stuff.
Quote: "The statesmen will invent cheap lies, putting the blame upon the nation that is attacked, and every man will be glad of those conscience-soothing falsities, and will diligently study them, and refuse to examine any refutations of them; and thus he will, by and by, convince himself that the war is just, and will thank God for the better sleep he enjoys after this process of grotesque self-deception." Mark Twain, "The Mysterious Stranger" (1910)

A rose by any other name: You may have noticed this is kind of a small place, with lots a distinctive stores & coffee places and artists and so on. However, one place we lack diversity is in names.
After I mentioned Anna Anderson's studio website earlier this week, a couple of people wrote to ask if that was Anna from FHHS (nope), Anne the famous graphic artist & webpage maker (here's one of her sites), Mary Anne Anderson, or...you get the idea.
Remember when Mike Greene's repair shop would get calls for Rock Island's Mike Greene, and there were three Dave Andersons on the island till Dave the Coach moved to Las Vegas? And of course, we have Cousin Vinny's AND Vinny's to eat at...rumors that Charles was going to name the Peppermill Restaurant "Uncle Vinny's" simply aren't true. I think.
And it's good Bella Luna is in the middle to keep people from confusing The Blue Dolphin & Vivian's Dolphin Arts clothes.
Honkers: I heard someone honk in town yesterday who was behind a car that was waiting for three people to walk across the crosswalk in front of the theater. That was weird. Then they honked again.
I'm just tellng you this so you don't think EVERYBODY who visits here (with Idaho plates in green cars - you know who you are) is laid back.
Get outside & play.
July 26, 2004
Up, up & away: It's not uncommon for students from FHHS and Spring Street School to spend a year away at some point in their high school careers, and this year is no exception.
Maryellen Foster tells me her daughter and three friends are leaving for the school year: (left to right in the picture) Bristol Whalen is going to Austria, Julianne Paulson is going to Brazil, Kylie Foster is going to Argentina (she'll be in the town of Trevelin in Patagonia), and Melissa Dubail is going to Portugal. Bristol's program is set by up the Rotary Club, while the other girls are going via the AFS (American Field Services) program.

I ran into Alina from the Thai Restaurant last week who just finished her high school in England last year, and she said it was the a great experience which opened her eyes to things that are hard to see from our little island. Good luck, girls!
Thai'd up: Speaking of the Thai Restaurant, have you been to the Golden Triangle which Avon & Sue (they own 'em both - the Thai Kitchen & The Triangle) now have open in the new building across from Coldwell Banker? I had occasion to eat there Thursday, Saturday, and Sunday for lunch, and the food is good (what did you expect?) and quick - they're set up cafeteria-style so you can get something to eat quickly and either sit in the air-conditioning or take it home. Drop by & visit - you'll be glad you did!
Pane in the glass: Whoa - have you seen Anna Anderson's glasswork? Check out her website and you'll get the idea. As you'll see, she makes her art for people's homes...see what you think.
Charter makes strides: This week there's a meeting on Thursday to help move the Home Charter along. Here's the note from Steve Brandt to people who are interested in becoming freeholders:
We have the big meeting next Thursday at the Grange, starting at 5:30. It is designed to provide information and perspective on the historic task of serving as a freeholder. The speaker, as you know, is Joe Elenbaas from Whatcom County. He will speak for 20-30 minutes. Then we will have Questions from the audience. Cathy Cavanaugh and I will moderate the meeting. Our interest, overall, is to encourage thoughtful, qualified candidates to run for this important, although temporary, office. Candidates must file with the County Election office between Aug 23 and 27.

This meeting is NOT about whether or not a home rule charter shall be drafted for San Juan County. That has already been decided by the Board of Commissioners, on June 15. The task, county wide, is now to elect 21 freeholders on Nov. 2. who can and will draft a home rule charter that the voters of the county will receive favorably. San Juan Island (District 1), will elect ten freeholders on Nov. 2.

As a matter of interest, I have spoken with three San Juan islanders who were freeholders in 1983--Warren Jones, Paul Dossett, and Louise Dustrude. They found the process extremely interesting... and a lot of work. "Great experience in civics," is the way one of them put it. Jim Ricks (EMT) was also a freeholder.

Steve Brandt

This is a fundamental change in the way our county will do government. The Charter drawn up by the freeholders will be the way we do things. Read more about it on this website, and I'll keep you up to date as I learn more about it as well.
Blue moon: You know the expression "once in a blue moon...." It means something that happens kinda rarely, because most months the full moon only happens once in a month. This month we get two full moons - back around the fourth, and this weekend. Cool.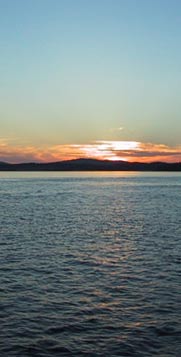 July 23, 2004
Sunset: Ivan from Western Prince sent this sunset (left) from an evening cruise about a week ago.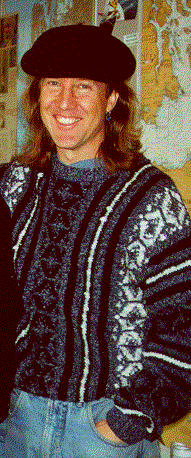 About the heat: Here's the deal - it's going to be hot this weekend. Really hot - high 80s, low 90s, maybe more. It's really nice when this happens - it makes people from Arizona buy real estate 'cause they think it's like this all the time, people buy a lot of drinks at the market & in town, people eat out 'cause it's too hot to cook at home. So, this is good for business.
The other part may be more important: Just because it's hot is not an excuse to get cranky. Reality check: The beach is only THAT far away. If you're stressed, get over to the water & relax. Breathe. And enjoy being warm for once.
Most of you know I grew up in Alabama decades ago, so I know about hot. Here's the deal: Go slower. Maybe you thought Southerners were just lazy...nope, not at all. They're SMART. When it's hot, you go slower - you got a whole day to get through. Pace yourself & keep smiling.
Changes: You know that construction work that's happening there at the ferry dock to put new pilings in? It continues...I went to say howdy to Skip at Harbor Books this morning, and man, that's loud. As with all improvements, it'll be nice to see when it's done.
I went to see Dan at San Juan Transit to ask him if he's been busy this summer, but it was so crowded I didn't get a chance to ask.
Speaking of changes, have you been down to Island Dive to see what they're doing? They're nearly done with the re-organization of the store since Mike & Dawn bought it. Go check it out - lookin' good.
Speaking of Harbor Books, Ladd (photo at right) checks in:
Dear Ian, If you can, could you tell my friends that knew me from Harbor Bookstore that I'M STILL HERE! I've just moved uphill a bit. I'm working at the Pelindaba Downtown (or "the Downtown", as we call it). Will look forward to seeing them! -- Ladd
Speaking of books, it was tough to hear that Lauren Stara's dog Jasmine died this week...Christine from the Library called to tell me, and it's pretty sad for Lauren to lose her longtime friend and for us to lose our friend who greeted us at the front of the place. Good library dogs are hard to come by.
Quote: "Plans to protect air and water, wilderness and wildlife are in fact plans to protect man." - Stuart Udall

Fingernail filings & related stuff: Just called Dan Gillespie the County elections dude and he reminded me that candidates have till 4:30pm next Friday to file to run for County office. He mumbled something about a modified dog running against Gus the dog for Commissioner, but I think that's a Frank Zappa song or something.
I don't want a pickle: Sharon from the San Juan Islander says Matt just got a motorcycle, but she doesn't want to ride on it, herself. That kinda reminds me of the old joke about what do you say to the backseat driver who tells you what to do on your bike: "What? Huh? What?"
I had a friend who rode around for years with his wife on his bike, with their relationship cemented by that level of communication.
July 19, 2004
Strong earthquake off Vancouver Island (this is from the Associated Press:)

SIDNEY, British Columbia -- The second strong earthquake in five days rocked the west coast of Vancouver Island early Monday, the Pacific Geoscience Centre said.

The earthquake, at 1:01 a.m. PDT, was measured at magnitude 6.1. Like the magnitude 5.8 quake early last Thursday, it was centered in the Nootka Sound area.

Seismologist John Cassidy said it was felt in communities across Vancouver Island and as far away as the city of Vancouver. Several small aftershocks also were recorded, Cassidy said.

Other than some items being knocked from shelves, there were no reports of damage.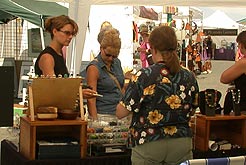 July 18, 2004
Arts Fair rocks: To have a good arts fair you need a good location, really good art, a sunny day, and good music.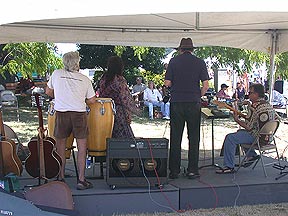 That happened yesterday as the fourth or fifth annual event happened right there on the in-town side of the courthouse lawn. The music was managed by Ed Wilson, who pulled together a great mix of talent that gathered a crowd each hour (the sound was mixed by Peter Boyle), and there was a steady flow of folks looking at the 42 vendor booths of paintings, glasswork, beads, photography, and kids' activities.
The Chamber's Debbie Pigman pulled it all together, organized the whole thing, and it worked.
That's Gary on congas, Michelle Franklin, Peter on sax, and Tim Franklin on guitar during their mid-afternoon set in the photo on the right.
Labs celebrates 100th: Over at the Friday Harbor Labs yesterday, they had an all-day celebration of their first 100 years, with food, and speeches by Bill Gates, Sr., Bill Ruckelshaus (first director of the EPA; he lives here), the president of the University of Washington, and more.
More visitors: In the last month, nearly 6,000 frontpage views for this Update have been recorded. Wow - thanks for checking in!
Around town:
In the last week I got to meet Amanda from the drug store's kid (a month old Friday), and heard Allison Posenjak's kid's doing great, too. Good moms with good kids.

Huge crowd at the Whale Museum's 25th anniversary party on Friday night. Former directors Howie Rosenfeld & Susan Vernon were in attendance, as well as present director Rich Osbourne, who noted his girl Megan wasn't born when he was working at the Museum as it started, and she's in her second year of college now. A generation passes to the next one.... There were also authors, volunteers, present staff, board members there...people who have helped shape the Museum, and who have been touched by it.

You know Danielle down at the grocery store? She tells me she's taking off for Tacoma in a few weeks to go to school there. I think she has a trip to Romania planned sometime before school starts as well.
Quote: "To the dull mind nature is leaden. To the illumined mind, the whole world burns and sparkles with light." - Ralph Waldo Emerson

Other quote: I've always thought this little bit describes the perfect way to wake up & meet each day - see what you think:
"I bind unto myself today, the virtues of the starlit heaven, the glorious sun's life giving ray, the whiteness of the moon at even, the flashing of the lightning free, the whirling wind's tempestuous shocks, the stable earth, the deep salt sea, around the old eternal rocks." - St. Patrick's Breastplate, Hymn 370 in the Episcopal Church's 1982 Hymnal

Photos & lots of them: Were you in the parade? Here, check.
---
Read the Update from years gone by - history is doomed to repeat itself:
Review the Update from June 14, 2004 - July 18, 2004


Review the Update from May 25, 2004 - June 14, 2004

Review the Update from April 19, 2004 - May 25, 2004

Review the Update from February 8, 2004 - March 19, 2004

Review the Update from December 6, 2003 - February 8, 2004

Review the Update from October 1, 2003 - December 6, 2003

Review the Update from August 20, 2003 - October 1, 2003

Review the Update from June 19, 2003 - August 20, 2003

Review the Update from April 18, 2003 - June 19, 2003

Review the Update from March 1, 2003 - April 18, 2003

Review the Update from December 19, 2002 - February 28, 2003

Review the Update from October 26, 2002 - December 18, 2002

Review the Update from August 13, 2002 - October 26, 2002

Review the Update from May 9 (the fire) - August 12, 2002

Review the Update from April 1, 2002 - May 8, 2002

Review the Update from December 15, 2001 - April 1, 2002

Review the Update from September 11, 2001 - December 14, 2001

Review the Update from June 7 , 2001 - September 10, 2001

Review the Update from March 17, 2001 - June 6, 2001

Review the Update from December 18, 2000 - March 16, 2001

Review the Update from July 25, 2000 - December 17, 2000

Review the Update from April 21, 2000 - July 25, 2000

Review the Update from January 1, 2000 - April 21, 2000

Review the Update from October 21, 1999 - December 31, 1999

Review the Update from August 12, 1999 - October 21, 1999

Review the Update from May 17, 1999 - August 12, 1999

Review the Update from April 8, 1999 - May 17, 1999

Review the Update from February 26, 1999 - April 8, 1999

Review the Update from January 3, 1998 - February 26, 1999

Review the Update from November 1, 1998 - January 3, 1998

Review the Update from August 31, 1998 - October 31, 1998

Review the Update from July 2, 1998 - August 30, 1998

Review the Update from May 25, 1998 - July 2, 1998

Review the Update from April 3 - May 25, 1998

Review the Update from January 22, 1998 to April 3, 1998.

Review the Update from November 24, 1997 to January 22, 1998.


---

The information here is simply stuff we here at By Design think is important around Friday Harbor or on the Island. Some of it's news, some of it's old news, and all are just things we wanted to mention, with most of it about the things that make living here great.

There will be more next week, if anything happens.

Ian Byington
ian@byd.com

More info about the island:

This site prepared by our friends at By Design in Friday Harbor.
The information contained here is
©Copyright 1997, 1998, 1999, 2000, 2001, 2002, 2003, 2004 and next year, too
by By Design, Friday Harbor.
Unauthorized reuse of the content of these pages is prohibited;
links to other sites is intended to be to the benefit of those sites,
and for the edification of our readers,
and does not constitute endorsement or
agreement with views expressed there.