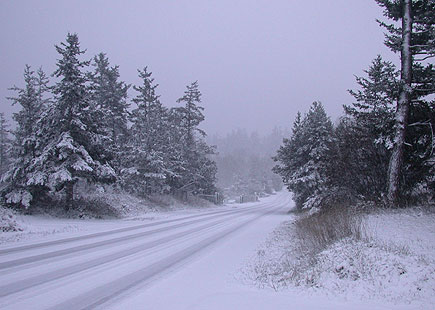 January 7, 2005
School's on: The radio says school is happening today, with limited bus routes. There was a little snow last night - not much - so get outa the sack & get to school. And to work. And outside to play in it.
The photo at right is Argyle Street at about 8:30am, this morning. It's gotten steadily thicker since around 7 this morning; I saw a couple of people spinning out on Spring Street a little bit ago. The melted snow is freezing on the roads.
Aren't you glad you're sitting at home, warm, in front of the steady glow of your computer? Reading this...
But really, there's not enough to make snowmen yet. Just snowmidgets.
January 5, 2005
Cover story: You know it looked familiar - the harbor scene on the front of this year's San Juan County/Skagit County Verizon phone directory is by our own Eric Kessler. He told me they located him through his website at www.ekessler.com, which you might want to take a peek at if you want to see some great photography.
Meanwhile, that ferry photo on the CenturyTel phonebook was taken by Matt Pranger from the San Juan Islander.com. He's no slouch as a photographer, either.
Quote: Texan Jessica Simpson, the one who makes Paris Hilton look like a genius, showed an astonished nation what a Texas intellectual looks like. Upon being introduced to Interior Secretary Gale Norton, she said, "You've done a nice job decorating the White House." (attributed to Molly Ivins)
New bank in town: There's an Open House at Whidbey Island Bank over on Mullis Street (actually Market Street, right at you turn to go to the Marketplace grocery store) - 5:30-7:30pm on Friday. You can meet bank prez Michael Cann and vice-prez Donald Pinter and welcome 'em to town.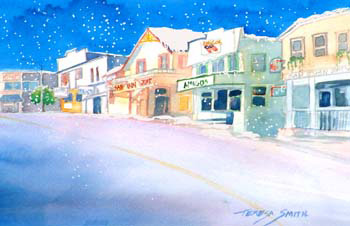 Art on the move: Yep, it's supposed to snow tomorrow, and the picture at the right was painted by Teresa Smith (www.artbyteresa.com) to show you what Friday Harbor looks like under the blanket.
More art: Tomorrow I know where I'm gonna be - the high school is putting on its Art Walk. You can walk around from 6-8pm at FHHS and the Theatre lobby, listening to the Jazz Band, and eating cookies. Seeing the great things our kids are doing & the great music they're playing - that's what it's all about..
January 3, 2005
Another new year, another one bites the dust: After shaking off the last year, shuffling it off like a snake sheds its skin, it's a good deal to have another one ahead of us.
Another chance to get it right. Here we go.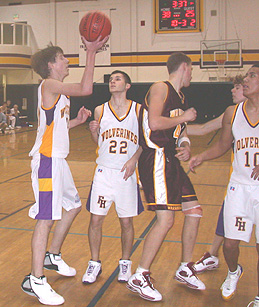 Ferry woes: Wow....I can't remember the ferries having so much trouble all at one time. First the Sealth ran aground on Christmas Eve (it's still being fixed), then the Evergreen State took a day off a couple of days later.
Then, last Thursday, the county road crew located some dynamite, with blasting caps and wire and all, plugged into some drilled holes just above the Lopez ferry terminal. The bomb squad folks correctly closed the terminal and spent the day removing the stuff, which apparently was left from an excavating job years before.
The Evergreen State is helping out since the Sealth is down, but it's slower and a bit behind schedule, so check when you're traveling.
Roundball rolls on: The basketball boys diced Cle Elum 51-35 on Thursday to end the year 9-1, with half their season still ahead. John Hamilton (left, with the ball) continues to help clean the glass for the high-flying Wolverines, who play together better & better each game.
Meanwhile, the girls lost a close one to the tough Cle Elum girls (by a basket), but continue to show an aggressiveness that has been too rare some years. They are positioning themselves well, come playoff time, if they keep it up, and don't peak too soon.
Both teams are in action again at Concrete on Friday night.
Athena rising: Ann Harris sent me a note the other day to let me know about a remarkable success story here.
We have many amazing people doing good works that live either full or part-time on our island and I'm proud to be the neighbor of one of those individuals, Trish May. She is the CEO and founder of Athena Water (www.athenapartners.org). Proceeds from the sale of Athena Water support womens' cancer research.

Along with her husband, Dr. Peter May, Trish has a part-time home just outside of Friday Harbor and this article about her work is in a recent Puget Sound Business Journal. Athena Water is carried in our stores on the island.

Trish hopes to raise $1 million in profits for cancer research within three to five years, growing her share of the Northwest bottled water market from less than 1 percent to 5 percent.

Vacation stories: It was cool to get a chance to say goodbye to former County Commish Darcie on Saturday when I saw here in the ferry line about to leave the island...she's headed for Turkey to work, as previously mentioned. Meanwhile, at 1:15 pm today Alan Lichter and Kevin Ranker will be sworn in as our new County Commissioners upstairs in the Courthouse in the County Commissioner room.
You know Seahawk fan Edith Dickinson? Richard Pederson and sons Landis & Austin took her to the Seahawks' 28-26 victory yesterday...they were still glowing from it when they told me about it last night.
A friend of mine took his wife to China Pearl New Year's Eve, just five days of her 43rd birthday. They carded her - she didn't have her wallet with her (he was paying) so they wouldn't let her have anything. She said that was the best birthday present....she said I could tell you about it, so I just did.
December 28, 2004
Two new orca babies! Two newborn killer whales are being welcomed into the J and K pods, two of the major Puget Sound orca groupings, according to whale researcher Mark Sears of Seattle."They are pretty glued to their mothers right now," said Sears, who observed the J calf on Tuesday and the K calf Wednesday. Here's more from the Kitsap Sun...
The whales had numbers around 100 only 7-8 years ago, but had decreased to about 79, but seem to be attempting a recovery, as the two new whales, added to two born to L-pod in October, bring the present totals for J, K, and L pods to 87.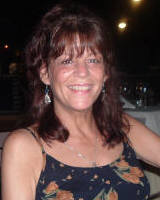 Passing: It was sad to hear that Jean (right) who worked at Island Dive passed away last week at the age of 49. Her friendly face and warm sense of humor will be missed.
Ferries nearly back: Well, the Evergreen State's back in business, but it may take a while longer to get the Sealth back....be sure and check your schedule onlineor call at the terminal to see if the boat you're catching is in service.
You know you're never late for a ferry - you're just early for the next one.
Lapsit at the library: Ken Serratt shot some nice photos of the lapsit reading at the library, and made a little gallery of the moms, dads, and kids, and of course, his girl...he also did one when Santa visited a couple of weeks ago. see who you know in there.
It's the write gift: You can make a gift of attending one of the Lexicon Symposia's workshops next year, including giving the gift to yourself. Check their website to see what Susan & Cinda Sue have to offer.
Also, they're sponsoring what should be a wonderful talk by author Michael Collins on January 4th next week at Pelindaba. Here's the scoop - you don't want to miss this one.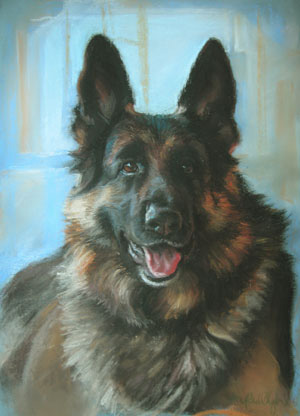 Rachel adds to her site: Rachel Blagden has added some more of her warm and always interesting pictures to her website, including the painting of a furry friend (left). Check it out at www.artbyrachel.com.
December 27, 2004
Ferries update: Wow. Yesterday was something...the Sealth was in Bellngham getting looked at after running aground Friday, and the Evergreen State wasn't working, so the new ferry schedule didn't look anything like what it said. If you're going anywhere, you might want to check the reports and see if there are any boats left.
Date: Yes, it's nearly 2005, so you can plan now to start dating the checks in your checkbook with "2004" until you get it right in February. That's what I do.
Soccer nut moves east: If you had anything to do with soccer on the island over the past five years, you knew Russell Wyeth...he just finished his PhD work at the labs & is moving to eastern Canada for work with Christina. He was a regular fixture at sunday pick-up soccer, and coached the U-12 and U-14 boys for a bit.
December 26, 2004
Coach Ledford report: Sharon over at the San Juan Islander and I visited on Thursday - she had just heard that FHHS football coach Richard Ledford was "probably" going to his Georgia home for Christmas. This was on the tail of reports that his operation to get his heart valve repaired had gone all right, but that the recovery wasn't going smoothly, which left a lot of people on the island concerned. Coach and his wife Jenny also thanked islanders for their prayers & good wishes as they go through this difficult time.
Quote: This country has come to feel the same when Congress is in session as when the baby gets hold of a hammer. - Will Rogers

Roche & events: The new Roche Harbor events guy is John Sable...I dropped by the Chamber of Commerce auction which he hosted in late October & put on with class & style. He's off to a good, energetic start in that demanding position.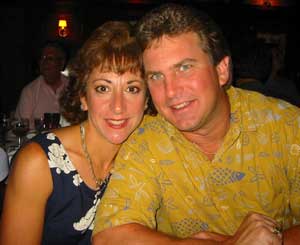 Harrison House changes hands: After getting it going back around '94 or so, Farhad Ghatan's moving on to other things, but he's leaving the Harrison House Suites in good hands with Anna Maria de Freitas and David Pass (right), who will take over the first week of January or so. Drop by and tell 'em hi!

Ferry along: You know the ferry schedule changed this weekend, right? Better check it out - and remember, there's a weekend schedule, too.
The boats were off schedule this weekend, anyway, becaiuse the Sealth hit a rock Christmas Eve, so it was out of commission for a while.
Closed: The boys and I took a walk in town yesterday and it was cool to see nearly everyone closed for a holiday. Everyone needs a day off - good to see people taking 'em. AND... it was nice the Little Store WAS open, for people who forgot stuff. Overall, a good break.
Quote: That cannot be safe which is not honourable. - Cornelius Tacitus
.
December 17, 2004
Whales need care: Our local orcas may move to the threatened list, which is the step before being designated endangered, according to Tom Averna from Deer Harbor Charters. He writes:
"Here is a decision handed down today from NOAA regarding the status of our southern residents and their possible listing under the Endangered Species Act.

"I believe this is good news for the whales. We have known all along that the health of their habitat and food supplies (salmon) are the main reasons for concern. I also feel noise pollution as well as natural factors such as El Niños play a role, too. Let's hope for the right changes and the beginning of a future of a healthy population of killer whales." - Tom
Tom has the full NOAA press release on his website.
Quote (from Mike Cohen): "When Columbus discovered this country it was full of nuts and berries; now most of the berries are gone." - Uncle Dave Macon, old time folk singer

Recovering: Robin Jacobson from the Visitors' Bureau & Whale Museum reported husband Barry is recovering from his emergency heart surgery, as she thanked everyone for their good wishes.
Unbeaten - whoa! Two of our four basketball teams are still unbeaten at 5-0 in this young season...the boys' varsity thumped Darrington Tuesday night while the girls' JV was beating their JVs. The girls JV only one game last year, so this year represents a pretty good turnaround there.
Also, on Tuesday, the boys JV won their first of the year, while the girls suffered a rare loss.
The teams are at Shoreline Christian today (Friday), and will go to Orcas for 2pm & 4pm games on Saturday - see you there!
Lavender dreams: Hey, I'm singing at Pelindaba's downtown store on Tuesday night (that's Solstice, baby) from 7-9pm. You haven't heard me sing for a while, so come on by.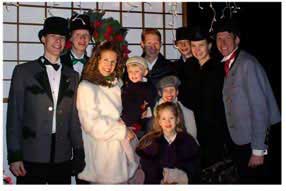 December 16, 2004
Grey days are upon us: It's been pretty rainy and grey & wet outside lately, although it's not all THAT cold. Get outside & run, willya? In just a couple of weeks it'll be solstice, and then things will start to lighten up.
Passing: It's sad to hear about Tony Surina passing...he was a happy chronicler of the island's history & ways. The next time you see those bright orange poppies along the road, think of him. He planted a bunch of them; he left his mark. He'll be remembered.
Ho, ho, ho.... Things are getting going this weekend at Roche Harbor as they have their annual Christmas (right).
Ha! You think I'm gonna tell you all about it, but I have a BETTER IDEA! You can READ all about the Victorian Christmas, and the other cool stuff they're doing, on the Roche Harbor upcoming events page, maintained by marketing diva Chris Watling.
See you there!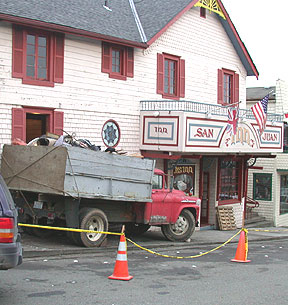 Changes, upon changes: I stuck my head in at Friday Harbor Realty this morning to see how things are coming along (left).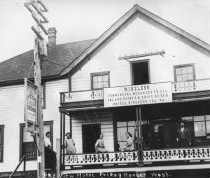 Greg King tells me FHR has bought San Juan Inn next door and is continuing with the renovation which is going to open up the two buildings so that the real estate office will have more room. They've already replaced the roof and are working on the upstairs as we speak.
That's the Inn back in 1910 (right).
Climate change: More than that.
"Widespread ecological impacts of climate change are already visible in every part of the world and in every ecosystem, even your backyard," said Arnold Van Vliet, a scientist who studied extreme weather and nature's response for environmental group World Wide Fund for Nature or WWF.
Now, that will affect tourism. Read about it here.
Gardening rocks: When I first started working with Lee Sturdivant and her Bootstrap Guides back in 1995, I helped put her website together...it was one of the first that my company, By Design, did. I remember when we added a bit on there that said "over 30,000 sold," which is pretty fine for a self-published book.
It was cool to visit my cousin Bill in Tennessee who has an organic farm on 220 acres a couple of years back. He and I were at his place, standing in front of his huge bookcase full of books about everything you can think of for farming & business & growin' stuff, and I said, "Did you read all these?" He said, "Yep, but you know, this is the BEST book of the lot" and he pulled out Lee's book. Pretty neat...if Lee ever makes TV commercials, she should use Bill.
Anyway, the reason I'm telling you all this is I just changed that number on the website...it says 100,000 now. Baby, that's a lot of books. If you're a farmer/gardener who's making a living off growing things, buy 'em and you'll see why.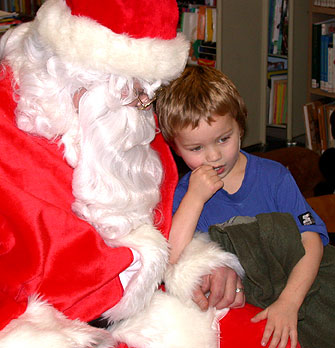 Darcie on the run: Retiring County Commissioner Darcie Nielsen was honored by the Soroptomists yesterday at lunch. She heads for Turkey next month to help their government prepare the governmental infrastructure that will improve their bid to join the European Union.
Emily Reed said, "I've known Darcie for 30 years, and she always ends up someplace interesting. I completely expect to see her as ambassador to the UN or Turkey or some island country. We'll miss her."
Santa drops in at the Library: That was Santa dropping in at reading time for the Head Start kids on Tuesday. He got requests from a bunch of the kids (including Taylor, right) while they worked on making Christmas trees with glue & sparkly stuff. He's back this Friday at 10:30am's lapsit reading.
Nobody knows who Santa really is, except maybe Michael Perrin.
Oil spills 'R Us - hope not: You've been reading about the oil spill in Alaska. It caught my eye when I read that Rick Steiner, a University of Alaska marine science professor and prominent Alaska environmentalist said: "Once you've got a broken boat on the shore, and oil is in the water, almost anything you do is going to be irrelevant. The wreck that we have to focus on is the next wreck.
"It's a very rich, productive ecosystem out there and deserves the protections that we have in Prince William Sound," where a system of traffic monitoring and escort and rescue tugs were established after the 1989 Exxon Valdez oil spill.
Wouldn't it be nice if we had the same deal? Tankers are escorted by tugs when they're in Canadian waters, but sail unescorted in US waters. We, by the way, are located in US waters. Take a picture of the mess up there, juxtapose it as happening with a tanker running aground here, and then open your eyes & get to work - call the lege & the feds & let's do it right.
Get the tugs. Now.
New: You know Andy & Paul over at the Wayfarer's Rest hostel? They're pregnant with kid #2 - someone for Jack to play with.
Report: Yes, it's true - longtime postmaster Carmen Dixon has pled guilty to taking money, some $129K, from the P.O. here...sentencing is set for early spring. Meanwhile, remarkably, she was on "Good Morning, America," to talk about her involvement in another case involving eavesdropping on the phone to gather evidence.
It's been a strange week.
Quote: On the heath, Lear asks Gloucester: "How do you see the world?" And Gloucester, who is blind, answers: "I see it feelingly.'"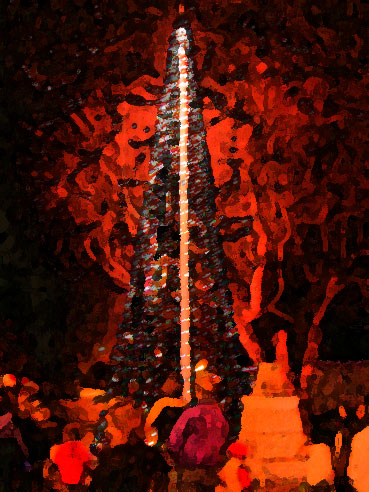 December 7, 2004
Music in the air: If you're looking for a Christmas present that can't be beat, take a listen to samples from Joe Bongiorno's latest album, "Destined" or Kate Schuman's "you only go 'round once."
Or...you can purchase the "All in the Mix" album Joe produced a few years back, featuring fourteen island musicians, which still sounds great after all this time.
Homecoming: It's the time of year people come to visit, or come home from school. It was fun to see Laura Tretter's friend Brit a week or so ago, and to see Kimball Hall at the ball game last week, home from school in Victoria.
Relax, starting tonight: Tonight from 7-8:30 pm there's a presentation at the downtown Pelindaba store entitled "Wellness Works: Ten Tips on Staying Happy, Healthy, and Peaceful During the Holidays," presented by the professionals from the Lavender Fields Day Spa. Drop by - it's free.

There's actually a lot going on this month at the lavender store - check out their calendar.
December 6, 2004
The tree gets lit: It was pretty cool Saturday night - a bunch of people collected at the tree down at Memorial Park to sing Christmas songs with Angel from Beaverton Valley Farmhouse and to kick off the season.
The Chamber of Commerce sponsors the event, and asked the 2004 FHHS Wolverine soccer team to be honorary tree-lighters, which they did just fine.
That's my artistic rendering of the tree to the right, that night.
Trading places: Speaking of Christmas shopping, I dropped by the Trading Company and saw a sign that says Phoebe & Victor Smith own it now - they got it from Dorie Hereen & Lisa Anderson, who have moved on to more nursing (Dorie) and escrow work (Lisa).
Dorie told me all about this at the basketball game, which Sarah's team was playing. Let me tell you about that, now:
Basketball update: The FHHS teams are playing tonight at 4:30pm & 6pm here against the Sultan Turks.
We went 3-1 Friday night with the varsity boys (1-0) beating Seattle Academy 53-52, the varsity girls (1-0, soon to be 2-0) winning 69 to not as much; the JV girls (1-0) winning 40-17, and the mighty JV boys (0-1) losing a close one, 44-32 (it was tied at the half).
Then the girls beat Lopez on Saturday 49-25 - the Lady Wolverines are off ot a nice 2-0 start on the season. Tonight will mark their third game in four nights, and a chance to start the season 3-0. Go, girls, go!
Football coach to leave: FHHS coach Richard Ledford put it off while he led the team to a wonderful & inspiring 11-1 season this year, but now he's gonna do it: He leaves next week for open chest surgery to replace a valve... people at school tell me he'll probably be re-cooping for as much as three months or more.
The soft-spoken gentleman from the south has brought not only wins to the program, but also civility - his insistence that the boys learn the ways of a gentleman is more valuable than anything.
Good luck in the next game, coach.
Quote: "Those who are willing to be vulnerable move among mysteries." - Theodore Roethke
Living simply: Don't know about you, but I like Christmas a lot. Definitely one of my favorite holidays - right up there with Gandhi's birthday, MLK day, Ben Linder day, and my birthday, which is this week. Take the day off, on me.
I know of no better way to honor the season than to take it easy on buying so much stuff. For the past four years I've made it a point not to spend more than $100 for presents and shippng & stuff. Here's a nice write up by Bill McKibbon that explains what I'm thinking, better than I can say: The $100 Christmas.
Try it on & see if it fits.
Band change: Remember I told you about the band concert (below)? Here's the update, because the dates got changed:
The middle school concert will be on Wednesday, December 8th at the S.J. Community Theatre. The high school concert has a new date and place: Monday, December 13th at the F.H. Middle School Commons.

Quote: On account of being a democracy and run by the people, we are the only nation in the world that has to keep a government four years, no matter what it does. - Will Rogers

December 2, 2004
So close, so close: The FHHS football guys headed to eastern Washington to play #1 ranked & unbeaten Royal High on Saturday. Our undefeated Wolverines were a game away from the football championship game in Tacoma this week - we led at the half, were tied after three, but lost in a valiant effort as they scored twice to win 35-21.
Ending this dream season at 11-1 with a game that probably deserved to be the championship game left the great numbers of parents, fans, girlfriends, and friends that I saw on the ferry home Sunday proud. Really proud.
Wait'll next year.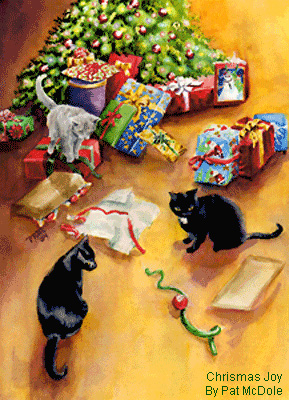 Comings & goings: One of the brightest lights on the teaching staff at FHHS is science teacher Marc Vermiere; his wonderful wife Deb is great too. Now there's three - Charles Fiske Vermeire arrived on the scene last month (on the 15th). They'll make great parents.
Meanwhile, Stephanie & Tom Gonser are moving down near Bend from their Cape San Juan home after more than ten years here....it's not too surprising they're on the move: Tom's been writing for his website about rv's (http://www.rversonline.com/) with the easy confidence of someone who knows what he's talking about because he & Stephanie have traveled all over in theirs.
Steve Judson has sold San Juan Inn (you may remember Skip & Annette Metzger had it before him) to Natalie & Greg King, who intend to remodel part of the adjoining building so Friday Harbor Realty can grow into it. They've made some cool & energetic things happen at FHR since they've been there.
Symbology: Maybe I'm reading too much "DaVinci Code" or other Dan Brown symbology. Here, figure this one out:
3:11:39
Hint: It's related to speed & courage & grace.
Orcas onscreen: People as far away as Wisconsin come to see the whales here...Western Prince's Ivan'll save you the trip if you take the time to look at his new online gallery of some of his better shots of our friends on the water.
Art everywhere: Where art thou? All over the place, to wit:
Island Studios' 2004 Christmas Open House will be December 4th and 5th from 10 am to 5 pm, featuring: Music from the band Rosebud, demonstrations by various Studio artists throughout both days, complimentary cider and cookies, free gift with $15 purchase. Find unique gifts by local artists for everyone on your list! Check Pat's website for more information.

And...December 12, meet author & photographer Mark Gardner from 11. to 4. His book " The San Juan Islands, Crown Jewel of the Pacific Northwest", will be featured with a limited edition photgraph from the book.

waterworks gallery - December 11 - Jan 16 - it's the Annual Holiday Show, featuring the work of Jill Trear, luscious wearables; Jaime Ellsworth, pastels & oils; and Tom Small, sculptures, large and small. Meet the artists at a reception, Call for details. Gallery hours: Monday thru Saturday 10.30 to 5.30, Open Sundays, December 12 & 19th from 11.00 to 4:00
Gallery San Juan will have its 5th annual "Kids Art Show on December 4th from 4-7pm. Ages are 4-14 and there will be special prizes.
Contact Barbara Dollahite, 378-1376 for more information!


Quote: "Our life is an apprenticeship to the truth that around every circle another can be drawn; that there is no end in nature, but every end is a beginning, and under every deep a lower deep opens." - Ralph Waldo Emerson
The hills are alive: Carol writes to let us know about free & great music:
Any chance you can include these events in your update? It always seems to make a difference in attendance when the word is spread and our young musicians really appreciate the support. Thank you, Carol Ford

Friday Harbor High School proudly presents "The Winter Whispers Concert 2004". Please join us at the San Juan Community Theatre on Tuesday, December 7th at 7:00 pm for a wonderful (and free) evening of holiday entertainment. This is the perfect opportunity to offer a show of support to our community's young musicians.

Friday Harbor Middle School is happy to invite the public to the "2004 Winter Delight Concert" on Thursday, December 9th at 7:00 pm at the San Juan Community Theatre. Free admission is offered at this festive holiday event.

The Friday Harbor High School Jazz Band will play for the public during the Lighted Boat Parade at 5:30 pm on Saturday, December 11th at the San Juan Yacht Club. This lively band is always entertaining and admission is free.

Other quote: "Reason is that which is ever restless and without peace day and night from thinking and worrying and trying to comprehend God, even though God is incomprehensible and beyond our understanding. Reason is like a moth, and the Beloved like a candle. Though the moth cast itself into the flame and burn and be destroyed, yet the true moth is such that it cannot exist without the candle, much as it may suffer from the pain of its immolation.
If there were any creature like the moth that could do without the light of the candle, it would not be a true moth; and if the moth should cast itself into the candle's light and the candle not burn it, that would not be a true candle." - Rumi
You know about global warming, right? We kinda need that permafrost, baby. And no, it doesn't mean you're looking at the bright side if you're thinking this is a super chance to drill for oil in Alaska.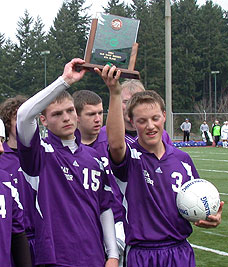 November 22, 2004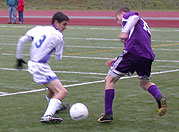 Soccer cops fourth in state: Well, the boys came home with the hardware. The FHHS soccer boys played tough against eventual champ University Prep before bowing 2-1 on Friday, and ended the season the next day with a loss in the third-place game.
Result: Simply the best this school's soccer team has ever done, going where no team had gone before - the state championships. That's captains Trefor Bacon (left) and JoHannes Paul lifting the plaque for the fans at the end of Saturday's game. For more details about the games, and tons of photos by Matt Pranger, here's the stories I wrote for the San Juan Islander for Friday's game and Saturday's game.
These guys are heroes.
Quote: Hope is a state of mind, not of the world. Hope, in this deep and powerful sense, is not the same as joy that things are going well, or willingness to invest in enterprises that are obviously heading for success, but rather an ability to work for something because it is good. - Vaclav Havel

Football rolls on: Brushing aaside a late surge by LaConner and winning 45-28, our Wolverines moved on to the semis in Kennewick this weekend, with their sights squarely on the championship game a week later at the Tacoma Dome. Wahoo! Way to go!

Coffee rolls out: Susan Robins from the downtown Pelindaba store reports in: "We've bowed to popular demand, and are now serving espresso, chai, and hot chocolate (with lavender whipped cream) at our Downtown store. We will open at 7 am, for those of you who can't get started without a double shot, and will remain open as usual until 9pm. See you there!"

Quote: Love is friendship set on fire. - French Proverb

November 17, 2004
Mailbag: Thanks for writing! Your love, appreciation, and concern are always welcome. Let's see what's up:
Didn't I see that picture your son Shay shot of the barn on fire on the Channel Seven news? Allan Short, Seattle

Yeah - they called because they were doing a story on the fire and needed a visual. They asked if we had video of the fire, too, but I don't have a video camera. If you look back over the Update over the past three years or so, Shay's eye for framing a good picture just keeps getting better and better.

What do think the FHHS boys' chances are at State this week? Nick Stevens, University of Washington, probably spying for University Prep

You gotta like what these guys have been doing this year - completely unselfish, always playing hard, and finding a new way to score every week. They attack from the air, from the corners, from the sides, down the middle, and have racked up 90 goals in a record setting year. AND they never let anyone score - only six goals in 18 games.

I've seen the people we'll play in Tacoma - I watched University Prep on Saturday - and we match up quite well with them. They are strong, but I think they'll have trouble containing our offense. The trick is - if they stop one of our guys, somebody else will step up. Should be a fun game, which I would expect we'll win. Then if we see Mount Vernon Christian in the final - well, we're old friends, since they're from our league. It's pretty cool they've made it this far. Hope to see us on top at the end.

What about football at State?

They play LaConner this weekend, who's on a bit of a tear, but I guess I'd be surprised to see anyone else in the state final. I used to play and coach football, and I really like to watch their execution. It's first-rate, and the stuff of which champions are made.

Game's at 4:30pm at Mt. Vernon High this Saturday.

Where do you get all those quotes? Shelby, Friday Harbor

Most of 'em from online, or the quotations book I got for Christmas, or the BamaNews site, for environmental stuff.

What did you dress up as, for Halloween? Alice Hasterling, Anacortes

I dropped by a party after work, without dressing up, and everyone said, "EEEEK! It's a nerd!" Kind of a drag, 'cause I went as a dork.

What are you doing this weekend? Your mom

Can I borrow the car? I'm heading for Tacoma to watch the soccer boys on Friday, but I'm gonna drop by the NSTA Conference to see if there's anyone I know from my old conference-traveling days. I love science teachers.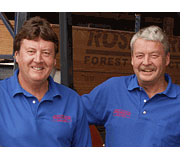 New site on the block: This is pretty cool - Rob, Nancy, Larry, and Claudia at Browne's have updated their site with photos of a lot of the people who work there as well as a new deal. You can now order what you need, and if you don't mind picking it up at the store, there's no shipping charges. It's called Ship-to-Store (say it three times, real fast). Check it out on their new website. That's Rob & Terry in the photo.
Last soccer note: Here's my writeup of last Friday's soccer game, on the San Juan Islander.
Writers, unite: The Weird Writers Dot Com meet tonight at the library at 5:15pm. Check out their web site for more about these eclectic (and successful!) scribes, led by Susan and Cinda Sue.
Tacoma Welcomes the Wolverines:
Friday Harbor (18-0) takes their high-scoring show on the road this weekend, hoping to return with a first-place trophy after playing Friday and Saturday in Tacoma. (Bracket - http://www.wiaa.com/brackets/tourney.asp?ID=1040511)

The surprising Wolverines swept past Bear Creek [link:http://www.sanjuanislander.com/sports-2004-2005/fh-boys-soccer/11-12-04.shtml] in the quarterfinals 3-0 last Friday, earning the right to play University Prep (16-1-1) [http://www.universityprep.org] in the semifinals this Friday. UP won the Emerald Valley League this season, and beat the only team to beat them last Saturday to advance.

The state-ranked #1 Wolverines cobbled together their unbeaten streak with goal-scoring from all corners, making 90 for the season so far. The attack is supported by a defense that has allowed only six goals all season. The team leads the state in both categories by a wide margin.

One measure of University Prep's dominance of its league: It has five of the league's top seven scorers. The UP attack features quick Afi Catellani-Clark (13 goals, 3 assists during the regular season) at forward, whose speed and ball control befuddled the Seattle Academy defenders last Saturday. He's joined by league leading scorer Bart Bangert (15 goals, 5 assists), backed by a quick midfield and a sturdy defense which only allowed 11 goals during the regular season.

"We have to play the same game we've played all year, and we have to play it well," said FHHS head coach Ron Duke. "If we are aggressive on loose balls, we should be fine."

If successful Friday afternoon, on Saturday the Wolverines will face either Mount Vernon Christian for the fourth time this year (Friday Harbor won 3-2, 4-0, and 4-0) or St. George's High from eastern Washington. If the boys lose, they'll play for third place Saturday.

According to Duke, the team is happy to be there, and more. "There's a real sense of joy at practice this week. They feel like they have a good shot."