January 27, 2005
Ferry rates...the citizens respond: We're starting to get pretty concerned about the ferry rate increases (mentioned below.) If you want to register your opinion, Debbie from the Chamber tells me here's the contact numbers:

• Email: tariff@wsdot.wa.gov
• Fax: 206.515.3773
• Phone: 888.808.7977
• Postal mail:
Tariff Proposal
Washington State Ferries
2911 Second Avenue
Seattle, WA 98121-1012

And there's more...here's a note by Joyce Sobel from the Family Resource center and the San Juan County Community Network about the effect of fare increases and the proposed electronic system on lower-income families.
And... the Commissioners are encouraging folks to sign petitions about this hike as well. Those are available on the San Juan Islander site to download.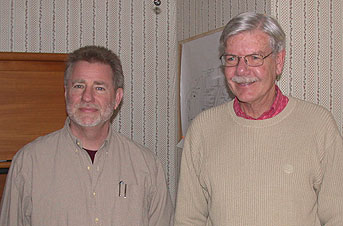 Spring Street School, on the move: Have you been by SSS to meet the new director, Roger Frost (right) or admissions director John Goekler? They started at the school last fall (Roger was hired to replace school founder Peg Hope) and have been working hard to keep good things happening at the school.
Roger tells me that currently the high school kids are away, scattered around the world: Some are in southeast Asia, working in Sri Lanka, southern and northern India, helping with relief efforts there. Others are in Mexico and Belize, working in villages.
The school also just got word that their Advanced Placement Psychology scores from last year were the best in the world for small schools (determined by the number of kids who take the test out of total school population.
The world. Wow.
Drop by and say hi when you get the chance.
Real estate ups & downs: According to Merri Ann Simonson's quarterly newsletter, the real estate folks on the island registered their highest sales volume ever for a quarter in the last quarter of last year.The end-of-year totals show 368 transactions for $143,716,501 in sales.
This has resulted in less properties available, with some 197 currently on the market. Read more.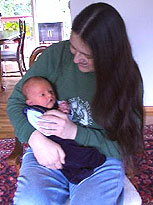 Health on the island, at a glance: There's an open house on Friday from 2-4pm at Inter Island Medical Center, San Juan Recovery, Compass Health, San Juan EMS and the San Juan Prevention Coalition. Check 'em out!
Charles, Jr. arrives: Remember Christiane Biermann & Charles Weber? They were out at the labs, but they're in Portland now...Christiane tells me they just had Charles Junior on the 15th (only scientists would put that the kid was 3676 grams or 8 lbs. 1.7 oz. on their webpage about the kid.).
Viv visits: You know Vivian from Company Gear? She's the one who makes shirts & hats & coffee cups for folks around the island, with their logos or imprints on them. She worked for a long time at Charters Northwest...she's dropping by from Bellingham today.
She did the San Juan Safaris' shirts last year, as well as the girls' soccer team, all the soccer association's sweatshirts, the JV volleyball team sweatshirts, and the JV girls basketball sweatshirts, so I know you've seen her work.
Bad luck: Mike Adams is still hobbling after falling off a ladder around New Year's - his ankle's still pretty bunged up, even for someone who can't keep still long like Mike.
Meanwhile, Susan Grout lost her office when the building the Second Act was in burned, a couple of weeks ago. She's been counseling downtown for the past 18 years, and now is looking for a new spot.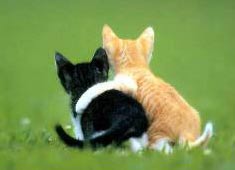 January 24, 2005
Update goes for soft-hearted vote: A friend told me what people really care about is to saving something. Save the tigers! Save the whales! Save the bears! He said to concentrate on what he called charismatic megafauna.
That's where the cats at right came from. Drop by the Animal Shelter site or the Catspaw Foundation site...you'll get the idea, even if they don't have any tigers, yet.
That would be mega-good.

Goodbye, Johnny: During the summer, it was fun to hear of all the Carson sightings, as Johnny Carson docked at Roche Harbor around the Fourth and then stayed around for a few weeks. It was sad to hear he died this weekend.
I read that in 1992, on his final show, he told his audience: "And so it has come to this. I am one of the lucky people in the world. I found something that I always wanted to do and I have enjoyed every single minute of it."
Basketball rocks on, with a slight detour: The FHHS boys (13-2, now) hit a bump in the road with an overtime loss on Friday to Darrington, but returned to form, whupping Shoreline Christian on Saturday.
The girls did the opposite - beating DHS and getting clipped by SC. Both teams take the week off from games for finals this week, then return to action at LaConner on Friday, with just four games left in the season.
Dylan Thomas rocks on, too: Everyone who has seen "Under Milkwood" tells me it's great, and everyone else tells me they're getting their tickets for this weekend, so you better get yours now. See you there.
Ferry update: The ferry guys tell me the ferry boss isn't coming this week after all, but may come n a few weeks. We really need to talk to them about the fare structure, mentioned below.
Quote: "From time to time, to remind ourselves to relax and be peaceful, we may wish to set aside some time for a retreat, a day of mindfulness, when we walk slowly, smile, drink tea with a friend,
and enjoy being together as if we are the happiest people on Earth." - Thich Nhat Hanh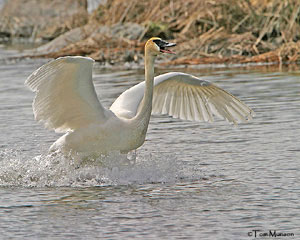 January 21, 2005
The swan count is this weekend: If you want to volunteer call Cherill Perera at 468-3260. Here's more about it from the San Juan Islander.
The photo at right is courtesy of Tom Munson, who has a nice set of photos he shot around here for the Trumpeter Inn. They're posted on the inn's site - take a look. They turned out beautifully.
Library - get your books: You know the library is gonna close in a couple of weeks for their remodel, from the 4th till March 6th. This means after the 28th, you can check out as many books as you want during the next week to get you over the hump.
And...the library will offer services at the Friday Harbor High School library on Tuesdays from 4-8pm and on Sundays from 1-5pm. Patrons will be able to place holds on books online or by phone and pick up these books at the high school on these days; check out new books and fiction videos; use High School Library computers; and request reference help from public library staff.

Here's the details, reading fan.
Quote: See what will happen if you don't stop biting your fingernails? - Will Rogers, to his niece on seeing the Venus de Milo

Travel news: Pat Lawrence from Island Studios is going to the Galapagos with her husband Ken, and ex-pat Tracy James got a visit in Paris from old friends & islanders Annette Schaffer, Nancy Young, and Denise Steinbrueck (Maia at Coldwell Banker told me this when I asked where she got the French chocolate.)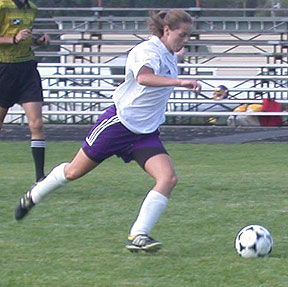 Shay on top of her game: A couple of my Soroptomist friends told me FHHS senior Shay Hopkins (right) had received the Violet Richardson Award Wednesday from their club to honor her volunteer work (she does a lot). She could also easily get an award for her scholasticism (she's a top student), and her soccer prowess (she was named team MVP, league MVP, and to the second-team All-State team, according to her mom).
Well, she's first-team All-World, if you ask me. I've seen Shay in action around the community for the past four years, and her enthusiasm is catching, her skill is dazzling, and as far as I can tell, she does it all with a smile.
She's a great one, and it's cool to see her get recognition for it. She'll go places.
Ferry changes under review: I must say I've got reservations about the proposed changes in the way our state ferries friends want to take fares. The San Juan Islander wrote it up pretty clearly (here's the story, with a chart), and as far as I can figure, it's still not a good deal for people with families.
There's an open work session with the WSF Director next Tuesday at 2:30 with our Commissioners...might be a good idea to attend. In the meantime, you can give input online here.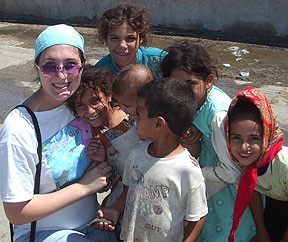 Cara's back from Egypt: I heard Cara Johnson's back in town...she's been working to help set up safe houses for folks who are subject to domestic violence, setting up medical care, and helping with literacy programs. This was all part of a partly-sponsored (by Soroptomists) internship with a women's group called the Association for the Development & Enhancement of Women. That's her (left) with the kids in Cairo. She'll be finishing her graduate degree in International Development this spring at the University of Washngton.
Cara told me she spoke for a couple of classes over at FHHS, and one of the kids said their family had a camel here on the island. We're looking into it.

Open Gym opens: Sally from Island Rec tells me that the open gyms are happening, starting the first week of February:
Stay healthy, active and involved and join us in Turnbull Gym! Badminton is played on Monday and Friday evenings, Men's Basketball on Tuesdays and Thursdays and Co-ed Volleyball on Sundays and Wednesdays. Weeknight programs are from 8-10pm through the end of February. Upon completion of the high school boys and girls basketball season the program time changes to 7-9pm. There is a $2 drop-in fee or a discounted season pass may be purchased. Participants must be 15 or older.

Quote: "If we make the right choice, we will be able to transform the jangling discords of our world into a beautiful symphony of brotherhood. If we make the right choice, will be able to speed up the day, all over America and all over the world, when justice will roll down like waters, and righteousness like a mighty stream." - Martin Luther King, Jr., Beyond Vietnam, 4 April 1967

January 18, 2005
Subaru Primal Quest Adventure Race on TV: If you watch TV, you can see the coverage of this international extreme sport event on CBS Sports (KIRO TV) this Sunday, Jan. 23 from1:00 - 3:00 p.m.
Deborah Hopkins at the Visitors' Bureau says the VB helped set up the show and the event, which is kept secret till a couple of days before it happens so the athletes can't practice the course. Locally, Brent Molsberry, kayak guide for San Juan Safaris for the last three seasons, participated on the Necky Kayaks team which finished 18th.
What's so cool about this? Well, it took place here last September, and attracted some 500 visitors to the islands (almost as many as the Marathon put on by Deborah's husband Paul and Clark Gilbert does in June, a respectable showing.) Here's a movie that's about a minute and a half that takes a while to download (11 meg), but gives you a taste of the show.
The clip is narrated by actor Liam Neeson, who has done the final narration for the entire 2-hour show, which will air prior to the AFC Championships, which 40 million viewers tuned into last year.
Pretty cool. Way to go, Deborah.
Quote: Usually the quotes I add to the Update are short, pithy, and somewhat topical. Tonight, on the anniversary of Dr. King's birth, I'd like to do something new - offer a call for hope, and for change, in a fairly long essay by Clarissa Estes.
Most of you know I grew up in Alabama during the time of Dr. King - I was surrounded by the most incredible hope, buttressed by the most incredible courage.
With that, a better day was born. Now, that day must be re-born.
So, in that spirit...here goes:
Do not lose heart. We were made for these times.

I have heard from so many recently who are deeply and properly bewildered. They are concerned about the state of affairs in our world right now. It is true, one has to have strong cojones and ovarios to withstand much of what passes for "good" in our culture today. Abject disregard of what the soul finds most precious and irreplaceable and the corruption of principled ideals have become, in some large societal arenas, "the new normal," the grotesquerie of the week. It is hard to say which one of the current egregious matters has rocked people's worlds and beliefs more. Ours is a time of almost daily jaw-dropping astonishment and often righteous rage over the latest degradations of what matters most to civilized, visionary people.

You are right in your assessments. The lustre and hubris some have aspired to while endorsing acts so heinous against children, elders, everyday people, the poor, the unguarded, the helpless, is breathtaking. Yet ... I urge you, ask you, gentle you, to please not spend your spirit dry by bewailing these difficult times. Especially do not lose hope. Most particularly because, the fact is — we were made for these times. Yes. For years, we have been learning, practicing, been in training for and just waiting to meet on this exact plain of engagement. I cannot tell you often enough that we are definitely the leaders we have been waiting for, and that we have been raised since childhood for this time precisely. Click here to read the rest. It'll fire you up.


Westcott Bay on Spring Street: Kay & Arnie from Westcott Bay Institute dropped me a note and asked me to share this with you:
Westcott Bay Institute is delighted to announce the opening of its new office and exhibit space at the historic "Spring Tree" building on Spring Street in Friday Harbor. The space will provide a much-needed office and a downtown location to allow Westcott Bay Institute to promote its programs to a wider audience and to provide an indoor area for art exhibits.

In a creative financial arrangement, the family of David and Cloud McCauley has agreed to buy the building and provide a rent-free lease to the Westcott Bay Institute with the Institute paying all operational expenses such as taxes and utilities.

"We are very appreciative of the vision and the support from the McCauley's to help us further and expand our outreach to island residents through this generous support" said Kay Kammerzell, Director of the Institute.

This creative arrangement is the result of a collaboration that includes Joan Sheldon, owner of the Spring Tree building who reduced her selling costs, Bill Giesy and Paul LeBaron of ReMax San Juan Island who donated their services for the purchase, sale and lease agreements, and the Casa San Juan Condominium Association. "We are deeply grateful for all the support and encouragement from the community. I want to especially thank Maureen See and Dodi Gann for their work and their encouragement" said Kammerzell.

Very similar with the partnership with Roche Harbor, Westcott Bay Institute's partnership with the McCauleys helps to keep overhead costs low and to keep donation dollars going towards its programs. "As a result we can provide more educational programs, events, and exhibits that benefit island residents and visitors, we can help to invigorate an arts economy, and support local artists" said Kammerzell.

The Spring Tree Building will also provide the Westcott Bay Institute with a place for staff and volunteers to work. The location allows for a new cultural component to the downtown core and helps establish a much needed exhibition space for artists from the San Juans.

The facility will be ready to open in February. The Institute will be raising funds for basic office equipment, lighting, and displays. To help, or for more information, call the Westcott Bay Institute at 370-5050.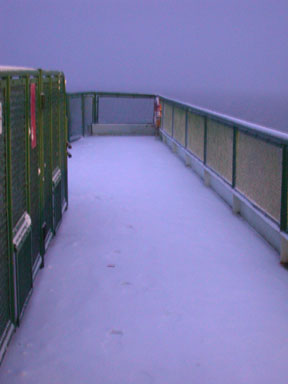 January 17, 2005
Snow way, man: Wasn't it fun having snow for a half day? All that snow we got Saturday evening lost the battle with a 40-degree Sunday, and we ended up with what feels like continuous rain today, starting before way before dawn and continuing into mid-day.
I took the picture on the right from the front of the Evergreen State Saturday as dusk came on; the snow piled higher than that before it was done, but I was nearly out of light, as you can see.
It was fun while it lasted.
Ferry schedule change: Meanwhile, the ferry people have updated and slightly changed the schedule, because the Sealth is expected to be out of commission till mid-February, and the Evergreen State is a bit slower. Here's the Washington State Ferry update:
Interim Anacortes/San Juan Islands Schedule Available - Update
The Interim Winter 2004 Anacortes/San Juan Islands schedule, which is in effect through approximately February 13, 2005, is now available at the Anacortes terminal. Both weekday and weekend departures have been updated online and reflect the Evergreen State's crossing times. Adjusted Schedule: Please Note: On Saturday and Sunday, the 6:30 p.m. sailing from Anacortes will stop at Lopez before continuing on to Friday Harbor.
When swimming was harder than you think: Since it's Dr. King's Day today, a lot of people are doing different things to put a spotlight on what the day's about.
Here's my small contribution (Here's the story.): Imagine you wanted to go swimming in a public swimming pool. That's what Betty Claiborne did in 1963 in Baton Rouge, knowing she'd be arrested for doing so. She ended up doing ten days in jail.
For trying to go swimming in a public pool.
Today the Governor of Louisiana is issuing a 41-years-late pardon for Claiborne to expunge that from her record. Setting the record straight. But it's a reminder of all the little things that racism can mean, and all the little blind spots that manifest themselves in laws, policy, and social mores.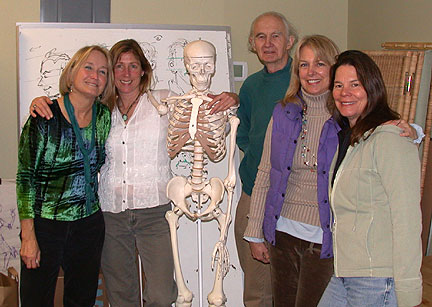 What Dr. King and his followers got started continues today...there is still plenty of work, big things and little things, to do for justice to prevail, and the bells of liberty to ring.
Basketball rocks on: Both the girls and boys varsity basketball teams, as well as both JV teams, won their games with Orcas on Saturday. That evens the season series for the girls, who lost at Orcas last month, and keeps our one-loss boys on a roll in their quest for a league championship.
The teams play at Mount Vernon Christian tomorrow.
January 15, 2005
Artists on the loose: You gotta go check out the Imagine Artists studio on Mullis Street...they have a LOT going on, offering classes by artists Beth Hedtrick and Taylor Bruce (left), modeling by Ichabod the skeleton, cartooning by Sam Connery, writing classes by Jillian Hopkins, and yoga with Cynthia Burke.
They held a well-attended (and with all the food, well-fed) reception and opening at their new spot on Mullis on Saturday. Drop in & say hey!
Basketball: The FHHS boys JV basketball team won their second of the season over Orcas today, 49-40. The varsity boys still have only one loss - soon as I hear their score I'll let you know.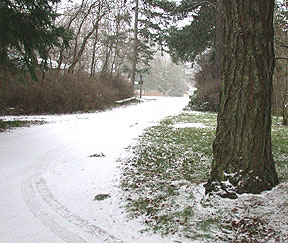 Snow more: Saturday afternoon the snow we've all been waiting for let loose and dumped a ton on the island, leaving us with slick roads and slippery trips home. Actually, it wasn't literally a ton. More like a few inches. Good for building snow midgets & snowball fights with very small snow balls.
January 13, 2005
The Chamber swears in new board: Can you tell I went to the Chamber of Commerce meeting the other night? That's how I know so much.
The Chamber Board consists of Aylene Geringer (Trumpeter Inn), Nancy Hanson (The Toy Box), Liz Illg (Nonprofits Unlimited), Paul Hopkins (San Juan Airlines), Joy Sevier (San Juan Wireless), and new members Michele Morton (Wells Fargo Bank), Melonie Walter (Tif &: Gif Creative), Donna Maloney (Halvorsen House), Ed Nelson (King's Market Thriftway and Market Place), and Patrick Pillsbury (Bon Accord Kayak Tours).
Liz gets to be prez this year, while Paul's waiting in the wings as vice-prez.
What's cool is that I'm related, somehow, to nearly all these folks. Joy's husband's forebears came to Orcas in the early 1800's while their cousin (my great-great-great-five times-uncle) John Sevier was first guv of Tennessee. Nancy's toy store is where my two boys practically grew up (that makes her and Dave godparents, sorta), while Liz and Janna basically ARE godmums to my boys.
That's not all. Melonie started her web work with my company, By Design, and I'm proud that she has turned into one of the best graphic artists around along with her husband Chris. Paul lets me work on the Marathon website, which is sorta brotherly. Aylene's a good friend, and Michele has my money, and I did Halvorsen House's website for the previous owners, which makes Donna kin by accident, or something. Ed's son is my son's class, and Patrick likes whales like I do, so there's a kinship there.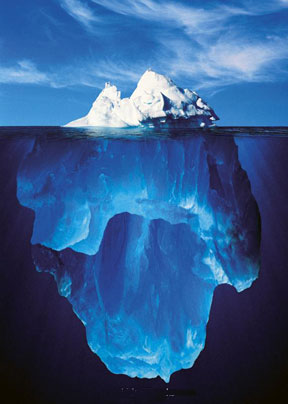 It's a tight-knit community, I'd say.
News reporting, as iceberg: You know, as long as we treat what happens in the world around us as "events" and ignore the underpinnings of why they happen, we're gonna remain as clueless as we'd be if we never heard the news.
Every event that is reported is built on a series of things that have happened before, and on a set of assumptions that make them happen again. That's why we need to look beyond the headlines and figure out why things happen as they do.
Only in that, is change possible.
There's a whole lotta ice below the surface, bubba. Peel yaself off the TV & get out more.
Music, sweetly: I've been practicing my guitar more. Here's my inspiration (just kidding).
Tsunami relief: Michele down at Wells Fargo Bank reports the Bank has opened a Tsunami Disaster Relief fund account. Anyone can make a donation. Call 360-378-2128 for details.
Icy, still: There are spots left over from last weekend's not-enough-snow that are slick around the island. I found a couple when I drove out to Roche Harbor last night (although, overall it's pretty good, with a lot of sand on the road), and Diana Asher reported from the top of Hillview Terrace that things were kinda slick 2-3 days ago:
Hi Ian,

Saw your update from yesterday. Glad you are getting around O.K. with this weather.

Yesterday's sun didn't quite melt our ice and snow. The road to our place looks a lot like your pic of Argyle (January 7, below). Some of us in Hillview Terrace have been stuck since early Friday and we are staying put again today. We'll hitch rides from friends and neighbors or walk to town. Parts of Hillview are thick with ice and snow, while other parts are negotiable. Unless you have a heavy car or 4 wheel drive/Awd, I wouldn't attempt to come to my house except by foot. I guess the post office feels the same way. We haven't seen them since Thursday. Bet Gene is busy, I noticed the tow truck got at least 4 cars unstuck yesterday. Anyway, use caution in Hillview Terrace.

Talk to you later, Diana

Mo' betta music: Jazz it is. My tastes vary nearly every week, but currently my favorite band in town is the jazz band at FHHS. They rock, or whatever it is jazz types do. Here's the word from Carol Ford:
Hi Ian;
Would you please let your readers know about the upcoming jazz band event? It is a music and dessert concert with a performance by the renowned Friday Harbor High School Jazz Band and desserts provided by the musicians and their parents. The performance will take place on Wednesday, January 19th from 7-8:00 pm in the High School Commons. This is a fundraiser for the jazz band's spring trip to Chicago! Admission and desserts are offered for donation only and I know it will be a great evening. Thanks Ian. As always, we really appreciate your support and the publicity you provide for us.

Pictures that tell the story: You gotta see Mark Gardner's new websites for his pictures & his book of San Juan Island pix. One of the best.
Quote: He who forgiveth, and is reconciled unto his enemy, shall receive his reward from God; for he loveth not the unjust doers. - The Qu'ran


January 12, 2005
Goin' to the chapel.... The word from down at Haley's Restaurant is that ace waitress Mica is planning on getting married to owner Mark later this year.
That's not all. Sharon who works for the Town is getting married to Radio Shack's Cecil this summer.
That's not all. Leigh Freeman from Windermere just told me he's planning to get hitched to his friend Julian this spring.
Helping out: You know my friend Wawan's from Indonesia...he tells me that his business (Island Window Cleaning) will donate 10% of all proceeds from January 15 to February 15 to UNICEF to help the survivors of the South and Southeast Asian earthquake and tsunamis.
He says the Robin's Nest will also match the amount of the 10% donation from Island Window Cleaning. For more information please call Wawan or Betsy Ridwan at Island Window Cleaning, 378-1194.
Remember Vonda? Elaine Hamilton, who was a longtime fixture at the Inns at Friday Harbor for years, moved in 2002 to work with the Best Western Harbor Plaza in Oak Harbor with former Inns' GM Vonda Sheiman. She wrote last week to tell me that Vonda and Ed are planning to move to Florida. Vonda was active in the Chamber of Commerce and served on the Town Council during her time here.
Decades: Did you know that San Juan Transit's been here 11 years? That the Toy Box has been here 9 1/2 years? San Juan Safaris has been here 11 years, and By Design started in mid-1994?
Suites: If you get a chance to check out the ongoing renovation at the Friday Harbor Suites, drop by and see their new lobby with new furniture, and new reservation desk. They hosted the Chamber of Commerce meeting last night, which gave a lot of people a chance to check them out, and meet sales & marketing director Franchesca Hanna and new general manager Janeen Jennings.
Surina honored: Lynn Danaher tells me that she's renaming the Starr Storage property she's been managing for a good while now. The new name will Surina Business Park, both to honor Tony, who died last month, and to refect the upgrades in the property she's put in place.
Basketball update: The FHHS boys still have only one loss after beating Coupeville last night - they play their makeup game in Concrete on Thursday, snow permitting.
Quote: We must accept finite disappointment, but we must never lose infinite hope. - Martin Luther King
January 10, 2005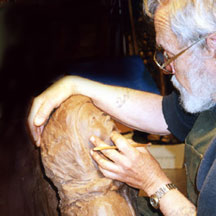 The snow & the cold: Looks like we're not expecting much snow this week, although it's going to stay cold. No problems with getting to town or to school today, except for occasional slickness in the outlying parts of the island.
Pemberton Studios online: You've seen his work down at Island Studios, you've seen his sculpture "Puddles" outside of the elementary school - now you can see his work online. Check out Tom Pemberton's new website at http://www.pembertonstudios.com/.

Library prepares to close for re-model: You know the reason I'm telling you this is so you can go load up, and get a month's worth of books. At this point, the Library plans to be shut from February 4th till March 6th, with library services operaating out of FHHS's library. This is the millionth time I've told you this, but they're really gettiing going this time. You can drop by and see the pre-construction now...
But the schedule IS subject to change, assistant librarian Laura told me with a laugh.
Update makes the non-news: This site celebrating the work of Harry Chapin mentioned the Update, because we talked about one of his songs.
I love that line of his from "Circles," which says "No straight lines make up my life, all my roads have bends - no clear cut beginnings, so far, no dead ends."

Boats! Jan & Dan & Brian & Gary from Friday Harbor Yachts are setting up at the boat show this week. It's the Boats Afloat Show 2005 from January 14-23 on Lake Union near Seattle, Washington. Dan says, "We'll have a 57' Selene, a 53' Selene, a 47' Selene and a 43' Selene as well as a 37' Nordic Tug. We'll also have a Big Eagle 53 in the area for showing. It's the largest gathering of Selenes for one boat show - come see us at our hospitality tent - you'll love it!"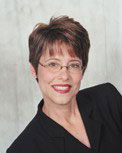 Tracy James in Paris: You'll remember Tracy moved to Paris last summer...it sounds like things are working out for her, there. Here's a note she sent last week:
Hi Ian, just wanted to drop you a line to say hi and tell you that I read your san-juan.net page every morning with my coffee. And then, just for fun later in the day, because it's pitch black in Friday Harbor when I get up, I check back and go to your link to the island cam so I can see the harbor and what the weather is like. Makes me feel like I never left! Hope all is well with you. Things are absolutely fabulous with me. I love living in Paris and in fact, have made the decision to sell my house in Friday Harbor so I can continue to live here. I took 6 weeks of French in Cannes this summer and am picking up more and more just by living and interacting with all my lovely French neighbors. Haven't found anything to do for an income yet, but have lots of irons in the fire.

I am volunteering for a woman who publishes a weekly email newsletter she sends to 30,000 people across the US and Europe. She also gives seminars in the US and France that teach people how to purchase real estate here and she now wants to bring me into the fold as her mortgage loan representative! I knew that would come in handy some day! Just had a fabulous 10 day visit with Hunter, my boyfriend from Friday Harbor, and Annette Schaffer arrives on Sunday for a visit. I'm keeping really busy traveling, exploring all the nooks and crannies of Paris, learning to dance the Irish jig (!) and writing. I'm thinking there is a book on its way detailing all the things I've learned about myself and what it takes to follow your dreams. Say hey to everyone for me and thanks for the web site. It keeps me connected to my wonderful home town! Love, Tracy

Click here for more news
Click here to look through previous years' Updates. You're in there, somewhere.
---
The information here is simply stuff we here at By Design think is important around Friday Harbor or on the Island. Some of it's news, some of it's old news, and all are just things we wanted to mention, with most of it about the things that make living here great.

There will be more next week, if anything happens.

Ian Byington
ian@byd.com

More info about the island:

This site prepared by our friends at By Design in Friday Harbor.
The information contained here is
©Copyright 1997, 1998, 1999, 2000, 2001, 2002, 2003, 2004, 2005 and next year, too
by By Design, Friday Harbor.
Unauthorized reuse of the content of these pages is prohibited;
links to other sites is intended to be to the benefit of those sites,
and for the edification of our readers,
and does not constitute endorsement or
agreement with views expressed there.