April 20, 2005
Out the window: Don't just look out the window at how nice it's been. Get outside & play.
Helping Ben: There's a fundraiser/auction/dinner coming up for Ben White in a couple of weeks...read here for more info.
See what you can do to help our friend.
Helping friends with cancer: On May 5 (that would be Cinco de Mayo, oh ye of the NO_NAME cultural elite), there's gonna be a Bowl-A-Thon to raise dough for the CAncer Support Mission...I already bought my tickets, so I want you to come too. Here's the scoop from my friend Marie:
FIESTA BOWL-A-THON - benefiting Cancer Treatment Support Mission on Thursday, May 5 from 6 pm to 10 pm at Paradise Lanes presented by Soroptimist International of Friday Harbor. Join us for Cinco de Mayo fun! Presale tickets only (must be 21).

Dinner will be a Mexican Buffet with Mexican Pizza and Appetizer plates. Cervezas, Margaritas are available. Raffle items, Prizes and more! The Bowler tickets are about sold out at $30 a piece. Non-bowlers buy your ticket now! The Non-bowler tickets are $20 (limited seating). Your ticket gets you into the Private Party, a fabulous Mexican Buffet Dinner, Dance and a Raffle Ticket for one of the great donated prizes from our community. Come and Support the Bowlers, Soroptimists and their Cause. Fiesta decorations add to the celebration and everyone is dressing to theme. Prizes for best Mexican dressed female and male, bowler with most sponsors, highest bowling score, etc. Additional raffle tickets will be available that night.

All tickets include fun and the opportunity to support the Cancer Treatment Support Mission project. The monies received will help fund transportation to the mainland from San Juan Island for islanders receiving cancer treatment. The target group is women diagnosed with cancer and need assistance getting treatment. Tickets are available by calling MarieDiCristina 378-5949 or Laura Westmiller 378-7562.

Quote: Destiny is not a matter of chance, it is a matter of choice; it is not a thing to be waited for, it is a thing to be achieved. - William Jennings Bryan


April 18, 2005

Another angle: You know, Nan Simpson (above) was one of my sons' favorite teachers when they had her for third grade at FHES years ago, and my guess is that when you take a trip for a wildlife tour with her as part of her new business, you'll see why.
Besides classroom teaching, Nan's a longtime naturalist and Whale Museum board member, as well as offering the "Love & logic" parenting class. Since retiring from school last year, as far as I can tell she hasn't slowed down at all; in fact I think she's sped up.
Check out what she's up to with Eagle's Eye Tours.
Straighter: Saw Ruth from waterworks at the store over the weekend - that arm she had operated on a few weeks back is getting better, but she's still having trouble straightening it. Hard to hang pix & cut things with one hand...she'll get by, though. Her strength of will is so strong.
Thought for the day: Duct tape is like "The Force," it has a light side and a dark side and it holds the universe together.

Dorks on the loose: I was at the grocery store Sunday and heard a kid tell another kid, "Where'd ya get that, dork?"
That reminded me of a Dork Test I'd found a while back & wanted to share with you. I passed & am certifiably dorky; I was hoping you would take it & see if I have company. Let me know.
If you look up its word origin (here), you'll see why marine biologists should care.
Earth Day Cleanup: Next weekend, you can help. At the Marketplace, they're signing up people to cleanup roadsides around the island. Go get yours squared away.
Too busy? Too bad - one of the key lessons of Earth Day, I believe, is that it's up to us to clean things up around us, and try to keep it straightened up. There's no one else. Here's more about local efforts in the San Juan Islander.

Passing: Over the weekend, I heard that Craig Miles passed away. Craig was one of the most energetic and bright people I've ever met, and he and his wife Krissy were in the process of moving here full time after they bought a place in town a couple of years back. His six year entanglement with cancer ended last Thursday; there will be a memorial service this Saturday in California.
Craig was one of the original bloggers, working on the tech behind TypePad, credited by many as helping start the blogging revolution. He'll be missed by Krissy and his mother-in-law, former Friday Harbor Elementary School principal Carolyn Haugen.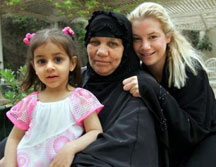 Quote: In an essay she wrote a few days before her death, Marla Ruzicka explained the significance of her work counting Iraqi casualties: "A number is important not only to quantify the cost of the war, but to me each number is also a story of someone whose hopes, dreams and potential will never be realized, and who left behind a family."
Marla was killed this weekend in Iraq as she continued her work as founder of Campaign for Innocent Victims in Conflict. Here's more.

April 14, 2005
Changes: Kim and Michelle Smith of Tanbark Marine were based for a long time at the Port in the marina here in Friday Harbor...now they've transferred their lease here to Jeff Granville of Granville Marine in Anacortes.
But they're still around! The Smiths are operating their company Tanbark Marine over on Lopez Island, based there, serving all the islands including their friends here on San Juan Island and in Friday Harbor.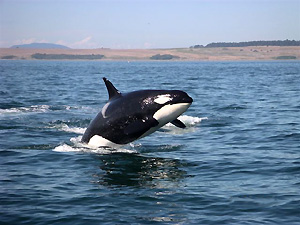 Killer whales get named the state mammal: Today in Olympia state Gov. Christine Gregoire (although several local pols call her "Chris") is going to name the orcas as the state's official mammal. Here's more from her office.
A group of second- and third-grade students from Crescent Harbor Elementary School in Oak Harbor will be on hand. The students first proposed the legislation as part of a class project.

I'm pretty sure kids from our elementary school would have done the same thing, but we probably already thought it WAS the state mammal.
Good enough.
Gas up: Petrol at the Big Store was 2.95/gallon yesterday. Haven't checked yet today.
I knew this 'cause I heard someone who was pumping gas cussing & muttering under their breath when I drove up.
On my bike.
It's not the Big Store's fault, though.
Mothers as science teachers: On the mainland a few weeks back, I heard a frustrated mom at a restaurant say to her talkative kid: "Shut your mouth and eat your supper!"
When I was in school that was called osmosis. Does it work with humans?

Quiet on the home front: If people don't return your calls today & tomorrow, that's probably because they're doing their taxes.
And they better...the San Juan Islander reported this morning that the latest you can get your return postmarked at the Friday Harbor post office is 3pm Friday afternoon.
April 13, 2005
THMs in the water: The Town has determined there is a higher-than-standard level of triahaolmethanes (THMs) in the town water, at least partly because the State lowered its accepted level.
While they say this is not an immediate threat to people's health, they say there are indicators that some people who drink this water over a long period of time can develop certain kinds of cancer. Here's the whole story from the Town (signed by Gary the Mayor & King the Town Administrator).
Ferry meeting: There will be a ferry meeting on April 15 from 3-5pm at the Community Theater regarding the amended proposal for ferry tariffs. The public is encouraged to comment.
Natives come to visit: You remember our all-state FHHS tennis player ('96), Mimi Miller...she's visiting this month from Australia where she now lives.
I saw her coming out of Osito's with her two girls, Leila & Isabella. She's a mom now, and was working at an import biz, while her husband Glenn works as an IT tech in Canberra. She says it's always good to come home, and proud grandma Chita smiles a big smile when she says that.
Baby on the way: Chris and Emily Wolfe are expecting kid#2 in June, just as school ends for his middle school classes.
Quote: Hope is a state of mind, not of the world. Hope, in this deep and powerful sense, is not the same as joy that things are going well, or willingness to invest in enterprises that are obviously heading for success, but rather an ability to work for something because it is good. - Vaclav Havel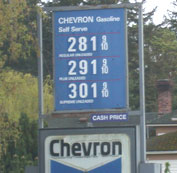 April 12. 2005
Gas prices rise: I took this photo of the gas board at the Big Store last Friday and it's already nine cents more - it was 2.90 for regular yesterday.
Etta's opens: Got this note from Michelle & Barbara:
Dear Ian,

Michelle Hargrove and Barbara Rouleau would like to announce that Etta's Kitchen will open Monday April 11, at 7:00 a.m. for our full menu. Etta's Kitchen is located in the former home of Etta Egeland. Etta Egeland, grandmother to Ed & Barbara Rouleau, was well known for her hospitality. Etta was fifth generation islander and founder of the local Historical Museum. Etta's 112-year-old home located at 455 Argyle Avenue is part of the Old Argyle wagon trail. It was her home from the 1960's until her death at 105 years and 10 months in 2002.

Etta's Kitchen will open at 7:00 a.m. for that morning coffee or espresso with several quick breakfast options. Etta's Kitchen is a drive through geared toward the local's. We offer box lunches for mothers taking children to school or the working person just tired of packing their own lunches. All soups made fresh daily, sandwiches are made fresh to order. Party platters 24 hour notice. Call your order in at 378-5123.

Thanks, Michelle and Barbara

Quote: Since you get more joy out of giving joy to others, you should put a good deal of thought into the happiness that you are able to give. - Eleanor Roosevelt

Victoria Express announces $300 winner of the 'Name that Discount Fare' contest. Nell at Victoria Express tells me that since announcing the contest in January, the Victoria Express has received over 350 entries. John Bogaert of Friday Harbor, Washington is the San Juan Island and Vancouver Island winner with the name 'Off the Rock' resident fare. Mr. Bogaert will be receiving his check at the San Juan Island Chamber of Commerce meeting in May.

She says the idea of the discount fare is that if you purchase a full fare round trip ticket on any route operated by the Victoria Express, she'll will give you 50% off the second round trip full fare ticket purchased for the same sailing. Residents of Clallam and Jefferson County, Vancouver Island and the San Juan Islands are eligible for the discount rate

Children's Festival is coming: Island Rec presents the 15th Annual Children's Festival, Saturday May 7th, from 10:00am – 2:00pm, at the County Fairgrounds. The theme this year is "Celebrate Play".

The Children's Festival Committee is currently looking for volunteers to help make this the best festival yet. No special skills are needed; just a little time and a fun attitude. Stop by the Island Rec office at 580 Guard Street or call or email Sally Kerr, Recreation Director at play@islandrec.org or 378-4953.

As always the festival is free for children of all ages. The festival is made possible year after year by generous donations and support from the island businesses and organizations and volunteers.


April 11, 2005
Spring break is on: As you know, schools on the island take two weeks off around Christmas & New Year, and a week off in February. Now it's time for another week off for the schools - spring break - so if town seems a bit empty, that's a big part of it. Janet Olsen took a bunch of band kids to Chicago, Spring Street School's got their eighth graders in Washington, DC, and a numbers of mamas & papas are away for the last chance away before the summer season hits.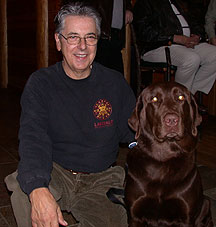 Lakedale beseiged: I dropped by Lakedale for Jack & Stephanie's huge moving sale on Saturday, and there was a fair-sized mob there. Jack (right, with his dog, who looks possessed but is actually quite nice) was handling questions right and left while Stephanie was cashing folks out.
They tell me the sale for the property will be complete this week...and they have travel plans. They've been a huge part of the community for years, including tenure on the Chamber of Commerce Board, raising Cember, their great kid, and running a strong, much needed place for visitors to stay at the campground & cabins. They'll be missed.
New biz: Besides running the marina and airport, the Port of Friday Harbor also leases retail space to a number of local businesses. Along the waterfront, those businesses stretch from Downrigger's Restaurant to the Yacht Club to the Sail Loft.

Changes over the last couple of months: Kim and Michelle Smith transferred their lease to Jeff Granville of Granville Marine in Anacortes. The Smiths will still operate their company Tanbark Marine over on Lopez Island.
Peter Whiting sold Northwest Charters to Bill and Deanna Jenkins, his service managers. Charters Northwest will focus on rentals and charters, and plans to discontinue the brokerage.
Also: San Juan Safaris will be moving into the spot next to Charters Northwest this month.

Grays around: I hear that gray whales have been running up and down sound this last week, and were reported over next to Whidbey Island Sunday.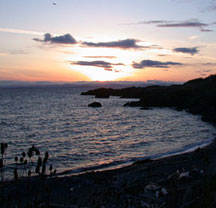 In the glow: You know what's neat about that sunset to the right? If you click on it you can see a larger version of it.
Hard to do with the real thing - you'll burn your nose.
I shot that on Saturday night on the west side just below Olympic Lights B&B, who are some of the nicest folks you'd ever want to meet.
Passing: You'll remember I mentioned to you about a year ago that longtime islander Ed Nash (he graduated in the late 40's) had heart surgery to try & fix things...about a week ago he suffered a heart attack, and succumbed this last weekend on Saturday.
Ed's wife Sonia called to tell me all this yesterday...she and 13-year-old Eddie have a lot to deal with this week. The service is set for Thursday.
Quote: Following your feelings will lead you to their source. Only through emotions can you encounter the force field of your own soul. - Gary Zukav, The Seat of the Soul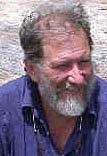 Ben starts a new campaign: Ben White (left) has traveled the globe trying to change things, usually giving a voice to people, marine mammals, nature, and things that have no voice, and working hard to make things better.
Now he's dealing with discovering he had tumors in his abdomen, and going through chemo to try to win this new fight. He's back home now from the hospital...there's a fund set up by Ben's friends at Islander's Bank if you want to help with his medical expenses by giving a little to someone who has given a lot to the planet.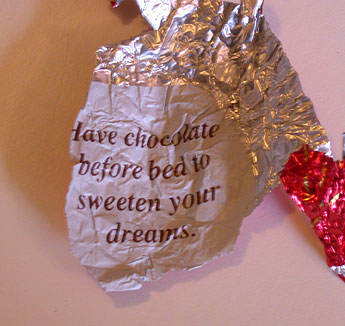 Library: I dropped by the library the other day to return all my overdue books & to get some more to make overdue, and got a chance to admire all the new space the re-model opened up. Drop by soon if you haven't seen it. Way cool. And thank our librarian friends for working way hard to make it all work.
While I was there, there was a bowl of chocolates, which Laura pointed out had messages, kinda like fortune cookies.
Here's the one I got, 'cause I know you'd want to know.
April 7, 2005
Nature Institute founder leaving the island: You know the Nature Institute's been around & going strong for over ten years now, founded by Susan Vernon, Karen Traub, Mary Blevins, and Carla Stroh.
Well, now Carla's moving to Whidbey Island with her husband John. She says she'll be staying in touch with what the Institute (and her friends on the island) are up to, and that Whidbey isn't really all that far away.
Lakedale to be sold: Sounds like the sale of Lakedale Resort is close to a done deal, with everything expected to get wrapped up early next week. I'll tell you more after I check in with Jack & Stephanie.
Quote: "Of all tyrannies, a tyranny exercised for the good of its victims may be the most oppressive. It may be better to live under robber barons than under omnipotent moral busybodies. The robber baron's cruelty may sometimes sleep, his cupidity may at some point be satiated; but those who torment us for our own good will torment us without end, for they do so with the approval of their own conscience." - C. S. Lewis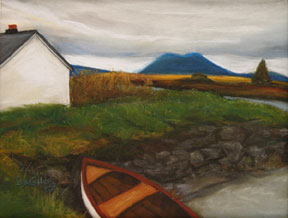 April 4, 2004
Passing: One of the great ladies of the island has passed away...Tanya over at Girl Friday tells me Sheila MacLaglen died this weekend after a two-month illness.

Two decades young: As it enters its 20th year in Friday Harbor, waterworks gallery has re-opened for the year. Gallery hours are Wednesday thru Saturday 10.30 to 5.30 and other hours by request.
Featured this month (right) are new works by gallery artists, and abstract mixed media images of birds by Caroline James, and luscious landscape pastels by Lisa Gilley. The entire 2005 show schedule is posted to their website.

"I may not get there with you": Today's the day, back in 1968, that Dr. King was assassinated. Some people today don't know the depth of the struggle, the depth of the problems he faced, the depth of the courage he showed, that he has come to signify, both within and outside of the movement to level the playing field for all who live in this country.
It's important to keep telling the stories.
The night before he died, Martin spoke of the struggle, and what it would take to succeed. The speech he gave in Memphis that night included remarks that proved prophetic the next day:
"And some began to say the threats, or talk about the threats that were out. What would happen to me from some of our sick white brothers?

"Well, I don't know what will happen now. We've got some difficult days ahead. But it doesn't matter with me now. Because I've been to the mountaintop. And I don't mind. Like anybody, I would like to live a long life. Longevity has its place. But I'm not concerned about that now. I just want to do God's will. And He's allowed me to go up to the mountain. And I've looked over. And I've seen the promised land. I may not get there with you. But I want you to know tonight, that we, as a people, will get to the promised land. And I'm happy, tonight. I'm not worried about anything. I'm not fearing any man. Mine eyes have seen the glory of the coming of the Lord."

He also spoke of what was going on, and what it would take.
"And another reason that I'm happy to live in this period is that we have been forced to a point where we're going to have to grapple with the problems that men have been trying to grapple with through history, but the demand didn't force them to do it. Survival demands that we grapple with them. Men, for years now, have been talking about war and peace. But now, no longer can they just talk about it.

"It is no longer a choice between violence and nonviolence in this world; it's nonviolence or nonexistence."

In his remarks the next night, that fatal evening, off the cuff with no one writing the words for him, presidential candidate Bobby Kennedy spoke at a mostly black campaign rally, and announced the awful news. He said, in part,
"My favorite poet was Aeschylus. He wrote: "In our sleep, pain which cannot forget falls drop by drop upon the heart until, in our own despair, against our will, comes wisdom through the awful grace of God."

What we need in the United States is not division; what we need in the United States is not hatred; what we need in the United States is not violence or lawlessness; but love and wisdom, and compassion toward one another, and a feeling of justice toward those who still suffer within our country, whether they be white or they be black."
Remember, dear friends, remember.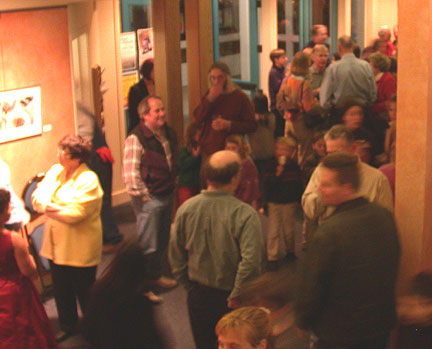 Good show: The middle school kids who put on "Charlotte's Web" this weekend knocked themselves out in front of three sold out & very appreciative crowds at the Theatre. Casey Lehman made a super Wilbur, matched with Alaina's Charlotte and a balanced cast that showed good pacing, clear story-telling, and did a good job of getting the younger kids in the crowd snibbling a little bit.
One of the great parts about living here is the ways in which we have moments that I would call the gathering of the tribe (left). Saturday night was no different, and intermission probably could have gone on for another three hours because of all the visiting of friends. It's possible that the most wonderful times around here are when we gather to celebrate the cool things our kids are up to.
This weekend was one of those times.
Survivor: One of the most important jobs in our community is that of teacher, and we have some of the best around. A reader sent in this riff on TV's Survivor that may make you look at your favorite teacher just a bit differently. Check it out.
And remember to say thank you.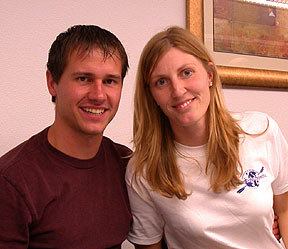 Other good show: Another gathering of the tribe happened Friday night when a couple hundred people dropped by the Friday Harbor Suites open house. With great food by Kelly and Charles from the Peppermill, tables set up to show off local attractions for kayaking, music by DJ Doug Rhine, prizes every 15 minutes or so, and a lot of people who dropped by when they got off work & looked like they were glad to be there, it was cool. GM Janeen Jennings & marketing director Franchesca Hanna put on a good party.
One of the booths had Johannes and Angie Krieger from Crystal Seas Kayaking (right), who tell me they're already getting out this season. That's what sunny days are for.
It was good to check in with Gail Garrett (middle) & Rebecca Smith, too - they run SanJuanIsland.com to help people find places to stay & things to do while they're visiting here. They brought Francis Smith along, too.
Side note to mermaids: Many happy returns!
April 1, 2005
No foolin': We were hearing all day yesterday how rotten the weather was going to be today. So far, it's been a beautiful Friday morning. Get outside.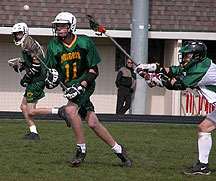 Dragons on a roll: Spring Street International School's lacrosse Dragons (2-2) showed their offensive side to the max on Tuesday, whumping visiting Stanwood 16-3. They lost a close one to Snohomish away last night, but have proven they're fun to watch. Their next home game is on Thursday next week...check their schedule.
Spring Street's new look: The local private school has unveiled their new website at www.springstreet.org, and one of the surprises among the information-rich site is the school's new name: The school's board approved it earlier this year, so now the school is officially Spring Street International School, as they continue to encourage students to travel abroad, and as they move toward accepting students from outside the country to attend here next semester.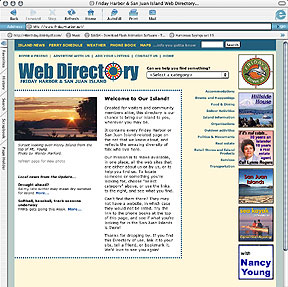 Open House: Drop by the Friday Harbor Suites & check 'em out today as they have a grand opening (or re-opening?) to show off all the renovation and upgrades they've put in place, as well as to celebrate their conversion to a Best Western Hotel. It's 5:30pm to 7:30pm - see you there.
San Juan Island Web Directory (left) hits ten: The Directory was begun this month ten years ago in April. 1995 as a place island people could all put their websites in one place. Its first version had THE eight webpages we had that week, including my first two sites, for Deer Harbor Charters and San Juan Excursions.

Since then it's grown - recording its 880,000th frontpage view earlier this week, containing every San Juan Island-related webpage we know of, and having the honor of being linked in some 5200 other websites & directories around the world.
These days, if you go to Google and put "friday harbor" in the search field, it's the Directory that comes up first in the list. See? Pretty cool. Check it out.
Moving: Bill Wright from San Juan Safaris tells me he & Colleen are moving their office into the space that Charters Northwest once occupied under Downrigger's this month. That should prove to be a good spot for his whale watching & kayaking place, I would think.
They're mentioned in MSNBC's story about cool travel adventures, with a picture of their kayaks. I was surprised to see the caption on that story says, "Their quiet craft will help them get close to the abundant wildlife, including killer whales, to be found in the San Juan Islands and Salish Sea." I know the MSNBC guys are trying to be nice, but that's not the way I know San Juan Safaris to do things - they don't try to close in on the whales, and are scrupulous about following the whale-watching guidelines, which say not to try to get close to the killer whales. The rest of the story was fine, but that part needed a bit of clearing up, I thought.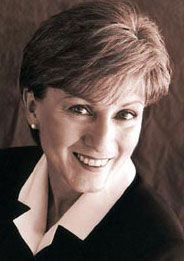 Move II: Speaking of good moves, the Chamber of Commerce moves this next week into the spot behind the yarn place next to Softwear, down the hall in that little mall, just up from Coldwell Banker. You know where I mean?
With good signage, it'll set up the Chamber to offer the kind of visitor's center we've needed for a good while. Cool.
Off to Vegas: One of my favorite photographers on the island is Marie DiCristina (right) at DiCristina Photography. If you want to see some good, well-composed, well-shot photos, drop by her site at www.dicristinaphoto.com. If you're getting married, call her up!
She and her husband went to Las Vegas to a photography conference a week ago.
Cancer event: Heather Hankins wrote to tell me about this, tomorrow:
KICKIN' CANCER OUT THE DOOR - KICK-A-THON Saturday, April 2, 2005 Rennick's Tae Kwon Do Academy is holding the first annual Kick-A-Thon to raise money for the American Cancer Society's Relay for Life. Students will be performing a chosen number of kicks in exchange for pledges or sponsorships from friends, family, and others in the community. The event will be held from Noon - 5:00 pm at Rennick's Tae Kwon Do Academy located at 960-A Guard Street in Friday Harbor (Just up the street from Harbor Rental and Saw Shop).

Please stop by and watch, cheer the kickers on, sponsor a kicker, or make a donation to the American Cancer Society. For questions about the event or to sponsor a kicker, please call Heather Hankins at 370-5053.

March 29, 2005
Newcomer to the island: You know Paul & Andy who run Wayfarer's Rest over on Malcolm Street - they brought home a brother for Jack last Tuesday. Baby Wade & Mom are doing fine, according to proud papa Paul when I ran into him on Friday night.
In the middle of it: Just got a note from Nicky Rigg in Thailand that she's OK after yesterday's earthquake in Indonesia across the water. She says the news spooked folks because of the recent tsunami, so everyone headed for high ground this time, just to be safe.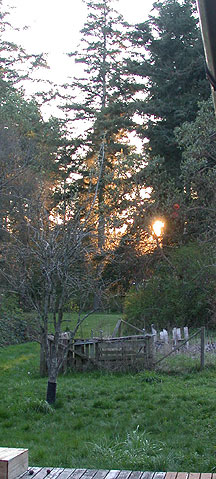 March 25, 2005
Becki on TV: Yep, tomorrow on Brides Northwest at 8:30am on KONG Channel 6/16, they're talking to Becki Day, who sets up & organizes events around here.
She's also looking after the Orca Fest in May...keeping her busy!

Full moon's tonight: The moon's full tonight, rising just before sunset...here's a picture of the sunset a couple of nights ago, burning through the trees.
See horse, then write: Thanks to all of you who saw the sea horse and wrote in to tell me you want to ride him/her sometime, or feed him/her, or identify him/her as a new species.
Science advances, one step at a time.
Guarding the details: Hey, remember I told you about the Island Guardian yesterday? Just to update a bit in that, Jack wrote to help me set the record straight - he runs the deal, and he has Gordy & John on as columnists.
Check 'em out!
March 24, 2005
Can't believe it's all online: Mark Gardner put a bunch of his cool pictures of our islands into a wonderful portfolio online on his site. Take a moment and click through them and you'll wish you were here.
If you are here, why are you fooling around with looking at the island with your computer? Get outside.
First year in the bag: As the school begins to wind down here - only three months left - I ran into Jodi Metzger-Bell the other day at the store & asked her how her first year as FHES principal has gone. She beamed as she said, "Great!" She says things are settling down nicely, and that she's already making plans for next year.
Stroke of genius for the district to pick someone with her energy, vision, and 23 years of prior experience in the district. Way to go.
Help for nonprofits: Liz Illg & Janna Gingras got started last year with their new consulting operation, Nonprofits Unlimited.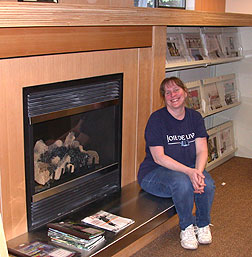 This year it's really started to take off, with more workshops, more consulting, and a new website that Liz keeps up, that is full of ideas, resources, and friendly advice about making great thngs happen with your nonprofit.
Library's back open: If you've seen the folks who work at the library smiling over the last week or so, it's because it's starting to look pretty good. Even though it's not complete inside, it's operational. Some parts, like the new fireplace across from the entrance, look pretty good, which is why head librarian Lauren is beaming.
Lauren just finished her first acting job with "The Laramie Project." When I asked her how it went, she said she loved it. She said that next time, however, she's going to check her Daytimer before signing up for a re-model AND a play.
It was sad to hear children's librarian Laura is moving on - she's leaving in mid-April to pursue new paths...she's made the children's program one of the nicest and friendliest around.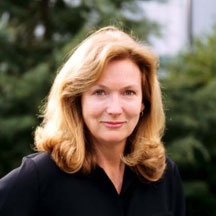 Classic design: When Laura Westmiller (right) moved to the island, she just kept going with what she had been doing in Seattle - helping people design good-looking places, working with homeowners, architects and general contractors. She and design consultant Mary Oettinger now have a showroom in Friday Harbor, as well as a website to show you the kind of work they have done, and can do for you.
Online newspapers flourish, or, at least, proliferate: As most of you know, I started the San Juan Update back in '97. For a while it was pretty lonely online: The Journal took some quiet stabs at making an online presence in early '97 or so, then the San Juan Islander came along in '99 or so and have emerged as the most-read online news organ, far as I know. (I was tickled when they said something about themselves being the island's only locally owned daily online news, last year. I asked Matt & Sharon - "Hey, I'm locally owned!" Sharon smiled and said, "Daily, not sporadic.") She's right. So your San Juan Update is the island's only locally owned sporadic news source. And proud of it.
Well, now we have company, as Gordy Peterson & Jack Cory have unveiled the Island Guardian a couple of months ago. So far it seems to me they cover the county news from a kind of governmental angle, with a bit of an environmental emphasis in places, probably because former Commish John Evans is helping 'em out.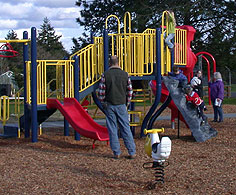 Someone asked me what I thought of the new competition. Ha! Give me a break! We're in this all together, and the more places we have to tell the stories, and get the stories, the better. Far as I'm concerned, these are my friends, not competition.
So, welcome in, guys.
Open: The children's park at the Fairgrounds opened in the early 1990s, and has been the place where thousands of island children have grown up playing, and where zillions of their parents met other parents & friends to carpool with or invite to birthday parties...you know the drill.
Monday's celebration of the new renovation marks another milestone for Island Rec, as the new & colorful play structure replaced the well-worn older one. You could tell by the way the kids were playing on it that it's a hit, and you could tell by the smiling faces of parents it's a hit with them, too. Way to go, Island Rec!
Etta's Kitchen to open: I got this note from Michelle Hargrove that I thought I'd share with you about my previous mention of a food place going into Etta's house:
Hi Ian,
I see you have heard about my new soup and sandwich drive-through shop. So I'll tell you a little more about it.

My mother-in-law and I are teaming up to make soup, sandwiches, espresso & much more. We have named the drive-through "Etta's Kitchen" My Mother-in-law is married to Etta's grandson, Ed Rouleau. We are very excited to get started. We plan to open April 4th. Our goal is to provide healthy (and some not so healthy) sandwiches at affordable prices. I will be serving lunches starting at 7am for those headed to work. Just stop by for your morning coffee and pick up your lunch bag while your at it.
If you have any questions, please feel free to ask. Our phone number at the kitchen is 378-5123. Or you may email me at snupi@rockisland.com.
Thanks Ian, Michelle Hargrove