May 24, 2005
Tonight's the night: Hope I see you at the high school's concert tonight - the concert band and the jazz band are playing. At the Community Theatre at 7pm - it's one of those things that's free that's priceless. Last chance this year - don't miss it!
Ball teams rock on: The high-flying FHHS baseball team continues into the playoffs this weekend after last night's 9-4 win over Cascade Christian, which was your last chance to see them on-island. To win state, you gotta travel all over the state, so they're off!
Meanwhile, the softball girls are home tonight at 4:30pm for their first playoff game as well, and last on-island one.
Good day for a ball game.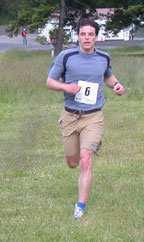 May 23, 2005
Orca Fest: The day's festivities included music and arts & food vendors next to the courthouse, lectures & talks at the Grange about whale-related things, and a race in the morning. Far as I could tell, it looked to me like people were having a good time.
One of the great parts about the day on Saturday was that it waited till evening to rain - even though it was gray most of the day, the threat was never realized.
In the morning's 5K Run (sponsored by Countrywide Home Loans), the 3.1 mile course was run by a field of folks who came for the fun of it, and was won by Ryan Gile (right) in 17:55 on the men's side, and in about 25 minutes by Natalie Schnick (below, with a friend).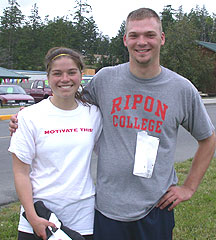 Ryan's doing research at the Labs, while Natalie works with Bob Otis doing whale data-collecting on the west side.
Wed: You heard that Renee from Ravenhill and her friend Sonny got married yestrday at the Yacht Club. right?
Changes at Amigo's: Sybil Mager tells me she and Travis (you'll remember they run San Juan Property Management, and she's a realtor at Friday Harbor Realty) have purchased the building Amigo's is in, and bought the restaurant from George & Stacy Brem. With Lauren hitting the road for school after graduation next month, the Brems have a well-deserved summer off from the restaurant biz.
Quote: Whatever you do, you need courage. Whatever course you decide upon, there is always someone to tell you that you are wrong. There are always difficulties arising that tempt you to believe your critics are right. To map out a course of action and follow it to an end requires some of the same courage that a soldier needs. Peace has its victories, but it takes brave men and women to win them. Ralph Waldo Emerson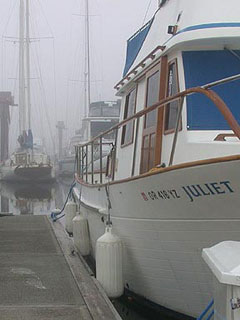 Note from Adair: The nicest folks write me, you know.
I got this note from someone who saw one of my pictures on the Update:
Hi Ian – we met around town – at Island studios, in fact, tho' you may not remember. I just saw your photo on the web of the Juliet in the Harbor. That was my father's boat, named for my mother, tho' I think it has had several owners since they passed away. It was so great to see the photo! Such great memories. Thanks - Adair

That's the picture in question, on a foggy day last August.
May 20, 2005
The Orca Fest kicks off: One of the parts of Orca Fest you'll like is the dance tonight at the Mullis Center called the Orca Ball - it's free, featuring Deb (Sundog) and Albritton McClain & The Bridge of Souls, so I know I'll be going. Deb's been around the island & is an island favorite. She & the band are also playing tomorrow afternoon for the Orca Fest at 3, and at the Legion tomorrow night.
There are a bunch of other things as well - lectures, more singing (the boys and I are at 1:15 Saturday), a 5K run, entertainment, and more. Check out the website.
Good shows: The run for "A Funny Thing Happened on the Way to the Forum" has been getting good reviews, and ends its run this weekend at the Community Theatre. Don't miss it!
Meanwhile, at the Fairgrounds, it's "The Drawer Boy" by Island Stage Left at 8pm, a new Canadian play. It runs till June 4th...here's more.
THEN go see "Star Wars" at the movie theater, but see the real stuff first.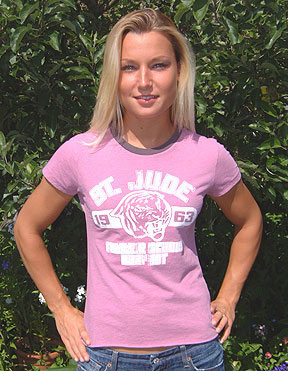 Daisy Blooms: Dropped by Daisy Bloom this morning (across from Downriggers) and was surprised to see how much they've grown over the past few years. You can get a pretty good idea of what they carry from their website, which also features people from the island wearing the clothes and accessories they sell.
That's Amber from the shop (right) with one of the shirts they offer.
Changes on the real estate scene: Longtime Coldwell Banker agent Tim Gambrell's moving over to Friday Harbor Realty to serve as a broker for them - he tells me he's excited about the move, and has always liked the administrative end of things...FHR is also adding Rich Drye to their agent list as well.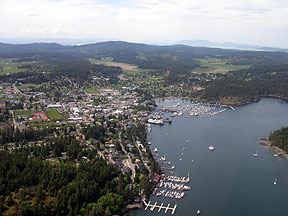 This isn't the picture you want to see - click on the photo & you'll see a full screen version in which you can see your house. Taken over Friday Harbor last week, by Ali Gill. That's Capron's Landing in the foreground, and the marina in the background.
More from Rachel: Artist Rachel Blagdon has added more paintings to her site at www.artbyrachel.com. Her "Reclining Nude" is one of my favorites.
Quote: "Should any political party attempt to abolish social security, unemployment insurance, and eliminate labor laws and farm programs, you would not hear of that party again in our political history. There is a tiny splinter group, of course, that believes you can do these things. Among them are [a] few other Texas oil millionaires, and an occasional politician or business man from other areas. Their number is negligible and they are stupid."

- President Dwight D. Eisenhower, November 8th, 1954

Written in stone: You remember I mentioned that the Hillside House landscaping was done? I incorrectly identified who did it, but am happy to tell you now that it was Richard Lawson Construction - check out the photo below.
May 18, 2005
Mount St. Helens revisited: If you lived around here in the Northwest then, it's a day that's etched in our memory...25 years ago on a Sunday morning the mountain turned from a pretty, snow-cone of a peaceful mountain into a monster that ravaged the area.
It's still shaking, and there was a report in the news yesterday that Mount Rainier is, by the way, also dormant, not extinct. It all serves as a reminder that the earth, like all of life, keeps changing.
Hold on for the ride.
Red roof: Lynn Danaher says you can see the red roof of her storage place real well in the aerial to the left. Did you see your place?
Babies: I hear Stacey & Bobbi from Haley's are pregnant again, so Molly has a sibling on the way.
Meanwhile, Robin Jacobson wrote in:
A Funny Thing Happened on the Way to the Forum last Sunday night --- Janet and Merritt Olsen, both performing in the musical, became grandparents for the first time.

Janet's daughter Dana in Iowa gave birth to a baby girl named Carys Elisabeth Cummings. Janet says she is driving to Iowa the very minute school lets out and will be there all summer.

Thanks again for all your Updates ---I love reading them! Robin
Goldfish, beware: Tammra from Argyle House tells me the crows (they're big around here) have been eating the goldfish out of her pond. They even ate the biggest one, Bruce, named after the shark in Finding Nemo.
She says she has witnesses.
One year: Yesterday was Julie Corey's anniversary for her first year at Countrywide Home Loans, since she took over for Tracy James last year. She and Julie Greene (the other agent) do a super job of taking care of both this island and Orcas (where JG also has an office.)
Order books here, online: Skip & Lisa at Harbor Books tell me their online store is up & running at http://www.harborbookstore.com/... you can order the books you want at a discount (Amazon, watch out!) from the comfort of your computer screen. Check it out!
Cheerful: Jackie at the high school says she's going to try and recruit boys for next year's cheerleadiing squad, as well as girls...if you're interested, there will be a mandatory parent meeting for students trying out Friday, May 20th at 4:30 pm at the high school, and the try-out clinic will run June 2nd through the 8th with try-outs on the 9th.
The Best, step up: Darleen Nixon wanted me to let you know:
All artists who are residents in the San Juan Islands are eligible to apply for the Best of the San Juans Festival to be held September 10, 2005. For more information or an application form contact Darleen Nixon, 378-1353 or email Danixon@aol.com with your name and address. Deadline for submitting applications is July 15, 2005.

The annual Best of the San Juans Festival is a celebration of the artistry of the San Juan Islands. The Festival will be held at the Westcott Bay Reserve on San Juan Island. The Reserve is a 19-acre microcosm of the San Juan ecology system and a beautiful setting that features over 100 sculptures open to public viewing year round.

He's here now: Ran into Russell Sadler last weekend. If you're from Oregon, you know that for more than 30 years, his daily radio and television commentaries were heard on broadcast stations in Oregon, Southwest Washington and Northern California. His weekly newspaper column still appears regularly in many newspapers (here's a sample). Anyway, he's living in the marina aboard here for the past couple of years & is settling in, here.
I knew him back in Eugene in the '80s and '90s as a soccer ref who handled my adult league games, and who didn't let me get away with anything. Another good addition to our community.
Byington Boys Band on stage: Come on by the Grange tomorrow night (Thursday) for a potluck at 6:30 or so, followed by the boys and me playing for about an hour as an album release party for my album "Love You On The Run."
It came out in early 2003, and it's already sold some 300 copies, and I never got around to doing this till now. Come & eat & give us a listen. Love to have you there. No charge, since most of my friends are poor like me.
May 16, 2005
Returning: Dwight Ware at Warehouse Coffee tells me he and Judy expect daughter Sarah home from her mission to Russia this coming week.
Old-time soccer week: Saw a brace of FHHS soccer alums around this weekend - Bronwyn's working at that wine place across from the back door of Pelindaba's downtown - she says she's headed for medical school this fall. Her present roomie in Seattle is Maggie DiGiovanni, who is doing plays in the big town and plays center mid for Bronwyn's women's team.
Meanwhile, both Nathan Smith and Colby Nicholson are working at the Rocky Bay Cafe, who also just picked up FHHS player-of-the-present Elena Porten.
Nathan remains the only FHHS gaolkeeper to score during a regular game - he punted a ball that sailed over the out-of-position keeper at the other end (who didn't know Nathan could nail 75-yarders) for the score about four seasons ago. You hadda be there...
Hillside House rocks: It does now, anyway, since that renovation job by Richard Lawson Construction is completed. I saw Naoni on Saturday and she says she and Greg are really pleased with the new look for the front of the bed & breakfast.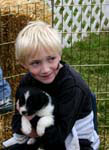 Children's Festival revisited: You know there are a lot of ways to determine if an event is successful - how many people came (a lot), how much money it made (it was free for kids to come to - priceless), whether it rained (nope), but I think the best way to tell it was a blast is to count the smiles.
I asked my friend Charlie Buck (he's a freshman at FHHS with a really good camera eye) to shoot me a set of pix from the day, and we posted the better ones here. Check 'em out to see who you know, and to see if you're in there. I know you'll like 'em.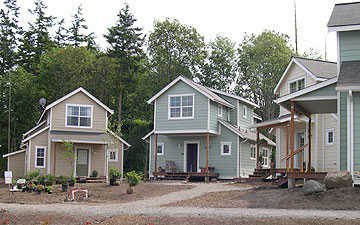 Salal project hits its stride: When I dropped by the Salal houses on Carter Street on Saturday, it was a pleasant surprise to see how good they're looking. The whole project is outlined on the Home Trust's website, but the short story is that these are meant to be a chance for regular working people to buy an affordable house on this island. And it's working.
You can help by donating to the project (see the site), or by renting a car when you're off-island from Enterprise Car Rentals in Anacortes. When you do, they pick you up at the ferry & you can leave the car there as well. Enterprise donates 15% of each rental to the Home Trust, so that's a pretty sweet deal for everyone. Here's the inside skinny.
Quote: Kindness in words creates confidence, kindness in thinking creates profoundness, kindness in feeling creates love. - Lao Tzu .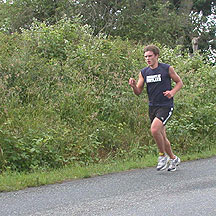 May 13, 2005
Races ahead: Next week's Orca Fest 5K Run (sponsored by Countrywide Home Loans) is set for 8am on Saturday the 21st. (I'm mentioning it now so you can get ready...)
Here's details about it and the rest of the Orca Fest, including the music (at 12:45 on Saturday the boys and I play for an hour and half - hope to see you there!)
Meanwhile, the Marathon's coming together for its third annual run on June 5th. Signups are going well, they tell me, and the Health & Fitness Expo the day before should be pretty cool. See you there!
That's Lucas Franco in the photo, on his way to winning the half marathon last year (for the secons time!) He tells me he'll be along to run again this year, taking a break from his spot on the Seattle University track team.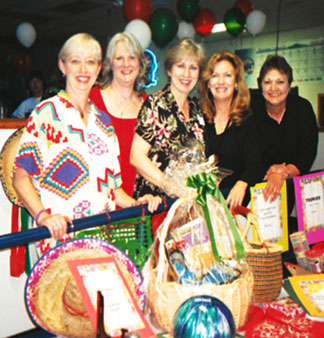 Raisin' the money, raisin' hope: The Friday Harbor Soroptimist Club raised over $5300 with their Cinco de Mayo Bowl A Thon last week. That's Judy Cornell (president), Patty Brightman (raffle chair), Marie DiCristina and Laura Westmiller (event co-chairs), and Joyce Johnson (raffle assistant).
They had a ton of sponsors, and a ton of fun. Here's the rest of the story. The fundraiser was for the Soroptimist Cancer Treatment Support Mission Project.
Open House, open island: You gotta check 'em out. Affordable homes around the island are rare, but the Salal neighborhood and the Home Trust are working to meet the need.
Here's more from Ann Harris:
The Home Trust of San Juan Island warmly invites the community for a first ever tour of the Salal homes on Saturday, May 14, 10:00am to 2:00pm. These permanently affordable houses for low-income residents of San Juan Island are located on Carter Avenue next to the Hillside House Bed and Breakfast.

Homeowners and Home Trust Board Members will be on hand to guide tours, provide refreshments and answer questions about the Salal homes. Construction will begin soon on five additional houses at the same site and the Home Trust is currently accepting applications for these two- and three-bedroom homes. Their location can be seen on this visit as well.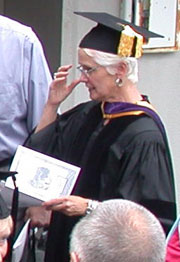 Landscaping has just been completed with the assistance of AmeriCorps volunteers. Often described as a domestic Peace Corps, these young people have come from across the country to assist the homeowners and the Home Trust in the final phase of the project. The site is more beautiful than ever with the new plantings in place.

Changes at Skagit Valley College: Most of you and I have watched the evolution of the San Juan Center for SVC over the years...it was still operating out of the spot that Curves is currently in, next to the Presbyterian Church, just ten years ago. Then, in March 1996, the Center opened in its present location above the airport (I know all this because I was teaching computer classes and math classes and other stuff for them from back then till last August.)

Seven years ago, Colleen Clancy (right, at last year's graduation) set aside her law practice to take over as director of the San Juan Center from Marilyn Campbell, the SVC director who spearheaded the building project. During these last few years, you'd find Colleen everywhere: meetings with the school people here and in Mount Vernon, figuring out ways to connect with other programs, serving as academic advisor to the students. During her tenure, the academic program grew, and in spite of budget cuts, she found ways to keep the college center on track offering a good, solid education to the students.
Well, the story now is that she's taking a comparable job at a school in Oregon (with 8,000 students) after this school year. She's left her mark on the community, and she'll be missed. Good luck, Colleen!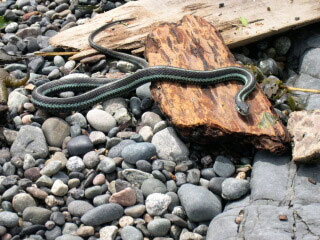 May 10, 2005
Wildlife report:
A horse, of course: Couldn't believe it - Julie down at Softwear told me Sunday that Jerry Moss's horse won the Kentucky Derby on Saturday!
Garter snake on the beach late last week, over near Griffin Bay.

Raccoon on the loose: I awoke on Friday to the sound of crows making a bunch of racket in the back, so I stuck my head out the back and saw a bad-ass raccoon 2/3 of the way up the tree. Although he had those birds going nuts - maybe he was for their eggs in their nests near the top - he looked totally unconcerned & sat there & preened himself, right there on the limb.
After a while he got bored & came down and wandered off into the neighbor's place.
Horse, part 2: I just checked on the San Juan Islander, and it's true - Jerry's horse DID win the Derby. Check there for details.
It's the principal of the thing: They also say the School District just picked the woman who is middle school principal of the year to be Court Bell's replacement. Sounds cool. Check THAT out, too.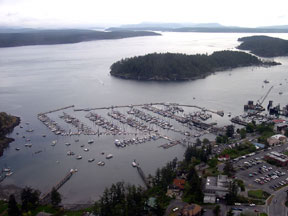 Friday Harbor from the sky: The afternoon had cleared pretty well by yesterday afternoon when ace photographer Ali Gill shot this aerial from her San Juan Airlines flight from Bellingham. Click on it if you want to see a full sized version, and you can see my house. Maybe.
Quote: You must be the change you want to see in the world. - Gandhi.
May 9, 2005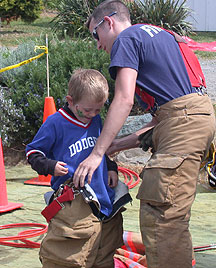 A great weekend for all: Whether you went to the Children's Festival, or the Labs' Open House, or mowed the lawn or just watched it grow, or the theatre's preview for their upcoming spring musical, it was a great weekend to do stuff around the island. The weather even held up, waiting till last night to really get raining.
The Children's Festival rocks: It was the 14th year for the festival which has definitely grown since the last time you went to it.
There were games and exhibits and hot dogs and all kinds of things for kids to do. It was a wonderful reminder that this island really puts kids first, both by educating them and playing with them.
I always like seeing what the Fire Department does (above), which includes dressing up the kids in the fire outfits.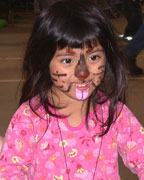 It really helps when the weather cooperates, because then there are more outdoor things going on, at the BBQ pit and the soccer playground and the Wolf Hollow demonstration. The clouds came, but it stayed dry, so no complaints.
Inside, it was fun to listen to the karaoke singers - mostly kids - and see Magic Charlie's magic with basketballs as well as his positive message about life. There were painted faces and a lot of smiles all around.
Putting all this on takes months and a zillion volunteers, all put together by Island Rec. Way to go, you guys!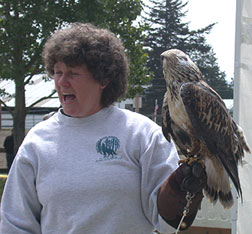 Wolf Hollow Rehabilitation, downtown: Did you know?
Go and visit "Wild Things" Wolf Hollow's new wildlife information center and gift store in town. They open in early May and invite you to their official "Grand Opening" on Saturday May 14th. from 10 am till 4 pm. You will find them at 20 First Street, Friday Harbor,( next to the Thai Kitchen and just down from the Whale Museum.)
(That's Shona Aiken on Saturday with a feathered friend at the Children's Festival.)

Marathon music set established: Clark Gilbert from the Marathon tells me that loud playing of "Chariots of Fire" and "Rocky" will NOT be allowed along the peaceful roads of San Juan County during the Marathon (everybody plays those at OTHER marathons; this is something that makes OUR marathon different.)
However, "On the Road Again" and "Highway to Hell" will be allowed.
May 4, 2005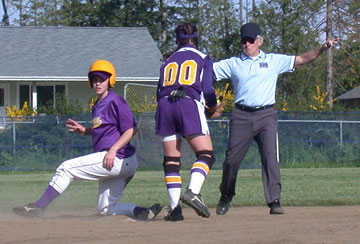 Softball rocks, baseball moves ahead: FHHS softball knew unbeaten Concrete would be a hard team to play, and they were, as they grabbed a 2-0 lead in the first and hung on to beat our girls 4-1 yesterday under sunny skies. The loss leaves us in second in league, behind those Lions.
That's Katie Shanks safe at second (left) in the first inning as the Wolverines got on the bases but not on the board early.
Meanwhile, the baseball boys beat the Concrete guys 3-0 to keep hold of their clamp on first place in league.
Selling: Looks like Duke's is changing - Ron & Carol & Andy are finishing off the process of selling the store to David & Sondra Nash, just in time for summer sports. This will let last year's coach of the year Ron concentrate on soccer for next fall, while Andy focuses on his teaching.
May 2, 2005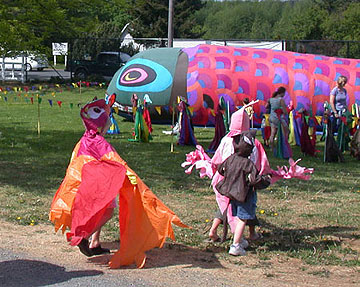 The Children's Festival is coming! Yep, it's this weekend at the Fairgrounds, on Saturday from 10am to 2 pm. This note isn't particualrly intended for folks who have gone before, because you already know how cool it is for you & the kids. It's more for anybody who hasn't gone before - it's just too cool to miss. And what other kid event have you taken your kid to lately that's free AND good?
See ya there.
Here are photos from last year's festival: Portfolio I and Portfolio II.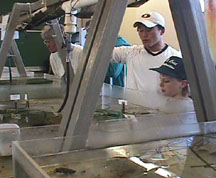 Only every two years: The Friday Harbor Marine Labs only open their doors for an Open House once every couple of years, and it's always worth the wait.
This weekend they're showing off what they do there, and I think you'll see why the Labs are just one more thing to be proud of in our community. One of the great things...
It's set up for kids, too, so be sure and take them. My son Cameron is 13 and has been six times, and is planning on going again. Wouldn't miss it. Hope to see you there, too.
Married: You probably saw it in the papers, too - Libbey Howard and Kendra Keithcart both recently got married, and Elliot Pemberton reports from Las Vegas (where he and his wife Kari live) that Brian Linde's getting hitched in September.
Clean windows: That's Made (pronounced MAH•day) keeping the Friday Harbor Realty windows so clean last week inthe sunshine...you can see the bright skies in the reflection.
Drug busts: You'll be able to see more about last week's drug busts on the San Juan Islander (here), but I know one islander who's glad - a neighbor to the house where all the commotion was last Friday told me she's been uncomfortable going by the place for some time, and even had changed her daily walk to avoid it.
She asked me not to say who she is, but said those folks were up to no good.
Trivial: All winter long the Ale House puts on its ongoing Trivia Night, and it's a longtime, well-attended way to pass the winter months. Last Thursday, Boo Boo was the MC for the last night of the season, and it looked to me like people had their usual good time. Oren & Peggy have put on a good show....
Clean windows: That's Made (pronounced MAH•day) keeping the Friday Harbor Realty windows so clean last week inthe sunshine...you can see the bright skies in the reflection.
Directory edges towards a million: The San Juan Island Web Directory climbed over 900,000 front page views late last week, and hopes to hit a million by summer. Have you checked it out lately?
There are photos which change all the time on the front page... pretty cool.
Mayor change: Ever since Gary announced three weeks ago that he's not gonna run again this year, I keep hearing in the street people who say they're running. I'm gonna call 'em & see if they're serious before I tell you who they are, 'cause I don't want to embarass anyone prematurely, especially since being mentioned here in the Update may affect their standings in the polls.
Might even get elected. I wouldn't want that on my conscience, either.
Why we were closed: Yep, my office was closed last Friday - it's a holiday at By Design, commemorating a fellow named Ben Linder...here's more about him.
We close for Gandhi's birthday, and Jesus', and Dr. King's, too. Peace is a precious, sometimes elusive commodity, which needs to be celebrated & envisioned for our chance at a future.
Peace be with you.
April 27, 2005
Merri Ann checks in: One of the best ways to keep on top of what's happening in the real estate market is to check out Merri Ann Simonson's quarterly newsletter. This month she reports sales are brisk, even though the overall number of properties at this point is low. Read here for more.
I called her to ask her something today, and what do you know - she's out showing property, which is a great thing to do on a beautiful day like today.
Relax: If you're looking for where & how to relax here on the island, you might want to check out Cynthia Elliot's Island Calm site, which is a complete (far as I know) directory of all the people who do healthy things for you here - massages, diet counseling, reflexology, naturopaths, the whole gang of 'em. Check it out.
Baseball on the move: The boys beat Coupeville yesterday to remain unbeaten in league so far this year, while the softball girls nicked Coupeville by a 2-0 count - they have only one loss in league.
This could be the year!
Umbrella Group Auction & Lunch: It's this Friday! Here's the scoop from Florence Harrison:

It's that time of year again. The Family Umbrella Group is having its seventh annual fund-raising Auction and Luncheon. We need to replenish the more than $17,000 expended on preschool scholarships this past year. Again the event will be held at the Mullis Senior Community Center on Friday, April 29, from 11:00 to 3:00 P.M. The theme this year is "an elegant Country picnic," and the tickets are $30.00, $20.00 of which is tax deductible.

Last year we provided 24 scholarships to toddler and preschool children. We held parenting classes that promote quality childcare. Last month, we actually ran out of funds for the first time; but our generous community rallied and covered our expenses within a few days! This kind of support helps enrich the lives of our children, and these children will make a difference, especially in the future.

It takes a community to raise a child!!
April 26, 2005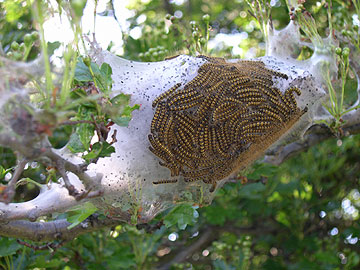 Caterpillar season arrives: There's a season for everything, and they're back. By most accounts, these guys go & come in 5-9 year cycles, of which we may be in the 8th year, depending on who's counting, or on whose tree they're eating. They eat the tree itself until they reach full body size....
The photo above was shot by Ali Gill for the Update last night on a tree on Argyle Street, about an hour before sunset.
The French Connection: That was Tracy James you saw the last month and a half around here, come back from France to sell her stuff & move to France permanently. You'll remember she left last summer to make her way in Paris, and when I caught up with her over the weekend she was heading back this week. She had Halley with her, who's in Seattle for college.
If you've been missing Cynthia & Christopher Burke the last week or so, that's because they've been over in Paris looking after Tracy's flat for her while she's gone.
Teeth in good shape: You'd have thought it would be hard to replace friendly Mark Fleming at Friday Harbor Dentistry across from Spring Street International School, but I keep hearing nice comments about the job Michael Horn's doing as he replaced him. Drop in & welcome him on in...
On the move: Kim & Michael Bertrand are in Oregon selling Michael's photos - you already knew he shoots killer pix of the islands because you saw them on his website, but you can see his great Oregon photos there as well. I especially love his Cannon Beach shots. They'll be home soon, though, because Kim's taking care of the Marathon Health & Fitness Expo for the Chamber.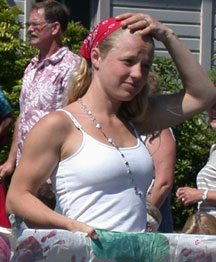 Coming soon: It was nice to see Kim Wargo (left, in last year's Fourth of July parade) on the ferry yesterday - she's still teaching at Stepping Stones, and tells me she's pregnant & due in November. Connie & Mike were with her, and you can tell the way they beam that they're gonna be great grandparents.
Buddhist Retreat Center continues to offer a place of rest: In 1986 Sakya Kachod Choling was begun as a retreat center. Located on 20 acres of beautiful tree covered hillside on San Juan Island Island, Washington, the serene, natural setting with a view of Mt. Baker offers a place of refuge and support for Buddhists and non-Buddhists alike year round.

At present, the facilities at Sakya Kachod Choling are designed to offer very affordable space for private, individual retreats and small group retreats.
Ben - lifted by love: Sunday night's Grange Hall Concert for Ben offered an overflow (out the doors, into the street) crowd a chance to enjoy Dana Lyons ( the "Cows with Guns" guy), Daniel Finn, and The Band with No Name as a benefit for Ben White's medical expenses.
This page by Bryn & Rebecca Barnard says they raised nearly $3800, and are moving toward their goal of $150,000 to help Ben, who has no medical insurance in the richest country in the world, along with 47 million other Americans. (Ben would want me to tell you about those folks.) Take a peek at that page for more about next week's auction for Ben, out at Duck Soup.
Morning light: Here's a photo by Ali from yesterday morning down at the marina, about an hour after sunrise...the clouds reflected in the water were beautiful.