June 1, 2005
Graduate! Dave and Wendy Picinich just got back from seeing Jill graduate magna cum laude, from the University of Nevada, Las Vegas. Jill received her degree in Hotel Administration with emphasis in Tourism and Convention Management. Did you know Johanna Picinich and Patricia Fairweather from here are her grandmothers? Jill is employed with the Westin Corporation in Las Vegas.

Celebrate Court's time here: He's been here for 14 years, seven at FHES, and seven at FHMS, and this is your chance to see court Bell off - there's a potluck in his honor at 5:30pm on Friday. See you there!

May 31, 2005
Wed: When I saw Susan Lembcke (from KMI Real Estate) at the bank last week, she said she had just gotten back from Bree Knight's wedding in Hawaii...Bree (right) is a longtime realtor at Windermere, and was a bridesmaid at Susan's wedding last August.
Unlucky: In unrelated events this weekend that put two of the island's more talented people out of action, Carrie Brooks broke her leg (which will keep her from playing piano at weddings for a while), while masseuse Cynthia Gordon hurt her wrist working with a horse. Get well!
Lucky & less lucky: The FHHS softball girls are off to state on Thursday at Moses Lake after winning this past weekend, while our league-boss baseball guys have to stay home after losing in their bid for state.
Both can be proud of fine seasons - we'll see how far the girls can go.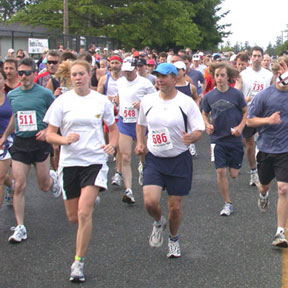 New biz: Paul Hopkins (helping put on the Marathon this week & formerly with San Juan Airlines) and Patrick Pillsbury (Bon Accord) have teamed up to start Flagship Event Rentals, supplying high quality event and party rentals, including tents and canopies, linens and cutlery, tables and chairs.
Marathon up & at 'em: You know the Marathon's this coming weekend (Sunday at 8:30am, starting from the Fairgrounds), but did you know it's one of the most successful "shoulder season" events around?
It happens this year for the third straight year, with more runners so far than they had last year (and a week left to sign up more), but what's also cool is having so many visitors come to the island during a pre-summer weekend. Beyond the economic impact, it's great to have such a positive island-wide event happening, including this Saturday's Health & Fitness Expo, which has grown to over 35+ vendors this year.
That's FHHS's junior Madison Judkins out front last year - this year she's going to state in Cheney this week to compete in the 3200m run.

Golf Classic set for this weekend: On June 3rd and 4th the Wells Fargo Celebrity Classic will have one of Seattle's all time favorite stars, Edgar Martinez (left), play in the tournament, which will be held at the San Juan Golf & Country Club.
Other celebrities include Huskies football coach Ty Willingham, Motorsports Hall of Famer Chip Hanauer, Jeff "The Fish" Aaron of KRKO-AM, Ichabod Caine, radio personality from KMPS-FM., Larry Kaminski, retired center for the Denver Broncos from 1966 to 1973, Bruce King, former KOMO-TV sports reporter, Jim Moore, the Go-To Guy at the Seattle Post-Intelligencer, Michael Powers, jazz guitarist who has shared billings with piano giant Herbie Hancock, Alan White, drummer for the rock group Yes. Click here for more information.

Video guy on the web: Nick Schuller just added a new website to his online presence to show the cool stuff he can do when he shoots weddings - it's called Wedding Memories. Check it out to see the range of what he offers.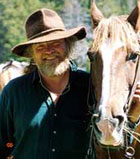 Cool lecture at the labs: Scott Schwinge from the Marine Labs sent me this press release that Garry Odell's speaking next week at the Community Theatre on Thursday, June 9. After reading it, I asked Scott to tell me a bit more about what Garry's talk is about. He replied:
Professor Odell's talk is aimed at a fundamental question about living things. How do single living cells move, grow, and form creatures like us? Does the lifelike behavior of cells emerge spontaneously from simple, haphazard, physical and chemical interactions among the myriad molecular parts encoded by genes? Dr. Odell will show movies, made through computer-controlled microscopes, showing various parts interacting to build complex cellular structures that animate living cells. Biological cells have apparently evolved a self-organizing chaotic scheme that is so astonishingly robust that it continues to yield the right outcomes in the face of extreme disturbances.
I love this stuff. Hope to see you there.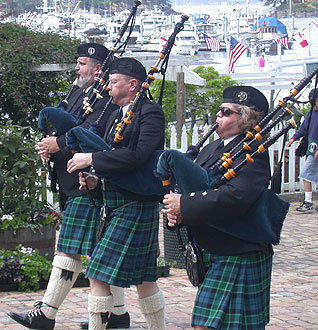 Summer plans: Harbormaster Tami from the Port of Friday Harbor has posted the music schedule and some other events that are happening down there starting next month.The Shipping News newsletter is updated every month or so - check it out.
Roche Weekend: Yesterday, the Elliot Bay Pipers (right) led the way with a trooping the colours-type march through the village that was colourful & impressive. That was the last part of the weekend's entertainment which included the 1870's era uniformed folks from British Camp (that's Americans Mike Cohen - private, with the squeezebox - and Shannon Plummer, sergeant. below). They marched in with the pipers.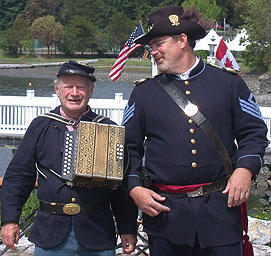 Deb (formerly of Sundog) brought the band she plays with in Seattle up to play on Sunday (you heard them at Orca Fest last weekend), while the boys and I played Saturday (click here for a picture by marketing maven Chris Watling.)
Knowing that celebrations like this have been going on at Roche Harbor for decades adds to the overall feeling of the day - and the gardens are looking good, too.
One of the sad pieces of news mixed in with all this is finding out that Chris will be leaving Roche later this year. Her consistently positive approach and creative program-building have done much to keep people aware of the good things there, and her cheerful demeanor will definitely be missed.
Jeff's in charge: Jeff VanDerFord (formerly of the Journal) has been chosen to lead up the new Ambassadors program. Jeff, a certified teacher, will train a group of high school kids to meet & greet vistors during this coming summer season. He'll be good at that - if anyone knows the island, he does.
May 27, 2005
The play's the thing - the good thing: I went to see "The Drawer Boy" last night, and it was great. If you like live theater, and you want to see a well-acted, well-produced play in which you'll see not only yourself but maybe begin to ask questions about the stories we tell ourselves...it's a great one. Playing this weekend and next, but don't wait till then. Here's the schedule.

Don't let the free admission fool you - this is one of the better shows you've seen lately. You'll find yourself putting money in the donation bucket after the show, which is what people were doing last night. You'll want to keep this going.
Another miracle in this play - turning the 4-H building into a stage that, as good shows do, makes you get lost in the story.
Ferry changes on Monday: On Monday, May 30, the Anacortes/San Juan Islands route will be on a Sunday schedule, which provides an additional sailing from Orcas Island in the afternoon at 4:15 p.m. Friday Harbor gets additional capacity at 4:15 p.m. which means that the 4:55 p.m. sailing off Lopez will carry no vehicles, but there will be additional capacity on the 5:35 p.m. sailing from Lopez.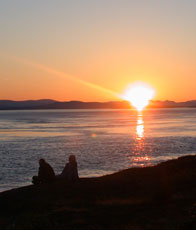 May 26, 2005
Secret: Here's the deal, and don't tell anyone.
As is my custom at times, I went out to the Land Bank spot on the west side (it's a couple of miles below Lime Kiln on West Side Road) and there were foxes in the road, deer along the way, and bald eagles in the trees. Well, there was ONE eagle who chased the crows away, but he probably has friends.
Several of us took salad & cookies & wine and sat for a couple of hours & watched the sun drop in the sky, finally disappearing behind Vancouver Island, as you can see in the photo to the right which I shot last night. Then, perhaps five minutes after the last speck of the sun winked out over the hills to the west, J-pod came rolling along from the north, and spent the next hour swimming by in ones & twos.
The secret part: Only 4-5 other folks were there. Everybody else on the island missed the show.
Don't tell anyone, OK?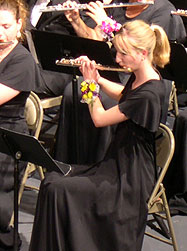 Quote: Security is mostly a superstition. It does not exist in nature, nor do the children of men as a whole experience it. Avoiding danger is no safer in the long run than outright exposure. Life is either a daring adventure, or nothing. - Helen Keller
More whales: Meant to tell ya - L-pod has been reported back in the neighborhood. We'll probably see K-pod soon.
Julie Tate (left) and the FHHS Concert Band sounded great in Tuesday night's concert, which marked five strong years under Janet Olsen's direction.
The circles overlap: It was cool to run into Stephanie Piconi yesterday at the bank - she & Jack are back from the vacation they took after selling Lakedale, and now face their first summer of not working in a couple of decades.
I had just dropped by Daisy Bloom and had seen Stephanie's daughter Cember on their web site as one of the models for the clothes they carry. It was kind of like touching base with the whole family...
New school built in 1913: The Historical Society has a nice writeup about the school being built in Friday Harbor nearly 100 years ago...check it out. It's nice to know what things looked like back then...
More kayaks: I was happy to hear from Shannon Bailey yesterday after I mentioned the kayak activity downtown - she and Bill just purchased the M/V Catalyst and are running trips, both here and in Alaska. Check out their website for all the details.
Roche rocks: There's a ton of music and activities out at Roche Harbor this weekend, including the Trooping of the Colour, and the boys and me playing on Saturday. Come out & dance! Here's the whole schedule.
May 25, 2005
Reunion: There's going to be an all-class reunion this summer for FHHS - the alumni association is scheduling it for Saturday, July 30 at the Historical Museum grounds (not the Fairgrounds, like it says on the website) from 1-7pm. The last one in 2000 was pretty cool - you won't want to miss this one!
The Committee planning everything wants you to write to them at fhhsalumni@rockisland.com & update your information, which they'll post on the website.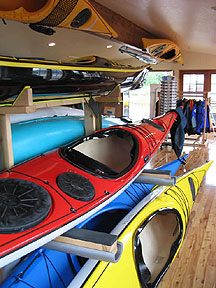 New shop in town: Seems like all the kayak guys are all in one place, now - Crystal Seas moved into the old Friday Harbor Realty spot, next to Herb's, and San Juan Safaris (which offers whale watching as well) is in under Downrigger's with their new office, and they still have their booth in front of the Doctor's Office straight across from the ferry landing.
Completing the triangle is Discovery Sea Kayaks, which moved into the shop above the ice cream shop on Front Street. They're sharing the space with Western Prince whale watching, and have turned it into a nice retail spot where you can even buy kayaks and gear and other stuff. It's a nice friendly place looking over the water.
Outdoor Odysseys still operates from its spot over on Cedar Street but they always pick up folks with their vans right there at the ferry. Bon Accord is offering "mothership" kayaking, where you go out in the boat with the kayaks, then put them in the water after you get there. And you can't go wrong with the good folks at Sea Quest Kayaks - check 'em out - they do a great job.
That's the news from the kayak scene, baby.
What's cookin': Sybil Mager and her husband bought Amigo's and have taken on chefs Robin Sumner & Chris Morton to make the food - good move, as both have long backgrounds making good food.
Softball moves on in the playoffs: The FHHS softball girls thumped Bellevue Christian here yesterday afternoon by a 12-2 score. Jenny Guard tells me that we ten-runned 'em, and that Beth Kelsey pitched well for the playoff win. She says the girls are next in action at District at Skagit Valley College, where because of our win, we need to win only one of the three games we'll play next weekend to advance to state.
Way to go, girls!
Moonshadow: Did you see the bright orange moon a couple of nights ago at nightfall? Beautiful over the water...
Movies! Gerard from Elan Video just re-launched his new re-designed website - check it out to see the full range of video services he offers, including shooting events & weddings.
The Loan Ranger: Julie Greene from Countrywide just launched her site for them. Check it out.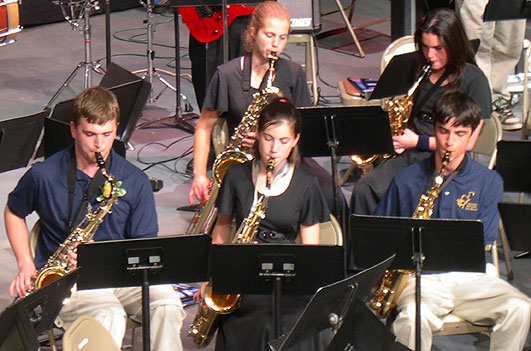 Band on the run: Last night's concert at the Community Theatre featured the Concert Band and the Jazz Band, and it was the kind of evening reminds you why we're here.
The music was great, the program was entertaining (including band parent Rex Guard telling why the band is so cool, and recounting his days in band from 1971-78 - at that time, they were desperate and needed players, so they got fifth graders. He liked it 'cause he got out of math.) It was moving to hear director Janet Olsen get tearful as she introduced the seniors she's grown close to in the band, and you can tell there's a strong connection between her & her kids.
See you at the next one.