July 1, 2005
Go Fourth: Things are gearing up for the Fourth of July, with plans for picnics, and fireworks, and the parade that almost the whole island is in....you can read more about the old-fashioned Fourth at Roche here and here..get ready for a good one!
In Friday Harbor, the parade starts at 10:30am, followed by the activities, music & eating at the Pig War Picnic over at the Historical Museum. At 6pm, the Timebenders start the Rock the Dock family dance ($10 admission for adults, but kids under 16 are free - see ya there, kid) at the Port parking lot, with fireworks as soon as it's dark enough.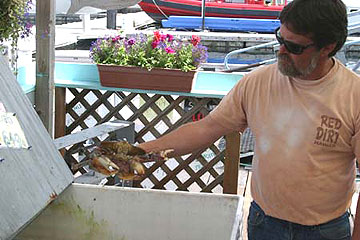 Friday Harbor Seafood lets you see food: Next time you're taking a walk on the dock in front of the Port office, go about halfway down and drop in on Eric and the seafood store. It's one of the best places around to get fresh seafood on the island, and Eric (above, with a crab) runs a good shop.
Trails Committee sets you up: Have you seen the island's trails webpage lately? My, oh, my - there are now maps & trails and all kind of cool stuff that Tim Dustrude has set up for the committee. Look at it & you'll know where you're going.
Quote: "When you wake up in the morning, Pooh," said Piglet at last, "what's the first thing you say to yourself?"
"What's for breakfast?" said Pooh. "What do you say, Piglet?"
"I say, I wonder what's going to happen exciting today?" said Piglet.
Pooh nodded thoughtfully. "It's the same thing," he said.

The Update as an icon of journalism: I got this little bit as a part of a note from Carol at Serendipity Books, my favorite used books store on the island:
By the way, my handy little icon that always got me right to "Update" stopped working a few weeks ago, so I thought you folks were having "technical difficulties." Silly me....I am the one with ongoing technical difficulties....so now I have just made you a bookmark, but I liked it better when you were an icon.
Cheers - Carol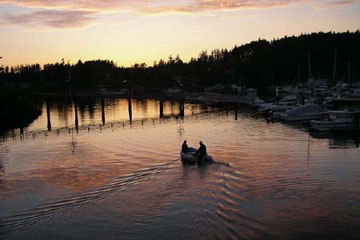 Picture this: On the Port of Friday Harbor website is a nice couple of sets of photos that Port Director Steve Simpson shot around the marina last year or the year before. They capture the mood & colors of the water and boats nicely, and are pretty artistic.
They're located here - see if you don't agree. The photo at left is from the gallery, one evening going home.
Picture that: Meanwhile, the Port and the San Juan Islander ran a "shabby boat" contest that was fun - here's the details.
Fox update: You'll remember a few weeks ago I mentioned that Jenay was watching out for a mama fox and her kits out on the west side. With an increase of traffic over there, and Foxtrot the fox growing tamer & tamer (and therefore less careful), it was a worrisome thing. Here's what's happening now:
Hi Ian:

Just an update on Foxtrot, the grey fox, on the west side. She apparently has been hit by a car and has a front leg injury with a large wound. It is probable that the leg is broken. We have not seen her in our driveway for about 2 weeks. This morning she showed up, thin, hungry, and with the injury I just described. I spoke with Wolf Hollow and apparently they have had several calls in the last couple of weeks from folks who have seen Foxtrot and knew of her injuries.

I picked up a trap from Wolf Hollow and we will be attempting to capture her. It is our hope and prayer that her wounds are not life threatening as the kits need her until around September when they can go off on their own. Please post this to your site and let all those who have called with their concern to Wolf Hollow that we are trying to do something about it.

Another reminder to PLEASE slow down. There are lots of babies out there this time of year.

Thanks very much,

Jenay Westgate

Quote: "Life is either a daring adventure or nothing at all." - Helen Keller

Get over to the west side & check out the eagles! I shot this one from the Land Bank Preserve a couple of weeks ago.
June 28, 2005
Mailbag: Well, it's been a while since I wrote back - better clear out the mailbag:
Dear Ian,
I read your Update every morning with my coffee, even the mornings you DON'T POST ANYTHING. Just wanted to let you know I enjoy your little online rag.
Here's my question: I've noticed you seem to have a lot of "school" news, and then service club-type news, and business-type news....could you work up more environmental news? I think what's happening in the natural world around us is more important than anything!
Thanks for listening & keep up the good work!
Heidi, San Juan Island
Thanks for your observations, Heidi. I would whole-heartedly agree. One of the nice things about living here is that many people get it: Living in a beautiful place requires that we take care of it, and offer a level of stewardship that makes a tomorrow possible. It was cool a couple of years ago to attend an economic development coonference here at which Cathy Cavanaugh said, "Get used to it - 'sustainable' is NOT a dirty word. It's what we need to have a future, for us, for our kids, and for their kids."
You're right.
Ian:
I hope you didn't really shoot that eagle in the tree - that would be a violation of the Endangered Species Act, you know?
Cheers, Heather Hankins, San Juan

I DID shoot the bird, but only with my trusty Nikon.
Hey, Ian,
For the Fourth this year, where are you going to go? Friday Harbor or Roche Harbor, or Lopez, which has the best fireworks?
Your friends on Lopez
Thanks for asking. I know I want to see the parade here, and go out to Roche for a while to hear music & watch the crazy stuff they do. I heard the A&E Channel may come out to film the log rolling at Roche, but I'd say that's only a rumor at this point.
As far as fireworks are concerned - I don't think it's important who has the "best"...it's more important to watch 'em with someone you like being around. I'll be with my kids, so I guess I'd say that's the best, as far as I can figure.
Hi, Ian! You guys were so nice to print the information about Juan and Carina's car wash at Juan's Detailing....they raised $2000!!!!....Friends and Family of Eric, Adrian and Minerva from ages 6 - 45 washed cars from 8:00am until 6pm...DJ Dougie donated his DJ equipment and the carwashers worked and danced hard all day! Anyone who came out for a car wash left with a shiny car and a big smile. A BIG THANK YOU! to everyone who came out and got their car washed and to all the volunteers and donaters. You all made this a HUGE success. -Angie

That's cool. I know it's been a tough time...glad to help a bit.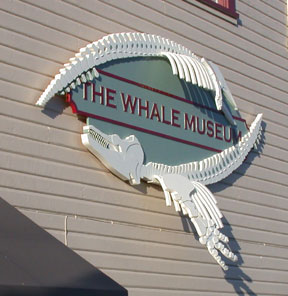 Come see the "new look" of The Whale Museum: The Whale Museum's 113-year-old building at 62 First Street recently received a restorative paint job by Stegman Painting and a bold new sign created by Turn Point Design.
Help them celebrate the new look on Thursday from 4:30-6pm. Refreshments will be provided, as well as free admission to the Exhibit Hall. Museum docents will be available to answer questions. Go by and see what's new at The Whale Museum.
New arrival: I ran into ace middle school teacher Chris Wolfe with first kid Gretta at the store yesterday...they told me that mom Emily is doing great after delivering nearly-nine-pound Nolan. Welcome to the island!
Dan the Transit Man explains the Plan: It's always good to visit with Dan Ward down at San Juan Transit. He keeps our island covered with his shuttles & buses.
He also keeps informal stats about who is coming to the island by asking his riders where they're from. He tells me that last year, some 75-80% of the visitors to the island were from in-state; this year so far seems to be somewhat reversed, with nearly 80% from out of state, although not all that many Canadians or Europeans..
He also says nothing but positive things about the new Ambassador program that Jeff VanDerFord is running this summer, which has local kids with buttons that say, "Ask Me! I Live Here!" helping tourists find their way. He says it's a good program for greeting our guests, and he should know: Dan sees an average of 250 people a day visit his little Cannery Row office, mostly asking for information.
He says he's seeing & feeling more enthusiasm among merchants & lodging folks this year - looks like a good year ahead!
Quote: We should be careful to get out of an experience only the wisdom that is in it — and stop there; lest we be like the cat that sits down on a hot stove lid. She will never sit on a hot stove lid again — and that is well; but also she will never sit down on a cold one anymore. - Mark Twain

Franklin honor moves ahead: You probably heard - the San Juan Pilots Association proposed that the terminal at the airport be named after Roy Franklin who is and was a pioneer pilot in the San Juans. He started San Juan Airlines back in the 1950s and has been an activist in all things aeronautical around here. The Port's Board of Commissioners voted to hold a hearing at their July 20th meeting for public comment before they vote on the proposal.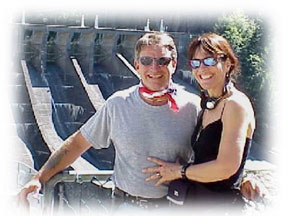 Brian hits the road: Brian Calvert (right) has served for 12 years as a commissioner on the Port's Board, and has announced he's not going to run for re-election this year in November's voting.
A couple of folks have already announced they'll run for Brian's non-partisan spot on the three-person board. One of the more tireless & energetic people you'll ever meet, Brian says he wants to spend more time with his wife Sasha and with his work for Friday Harbor Yachts.

Quote, again: "Travel is fatal to bigotry, prejudice and narrow-mindedness. Broad, wholesome and charitable views cannot be acquired by vegetating in one tiny corner of the globe." - Mark Twain
Ever the Twain shall meet: I got the quote above from the website of the Adventurous Wench, which is run by a woman named Deanna Keahey in Arizona. She puts together adventure tours for women, including trips to the islands here, and it looks like they have fun doing it.
Music at Pelindaba: 'Pandit' Shivnath Mishra and Deobrat Mishra, India's acclaimed father-son duo, along with Marco Zonka on tabla, are bringing Classical Northern Indian Ragas and folk music to communities throughout the Pacific Northwest. The sensual and spiritual elements of life are naturally joined in this sacred music. Proceeds from the event will help support The Academy of Classical Indian Music which is open to children of all castes or family circumstances who wish to learn the rich Benares Gharana ancestral tradition. Suggested donation $15. Limited seating.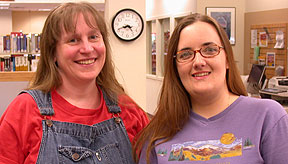 June 24, 2005
Arrived: I got a note from the new assistant librarian a couple of days ago, after I wrote her and asked if she tended to read the Update.
She answered, writing from Montana, "Yes, I did see the Update when I was researching if I wanted to move there. I am *very* excited! It's Wednesday around noon right now as I type and I'm in Butte, Montana, still on my way. I'm very excited to be joining the library and beginning a new life of island living! I can't wait to get settled in."
So, Shannan Sword (right, with head librarian Lauren) arrived yesterday & immediately headed for the library. She brings a wealth of experience with teen programs and enthusiasm to the job - good to have her here.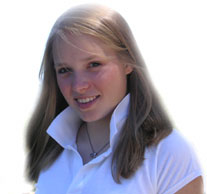 Kimball rises to the top: I got a nice little writeup from Margaret Hall about how well her great kid Kimball's doing at her boarding school in Canada. I met Kimball years ago in third grade at computer camp and in soccer, and now she's a senior next year...
She's been named Head Girl at St. Michaels University School in Victoria, B.C., for her senior year, 2005-6. Head Girl and Head Boy are elected by the senior school (high school) students and faculty from a slate of top performing students. Their position is similar to 'president of the student body' in U.S. high schools.
Kimbell has also been selected to participate in the Global Young Leaders Conference (GYLC) from July 3-14 in Washington, D.C. and New York City. GYLC is a unique leadership development program for secondary school students from around the world who have demonstrated leadership potential and scholastic merit.
Way to go, Kimball!
Laid to rest: Eric Plaza-Garcia, the nearly-three year old who died last weekend, will be remembered at Mass at St. Francis' at 11 am, with internment immediately following the funeral at St. Francis Cemetery on Madden Lane.
In addition, a memorial fund has been established at Islanders Bank for Eric and his parents, Minerva and Adrian.
Kaye & Terry present their book: (This next bit is from Kaye's website, which says it better than I could. This is cool!)
Over 12 years ago, educator and career specialist Kaye Hennig made the decision to change her career path.

A 20-year educator with a master's degree, Kaye had been an administrator responsible for developing and administering federal, state and college level programs, for writing and editing curriculum materials and for conducting training for teachers, counselors and administrators in the fields of Career Education and Guidance. It was this interdisciplinary approach to integrating specific concepts into all the subjects of the curriculum that led her to the unique, eclectic approach she used to research one of the most legendary figures of ancient history and to explore the elusive subjects that have produced one of the largest bodies of literature on earth.

Then, carrying several cameras and a notepad, she and her husband embarked on a quest, one that would culminate in an archeological discovery that will make a major contribution to the knowledge of a nearly lost period of history of ancient Britain and that appears to have located physical evidence of a great king and leader called Arthur and his legendary kingdom.

Prompted by a very personal conviction that she would find the historical reality of the legendary Arthurian individuals, Kaye decided to look for evidence of a real individual called King Arthur ... but not just through the literature. She would attempt to find him using her background as a generalist, looking for clues that might have been incorporated into literature, music, art, drama and architecture.

When she decided to look for physical evidence that these ancients might have left behind, Kaye enlisted the help of her husband, with whom she worked as a designer, whose lifelong avocation was that of a professional photographer. Together they would begin to search for clues and evidence left at the ancient sites Kaye had come to believe had serious potential for historical connections to this lost legendary king and his glorious kingdom.

You can read more about their book, King Arthur, Lord of the Grail on their website - people who went to their talk Wednesday night at Pelindaba told me it was great, and they're looking forward to more.
Quote: "He who joyfully marches to music in rank and file has already earned my contempt. He has been given a large brain by mistake, since for him the spinal cord would fully suffice. This disgrace to civilization should be done away with at once. Heroism at command, senseless brutality, and all the loathsome nonsense that goes by the name of patriotism, how violently I hate all this, how despicable and ignoble war is; I would rather be torn to shreds than be part of so base an action!
"It is my conviction that killing under the cloak of war is nothing but an act of murder." - Albert Einstein (1875-1955), German-born American theoretical physicist, theories of relativity, philosopher. He was named Time Magazine's "Man of the Century."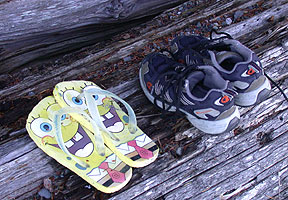 June 23, 2005
Lost & found: Did you leave your shoes at the beach? I saw these sneakers & Sponge-Bob flip flops at Fourth of July Beach last night.
This picture is posted as a public service by your friends here at the Update.
Hitched: Did you hear Sarah Pope got married here last Saturday? I saw her a few hours before the ceremony, doing last-minute errands downtown - she had the glow.
Kayakers, revealed: That was a neat article about Outdoor Odysseys in Sunset Magazine...here's what it looked & read like.
June 22, 2005
Longer days are here: Happy solstice to you! I got up yesterday morning to see the sunrise & it was beautiful. So was going back to bed...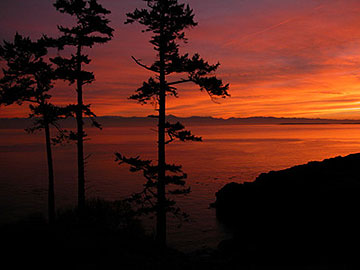 Kathy's got the eye: You've seen her pictures on Windance Cottage's website (including the sunset above) and the Sea Bear Charter website - Kathy Ballard's photos just get better & better. Check out the former LA Times photograher's website & call her if you're getting married - you'll be glad you did.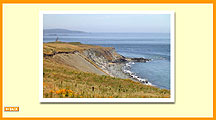 CNN covers Cattle Point: As soon as you think ALL the news is bad, CNN goes and uses a picture of Cattle Point in their travel section. You can click on the photo at right & it'll get bigger & easier to see. It was shot by Alexia Walters from Minnesota, who said, "This picture was taken on San Juan Island. Out of all the places I have visited, I keep coming back here. I think it is one of the most beautiful places."
SJ Visitors' Bureau's Robin Jacobson told me about that, and also says there's a writeup in the New York Times this weekend on June 24 in the Travel section. CNN's gonna run a thing about us in July as well...

Remembering Eric: My friend Angie sent me this note:

Juan's Detailing is washing cars for donations for the Plaza/Garcia family's tragic loss of their son Eric. He was almost 3, and was run over by a car last weekend.
Juan and Carina and many friends are getting together on Friday and will wash cars for a donation that will be given to the family to help out with medical bills. The car wash will be on Friday, June 24. If you'd just like to donate you can stop by Juan's Detailing. They have a donation cup out. Juan's detailing is next to the Lube Guy. They open at 10:00am. You can call 378-8704 if you have any questions.

No whining, just wining: Have you dropped in to visit San Juan Cellars next to the ferry lately to say hey to Kathryn & Dave? Check out the specials on their website and drop by for a taste. Nice people, nice product, nice deal.
Pioneer Roy: There is a meeting on this afternoon at the Yacht Club at 4:00 with the Port of FH Commissioners. The San Juan Pilots Association is proposing that the terminal at the airport be named after Roy Franklin who is and was a pioneer pilot in the San Juans.
He started San Juan Airlines, has been an activist in aviation around here.

We'll let you know how that turns out.
Quote: "Acceptance is right. Kindness is right. Love is right. I pray, right now, that we're moving into a kinder time when prejudice is overcome by understanding; when narrow-mindedness, and narrow-minded bigotry is overwhelmed by open-hearted empathy; when the pain of judgmentalism is replaced by the purity of love." - Janet Jackson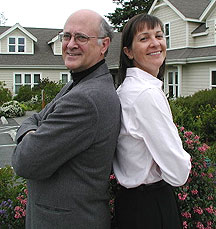 Mimi's back: Bill Weissinger sent me this little announcement, as one of our own returns to the island:
Mimi M. Westphalen, who grew up on San Juan Island, has moved back to the Island and has joined The Law Offices of William J. Weissinger, P.S. as an associate attorney. "I am happy to be returning to the Island," Mimi said. "I love Friday Harbor. My parents still live here as does my grandmother, and my brother is nearby. My father Jay Westphalen is a fifth grade teacher at Friday Harbor Elementary. My husband Mark and I are looking forward to enjoying life on the Island." Mimi's mother, Elizabeth (Liza) Westphalen, now semi-retired, was most recently a nurse at the Islands Convalescent Center.
Her brother Andrew Westphalen will attend Western Washington University in the fall, and her brother Peter Westphalen, formerly of Friday Harbor, now lives in Los Angeles.

June 17, 2005
Inch by inch & row by row: Next time you're out to Roche Harbor and are oooohing & aaaahing how cool the gardens look, take a moment to look around & tell Alana (left) what a great job she's doing.
Coming: Wow...it's solstice already, next week. Did you notice?
Quote: "In our own beginnings, we are formed out of the body's interior landscape. For a short while, our mothers' bodies are the boundaries and personal geography which are all that we know of the world...Once we no longer live beneath our mother's heart, it is the earth with which we form the same dependent relationship, relying...on its cycles and elements, helpless without its protective embrace."
Louise Erdrich

Tri it! The triathalon is this Saturday - check the Island Rec page for more details. This year is the ninth edition!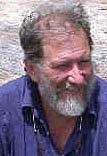 June 16, 2005
Story about Ben in the P-I, as the Great Spirit calls his bluff: As local & international activist Ben White continues his convalescence in a Spokane hospital - he was operated on, on the first of this month for his cancer - The Seattle Post-Intelligencer has run a detailed story about him that will help you get to know him, and understand the spirit of the guy.
He's quoted as saying when he found he had cancer he felt maybe the Great Spirit had called his bluff...
Howie & Susan: Looks like Howard Garrett & Susan Berta of the Orca Network are getting married this weekend down on Whidbey - here's their note to me:
"Yup - after nearly 6 years of practicing, we decided we have it right & it looks like it's going to last, so we may as well go ahead & make it legal & celebrate our good fortune! So please send some whales down to west Whidbey on Saturday afternoon, ok? We'll take J's, K's, L's, transients, humpbacks, minkes - anyone you can spare ; ) S&H

New baby: Looks like the new baby orca that Robin mentioned (see below) has been confirmed as a new calf in L-pod - here's the story, from the Orca Network.
Why the horses are smiling: Island Calm's Cynthia Gordon's one of the best people on the island for massage, and now she's spreading her practice: She's practicing equine massage, and she tells me it's going well. Give her a call at 378-3106 & get your horse in her schedule book.
Your horse will be glad you did.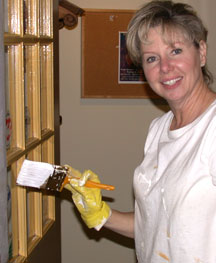 Boardwalk Books gets a new owner: You know Boardwalk Books, located above the Front Street Cafe, across from the ferry? Betty (right) & her husband Ray have purchased it from longtime owner Dorothea two or three weeks ago, and are busy getting it ready for the season. Drop in and say hey!
Quote: "Photography is a language, and light is its vocabulary. A photographer's task is to interpret the world in symbols of light." - John P. Shafer (passed on from Eric Kessler)
Calvary Chapel: Steve Krein is the pastor of the place, and he tells me they have a web site online to tell you more about the church and its nice people. It's at http://www.calvarychapel.com/sanjuan/ . They meet at the San Juan County Fairgrounds every Sunday in the tennis courts (the big blue building) and during the week at the Grey Top building.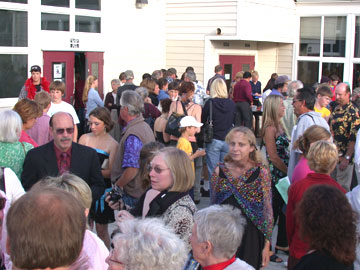 Eat: Have you eaten at the Backdoor Kitchen lately? Seems like their food just gets better & better.
School's out for the summer: There were a few last gasps - finals, 8th grade promotion ceremony, the usual - but the official last day for the island school year was today.
Of course the seniors are already out, freed by last weekend's graduation, and with half-days for finals it has felt like it's over for a while now.
The photo at left is from middle school promotion last night - click on it so you can see all the people.
It all starts up again come August 31st.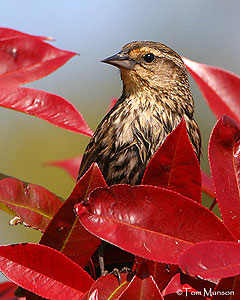 For the birds: You know, it's great around here this time of year for bird watching. There's are some juncos behind my house making a nest, and you can see the eagles on the west side almost everytime you're over that way. There are pretty birds, like this female redwing blackbird (obviously, the females aren't black).
My favorite two websites with birds on 'em from around the San Juan Islands are this one by Trumpeter Inn (guest Tom Munson took the photos) and this one by Dick Wright, long time island naturalist.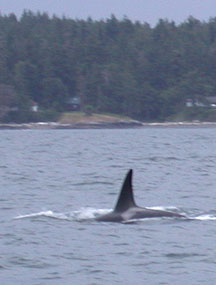 Make plans: ALL SCHOOL RENDEVOUS' PICNIC for all graduating classes of Friday Harbor High School will take place from noon to 7 p.m. Saturday, July 30, 2005 at the San Juan Island Historical Museum at 405 Price Street in Friday Harbor. For more information visit www.fridayharborhsalumni.org or call Kitty Roberts at 360-378-4616 or Mary Jane Anderson at 360-378-2002


All three pods have returned for the summer, including this friend in a photo from The Western Prince last Tuesday.
More cats: There are photos of the cats available here on the island at the Animal Shelter on their webpage. Take a peek and then go see them in person.
Quote: It spite of illness, in spite even of the archenemy sorrow, one can remain alive long past the usual date of disintegration if one is unafraid of change, insatiable in intellectual curiosity, interested in big things, and happy in a small way. - Edith Wharton


June 14, 2005
Rhea to move on: Commissioner Rhea Miller has announced she's leaving office a year & a half early to pursue a chance to work in New Zealand. She'll leave at the end of July, and the BOCC will name a successor who will serve until the next election, next year.
The San Juan Islander has more details, plus a nice rundown of Rhea's accomplishments since she was elected in November 1994.
Last year, County Commissioner Darcie Nielsen ended her term, and headed for Turkey. It's neat to think that the talented people we have serving on the BOCC have something to share with other folks around the world.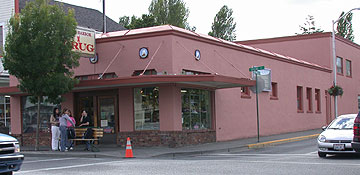 New arrival: Donna at Halvorsen House B&B just told me she going to visit her daughter, who delivered Donna's fourth grandchild last night.
The drug store's new look: People from all over the world read the Update to see what's happening here in town, and now you know - the Friday Harbor Drug Store is looking sharp with its new paint job last week.
June 13, 2005
Homecoming, sorta: You know, it's nice to have homecoming at FHHS in the fall, but it seems to me the real homecoming each year is at graduation, when alums are first coming home for the summer from college, and people who know people come back to see whose kid is graduating this time.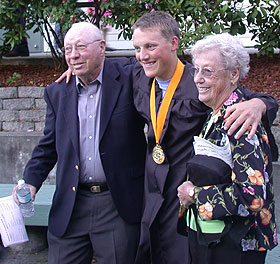 It was another gathering of the clan, with the gym full, and 60+ graduates on stage for this edition of commencement. Relatives came from all over (as JoHannes Paul found, right) and there was hugs & cheers & good wishes all around.
FHHS wasn't the only one with a big class - Spring Street International School graduated its biggest class (15) yesterday.
New baby & humpbacks, probably: Among the people keeping an eye on the killer whales on the west side last week was noted researcher Robin Baird, who is ending a two-week sojourn with the orcas. He filed this report witht he Orca Network Sighting Report folks, which includes a new calf for L-pod:
June 7 & 10: On Tuesday in Haro Strait we were able to confirm that L47 has a new calf. We've had some success with our sampling in Haro Strait the last few days, collected three fecal samples from southern residents (which can be used for both genetic analyses and to examine stress hormones), as well as remains from two prey captures. Hoping that the winds calm down and we are able to get out a couple more days.

We also encountered the humpback that was northbound in Haro Strait yesterday afternoon (June 10), and collected some sloughed skin that came up in a flukeprint. Unfortunately the whale wasn't fluking, but the sample will be contributed to the SPLASH (Structure of Populations, Levels of Abundance, and Status of Humpbacks) research program to examine stock structure of humpbacks in the North Pacific.
Robin Baird, Cascadia Research, Olympia, WA

Quote: Over the weekend noted poet Richard Eberhart died at the age of 101. In his memory, here's a couple of bits of his verse:
"He obeys the orders of nature
Without knowing them
It is what he does not know
That makes him beautiful.
Such a knot of little purposeful nature!"
Richard Eberhart - On a Squirrel Crossing the Road in Autumn, in New England
"We, outlaws on God's property,
Fling out imagination beyond the skies,
Wishing a tangible good from the unknown.
And likewise death will drive us from the scene
With the great flowering world unbroken yet,
Which we held in idea, a little handful."
Richard Eberhart - The Horse Chestnut Tree
June 11, 2005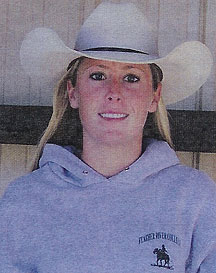 Graduation! This is one of those weekends of the year that we all get together (the Fourth & the Fair are the other two big ones) to celebrate - taking a moment to see how great our kids are turning out is pretty worthwhile.
Skagit Valley College held their exercises Thursday, while FHHS's show is tonight (Saturday) at 6 at the gym, with Spring Street International School doing their graduation at 1:30pm at the Community Theatre.
Stephanie makes history: Friday Harbor's Stephanie Sandwith (right) made FRC Rodeo Program history by becoming the first rodeo transfer student this fall, as she transfers to Cal Poly in San Luis Obispo. This was her first year in rodeo competition, competing in barrel-racing & goat tying.
Motorcycles coming to honor war's end: There will be a lot of bikes in town this weekend - here's the story about why, from Peter DeLorenzi.
It's been 30 years since the incursion in Vietnam ended...good to remember.
We're in the Smithsonian! Robin Jacobson from the Vistors' Bureau writes in:

The current issue of Smithsonian magazine features a seven page article on The Pig War, the SJI National Historical Park and Mike Vouri. There are about a dozen photos, including a great one of Mike as General Pickett. Here's what I sent to Washington State Tourism, who picked it up for their newsletter sent out to national and international media outlets.

Smithsonian Magazine's June issue will feature San Juan Island Visitors Bureau board member Mike Vouri, a U.S. Ranger and Chief Interpreter with the San Juan Island National Historical Park. The story centers around the history of the park, including the Pig War (1859-1872) and General George E. Pickett, commander of the island's American forces prior to achieving another place in history at Civil War's Battle of Gettysburg. This is the tenth year that Vouri has presented the historical drama of the life and times of Gen. Pickett.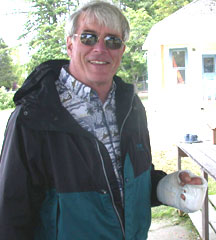 The cover of the magazine lists the story as "1859: THE WAR THAT WASN"T" and the inside article title is BOAR WAR. I don't know if there are any more copies left for sale here locally, but they can be ordered from the Smithsonian's website in a month. (www.smithsonian.org).
So I read the article, which is located here. It came out pretty well - click on it & see for yourself.
Open: The Whale Museum store will have extended hours in July and August, from 9-6 (instead of 10-5).

Cast away: John Volk (right) had successful surgery on the tendons in his hand & wrist. You can tell which one in the picture.
Seems like he's always smiling.
Tucker Avenue opens up: I used to walk from out of town to town to work down and up Tucker Avenue, and the whole time I thought it would be a fine idea to widen the road. Especially when the trucks drove by, close.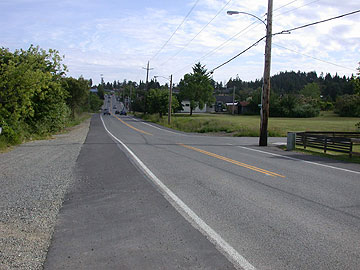 Well, now Public works has done the job, and there's actually a shoulder on the road. On behalf of those of us that walk & ride bikes, thanks!
Ferry different: The 2005 Summer Sailing Schedule will begin Sunday, June 12 2005. Pick up a red and white #197 sailing schedule available at each terminal, on each vessel, or through the WSF website.

Quote: "I truly believe that individuals can make a difference in society. Since periods of great change such as the present one come so rarely in human history, it is up to each of us to make the best use of our time to help create a happier world." - The Dalai Lama

Another quote: ". . peace must begin within self before there may be the activity or the application of self in such a manner as to bring peace in thy own household, in thine own heart, in thine own vicinity, in thine own state or nation." - Edgar Cayce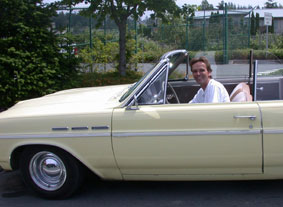 Another Duke: I saw Andy Duke in the store today & he says Lisa's doing great after delivering Sophia earlier this week. It's not just visitors who come to the island in June....
Wheels: It's always nice to see Greg Ford (right) around town - seems like he has a smile for everyone. That's him in his '64 Buick, at the post office the other day.
Ben update: Rebecca Barnard writes to tell me Ben White's cancer surgery a week ago went well in Spokane, and that he's moving around now & eager to come home, maybe as early as next week. She reports that he's in high spirits & feeling better....it feels like positive energy being sent his way is helping sustain him.
---
The information here is simply stuff we here at By Design think is important around Friday Harbor or on the Island. Some of it's news, some of it's old news, and all are just things we wanted to mention, with most of it about the things that make living here great.

There will be more next week, if anything happens.

Ian Byington
ian@byd.com

More info about the island:

This site prepared by our friends at By Design in Friday Harbor.
The information contained here is
©Copyright 1997, 1998, 1999, 2000, 2001, 2002, 2003, 2004, 2005 and next year, too
by By Design, Friday Harbor.
Unauthorized reuse of the content of these pages is prohibited;
links to other sites is intended to be to the benefit of those sites,
and for the edification of our readers,
and does not constitute endorsement or
agreement with views expressed there.
All rights reserved, except in Britain, who have their own reserve.