July 19, 2005
Geeks, unite: So, here's the deal: Britt at Pelindaba downtown told me about this test you can take to see how much of a geek you are. She says she and her boyfriend are checking to see how they do, as they both take the test.
It's not very scientific (or, it's TOO scientific), but it's fun. Click here to take it, then drop me a note & tell me if you beat my rather paltry 26.7 which according to the scoring means I'm a total geek, but not an extreme geek, or super geek.
Quote: Your vision will become clear only when you look into your heart ... Who looks outside, dreams. Who looks inside, awakens. - Carl Jung
Catching on: Remember I mentioned that I met someone downtown at the ferry last year that asked me if this is an island, does the water go all the way around?
Ran into him again this weekend - visiting the island - and he said I was helpful. Really nice guy, with a sense of humor about island jokes, which I appreciate.
July 18, 2005
Wow - ANOTHER whale baby: Tom Averna from Deer Harbor Charters reports on his web site that folks saw a calf being born just last week, probably to J-16 in J-pod. It's very unusual to actually see the baby being born - usually calves are identified as they're seen with their moms later.
When confirmed by the Center for Whale Research, that'll bring the total whale count for J, K, and L pods up to 91.
Still looking for mermaids, too.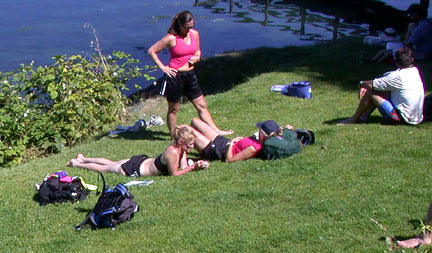 Harry Potter arrives: The three commercial bookstores - Griffin Bay on First Street, Harbor Books next to the ferry landing, and Boardwalk Books upstairs from the ferry landing, all had crowds of Potter fans, with Boardwalk even selling out as the new Harry Potter Book was released.
Soon enough, you'll be able to buy used ones at Serendipity Books, too.
Pretty weekend: There was plenty to do and the weather couldn't have been more cooperative.
The cloudy, slightly drizzly morning Saturday gave way to a clear blue dream of sky, which meant people got out to visit the Art Fair downtown, the Lavender Festival, and Farmer's Market. It didn't stop then - the music continued at both Festivals yesterday, which was sunny from the first bell. That's Rachel Blagden explaining her watercolor technique at the Arts Fair, below.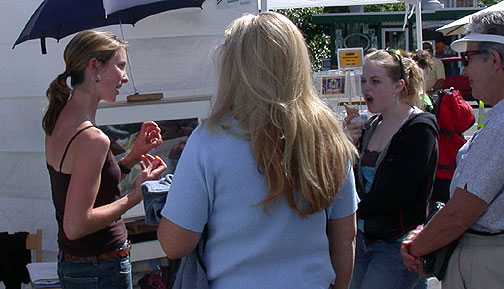 Michael Bertrand had his photography on sale at the Arts Fair, and told me he thought it was the best one yet, with a good mix of just the right food, booths, and music...and weather.
The boys and I played Saturday morning right when the weather was cracking - we started with clouds that broke up by the end of the set, with people all over the grass and chairs listening. Pretty cool.
The music at the Port that happens every Sunday gathered a nice little crowd, including the folks on the grass above.

Quote: One of the hardest things in life is having words in your heart that you can't utter. - James Earl Jones

Felicity's dog is a stud: I know I told you about the new calf, but what about the new dogs - Felicity Milne's golden retriever got together with Cynthia Burke's and about three weeks ago the Burke house suddenly had ten puppies.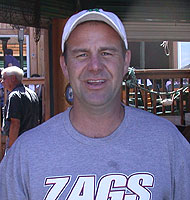 Between Felicity (former owner of Felicitations and currently pastry chef at Rosario & Cynthia's cooking for her catering biz, Cynthia's, Of Course), these pups have a chance at better table scraps than most.
John's hip, dude: It was nice to catch up with John Bostrom (right) down at the Crabhouse over the weekend - he just had his hip replaced and still has a limp & a cane, but is still smiling. He says it gets better every day. John's one of the more effective baseball and basketball coaches around, working mostly with the younger kids right before they go to high school - I like his emphasis on fundamentals and attitude, and so do most of his players.
Quote: To understand the heart and mind of a person, look not at what he has already achieved, but at what she aspires to. - Kahlil Gibran

That's Kari and the Soundwatch folks making sure everyone understands that whales really do need their space!
Watch the whales the right way: Have you taken a peek at the whale watching guidelines lately? Here they are from the Whale Museum's site.
July 13, 2005
Ben receives award: (from the press release) On Sunday evening, In Defense of Animals (IDA) gave its prestigious Lifetime Achievement Award to longtime champion of Animals and the Environment, Ben White of Friday Harbor. Ben, who worked for IDA in the 1990's, follows a list of esteemed award winners including the late David Brower and Cesar Chavez, and the eminent Dr. Jane Goodall.

The presentation of this award is bittersweet, for White could not receive it in person. In Spring he was diagnosed with an aggressive and terminal form of abdominal cancer. Devastatingly, he is not expected to live more than a few weeks.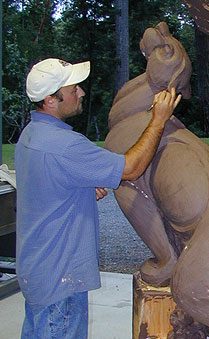 In presenting the award, IDA's president, Dr. Elliot Katz, stated, "Ben White is a very special individual who symbolizes what is the very best in all of us, working tirelessly to make the world a more just and compassionate place for all our fellow beings."
Here's the rest of the story. If you read it, you'll get the idea....Ben's one of the great ones.

Bronze: You may have noticed that the Napier Gallery isn't there, across from the Market Chef (which was the longtime Madelyn's Bagels).
Jason and Danielle moved their studio out near Roche Harbor. It's easy to see what they're up to, though, if you look at their website - heck, you don't even have to travel down Roche Harbor Road to see Jason's cool bronze sculpture (that's him sculpting in clay, during the first part of the process.)
Water heats up: When I visited with Bon Accord's Patrick Pillsbury the other night, we got to talking about climate change and what he's been seeing out on the water this year in the kayaks. He mentioned that he had heard that the water was as much as eight degrees above normal for this time of year, which I found confirmed (they said up to five) in a Seattle Times article this morning.
Serious stuff, this climate change business.
Get out: Island Rec's Music on the Lawn series kicks off tonight with Funk Mason - starts at 6:30pm at the Historical Museum. See you there!
July 12, 2005
Two big events this weekend: After you go drop by the Farmers' Market this Saturday, you might go see the Chamber of Commerce's Summer Arts Festival on Court Street (here's more about the Sat & Sun deal; the boys & I are singing at 11am - come by!).
Meanwhile, the two-day Lavender Harvest Festival is out at the Lavender Farm on Wold Road. Here's the scoop on that - music, picnics in the fields, and cameo appearances by renowned Shakespeare company Stage Left showcasing their summer production of "Othello," will all be featured.
Jeff moves on: Jeff VanderFord, who was writing for the Journal here for the last few years, tells me he and his wife are moving to the bigger island as he goes to write for the South Whidbey paper. He's not leaving till the end of the summer because he's guiding the Ambassador program till then with the kids.
Speaking of kids: Susie Teague is the Executive Coordinator for the San Juan Island Prevention Coalition, which addresses the problems (and solutions!) related to kids & substance abuse.
She wrote up a nice rundown of things you & your kids can do this summer.

Here's to cleaner dogs: Kathy Meier wrote to let us know:
Hi Ian, The Convalescent Center is going to hold a Dog Wash and Bake Sale in our parking lot on Sunday, July 24 from 1-4 PM. This is our Relay for Life Fundraiser and we will be accepting donations from those who will bring their dogs over for washing and grooming. We will also have gourmet treats for both the dogs and humans. Big or small, we'll wash them all!
The Dickensons are back: Hey, I hear Debbie & Lou are moving back to the island. More details as I get 'em.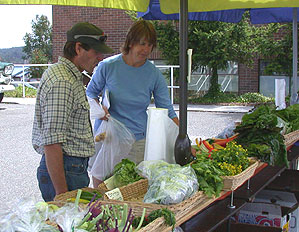 July 11, 2005
Farmer's Market: Starting in April, farmers from all over the islands bring their produce to the parking lot at the community theater, and as you can see to the right in the picture of Steve from Waldron selling Katie some greens, it's fresh & it's good.
Last weekend (over the fourth) they were so busy that most of the booths sold out or nearly out - it's always a good idea to get there early! There's fresh produce, fresh meats, and this year, there are three booths set aside for home-grown, island-made crafts as well.

Ambassadors on the prowl: You've seen the kids on the streets and on the ferry with their blue shirts and big yellow buttons that say, "Ask me! I live here!" That's Ursula Stegman, Alaina Shultz, Heaven DeLaZerda, and Theo Pratt below.
The new program goes all summer with 13 kids...I asked Heaven to write up a little explanation of what they're up to...here's her story.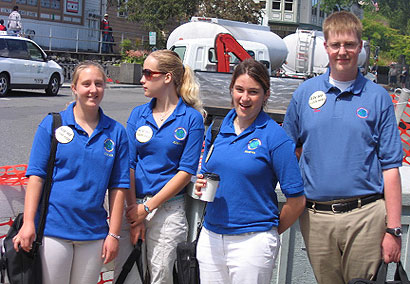 Random thought: Got enough whales & kayaks & gift stores here. Need more mermaids.
Rocky Bay changes hands: As of Friday, John & Kira Sable took over the Rocky Bay Cafe from Monica and Bill Percich, who have done a super job of taking the old donut shop and making it a fast-paced, good-food, cheerful place.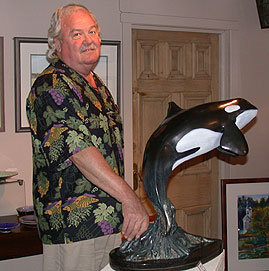 As John moves on from Roche Harbor, Berit Keeble will take his place as events manager, handling all those weddings, meetings, and parties that come to Roche. She's a familiar & friendly presence from the front desk, so she's well acquinted with what goes on there.
Bison Gallery takes off: I got a chance to visit Doug's new gallery this weekend. Located in the spot that used to be Neil's Images, Doug has gathered a number of artists' work to show with his own bronze work in a sometimes eclectic mix of fascinating stuff, with a Northwest & Native American theme.
Tha's Doug with one of his sculptures to the left. Take the time to drop in...it's a nice shop with a nice feel.
Quote: Just as despair can come to one only from other human beings, hope, too, can be given to one only by other human beings. - Elie Weisel

Serendipity looks for serendipity: One of the problems with owning a shop in town and renting the space can be the uncertainty of who might buy your place next. The space that holds Serendipity Books is for sale, so Carol wrote it to suggest she's hoping someone buys the place who likes books:
Hi Ian! Don't know if this is the sort of thing that merits mention in your newsletter, but I keep getting questions about whether or not we are selling our business! The answer, of course, is NO - the space that we occupy in the building is being sold....and we have a lease for 5 years. But our future after that seems to depend on a benevolent buyer who will renew our lease - my dearest hope is that some book-loving investor who wants to see the store continue on into the sunset will buy the building and put us out of our misery....it is an ongoing worry, but I'm not sure if advertising it will help - what do you think?

Cheers - Carol

Fox update: You'll remember Jenay out on the westside had been writing about how Foxtrot, the mam fox with the babies over there, was doing with her injured leg...I wrote & asked her for an update:
Hi Ian: We have tried to trap Foxtrot many times, but she is too smart. She digs under the trap and gets the food. She is very thin, but still on her feet. I have seen her mate around, so he has not abandoned her. I have given up on the trap and just put food and water out for her everyday. If the leg is broken, Wolf Hollow cannot reset it after such a long period of time. I have to accept the fact that nature will take its course and do what I can to get her through September which will ensure the survival of her kits.

Thanks for asking -- it has been heart breaking.

Jenay
July 8, 2005
Music all on one page: Mike Adams from Funk 'n Junk has launched a site to put all the music makers from the island on one page - check it out. That's the Solar Siblings (Kirk, Debbie, and Cecil on bass) above - take a look to see who else around is playing!
After all those years: For a school district our size here on the island, we have a number of folks leaving who have taught here for years...most are teachers who have become friends & neighbors to several generations of island kids, and a few are legends.
So I called over to each building, and here's what it looks like today (things, of course, may change):
Over at the elementary school, principal Jody Metzger-Bell says Bruce Robinson (second grade) has taught for 30 years - not all here - and has retired, while Pat Penwell (first grade) and Karen Traub (librarian, 23 years here) are also leaving. Library assistant Carolyn Scheffer and Joyce Stanton (special ed) depart, while Mel Vynne and Robbie Lawson are taking leaves of absence.
The middle school will miss Hunter Wood (humanities) and principal Court Bell next year; Hunter's job won't be filled, as part of the staff reductions, while Court's spot will be filled by incoming principal Ann Spratt.
The high school has four teachers leaving: Mary Ann Church, Nancy Sheplor, Eric Nieland, and Carol Christianson, while Ann Bell is also leaving after helping with all three schools. FHHS has hired Jin Zhu to teach science, Ryan Myers to teach math, Barbara Ray to do special ed, and is moving math teacher Lisa Salisbury over to the library to take Nancy's place.
July 7, 2005
Wanna date?: Just think - in two years the date will be 7/7/07. Wow.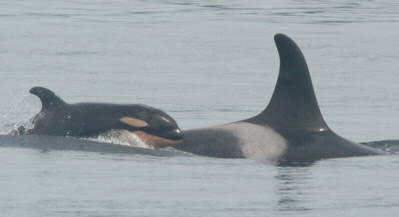 Whale babies - wahoo!: Concerns about declining population numbers for our local orca pods got good news this week with the arrival of baby J41, the baby smiling at you in the photo by Stefan. New borns customarily have that orangish-salmony color you see above. This brings the local Southern Resident Community to 90, up from a low of 70 just four years ago.
Photo by Stefan Jacobs, Center for Whale Research.
From the Orca Network website:
J41 was first seen on July 2, 2005 alongside mom J19 (Shachi). Twenty-six year old J19 is known to have only given birth to one previous calf, J29, who died in its first year. J19's mother, J4, died in 1995. J19's younger sister, J11, has given birth to four known calves, but one of them, J25, died in its first year in 1988. (For more on births here since 1998, go here.)



Kayaking on the west side: Besides all the other cool stuff Dick Barnes offers at Mitchell Bay Landing, this year he has Melanie (left) taking folks out for kayak tours. She's a trained naturalist guide, and has been getting good reviews for her work with MBL this summer.
Back from China: Jan & Dan Fogle from Friday Harbor Yachts just got back from their business trip to China this week - Jan told me they actually got some time in for sightseeing this trip - usually it's almost all business.
Photography exhibit opens: Tomorrow night there's a reception from 5-7pm at the Island Museum of Art (located on Spring street in the old Springtree Restaurant, across from Wells Fargo) as seven local picture-takers hang their stuff. Organized by Joan Benney (that's her photo to the right), here's the scoop: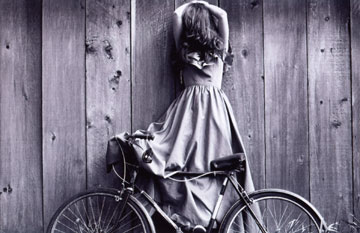 The photographic works in this show are inspired by the connections between people and the environments we inhabit, discover and create here in the San Juan Islands, as seen through the lenses of seven local photographers. Joan Benney is the guest curator for this exhibition and has selected works from Robert Demar, Danielle Dean, Peter Fromm, Steve Horn, Sondra Bayley, Nathan Wegemer, as well as a few of her own pieces.

The LOCAL SEVEN will be on exhibit from July 7th thru August 10th. Museum hours are Tuesday thru Sunday 11:00am to 5:00pm.

Ferry late: As early at 7am on Tuesday I was hearing things were backed up; by mid-day the WSF alerts were saying to expect as much as a five-hour wait or more...they were using the high school parking lot for an overload lot. Pretty crazy.

Quote: The glory of friendship is not the outstretched hand, nor the kindly smile nor the joy of companionship; it is the spiritual inspiration that comes to one when he discovers that someone else believes in him and is willing to trust him. - Ralph Waldo Emeron
July 5, 2005
Another Fourth: One of the great ways we all get together is with celebrations each month - last month it was graduation, yesterday it was the Fourth, next month the Fair....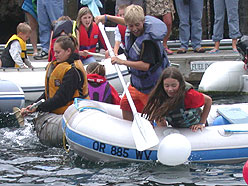 It's great to see old friends and catch up. As days go, it felt like wall-to-wall people if you were in town, or out at Roche Harbor. You can see yourself in the pictures (or look for friends) in these two galleries of faces on the Fourth: the parade in town & the picnic, and activities at Roche.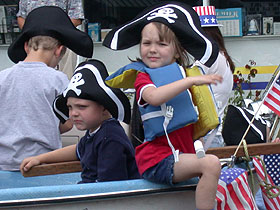 The parade on the Fourth was filled with pirates and other friends.
People you can expect to see in the galleries: Rob & Doug & the softball girls, Carolyn at the bank, Chris Watling, Loren & Kathy, me, Kim Bertrand, Jessica, Lulu, the band playing at Roche, Tim, Carla, Camlyn, Jim, Janet Thomas, Brian from San Juan Safaris, Natalie, Brent as MC for the Roche activities, Sonia Nash on the bench with her friends, Adam D'Errico, BooBoo, Ashley, all the women from Wells Fargo & their stage coach, all the people from Islanders Bank, with Tony as Gilligan, Jane & her dog, Amy with Trudy the dog disguised as a whale, and a bunch more. There's something like 130 photos...see who you know.
And if you weren't here, let's make plans to get you here next year.
New baby: Just waiting for final confirmation from the Center for Whale Research - Tom McMillan from Salish Sea Charters and others reported that they've seen a new baby whale with J-pod. The apparent parent is J19...we'll watch for more information on the new arrival.
Tuesday morning ferry alert: There is currently a 3-hour advance arrival recommended at the Friday Harbor terminal. There are a lot of folks who came for the weekend who need to get off.
Home rule: You may have seen the "Home Rule" guys in the parade on Monday - here's more about what the Freeholders are up to.
Ben's back: Rebecca Barnard dropped me a note that Ben White flew back to the island on Friday afternoon and is resting at home presently, but is weak enough to where he's not receiving visitors just yet.
Closing in on a million: Have you looked at the San Juan Island Web Directory lately? It looks like it got 37,000+ frontpage views last month in June, and is presently on course to hit its first million sometime this month.
Quote: If the person you are talking to doesn't appear to be listening, be patient. It may simply be that he has a small piece of fluff in his ear. - A. A. Milne (author of Winnie the Pooh)


July 1, 2005
Go Fourth: Things are gearing up for the Fourth of July, with plans for picnics, and fireworks, and the parade that almost the whole island is in....you can read more about the old-fashioned Fourth at Roche here and here..get ready for a good one!
In Friday Harbor, the parade starts at 10:30am, followed by the activities, music & eating at the Pig War Picnic over at the Historical Museum. At 6pm, the Timebenders start the Rock the Dock family dance ($10 admission for adults, but kids under 16 are free - see ya there, kid) at the Port parking lot, with fireworks as soon as it's dark enough.
---
The information here is simply stuff we here at By Design think is important around Friday Harbor or on the Island. Some of it's news, some of it's old news, and all are just things we wanted to mention, with most of it about the things that make living here great.

There will be more next week, if anything happens.

Ian Byington
ian@byd.com

More info about the island:

This site prepared by our friends at By Design in Friday Harbor.
The information contained here is
©Copyright 1997, 1998, 1999, 2000, 2001, 2002, 2003, 2004, 2005 and next year, too
by By Design, Friday Harbor.
Unauthorized reuse of the content of these pages is prohibited;
links to other sites is intended to be to the benefit of those sites,
and for the edification of our readers,
and does not constitute endorsement or
agreement with views expressed there.
All rights reserved, except in Britain, who have their own reserve.