September 15, 2005
Hitched: This is the weekend that Mark and Micah from Haley's get married - congrats!
Wolverines on the prowl: They've scored over 80 points in two games, allowed none, and will take the field on Friday night at 7pm under the lights for their third straight home game...come see the football guys vs. Granite Falls tomorrow.
Meanwhile, it's the girls' soccer team against Coupeville this afternoon at 4:30pm here - the girls beat LaConner Tuesday night on the road to set their record at 1-1.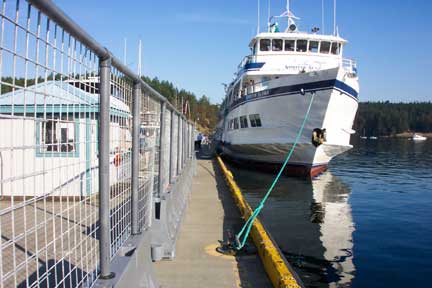 Fenced: Have you seen that new fence out on the breakwater in the marina (above, photo by Port Director Steve Simpson)? Port of Friday Harbor harbormaster Tami Hayes explains in the Port's online news this week:
This time of year, when the gears shift from the busy summer season to the shoulder season, we have all of our pocket cruise ships that stop in Friday Harbor and give visitors from around the country and the world the opportunity to enjoy our beautiful little town. These ships require varying degrees of security and in order to allow people to visit we have had to create some fencing to comply with US Coast Guard requirements. You may notice it when entering the harbor and approaching our breakwater, but it should not affect your stay in any way. Tami
September 14, 2005
Many happy returns #9: You know, it was back in Sept. '99 that I remembered that Nancy Hansen's birthday is on the ninth, because that made it 9/9/99. So that makes it easy to remember each year - happy birthday, Nancy!
Fit to be tried: Hey, drop by the Fitness Center (that's San Juan Island Fitness) and say howdy to Maggy & Dan Danley who own it. Fine folks & a fine place. It's where most of the island learned to swim, and where most of the racquetball players got their backswing.
New islander on the way: Sybil & Travis at San Juan Property Management are expecting their first towards the end of the year - they'll make great parents.

Everyone's favorite doll, stolen: Three years ago it was amazing - someone stole (and later returned) the mermaid out front of the Mystical Mermaid, after the fire. (If you just said, "What fire?" go back and look at May 2002 in the archives below, when the town had its biggest fire in 40 years).
So , the mermaid is still here, but it's a dirty deal all over again. Here's the news from Gail out on Roche Harbor Road:
Ian, Tiki girl Gail checking in. Please post lost and found for me. Lydia, the maniquin, was stolen last night. She was wearing a wide brimmed sun hat and floral sun dress at the time of her disappearance. Thanks for your help. Gail

Helping our friends in New Orleans: The Market Chef's Laurie Paul called today to tell me these tickets (below) need to be pre-bought (so they can fix the food) for this event - you can get 'em at the Market Chef, Griffin Bay Books, and Roche Harbor.
Here's the rest of the story, from Laurie:
Hi Ian,

We wanted to let you know about a "kick-ass" party and fundraiser the chefs of San Juan Island are putting on next Sunday at 5 P.M. at the Roche Harbor Pavillion. Roche Harbor has generously donated the facility, many, many local chefs, servers and restaurateurs are donating their time and talent, local farmers and food producers, artists, performers and many, many others are also donating products and skills. The result will be a huge Fete in the high style of New Orleans! The event is being underwritten by some very generous sponsors, so 100% of the cost of admission goes directly to the charity of your choice. We have chosen 5 to choose from for ease. The cost of admission to our feast is a $150.00 minimum donation, written directly to your charity. Tickets can be acquired at The Market Chef, Griffin Bay Bookstore or the Roche Harbor Store, beginning Monday morning until 180 of them are all gone. Many are pre-selling, so if you want to come, get em quick!

Participating chefs and restaurants include Duck Soup Inn, The Market Chef, Katrina's catering, 120 Nichols, Steps Wine Bar, Vinny's restaurant, The Place Bar and Grill, Sara Perkins, Jodi Calhoun, Jeff Lariviere, Backdoor Kitchen, Cynthia's of Course, Roche Harbor Resort, and many, many more. We will prepare Jambalaya, REAL Louisiana Gumbo, Oysters many ways, Crayfish, Red Beans and Rice, Sweet corn Pudding, a rash of delectable desserts and much more. Please get in touch with me for more information at: marketchef@rockisland.com

Thanks!
Laurie Paul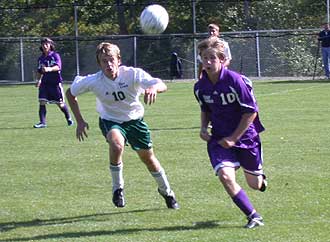 Quote: Nobody can make you feel inferior without your permission. - Eleanor Roosevelt
September 12, 2005
March: Yesterday morning, there was a march to remember folks lost in the terrible events of four years ago. Remember...
Soccer boys settle for a tie: The last time Friday Harbor and Bear Creek School met, FHHS came away with a 3-0 victory in the state quarterfinals last November. The Grizzlies showed they have long memories of coming up short, and played the Wolverines to a tough 2-2 draw on Saturday in Redmond.

BC opened up the scoring with a two footer as they punched a loose ball into the net after a free kick at 12 minutes, but FHHS answered only four minutes later with a 25-yarder just above the penalty box as senior Felipe Lopez took sophomore Eric Nash's cross (right) and sliced it just under the Grizzly keeper. The goal seemed to fire up the visitors, and Friday Harbor kept up the attack for the rest of the half.

The second half started with surprising freshman midfielder Pablo Lopez finding a loose ball at his feet on a corner kick rebound, which he calmly deposited in the back of the net for a 2-1 lead. That stood until the physical Grizzlies earned a 2-2 tie with a corner kick header with 28 minutes to go. Both teams continued to pepper the goals at both ends, with both failing to get the game winner. Because the match was a non-league meeting, there was no overtime or shootout, so both had to settle for a valiant draw.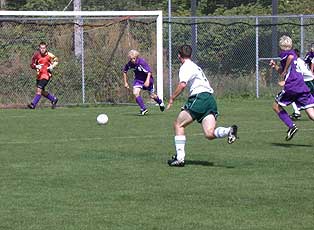 Senior goalkeeper Paul Guard (orange, right) continues to tighten up his new defense this year, as sophomores Kevin O'Conner, Shay Byington, Louis Paul, and senior Daniel Jones (in purple, right) stepped it up a notch from Thursday's 4-2 opener with Coupeville. Senior midfielder Chris Benz and junior midfielder Mario Nunez provided hustle and finesse to keep the ball on the offensive end, often containing the Bear Creek rush before it made it downfield.

The bruising game included yellow cards issued to players on both teams but should serve as a much needed warmup if the two teams should meet again in the state tournament.

Notes: Play stopped for injuries to both Byington and Guard in the second half, but both said after the game they were OK.... last season's 18-2 team allowed only 12 goals in 20 games; this year's team has allowed four so far, but against much tougher early-season opponents....the wet field's surface slowed the Wolverine passing attack in the first half, but the team adjusted and looked more confident and footsure for the second period...Next up: FHHS (1-0-1) will face perennial state contender Bellevue Christian in a non-leaguer at their field next Saturday.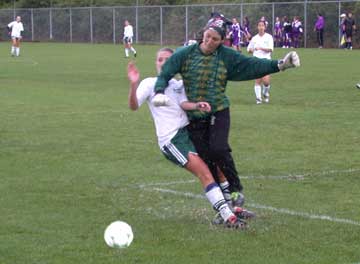 Soccer girls play tough, come up short: FHHS's girls played to a 4-0 loss in their season opener at Bear Creek Saturday in a game that was closer & soggier than the final score suggests, as BC scored a couple of late ones. That's our keeper Anna getting to the ball first in the second half.
Football goes to 2-0: The question this year may not be: Will they go all the way? It may well be: Can anyone score on these guys? FHHS recoreded its second shutout with a 48-0 thumping of Highline on Friday. Scoring well, and playing defense - THAT will take you places.
September 9, 2005
Football, volleyball on tap: Get over to the high school for football & volleyball this afternoon - should be fun.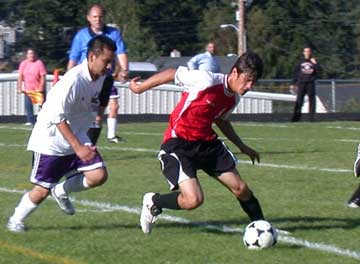 Boys soccer keeps it going: After reaching the State Final Four last year, you have to wonder what the FHHS boys can do this year for an encore. They offered a preview as they played a tough Coupeville squad to a 4-2 victory yesterday, and take on playoff foe Bear Creek tomorrow at their place.
Yesterday's game saw goals by Mario Nuñez (right, assisted by Felipe Lopez). Louis Paul (assist by Cameron Byington), and two by Lopez, while the defense showed its toughness, allowing two goals in the first seven minutes before stiffening the rest of the way. Coach Ron Duke said later, "It was a good first game, especially for our young players. They made good adjustments, especially in the second half."
There are photos of the game and players here - it'll give you an idea of the toughness of the match that most of the pictures have two players fighting for the ball - it was that type of game.
Playwrights' Festival is tonight: One of the delights of living here is that so many people can write - and this is put on display at the Festival, which features four one-acts & three monlogues this year. The three weekend run begins tonight; here's more information.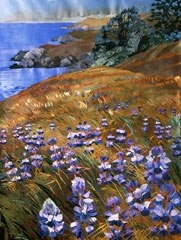 Show at waterworks: Amanda Richardson's show of textile wallhangings begins tomorrow at the waterworks gallery....her work "Lupines and grasses at sunset, grandma's cove" at right gives you a taste of her work. She uses hand-dyed and painted silks, velvets, and other luscious fabrics, transformed into striking landscapes, seascapes, garden scenes. Preview this show at www.waterworksgallery.com

Farmers' Market: See ya there: Although the days are getting shorter, the harvest is still on! The Farmers' Market will be open until the end of October, every Saturday from 10 til 1 at the Courthouse Parking Lot. Then beginning on November 5th, they will have a winter market on the first Saturday of the month from 10 til 1 at the Grange Hall. Fresh local food all year!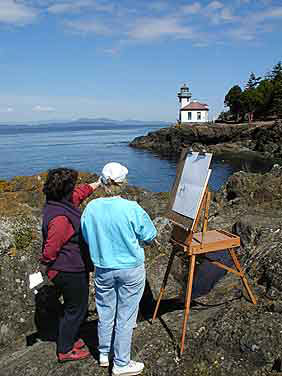 Annie & her art: You've probably seen Annie Adams' art around town, so you know she's a talented & visionary producer of fine & evocative oil & pastel paintings. What you may not know is that she's also a pretty good teacher as well, offering classes, including this weekend. Check out her website & see what you think. That's her on the left with a student at Lime Kiln Lighthouse.
Need a financial coach & advocate? Check out Karen Caldwell's new website for some ideas about approaching your financial life with a holistic, positive approach that you'll be glad for.
Quote: Humankind has not woven the web of life. We are but one thread within it. Whatever we do to the web, we do to ourselves. All things are bound together. All things connect. ~Chief Seattle, 1855
September 8, 2005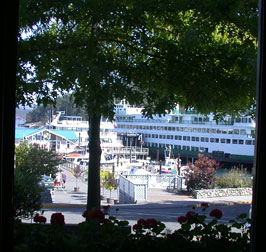 Sunny days at the Pub: Dropped by the Front Street Ale House a couple of days ago & saw the ferry come in, through the window (right).
Pretty afternoon, eh?
Alpaca warmth: If you're starting to warm things up for the winter, heck you ought to swing by the alpaca place by the ferry, in Cannery Landing. They have sweaters and all kinds of things that sure look warm.
And fuzzy.
Spring Street goes international: When Spring Street International School added "International" to its name last spring, it made sense on two fronts: the school has long had an international component with the students going to Central America and Asia, and the school had decided to make a greater outreach to invite out-of-country kids to attend.
School head Roger Frost tells me they've achieved the second objective, as they enrolled a Saudi girl this week at SSIS. More can be expected - so we have more kids in our overall school population here on the island.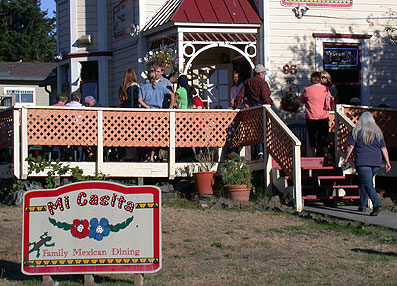 Mi Casita holds hurricane party: I used to live in New Orleans & we had a thing called "hurricane parties" when storms were coming - you bundle up & celebrate like there's no tomorrow. The events of the last ten days have added a layer of longing for the oldd days, but have also led to an outpouring of heart and love for our friends in that beleaguered city.
Carol and Gregg at Mi Casita are among the dozens of islanders who are doing what they can to help: They donated Tuesday night's proceeds to the cause. Here's Carol's report:
Hi Ian;
We just want to let you know what a success the Hurricane Katrina dinner was at Mi Casita last night and maybe you can pass this on to your readers. It was our busiest night ever and altogether we raised $5,087.66 to be sent to "America's Second Harvest" national food bank!
The response from the community was outstanding and the effort put forth by our staff was unbelievable. In addition to working the entire dinner, the wait staff donated their tips and their hours while the kitchen staff gave cash donations and donated their many hours as well. Not only did our own staff do an outstanding job, but Stacey and Lisa, owners of the Hungry Clam, closed their place early leaving a sign for people to come to Mi Casita and then headed to the kitchen at Mi Casita to help us out there. The posters we put up advertising this spur of the moment fundraiser were donated in part by Printonyx which was great.
All the people who came out to eat were generous and patient even though some had to wait a while (that's when those margaritas come in handy...) Everyone wanted to help and participate and because of that I think we'll be able to make a difference to some of the victims of Hurricane Katrina! It's easy to be cynical and depressed about all the craziness in this world these days and we're as guilty of that as anyone, but this community has an amazingly huge heart which showed Tuesday night and that offers a bit of hope for us all.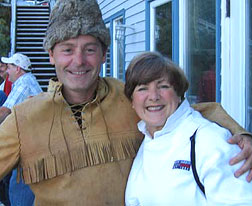 Thanks so much to everyone, Carol and Gregg Ford
Roche Harbor employee party pictures: The staff at Roche had their end-of-season employee party earlier this week - Chris Watling (right with Roche GM Brent Snow) just posted the story and the pictures from the event. Check 'em out.
Quote: How long can men thrive between walls of brick, walking on asphalt pavements, breathing the fumes of coal and of oil, growing, working, dying, with hardly a thought of wind, and sky, and fields of grain, seeing only machine-made beauty, the mineral-like quality of life? - Charles A. Lindbergh, Reader's Digest, November 1939
September 5, 2005
Moon over Bourbon Street: There's talk of little else - the situation on the Gulf Coast has drawn the eyes of a nation, and this island, and captured its heart. People are looking for things to do to help....
Check with any of the local churches - they all have drives for clothes or food or money to send. Or check this link for places to send money.
Or eat at Mi Casita on Tuesday night this week. I talked to Carol & Gregg & here's what they're gonna do (note from Carol):
Hi Ian: Do you think you could get this information into your column in the next day or two? Thanks so much, Carol and Gregg Ford

Mi Casita invites you to join us for dinner on Tuesday, September 6th, 2005 from 5:00 until people stop coming in. All proceeds will be donated directly to "America's Second Harvest" national food bank (secondharvest.org) who will provide100% of those proceeds to food banks serving the victims of Hurricane Katrina. Your participation will give food and hope to the many children, women and men who have lost family members, friends, homes and jobs. See you Tuesday at Mi Casita!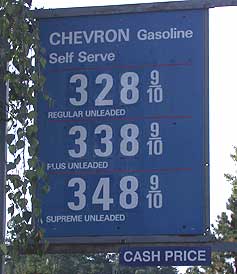 Carol, Gregg, Sam & Joe Ford and the staff of Mi Casita: Larry, Ann, Richard, Mike, Franchesca, Paul, Jake, Heather, Michelle, Nina, Bridgett, Kelly and June
Gas rises on the island: The prices at the right aren't even current - that was Thursday last week. Last night it read $3.40 for the cheaper gas...
The spiraling gasoline prices around the country are dampening people's enthusiasm to drive, and will almost certainly affect the way our economy is run. It's time for the country to come together & begin a serious program aimed at conservation. Past time, for sure.
Quote: "You go into a community and they will vote 80 percent to 20 percent in favor of a tougher Clean Air Act, but if you ask them to devote 20 minutes a year to having their car emissions inspected, they will vote 80 to 20 against it. We are a long way in this country from taking individual responsibility for the environmental problem." - William D. Ruckelshaus, former EPA administrator, New York Times, 30 November 1988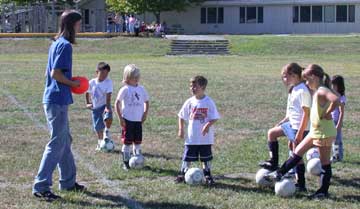 Sports begin as seasons change: That's ace Update photographer Shay getting his picture taken for a change - that's him with his seven year old soccer team. They and the other teams - nearly 200 kids in all - in the San Juan Soccer Association begin play this weekend at the elementary school. They're fun to watch and fun to cheer for.
See ya there.
Meanwhile, the FHHS football boys got things off to a nice start with a shutout in ther first game over Forks last Friday. They have to be considered favorites to repeat as league champs this year - they'll put on a show.
On the pitch, the FHHS soccer boys are excited to get things going this Thursday at home vs our friends from Coupeville, before travelling to Bear Creek on Saturday. The boys came within a goal of a state championship last fall, and hope to return to the show again this year. The girls lost only one senior from last year's playoff team - their enthusiasm is contagious when I talk to them.

Meanwhile, the volleyball squad has Michele Mayer (left) back at the helm (she was coach back in the late '90s), and the girls are looking good, because Coach Michele works 'em pretty hard.
Sarah Joy & Costa Rica: I had told you before that Sarah Joy Staude (FHHS '96) was operating an eco-tourism outfit in Costa Rica - I ran into her at the post office the other day & asked her to send me the scoop - here's the deal: she's putting on a show at the Library the 7th & the 15th from 7-8:30pm to tell about Costa Rica. She promises it won't be a sales talk. Her company is called Boyero Tours and can be found online.
More about how our schools are cool: The San Juan Islander has the stats - check 'em out. Test scores & teacher info & more. See it here. Then you'll dig why we like what our schools are doing.
Orcas in the news, again: Well, not really news - the fine folks at MCNBC say the islands are one of the top ten places to go to see whales, so I guess that's good. They make a big deal about Orcas Island in the story, which is cool, because it's a fine island, even though the whales hang out on the west side of San Juan. Denver's Michael Rolfe told me about this, since I don't much watch TV. I'd rather hang with the whales - wouldn't you?
Anyway, it's fun to read about ourselves.
September 1, 2005
Students return: Yep, school's already started for the year, with the public school kids streaming into the schools yesterday (did you see the crowd at the elementary school yesterday? Wahoo! It's always fun to see everyone get off to school that first day, and all the mamas & papas waving goodbye...)
I hear there's already a football game & a volleyball jamboree this weekend...feels like we're into the fall.
It was a good Fair: When I ran into County Fair Director Christine Miller at the store yesterday, I asked her how she thought this year's Fair had gone, and she was pretty upbeat about it. Besides receiving a lot of positive feedback, she says people voted with their feet: coming back for more the next day.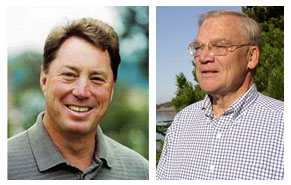 I loved it. Hope you did, too.
Election ballots are out: The mail-in ballots for this fall's primary are out today - you'll see yours in the mailbox today or tomorrow. Gotta mail them in by the 20th. I hope you take special notice of the Commissioner race - our two commissioners (Kevin & Alan) have said they'll appoint the winner of this vote as interim commissioner (he'll still have to beat Steve Ludwig of the Green Party in November.) So, to help you decide, here's the candidates' websites: Bob Myhr and Jamie Stephens (left in photo).
Also on the ballot is the School District's levy, which I told you about. That's the one to say "yes" about.
New Orleans under water: When I lived in New Orleans years ago, I used to walk along the levee between the river and the park near my apartment...it was clear then that there was more water on one side than the other. This week has made it even more clear, in the most awful sense.
This week's been terrible to watch, as the thing we talked about even back then came true: the flooding of the city. This one's gonna be a tough comeback. Here's some places you can check out if you want to help.
Yesterday afternoon, almost everyone who dropped into Kings Market stopped to catch the updates on that TV back in the meat section. The difficulties of the folks there have grabbed the hearts of many islanders.
Back & moving forward: You heard that Lew & Debbie Dickinson have moved back to the island, and teamed with just-retired Bob Jarman to set up a new business? Bob, of course, has been the voice & face of the phone company here for decades. Glad he'll still be around.
August 29, 2005
New Orleans awash: It's heart-rending to hear about New Orleans this morning. Keep an eye on 'em, and send 'em your positive thoughts.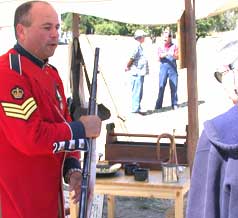 Just another weekend on the rock: Kind of a lot of things going on around the island this weekend. One of the more fascinating was the Re-enactment out at British Camp. For the weekend, folks sleep in tents, dress in period clothes, eat the food, and generally show you what it was like to be a soldier encamped there rin the 1850s or so. It's oneof those deals where history comes alive, right while you're watching.
They do it every year, so if you missed it this year, you have a chance to miss it next year too. (Just kidding.)
Meanwhile, it was nice to drop by the Farmers' Market (below) and see old friends & new food & new babies on a sunny day. Gives you a chance to hang out with people whose gardens actually deliver the goods.
On Friday night, our football team had an intersquad scrimmage at the school, so we could get a chance to see what's ahead this year. Even a scrimmage turned out a pretty good little crowd in pleasant fall-like weather. It was a preview of that, too.
School changes its schedule: You probably heard that FHHS is running a different schedule this year - they'll have a five period day for first and second semester (last year it was a six-period set up), with a winter schedule for January through winter break in February for getting two more credits. It's an experiment that I like the taste of - when I was teaching, classes seemed too short; longer periods give a great opportunity to go in depth. Hope it works. Sounds like a good idea.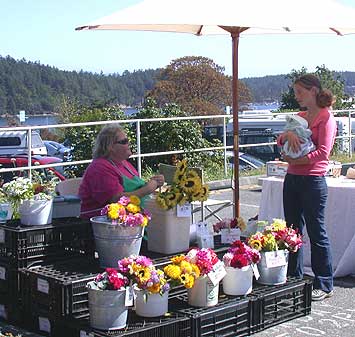 School & the good idea: If you vote against the school levy next week (the ballots go out this week for you to mail back by Sept. 20), then I know you didn't read the explanation of why we NEED this capital projects money. The weakest reason I've heard is that it's a tax increase. Yeah, less than $100 a year if someone owns a $400,000 house. Give me a break.
The schools need it. The kids need it. Vote to pass it.
Quote: It is imperative to maintain portions of the wilderness untouched so that a tree will rot where it falls, a waterfall will pour its curve without generating electricity, a trumpeter swan may float on uncontaminated water - and moderns may at least see what their ancestors knew in their nerves and blood. - Bernand De Voto, Fortune, June 1947

The Place is the place: It's some 8-9 years now that the Place Next to the Ferry Restaurant (which is now The Place Bar & Grill, but I wanted to remind you of its old name AND where it is) has been operating with Kathy & Steve Anderson in charge. I got the chance to check out their new website (here it is) and to have dinner there over the weekend - it's absolutely wonderful. If you haven't eaten there lately, think about it.
They use local seafood (we had crabcakes and salmon) and locally grown produce, so you can't go wrong.
Quote: It is horrifying that we have to fight our own government to save the environment. - Ansel Adams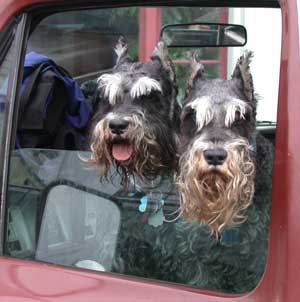 August 26, 2005
Ferry woes: The 3:50pm ferry to Sydney blew its water pump as it arrived Thursday in Friday Harbor, stranding a boatload of folks & cars from Anacortes who thought they were headed west, but were forced to find places to stay for the night or go back.
Quarter century: Ran into Brad & Pat Gislason, who mentioned they recently celebrated their 25th anniversary.
Going to the dogs: I saw these dogs in a truck out front of the Rocky Bay Cafe the other day. (left)
Quote: To people who think of themselves as God's houseguests, American enterprise must seem arrogant beyond belief. Or stupid. A nation of amnesiacs, proceeding as if there were no other day but today. Assuming the land could also forget what had been done to it. - Barbara Kingsolver, Animal Dreams

August 25, 2005
Women's Summit on the move: It probably seems a bit early to be marking down November 5th as an important date, but here's the deal: The San Juan Islands Women's Summit is happening that Saturday, and it looks like it'll be a great one. Here's their website with all the information, and here's their call for help, presenters, and more. Check it out.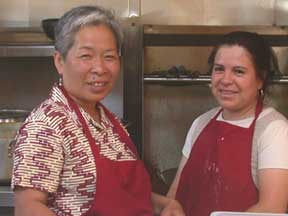 Thai food renaissance: You know we're probably the luckiest place on the planet when it comes to Thai food, outside of Southeast Asia.
A longtime favorite of locals is the Thai Kitchen (sometimes known as the Whale Museum cafeteria, since it's right next door), which was packed last night when I went to dinner there.
Last summer Avon (left, in photo to the right, with cook Maria) expanded her operation to include the Golden Triangle, only two blocks away but serving the lunch crowd with fast, affordable & healthy food, located in the new building about where the Hungry Clam used to be.
Avon is both owner & head chef, and you can tell she really cares about what she serves. I heard someone in line at the Golden Triangle say to a friend who asked what should she get, "Anything. Everything here is good." And it is.
Chris Watling on the move: Long time Roche Harbor fixture Chris Watling has told me she and Harv were going to move to Arizona.
Her last day out there is September 23, and she'll be around till October or so. No word yet on who might be in line to be the next Marketing Maven/Administrative Assistant to the General Manager. Her cheerful demeanor & happy smile - to say nothing of the way she does a really good job - will be much missed.
John & the kids & Carolyn on the move: I got a chance to say goodbye to John Jull right before he & Carolyn got on the ferry during the fair last week as they're moving off island. John was known to lots of folks as the voice of the classifieds at the Journal for years...he just got his degree from WSU this spring, so it looks like time to move on to bigger off-island things. Best of luck!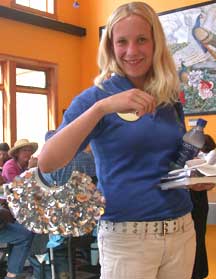 Racers on the move: Did you know the youngest runner in the 8.8K Loop Run was Max Haenel (he's 8) and the oldest was Robert Warren in his seventies?
New bag: I ran into Alaina Shultz the other day & she showed me her new handbag (left). Pretty shiny.
Lecture at the Whale Museum: Claudia Mills is going to talk about jellyfish at the Museum tonight at 7. Here's a bit from the press release:
Jellyfish occur in all parts of the ocean from shallow coastal bays to the abyss. Claudia Mills will give an introduction to the variety of animals known as the "gelatinous zooplankton", featuring primarily jellyfish and ctenophores (known also as medusae and comb jellies) with examples from local waters, the open ocean and the deep sea. She will discuss how these simple animals that lack an organized brain can actually perform rather complex behaviors including in some cases being quite specific about the prey they select, and also controlling to some extent where exactly they live in the seemingly undifferentiated open ocean.
The talk will conclude with some local particulars including the two decade jellyfish "fishery" in Friday Harbor in order to extract bioluminescent and fluorescent materials that are now made in the laboratory, the stranding phenomenon of large red jellyfishes on our beaches in late summer, and general environmental trends indicated by the local community of some 60-70 different species of "jellies".
Quote: I think the environment should be put in the category of our national security. Defense of our resources is just as important as defense abroad. Otherwise what is there to defend? ~ Robert Redford, Yosemite National Park dedication, 1985

August 22, 2005
You were there - here's a gallery of about 125 photos from Island Rec's 28th Annual 8.8K Loop Run (it used to be the Journal Run), as well as a gallery from the last day of the Fair.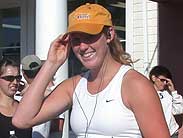 Fall approacheth: Doesn't it feel like fall when the Fair's over? Sure, there's still a month left till it's officially autumn, but when we wake up to the cool mornings & the fog, and the plans for the coming winter, well, you know it's close.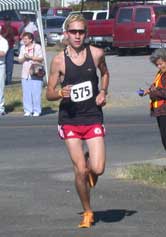 The Loop Run: It was perfect running weather on Saturday morning for the Island Rec 8.8K Loop Run - a bit cool, but sunny and bright. Here are a ton of pictures from the race - take a peek and see whom you know. On the women's side, young FHHS senoir Madison Judkins (above) challenged previous winner Jane Hutchison and took first, followed by Anne Obluck, who was visiting the island for her honeymoon, with Jane right behind.
On the guys' side, Anne's husband Tris (left) took first, followed by local hero Lucas Franco while previous winner Pete Tabor took third. Here are complete results, courtesy of the San Juan Islander.
When you look through the photos you'll see a nice number of papas & mamas who ran the race with their daughters and sons, as well as a number of people you know. Check 'em out.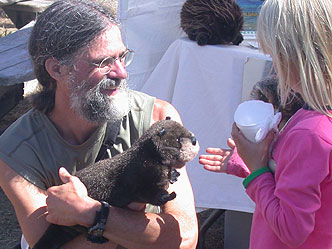 The Fair: You know, the San Juan County Fair is like a big family gathering that you WANT to go to. It was great to see so many people, and such talent, on the music stage, at Sheep-to-Shawl, in the horse arena - all over the place. Hope you got a chance to go & see everybody. Here's a gallery from the last day of the Fair.
Ross Lockwood (right) works at the Wolf Hollow booth at the Fair last week, and introduces a new friend to a new friend.
Passing: While at the Fair I heard that John Dallas had passed away...the articulate Mr. Dallas was a fixture in the local papers with his letter-writing & comments. He'll be missed.
Back: I just heard that sculptor Tom Pemberton was flown off last week & spent the week at the hospital. He's back on-island now and Emily tells me he's resting at home.
---
The information here is simply stuff we here at By Design think is important around Friday Harbor or on the Island. Some of it's news, some of it's old news, and all are just things we wanted to mention, with most of it about the things that make living here great.

There will be more next week, if anything happens.

Ian Byington
ian@byd.com

More info about the island:

This site prepared by our friends at By Design in Friday Harbor.
The information contained here is
©Copyright 1997, 1998, 1999, 2000, 2001, 2002, 2003, 2004, 2005 and next year, too
by By Design, Friday Harbor.
Unauthorized reuse of the content of these pages is prohibited;
links to other sites is intended to be to the benefit of those sites,
and for the edification of our readers,
and does not constitute endorsement or
agreement with views expressed there.
All rights reserved, except in Britain, who have their own reserve.