October 5, 2005

Girl Scouts say "Thanks!": Girl Scout Troop 1949 has done a lot of things for the community that you may not have known about...here's a nice letter from troop leader Robin to tell you about what they've done. (pictured (l-r): Heaven, Dennie, Ursula, Amelia, Paige.)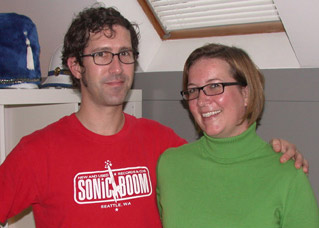 Tif & Gif rock on: When Chris Minney & Melonie Walter moved to the island from Colorado back in 1996, they were a couple of hard workers who came to make a difference. Chris put his formidable graphic arts skills to work right away in the production room of the Journal, while Melonie got work with my outfit By Design. By the time she moved on to make web sites for Rock Island, she had become a pretty good webpage maker herself. Chris joined her there, and in late 2002 they put together their own successful business, which they call Tif and Gif, offering a full spectrum of design services.
The odds are good you've seen their work. Whether it's the Chamber of Commerce or Visitors' Bureau sites, or any number of other nice-looking web pages around the island, they do good, clean, tasteful work that tends to be colorful and eye-catching. Check out their web page & portfolio and see what you think.
And...they've stayed involved, as Mel serves on the Chamber Board and Chris is on the Visitors' Bureau Board - they put in more than just their work hours to make things better for the island.
Open Gym programs begin: Autumn is upon us, our days are getting shorter and the rainy season is near. It is time to move indoors for some recreational opportunities and Island Rec has something for people of all ages. Beginning this week, Island Rec is offering Open Gym programs at Turnbull Gym for families, teens and adults.
The schedule is as follows:
Family Gym Time, Sundays 5-7pm | Co-Ed Volleyball, Sundays 7-9pm
Badminton, Mondays, Wednesdays and Fridays 7-9
Men's Basketball, Thursdays 7-9 | Teen Gym, Saturdays 7-10pm
There is a $2 drop-in fee or a discounted season pass may be purchased. Details and schedule updates can be found on line at www.islandrec.org or by calling Island Rec at 378-4953.

Tibetan presentation on tap: Susan at the downtown Pelindaba tells me there's a good show this Thursday:
We have an extraordinary event this week that we'd like you to know about. Thursday from 7-9pm, Pelindaba presents: Art, Spirit, Culture, and Commerce in Tibetan India, a presentation by Thrinley DeMarco and Janet Thomas. This will be a recounting of their recent journey through India exploring the Tibetan experience in India and the rich cultural and spiritual life of this complex and invigorating country. Their presentation will be illustrated with a photographic display. We hope you'll join us. Susan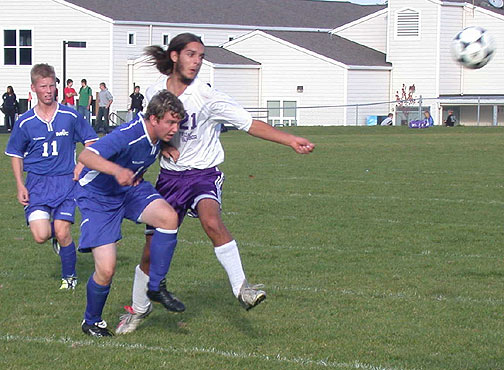 The boys head for the top: The second-ranked FHHS boys' soccer team had every reason to get up for the Mount Vernon Christian game last night - MVC is not only the Wolverines' oldest soccer rival, but this year they were unbeaten in league with a 6-1 overall record, and had allowed only one goal in the first month of the season, to Riverside Christian in their only loss, 1-0.
FHHS came to play - soph striker Erik Nash rammed home the first goal at ten minutes, followed 15 minutes later by a full-field cross from senior forward Felipe Lopez to the diving head of junior midfielder Mario Nunez, which set the halftime score at 2-0. Nunez came on to score the rest of his hat trick in the second half, while the Hurricanes managed a late goal to set the final score at 4-1. Here are photos from the game.
MVC (now 6-2) came into the game as the league's leading goal scorer, with 24 on the season, but could only manage one against the sturdy defense of Daniel Jones, Louis Paul, Shay Byington, and Kevin O'Conner, directed by senior keper Paul Guard. Midfielders Pablo Lopez (left, in white), Chris Benz, Eric Rothlisberger, and Nunez controlled the center of the field, to hold the high-scoring Hurricanes in check.
What's next? The boys (5-0-1) pack nine matches into the next 25 days, starting with a visit to tough Coupeville this Thursday.
A classy touch: The Orcas boys team came over to cheer on the islanders and scout Mount Vernon - it helped fill the stands to have our friends here for us.
The Update's State Top Ten for 1A/B Boys Soccer:
Far as I know, no one else goes out on a limb to say who the top ten teams are, but here's the way the San Juan Update sees it, as of Tuesday, Oct. 4:
1. Overlake (7-0-1) - probably the team to beat; currently in first place in the tough Emerald City League. Their tie was with University Prep; they've only allowed 4 goals this season.
2. Friday Harbor (5-0-1) - the only other undefeated team in the state; an early season match between #1 & #2 was unfortunately scratched, so they may have settle things in the playoffs.
3. St. George's (Spokane) (5-2) - things are tough in eastern Washington for last year's #2 state finisher, but they beat defending state champs University Prep a couple of weeks ago.
4. University Prep (6-1-1) - the defending champs are on a tear, winning their last four by persuasive margins.
5. Mount Vernon Christian (6-2) - #2 in the state's other tough league, the Northwest League, means you ain't a slouch.
6. Seattle Academy of the Arts (5-1-1) - SAAS would love to prove that last year's quarterfinal loss to UP was a fluke; they beat the eventual champs during last season.
7. Moses Lake Christian (6-2)
8. Riverside Christian (6-2)
9. Seattle Christian (6-1)
10. Coupeville (5-3)
I'll update the Top Ten next week...let's see who rises, and who falls.
October 4, 2005
Ferry food service cut back for the season: This is the week it ended...you can still get food (well, sorta food) from the vending machines on board, and the Cheesecake Cafe (which does have good food) is still open during the week at the Anacortes Terminal.
Pack a lunch.

Happy St.Francis Day: Today is the celebration of St. Francis' birthday, Sunday was Gandhi's Birthday, John Lennon's is the 9th, and Paul Simon's is the 13th.


Girls win nailbiter: The FHHS girls didn't have much trouble with North Sound Christian when they beat them 4-1 back in September, but it was tough yesterday as we won 4-3 in a 7-round shootout that was easily one of the most exciting games played in the history of the 11-year program.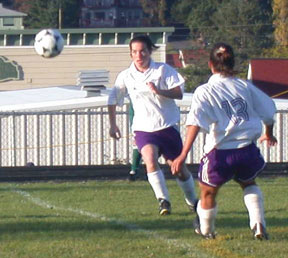 FHHS came back from a 1-0 halftime hole to go ahead 2-1 in the the second half, only to be sent to overtime when North Sound tied it up 2-2. The Wolverine Women finally nailed a goal with 39 seconds left in overtime - a bending corner kick by Lillan Roquet that slid in the near post that the keeper couldn't handle. But the visitors hustled the resulting kickoff by the celebrating FHHS defense into goal for a 3-3 tie, to force the shootout.
The game was spent in front of the visitors' goal (as you can see above, with the shot to the bar by Jenny Guard), but the Wolverines struggled to finish shots on goal in front of the packed goalbox. The girls showed a strong work ethic (that's Hannah Burke on the right), which included never giving up or slowing up in the long match. That will serve them well as they pass the halfway point of the season, headed, hopefully, to the playoffs.
The girls are now 6-3 for the year.
Boys play big one today: The FHHS boys soccer team plays Mount Vernon Christian High here today at 4:30pm, in what coach Ron Duke says is the "most important game so far for us." The visitors are 6-1, and have allowed only one goal; we're the only undefeated team left in the state.
See you there!
Quote: A human being is part of the whole, called by us "Universe," a part limited in time and space. He experiences himself, his thoughts and feelings as something separated from the rest - a kind of optical delusion of his consciousness. This delusion is a kind of prison for us, restricting us to our personal desires and to affection for a few persons nearest to us.
Our task must be to free ourselves from this prison by widening our circle of compassion to embrace all living creatures and the whole of nature in its beauty. - Albert Einstein, 1950

October 3, 2005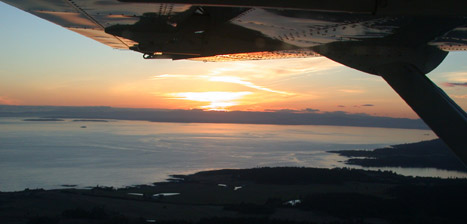 Sunset over Vancouver Island, aboard the last Kenmore Air flight of the day last Monday.

Leigh & Julian celebrate: They got married last April, and decided to have a celebration out at their house this weekend. The house itself is the one that stood across from Spring Street International School for years, which Leigh had moved out to Wold Road and then remodeled. Leigh is a realtor with Windermere, while Julian runs a translation business in Vancouver.
Soccer & football update: The football guys ran it to 4-0 on the season with a 66-21 romp over Coupeville on Friday...they take on Charles Wright Academy herre at 7:30pm this Friday.
The girls' soccer team will host North Sound Christian here today at 4:30pm, while the boys' biggest challenge of the year so far comes visiting tomorrow at 4:30, when Mount Vernon Christian (6-1) arrives.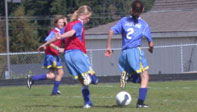 Meanwhile, on Saturday, the U-14 girls' game was cancelled, so they played an intrasquad game with some guest players over at the high school, right before the thunder and rain began...it's always better to get a friendly game in, than to miss a week of playing....coach Tina Jones tells me they're really improving, and getting better every week. I know I saw some girls who will help next year at the high school.
Quote: Service which is rendered without joy helps neither the servant nor the served. But all other pleasures and possessions pale into nothingness before service which is rendered in a spirit of joy. - Mohandas Gandhi (it was Gandhi's birthday yesterday)
Stage Left show continues: The Importance of Being Earnest continues this week, playing at the Roche Harbor Pavillion from the 4th to the 8th this week. See ya there...everyone who has seen it tells me it's wonderful.

Salal neighborhood begins last houses: As you can see in this picture by FHHS freshman Isaac Taylor, the building on the last houses at Salal has begun. Pete Kilpatrick has been integral to this project, and tells me building affordable housing has been one of the most rewarding things he's been involved in, but also reminds that we need so much more here on the island for working folks.
September 30, 2005
Soccer blown out, for real: Usually when you travel somewhere to play a game & get blown out, your record suffers...the FHHS soccer boys got literally blown out yesterday, though.
When they arrived at Shoreline Christian dirt field yesterday afternoon, the wind blew so hard that they played only five minutes before the ref called the game. No one could see, and it was pretty clear you wouldn't want to be breathing that stuff. They'll re-schedule the match for later.
With wins over LaConner & Orcas last week, the guys are 4-0-1, and presently the only undefeated team in the state after the first month of play.
Meanwhile, the girls lost a tough one to LaConner last night, scoring twice in the second half to come up just short, 3-2. FHHS beat them 4-3 two weeks ago in overtime, so we'll see what happens in the rubber match in late October. We're 5-3 now on the season, with two of the losses to Bear Creek.
Thanks, grammarian eagle-eye! Nancy Clifton gets the eagle-eye award for noticing that I said the ferries had "less people" below (I changed it after she wrote) - of course, it should say "fewer people." She also sent a nice link that explains the differences between commonly mis-used words & phrases.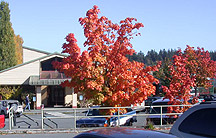 Last Tuesday's sunny day showed off the fall colors at the post office (left).
Library pup: I had some friends who had a baby a couple of years ago & couldn't think of a name for her, so for eight weeks they just called her "Kid."
Heidi over at the Library tells me head librarian Lauren just got a new library dog, and is still waiting to think up a name for her. By all accounts, she's well-behaved & pleasant. Do they call her "Pup"?
Corina & the camel: Remember I told you about the camel? (See below.) I found out that that's Corina's camel, and she has a bit about her on her web site for Corina's Beads. She has a bunch of pictures & explains all about Mona...way cool.
FHHS Football rocks on: Tonight's challenge: Coupeville (3-1), at their place. We're 4-0, and have scored 181 points on the season, but Coupeville's coming off a convincing 34-14 win over Concrete last week, and have only a loss to 2A power Blaine.
Should be a good one...
Quote: It did not really matter what we expected from life, but rather what life expected from us. We needed to stop asking about the meaning of life, and instead to think of ourselves as those who were being questioned by life – daily and hourly. Our answer must consist, not in talk and meditation, but in right action and in right conduct.
Life ultimately means taking the responsibility to find the right answer to its problems and to fulfill the tasks which it constantly sets for each individual.
- Viktor E. Frankl, Man's Search For Meaning (Yes, I still have the book. When are you gonna come get it?)
Commissioner candidate websites: Take a peek at Bob's site, and Steve's. Soon as Lulu gets one, I'll tell you.
September 28, 2005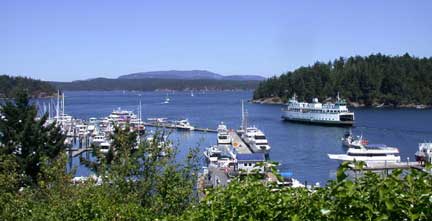 Fogged in: Man, it's been foggy this morning - lasting till midday. Slows the ferries up - they're running a bit behind - and hopefully slows up people jetting down Roche Harbor Road. The picture above was not taken this morning.
Take it easy.
Were there fewer people here this summer? It's hard to tell, since there's no official census of daily visitors, but the ridership figures for July that Debbie Pigman from the Chamber of Commerce sent me show a bit of a drop off (these are compared to 2004's July):
Anacortes to Lopez -3.5%
Anacortes to Shaw -4.1%
Anacortes to Orcas -5.8%
Anacortes to San Juan Island -2.7%
Interisland Ferry -7.8%
Anacortes to Sidney -6.0%
Interisland to Sidney -13.0%

Out of the woods, into the woods: Carlos & Tammra Bea bought Inn to the Woods about three years ago from David & Christine Taylor, then purchased Argyle House from longtime owners Bill & Chris Carli last year. Got all that straight?
Now they've sold Inn to the Woods to Nancy & Patrick Boyle, who've been here this month learning the ropes and who take over at the end of the week. Christine's been working at Windermere ever since, while, Tammra & Carlos just finished a nice summer at both b&b's.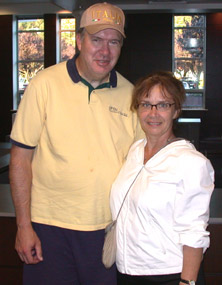 The election for County Commissioner, round 2: I ran into Elections Boss Dan Gillespie yesterday, and he tells me that Lulu Johnson got herself enough signatures to get on the November ballot as a Republican for the Commissioner race, so she'll face Bob Myhr (Democrat, who was sworn in this week after being appointed, after outpolling Jamie Stephens last week), and Steve Ludwig from the Green Party.
You thought YOU had a long day: Nina and Harlan Anderson (right) woke up at 4:30am on Monday. That's early enough, but they were in Rome, Italy. When I caught up with them here later that day, they had just flown in on Kenmore Air at the airport here at 7:05pm, our time...making for a 36-hour day that started an ocean & a continent away. Nina told me they had a great time, and that it's good to be back home...you can get the rest of the story from her when she goes back to work this week at the Marketplace.
Coming in on the same flight to visit was Katie Anderson. She's Kathy & Steve's daughter - they own the Place Bar & Grill.
Brems on the road...Stacy & George Brem ended their long and successful run with the restaurant when they sold it earlier this summer to Travis & Sybil Mager. Stacy tells me they're packed & leaving the island, with last daughter Lauren off to college this fall.
They're not the only parents with empty nest syndrome - Yvonne (you know, Bob Mancuso's wife) tells me they're already missing Arielle & Ayanna, who are off to university as well.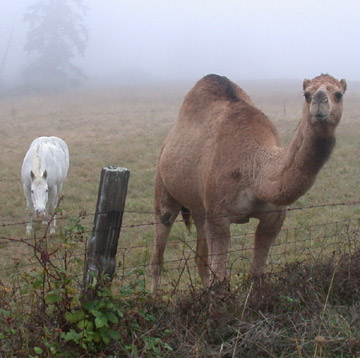 Dickinson & Jarman team up: Lew Dickinson (he used to run Interisland Electric) and Bob Jarman (he worked for CenturyTel for three decades, and just retired) have made a company called Island Communications & Electric. Their website explains what they're doing:
Island Communications & Electric (I.C.E.) brings together Lew Dickinson, with 30 years experience in electrical contracting in both residential and commercial electrical wiring; and Bob Jarman with 29 years experience in the telecommunications industry.

The focus of Island Communications & Electric is on products and services that meet the needs of today's technologies while planning for the future expansion of those technologies in your home or business.
Camel on the island: I called Colleen who works over at San Juan Vineyards to ask her about the camel you see when you're going along Roche Harbor Road, across from the wine place. She says the Mona the camel came from the east coast, via Whidbey Island and Spokane, and is very sweet. She likes vegetables, and as far as Colleen knows, hasn't spit on anyone yet.
That's her this morning, in the fog, with her friend, the white horse.
She also said people need to be careful looking at it - there ARE people behind you who might whack into you if you slow up...be careful!
Speaking of the Vineyards: Yvonne sends this note for this weekend: "We are having our Harvest Festival on Saturday, October 1 starting at 9 a.m. - weather permitting, of course. We will pick Madeleine Angevine grapes and we will host a Harvest Party for those who participated in the picking in the evening. The pickers will enjoy a Salmon Barbeque with assorted salads, wines from our Library and door prizes for many lucky winners!" Yvonne Swanberg, General Manager, San Juan Vineyards.
Quote: To waste, to destroy our natural resources, to skin and exhaust the land instead of using it so as to increase its usefulness, will result in undermining in the days of our children the very prosperity which we ought by right to hand down to them amplified and developed. ~Theodore Roosevelt, seventh annual message, December 3, 1907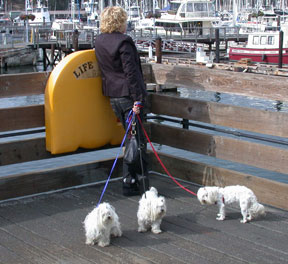 September 23, 2005
Family of four waiting for the international ferry last Thursday (right).
For the birds: San Juan Islands Audubon and The Whale Museum are sponsoring a bird presentation by noted author Bob Morse on Tuesday, September 27th, 7 PM, at The Whale Museum. Morse will be speaking about his book "Birds of the Puget Sound Region", a wonderful and handy photo identification bird guide. Morse is author of other regional guides of the Washington Coast and one of the founders of the yearly spring shorebird festival at Ocean Shores.
Bob will be in Friday Harbor for the upcoming Watchable Wildlife conference the same week. For further information call Barbara Jensen, 378-3068.

Girls win: BTW, the girls' soccer team beat North Sound Christian the other night...they're 4-1 on the young season so far.
The boys are in action Thursday at 4:30 here.

September 21, 2005
Myhr, levy pass muster: Tuesday night's vote left the people of San Juan Island with a successful capital projects levy (described here) for the school system, and a Democratic candidate to face Green Party candidate Steve Ludwig in November for County Commissioner.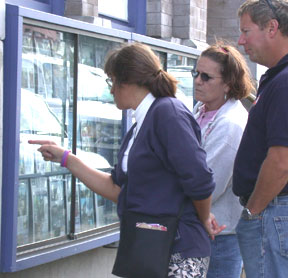 The levy received a resounding 67% "yes" vote, which was pretty gratifying, according to school board member Boyd Pratt. "This lets us do things that are good for kids. Keeping our buildings and technology in good shape is good policy, and it looks like the voters agree. This takes pressure off the general fund and allows us to spend that on the direct things that educate kids. This is a good night for the island's children."
Lopezian Bob Myhr won the Democratic primary, beating Jamie Stephens for a chance to win in November to replace Rhea Miller. Kevin & Alan, our other commissioners, said they'd appoint the winner of last night's race immediately, so Bob will take office soon, and face Steve as an incumbent.
Looking for a place: People come to the island for a lot of reasons, but one is to check out the real esate, like the folks to the right outside Coldwell Banker on Sunday. According to Merri Ann Simonson's newsletter, the island currently has a smaller number of properties to sell than usual - in the 200s or so - but folks are buying more than last year at this time.
In other real estate news, agent Piet Visser has joined Friday Harbor Realty.
The play's on, this weekend: Make plans to see Island Stage Left's "The Importance of Being Earnest", Sept. 22-24, 27-30, Oct. 1, 4-8. Click here for details of where & when...Formal attire by the audience is welcomed but not required, according to director Helen.
See you there.
Quote: We have them right where they want us. --James T. Kirk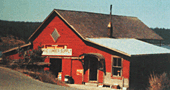 Browne's, historically: You probably knew that Browne's Home Center has been around for a long time (that's the old building back in 1947, when Jim & Inez Browne ran it), but did you know the original company started back in the first part of the last century?
There's a fascinating (I love this stuff!) little write up on the Browne's website that shows you what these longtime islanders have done.
Susan needs your help: There's a fund set up at Islander's to help Susan Eyerly. She's been diagnosed with myeloid leukemia, and it looks like her insurance comes up about $100,000 short for her to receive the stem cell transplant she needs. Our friend Susan's been running Griffin Bay Books for over two decades here for us; give to help her, if you can.
Off to college: Roche food czar Bill Shaw's off to take Maggie to college this week.
Other quote: Violence is the last resort of the incompetent. --Isaac Asimov

September 19, 2005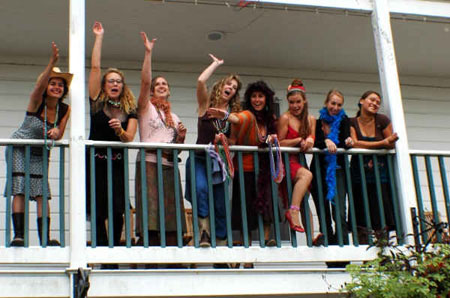 Laissez les bon temps roullez: By all accounts the fundraiser for New Orleans last night was a great success. That's the girls from the Market Chef on the balcony above - reminds me of the times I've been in New Orleans during Mardi Gras. All the food, work, music & energy was donated - all the proceeds went to help folks in in Gulf Coast areas that were hammered two weeks ago.
Here's a portfolio of photos Janice Peterson shot last night, and here's Becki Day's story of what was happening & who made it happen: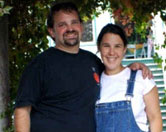 What a great successful event! Tim and Laurie (right) from the Market Chef, are the ones to give huge kudos to - they were the lead organizers and did a great job organizing this event in a week and a half. The event was sold out.

The cast of volunteers (my job was to coordinate the volunteers on the day of the event) were awesome. All donated their time and lots of energy. The picture of the girls on the balcony at Roche are all Market Chef employees who really got dressed up and worked for free from start to finish. To see the Island's finest chefs all working together to put on this event was truly awesome. And Roche Harbor was so gracious in offering the site. Brent Snow and Bill Shaw were truly awesome, too.
Susie Wampler was in charge of decorations. Bartending was Doug Bison, Tim Judkins, Deb Dardinelli, Bob Querry, Kim, Kira Sable, Michael Edwards. Music was awesome and had everyone dancing past sunset!
Becki Day, San Juan Events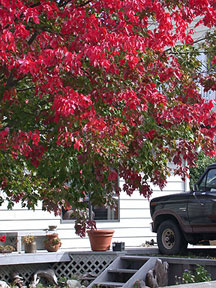 Equinox is upon us: The weather feels like it. The air feels like it. The full moon even feels like it. And the trees around the island changing colors tell you - the seasons are turning.
That's a red maple on Argyle Street yesterday (you've seen it before) as it turns from green to a vibrant crimson.
Did you vote? The mail-in ballots are due tomorrow. Get 'em in. And remember to vote yes on the school levy (read all about it.)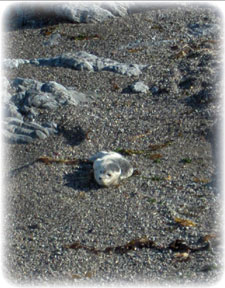 Quote: "Recall the face of the poorest and most helpless person you have seen and ask yourself if the next step you contemplate is going to be of any use to that person." - Gandhi

Seal of approval: The photo on the right was shot by Colleen London a few weeks ago - the little seal was on the beach on the west side, and she shot the photo from a good distance, like you're supposed to. It was gone when she and her mom Janna Gingras returned from town - probably gone swimming.

Sports update: When I left the football game at the half on Friday, the boys were ahead 42-0 as they proceeded to win 49-6. They're now 3-0, and can head into their league schedule for the rest of the season with some confidence, having scored over 130 points in three games and allowing only one TD. Gonna be tough to beat.
The soccer boys completed their non-league scheule with a tidy 3-2 win over Bellevue Christian at their place on Saturday. Unlike football, they've had to scratch & claw in close games to rack up their 2-0-1 record, but they're purposely playing the toughest teams in the state to get ready for what lies ahead in league (Coupeville & LaConner are gonna be tough) and in the playoffs. So far, it looks like we match up with the better folks around the state pretty well.
The soccer girls nipped Evergreen Luthern Saturday 2-1 to improve their record to 3-1; they'e scheduled to take on new league member North Sound Christian away on Tuesday.
---
The information here is simply stuff we here at By Design think is important around Friday Harbor or on the Island. Some of it's news, some of it's old news, and all are just things we wanted to mention, with most of it about the things that make living here great.

There will be more next week, if anything happens.

Ian Byington
ian@byd.com

More info about the island:

This site prepared by our friends at By Design in Friday Harbor.
The information contained here is
©Copyright 1997, 1998, 1999, 2000, 2001, 2002, 2003, 2004, 2005 and next year, too
by By Design, Friday Harbor.
Unauthorized reuse of the content of these pages is prohibited;
links to other sites is intended to be to the benefit of those sites,
and for the edification of our readers,
and does not constitute endorsement or
agreement with views expressed there.
All rights reserved, except in Britain, who have their own reserve.