December 12, 2005
Steve & San Juan: You may have heard that former San Juan Island Schools Superintendent Steve Enoch had gotten another job after he moved from here to Mead SD in eastern Washington - but did you know it's at San Juan again?
Check out the San Juan School District's page - in California - and there's Steve, right there on the front page.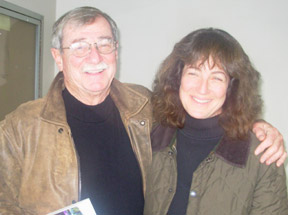 Off to Italy: When I saw Barbara Dubail and Al Defalco on the ferry yesterday & asked them where they were off to, they said they're going to Italy - to get married! They have most of the fam meeting them there, and have a nice trip planned for afterwards. Congrats!
You may remember Melissa Dubail (Barb's daughter) went to Portugal last year for foreign exchange...here's the story with photo, near the bottom.
Trips to Tennessee: You might think I'm looking for a theme. It's serendipity, coincidence, or just plain chance, but seems to me there's a lot of islanders in Tennessee these days, or at least passing through.
Karen from Boardwalk Bookstore is going to Knoxville next week to visit, while musical FHHS grad Alex Altman finished his stuff at Murfreesboro State and is freelancing studio work in Nashville. Nick Treinens just got back from visiting (and rock-climbing) with Elliot Piff in Chattanooga (he's at UTC - the University of Tennessee at Chattanooga), and you probably already know Richard Ledford at FHHS graduated from UT. Barbara & Jim at the Front Street Cafe went to Memphis where they're from, a month ago.
As it happens, I'm off to Chattanooga for my dad's 80th birthday in a couple of weeks, too. I'll let you know who I see from the island while I'm there.
Quote: "The best thing to give to your enemy is forgiveness; to an opponent, tolerance; to a friend, your heart; to your child, a good example; to a father, deference; to your mother, conduct that will make her proud of you; to yourself, respect; to all men, charity." Benjamin Franklin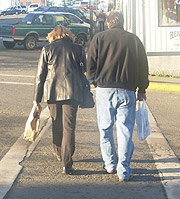 December 11, 2005
Quote: "Angels and mortals, believers and nonbelievers, look heavenward, and speak the word aloud. Peace. - Maya Angelou, earlier last week, reciting her new poem "Amazing Peace" at the lighting of the National Christmas Tree - a poem that has been called "a radiant affirmation of the goodness of life."
Weekend around town: It was cool to see people with their shopping bags around town Saturday, shopping locally and visiting with friends. I saw someone feeding her dog a lavendar-scented dog treat - where else can you buy one but here? I KNOW you won't find a better couple of toy stores than the Toy Box and Osito's anywhere else, and there are more good bookstores here than any other town of 2,000 in Washington.
You can't lose.
Sharing your blood: You can donate on the 13th at the Grange. Someone you don't know needs it. See you there.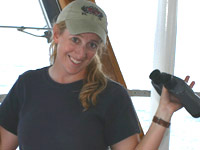 The whales get their site launched: You may have sat in on Alison Gill's well-received presentation last May at the Whale Museum about minkes - she's been studying them for more than a decade, and has been instrumental in helping focus attention on the little whales worldwide, most notably with her website about the data available in Scotland in a collaboration called Project Minke.
Now she's launched a new site about the whales around here (the Northeast Pacific area), just in time for the Marine Mammal Conference in San Diego that a lot of local whale researchers & friends are attending this weekend. While orcas have received a lot of attention around here, this new website will fill you in on their relatives, the minkes. The site pulls together data from world-renowned minke researchers (see how many you know!) who have gathered info from the waters around here. And...it's a good-looking, easy-to-read site, nicely done. Check it out.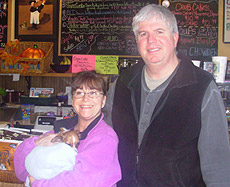 Over at Front Street: You can drop by & get your coffee - Jim & Barbara Petty were showing me their dog as well as telling me they're having a pleasant holiday season at the Front Street Cafe this month.
When you drop by and see all the stuff in the bakery case, you'll see why the place smells so good, too. I don't think I've ever seen them not smiling - it makes the Cafe one of the friendliest places around.
Movies, here: Aaron at the Palace Theater continues to offer amazing movies & take artistic chances, even at the risk of low attendance. In that spirit, he's predictably got Narnia and Harry Potter on his two screens, along with George Clooney's well-done Good Night & Good Luck. More on all that in a moment.
Advent calendar: Just in case you missed getting yours, here's one the Episcopal Church offers, online.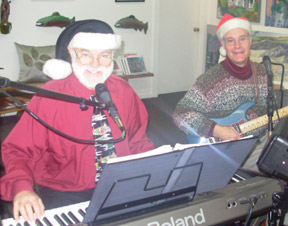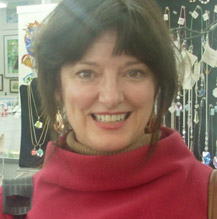 Quote: Relationships based on extreme circumstances rarely ever work - last line from 1994's Speed
Walkabout in Friday Harbor: It was a pleasant sunny day & it was good to see talented friends out & about yesterday around town, adding to the Christmas season.
Over at Island Studios, Teddy Dean & Jonathon Piff (The Play-right Boys) were playing right for Pat's Open House (which continues today), while authors Charlie Lindenberg and Margaret Doyle (left) were on hand to sign copies of their books, which make good presents. Pat has all these and more available on her website & online store.

With over 80 artists & artisans in the store, you can get a pretty good sampling of the island's talent by checking them out online. If you go by the store today during the open house, you can get a pretty good sampling of the cookies, too.
Meanwhile, over at Boardwalk Bookstore, Bettye had a book-signing by Michael Donnelly, who wrote "Awakening Curry Buckle." Written for both a pre-teen and adult audience, the book is a deeply layered, gripping, hilarious, and poignant tale that empowers readers to seek undreamed of possibilities in their lives.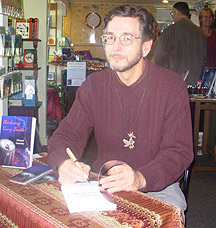 From the cover: As presaged in a dream, Darwin Bownes arrives from off-island to help Curry solve the riddle of a Tibetan amulet, and decipher a Sanskrit inscription on a drum... a drum that seemingly wants to be played by no one but Darwin.
Drop by & get your copy!
A song for you: You know, sometimes you just gotta sing a song. Here's one for you this morning, that the juncos in my yard like & come sing with me. You can sing along, too.
More about that Murrow movie: The movie Good Night & Good Luck covers the Edward R. Murrow-Joe McCarthy tussle in the 1950s, with overtones of lost constitutional rights & invasive government that echo today (have you READ the so-called Patriot Act? Joe could have helped write the thing...). It's good to hear Murrow remind his listeners: "Remember that we are not descended from fearful men," and himself take the personal risks needed to stand up for what is good & right.
It's at the theater till tomorrow - drop by & see it. You'll be glad you did.
Murrow gave a prescient speech in 1958 that speaks to the emerging role of television & the dangers (I think) of letting it make us mind-dead. Here's the speech, and here's a insightful interview with George Clooney about the movie (he wrote, directed, and has a part in it.)
Let me know what you think.
Quote: [Will people watch public affairs programming on TV?] To those who say people wouldn't look; they wouldn't be interested; they're too complacent, indifferent and insulated, I can only reply: There is, in one reporter's opinion, considerable evidence against that contention. But even if they are right, what have they got to lose? Because if they are right, and this instrument is good for nothing but to entertain, amuse and insulate, then the tube is flickering now and we will soon see that the whole struggle is lost.

This instrument can teach, it can illuminate; yes, and it can even inspire. But it can do so only to the extent that humans are determined to use it to those ends. Otherwise it is merely wires and lights in a box. There is a great and perhaps decisive battle to be fought against ignorance, intolerance and indifference. This weapon of television could be useful. - Edward R. Murrow, 1958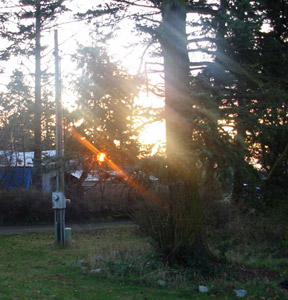 December 8, 2005
Good morning, starshine: Hope your day is sunny & bright, like this morning's sunrise (that's the sun at about 8am, in case you slept in).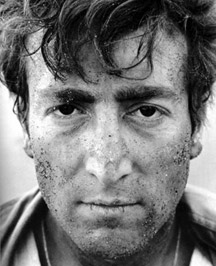 Birthdays & days of memory: As it happens, today is not only my birthday, but for the past 25 years, has also been the anniversary of the days we got the news about John Lennon's death.
Everybody's got their rituals - one of mine has been to play "Imagine" on the piano (if there is one) or guitar wherever I am.
So over the years, I've sung it, this day, in Phoenix at a hotel in a banquet room that was being cleaned up, to the woman I was seeing & the waiters; to a rally in the late '80s, to classes at schools in Oregon, Washington, and Alabama, and in a coffeehouse in California.
Each year, a different line from the song pops out to me...I'd have to say that this year, the line is: "You may say I'm a dreamer, but I'm not the only one."
Quote: My role in society, or any artist's or poet's role, is to try and express what we all feel. Not to tell people how to feel. Not as a preacher, not as a leader, but as a reflection of us all. - John Lennon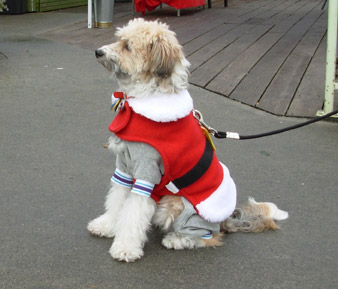 You know the Car Doctor's Gina & Loren's dog? He's ready for Christmas.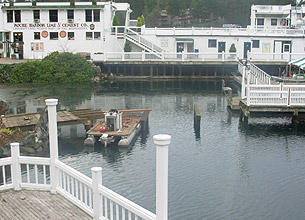 Look, Ma, no dock: That's because it's getting replaced, silly. As you can see in the photo, the dock at Roche Harbor is undergoing repair (well, replacement) and it should all be as good as new next week sometime.
This weekend: The Reluctant Dragon is playing this weekend at the Community Theatre - here's the scoop.
Meanwhile, you can head to the Friday Harbor marina for the Lighted Boat Parade and the Santa Ship Saturday evening (the 10th), with all the other kids. See ya there.
Eat: Speaking of Roche, the Lime Kiln Café is open for breakfast & lunch, and one of the smiling faces there is Sondra Nash, who not only cooks there but also helps husband David run the Nash Brothers Sporting Goods store, which used to be Duke's Sporting Goods.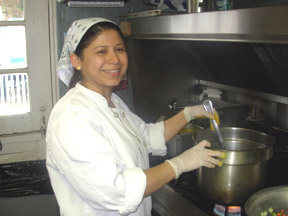 She says they're stocked and well-set for the Christmas shopping season, and that she & David have been gratified by the locals' response to the store this fall.
No smoking: Starting today, the state's no smoking law goes into effect, so all the bars & restaurants downtown will now have cleaner air, at least from smoking. Here's the word from the WSF:
ALL ROUTES: Beginning, Thursday, December 8, 2005, all Ferry Facilities including vessels and terminals will become smoke-free. This means smoking is prohibited on ferries as well as on terminal property, including holding lanes. Please extinguish all smoking materials prior to arriving at the terminals. Thank you for assisting us in making our facilities smoke-free.

Four good years: When it was announced at the Fall Sports Awards deal at FHHS Monday night that girls soccer coach Doug McCutchen was leaving the job, it brought to a close four solid years of growth for the program.
Doug started six years ago, assisting then-coach Randy Martin, putting the girls on the right track with a workable mix of conditioning, skill development, emphasis on fundamentals, and building a sense of community. As head coach the past four years, he's built a heck of an act to follow.
The result: Steady improvement of play on the field (with more wins, including this year's program-low four losses for a season), and a lot of smiles about the program off it.
Gonna miss you, coach.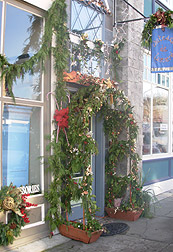 December 6, 2005
Happy weekend to you: It was sure a pleasant weekend here on the island, with lots of open houses & festive stuff going on. The town tree is now lit, and the decorating contest results are in.
Here are the winners, from the Chamber of Commerce's Debbie Pigman, who sent them over yesterday:
GRAND PRIZE ($1,000) - The Friday Harbor Inn

BEST IN CATEGORY ($225 EACH):
Best Decorated Door - Tight Squeeze (that's Virginia Nash's winner, to the right)
Best Decorated Window - Vic's
Most Natural - Robin's Nest
Most Creative - Islanders Bank

Special Recognition ($100 EACH):
The Toggery
Downriggers
Rocky Bay Cafe
Friday's Historic Inn
Countrywide Home Loans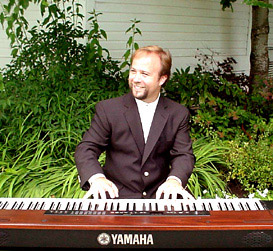 Joe's on top: Did you see that former islander Joe Bongiorno's latest solo piano album "Destined" is on top of the MP3/Tunes most requested list for the "easy listening" division? His "At Peace" album is right behind at #5...I believe that's out of 50,000 or so albums - wahoo!
Here's the rankings (this week - they may change). You can listen to samples of his music here.
No wreaths: I was gonna tell you that you could swing by Post San Juan and buy a Christmas wreath to benefit the senior class. Heck, I was gonna go get one, too. But I ran into Dora Ukra from PSJ and she says they not only sold out, but they sold out fast!
So, no wreaths.
Open House: Put in on your calendar - drop by Island Studios' open house on Saturday! Here's the details from Pat:
Come by our Holiday Open House! It's Saturday, December 10 from 10am-5pm. The Play-right Boys will play from 1-4:30pm, with cider, coffee & goodies! Our gift to you: Free Seraphim Soap with each $15 purchase! And...there will be a drawing - each $15 purchase puts your name in the drawing!
More open house: I went by Michael Bertrand's open house at his spot next to the Doctor's Office coffee place, across from the ferry landing - that's him & Kim at the very bottom of this page, on the right. Great stuff, if you haven't seen it lately. And good cookies.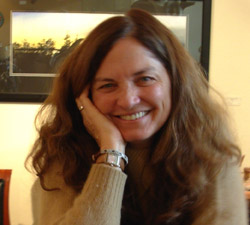 I saw Leigh from Arctic Raven visiting Michael and Kim's so I went around the corner to see who was minding the store... Tess (left) was looking after things, and it was reasonably busy for a holiday afternoon as well. She's been working with Leigh for a while, having moved here last spring. Drop by and see all the cool new Native work Leigh & she have to show you!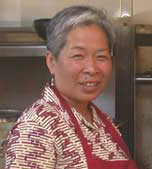 Thai Kitchen closes: Avon (right) told me Saturday afternoon that that evening she was closing one of the island's favorite restaurants after eight years. So, that was the last night - she says she wants to concentrate on the Golden Triangle & the quality of the food there, and that she'll soon be opening in the evening there for dinner.
It was a good run, with good food prepared with attention and love. Thanks, Avon.
Quote: We all have obligations and duties toward our fellow men. But it does seem curious enough that in modern neurotic society, men's energies are consumed in making a living and rarely in living itself. It takes a lot of courage for a man to declare, with clarity and simplicity, that the purpose of life is to enjoy it. - Lin Yutang
December 2, 2005

White, all around: It sure was pretty Thursday to have so much snow all over the island. I took a quick trip to Jackson Beach for the photo below - there was a grey mist over the water, as you can see. The beach looks nice under its white blanket.
What does today look like? If you're not sure, check around: Kathy at Skagit Valley College says they'll put a message on the phone machine early, so you can call & see whether classes will be held.
The school district usually decides pretty early, too. The weather report is right on the fence - just cold enough, maybe just enough accumulation to cause trouble. Check it out.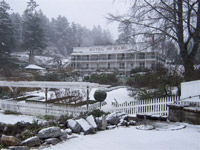 It snowed all Thursday afternoon, blanketing the town, the island, and Roche Harbor (above).
Photo by Debbie Sandwith.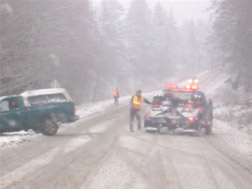 Meanwhile, the weather already has Gene Wilson's tow truck busy, as you can see in this picture taken by Debbie on her way home yesterday. She also has some photos of Roche Harbor under the snow, on the Roche news page.
Bill's moving: I hear Bill Percich is moving over to join forces with Friday Harbor Realty, who by the way, have a new website. Have you seen it?
Warmer pictures: You know, I just added some photos to the Sea Bear Charters website that Cindi & Dennis took over the past year or so, from Mexico to the South Pacific & Fiji.
Check the "Underway" section for photos of warm skies & people swimming in water much warmer than ours presently is.
From the mail bag: Hey, let's see what's going on, and answer some of the mail:
From Joseph Artellup in Mount Vernon:
Hey, Ian! Where were you, slacker? What's the idea of not posting anything for nearly a week? Peace out, Joe
Well, Joe, I had to go to see our Wolverines play & eat a Thanksgiving dinner that couldn't be beat & do some music in Seattle with my completely hip sons. Gotta take a break sometime, cat! Thanks for your concern, or whatever it is you have going in your apparently uneventful life. : )
From Connie, in Arlington, about a week ago:
Hi, Ian - I love coming to the islands. Does it ever snow there? Wondering. Later - Connie
Hey, Connie. Nope. Never.
From Carol Ford here in Friday Harbor:
Hi Ian,
Yes, it's the concert time of year and we are in for a couple of great ones! I'm hoping you will include this information in your Update. The F.H. Middle School Concert Bands will perform on Tuesday, December 6th and the F.H. High School Concert and Jazz Bands will follow them on Wednesday, December 7th. The performances will be at 7:00 pm both Tuesday and Wednesday at the San Juan Community Theatre. Admission is FREE which is an excellent deal. I hope everyone will plan to attend one or both of these concerts. They will be excellent, as always, and it's a great way to show our students that we support their dedication and hard work. Thanks for passing the word along. We really appreciate all you do for us.
Carol Ford, Band Families & Friends
Thanks, Carol! See you there!
From Colette here on the island:
We recently adopted "George" from the APS. George is a beautiful, healthy and loving yellow lab. What a find! Keep our local shelter in mind when you're thinking about adding a pet to your family. Colette Landerville
Great idea, Colette. This is a great time of year to give one of our friends there a home. Thanks for writing.
Quote: "The ultimate measure of a person is not where he stands in moments of comfort and convenience, but where he stands in times of challenge and controversy."-- Martin Luther King, Jr.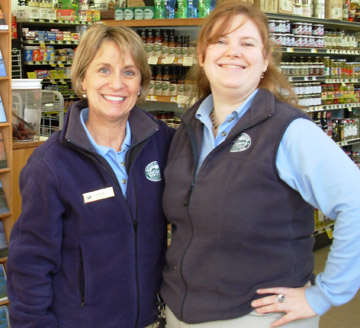 December 1, 2005


Roche Harbor Market...Grandma Central: At the market are the most energetic women you'd want to meet anywhere, so you might not have guessed, just looking at 'em, that they're grandmas.
Well, the Grocery Grannies (as they call themselves) are expanding the club. Connie Maas and Debi Frazier welcome manager Debbie Sandwith to the club, since she just found out she'll be eligible come next June.

The cheerful folks at the Market are there to serve you all year. Stick your head in and say hi when you're around.

Meanwhile, Debbie's pretty proud of assistant manager Lisa Jackson (on the right, with Debbie) and her cashiering staff - the state liquor control folks come to different establishments and have underage folks buy things, as a check that the laws are being enforced. In mid-November, Lisa and her crew passed the test with flying colors, asking for ID the way they're supposed to.
Personally, I think we have way too much underage drinking on the island (and smoking, underage or otherwise, is just plain dumb), so anything that helps reduce it is a good idea.
Robin's jewelry: Have you seen what Robin Atkins (left) has been up to lately? The author of bead books read worldwide has been making jewelry lately aswell - check out her website for more information.
Highland Inn sets the bar higher: Whoa! Have you seen it? Helen at Highland Inn just added a virtual tour of the place to her website that has wonderful, clear photography to show you what a cool place her bed & breakfast is. Drop by the site and see if you agree.
Kayaker makes good: Remember Ed Spurr who used to run Adventure Sea Kayaks here? He's selling real estate in California, and has been for the past five years.
Quote: The only tyrant I accept in this world is the still voice within. - Gandhi
November 30, 2005
Snow from Tuesday: Elaine Kitchen, who lives above Egg Lake, sent the above photos from yesterday morning to show there WAS a bit of snow out (and up!) her way. She said in her note that I don't live high enough...I didn't have any snow at all here in town.
Ferry from Bellingham: Looks like there's an experiment afoot - to run a passenger ferry from here to Bellingham a couple of times a day. Victoria San Juan Cruises will be in charge of the deal, after receiving money from the Federal Transit Administration t give it a go for the next three months, starting tomorrow. Here's the rest of story from the Bellingham Herald; here's the website (so you can call) for Victoria San Juan Cruises.
Turkey Trot results: It's pretty cool that Paul Hopkins had 88 folks show up Thanksgiving morning for his first 3.1 mile Turkey Trot - that's good enough that he'll probably do it again next year! The event was won by Kim Erickson & Brendan Cowell - here's the finishers & their times (on the San Juan Island Marathon website).
November 29, 2005
All that snow: We are SO easily amused, here.
Everyone I talked to last night was talking about the snow that was predicted for this morning, which of course didn't happen. Maybe later today. Check the weather report, but don't believe it.
Football season ends with high hopes for next year: The Wolverines had a great season, winning twelve games by impressive margins, but ran into defending state champs Royal in the Tacoma Dome last Saturday on the way to the state final. Here are pictures of the crowd (by me) | pictures & story of the game (by the San Juan Islander).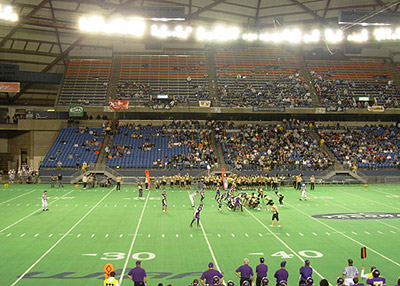 FHHS started hard, getting into the endzone twice and threatening twice, to roll up a 14-7 halftime lead. But the second half was all Royal, as the Knights rang up a 42-14 final score to advance to this week's final.
One of the great things about games like this is the way it brings people together - there were alums & parents & students & little brothers and grandmas. It's always cool to see a lot of islanders in one place, and it made for a festive occasion, and a bit of a homecoming. The team has much to be proud of, and it's pretty clear the community is proud of them.
Quote: A bit of song, from "The Boxer" by Paul Simon:
The years are rolling by me, they are rocking evenly...
I'm older than I once was, but younger than I'll be - that's not unusual.
It isn't strange - after changes upon changes, we are more or less the same.
After changes, we are more or less the same.

Retiring: FHHS soccer coach Ron Duke has told the team he won't be back for next year. In the past six years, Ron led the team to impressive finishes, including a Final Four appearance last year and a return to th Final Eight this year.
The team has lost only seven games in the past three years, and has consistently gotten better each season. Ron told the players at the team dinner last week after the season ended, and it was clear by the handshakes and hugs that his players appreciate him & will miss him.
Artisans' Bazaar - great stuff: It was so crowded Friday morning at the crafts show that it was hard to shoot photos - it's GREAT to see islanders beginning their holiday shopping with the fair at the elementary school (including the vendors below!).
There was music, great food by Cynthia Burke, and wonderful things to buy, look at, taste, smell, hold, and enjoy. Hope you made it by!

Click here for more news!
---
The information here is simply stuff we here at By Design think is important around Friday Harbor or on the Island. Some of it's news, some of it's old news, and all are just things we wanted to mention, with most of it about the things that make living here great.

There will be more next week, if anything happens.

Ian Byington
ian@byd.com

More info about the island:

This site prepared by our friends at By Design in Friday Harbor.
The information contained here is
©Copyright 1997, 1998, 1999, 2000, 2001, 2002,
2003, 2004, 2005, 2006 and next year, too
by By Design, Friday Harbor.
Unauthorized reuse of the content of these pages is prohibited;
links to other sites is intended to be to the benefit of those sites,
and for the edification of our readers,
and does not constitute endorsement or
agreement with views expressed there.
All rights reserved, except in Britain, who have their own reserve.