January 27, 2006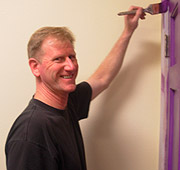 New boss & new plans at the bowling alley: Paradise Lanes' new manager comes to the island from the professional tennis tour...Mike Best is re-painting, re-working, and generally re-doing the place all over. Last night he was painting the arcade room, which he's completely re-designing. Upstairs (where the race track was, for a while) he's got a meeting room where he'll host the Chamber of Commerce meeting in a couple of weeks, and he's re-aligned the leagues, and is now offering special nights and afternoons to play.
In his previous work history, Mike has a pretty extensive background in sports management, including coaching & teaching on the tour. He brings a lot of energy & enthusiasm to the job - drop in and welcome him to the island!
Singing for you: Last week I got a couple of requests to sing songs for folks...thanks for asking! Here's a song called You Ask Me (click to hear) that I wrote a while back...see what you think.
No school - wahoo! Well, there's no school today, so you'll probably see the kids around town. Most of 'em, anyway - today's also the day the Spring Street International School's high schoolers take off for trips to Asia (some of 'em) and Mexico.
Moving around & changing things: When you walk around town this weekend, there's more than the bowling alley's video arcade that's getting spiffed up.
John & Kira have re-done the Rocky Bay Café, which re-opened Thursday with a new inside. Down the street, Cindy's about ready to move the Gourmet Galley into the old Big Daddy's spot this weekend and next week - the paint job there & the floor sanding look pretty good!
Happy New Year! I didn't want to forget to tell you - it's Chinese New Year on the 29th. That's what all the fireworks are for - have a great weekend!
Quote: You're just left with yourself all the time, whatever you do anyway. You've got to get down to your own God in your own temple. It's all down to you, mate. - John Lennon


January 25, 2006
Basketball rocks Mt. Vernon Christian: All four FHHS teams - both varsities, both jvs - won last night to MVC. The boys varsity won by about 15, while the girls won by three, according to the kids on the ferry last night. Keep it up!
Next up: We're at Darrington on Friday.
Argyle House - the place to stay: Have you seen Tammra's new website? Besides being colorful, she says she's already getting more reservations as well. Check it out.
Quote: It is horrifying that we have to fight our own government to save the environment. - Ansel Adams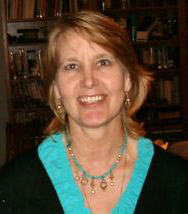 January 24, 2006
Darcie's talk was a hit: Lori L. Ronhaar from the San Juan Soroptimists sent in this quick update on our former commissioner's visit a couple of weeks ago:
"Darcie Nielsen Talks Turkey" filled all the seats at the downtown Pelindaba Cafe on the evening of January 12.
You remember Darcie Nielsen, a former San Juan County Commissioner. Darcie was born and raised on San Juan Island, and has spent the last year traveling and working in Turkey for as Local Government Program Director for the National Democratic Institute for International Affairs. Her presentation, which described her experiences living and working abroad, was co-sponsored by the Soroptimists. Darcie shared her adventures of living and working abroad, and a wonderful time was had by all. Thank you, Darcie, for taking the time to share with your community your experiences.
Nearly filled, but spots left in the Derby: Debbie at Roche Harbor tells me only five spots are left, with less than two weeks to go... There are 100 spots in the Roche Harbor's Annual Salmon Classic Invitational 2006: "The Largest Black Mouth Tournament in the World!" Here's more....then sign up to go for the $10,000 prize.

Seahawks at the PO: It's fun how the Seahawks' success brings people together...waiting in line at the post office yesterday, everyone in line was talking about the Seahawks. Pretty cool.
You know Yvonne at the post office? In the nearly dozen years I've lived here, she's always cheerful, always happy to see folks, no matter how busy it is there...she's the best, in Spanish & in English. Say hi next time you're in.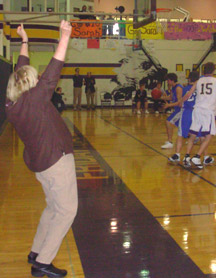 January 23, 2006
Wolverines roll on: That's FHHS principal Marilyn Luckman Saturday afternoon, cheering on the boys as they mounted a 10-0 lead in the first quarter against Orcas.
The FHHS boys & girls handled the Vikings pretty easily, although the girls made it a bit close as Orcas closed within three at the end. The boys remain unbeaten on top of league, and both have a good shot at not only making the playoffs, but doing well there.
Tuesday both teams travel to arch-rival Mount Vernon Christian; next home game is Friday the 3rd, with two more away games till then.
Seahawks won: If you slept all day yesterday, that would make you the only person in western Washington who doesn't know that Seattle beat Carolina to go to the Super Bowl in a couple of weeks.
That also explains all the singing in the streets.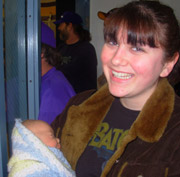 Looking after the kids: One of the classes at school is the child development class, and one of the exercises the students do is carry a baby (doll - they're cheaper) around for a few days, to get an idea of the kind of time & energy it takes to look after a child.
Audrey Espinoza to the right, is giving Courtney Taylor a moment's break from her little charge.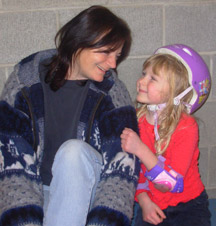 The M&O Levy ballots have been mailed: The election is the 7th, which means you have till then to get your mail-in ballot in.
Here's the scoop about the levy, and I can't think of one good reason not to vote for this - it's not a new tax, but a continuation of the last one, four years ago. The schools will be in a deeper world of hurt without it, so vote YES on this one.
Open Skate: I hadn't seen you at Open Skate at the Fairgrounds for a while, so I decided to swing by & see what was happening.
Every Saturday till sometime in March, Island Rec sponsors skating, so moms & dads & their kids come strap on their roller blades & warm up the main fairgrounds building. This weekend there were perhaps 30-40 folks there, kids of all ages. Gracie (left) brought her mom Christine and they helped each other learn to skate.

Fly like an eagle: Last night the Soroptimists put on a dinner to thank the San Juan Eagles (above) for what they do: Flying folks on the island who have cancer to their appointments on the mainland. Sorop Vicky Thalacker has been involved with the group since they started in 2002, and noted they had some 200 flights in both 2003 & 2004, 185 last year, and 13 already this year.
The Eagles are volunteer pilots who donate the trip & their time to fly people over. At least two of the pilots told me they love to fly, and it's that much better to do it, knowing you're on a mission.
Quote: Use what talent you possess - the woods would be very silent if no birds sang except those that sang best. - Henry Van Dyke

January 20, 2006
The Seahawks! That would be this weekend, as our Seahawks go into new territory, playoff-wise, only a game away from the Super Bowl (they last were in the AFC championship game in '83, losing to the Raiders).
Gametime is 3:30pm, and some folks are already re-scheduling events around it. Even here on our laidback island.
Pat O'Mara passes: He was a familiar sight around town, and his sudden passing last week saddened us. His memorial service is set for 1 p.m. Saturday, Jan 28, 2006 at the American Legion Hall, where he served as Legion chaplain.
Frame of Mind: This is really exciting - former islander James Longley's documentary film Iraq in Fragments is being shown at the Sundance Film Festival this year. His sister Margaret (who works at Pelindaba) had gone to Iraq as one of the camera folks back in '04, so she played a pretty big part in it as well. The San Juan Islander has the rest of the story.
Can't wait till it shows here.
Moved off & dancing in Langley: Some of the most beautiful woodwork in homes & shops around the island was done by Schooner Woodworks' Vern Tator. Vern and Susan were well-known around here for their easy-going natures & support of the contra dances at the Grange Hall - they're not only good dancers, but helped keep the dances going during the quiet seasons.
Well, now they've moved to Langley at the other end of Whidbey Island, so if you're down that way stop by & say hey.... They'll be missed in these parts.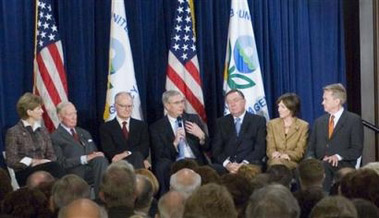 Global warming alert from the EPA heads: San Juan Islander Bill Ruckelshaus founded the Environmental Protection Agency during the Nixon Administartion and served as its first head. He joined six former heads of the EPA in Washington in calling for more action in environmental protection last week by the US (that's him, third from the left).
At the press conference, former New Jersey governor Christie Whitman, the first of three EPA administrators in the current Bush administration, said people obviously are having "an enormous impact" on the earth's warming.

"You'd need to be in a hole somewhere to think that the amount of change that we have imposed on land, and the way we've handled deforestation, farming practices, development, and what we're putting into the air, isn't exacerbating what is probably a natural trend," she said. "But this is worse, and it's getting worse."
Here's more.
Stage Left at Roche Harbor: It's still pretty early, but Stage Left director Helen Machin-Smith says Stage Left is in discussions with Roche to have a year-round spot for their shows. I'll let you know more as agreements are made & deals sealed.
Quote:
Keep your face to the sunshine and you will not see the shadows". - Helen Keller
January 18, 2006

Babies, babies, babies: Travis Mager just told me Sybil (you know her - she works at Friday Harbor Realty) and he had baby Bo last week on the 9th - the kid was 6 pounds & 11 ounces and 19 1/2 inches long, and Travis says they're trying to catch up on their sleep & that mom is doing fine.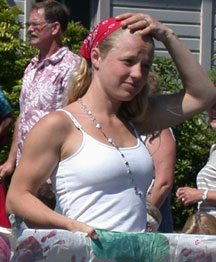 Meanwhile, Kim (Wargo) & Justin Nibler gave birth to their new girl Nakayla Rae last month, and proud grandparents Mike & Connie Wargo couldn't be happier. It's easy to feel Kim's experience helping manage Stepping Stones & its kids will come in handy, as will her experience being a great person.
When I went to the bank today, proud grandma-to-be Carolyn mentioned that her son Brian and his wife Carey are expecting, due in May.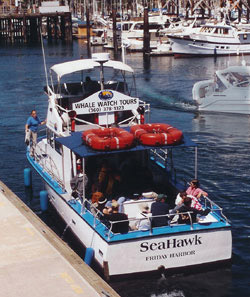 Speaking of new babies: Colleen and Bill Wright are adding the Seahawk to their operation at San Juan Safaris at Roche Harbor. She joins the Kittiwake to round out their fleet; they're talking about maybe adding another boat this spring as well.
And...Colleen tells me she's still trying to think up a new name for her new goose. I suggested she call her "Duck Duck Goose" but that didn't seem to take.
Kind of a mixed metaphor.
Flowers: If you see any wildflowers on this wet & rainy day, think of this song (takes a moment to download, speedy.)
Tucker House changes hands: In the spirit of keeping everything in one block, it looks like Anna Maria & David from Harrison House are buying Tucker House from Allan Pascal, in a sale expected to close this week.
Whale Museum shut: Yep, looks like the WM has some re-modeling & re-wiring to do, so Sue Vulgaris at the Gift Shop tells me they'll be closed till the 17th next month.
In the spring? There's a discussion going on around the state about Division 1A boys high school soccer being held in the spring rather than the fall - that should be decided this month. I'll let you know, soon as I find out.
Meanwhille, the state classifications for 2006-2008 have been set, and it looks like our old nemesis Mt. Vernon Christian will move up to 2A, while folks like Lynden Christian & Nooksack Valley will drop down from 2A to 1A with FHHS. Here's the complete listing.
Oh, yeah - Royal is still 1A, football nuts. We'll see if we can get 'em next year.
Old Time Community Dance: Cathy from Skagit sent me this note about the dance - hope to see you there!

The San Juan Center of Skagit Valley College invites one and all to participate in a series of community dances commencing Saturday night, January 28th at the Friday Harbor Grange. A live band will accompany the festivities led by Mike Cohen, leader of the local ensemble Sugar on the Floor, best known for their traditional folk musics from a simpler time. Young and old will clap hands and stomp feet as we dance together the lively jigs, rounds, reels, line dances and others that we learn together during the dance itself. You don't need any prior dance knowledge; your friends and neighbors will help you along as we dance together to the movements taught and called by Mike Cohen. You'll need to arrive early to participate; newcomers who arrive after 8:15pm will be limited to observing the fun.

This event is co-sponsored by Skagit Valley College/San Juan Center and Friday Harbor Grange and begins at 7:30pm Saturdays, January 28, February 11 and 25, and March 11 and 25. Contact SVC/San Juan Center at 378-3220 or check out SugarOnTheFloor.com for more information. Let's become stronger friends through our community dance!


January 17, 2006
See the westside from the comfort of your computer: That's a pretty cool deal that Helen King added to her web site for Highland Inn Bed & Breakfast on the west side. Working with Mike from Rock Island and the Island Cam folks, she's added five webcams that point over the water day & night. Here, check it out (and of course, if it's evening, baby, it's gonna be dark.)
I thought it was cool enough to add to the list of other cams, down the right side of this page. See what you think.
Quote: The cost of a thing is the amount of . . . life which is required to be exchanged for it, immediately or in the long run. - Thoreau
January 16, 2005
The Edison bakery connection: When I saw Emily Wolf with her two kids on the ferry on Friday, she told me since I was going to the mainland, I might consider going to her mom's bakery in Edison, where she's from.
Since I had heard of Edison but never gotten lost enough to pass through there, I said "Sure," and headed down the road. You know that intersection with the Farmhouse that goes to LaConner? You go past it to the next one, and then take a left. If you get lost, call Emily. Her number is 1-800-EMILY-WHEREAMI She said I couldn't miss the bakery - first one I'd come to.
She was right (moms are always right), but that was the first one in Edison - the first one I found was on the road a mile or two before that - Kellé Wilson mom's bakery. I know, 'cause I went in & asked if she was Emily's mom, and she said that was the next bakery up the road. (I called Kellé later to tell her how nice her mom's place smells.)
Anyway, Emily's really nice sister Chelan (like the lake, she was peaceful) was at their bakery, so I said,"Howdy," got a triple chocolate espresso brownie for a friend of mine so she could both take a nap AND stay awake, and wanted to let you know the whole place smelled really nice.
Quote about cooking with the family for dinner: "It can even be made into an enjoyable family activity if you're so inclined. Tell the kids to turn off the TV, unplug the video games, yank out the earphones, and get their worthless little butts in the kitchen and chop. Who knows, they might emerge having learned a marketable culinary skill. Better to lose a finger in the kitchen than a mind to television.
- Mr Green, for the Sierra Club
Don't forget New Orleans: On the ferry back, there was car in front of mine that had a bumper sticker that said, "Make levees, not war." That was Shannon from Seattle (but originally from New Orleans), with her friend DJ - they were up for the weekend, staying at Tucker House.
Laura, unforgotten: Ace head librarian Lauren Stara tells me she went to Colorado over the break & went skiing with former assistant librarian Laura Tretter there & reports that Laura's doing great things with her new job in the Denver library system.
Tonight - remember Dr. King: The annual march Candlelight Peace March starts tonight at 5:30pm. See you there.
The orcas in the neighborhood: Sometimes they pass through, this time of year - here's a note from Western Prince's Ivan to Susan Berta & Howie Garrett from Friday:
Hi Susan and Howard,
I was riding the ferry from Bellingham to Friday Harbor this afternoon when the captain suddenly slowed the boat down. I looked up just in time to see a footprint in the water as he came on the PA to tell us that there was a group of Orcas sighted. I waited a while as we idled away, until finally a very large fin broke the surface off the stern and then 5 or 6 smaller fins. It looked like a group of transients. It was such a treat to see them this time of year. They were right in the middle of Rosario Strait about even with the top of Cypress Island at about 3:45 PM.
Ivan Reiff
Owner & Captain
Western Prince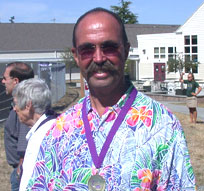 January 13, 2006
Tom Holzhauser passes away: Couple of nights ago, Tom died, after having cancer for the last few years. When I saw him at the Relay For Life deal last summer (left), he told me he was glad for the extra time he'd been given by treatment, and was happy each day he woke up, to be alive.
He's a friend of us all, who will be much missed.
A Portland State moment: Over the holiday break, I ran into two local folks' stories at PSU - Liza Jacobson is a junior there who worked during the break at Boardwalk Bookstore with their Christmas rush. And Jackie Grone tells me her son Jason not only made the PSU wrestling team, but also came back to help the FHHS grapplers during his time off from the University.
2005, outa here: I don't know about you, but for the first time in my life, I was putting "2006" on checks in December BEFORE the year changed - you know how sometimes you put the previous year on your checks for a while into the new year.
Ordinarily I don't feel this way, but I think at least subconsciously I wanted that year done - with New Orleans, tsunamis, earthquakes, and war. We have a lot of clean up left as this new year starts, and a lot of hope, restored, to put to work. Let's go.
Basketball update: The FHHS boys (7-1) squeezed out a one-point win at LaConner Tuesday night, while the girls breezed by the graduation-depleted Braves, who were pretty tough last year..
The Wolverines are in action tonight at home with Concrete visiting...after that, an unforgiving schedule has the teams only home for some three games for the next month, so be sure not to miss 'em tonight! The boys are at 4:30pm, the girls at 6pm.
Quote: "Take this sorrow to thy heart, and make it a part of thee, and it shall nourish thee till thou art strong again. - Henry Wadsworth Longfellow, "Hyperion"
January 10, 2006
Great grandpas: In the last week or so, I've gotten to hang out with some great & wonderful grandpas - Jim Cumming told me how happy he & Judy were to play with his grandkids over the holiday, while Norm DeGraaf from the drug store and Theresa took a couple of weeks to visit theirs (ages 2, 4, and 6) in northern California.
You oughta see how these guys beam when they talk about the kids....it's great.
Finally, the boys & I got to visit my mom & dad as well for his 80th birthday - it was pretty cool to see him with his grandkids all around, too.
Update heroes: I have different people in my life (some whom I haven't met yet) who inspire me, and I guess I'd like you to meet 'em, too.
Here's one - Jody Williams, who got the Nobel Peace Prize for her work on the landmine problem. Take a moment to read this bit about what she says about what it takes for ordinary folks to do the job ahead of us.
Quote: I believe that life isn't a popularity contest. I really don't care what people say about me -- and believe me, they've said plenty. For me, it's about trying to do the right thing even when nobody else is looking.
I believe that worrying about the problems plaguing our planet without taking steps to confront them is absolutely irrelevant. The only thing that changes this world is taking action. I believe that words are easy. I believe the truth is told in the actions we take. And I believe that if enough ordinary people back up our desire for a better world with action, I believe we can, in fact, accomplish absolutely extraordinary things. - Jody Williams
Moving Churchill Square: I went to the Chamber of Commerce meeting last night, partly to ask about what was gonna happen to the the Churchill Square building - looks like it's going to get moved over to Argyle Street, and something else will get built there. I'll keep you posted on the timeline, as I find out.
In other Chamber news, new board prez Paul Hopkins took over for 2006 from outgoing prez Liz Illg, and kicked things off by introducing new mayor David Jones, who talked about what the year ahead looks like for the town.
Needful: Piet Visser wrote to tell me the news: "Wanted you to know that Brook and I bought Kneadful Things, and have renamed it Big Barn Bakes. We have several employees and plan a grand opening on January 21st. The menu will be bigger, the deli will be better, the wine list will be more interesting - and the bread will be amazing."


January 8, 2006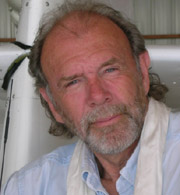 Seagulls unite! Most of us grew up reading Jonathon Livingston Seagull (or reading it to our kids, or grandkids), and now you get to meet the man himself. Richard Bach's coming over to read from his new book, Curious Lives: Adventures from the Ferret Chronicles, on February 4th at the Front Street Café at 6pm. Sponsored by Boardwalk Bookstore.
Quote: "Isn't it splendid to think of all the things there are to find out about? It just makes me feel glad to be alive—it's such an interesting world. It wouldn't be half so interesting if we knew all about everything, would it? There'd be no scope for imagination then, would there?" Anne in Anne of Green Gables
Making a difference: Remember Sarah Hartzell? Her brother Mike works at Mi Casita in the kitchen, and he tells me she's over in Palestine doing humanitarian work. You'll remember Sarah was a key player in getting the school newspaper at FHHS going back in 1998-99 - looks like she's still trying to make a difference..
Darcie's back this week: You know that former county commish Darcie Neilsen headed for Turkey after she finished her term last year at the end of 2004 - well, now she's dropping by to tell us what she's been up to. The Soroptimists cordially invite you to attend "Darcie Nielsen Talks Turkey" at the Pelindaba cafe (downtown) on Thursday evening, January 12, from 5:30 until 7:00.

Darcie plans to be talking about her experiences living and working in Turkey, as well as some of the current Turkey-related political issues in the Middle East. She will be showing photos, and will probably also bring along some Turkish and Kurdish handicrafts.

For those of you who don't know Darcie, she is a long-time Soroptimist who was born and raised on San Juan Island, and served as County Commissioner for two terms. She has spent this past year serving as the Local Government Program Director for the National Democratic Institute for International Affairs, based in Ankara, Turkey. She has traveled extensively throughout Turkey as part of her work.
New website: Meanwhile, speaking of the Soroptimists, they've launched their local website so they can keep you up with what they do, which is an impressive amount of good things.
Shows in Seattle: Most of you know by now that the annual Boat Show got moved up a week because the Seahawks are doing so well in the playoffs, so the show started this weekend, which means folks like Kevin from the Roche Harbor marina, Dan & Jan from Friday Harbor Yachts, and other boat nuts from here (both avocationally & professionally) are down there this weekend.
There's also the Seattle Wedding Show, which Jody from the San Juan Islands Visitors Bureau is representing us at, so's folks get the idea this is cool place to get hitched.
Whale talk, studied: I love it when there are stories about interesting things in the mainstream media - here's a bit of a story about folks who are studying not just the ways whales talk, but their dialects. Fascinating.
Stuff in the science news really does affect us. Climate change really is happening. Here's more.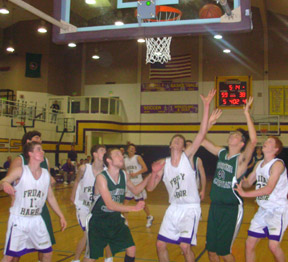 FHHS basketball update: The girls lost a tough one with Shoreline Christian here Friday night by a 41-38 score, but even tougher was when senior post Natalie Chevalier crashed her 5'11" frame on the floor face-first, breaking her top row of teeth. The jv girls had two game-stopping medical situations as well over in the little gym.
Meanwhile the boys (6-1, 2-0 in league) had little trouble with SC as they won 70-54; the jv boys won handily as well.
Both teams head for LaConner on Tuesday and return home on Friday vs. Concrete. See ya there.
Heard in the street - curvature of the foot: I think they were visitors to the island - two women standing out in front of Coldwell Banker:
A: Yeah, I used to play with my Barbies when I was a kid, all the time.
B: Didn't that bother you, with the way you felt about your body image?
A: Yeah, I never could dream to have my feet curve like that. Always on tiptoe, too. (they laugh.)
I was just mailing a letter, so that's all I heard.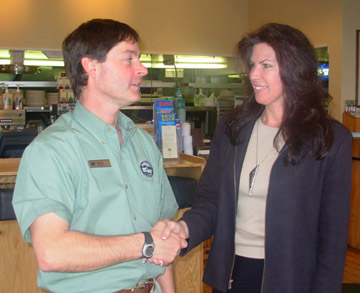 Lisa gets things going at Roche Harbor: Roche Harbor general manager Brent Snow welcomes Lisa Brown as his assistant last week, as the longtime executive secretary to the superintendent moves to her new position at the resort. She tells me she's excited to be out there, and that she feels it's a "good fit," with lots of work to do to get ready for the coming summer season. Good luck, Lisa!
You decide: There's a lot to like about the Community Theatre's latest offering, Night of January 16th, which offered a preview last night, with the run starting this coming weekend.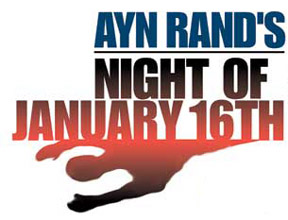 Dorian Oliver's staging of the Ann Rand courtroom piece does some things differently: The entire cast is on stage nearly the entire show, with the play an entire trial, from opening statements to verdict. And the verdict - before the play, six audience members are chosen to serve as the jury. They're led away at the end of the show to vote & deliver a verdict, which means the ending YOU see may not be the one I saw last night.
The trial focuses on whether or not the defendent Karen (a strong performance by Natalie King) did it - the DA (Warren Baer) and defendent's attorney (Maureen See) weave their way through a case with nearly enough evidence complicated by people making decisions with their hearts instead of their heads, and you KNOW the trouble that'll get you in.
There are surprises - wait'll you see the performance by the private investigator, and who it is - and typical Rand-like mental gymnastics. I'd like to see the show again - it works nicely in the close courtroom-like confines of the Gubelman room. Hope to see you there.
Island vocabulary: I'm trying to put together a little dictionary of island expressions so that foreigners, visitors, relatives, and people from Lopez know what the heck we're talking about. Here are some samples from this emerging work:
There's nothing to do on this island.
Translation: I didn't feel like helping my friend with his roofing, or helping my friend move, or watching someone's kids so they could go to a movie. I didn't feel like working in the garden, or taking a walk down at South beach, or playing with the dog, or painting the office with the guys at work. Didn't wanna go to the play, or the basketball game, or the high school play or band concert. Didn't meet a friend at the pub, didn't work on my boat, didn't call a friend to get a beer. Definitely didn't go to the movie theater or go bowling. Who says this: People who are gonna move within the year.

Sorry I'm late. Got stuck in traffic.
Translation: Came down Second Street towards the movie theater, and tried to turn left at King's Market. Any time of day, it takes a half hour to turn. Who says this: Amazed visitors.

Ugly house.
Translation: You built your two million dollar house between my house and the water. Who says this: People who thought this would never happen, even though they built their house between someone else's house & the water.

Does the water go all the way around the island?
Translation: I just don't get how islands work. Who says this: Visitors who didn't get past eighth grade science or locals who haven't been to the west side lately & forget.

Off-island.
Translation: This is both time & place. When someone here says, "I'm going off-island," it means they're going somewhere else in the known universe, possibly as close as Orcas, or as far away as Seattle, Taiwan, or Bath in the UK. It's also time - saying "I'm going off-island on Saturday," means they probably won't be around most of the day. Who says this: People on-island.
New color at the wine store: Kathryn & David at San Juan Cellars next to the ferry just painted the place - here's what it looks like (right) - I like the color. Drop in & see for yourself.
Quote: This is from the 1994 Inaugural Speech of Nelson Mandela:
Our deepest fear is not that we are inadequate.

Our deepest fear is that we are powerful beyond measure.
It is our light, not our darkness, that frightens us.
We ask ourselves,
'Who am I to be brilliant, gorgeous, talented and fabulous?'
Actually, who are you not to be?

You are a child of the power of the whole universe.
Your playing small doesn't serve the world.
There is nothing enlightened about shrinking
so that other people won't feel insecure around you.
We were born to make manifest
the glory of the power of the whole universe
within us.

It's not just in some of us; it's in everyone.
And as we let our own light shine,
we unconsciously give other people
permission to do the same.
As we are liberated from our fear,
our presence automatically liberates others.
Click here for more news!
---
The information here is simply stuff we here at By Design think is important around Friday Harbor or on the Island. Some of it's news, some of it's old news, and all are just things we wanted to mention, with most of it about the things that make living here great.

There will be more next week, if anything happens.

Ian Byington





More info about the island:

This site prepared by our friends at By Design in Friday Harbor.
The information contained here is
©Copyright 1997, 1998, 1999, 2000, 2001, 2002,
2003, 2004, 2005, 2006 and next year, too
by By Design, Friday Harbor.
Unauthorized reuse of the content of these pages is prohibited;
links to other sites is intended to be to the benefit of those sites,
and for the edification of our readers,
and does not constitute endorsement or
agreement with views expressed there.
All rights reserved, except in Britain, who have their own reserve.