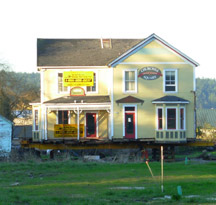 February 12, 2006
Churchill Square on the move: It was quite a sight, on a sunny Thursday afternoon, to see the whole building of Churchill Square coming 'round the corner at Coldwell Banker up Spring Street to land on Argyle Street (left) next to The Surina Business Park. It started its life in the old location in the 19th century, and is taking up its new homestead in the 21st.
Sharon at the San Juan Islander did a super job of telling this story with pictures...check out her well-shot photos here.
Here's a wee waltz for you: You've been sittin' at the 'puter too long - get up and dance!
Mike & John go way back: You probably heard about the bowling alley's Mike Best coming here after a career of working with pro tennis players & others, but John Sandifer confirmed for me the other night that Mike coached him years ago in high school.
EMS in the woods: Jim Cole tells me SJI Emergency is offering Wilderness First Aid Courses for kayakers, hikers, etc. He says www.SanJuanEMS.org/school.htm has the details!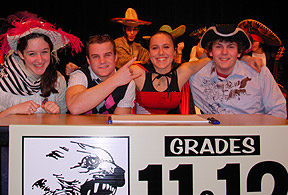 Rotary Club comes from behind, snatches Knowledge Bowl win: You never know who's gonna do the job at the annual KB, and this year was no exception in the 12th edition of the classic at the Community Theatre Thursday night.
After three quarters, the surprising eighth-graders (Hannah Snow, Charlotte LaRiviere, Reid Conwi, and Tyler Dawson, with alternates Graham Ellis & Alexandria MacDonald) were ahead of the pack, but the Rotary Club team of Chris Spaulding, Diane Giesy, Jack McKenna, and Mike Close snuck from behind to go ahead 81-77. Both teams bet it all on the final question, got it right, and that was that.
That's the 11th-12th grade team of Katie Schmidt, Loch Stimpson, Lillan Roquet, and Andrew Dunn getting ready before the match.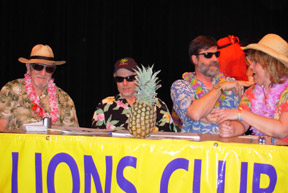 Meanwhile, the Lions' team (right) of Howard Schoenberger, Kerwin Johnson, George Johnson, and Kira Sable review strategy right before the opening bell.
Voters, unite: LWV co-presidents Janna & Carol sent us this note:
The League of Women Voters of the San Juans is pleased to invite you to meet Carrie Chapman Catt (Carrie Chapman Catt (1859-1947), founder of the LWV, will be played by Dixie Walmsley of Orcas Island) at a Birthday Party and Afternoon Tea celebrating the 86th Anniversary of the League of Women Voters of the United States.

The Party will be on Sunday, February 12 at 1:30 pm at the home of Carol Baylis, 587 Old Johnson Roadway, San Juan Island. Please call 378-6104, or 378-8549 to RSVP. Rides will be provided from Friday Harbor or the ferry, if needed
2006 is a year of growth and new directions for the League of Women Voters of the San Juans. We are expanding our membership, increasing our programs, and forming study groups on specific issues. Please join us on February 12 to get to know more about the League, meet League members, and express your ideas for future League activities.

Janna Gingras and Carol Baylis, Co-presidents/League of Women Voters of the San Juans

From the film world: Gerard of Elan Video sends this report:
Karen, in the past couple of years, has undertaken several video projects of her own. What is new here is not that she is working with me—we have often gone on shoots together, from the very beginning, and she often reviewed my finished products. But I would always be the one who did the editing afterwards, and I was mostly the one who handled the clients. What is new here is that Karen now handles her own projects—from conceiving them, to contacting the client, to shooting the video (where I am now the assistant), and to doing all the post production. For instance, she is the one who took the plunge into a new direction in our business—developing the prototype of a "video biography." Another example is her video work at the Women's Summit held on Orcas Island in early November 2005.

In another story, Robin Jacobson, of the Visitors Bureau, last year asked us to prepare a short video of the Pod Nods, one of the many educational programs of the Whale Museum. We did that during the summer of 2005. The 2- or 3-minute video (scripted by Robin—she has plenty of relevant experience on Seattle television) went to "The Traveling Mom," a television producer at CBS, whose reports are often shown on "Good Morning America" and another CBS program whose name I can't recall right now. Robin had met her personally in California before that.

We are looking for assignments like the ones mentioned above… They are fun—and they provide plenty of opportunity to learn. There is more interesting work that we are negotiating for in the next few weeks—we'll let you know as decisions are made.

Father-Daughter Dance is a blast: Friday night's F/D Dance was sold out a few days before it happened, and that was just the beginning of the proof that there was some enthusiasm behind the event. The Grange was packed with nearly 90 papas and their girls, of all ages & with dance styles that spanned the last few decades. Here's an occasionally red-eyed portfolio of some of the folks who came, including the folks above, and more. There were two year olds, sixty-somethings, teenagers, and everybody in-between.
It was pretty cool to see the whole mob doing the chicken dance, the macarena, singing the YMCA song (this village's people, all on key), and generally getting a nice workout in an evening that ended with Luther VanDross' "Dance With My Father." Super job by Corel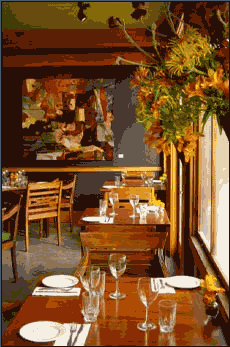 ia of Island Rec putting it on...way to go!
Backdoor is back: The Backdoor Kitchen re-opened for the season last Wednesday, according to Sasha & Lee. They say they have lunch Monday thru Friday from 11 till 3, and plan on starting dinners again in mid March.
Whenever I run into visitors & tourists downtown who ask me where on the island to eat, the BDK is always on the list. Can't go wrong. See ya there.
Quote: We all have obligations and duties toward our fellow men. But it does seem curious enough that in modern neurotic society, men's energies are consumed in making a living and rarely in living itself.
It takes a lot of courage for a man to declare, with clarity and simplicity, that the purpose of life is to enjoy it. - Lin Yutang
February 8, 2006
The vote makes it good: San Juan Island voters passed the schools' maintenance & operations levy last night with a nice 71% vote (it was 1880 to 774), which means our teachers can get back to work doing good things without the possibility of cutting back if the levy hadn't passed.
Meanwhile, the new proposed federal budget has a 6% decrease in spending for education, like that's gonna somehow make it better. It's still being discussed, so hopefully they'll take a close look at what you get when you spend less money on things....
Quote: "I thought I saw a blue jay this morning. But the smog was so bad that it turned out to be a cardinal holding its breath."-- Michael J. Cohen, quoted from Living in The Environment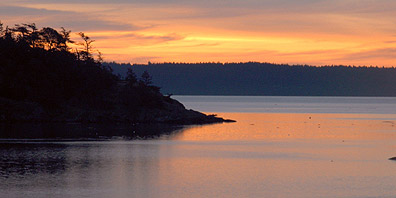 February 7, 2006
Good morning to you: That was the sunrise this morning over Lopez, looking from just above Jackson's Beach.
Loyalty: One of the great things in the Super Bowl, I thought, was that both coaches were so loyal to their team, and vice versa. It was cool to see that the Steelers stuck with Cowher over 14 years, and that the Seahawks came back this year with Holmgren.
People sticking with each other is rare enough these days - I thought THAT was one of the great stories on Sunday.
February 5, 2006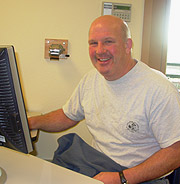 All that wind: Well, the damage is being assessed, and the extent to which the great winds of the last two days damaged things around the islands is still under review. I've heard people asking if their neighbors have chainsaws, and heard stories of trees across driveways, and more....
Rex Guard has worked for OPALCO for years (and he grew up here), and he tells me that we got out of the storm pretty well, with a few outages around the island yesterday, but much better than it would have been years ago. He (right) says a storm like we had Friday & Saturday would have had us out of electricity for a week or better back in the 1980's.
What's the difference now? OPALCO responded to outages in the late 80's (especially the storms of 1989) by initiating a program of storm abatement that included what Rex calls "intensive undergrounding" and that reduced the number of downed lines during winter's hard winds and occasional snow.
Even with all the improvements, Rex suggests that it's a smart move to keep a week's supply of water & food around, just in case. You never know, and we are at the end of the line, you know.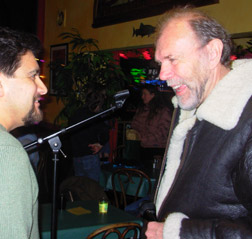 Hope you got out of it OK. Looking at all the pieces of tree & limbs around my house & nighborhood reminds me of the storms we sometimes go through in life, and how they sometimes leave us in pieces on the ground, but it's always a chance to make us stonger. I think it was Nietzsche that said: "What doesn't kill us makes us stronger." Hope so.
Richard Bach is back: The author of Jonathon Livingston Seagull (in photo, on the right) dropped by to visit with a crowd of 60-70 folks jammed into the Front Street Cafe last night.
As an old English lit major, I've been to my share of author addresses & readings, and I'd have to say this was in the top three of the dozens I've attended in my life (John Barth & Ram Dass are up there, too). Speaking for two hours without notes, Bach kept the folks who came engaged with his mix of whimsy, humor, insight, and joy.
Go get his new book...you'll get the idea. The event was put on by Karen (her birthday is next week), Ray & Bettye at Boardwalk Books, who are moving later this month to the spot being vacated this week by Cindy & Gourmet Galley.
Quote: For a successful technology, reality must take precedence over public relations, for Nature cannot be fooled. ~ Richard P. Feynman
February 3, 2006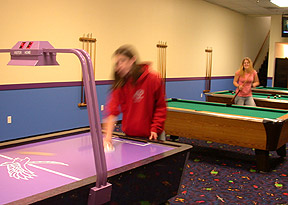 Paradise Lanes renovates the arcade: Next time you're over at the bowling alley (right), check out the nice job Mike's done in the arcade - new paint, a air hockey game that works well, new pool tables & video games.
Looking good!
CNN spotlights San Juan & the Trumpeter Inn: It was pretty cool that CNN ran a travel special yesterday that featured us as a top place to visit with your sweetheart in the United States, but even more cool that they had a link (the only one!) to Larry & Cheryl over at Trumpeter Inn.
I called Cheryl to congratulate her, and we looked at the site's traffic tracker together - they usually get some 40-70 hits a day, but they'd gotten nearly 2500 by the end of the day yesterday, with more coming in today.
Robin Jacobson over at the San Juan Islands Visitors' Bureau helps make contacts like this one with CNN - it's proof she's doing her job. Way to go, Robin!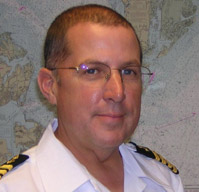 Local Mariner Selected to Certify Towing Captains: Captain Richard J. Rodriguez, has been selected as one of three specialized trainers in the United States for C-Port, the Commercial Assistance Towing Industry trade group.
Rodriguez will certify Assistance Towing Captains on the Western U.S. The Conference of Private Operators for Response Towing (C-PORT) is the only national association working for the growth, development, and future of the marine assistance towing and salvage industry. C-PORT has a membership of over 230 independent and network affiliated marine assistance operators who are located across the country and operate in very different conditions.
Capt. Rodriguez operates locally for Vessel Assist Friday Harbor. Additionally he is an instructor for the United States Maritime Academy, having trained 50 plus Captains in the San Juans, and conducts private training for mariners and specialized seminars for West Marine.
Married! Frank Buchannan & JoAnne Francis got married back in November with a few friends & family around...this weekend on the 11th, friends of both are invited to drop by the Legion basement for a celebration/reception from 3-5pm (or follow the ballons!)
Quote: If one advances confidently in the direction of his dreams, and endeavors to live the life he has imagined, he will meet with a success unexpected in common hours. - Thoreau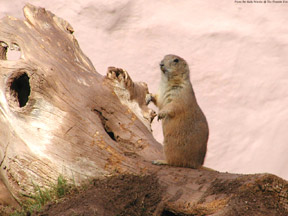 February 2, 2006
Ground hog day: What shadow? I'll let you know tomorrow how that turns out.
Meanwhile, you know that movie called Groundhog Day, with Bill Murray, in which he wakes up & all his days are the same? I hope it's not like that for you. I hope you make each day new & different & beautiful, that you can name your days & hours, and you live knowing that something cool's gonna happen tomorrow - there's always a later, and that's one of the great things about life.
From groundhogs to penguins: We should all get along, like these penguins in love.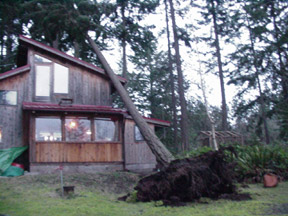 Trees & houses, meet: Here's a picture Sandy Spencer sent me of her house after the wind storm a couple of nights ago...ouch.
Roche Harbor's Annual Salmon Classic Invitational 2006: Debbie at Roche Harbor Market tells me the derby's registration is today & fishing starts tomorrow (regardless of the weather!), with awards handed out on Saturday night at 6pm. See you there!
Geeks, unite: Remember I mentioned the Geek Test (below)? Several folks wrote in with their scores - Tim Dustrude got a 17 or so, meaning he probably doesn't do enough online gaming or watch enough Star Trek reruns, while Serena Spaulding mentioned she hit 76, which is currently the island record. That's what happens when you grow up on an island with computers all around....
Bowl on, super bowlers: There's a special at the bowling alley this weekend - here's the news.
The High School play - don't miss it: The FHHS Drama Group always does a super job with its plays, and this year should be another good one - they're doing Don Quixote tonight, Friday & Saturday at 7:30 p.m, and they sent this note about a time change for Sunday's show:
There's a time change on Sunday! No, it's not time to go back to Daylight Savings Time. We're changing the TIME of the Sunday matinee performance of FHHS Drama Group's production of "The Wonderful Adventures of Don Quixote." Curtain time will be 12:30 p.m. If that leaves a big hole in your afternoon, perhaps there's a football game you can watch. :>
Reserve your seats NOW for this popular show. Call 378-3210 or go to www.SanJuanCommunityTheatre.org and click Online Box Office.

See you at the Knowledge Bowl on Thursday, next week: I've gone for the past six years, and it's always fun. David dropped me this nice reminder note:

If you are like me, every year you've read about the Knowledge Bowl and thought "That sounds like it was a lot of fun, I should go next year..." Well this year I am going, and I encourage anyone else looking for a fun evening this Thursday February 9th at 7:00pm at to do the same. The questions are tough and watching our bright middle and high school students square off against members of local service organizations is entertaining by all accounts.
Also, importantly, this event is sponsored by the San Juan Public Schools Foundation and the proceeds go directly to our public schools. In joining the SJPSF board this year, I have come to appreciate all the efforts and good will of this community that help to sustain the excellence of our public schools.
Your $5 ticket ($10 for a family!) to attend the Knowledge Bowl at the Community Theatre will not only be a bargain in its own right, but will also be a contribution to the health of our schools; the heart of our community. See you there! David McCauley, San Juan Island
Speaking of school stuff: Have you mailed or dropped off your ballot for the school levy? Don't forget! The schools need your support!
One last school thing: FHHS plays LaConner tomorrow night (Friday) here, in our second-to-last home games for the girls & boys. See ya there!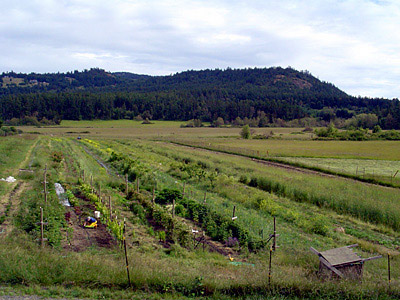 Lacrover Farm: This is a family-owned-and-operated organic farm in the northwest corner of San Juan Island, Washington. Katie Hover & Paul Lacrampe raise a variety of animals, poultry, and produce on 30 acres.
Check out their site, or better yet, get outside & see the real thing.
Happy trails, till next year: Sharon Morgon told me last week this is what's up with her biz:
Saddle Up Trail Riding will not be offering horseback riding this year as we no longer have a lease at States Inn and Ranch. We are building new stables but will not be ready for any riding this year. Thanks to everyone for all your help. Sharon Morgan

Father/Daughter Dance: Here's what's happening next Friday the 10th, with Shamrock Sound supplying the tunes (written by Corelia from Island Rec):
Get that special lady in your life, tickets to the Father-Daughter dance for Valentines Day! Spend the evening bonding, dancing to your favorite tunes, enjoying refreshments and having fun. No dancing experience required!! The Father-Daughter Dance is open to all ladies that are accompanied by their father or a significant adult male in their lives. This event will be held on Friday, February 10th from 7-9:00pm at The Grange. Tickets may be purchased in advance at the Island Rec office for $16.00 per couple or $20.00 per couple at the door. For more information please contact Corelia Peacock at 378-4953, look us up online at www.islandrec.org, or come by our office at 580 Guard Street between 1:00-5:00 pm Monday - Friday.

Quote: Forget not that the earth delights to feel your bare feet and the winds long to play with your hair. - Kahlil Gibran

February 1, 2006
Hey, ho, the wind & the rain: Wow, that was something - gale-strength winds knocking limbs down all over the island, making it awful cold if you went for a run (or exhilarating, you decide). Judy McManus wrote me Saturday: "Check out Scott Johanson's place on Westcott Drive! Seems a BIG tree went down, crushing his patrol car AND his SUV. Sorry, Scott!!!!!"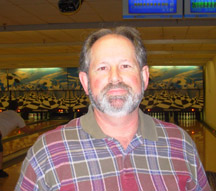 So close - Thursday night in league play Mike Hogan (left) rolled ten straight strikes, heading for what would have been the bowling alley's first 300 game. In his eleventh frame, he left one standing, however, which he picked off for a spare to finish at a more-than-respectable 289.
The Loan Ranger: Hey, I just heard that Julie Greene's moved over to take Phil's spot at Wells Fargo as the main loan person, so I dropped in to see her yesterday. Looks like a good fit - she has a lot of experience with mortgages (and just got back from Wells Fargo's training), and they're pretty happy to have her around. I think she's starting to listen to a little bit of country music too, which may be a job requirement there.
James scores at Sundance: Margeret Bell dropped this nice note about former islander & film maker James Longley:
Hi, Ian ~ I thought this would be right up your alley: James Longley's documentary- "Iraq in Fragments" won 3 awards at the Sundance Film Festival! Its in "the" article that seems to be all over the web right now...I found it on MSN.com and SFGate.com. Hope James' film comes to the Island- somehow! ~Margaret
Here's a bit from the Hollywood Reporter:
An equally intense political documentary "Iraq In Fragments" earned three honors, including Documentary Directing and Excellence in Cinematography awards for James Longley. He also shared a newly introduced Documentary Editing award with Billy McMillin and Fiona Otway for his sophomore feature film.
Missing Coretta: The news yesterday that Mrs. King had passed touched millions of hearts around the world. She'll be missed, especially for the quiet way she lived & gave witness to the power of non-violence, which spoke much louder than most in carrying Martin's message forward in these years since he passed.
Quote: A friend who is far away is sometimes much nearer than one who is at hand. Is not the mountain far more awe-inspiring and more clearly visible to one passing through the valley than to those who inhabit the mountain? - Kahlil Gibran
January 28, 2006
Kate's a winner, and we all win: Lori from the Soroptimists sent me this good news: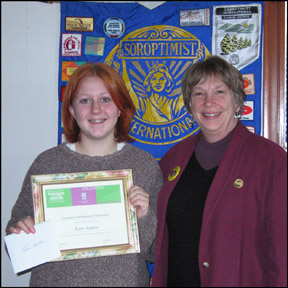 Kate Hunter, daughter of Lutie Park, was awarded the Violet Richardson Award by the Soroptimist of Friday Harbor. In recognition for her efforts to make the world a better place through volunteer action, she was awarded a plaque and a check for $750.00. Since moving here two years ago, Kate has volunteered at her church, the Convalescent Center, Head Start, for friends and neighbors, the Community Theater and most recently for the Girl Scouts.

The Violet Richardson Award is offered annually by Soroptimist International of Friday Harbor to a young woman between the ages of 14 and 17 who volunteers in our community or school. The Award was designed to honor Violet Richardson who was President of the first Soroptimist club in 1921. Her motto was "It's what you do that counts."
That's Nancy Hanson making the award to Kate this week (left).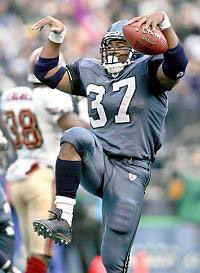 Seahawk gets it: I've long told you that the second-greatest movie of all time is "The Karate Kid," and here's proof I'm not the only one who thinks it's good - that's Shaun Alexander of the Seahawks doing the crane move, after scoring this year.
Here's the story...further proof.

Windy: Sure was windy last night, wasn't it?
My favorite geek, and yours: Do you remember when I told you about the Geek Test last summer, so you could see what level geek you are? (Here it is...)
Well, Richard Foote, who I honestly believe is one of the smartest (and nicest) people I know, wrote & told me he got a 49.9 when he took it. Far as I can tell, that's the highest of anyone I personally know.
I'll Go, I'll Go: He also sent this reminder of an upcoming show I know I want to see (here's the schedule of dates, at the Theater):
...you might want to mention the I DO I DO musical theater coming up at the theater, this is an idea that Angel Michaels (my wife) had last year and stars Angel and Hunter Wood chronicling a 50 year marriage in story song (and lots of costume changes) from 1898 to 1948. It was written for Broadway by the guys that wrote "The Fantasticks."

Adam's at it: Adam Springer graduated from FHHS in 1996, and I asked his folks what he's been up to, since.
After several forays to different colleges he graduated with a bachelor's degree in Business Administration. With an idea and a makeshift office in his grandma's basement, he and his cousin founded an e-commerce business www.bottleyourbrand.com, marketing private label bottled water and custom wine labels and beer labels.
Now Bottle Your Brand has office and warehouse space near Alderwood Mall. One of their best customers is Nordstrom, which orders custom water for events at stores around the U.S. If you look at their home page this month (January 2006) you will see featured a custom wedding label for another local graduate, Ashley Howard, designed by Larry Sliger, for Ashley's wedding last summer.
Just another good kid from FHHS doing good things in the world. You can see why his parents Cindy & Larry are proud of him. Way to go, Adam!
Quote: "Can miles truly separate you from friends... If you want to be with someone you love, aren't you already there?" - Richard Bach, who will appear at the Front Street Cafe next Saturday night on the 4th to read from his new book


Click here for more news!
---
The information here is simply stuff we here at By Design think is important around Friday Harbor or on the Island. Some of it's news, some of it's old news, and all are just things we wanted to mention, with most of it about the things that make living here great.

There will be more next week, if anything happens.

Ian Byington





More info about the island:

This site prepared by our friends at By Design in Friday Harbor.
The information contained here is
©Copyright 1997, 1998, 1999, 2000, 2001, 2002,
2003, 2004, 2005, 2006 and next year, too
by By Design, Friday Harbor.
Unauthorized reuse of the content of these pages is prohibited;
links to other sites is intended to be to the benefit of those sites,
and for the edification of our readers,
and does not constitute endorsement or
agreement with views expressed there.
All rights reserved, except in Britain, who have their own reserve.