March 6, 2006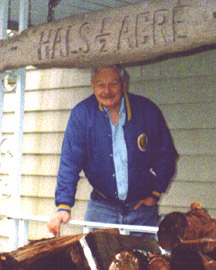 Passing: When Hal Rogers passed away Friday morning, he pretty much had things they way he'd have liked them: He was in his bed at home, he had his girls with him, and he was on his beloved San Juan Island. There will be graveside service for the longtime county game warden on Saturday the 11th at noon at the Little Church, followed by a reception/potluck at the American Legion after at one.
Shakespeare & Roche Harbor make a deal: Looks like Island Stage Left is going to shake hands with Roche Harbor & set the scene for this summer's Merchant of Venice there for 19 shows. Giving those wonderful productions a wonderful place to stage shows is a wonderful idea.
Here's more from Lisa at Roche Harbor's news page.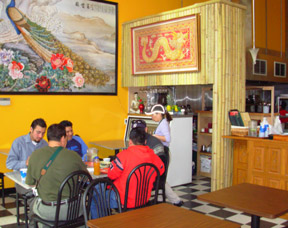 Thai re-do: The Golden Triangle was closed for a few days a couple of weeks ago so they could do a little renovation, as you can see in the photo - putting in the bamboo structure to provide a little shelving, a little separation fo rthe kitchen & dining area, and a little taste of home. Drop by & tell Avon how cool it is....
Quote: 'There's an old joke. Uh, two elderly women are at a Catskills mountain resort, and one of 'em says, "Boy, the food at this place is really terrible." The other one says, "Yeah, I know, and such small portions." Well, that's essentially how I feel about life. Full of loneliness and misery and suffering and unhappiness, and it's all over much too quickly.' - Woody Allen in Annie Hall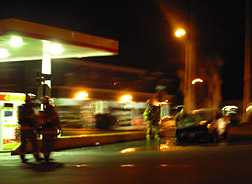 March 5, 2006
Car fire: It's scary enough having fire anywhere near gasoline, so Friday night's car fire in front of the Little Store's gas pumps was especially scary. The driver ran off, and I wasn't able to find out how it all started, but the fire department and sheriff's deputies contained the scene and made sure the fire was out.
That's our fire guys making sure everything in the smokey car (right) is extinguished, at left. Photo by Update photographer Cameron Byington, hanging out the back window of the Updatemobile.
Book sale in the making: Dilys from Serendipity Books called to tell you & me that she & Carol are closing the place part of this coming week (the 7th, 8th & 9th) for inventory, and then having a great book sale next Saturday (the 11th).
See ya there. Used books - probably end up buying my own back, but that's cool.

Snow in the snow: Remember I told you that Kelly Snow was in Canada for winter break in the snow, skiing? Well, she was & here's proof, along with her note:
Hey, Ian -- I just wanted to show you that I wasn't the only one who went to the "snow" during mid-winter break. These are some of the 100+ Friday Harborans who were at Big White, B.C. enjoying the powder! Thanks, Kelly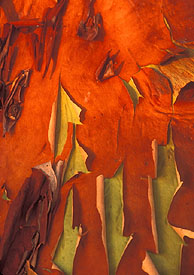 Wait'll next year: Well, our boys in state tourney in Yakima did a super job in their last game Friday, taking Granger to overtime before losing by two.
The loss brings the boys back to the island with the best record & having gone the farthest of any FHHS roundball team in years....something to be proud of. A good year, by good kids. Way to go, guys.
(Left) Islander Eric Kessler was the only photographer of nine artists chosen to display his art at University House at Wallingford in Seattle. (That's the bark of a madrona tree peeling, by the way. Great mix of colors...) Here's the rest of the story and you can click on the photo above to see a bigger version.
Irish Music Camp this week: Here we go again...the fifth annual Friday Harbor Irish Music Camp will take place March 7-12, 2006, over at the marine labs (and yep, they even have pennywhistle classes!). I like the shows and dances at the end of the week - check the schedule for where - see you there!
Kitchen makes it: I hear the Grange's kitchen has been certified as a commercial kitchen, which improves the range of food-related events it can host. Kudos to Katherine Quackenbush & Kay Kohler for helping nail that down.
Quote: Travel in all the four quarters of the earth, yet you will find nothing anywhere. Whatever there is, is only here. - Ramakrishna
Sunny morning, sunny mountains: Friday's crisp & cold morning offered this nice clear view of the Olympic Mountains from Mullis Street just below the airport (that's the runway to the right, past the fence) looking south.
March 3, 2006
FHHS runs into BC wall, falls: The Wolverines started with a 4-0 run, and were behind only 13-10 after one, but fell victim to shots that wouldn't stay in last night, losing to Bellevue Christian in the state playoffs, 57-33. BC was last year's champs, and looks like one of the teams to beat this year.
FHHS drops into the consolation bracket, playing at 2pm tomorrow in Yakima against the Granger Spartans.
March 2, 2006
Yahoo! The boys win! FHHS knocked off Napavine 39-19 last night to advance to the Final Eight in Yakima for the State Tourney - Matt has the rest of the story here for the San Juan Islander.
The Wolverines move on to play tonight at 9pm against Bellevue Christian, who beat us last week by ten in the districts, but whom we were ahead of for three quarters. It's great to get the chance to play them again, and square things from last week.
March 1, 2006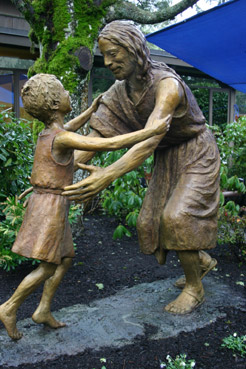 Tonight in Yakima: It's the FHHS basketball boys vs. Napavine at 9pm.
Napavine (16-7, 10-6 in league) finished its pre-state season with three straight wins to nab the #1 seed from the Southwest District, after ending the season in fourth place in their league.
After we beat THEM, we play at 9pm on Thursday night, giving you plenty of time to drive over to see us play.
Airport plan under review: The Port of Friday Harbor has put its 10-year vision of what could happen at the airport together - here's the details.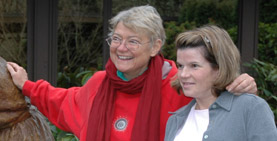 Chris drops by: As you can see from her website, sculptor, teacher & former islander Chris Mikulasek (in photo to the left, in red) teaches all over the world - lately in Mexico, then back to Italy in three weeks - so it was a treat to have her drop by yesterday.
Her latest sculpture (right) was put in at a church in Lake Oswego, Oregon in January, and features a smiling Jesus welcoming a little child. (You can click on it to see the work in more detail, larger.)
Although she's called Shelton her home the past four years, Chris often comes back to the island to visit friends & catch up.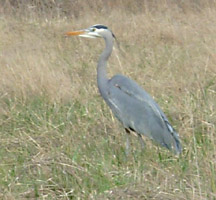 Heron: Yesterday on my way to Roche Harbor, I saw this huge & smiley blue heron (right) in the field next to the airstrip - he had just flown over me with his wide wingspan & was resting in the grass.
Quote: A bit of poem by e.e. cummings:
i thank You God for most this amazing
day: for the leaping greenly spirits of trees
and a blue true dream of sky; and for everything
which is natural which is infinite which is yes
February 28, 2006
Weather or not: Now that the rain's stopped, and the cold is done, and it's not yet sunny but it's not all that bad, maybe we can have March. We'll see. It's nice to be so close to equinox AND daylight savings time.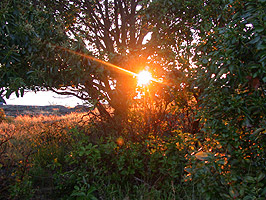 Happy Mardi Gras to ya. Eat some red beans & rice.
Urban legends for computer users: This stuff comes up all the time, and some of it's true. Check it out, and quit worrying.
Open for you: Dolphin Arts re-opens for the year tomorrow, from 10-5 every day. Drop in & say howdy & get some comfortable cotton clothes.
And while you're there, cruise across the street to Steps & see what they have to eat.
And while you're in the neighborhood, stop off & say hey at the Golden Triangle, who have finished their re-model of the kitchen area, and are back open again.
Internet Marketing Workshop: Richard over at States Inn has a workshop afoot - here's the skinny:
Thought I'd let you know about this workshop and ask if you wouldn't mind mentioning it on The Update.

Internet Marketing Workshop - Want to know how to convert website visitors to customers? Learn about pay-per-click? Understand Search Engine Optimization? In today's market it is not enough just to have a website. This workshop will give you the tools you need to manage your internet marketing strategy.

Saturday, March 18, 2006 9:30am to 3:30pm
States Inn & Ranch, San Juan Island
$95 includes lunch and CD-ROM Toolkit - Workshop size is limited.

Quote: We began to realize that if we wanted to change our situation, we first had to change ourselves. And to change ourselves effectively, we first had to change our perceptions. - Stephen R. Covey, The Seven Habits of Highly Effective People
February 27, 2006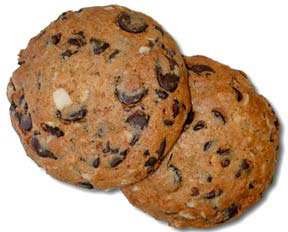 Cookie monsters, unite: You get a free cookie this week if you drop by By Design at its new spot in the Guard Electric Building on Mullis Street. Between 9 & 5 - drop on by!
Only one, though. I know you're a competitor.
More cookies: Jan Bollwinkel-Smith dropped me a note to let you & me know about MORE cookies loose on the island:

IT'S COOKIE TIME!
Get those taste buds ready for Thin Mints, Samoas, and new Café Cookies when San Juan Island's Brownie Troop 183 sets up "shop" this March.
The annual Girl Scout cookie drive kicks off on Friday, March 3. The dozen members of Troop 183 will be hosting a cookie table outside Islander's Bank from 3 p.m. to 5 p.m. and parading through downtown Friday Harbor. The troop will also be at several locations during the month including King's Market on Sundays, March 5 and March 12 from 11 a.m. to 3 p.m., and Marketplace on Monday, March 13 from 3 p.m. to 5:30 p.m. The troop is working to sell enough cookies for a special off-island trip to the Seattle Children's Theater for a behind-the-scenes workshop and viewing of a June B. Jones musical.
The Brownie Troop formed in April 2005 and is led by Wendy Wood and co-leader Jan Bollwinkel-Smith. Jill Urbach assists at each meeting. Troop members are six to eight years old.
For more information on buying cookies, please call
Jan Bollwinkel-Smith at 370-5354.

From the mailbag: Let's start today by clearing up the notes in the e-mailbag, shall we?
From Ellen T. on Orcas:
Hi, Ian! Hey, why don't you ever cover news from our island? Just curious. Your fan, E.T.

Dear Ellen,
Now THAT is a great idea. Problem is, I never HEAR any news from Orcas. When I see people I know on the ferry from the big O, I ask them what's happening, and they say, with conviction, "Nuthin'." I believe them, because hardly anything happens here, either. Which is why we're here.

From Samantha in Everett:
My internet connection is down today. Why?

Because of all the rain, silly.

From Mike A. in Canberra, Australia:
Hey, Ian! I read your Update all the time, and love the way you always have quotes that seem to relate to whatever is going on in my life. Are you psychic or something, or have a special connection with people in this part of the world? That's pretty cool. Meanwhile, I just wanted to write and let you know we all have our soles pointing at you at present, because it's daytime here. Think about that.

Mike, I've never met an Australian I didn't like (or anyone on the planet, actually), including a tech guy I had to call a while back in Melbourne. I told him a domain name wasn't working, and he said, very professionally, "Now THAT'S not groovey, mate."

Hope to get over your way sometime. From the bottom of my sole, Ian.

From the coaches association in Oregon:
Hey, Coach Ian! Do the Wolverines have a chance at State this week?

Yep. More than a chance.

At Districts this past week we won the #4 seed at state (we were going anyway) by losing a couple of close ones to strong squads from Bellevue Christian & Cascade Christian. Playing a couple of the better teams in the state means we belong there, so we'll show 'em. Coach Rod'll get the guys focused, and unlike anyone else there, we're USED to traveling to away games, so that's an advantage. Our guys are hungry for this one.

Here's the bracket - we start things off at 9pm on Wednesday in Yakima.

This is one of the most talented groups we've had around for years, and they know it, so they'll be reaching for the golden ring. You watch - they'll be surprising people. Go, FHHS!
Now, back to the news.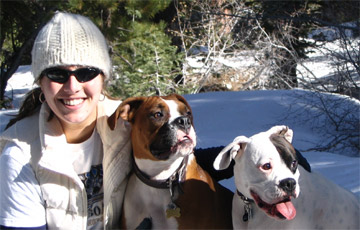 Little known facts: Lisa Brown took Chris Watling's spot at Roche Harbor. Both are married to guys named Harvey. Coincidence? You decide.
Spooky.
Ally in Vegas: Allison Pemberton (now Noland) reports in that she & husband Chris are living in Las Vegas & doing great, as is brother Eliott. Here's a photo of her with her dogs (right).
Maria & Tom take a break: Maria Small told me yesterday that she & Tom are going have a summer off from their bed & breakfast, Oakridge B&B, this summer.
Robbie behind the counter: It was neat to see Robbie Lawson putting in a little part-time time with Serendipity Books Sunday - she's on sabbatical from the school district this year. She's the best - she's a key part of why we have an effective tech part of the instruction offered at the schools here.
And she should be working at a book store - she's one of the better-read folks on this island.
Baby time: Yeah, Wawan & Betsy Ridwan had their kid three months ago - little Bryce. That's why they're beaming when you see 'em. When I saw them last night, they told me he's three months & three days old today. Incredibly cute, and sister Isla thinks so, too.
Wait, there's more. Randy & Missy Martin tell me they're expecting kid #2 in late September, and sister Lucy is getting ready by having HER third birthday this week.
Wait, there's more. Kris & Tito Bayas have their first expected in mid-May. The pregnancy is going well, with a very active kid who soccer stud Tito is only slightly afraid isn't using his or her left foot enough. Kris thinks it's probably enough, though.
They'll be great parents.
ESL in action: You probably already know there's a pretty cool English as a Second Language program happening at Skagit Community College each quarter, and this term's no exception. Led by energetic Debbie Lee, the class helps folks get their English a little tighter. For more information, drop by sometime - more info: call Skagit at 3220.
Usted necesita ir a la clase de ESL en Skagit, enseñado por encantadora profesor Debbie Lee.
Read on: My friend Marty just sent me this invite - hope to see you there, too:
The San Juan Island Family Resource Center has just received a grant to promote the message "Read to Your Child 20 Minutes a Day." To celebrate this award, the San Juan Literacy Partnership will host a project launch on Sunday, March 5 from 1 – 4 p.m. at the SJI Family Resource Center.

This party, the official kick-off event for the Resource Center's newest project, will feature author Michael Donnelly reading from his newest book, Awakening Curry Buckle, children's music activities with Maggie Gallivan, storytelling with Donna Riley and readings from children's books with Shannan Sword.

Drop by to participate; enjoy punch and cookies; and celebrate the importance of reading to our children.

Buttons, brochures, and other information will be distributed as this community-wide public awareness campaign gets underway. Join the fun: Sunday, March 5, 1 – 4 p.m. at the San Juan Island Family Resource Center, 476 Market Street; 378-5246.
World adds another half-billion - oh, crap: The US Census Bureau estimates that we hit 6.5 billion folks this weekend on the planet, and my friends, this is not a good trend. In a world in which some 27,000 people starve to death each day, global warming is eating away at habitable parts of the planet, topsoil continues to degrade each year from overuse, fresh water resources are drunk away & dried up before all the people who need it can get to it - we don't need more people to try & cut the pie up with.
What does this have to do with island news? Everything...everything. It's the most important news of the century - it drives everything.
Quote: "Environmental scientists have been saying for some time that the global economy is being slowly undermined by environmental trends of human origin, including shrinking forests, expanding deserts, falling water tables, eroding soils, collapsing fisheries, rising temperatures, melting ice, rising seas and increasingly destructive storms." - Lester Brown
February 21, 2006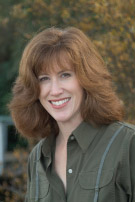 New realtor: Kelly Snow (right) has joined John L. Scott downtown so you can drop in and see her there.
True to her name, she & Brent took the kids skiing this week for mid-winter break....
Tech Weekend goes well: Mike from Island Dive tells me their Second Annual Tech Weekend last weekend drew some 30 folks and went very well, as divers from all over met to swap tips & technology ideas related to diving. Nice sunny weather for most of the time helped, although Friday's winds kinda slowed things up.
Quote: "People will miss that it once meant something to be Southern or Midwestern. It doesn't mean much now, except for the climate. The question, 'Where are you from?' doesn't lead to anything odd or interesting. They live somewhere near a Gap store, and what else do you need to know?" - Garrison Keillor

February 20, 2006
Crowded, kinda: It was nice to see so many folks come to visit this past weekend, with clear skies offering a promise of a pleasant time. The cold of Friday gave way to nice walking & running weather yesterday, and today's grey & rainy morning.
Just another day in paradise.
Basketball enters the playoff stage: OK, here's what's happening.
The FHHS girls play at Districts on Thursday at 5pm at LaConner against the Bush School. As explained on the WIAA page, if we win we'll play the winner of Cedar Park Christian vs. Seattle Academy on Saturday for a spot at state; if we lose, we come home.There are two spots up for grabs - we hope to grab one of 'em. The state tourney is in Yakima from March 1-4.
That's where the boys are going, having won the league with a nice 14-0 record, but they'll play for seeding this week at Districts, with Bellevue Christian on tap at 5pm Thursday at Cedar Park Christian. Here's the week's schedule....Win or lose, they play Saturday, then win or lose, they go to State in Yakima March 1-4, as well. JV coach Jim McNairy tells me the team has really jelled in the past few weeks, and is presently playing its best ball of the season. We'll do fine as long as we're not awed by the heights we've achieved.
It'd be great to have both teams there! Go Wolverines!
Cold, cold, cold: It got down to the mid-teens last night & it's gonna be freezing again tonight. The good news is that there's nearly no precipitation (which is the beauty of having cloudless skies) and the winds are starting to die down. Stay warm!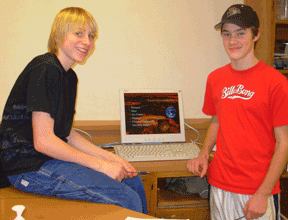 High school rocks with bright work: The last couple of days the kids at the high school have had their Winter Exhibition going (including Michael Sandifer, left, and Ryan Aylward, with their astronomy project). There was film work, dancing, writing, graphic arts exhibits, small lectures, and more. We're surrounded by some pretty awesome kids in this village of ours....
Roche news online: It's nice to see the news on the Roche Harbor news page, now being written by Lisa Brown (I wrote for them for a while after Chris Watling got it all started).
Her first story is about the salmon parr (that's the next size up from baby or fry, which is where the expression "small fry" - including chickens - comes from). She runs down how the Fishing Derby turned out as well. Check it out.
Outdoors, even in the cold: Did you know Nick Schuller who does cool video stuff for his company San Juan Productions is in Idaho doing work for the Outdoor Life Network folks?
New CD coming! Teddy Deane says his new CD will be out in a couple of weeks, with an album release get-together at Pelindaba on March 4th at 7pm. Yahoo!
Mitchell picked: It's a pretty big honor - Mitchell McCormick, a sophomore at Friday Harbor High School, has been selected to attend the 2006 Congressional Student Leadership Conference, sponsored by LeadAmerica, at Catholic University in Washington, DC. Exceptional high school students with a record of academic achievement and extracurricular or community involvement, are selected from across the United States and internationally to participate. Here's more.
To help support Mitchell so he can go, there's a benefit steak dinner at the Legion (downstairs) on Saturday the 25th from 6-8pm, for only $15 a person. Make your reservation by writing lisa4u@centurytel.net & pay at the door!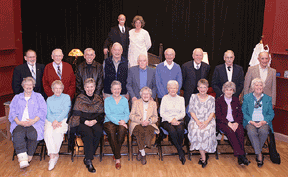 I Will, I will: The Community Theatre's production of "I Do, I Do!" was launched last weekend, and continues this weekend...I received this neat note from Naoni Zervas, director and choreographer as the show found other couples around the island who have been married over fifty years (click on the photo to see the larger size):
Hi Ian - With Opening Night of "I Do! I Do!" the San Juan Community Theatre honored local couples who have achieved 50 or more years of wedded bliss! Attached is the photo taken by Marie DiCristina of the nine couples who attended plus the two actors, Hunter Wood as Michael and Angel Michaels as Agnes. The couples from L to R are:
Virgil and Laura Boyt
Alex and Margaret McRea
Don and Joyce Ragsdale
Ed and Betty Carlberg
Bob and Barbara Dann
Dave and Ginney Nelson
Frank and Nelda Hastings
Donovan and Betty June Craddock
Fred and Betty Popham, with Michael and Agnes up on the bed behind them. The community is invited throughout February to view the lobby exhibit with photos of 33 couples who have persevered 50 or more years together. The musical comedy "I Do! I Do!" continues through Feb. 17,18,19 and Feb. 24, 25, 26. Tickets are available through the Theatre box office at 378-4730.
Parenting news: I love anything that gets papas together with their kids - here's a note from Marty at the Family Resource Center:
Hi, Ian. I don't remember if Joyce and I told you about the Family Resource Center's new early reading project when we were talking about computers a while ago. We have a grant from the National Children's Reading Foundation and OSPI to develop materials and activities to encourage parents and other caregivers to read to their children 20 minutes a day. We are going to have a project launch party on March 5 and would appreciate your including it on your site.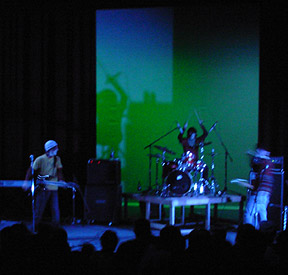 We are sponsored the first "Dads and Donuts" event this week where fathers and friends are invited to spend time reading to children and enjoying a snack. This one is for the K-2 grades at the elementary school. The third, fourth and fifth grade reading buddies will also be involved. There will be more "Dads and Donuts" and "Moms and Muffins" scheduled at the elementary school and the preschools around town.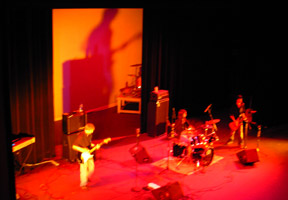 Concert rocks the house: Tuesday's high school bands put on a powerful show for an hour & a half, with a 300+ people crowd cheering them on. Too bad if you missed it - that's Avery Adams (right photo) on drums, with James Weber to the left and Kyle Reitan on the right, as Tomfoolery played the final set.

The night was kicked off by District 49 (left to right that's Cameron & Shay Byington & Ian Cooper), followed by some rap by Spencer Satin.
Quote: "Sometimes in the evening, when you do not see, I study the small things you do constantly. I memorize moments that I'm fondest of...my cup runneth over with love." - from "I Do, I Do!"

---
February 14, 2006
Happy Valentine's Day to you! Hope you get a chance to spend some time with someone special tonight, and that the day has a bit of a glow for you.
If it doesn't, for some reason, then get off your whiney butt and make it glow for someone else. :)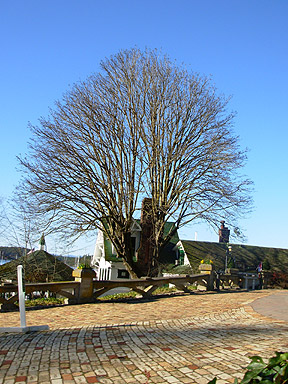 Sunshine for you: Yep, it's been pretty sunny lately, as you can see in this picture of that neat tree (left) behind the restaurant at Roche Harbor yesterday.
Winter term ends: This year is a great experiment for the high school, as they have two semesters bisected by a 6 week short term that ends this week.
To show you what some of the students have been up to, you can go to the school Thursday & Friday this week for the Winter Exhibition to see the results of their projects...pretty cool stuff. Here's more.
Orca Bowl kids win the state championship, again: Hey, we're the only completely island county in the state besides, well, Island County - so we SHOULD win the marine biology contests...and we did!
Marc Vermiere and his team (seniors Sarah Anderson and Andrew Dunn, juniors Katie Schmidt and junior Steffan Iverson, and soph Theo Pratt) are now headed for the national competition in Monterey later this spring.
For the first time, FHHS put two teams in the Orca Bowl, and the second team (seniors Lillan Roquet & Anna McLaskey & Felipe Lopez, juniors Jenny Guard & Alia Knight) came within a whisker of earning a ride to Monterey as well. The teams were co-coached by Deb Vermiere and baby Charlie as well - a real team effort. Here's more, including what Charlie does with CoCo the team mascot, from our friends at the San Juan Islander.
By Design moves: Last week, I moved the office of my company. By Design has moved from my home to our new office in the Guard Electric Building on Mullis Street, in the spot where Imagine Arts Studios was located.
The location has changed, but we're still doing the same things - making and maintaining websites, graphic design, and teaching & consulting for marketing & learning the technology for all this. We are keeping the San Juan Update and San Juan Island Web Directory going, too. We just have more room to do all this now!

Next time you're out & about, drop by and see our new digs!

Quote: "There is no one alive who is Youer than You." - Dr. Suess
February 13, 2006
Rock at the Community Theatre: There are tons of things to do tomorrow night around the island with your Valentine, and you've probably already made plans, but one thing you may not have heard of is that a couple of bands are going to play at the Theatre, starting at 8pm on Tuesday.
The bands are composed of FHHS students: Tomfoolery includes James Weber, Avery Adams, and Kyle Reitan, while District 49 has Ian Cooper (right), with Shay & Cam Byington. There will be a special rap performance by Spencer Satin as well...the show is part of James' senior project, and will be timed to follow the Wolverines' home basketball games.
Taking care of the babies: This is a good one - Marie from the Soroptimists sent me this note about filling a much-needed gap in our community:
Throughout the month of February and on Saturday, March 4, Soroptimists are having an "Island Baby Shower" and invite you to participate. Soroptimists of Friday Harbor will be collecting items for newborn babies to fill individual totes. In partnership with the Family Resource Center, these will be distributed to newborn baby families on the island throughout the year. There are over 50 babies born each year on San Juan Island and many could use a little extra kindness.
The Soroptimists invite you, during all of February, to bring new or like-new baby blankets, clothes, onesies, stuffed toys, bottles, baby wipes, bibs, baby food, etc. to the following drop off locations: Toy Box, Islander's Bank, Chicago Title and the Soroptimist weekly noon meeting downstairs at the American Legion. On Saturday, March 4, they will collect at Marketplace and King's Grocery Store. For more information or contributions please contact Lenore Bayuk at 378-2924 or baukll@rockisland.com. That's President Bette Cantrell (left) and Event Chair Lenore Bayuk with a sample Baby Tote with goodies. - Marie DiCristina
Quote: "Twenty years from now you will be more disappointed by the things that you didn't do than by the ones you did do. So throw off the bowlines. Sail away from the safe harbor. Catch the trade winds in your sails. Explore. Dream. Discover." - Mark Twain
Click here for more news!
---
The information here is simply stuff we here at By Design think is important around Friday Harbor or on the Island. Some of it's news, some of it's old news, and all are just things we wanted to mention, with most of it about the things that make living here great.

There will be more next week, if anything happens.

Ian Byington





More info about the island:

This site prepared by our friends at By Design in Friday Harbor.
The information contained here is
©Copyright 1997, 1998, 1999, 2000, 2001, 2002,
2003, 2004, 2005, 2006 and next year, too
by By Design, Friday Harbor.
Unauthorized reuse of the content of these pages is prohibited;
links to other sites is intended to be to the benefit of those sites,
and for the edification of our readers,
and does not constitute endorsement or
agreement with views expressed there.
All rights reserved, except in Britain, who have their own reserve.