March 31, 2006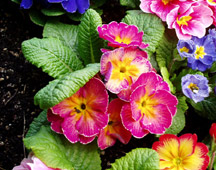 The Show on Friday: The Spring Talent Show starts at 6:30pm at the elementary school - organizer mom Sharon Hammel says it'll be fun: there's music, dancing, magic tricks, tae kwon do (when I was in school all we had was play doh), and more.
Your can of food or donation to the Food Bank gets you in free - see ya there!
Meanwhile, the "Wind in the Willows" begins its weekend run at the Community Theatre, put on by ace drama teacher Fred Yockers & the middle schoolers. Always fun - don't miss it!
Spring, sprung: One way you can tell is these cheerful flowers that Jolie Wheeling shot in her garden & then sent along for me to show you.
You gotta listen to this: A friend sent me this little audio file that's a recording from her psychiatrist's office.
Chances to be green: You know, there's nothing more important - nothing - than us adopting environmentally friendly ways towards this planet we live on. That's why it's really cool to hear that the Turin Olympics were able to report advances in that area, in this report from Town Councilwoman Liz Illg:
Turino, Italy - 2500 athletes from 75 countries experienced the greenest Olympics ever this year! Eco-friendly buildings in the Olympic Villages were constructed of pollution-free materials. From the Zero Waste goal for garbage (68'% recycled + 32% reused as fuel) to the planned Green Dinner, organizers applied the European Union's tools, in line with the Kyoto Protocol, to be carbon neutral; 16 environmental indicators (water, air, soil, energy, ecosystem, et al.) were monitored to meet the objectives of environmental sustainability and of green certification. The overall goal was to leave a long-lasting legacy of sustainable development. Vancouver's 2010 Olympics planning team will attempt to raise the sustainability bar even higher.


Quote: "Peace will not come out of a clash of arms but out of justice lived and done by unarmed nations in the face of odds." - Gandhi
March 30, 2006
Victoria/San Juan Cruises service to Bellingham wraps up: Sean from Victoria/San Juan Cruises and the Island Commuter tells me they're ending their trial service from Friday Harbor- Bellingham (and back!) this Friday. Through the winter, the company offered weekday passenger-ferry service, in a trial program sponsored by the US Federal Transit Administration, in a partnership with the Port of Bellingham and the Whatcom Council of Governments.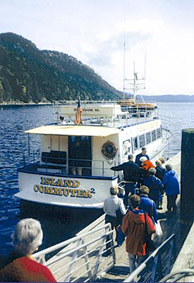 Victoria/San Juan Cruises will resume their normal summer schedule in mid-May, with trips here, there and all around the islands.
I asked Sean if the program would happen again next year, and he says that decision is still to be made. He mentioned that ridership was greater than projected, and that there were no cancellations due to weather, which is an accomplishment, given the high winds and storms we had this winter.
The Town is still working: Here's more pictures of the progress on the work on Spring Street, from the Town website.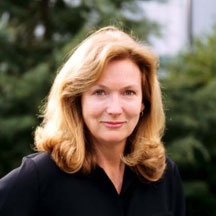 Laura's new spot: Laura Westmiller (right) reports in:
I have moved my store! Classic Design has a name change and new location! The new name is Classic Flooring & Interiors and the new location is 849 Spring St (same complex) next to Sound Nutrition (previously occupied by FH Therapy who moved downstairs!).
Ferry news: WSF has two things you should know this weekend: They will set their clocks ahead after the completion of the Saturday sailing schedule, and on Sunday, April 2, Washington State Ferries begins its green Spring Sailing Schedule #200, which is available at any tollbooth.

Quote: Your assumptions are your windows on the world. Scrub them off every once and a while, or the light won't come in - Alan Alda
March 29, 2006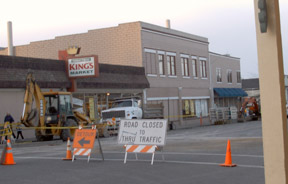 Kinda blocked up, but the businesses are still open: Due to work that must be done in conjunction with the remodel at King's Market, Spring Street will be closed to traffic and parking between First and Second Streets on Tuesday, Wednesday and possibly Thursday of this week from 7:00am-7:00pm.

The shops and businesses in that area will be open and the sidewalks will be open for foot traffic. That's the look of things in the photo, shot by ace Update photog Cameron Byington last night. It's true - the businesses ARE open - we went to King's & got broccoli.
Adnan's open! Come eat! Adnan Nassrallah says Maloula's restaurant is now open for lunch (11:00-3:00) dinner (5:00-9sh). Come see the renovations!

Hitting 50K and still going strong: Lori sent me this bit of news about a great milestone for our friends at Chicago Title:
Serving the San Juan Islands for 59 years, Chicago Title – Island Division issued their 50,000th title order this last week to a boom of new business. Started as an abstract company by Sam and Steve Buck's Grandfather, the company was purchased by Lawyer's Title of Washington in 1947 and it was then that the first title insurance policy was issued. In 1965 it changed to Safeco Title Insurance. And then in 1978 it became a part of Island Title Company. Once again, a name change in 2003 gave them the Chicago Title – Island Division name. They are proud to be a part of the largest Title provider in the country, Fidelity National Title.

Current manager Lori Ronhaar, who took over for John Bird when he retired in 2004, says she has a staff that knows more history of families and ownership in the islands than any she has ever seen. Denise Acsay has been with the company for almost 10 years, Debbie Sutliff for nearly 8, and Rose Carlson joined the staff at the beginning of 2004. All are amazingly qualified to answer the many customer service requests received each day.

They each want to extend a great big "Thank you" to a wonderful community for helping them reach this milestone!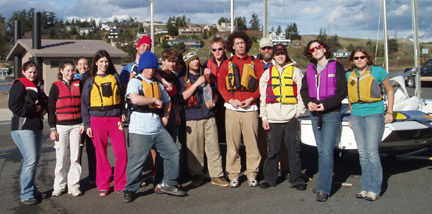 Eat for the Friday Harbor High School Sailing Team: Lasagna Dinner and Auction tonight: From 5:30 to 8 tonight, the parents and members of The Friday Harbor High school Sailing Team invite you to join us in a Lasagna Dinner and Auction to raise funds to help the team with travel costs.
The Yacht Club has generously donated the facility to the team, so all funds raised will directly benefit the team. The tickets are $12 for adults and $ 8 for students and are available from FHHS Sailing Team members or at the door the evening of the event.
A fun evening will be had by all. The lasagna dinner includes a salad, beverage, rhubarb/berry crisp and ice cream. The Sailing team will present a slide show and a silent auction. Seating is limited. This is the only fundraiser to support the sailing team! The Friday Harbor Sailing Team acknowledges the support of Island Rec and is part of the San Juan Island Sailing Foundation, a non profit 501c (3) organization . For more info contact Scott Boye: 378.8548, FH Sailing Team Coach. To donate an auction item contact: Ruth Offen: 378.5373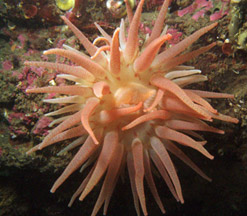 Chris Teren took some AWESOME underwater shots for Island Dive (left) during their Tech Weekend a few weeks back - check out the shots on their page at www.divesanjuan.com....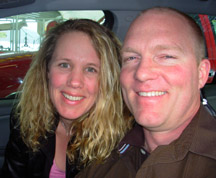 Susan & Kenny hit #11: Kenny & Susan celebrated their 11th anniversary with a weekend in Seattle last weekend - way to go, you guys!
Diana checks in: My good friend Diana Asher sent me this little thoughtful quote:
"Kites fly highest against the wind, not with it."

Quote: I love this bit, attributed to St. Teresa:
May today there be peace within.
May you trust your highest power that you are exactly where you are meant to be.
May you not forget the infinite possibilities that are born of faith.
May you use those gifts that you have received, and pass on the love that has been given to you.
May you be content knowing you are a child of God.
Let his presence settle into our bones, and allow your soul the freedom to sing, dance, praise and love.
It is there for each and every one of you.
March 22, 2006
Your reporter takes a break, maybe: I need to go to an environmental educators' conference on the other side of the state tonight, so if I don't update this for a few days, relax. I'm just learning how to save the earth.
If I DO update this between now & Sunday, it means it's a really boring conference. (Just kidding, conference organizers.)

New owner: You know Dominique's, the place with the really cool clothes next to The Little Store on the Spring Street side? Well, Dominique (left) has sold the business after 16 years to Maureen McNally (who has worked there for the past two years) and her business partner Terry MacPadden. Maureen says she'll keep things basically the same, including the name, and that she's excited at the chance to be there.
Meanwhile, Dominique has opened up her shop at Roche Harbor for the season, and is going great guns with her housewares store called Dominique's House, across from King's. Check out her beautiful new web site & then drop in there & say hey.
New kid: Katie at West Marine tells me she and Will (who was manager before her, there) are pregnant, and expecting in October. Congrats!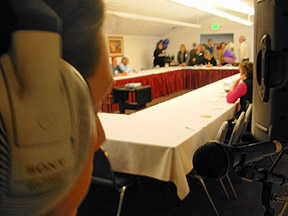 New ceiling: Yep, they're painting the ceiling at Coldwell Banker during the evenings, this week. The building was built in 1907, and they're using colors to remind you of that era, the painters tell me.
New season: Happy Equinox to you! Happy Spring! Sunny days to you!
New gig: That's Shay from Shamrock Sound handling the tunes during the first part of the social hour at last week's Chamber of Commerce meeting.
Shamrock was working on behalf of the Relay for Life folks, who presented at the meeting & are getting ready for the July event, which the sound guys are also providing the sound for.
New whale watch outfit: Bill & Chris Carli sold Argyle House last year after years in the bed & breakfast biz, and now are starting up Carli Charters, doing whale watching & wildlife tours. Nice orca photo on the website, too. Check 'em out!
Quote: "Whoever named it necking was a poor judge of anatomy." - Groucho Marx
March 17, 2006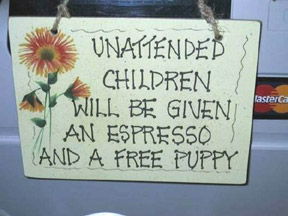 Just an idea: As you know, we have a lot of shops on the island, and some of them have some pretty fragile things in them. The warning signs, usually about kids, say things like "This shop can be difficult for small children," or "It's your kid, if he breaks it, you bought it," or sentiments to that effect.
A friend of mine sent the sign at right to me, which I thought is the kind of sign I'd want at my shop.
Notable Women: I got this cool note from my friends, the Soroptimists:
(You can click on that picture of all the women to see a larger, easier to see version)
Friday Harbor Soroptimist International just held their annual Notable Woman's Luncheon this last week. Soroptimist members invited women who are notable in the community or in their lives personally.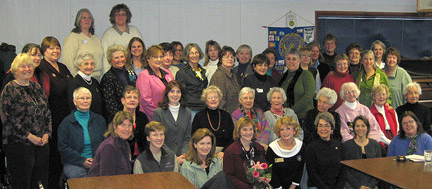 The event was well attended and everyone had a wonderful time learning more about the interesting, loving, giving women we have here on San Juan Island. Soroptimists also awarded the Notable Woman's Award to Teresa DeGraaff (that's her with the roses in front) for her dedication and work with the Girl Scouts.
Also, Soroptimist International of Friday Harbor participated in the Northwest Region "Saturday of Service" project on March 4, 2006 at Marketplace and King's Markets. This project was aimed at collecting newborn baby items for new mothers and babies on the island. The Family Resource Center will now delivery baby bags filled with items donated by community members to every new baby on San Juan Island. Thank you to all who contributed to this project. Many items were collected and many new mothers will be appreciative of this support. Thank you also to Browne's Lumber for donating containers to use for collection. We are a community connected and supportive of each other!
Brook's new place: I told you Brook & Big Barn Pilates moved, didn't I? Here's the scoop.
I would tell you, "Make it burn," but Pilates doesn't work that way. I would tell you, "Make it Barn," but that would be silly.
Whales in the neighborhood: I heard the orcas were off Eagle Point this morning. Did you see them? Not sure if it was the local pods or transients....
Happy St. Patrick's Day to ye: And thanks for your good wishes!
Quote: "Perseverance alone does not assure success. No amount of stalking will lead to game in a field that has none."-- I Ching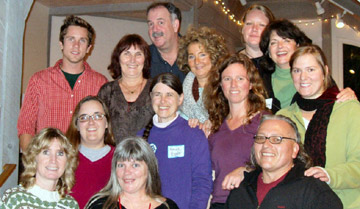 March 15, 2006
Leadership San Juan: The next class starts on April 30, but there's an information meeting about what these guys do tomorrow (Thursday the 16th) at the San Juan Island Library at noon and 5:00pm.
Here's a photo of the 2006 class (you'd be in the next year class); you can get names of the folks at the right on the website, as well as contact info & what the program does. Go there now. Now!
Backdoor is back: Sasha from the Backdoor Kitchen says they're open for dinner now, weekends - so their hours are Mon-Fri lunch (11-3) and Fri & Sat dinner (5-9ish). See ya there.
Speaking of dinner: Basil's is open for dinner every Friday and Saturday 5 to 8pm. Breakfast 7 to 11 and lunch 11 to 3pm. Sunday Brunch 9am to 3pm, closed on Tues.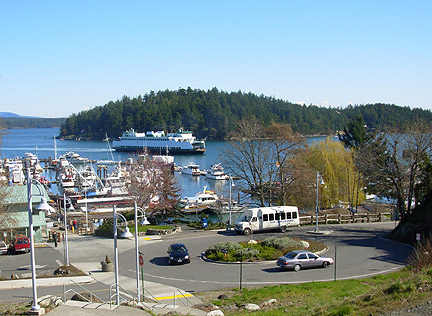 Sunny Sunday: Sure was pretty on Sunday - that's the ferry coming in around lunchtime, from up above the Port office & turnaround. Dan from San Juan Transit (that's the bus, there) was dropping off someone from the Irish Music Camp, as you can see.
Last food deal: Laurie from the Market Chef wrote that the PTA has a a cool deal going this Friday:
Hey Ian, When I was checking myself out on your webpage I saw you made mention of the Soroptimist St. Paddy's Day Auction, a fun time every year! I thought you could also let folks know that they can flex their eating and auctioning muscles the night before at the Elementary School PTA Dinner and Auction.
Since we know the Soroptimists always put out that great Corned Beef and Cabbage, Tim and I decided to cook up some great Shephard's Pie for this event. It will be lots of fun for the whole family and dinner (Shephard's Pie, Mac-N-Cheese for the kids, Salad, fresh baked bread and awesome cake for dessert by ace baker Kira Sable) is only $10 adults/$5 kids, with ALL profit going to the PTA. Friday Night 5-8 at the elementary school. Reservations in advance for the dinner part please! Please call Terry Boden 378-4222.

Thanks,
Laurie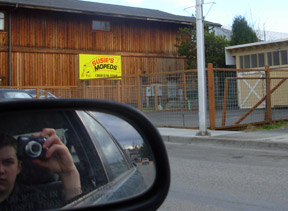 Susie moves: Looks like Susie has to move Susie's Mopeds from the spot she's been at for over a decade, at the top of the ferry lanes. The construction (where the Churchill Square building was) has eaten up her spot.
So, she's setting up over on Nichols Street, next to Funk & Junk, as you can see in this photo by drive-by shooting cameraman Cameron, whom you can see in the mirror.
Quote: "I like nonsense, it wakes up the brain cells. Fantasy is a necessary ingredient in living, It's a way of looking at life through the wrong end of a telescope. Which is what I do, and that enables you to laugh at life's realities."-- Theodore Seuss Geisel (aka Dr. Seuss)
March 12, 2006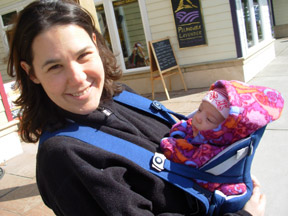 Babies on the island: That's what sunny Saturdays are for - seeing the new babies around town. Laurie Paul from the Market Chef tells me Tallulah (right) is now seven weeks old & doing great. If you look at her closely enough you can see she closely resembles her brother Sam, who is eight this year & likes his little sister.
Laurie says folks who come to the Market Chef all want to hold Tallulah, and that she and Tim believe it takes a village to raise a kid, so the baby is off to a wonderful start being surrounded by the love of this village.
Meanwhile, I ran into Ann Kiernan, who tells me baby Aya Faye (born a couple of months ago) is doing well, as well. She's got the new mom glow, too.
Gloria's Barn closes: Gloria dropped by the office the other day to let me know she's closed her place after ten years.....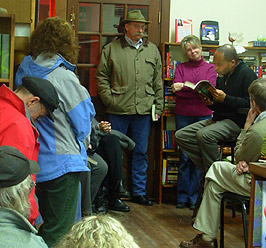 A new barn: ... and Brook Visser has opened up her new Pilates place at Big Barn Pilates. It's time to get in shape, so check her out.
Clyde drops by: Clyde W. Ford (left, reading) lives in Bellingham, and his latest mystery uses our island for a backdrop.
He held a well-attended reading & book-signing at Boardwalk Books this weekend for his new book, "Precious Cargo," which sounded like a good read. Bettye has more copies available if you'd like to drop in & get one, and to see how she's doing as she continues to grow in the new space downstairs from where Boardwalk was for over twenty years.

Dan with a plan: He's the San Juan Transit man, that's Dan, and if anybody can do it, he can.
Although San Juan Transit doesn't run its usual routes during the winter season, Dan's available for charters and other short runs, which is why he was driving the bus for the car-less Irish Music Camp folks back & forth (they stay at the Labs for the camp) on Friday night after the caeli dancing at the Grange.
Irish music rouses the island: Speaking of the Irish Music Camp, Dan Paulsen put on another great one.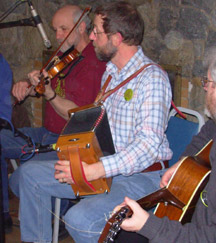 In this year's sixth-year anniversary edition, the camp held classes & workshops over at the Marine Labs, then spilled out into town on Thursday night with music, Friday with the dance at the Grange, and Saturday with a concert at the Community Theatre, followed by folks playing at the Place & at Downriggers.
The folks you saw sleepy-eyed getting on the ferry to go home Sunday morning were a bit bleary-eyed & at least a little sleep-deprived, but cheerful after a good time.
Anniversary overload: Whoa - this is the year of the anniversary! The County Fair is 100 years old, as is the Journal, as is the Courthouse. Roche Harbor will celebrate fifty years as a resort & marina, and this month, Skagit Valley College-San Juan Center remembers that it opened in March 1996 in the new building on the hill.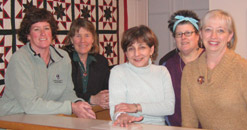 St. Paddy's Dinner this Saturday: Soroptimist's Seventh Annual St. Patrick's Day Extravaganza will take place Saturday, March 12 at the San Juan Yacht Club. The first seating is 4:30 with a silent auction and the second seating is 6:30 followed by a live auction.
Over $9,000 worth of auction items include art work from Lisa Fifield, fun trips, air services, dinners, and many wonderful products large and small. Tickets are available at the Top Box and from Soroptimist members. Tickets will also be sold at the following times: Friday Harbor Marketplace on this Friday, March 4 and 11, Kings Market on Saturday March 5. Raffle tickets will also be available.
Photo: (l to r) Committee members: Sally Kerr, Pat Hansen, Becki Day, Janet Meredith-Sodimu and Judy Cornell.
Quote: "If Jesus and Gandhi are right, then I am asked to risk my life and, if I lose it, to be as forgiving as they were when murdered by the forces of Satan. I struggle to stand firm but I'm willing to keep working at it." - American Quaker & pacifist Tom Fox, found murdered in Iraq Friday where he was working to connect dislocated Iraqis with their families. His thoughts about the chances for peace and the strength & heart it would take to bring it are contained in his blog, posted before he was abducted by insurgents a few weeks ago.
March 11, 2006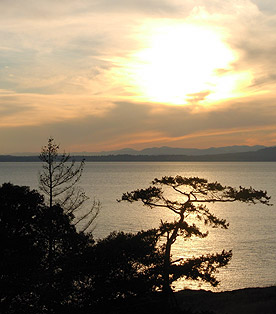 Last night's sunset: That's the sun going down over the southern tip of Vancouver Island, as seen from the west side Saturday night. Click on the picture to see a screen-filling larger, even prettier version. Even better - get yourself outside tomorrow night & see it yourself.
Wayward whale dies: No one knows why Luna was separated from his family pod, L-pod, but he had been up at Nootka Sound by himself since 2001 or so. Effort to get him to return to his family had not been successful, and so the little orca - usually the most social & family-rooted of animals - lived alone.
Friday he ran into a boat propeller in an apparent accident and was killed. Details are still coming in, but here's the Reuters story (yeah, it's national - make that international - news) and the story from the Deer Harbor Charters news webpage.
March 10, 2006
List of excuses why you're late to work this morning (you can use these! they'll work!):
a) because of all the snow.
b) because the kids thought it was a snow day, so we all slept in. But it wasn't.
c) because the driveway was frozen (it was at 4am, but it was slush by 7am.)
d) because of the seagulls.
e) because the dog was running around catching snowflakes in his mouth (more likely, catching slush in his eye)
f) because I fell asleep in the shower.
g) Try this: "The trouble with being punctual is that nobody's there to appreciate it."
h) Or this:"I wasn't late. I just failed to be on time."
If these don't work, give me a call & we'll make up some more. Still working on mine.
Booksigning at Boardwalk Books: It's from 6-7pm tonight - Boardwalk Bookstore is hosting Clyde W. Ford, a Northwest best-selling author for a book reading/signing of "Precious Cargo." It'll be at Boardwalk's new location, downstairs from where they were, in the old Gourmet Galley spot.
March 9, 2006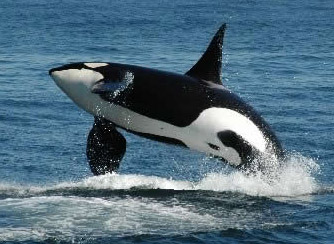 New baby in the Western Prince family: Ivan from Western Prince told me that he put two new engines in the boat for the coming summer, AND that Jackie's going to have their first this coming August - good for them! They'll make great parents.
Meanwhile, have you seen some of the pictures he's been taking? Take a look at their web site's portfolio (like the breaching orca at right), and you'll get the idea.
Dining for Scholars is tonight: Eat up! A long list of restaurants on the island are donating their proceeds tonight to the Dollas for Scholars program, which helps our seniors get off on the right foot with their first year of university. See you out on the town, tonight!
Tax status examined - good! Places on the island like the Mullis Center have experienced touble trying to rent itself out because as a non-profit, it's required to restrict the number of organizations that it can rent to. Looks like that's undergoing a welcome change, in this story from the San Juan Islander.
Friday at the high school: Yep, that's the night for Donkey Basketball. See you there!
Or Irish music at the Grange, and dancing. Or Marvin's Room at the Community Theatre. Or bowling. Or going to the Golden Triangle for great food. Or Mi Casita. Or the Peppermill or China Pearl. Or going to the movies.
What ARE you going to do tonight?
Get pumped: There's a new pump-out vessel at the Port in the marina they're calling Pumpty Dumpty - should make it easier for visitors to pump out their tanks when they visit. Harbormaster Tami has more....
Quote: "It is no measure of health to be well adjusted to a profoundly sick society." --Krishnamurti
New things at coffee: Yep, that new face you've seen at The Doctor's Office coffee place, across from the ferry landing, is Marian Nash (left in photo), who has bought the shop from long-time owner Thalia (right), who's been helping with the transition. Drop in & tell her howdy!
Report from the Williams family: It's always good to hear what our graduated kids are up to...Anne wrote with an update on her kid, Zac:

As you know, Zachery (Zac) Williams snuck away from his undergrad research a few months ago and tried out for The Foreigner for Boston University Theatre Troupe. Guess what? He not only got cast right away, but he was nominated for Best Supporting Actor. He will graduate May 14!


Click here for more news!
---
The information here is simply stuff we here at By Design think is important around Friday Harbor or on the Island. Some of it's news, some of it's old news, and all are just things we wanted to mention, with most of it about the things that make living here great.

There will be more next week, if anything happens.

Ian Byington





More info about the island:

This site prepared by our friends at By Design in Friday Harbor.
The information contained here is
©Copyright 1997, 1998, 1999, 2000, 2001, 2002,
2003, 2004, 2005, 2006 and next year, too
by By Design, Friday Harbor.
Unauthorized reuse of the content of these pages is prohibited;
links to other sites is intended to be to the benefit of those sites,
and for the edification of our readers,
and does not constitute endorsement or
agreement with views expressed there.
All rights reserved, except in Britain, who have their own reserve.