April 19, 2006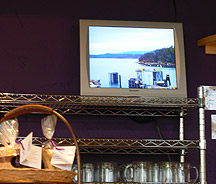 Even though the ferry landing is only a block away, you can't see whether your boat is in or not, with the buildings in the way. Now you can monitor the ferry's arrival from the comfort of the coffee area and maybe even have more time to drink a bit more coffee. Pretty cool idea.
Another good idea: Most of you already know I'm not much of a tv nut (except when the World Cup comes 'round), but Pelindaba is putting the technology to good use: they put a screen behind the counter that shows the ferry dock in real time.
Sun's out: It's been sunny, mostly, since the middle of Sunday - if singing songs will help, I'd like to do my part, as well as wishing good things for you.
Tess to the third power: When I mentioned Tess yesterday (see below), that makes three by that name that I know on the island - there's also Tess over at Arctic Raven, and the Tess the veterinarian.
If you know more, let me know.
Tech help: It finally happened to me.
One of my clients on the other side of the world asked if they can call anytime for tech help if they were in a jam. I said, "Sure! 24/7."
My client said, "Is that Pacific Time or Eastern Time?"
Earth Day coming up: It's this Saturday, and it's turned from a fringe celebration 36 years ago into an event celebrated throughout the world by folks who are grateful for what the world gves us, and hope to protect her for the children.
The good news is that in 36 years people CAN catch on. The rest of the story is up to us, and we have a long way to go, quickly, before we turn our beloved planet into something no one can live on, or would want to live on.
Here's a place to start.
Catalyst is ready to sail: Shannon Bailey asked me to tell you about a special deal this weekend - to make the pictures below a bit better to see, I made it so you can click on 'em to see bigger versions. The photo on the left is of the Catalyst's dedication at the University of Washington in 1932; the right shows her as she is now. Here's the rest of the story: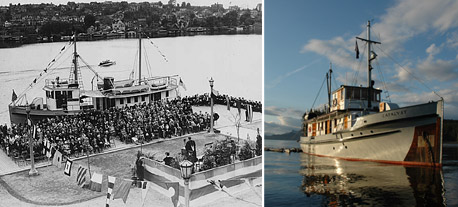 We're unveiling the new profile of the Catalyst to the public at an open boat this Sunday, April 23 from 2-4pm at the Port of Friday Harbor.
She has spent all winter under tarp, as she had her whole upper deck rebuilt and a cabin added to the rear of her pilot house.
The vessel and crew leave April 25th on a Northbound Inside Passage Trip to Ketchikan, then further north to Juneau to pick up passengers for Glacier Bay. The rest of the summer will be spent between Petersburg and Craig, and Petersburg and Juneau, before the boat will come south again and offer a San Juan Islands cruise and mothership kayaking trips, teamed with Discovery Sea Kayaks. Bill Bailey is Captain and son, Elijah, is the kayak guide/naturalist/deckhand.
Help! Help! If you're traveling here sometime & just aren't sure where to go for help to get a place to stay, or what to do, you might want to check in with Jean at Island Time Travel or Gail at sanjuanisland.com.
Put chili on your calendar: My friend Jack wanted me to tell you:
Hi Ian, I just wanted to pass the word that the San Juan Island Fire Fighters' Association will be having its second annual Chili Inferno Cook-off May 20, 2006 from noon-5pm at the Fair Grounds. This is a fundraiser for the Firefighters' Association. Information for those who want to make a team and cook chili is available at the Mullis Street Station. We had a great event last year and this year will be even better!
Jack Casey
President – San Juan Island Fire Fighters' Association
Sign up for kindergarten: Marty from the elementary school sent me this reminder for next week:
Kindergarten Registration: Friday Harbor Elementary School welcomes the Kindergarten class of 2006-2007! Registration for next year's Kindergarten class will be held on Tuesday and Wednesday, April 25 and 26 in the school office. Parents who wish to enroll their children for the 2006-07 Kindergarten session should call the school to set up an appointment. To be eligible, students must be five years of age by August 31, 2006. Please call the elementary school at 378-5209 to make an appointment.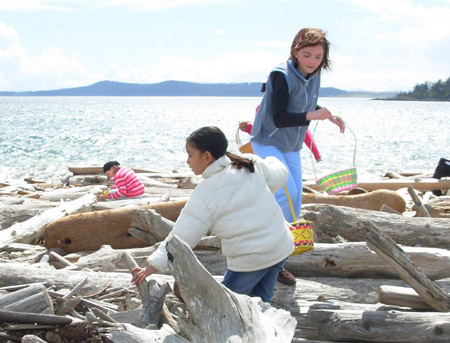 Please bring your child's birth certificate and immunization records. If needed, birth certificates may be obtained at the San Juan County Health Department. The Health Department will offer health screenings for Kindergartners later in the spring. Their number is 378-4474

Quote: To live only for some future goal is shallow. It's the sides of the mountain that sustain life, not the top. - Robert M. Pirsig
April 18, 2006
Easter was fun: The first half of the day Sunday was perfect for a quiet Sunday morning, with a bit of rain, wind, and it was downright chilly. I was out at Jackson's Beach to check out the Easter Egg Hunt amongst the driftwood, and sure enough, the sun came out & stayed out, starting at ten till one.
Here's a portfolio of photos of the day & of the kids - about 49 photos - see how many you can name (you're in there, too!)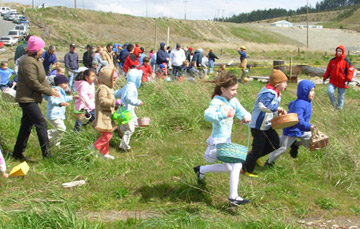 It was chilly enough that most kids & their parents looked more like they'd dressed for Christmas than Easter, but things warmed up considerably once the hunt was on.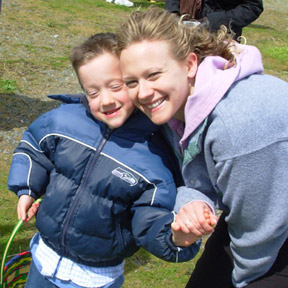 The annual event is put on by the fire department & its volunteers, and is one more get-together for the kids so their parents have a chance to let them run loose while they gossip & swap stories. It's also a fun thing to do with your mama or papa - you can tell Skyler likes being with his mom Allie (right.) Good time had by all.
There was also the annual Easter festivities at Roche Harbor, which Lisa wrote up in the Roche Harbor News, with her pictures.
San Juan Canvas changes hands: It was official at the first of the month: Susan & Peter Risser have sold the sail shop to Patrick & Andra Pillsbury (you know them because also run Bon Accord Kayak Tours, which they bought a few years back from Rik Karon.)
Drop by & tell them hi - you can also see Peter & Susan; Susan told me Sunday (she helped organize the egg hunt) that she & Peter will be helping out for another month or two.
Friends (that's Amigos, to you): Looks like Paul & Andy from the Wayfarer's Rest hostel have bought Amigos Restaurant, and hope to have it up & running by mid-May.
Quote: This was sent to me by Barry Jacobson (thanks!):
The biggest human temptation is to settle for too little ....Thomas Merton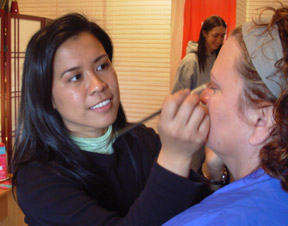 Be nice to your face, now and Zen: It was nice to drop by Tess Ferrer's open house at her new place on Saturday - she just opened Zen, her spot in the Surina Business Park (used to be Starr Storage, you know). She's the one on the left, explaining what she does to Debbie Dickenson.
Tess is an aesthetician who specializes in facials, body treatments, and other special treatments. You can call her and make an appointment at 6368, or drop in & see her today.
Cancer Treatment Support Fundraiser: Marie from the Soroptimists asked me to tell you about this one:
Friday Harbor Soroptimist Second Annual Fiesta Fundraiser for Cancer Treatment Support will be held May 5, 2006 at Paradise Lanes. The return of the Bowl-A-Thon and the monies generated will fund Soroptimtist's mission to provide ferry tickets and transportation for cancer patients receiving off-island treatments.
You can support by purchasing raffle tickets or event tickets at Kings or Market Place on Saturday, April 22 and April 29. You are invited to attend the Fiesta Bowl-A-Thon dinner for $20. The ticket covers the cost of the Mexican Buffet dinner, a raffle ticket and a good time. Non-bowler tickets are limited to150 and last year everyone wanted to come again! There will be prizes for the best fiesta costume, bowler prizes and raffle items. (Need not be present to win raffle items.) Donations can made mailed to Friday Harbor Soroptimist, Post Office 2856 or delivered to Laura at Classic Design 378-8443 or Marie at DiCristina Photography 378-5949. Thank you for your support of this worthy cause.
April 15, 2006
On the streets: When the electricity went out on Saturday morning last week, someone reported to me that Christy (over at Christy's Hair Salon) finished up a customer's hair on the sidewalk. Pretty cool.
Random dog thought: You know, one of the things that the San Juan Island Marathon Expo has for entertainment this year is a dancing dog group (these kinds of things are a big hit around here!) Liz Illg sent me this video that is NOT of the group that's coming, but it'll put you in the mood. Dogs that dance....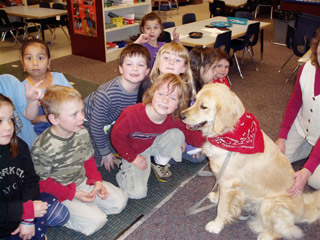 More doggone thought: A neighbor of mine sent this nice note in, with a picture of her dog at school:
Thought you might enjoy this pic of the pooch. Her wonderful vet Jim LeHocky goes to the kindergarten class at FHES each year and does show and tell. This year he took the x-ray light box and a film to teach the kids a little about anatomy. There was a lot of teetering when he starting talking about the bladder and colon--little kids love toilet humor. Jim really likes Kaiya so he asked if he could take her with--the real thing is much better than an x-ray. Like so many of the care givers that we have here on the island, Jim is outstanding at what he does. I continue to be thankful for each one of these folks that makes living here so exceptional.
County emergency guys: Have you seen the County's Department of Emergency Management webpage? Look.
Quote: "Remember this: Even if you win the rat race, you're still a rat." - Rev. William Sloane Coffin, who passed away Wednesday at the age of 81.
April 12, 2006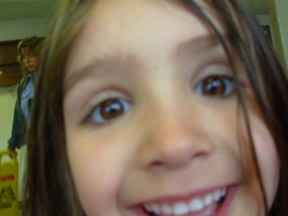 My four-year-old photographer friend Andi Pillsbury borrowed my camera on the ferry & took pictures of everyone in sight, including herself - she has a really nice smile.
Whistler books gain a champion: I just heard on the ferry yesterday that our ace librarian Lauren Stara has accepted a position in the Whistler system (that's in Canada, those of you in the dark). She has done an absolutely super job here, and will be impossible to replace. Note to Lauren: Is there still time for you to change your mind?
Passing: Any death is sad, but it just seems too young to pass away at the age of twelve, as FHMS student Andi Williams did last weekend. Family friends told me a memorial is being planned; Larry Talbott is talking about a bench in town for her. She'll be missed.
Here's the write-up about Andi in the San Juan Islander.
Quote: "It is not the answer that enlightens, but the question." -- Eugene Ionesco

April 11, 2006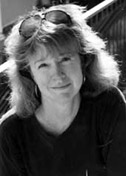 Susan will be missed: The news that Susan Eyerly passed away last Friday is the sort of thing that touches so many people, because she touched so many.
Who has visited Friday Harbor in the past 2+ decades & not dropped into Griffin Bay Bookstore & asked Susan to help find a book, swap a story, or rub the nearest golden retriever head?
The notice up at the post office says something about an as-yet unplanned memorial on the 22nd; I'll let you know as I find out. Meanwhile, the San Juan Islander posted a nice writeup about Susan, so you can find out a bit more about her.
In the meantime, her good heart & spirit are already much missed.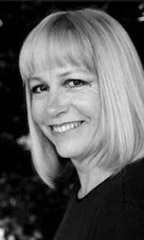 No copying this week: Printonyx is closed this week, as Kris & the crew take a much deserved break for spring break.
Talking to the whales: If you were an intuitive who was in touch with the whales, wouldn't YOU write a book about it? Telepathic animal communicator Mary Getten (right) wrote & self-published the well-received Communicating with Orcas: The Whales' Perspective a few years back, and tells me now that Hampton Roads Publishing will be bringing her book out next summer - cool!

Moving over: Former Windermere longtimer & realtor Lisa Nash Lawrence has moved over across the street to join Friday Harbor Realty, as has Vail McClure.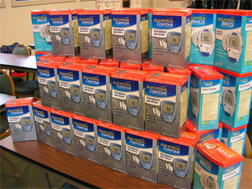 Glucose monitors donated: Jim from the San Juan Emergency Medical Services (EMS) reports a major donation:
San Juan Island EMS has once again increased its capability to respond to emergencies here on the island with the help of the San Juan Lions Foundation for Sight and Hearing.

Last week when the Lion's Club Health Screening Unit was on island, the San Juan Lions donated 60 new blood glucose monitors to EMS. This enables all of the 40 EMTs to have a personal blood glucose monitor in their First Responder packs. Chief Jim Cole said, "This allows every EMT to diagnose and treat diabetics before the ambulance or paramedics arrive. This is part of our 5 year strategic goal of allowing more life saving interventions to arrive within 2 minutes of every call for help." They are also raising funds for an additional 32 AED units to be carried by EMTs by 2010. The cost of each unit is approximately $2,500. Due to recent Federal spending cuts in rural health and EMS, grants for this equipment will be unlikely.

EMS personnel and the Board of Commissioners want to thank the San Juan Lions for their expensive and timely donation to saving lives here on San Juan Island.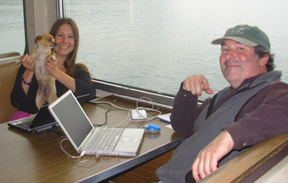 The lady with the camel & the beads checks in: It was pretty cool to catch up with Corina (left, with your reporter, from Corina's Beads) on the ferry this weekend...she still has Mona the camel out at her place, and she tells me that Mona slowed up traffic on Roche Harbor last summer, and the cars stopping to say hey to the camel have already begun this spring.
Corina has a "chat" on her website - check it out!
Quote: "Winter is not an enemy...It is a walk that I enjoy at any time of the year...When the drifts are hip high, as they are today where the lane skirts the river's cliffs at Pigeon Hawk Bluff, I try to urge them to break a path, but they look at me wisely and pretend that they are too loyal and obedient to do anything but walk at my heels. Pantywaist dogs, I scold. This makes them wag their tails happily. Are they my dogs or am I their human?" --Sue Hubbell, author of A Country Year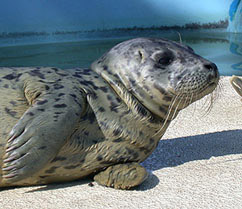 April 7, 2006
Bad news: Tori Zehner just wrote me this morning & says that our friend Susan Eyerly fell in her home last night and was medivaced to Harborview with a brain hemorrhage, and according to Tori, is not expected to make it...she wrote to ask me to ask you to remember our friend in your prayers.
Open House: Wolf Hollow Wildlife Rehabilitation Center will hold an open house to meet the new executive director and staff members and tour the center at 10:00am-3:00pm tomorrow, plus presentations of the resident educational birds. Refreshments. San Juan Transit will provide shuttle service from in front of Wild Things on First Streeet.
Rescued seal pup on San Juan Island (photo by Sahale Casebolt for Wolf Hollow.)
Caroline James this weekend: There's an opening at waterworks gallery tomorrow from 5:30-8pm for Caroline's show, which runs till June. Ruth at waterworks describes her work: "colorful, bold and seemingly child-like narratives of a rich inner world that is simultaneously whimsical and serious, with strange birds, horses, all types of insects and metaphors on rich sophisticated surfaces."

More art: There's another artists' reception next week - here's the deal:
Spring Street International School is holding its Annual Student Art Exhibition at the SJ Community Theater during the month of April. Works of art, including drawings, paintings, collographs, etchings and photographs done by middle and high school students. Taylor Bruce, SSIS art teacher (right), extends a warm welcome to the public to visit the show and attend the artists' reception on April 11th, from 6 to 8 pm.

Many of these pieces will be available for purchase at the SSIS Spring Fling Auction at the Yacht Club on May 13th.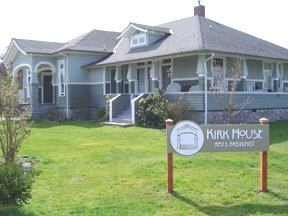 New sign - looking good: Did you see the Kirk House's new sign (left)? Debbie & Alan Shayo have been sprucing the place up & getting it ready for their first summer since buying the former Panacea Inn B&B last fall. The logo design was put together by Tim Dustrude for By Design.
Visitors' Bureau adds new board member: SJIVB members voted in Susan Fletcher, owner of Turtleback Farm Inn on Orcas Island, to join Daren Holscher, the new president of the board. Daren owns The Bay Café on Lopez Island and is the Lopez Chamber representative to the VB Board.
Also new: Carla MacDiarmid has been hired to replace Jody Price as the new Visitor & Membership Services Coordinator - Carla previously worked at the Best Western Friday/Harbor Suites in sales & marketing.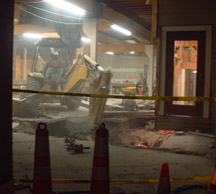 King's Market expanding, still: If you stick your head in what used to be King's Variety, it's pretty much carved out, as you can see in the photo I shot Wednesday. The video part of the store is set up on the street, and the rest of it'll get put together later this year. Should look pretty good.
The race was run: Paul Hopkins for the San Juan Island Marathon went to the Whidbey Marathon last weekend, and reported than locals Jane Hutchinson's broken foot has healed well, as she recorded a nice 3:54, while Ron Wilson ran his first marathon (3:57 is a fine time). Randy Gaylord and Orca's Dennis Dahl were also there - good to be so well represented!
I saw Jane's husband Phil the other day, and he is looking great, a month after his heart attack. He's working out & getting his glow back - way to go!
Quote: A little poem form Rumi:
The moon came dropping its clothes in the street.
I took this as a sign
to start singing.

April 5, 2006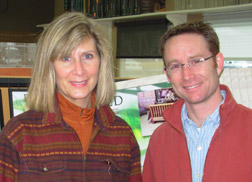 A good floor is a good thing: Things have been going pretty well at San Juan Interiors for a while now. Matt Dollahite from Gallery San Juan (around the corner) and Gabe Herda (you may remember when he was events coordinator out at Roche Harbor) bought the place, and are doing a good job, with a wide selection of flooring and carpets, and the know-how to get you the best solution for what your floor needs. (I know all this because I needed a bit of carpet for my office, and Gabe and Denise Ireland (left) took care of me.)
Drop by and say hey!
Roche, weather or not: Have you seen the Roche Harbor weather cam lately? Good way to see how nice it's been over the marina lately.
Quote: "Newspaper people have a habit of putting you in the front pages to sell their papers, and then after they've sold their papers and got big circulations, they say, 'Look at what we've done for you.' " - John Lennon
April 4, 2006
Time to go kayaking: Discovery Sea Kayaks has been running trips through the winter, and Jesse (left) and Jason are working with Richard to get ready for the season. During the off-season Richard Swanson bought the operation from Allan Willis, who may still do some guest-guiding during the summer.
You know Allan - his wife Patti owns & runs Osito's, the toy store next to Arctic Raven. Everthing's connected.
Time to talk about the kids who drink, and talk to 'em: The beginning of dealing with this or any problem is to talk about it, and stats show only one in four parents talks to his/her kids about it. Trying to change that, Susie Teague (she's theSan Juan Island Prevention Coalition's Executive Coordinator) is calling for folks to come to talk about it.
Everything IS connected.
Here's more:
Alcohol use among children and adolescents start early and increases rapidly with age. Nationally, higher percentage of youth aged 12 to 20 use alcohol (29%) than use tobacco (24%) or illicit drugs (14%) making underage drinking a leading public health problem of the United States. Locally, 44% of 12th grade students reported to have had a drink in the past month, 25% reported binge drinking at least once in the past two weeks; 35% reported to have ridden with a driver who had been drinking, 12% reported drinking and driving. (Washington State Healthy Youth Survey, 2004)

On April 6th, 6:30-8:30pm at the Mullis Center, there will be an Underage Drinking Town Hall Meeting to raise awareness of the problem and how our community can work together towards solutions. We will hear from a number of community professionals, including the school superintendent, sheriff, substance abuse professionals, youth and parents. Please join the evening discussion! - Susie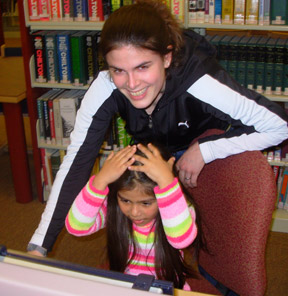 ESL Classes are off and running: The important thing to know is that if you want to attend the Monday & Wednesday classes for English as a Second Language, you gotta sign up now, since the deadline is April 7. In fact, I did a little research about how classes are going - read here for more (it's great!)
The other cool thing to know is that there is childcare at the classes (that's Kylie Foster with her charge, a couple of weeks ago).
Call Skagit Valley College for more info at 378-3220.
Quote: "Hope for the Earth lies not with leaders but in your own heart and soul. If you decide to save the earth, it will be saved. Each person can be as powerful as the most powerful person who ever lived - and that is you, if you love this planet." -- Helen Caldicott, M.D. from "If You Love This Planet: A plan to heal the Earth"
April 3, 2006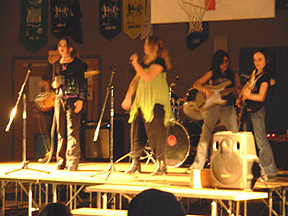 The Super Star Talent Show Rocks: THAT was a lot of talent in one place - 17 acts (some only a minute or two long) kept the place on the edge of their seats for a fun couple of hours at FHES.
One of the highlights was the last act - the rock band (right) called Stop, Drop & Rock finished up the show with people dancing and singing along. Pretty cool! The band features Nelson Wynn on bass, Jessica Walch & Kathryn Root on vocals, Isabel Place on lead guitar, Chandra Crawford on rhythm guitar, and Miles Cabrera on drums.
When they're famous, remember you heard about 'em here first. Rock on!
Birthday greetings: Look, I can't TELL you how cool it is, this little thing Angie at Boardwalk Bookstore sent me....you gotta try it yourself. Try it. Hint: It's a birthday thing.
I promise you, you'll end up sending it to all your friends.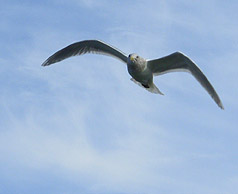 Seagull over Roche Harbor's marina last week.
DST news & blues: You know it's a bit of a drag that we lose an hour over the weekend with daylighht savings time, but it sure was cool to have it light till nearly eight tonight.
If you didn't re-set your clock over the weekend, it's also cool that you got to sleep in this morning when you were late to work. Hope you still have a job.
Quote: "We have spiritual needs, which are ultimately rooted in nature, the source of our inspiration and belonging." - David Suzuki with Amanda McConnell, authors of The Sacred Balance: Rediscovering Our Place in Nature
Click here for more news!
---
The information here is simply stuff we here at By Design think is important around Friday Harbor or on the Island. Some of it's news, some of it's old news, and all are just things we wanted to mention, with most of it about the things that make living here great.

There will be more next week, if anything happens.

Ian Byington





More info about the island:

This site prepared by our friends at By Design in Friday Harbor.
The information contained here is
©Copyright 1997, 1998, 1999, 2000, 2001, 2002,
2003, 2004, 2005, 2006 and next year, too
by By Design, Friday Harbor.
Unauthorized reuse of the content of these pages is prohibited;
links to other sites is intended to be to the benefit of those sites,
and for the edification of our readers,
and does not constitute endorsement or
agreement with views expressed there.
All rights reserved, except in Britain, who have their own reserve.