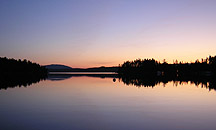 May 24, 2006
Good morning, sunshine: That's the sunrise from Shipyard Cove this morning, sent in by Captain Richard J. Rodriguez of the United States Maritime Academy. Hope your morning is bright as this one....cheers!
If you click on it, you can see the nearly original sized version - then you'll get the idea.
Special Day: You know how there's Mother's Day & Christmas & New Year's & Secretary's Day & a million other holidays? I think this is good - it's IMPORTANT to be able to tell one day from another.
So here's another reason to get someone flowers - these guys decided May 28th is Whale Day. Check it.
Take your whale to lunch.
Karen retires: Did you see that front page story about Karen Lamb retiring from Decatur Island's school? I got to fly over & help get her & the school set up on the internet years ago - you'll get the idea of the layout of things from the story. Another good one - not sure how they can replace her.
Quote: "The outrage of hunger amidst plenty will never be solved by 'experts' somewhere. It will only be solved when people like you and me decide to act."-- Frances Moore Lappe
May 22, 2006
Summer outlook: Since a number of folks on the island are wondering what effect gasoline prices are gonna have on the summer's tourist trade (which keeps a bunch of us afloat & able to live here!), I asked Dan Ward the Transit Man what he's seeing.
For starters, he tells me he's already taken in nearly as much Canadian currency as all last year - he thinks that would be because of the present exchange rate, which has the result of both dollars being nearly the same. Already, the Peppermill, Bella Luna, Herb's, and China Pearl have posted signs that say Canadian money will be treated the same as US dough - and Dan says this is already proving a draw for our Canadian friends.
Is good.
The effect of the gas prices remains to be seen. Will fewer people come here becasue of the high cost of gas? Check back in September & I'll tell ya how it went.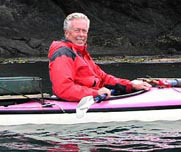 Kayak this summer: I was visiting with Tim from San Juan Kayak Expeditions this weekend, and he tells me he's gearing up for the coming season, and has already gotten underway.
He's has been a resident and avid kayaker in the San Juan Islands for 28 years, and has owned and operated San Juan Kayak Expeditions for 26 years and has logged over 10,000 miles paddling in the San Juans. Check out his page & see what you think - something tells me you don't do something for that long unless you're doing it right. Tim strikes me as the thoughtful, considerate type who will make your trip a day to remember.
Eagle breath: No kidding - I saw a mama eagle and a couple of baby eagles practicing flying during my Sunday walk. Saw a bunch of robins and a couple of woodpeckers, too. There was a great blue heron that landed over on the far side of Pear Point Road, too.
Song for Brother Sun: I have a song that I sing when I visit with my brother & sister birds - here's the short version, if you'd like to hear me sing it for you. The long version has Sister Eagle, Brother Robin, Sister Chickadee, and a fairly large cast of characters. Tell me what you think.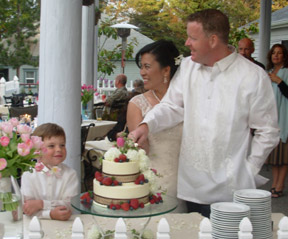 Hitched - it takes an island: Tess Ferrer and John Niendorf were married by Dorothy Stone in front of their enthusiastic friends & family this weekend, with the ceremony at English Camp and the dinner at the Peppermill, with the reception & dance upstairs at the Friday Harbor Suites, with music by Shamrock Sound.
Tess and John moved here this spring, and already are part of our island community, with Tess operating her facial & skin care (and more!) business called Zen over at Surina Business Park, while John's a first-rate pilot.
Graduation re-sets its clock: For the first time in years, the FHHS graduation will be at 3pm instead of 6pm this year.
Senior mom (Claire's mum) Cynthia Burke tells me it's to give a little more family time after the ceremony before the grads take off for their senior trip, which this year is a boat trip to Bellingham & back. This will be one of the biggest classes ever, with some 84+ kids graduating.
Sports update: In a nutshell, softball heads for Moses Lake & state this week after doing the job Saturday, baseball won its first game then lost in the second to end its state run Saturday, and several FHHS tracksters go to state this week. Tennis coach Dick Barnes told me Saturday that no one progressed from the FHHS girls & boys teams to state after quad-districts at the UW, but that he's sure proud of our kids.
More detail for these stories on the San Juan Islander, 'cause Matt was there.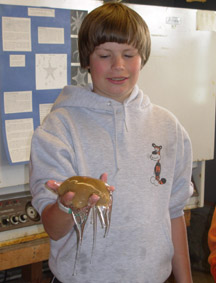 Open House at the Labs rocked: This year's Open House at the Friday Harbor Marine Labs was another great one, with hands-on marine science for the kids (yep, that's slime coming out of that starfish that Claudia Mills gave him), budding marine biologists, and plenty of room for adults to stay engaged as well, even the ones with short attention spans.
Students and faculty were all over the campus & out on the docks showing off their experiments and research, and explaining how they look for new angles on things, as well as smiling a lot. Honestly, anyone who thinks this stuff is fun probably got the idea from watching how much people enjoyed the day, and how cool the researchers are.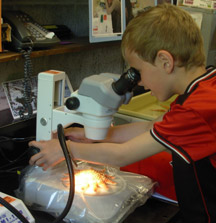 And who knows WHAT you'll see when you look through Alana Hysart's microscope (left) - she works with Jenny Roberts with the program that connects all this with the schools throughout the year.
Gotta love it.
This year's Open House was the first under the new director, who called for doing the event only one year after the last one; for decades the Open House was every two years. It was also cool to have it on a different weekend from the Children's Festival - both have been on the same day since the CF moved to the spring a few years back. Both are worth the long visit to each event that being on separate days affords. Nicely done.
Quotes: I wanted to run a few this time, because climate change is happening, and it's time to start planning the changes in what we do, that ultimately will give us a chance. It's about survival:
"Human activities are increasingly altering the Earth's climate.... It is virtually certain that increasing atmospheric concentrations of carbon dioxide and other greenhouse gases will cause global surface climate to be warmer. The unprecedented increases in greenhouse gas concentrations, together with other human influences on climate over the past century and those anticipated for the future, constitute a real basis for concern." — American Geophysical Union [2003]

"We know the science, we see the threat, and we know the time for action is now." — Governor Arnold Schwarzenegger, R-California

"In a way, global climate change is for the birds. On one side of the aviary, we have Chicken Little, telling us the sky is falling; on the other side, the ostrich, his head deep in the sand. Scientists have concluded that the ostrich is in denial: Significant climate change is occurring..." — Consumer Reports [September 2003]

"Nuclear power as a solution to global warming is theoretically possible, but the proliferation problems and accident risks it would create would, I think, be intolerable because you have to build an immense number of nuclear power plants, one large plant a week around the world for the next 40 years, to make a significant dent in the global warming problem." — Arjun Makhijani, president, Institute for Energy and Environmental Research as heard on Living on Earth

"Climate change is for real. We have just a small window of opportunity and it is closing rather rapidly. There is not a moment to lose." — Dr. Rajendra Pachauri, Chairman, Intergovernmental Panel on Climate Change


May 19, 2006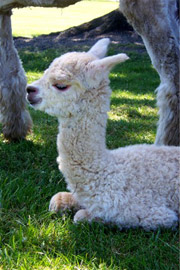 Newbie: Kris and Albert Olson proudly announce the arrival of the first baby alpaca (right) of the season at Krystal Acres Alpaca Farm, born May 18th. Fifteen crias are expected this year, and will arrive throughout the summer.
Baseball & softball roll on: The FHHS softball girls earned themselves a trip to state next week with a 4-2 win over Bellevue Christian Wednesday night. They play tomorrow in a seeding game, then journey to Moses Lake to see what's happening at the state level.
Meanwhile, the FHHS baseball boys start their state run tomorrow with a rare Anacortes-based game - Moses Lake is one thing, but this is close. They've had a good run this year, and may have the package needed to make a run at going all the way.
Good luck, Wolverines!
Passing: When Clyde Stromberg took the beginning computer class with me at Skagit a few years back, he told me about his love for lighthouses, showing me his pictures & drawings, and telling me how they worked....he was a bright & smiling light I'd often see at the post office or around town, who always had a story to tell and time to share it. Clyde passed away last week at the age of 89...he'll be missed.
May 17, 2006
Housing bid fails: The vote's in, and the chance for us in San Juan County to begin the road to affordable housing took a side turn. Yesterday's vote to pass a real estate excise tax was defeated by a 62%-38% margin. Likely this means a return ot the drawing board to come up with a model that voters will be more supportive of....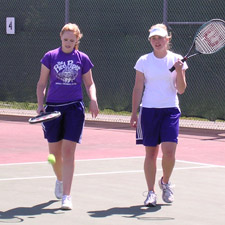 May 16, 2006
Girls Tennis moves up: FHHS doubles team Amanda Root & Lindsey Youngquist (left) will be playing at the University of Washington's indoor facility after their win this past weekend, advancing to Quad-Districts, according to Amanda's dad Rick. He also reports that Madeline Carlson & Hannah Burke (doubles), as well as Claire Burke (singles) are going to have a chance to make it into the Quad-Districts if they can place in another opportunity back at Coupeville on Wednesday or Thursday of this week. Here's the whole story, with photos by Rick.

Don't miss "Art": This is the last weekend for Art, playing at the Fairgrounds this Thursday-Saturday (check here for times.) I don't mind telling you've I've been twice now (hey, it IS free!) and it's the kind of show that gets you thinking about how friendships really do work, and maybe a bit about how they sometimes don't.
Don't miss this one.
Second Chance Prom is first rate: What a great idea - you know how you missed the prom when you were in high school? Of, if you ARE in high school, you forgot it was that weekend? Or if you're in fourth grade, you've always wondered what it's like to dress up as a princess?
Well, Lynette & the folks at the elementary school put on a Second Chance Prom that couldn't be beat. Folks came & dressed up for the evening, and there was food & balloons & great music.
The first band was a tight group from Seattle that had all kids & one grownup on bass (he may have been just an older kid, though - you saw The Commitments, didn't you? That guy was only 17, and he looked like John Belushi. But, I digress.) They played blues & it was good, very good. Then the local rock stars - they call themselves Stop * Drop * and Rock - played & got the crowd going.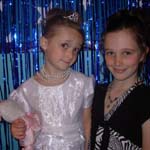 They're all FHES students & they did a super job; you could tell the crowd loved 'em. And everybody looked great.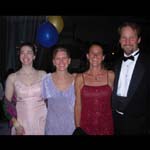 Well, I don't want to just tell you about it all - here's a 56-picture portfolio of the evening - see if you're in there, sports fan. And thanks to Rick Root for his pix of the band.
Baseball & softball: They rock on. Tomorrow, the girls play Bellevue Christian - if we win, we go to state; if we lose, we play next weekend for another shot to progress. They have one of the best chances to move ahead that we've had in years - let's see how they do.
Meanwhile, the baseball boys are in the state tourney this weekend at Anacortes, after yesterday's win over Seattle Christian. They, too, are loaded for bear, and have a super chance to surprise people.
San Juan Housing Bank - vote today, if you haven't: Get those mail-in ballots in - here's what it's for.
Library thought: You know, I talk about it all the time, but have you BEEN to our library here?

It's simply the best small library I've ever seen or been in (or had books overdue for), and that made me think of something I read about Harry Potter author J.K. Rowling. She is among 150 authors who have pledged their support for public libraries and their growing image problem.
A recent study demonstrates that 42% of adults haven't visited their local library in the past two years. In her remarks, she compared libraries to the worlds of CS Lewis' Narnia series: She says, it's a place "where visitors could enter a thousand different worlds by jumping into different pools. When I got my eldest daughter a library card I felt as though I had bought her citizenship of that same fabulous world."
We got one, and it is fabulous.
Speaking of theater: You know, "Fiddler on the Roof" is closing this weekend - it's a big show, but you'll want to work it into your schedule, since about half the island is in it. See you there.
The Friday Harbor Marine Labs Open House: It's this Saturday, and I think FHL's Scott Schwinge's writeup will make you want to check it out (that's the labs, as shot from the ferry last Saturday, coming into the harbor):
On Saturday, May 20, 2006, from 11:00 a.m. to 4:00 p.m, University of Washington's Friday Harbor Laboratories will hold its Open House. This event offers a splendid opportunity to meet scientists and students at the Labs and check out the research and teaching facilities. From 11 a.m. to 4 p.m., the Labs will be open for self-guided tours. Scientists and students will showcase their marine science research, answer questions and provide demonstrations. There will be posters, marine plants and animals, electron and confocal microscopes, plankton sampling and observations, and activities for visitors of all ages. FHL Director Ken Sebens will be available to talk about FHL programs and research, and his own research program. Kids are particularly encouraged to attend.

The public is invited to learn more about the equipment used by scientists to learn more about marine zoology, botany, fisheries and oceanography. People can step aboard and tour our 58' research vessel, the R/V Centennial, and check out its remotely operated vehicle (ROV), oceanographic tools, and high-tech sonar systems. There will be a demonstration of SCUBA equipment including a SCUBA dive from the FHL dock.

Sturdy shoes are recommended because the tour route includes rough dock planks, gravel paths and trails. You can find free popcorn in the tradition of Friday Harbor Laboratories' Open Houses, and light refreshments will be available in the Dining Hall for a small fee.

FHL's website provides a detailed overview of FHL's research, service and educational activities.

Class advice: I needed my Intro to Computer Class at Skagit Valley College to have a little computer-buying advice and a bit about what to do when you hit the "any key."
May 15, 2006
You can bank on it - a birthday surprise: Everybody around the island knows Carolyn at Wells Fargo -- she's visiting her son Brian in Florida (he was the goalkeeper for the Wolverines in the mid-90s, and worked here before moving off-island & getting married.) Her daughter Sharon was a leading goal scorer for FHHS the first year we started the girls' program in '96 - Here's Carolyn's report:
Hi Ian - Just a note to let all know that my son and daughter-in-law (Brian and Carey Adler) had their first baby on Saturday, May 13th (Bian's birthday!). Hayden Issac weighed in at 10lbs, 21.5 inches, and has blonde hair and blue eyes. Sharon and I are visiting them in Fort Myers, FL for the next two weeks having play time before we have to head back to the Pacific Northwest. See you then. - Carolyn Adler

Second-chance Prom was a blast: It really was, on Saturday night. I'll post a zillion photos later this week - check back to see princes in their tuxes & princesses in their gowns & everybody else, too....
Search begins: Today's the deadline for applications for the head librarian job, replacing Lauren who is moving to Whistler next month...Lauren reports in her San Juan Islander column today that there are 32 applicants from around the country & around the world...here's more.
Quote: "Even though you can't expect to defeat the absurdity of the world, you must make that attempt. That's morality, that's religion. That's art. That's life." - Phil Ochs

May 14, 2006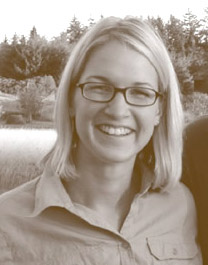 Graphic designer aims high: I ran into Jennifer Rigg the other day & congratulated her on selling Pacific Design, her screening & t-shirt making biz to some folks in Anacortes, who are doing a good job of it (they prepped the "jungle" screens for the Children's Festival) last year. She says she's still going strong with her graphic arts work, doing scientific illustration & graphic design under the name of of Loea Design. You can see her portfolio at www.loeadesign.com - if you get a chance to work with her, you'll be glad you did.
New store, online: Islander Jolie Wheeling's new online store's intro says "I specialize in two main areas: 1) Tibetan Buddhist-related products, like malas, prayer flags, mani stones, incense, reasonably priced statues, & jewelry, and 2) unique, hand-crafted items from Africa, Nepal, India, Indonesia & South America: masks, baskets, Lokta paper, jewelry, scarves & hemp." Check it out!
The Studio Tour is set: The San Juan Island Studio Tour is all set for its 2006 version, on the weekend of June 3-4. There are twelve studios on the map this year, with the whole tour explained on their website.
Speaking of artists: Have you dropped by Chinmayo's site yet? Cool stuff. When you look through her gallery, you'll see not only the work she's done but also the collaborative work she's pulled together, sometimes with as many as 350 people.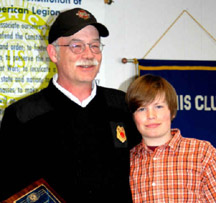 Frank recognized: The Kiwanis Club's John Hart sent me this write-up about a familiar face around town - Frank is a great one (that's Frank with his son, in a photo by Janice Peterson):
The Kiwanis Club of Friday Harbor presented their Everyday Hero Award to Frank Chaffee of the Town of Friday Harbor Fire Department on Thursday May 11, 2006. The award honors local citizens who have made a significant difference in the community. Through their selfless attitudes and desire to help others they have become everyday heroes. Frank is well deserving of this award. He was honored for his long service to the Town of Friday Harbor and San Juan County and specifically for his heroic act on July 13, 2005 when he entered a smoke filled home to remove an elderly woman, Elizabeth Forsman, and save her life.
Kiwanis joins the community in offering Frank their heartfelt thanks for his good citizenship and outstanding efforts.

Meanwhile, the word from France: Tracy James checked in on Friday - it's always good to hear from her:
Hi Ian, I read yesterday's note about going international and thought I would let you know what is happening in Paris. We're finally having beautiful Spring weather after a long winter of rain, thunder and dark days. I was curious about our weather in relation to Friday Harbor as they often seem to parallel each other so I googled their latitude coordinates and Paris is 48.74N and Friday Harbor is 48.53N! No wonder it seemed most days that I was having the same weather here as there.

I've just been hired by Backroads, the active vacation biking and hiking company with the big white van and red trailer we all drive around on Roche Harbor Road every summer! I'll be leading tours in southern Ireland starting this month and in September will return to work sailing the Greek islands on a 65 ft. sailboat as a second mate for another travel vacation company. It's a far cry from mortgage lending - that's for sure. This winter I'll be going to work for a company here in Paris doing mortgage consulting but think I'll try and keep my summers free to travel.

Thank you so much for keeping the web page going. EVERY single morning I start my day with a cup of coffee, my computer and your web site where I feel like I'm in the company of many old friends. Happy Spring! Tracy
Quote: "Anything else you're interested in is not going to happen if you can't breathe the air and drink the water. Don't sit this one out. Do something. You are by accident of fate alive at an absolutely critical moment in the history of our planet."-- Carl Sagan
May 12, 2006
America's page goes international: As most of you know, your San Juan Update is "America's San Juan Island Website." This is true, and here's the story.
Heck, if the Atlanta Braves can be America's team (they, like me, are the one's that decided that, not America itself), then I'm in a club where I truly belong.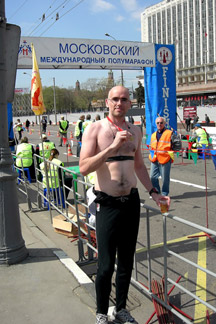 Thank you for all your support, or whatever it is when you write & tell me I spell things wrong.
But in the meantime, we're gearing up to go international. Earlier this week we told you about our friend Tiffany in New Zealand; now we have a report from our friend John (right) in Russia:
Ian, I'm on my way home from sunny Siberia and thought you might like something international for the Update? I ran the Moscow International Half Marathon yesterday, and full report/pictures can be found here: johnstefan.blogspot.com. Cheers, John Sinclair
The County Fair free-for all: The San Juan County Fair Board is pushing a new & great idea - let's have the Fair be free this year, it's 100th year. However, to offer free admissions, the Fair will depend on donations from the community. Here's more, from Board member Sharon Kivisto.
Passing: When I heard over the weekend that Ann Bender had passed away, it was a sad moment...she was one of the great ladies of the island, and will be much missed. My sympathy & best wishes to Bob....
Meanwhile, you saw Bob Chambers last summer in the melodrama "Dirty Work at the Crossroads" at the Community Theatre, and have seen him around the island...he passed away a couple of weeks ago. Like his last show, he left 'em smilin'...he'll be missed.
Quote: "We travel together, passengers on a little spaceship, dependent upon its vulnerable reserves of air and soil, all committed for our safety to its security and place, preserved from annihilation only by the care, the work and, I will say, the love we give our fragile craft. We cannot maintain it half fortunate, half miserable, half confident, half despairing, half slave to the ancient enemies of mankind and half free in a liberation of resources undreamed of until this day. No craft, no crew, can travel safely with such vast contradictions. On their resolution depends the security of us all." - Adlai Stevenson, July 1965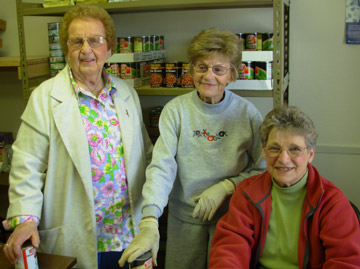 May 11, 2006
New arrival: You heard right - Kris & Tito Bayas had their baby - at this point the little boy is still unnamed. Way to go!
Doing the job - the Food Bank: You've seen it across from the Marketplace grocery store, but if you haven't stuck your head in for a while, you might want to see how things are going.
Every Wednesday from noon to 2pm, Dorothy Lawson and her volunteers open the doors to anyone from the island who needs a little help with their groceries. The rest of the week Dorothy and her crew are busy collecting food from stores, donations like the Curves drive a couple of months ago, and people who just drop by. She also receives cash donations, with which she shops across the street.
They take all the food and organize it & sort it & then put it on the shelves so people can come in and get what they need. In the 22 years Dorothy's been there (she started right after the Food Bank opened), the housing has changed places, but the mission has stayed the same - making food available to folks who are having trouble affording it.
That's Dorothy (above) with her volunteers Betty Gilman and Nelda Hastings; left, volunteer Dale helps fill the bags with another customer!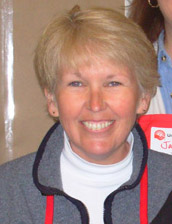 United Way rocks on: I checked in with Bonnie Gilmore (right, at the Children's Festival) from the United Way, who filed this report on this year's campaign:
United Way of San Juan County is pleased to announce that more than $143,800 was raised during their campaign ending April 30, 2006.
As a result of the generous support of Islanders, thirty three programs providing essential services for individuals and families were funded. Services include emergency housing assistance, pre-school education, mental health counseling, mentoring programs and after school study groups. These and other programs benefit a wide array of island residents; from toddlers to the terminally ill who utilize hospice support.
United Way believes that the dollars provided to our agency partners is an investment in the human assets of our community. If you can contribute time or resources to help United Way reach their 2006 goal of $185,000 please contact Director Bonnie Gilmore at 378-4121 or unitedwayjjc@rockisland.com.
What SSIS is up to: Thursday, May 11, at the Friday Harbor Grange at 6:30pm - you can join teachers and students at this annual free event which allows students to share with the community their experiences on the Spring Street International School SSIS Spanish Immersion and Asia Trips. Short presentations will be given by the students, along with photographic and cultural displays.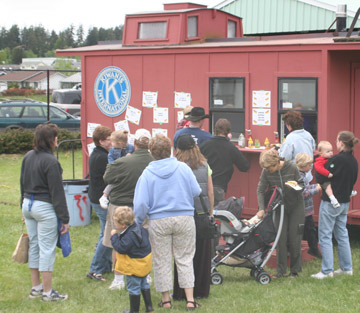 The Kiwanis Club checks in: Here's John Hart's report about their weekend (photo on left):
The Kiwanis K-Boose was in action this weekend at the 16th annual Children's Festival. Friday Harbor Kiwanians prepared over 800 hot dogs with all the fixings for a hungry crowd of eager youngsters. A great time was had by all.
Volunteers included Kathy Turnbull, Lisa Anderson, Bill Henikman, Bob Jarman, Nancy Fusare, David Eden, and Julie Corey. The Kiwanis Club also sells hot dogs and other snacks from the K-Boose at all High School baseball games, the 3 on 3 basketball tournament and other events around town.
Next time you see the K-Boose stop over for a chat or a great hot dog!
Did you miss the Prom? Here's your second chance: This sounds fun, at the elementary school this weekend (report by Lynette):
Second Chance Prom at the Elementary School on May 13th from 7:00 to 10:30.There will be a silent auction where you can nominate yourself or your friends for the title of Prom King or Queen and start a bidding war.
This fundraiser sponsored by the Friday Harbor Elementary P.T.A. is a tax deductible/non profit endeavor to support the new Imaginary Creative Arts Program that includes the fourth grade rock band, Stop*Drop & Rock! and a girls dance troupe that meets biweekly to study hip-hop, jazz, latin and middle eastern dance.
Our program is focused on offering no/low cost music, dance, language, science and media classes promoting community connection and artistic expression for kids and families. At the Prom there will be a sign up sheet for a summer band workshop led by Seattle based Rock School's best teacher in late June. Visit www.rock-school.org and see their program which is geared to kids 12-21.They have been really fun to work with and very helpful as we work to offer our community a great creative outlet.
Tickets available at the door or by calling 378-5834. $12 per person $20 per couple and $30 per family.
Quote: "Outside of a dog, a book is a man's best friend. Inside of a dog it's too dark to read." - Groucho Marx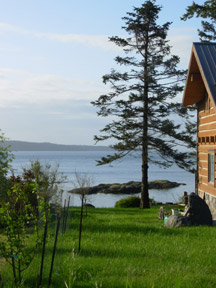 May 9, 2006
Kathy & Kathleen: Looks like Kathy Ballard's going to work at the Marine Labs, as yesterday was Kathleen McDanold's last day...Kathleen's husband Bruce set up much of the present IT infrastructure for the County till he retired, and he and Kathleen moved to Anacortes a couple of years ago, where he & she have lived since & from which she's been commuting.
Kathy's worked at the high school in special ed for the last ten years or so, and will continue there half time while working half time at the Labs.
I heard all this getting coffee when I ran into Cathy from the College, and we talked to Kathy.
May 8, 2006
Sunday morning this was the view from Pear Point Road looking out over the water to our next-door neighbor island, Lopez Island..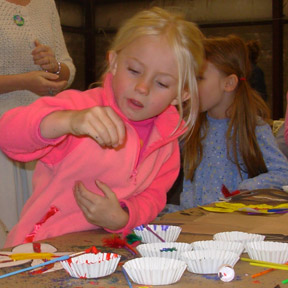 The Children's Festival: It was the 16th edition of the event, and the kids loved it.
You can get a good idea of what it was about, and who was there, by looking over this nearly 100-photo portfolio of the kids & their mamas & papas. If you were there, your picture's probably in there, or your kid's is. Show it to 'em.
There was enough activities & free food & reptiles & fire-fighting equipment & animals & karoake & ways to dress up to keep the kids going for the whole four hours, and I saw some children who were there nearly the entire time. Didn't want to leave!
Thanks to nearly 50 sponsors and Island Rec, as well as the energetic & enthusiastic Committee (June Arnold, Jan Bollwinkle-Smith, Nancy Hanson, Mary Kate Panaro, Shannan Sword, and Sally Kerr - their photo's in the portfolio), the gathering was not only a succcess, but a wonderful reminder that we have great kids on the island, and a ton of kid-at-heart parents & friends who love them & found a wonderful way to celebrate that love.
Passing: It was sad to hear that Steve Swanberg passed away Friday...the longtime islander got Swanberg-Judkins Insurance going with Yvonne (his wife) and Tim Judkins, and started San Juan Vineyards as well. He'll be missed...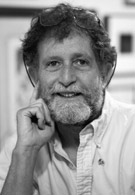 Running: Saturday night Howie Rosenfeld told me he's planning to run for County Council this summer...Howie's been on the Town Council for the past 5-6 years, and has served in different offices for some 25 years. The word is that San Juan Transit's Dan Ward's probably going to run against him; I'll listen out to see if any other's will run.
For San Juan Island, there are three spots - Kevin Ranker will stay in his, there will be one for the Town, and another island spot, for which I haven't heard who is going to run, yet. I'll keep you posted.
New arrival: Michele Morton (from Wells Fargo) had her baby last week - baby Natalie & dad Dave are doing fine!
New coaches: FHHS has named Andy Duke, who assisted his dad for the past five years with the boys' program, as the head coach, while the girls' team will be coached by Mark Fishhaut, according to outgoing coach Doug McCutchon.
Did better than I said: That Bowl-A-Thon did better than noted yesterday - the Soroptimists' Marie DiCristina tells me they raised over $7500. Way to go!
Quote: Seems to me I've been hearing lots of my friends around worrying about what the next hand that's dealt them will hold. You can't really tell, can you? which in turn makes me think of this little passage:
"Therefore I tell you, do not worry about your life, what you will eat or drink; or about your body, what you will wear. Is not life more important than food, and the body more important than clothes? Look at the birds of the air; they do not sow or reap or store away in barns, and yet your heavenly Father feeds them. Are you not much more valuable than they? Who of you by worrying can add a single hour to his life?

"And why do you worry about clothes? See how the lilies of the field grow. They do not labor or spin. Yet I tell you that not even Solomon in all his splendor was dressed like one of these. If that is how God clothes the grass of the field, which is here today and tomorrow is thrown into the fire, will he not much more clothe you, O you of little faith? So do not worry, saying, 'What shall we eat?' or 'What shall we drink?' or 'What shall we wear?' For the pagans run after all these things, and your heavenly Father knows that you need them. But seek first his kingdom and his righteousness, and all these things will be given to you as well. Therefore do not worry about tomorrow, for tomorrow will worry about itself. Each day has enough trouble of its own." - Jesus Christ
If you've read "Ishmael," by Daniel Quinn (which the ninth-graders are presently reading at FHHS), you'll recognize the voice of the Leavers, not the Takers, in that.
And you? Which superhero are you?

May 6, 2006
Bowl-A-Thon helps out: The Soroptimists pulled off another cool event last night, as they earned over $5500 with a packed house at Paradise Lanes with their annual Cinco de Mayo Bowl-A-Thon.
Besides the bowling & eating, there were also raffles and other little ways to give money, including an interesting physics experiment: The evening ended with a head-pin-missing nine-pin deal - if you hit 'em all down for a strike, you win $150, but no one could. I guess you really NEED that headpin to get strikes. Think about it.
This fundraiser is for treatment support services for island cancer patients. This includes ferry tickets and support of the San Juan Eagles, who are our local volunteer pilots who fly patients to the mainland for treatment.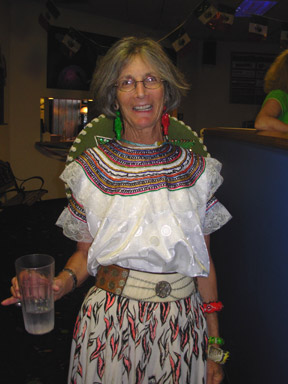 Folks were VERY dressed up (see above!), but the best costume award went to Francie Hanson's colorful & bright costume (right).
The Yoga Path: Located at Spring Street Square, Jeannie Turner's Yoga Path studio offers different styles of yoga, including yoga with weights, and yoga for beginners & more experienced folks. With several different instructors - check out her website for more info!
Quote: "Until next week, you are all my sunshine. If you think the summer sun is too hot, just remember at least you don't have to shovel it." Bob Dylan, signing off as he hosted his new weekly radio show this week.
Wed: Mike & Dawn from the Dive Shop's official wedding is set for later today - Chris Terens will be posting pictures a bit later, he tells me. Congrats to the happy couple!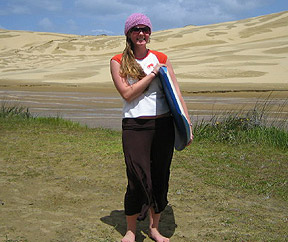 Back from NZ: LouAnne at the County Auditor's office dropped me a note to let you & me know what Tiffany's been up to:
Hi Ian - My daughter Tiffany just returned from a five month trip to New Zealand. She had a ball and is happy to be home and we are happy to have her home.
Below is a email I received from here just shortly after arriving and explains the pic to the left.
"I went on a bus trip to Cape Reinga, the northernmost point of NZ where the Pacific meets the Tasman Sea. It was amazing! Along the way we drove the bus up 90 mile beach , stopped at a beautiful beach called Tapotuputo Bay, and rode boogie boards down huge sand dunes. The dunes were awesome, about 300 ft. high, and very windy! I could hardly stand up!"
Thinking out of the box, oops, I mean, bottle: Last night at the potluck at the Grange put on by the local Democrats, Sudha Nandagopal from Corporate Accountability International offered an important look at the role large corporations have in controlling the way products are sold, and showed how protections for water quality have been compromised by decisions to increase privatizing who owns & sells water.
Enlightening - be sure & check their website. You'll never see a bottle of bottle water the same way again.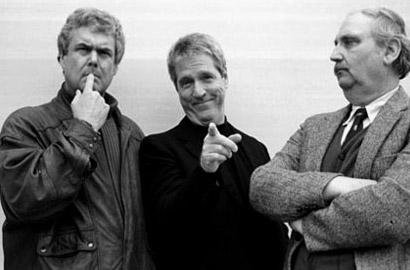 Good show: Thursday night I dropped in on Island Stage Left's production of Art, being performed at the County Fairgrounds.
The cast is Kevin Loomis (you'll remember him from last May's Drawer Boy - brilliant), Dan Mayes (you'll remember him from everything, and once again he creates a completely different character from any of the others he's played, whether it was Iago or the mom in The Importance of Being Ernest or MacBeth or King Henry...it's another good show), and Chris DeStaffany, who's written and performed in shows here for years & years - this may be his best effort yet.
The show explores how friendships hold together, and looks at the energy that stretches what binds us with those who know us best. The show's free (it's Island Stage Left's mission to offer professional-level theatre affordably to the island & its visitors - don't get any big ideas that "free" means "not good" - just the opposite.) Check the website for times & dates - the show runs till the 20th.
Good show tonight: Tonight's the preview night for Fiddler on the Roof at the Community Theatre, at 7:30pm. Tonight the tickets are just $12 for adults ($18 for other evenings), $10 for student reserved and $5 for student RUSH (at the door). Lynne Mercer tells me there are eight performances scheduled between now and the 21st, with 44 people in the cast and another 30 or so behind the scenes, so you'll know someone in the show, for sure.

My advice: Don't pick between one of these plays - go see them both. It's part of keeping theatre alive here on the island, but I'd also have to say it's about keeping theatre (and art) alive in you. See you there!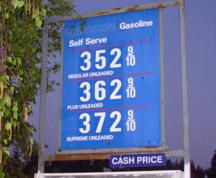 May 3, 2006
Gas on the rise: It was $3.47 over the weekend; Tuesday night the lowest price was $3.52. Ouch.
Click here for more news from earlier this week!
---
The information here is simply stuff we here at By Design think is important around Friday Harbor or on the Island. Some of it's news, some of it's old news, and all are just things we wanted to mention, with most of it about the things that make living here great.

There will be more next week, if anything happens.

Ian Byington





More info about the island:

This site prepared by our friends at By Design in Friday Harbor.
The information contained here is
©Copyright 1997, 1998, 1999, 2000, 2001, 2002,
2003, 2004, 2005, 2006 and next year, too
by By Design, Friday Harbor.
Unauthorized reuse of the content of these pages is prohibited;
links to other sites is intended to be to the benefit of those sites,
and for the edification of our readers,
and does not constitute endorsement or
agreement with views expressed there.
All rights reserved, except in Britain, who have their own reserve.