June 9, 2006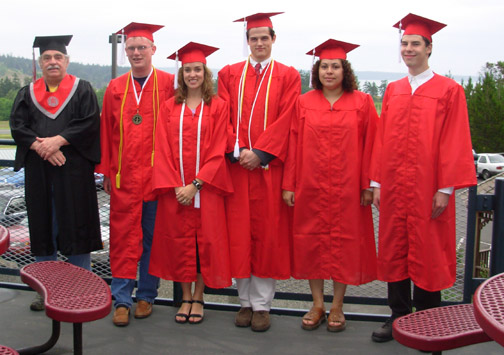 Skagit Valley College graduates the class of 2006: It's been ten years now since the San Juan Center opened above the airport in March 1996, and the college continues to thrive.
This year's graduating class includes the folks shown: Simeon La Riviere (in black - he received his BA from WSU), and SVC grads Eric Tubbs, Kelly Carpenter, August McKenna, Regina Penwell, and Nathan Carter who received their Associate's Degrees. Not pictured here are Michael Schubert, who is also a Skagit grad, and WSU grad Jennifer Allen.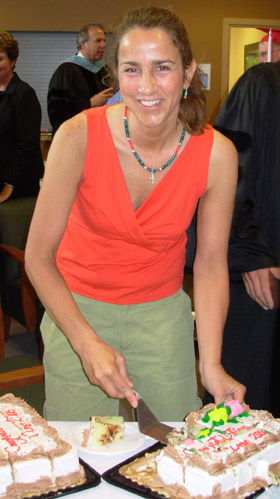 Yep, that's right - people on the island can get their bachelor's degrees by studying online, from WSU.
Another development at Skagit: Next week SVC says goodbye to Cathy Degnan (right), who has been working in the office there since 1998. Cathy's heading for a vacation in Italy, and new adventures after that - she's been the steady force at SVC through transition & change, and is the smiling voice you hear when you call (yeah - you can hear her smiling. It's cool.) She'll be missed, that's for sure, and hard to replace.
Not just orcas: You know, the killer whales deserve all the attention they get, because they're our neighbors here & are fun to watch & are near the top of the food chain & all that.
There ARE other marine mammals out there, though, who are just as much needing research & protection, and love, and that includes the minke whales.... you can learn more about them at this website. Even though they're often affectionately called "stinky minkes" by researchers because they hardly ever brush after lunging for herring, they're fascinating. Check 'em out.
Ahead of my time: Hey, thanks to all of you who wrote & noted that yesterday I put "July" for the date, instead of "June."
And to all of those of you who were early to all your appointments, think about how enthusiastic that makes you look.
Songs for you: By the way, I'll be singing at the Rocky Bay Café on Saturday, starting at 7:30pm. It would be great to see you - come on by & I'll show you my new songs, and we can sing along on the old ones.
Car-free: One of the great things about getting here is getting to ride the ferry here - and you can do that whether you bring your car or not. Why would you want to leave your car behind in Anacortes? Easy answer there - it saves you hours of waiting in the ferry line both there & here. Do you simply need a car here? You can also rent a car here at M&W Auto - Wendy's got some nice, clean, affordable autos for you to hire.
I'll just mention in passing that petrol here is $3.55/gal this week. Highest in the western hemisphere, probably.
Anyway, the Seattle Times addresses all this in an article Becki Day told me about, which you might want to read (even though they spelled San Juan Transit's Dan Ward's name wrong. - he's Dan, the San Juan Transit Man, around here, anyway.)
Quote: The corporate grip on opinion in the United States is one of the wonders of the Western world. No First World country has ever managed to eliminate so entirely from its media all objectivity, much less dissent. - Gore Vidal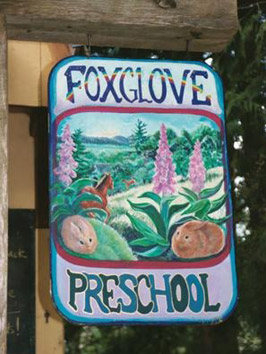 June 8, 2006
Foxglove to close: When I first moved to the island twelve years ago, I wanted to have my kids (now high schoolers) get into a pre-school, and high on the list was the Foxglove Preschool, which we were always deep on the waiting list for, and never got in.
Through the years the school has continued to deliver a super job of providing a nurturing, warm & accepting environment for kids, but now this is the word I got this from Tanja Williamson:
Hi Ian! I'm not sure if you know, but the end is near for an island institution; Foxglove Preschool is closing next week when the 2005-2006 school year ends. I'm sure many children and parents share fond memories of "Teacher Becky" and "Teacher Myah," and I would like to thank them for fostering so much creativity and love in our little islanders. "The earth is good to me, and so I thank the earth..."

Thank you!
Tanja
Recycling hits new highs: Recycling paper & plastic stuff is easy to do on the island - you just take stuff to the dump ("transfer station") and leave it for free. But what about those computers and electronic stuff that you know & I know are never gonna decompose in the landfill & aren't reusable?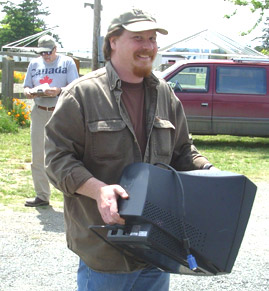 Last Saturday, folks could drop off their used electrons & the machines that make them at the Fairgrounds in a project dubbed "E-cycling." The folks who came to do this have their work cut out for them until 2009, when new state law will require manufacturers to foot the bill for recycling this stuff (here's more, from the San Juan Islander).
Until then, the E-cycling guys say they'll be back soon - there's plenty to pick up.
That's Paul from the Computer Place off-loading - there'll be more room at the shop this week.
Skagit Valley College graduation: I'll drop by the ceremonies later today and see how it goes - SVC-San Juan is graduating eight students, including two with BAs.
In other graduation news - FHHS has scheduled their ceremonies for Saturday at 3 (moved up from the usual 6pm), and Spring Street has theirs set for 1pm the next day.
Quote: Age is a case of mind over matter. If you don't mind, it don't matter. - Satchel Paige
June 7, 2006
The day passes without major incident: A number of people asked what would happen yesterday, since it was 6/6/06, which is kinda like 666, the Mark of the Beast. Generally, I didn't see all this as a problem, because it's 666, not 6606, silly. Do the math.
Events, thus far, have borne me out.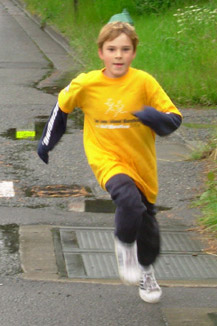 Memories are made of this: Hey, you already remember this is the 100th year for the County Fair...and you remember you're supposed to donate to the Fair so we can get everybody in, for free.
So, here's another thing to remember - go the Fair's site, and hit the Fair Memories button. You have a chance here to post one of your memories about how cool the Fair is, right there online. Doesn't matter if it's last year's Fair, or the 1950 Fair - they want to get a bunch on there.
Kids Marathon (right): You already knew there was a Marathon on Sunday, but did you know about the Kids' Marathon? Here's a portfolio of pictures shot by my friends Barnaby & Eric that give you a taste of the thing....
Part of the San Juan Island Marathon, the Kids' Marathon includes kids who have run 25 miles before the big day, usually in one & two mile chunks. A half hour after the regular Marathon begins, they run the last 1.2 mile on the Marathon course. Organizer and Friday Harbor Elementary School teacher Mike Biggers says it's always good to plant the seed for lifelong fitness - this is a great start. The winner? It was a twenty-way tie with the kids here.
Film stars unite: Casting director Dixi Lee tells me they're looking for extras for their film, called The Dark Horse, on Orcas. Wanna be a star? Call her at 206-310-0590. Now, Rambo.
Quote: The purpose of separation of church and state is to keep forever from these shores the ceaseless strife that has soaked the soil of Europe with blood for centuries. - James Madison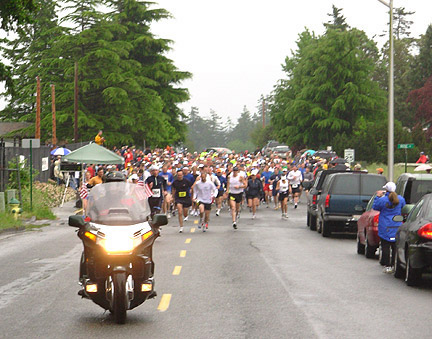 June 5, 2006
And they're off! The fourth annual San Juan Island Marathon greeted the day with rain & mist & drizzle, but that didn't dampen the run. If anything, it's nice to run when it's cool throughout the day. Here are the complete results (look at the Friday Harbor names - I think we had more locals this year than before), and check out the photos of the winners on the Marathon site. The picture to the left is the start of the race, by Barnaby Lowe; she also took some nice pix of the Kids' Marathon that morning, which I'll be posting soon.
Busy weekend: Hey, the ferries were overloaded and there were more things going on this past weekend than usual, but wasn't that fun?
I heard from folks at the Golf Classic that that went well, and some of the Garden Tour people said they had more vsitors than usual...and the stores downtown told me they were pretty busy for this early in the season. Angel from the Island Chordsmen Plus told me on Saturday that the Barbershop Bonanza show at the Community Theatre was 30 tickets away from selling out at that point, which means they had a good crowd...it was a fun weekend. Hope you enjoyed it, too.
Moved over: Longtime director of the Islands Convalescent Center Curt Vanhyning has changed jobs - after some ten years at ICC he's moving over to run Senior Services, to replace Mary O'Bryant, who's moving over to the comparable job on Lopez.
Quote: Those who love deeply never grow old; they may die of old age, but they die young. - Dorothy Canfield Fisher
June 3, 2006
Another sunny day in the islands: Looks beautiful this morning - hope to see you around at one or all of the events around the island. The Expo is all set up (I checked last night for you) so you can register for the Marathon & see all the exhibits (dancing dogs at 1). The Golf Classic is in full swing, as is the Garden Tour & the Studio Tour - and much more. See ya there, or at the race tomorrow.
New principal at FHHS: The School Board has invited Patricia Scott, principal of Peninsula High School downsound in Gig Harbor to replace Marilyn Luckman this coming year. Ms. Scott came to the board meeting on Wednesday and accepted - different members of the selection committee and board have told me they're really excited about their pick, and are looking for great things. Welcome!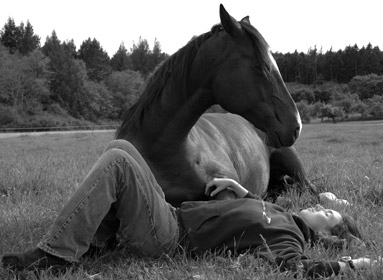 Natural horse training: You'll get an idea how it works on Liziee Sinclair's photo gallery & website.
New: Yvonne dropped me this note for you:
San Juan Vineyards has added a new line of Home and Garden Decor to the Tasting Room. Stop by while on the Art Tour, check out the gift shop and tasting room. Bring your boxed lunch and enjoy our deck!! And, we always have wines on special. Many thanks, Yvonne
The Whales are around: Reports have it that J, K, and L-pods are all in the neighborhood on the west side....
May 30, 2006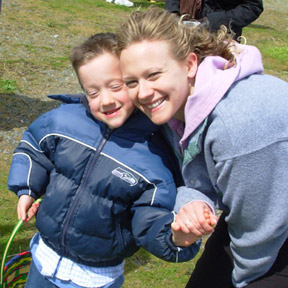 New born: Valerie at Dockside Treasures tells me that daughter Ally (left) had her second child a couple of weeks ago - baby Westin joins brother Skyler at her house.
Congrats!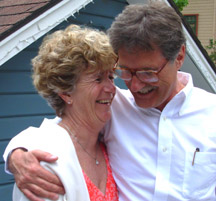 Newly wed: That's Jan & Art (right), who got married before about 65 friends & family this weekend, with their reception at the Harrison House/Tucker House, out on the lawn & on the deck there at the bed & breakfast.
The buffet meal was prepared by Anna Maria, and couldn't be beat. Music was provided by Shamrock Sound, and dancing was provided by the guests. Pretty cool....
Pauls on the road: Yesterday I saw the Marathon's Paul Hopkins doing his run around Pear Point, and later saw Paul from Island Bicycles riding down Roche Harbor Road into town.
The San Juan Island Marathon happens this coming weekend, and it looks like we'll certainly have more runners than last year. Those folks bring a lot of support, so there are gonna be a bunch of visitors arriving for the weekend - make 'em welcome, the way we do.
And that's not all. There are a ton of things going on at the Health & Fitness Expo the day before, which the Chamber of Commerce is organizing, with Liz Illg in charge. Drop by the Fairgrounds to see what's going on, when you're on the way to garage sales, or the Horticulture Tour, or the Artists' Studio Tour, or the Celebrity Golf Classic, or out to South Beach for your walk. I'll be working at the Expo - come by and say hey (I helping with the sound & music)!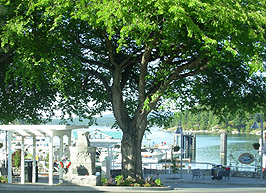 Newly re-dedicated: After the Memorial Day Parade, the Memorial Park at the end of Spring Street (left) was re-dedicated yesterday - the newly designed park looks much more welcoming and provides what looks like more room to turn around there.
The folks from the town have done a super job renovating that area with new trees and benches...check it out. (Photo by ace Update photographer Cameron Byington.)
Ferry, ferry crowded: I think I ran into more people than I can remember who said they walked on the ferry for their visit this weekend, leaving their cars in Anacortes & also leaving behind the worries connected to getting in the ferry line to get off the island.
For those who did bring their cars, it took hours to get away, including a 50-minute delay as the boats got behind schedule. Most folks took it in stride, as they got to spend a little extra time on the island - and it was sunny, too.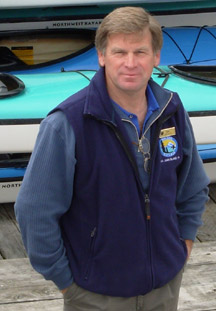 New job: Nick Schuller (right) tells me he's still working on video projects, but is also working with Bill & Colleen at San Juan Safaris this summer out at Roche Harbor.
New stuff on cable TV: Maya Corrie dropped me this note about a show you might like:
Hey, Ian - Have you seen our Cable TV Channel 21 about the Legion program that is running there continuously right now? It is a pictorial revue honoring our veterans and Friday Harbor's participation in the memorials, 9/11, parades, etc. The background music is done by well known artists and it is absolutely awesome and very moving. Check it out. Sure enjoy your website. Corrie
New docents training: Our friends at the Whale Museum sent us this note:
The Whale Museum's Docent Training Program - The Whale Museum needs you to help us educate the public during the upcoming busy summer season. We are seeking volunteers to participate in our docent training program that will provide background information on whales as well as successful strategies for working with the public in the Museum's exhibit hall space.
By utilizing the exhibit displays, text panels, and hands-on specimens, docents will be able to explain to visitors the characteristics of a marine mammal, what marine mammals live in the area, and the interactions between humans and whales over time. The dates for this program are June 13, 14, and 15 from 6:00pm - 9:00pm. All training sessions will be held at The Whale Museum, 62 First St. The fee for this program is $25 for non-members to cover materials costs and is free for current museum members.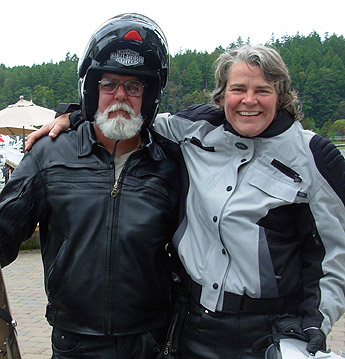 New bike: Sharon Spangler (with her friend Scott Benedict) showed me her new motorcycle over the weekend, and even let me sit on it. (Photo by Cameron)
Quote: "Your assumptions are your windows on the world. Scrub them off every once and a while, or the light won't come in." - Alan Alda
May 28, 2006
Gas prices & the ferries: Well, it could be expected - the WSF folks are saying there may be surcharges to cover fuel costs, since this year's budget didn't anticipate the price increases you & I have already been experiencing...there will be hearings scheduled soon.
The effect of gas prices going up around the state - it's still to be seen what effect that'll have on people's summer travel.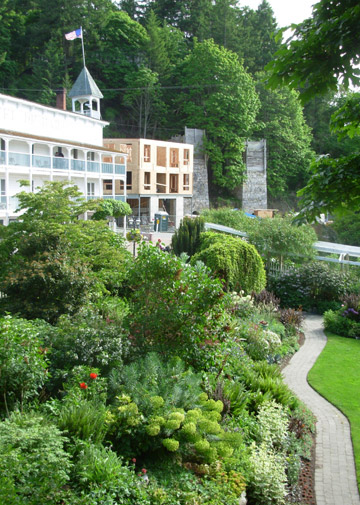 Roche Harbor builds it up: There are activities & music at Roche this weekend, and one of the things you'll see while you're there is the progress they're making on the building next to the kilns (left).
Yesterday the sun came out, the music was fine, and it felt like summer already. See ya out there today or tomorrow, I hope. (Click on the photo to see a bigger version.)
Passing: A wonderful person passed away this past week, as Elaine Fleming died on May 22...she's lived on her farm here for decades, and was one of the more knowledgeable people I knew about the state of the world and the background info of what got it there. A lifelong progressive, she was always looking for ways to make it better, too.
She'll be missed.
Quote: "When it comes to the future, there are three kinds of people: those who let it happen, those who make it happen, and those who wonder what happened."-- Carol Christensen, quoted in "Making It Happen: A Positive Guide to the Future"

May 27, 2006
Heading for the Amazon next month: Ten FHHS kids and two teachers are heading for Peru in June to do two weeks of research - they call the project YARP (Youth Amazon Research Program), and they're doing a little fundraising to make the whole thing a reality.
Here's a note from Val Curtis on the site that explains the scoope of the project:
What's YARP? Not so much a question of what but who!
YARP (The Youth Amazon Research Program) is made up of 10 motivated high school sophomores and juniors: Wynn Barnard, Katie Chevalier, Kara Dunn, Stephen Garfield, Steffan Iverson, Kelsey Kennedy, Alia Knight, Kevin O'Connor, Sunny Pascoe, and Theo Pratt embarking on a trip to the Peruvian Amazon for two weeks of science research. Leading us on this Amazon adventure are 8th grade science teacher, Val Curtis, and UW Labs Assistant Coordinator for the K12 Outreach Program, Alana Hysert. We're seeking "Eureka" moments in one of the most diverse ecosystems of the world! Here's more....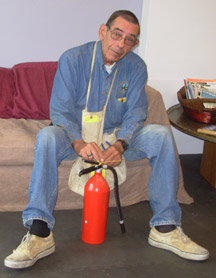 Softball starts its championship run with a win: According to the San Juan Islander (Matt's at Moses Lake), the softball girls won their first state game Friday morning 5-2, beating Liberty Bell.
Check there for updates - go Wolverines!
Putting out fires before there are fires: Yep, that's Bill LaPorte (left), who came by my office this week to visit & to re-fill the fire extinguisher, as you can see.
That'll be good if I type too fast & my keyboard catches fire.
Happens a lot.
Always good to have the former mayor around.
Spring Street grads: I checked with Scott Schwinge (his son Devon graduates this year) and he told me the SSIS graduation is scheduled at 1:00 Sunday June 11 at the Community Theatre.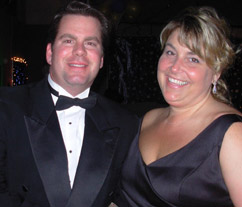 John & Kira open it up: The Rocky Bay Cafe is now open for dinner Thursday thru Saturday night until 9pm.
John & Kira Sable (right, at the Second Chance Prom) tell me the kitchen will close at 9 for dinner; however, the restaurant will remain open until 10pm. with dessert, coffee, espresso, beer and wine available. Yep, beer and wine are now available at the Rocky Bay Cafe.
Speaking of wine: San Juan Vineyards' Annual Barrel Tasting is this weekend - Saturday, May 27, 11 a.m. to 4 p.m. There will be varietal tastings of their current wine list. They also will have many door prizes and refreshments. Cost per person: $10, which also includes your tasting glass.
Maureen's got the pepper: Have you seen Maureen See's nice new website? It's called Cedar Rock Pepper, and what's she's selling is gourmet peppers. On her page she says: "Our goal is to provide the highest quality line of blended black pepper and herb products. The world needs more pepper and Cedar Rock Pepper has just begun."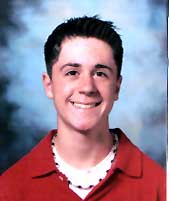 Passings: There was a memorial service for Levi Stephens (right) last Saturday, who passed away a couple of weeks ago at the age of 27; and earlier this month, there was a service for Peter Joseph (left), who was only 19.
Both are much missed, and much too young to be gone.
Use your IRA to buy property - here's how: Coldwell Banker San Juan Islands, Inc. is sponsoring a Real Estate Investment seminar free to the public on Thursday, June 1st at 6:00 - 8:00 pm at the San Juan Island Fire Department located on Mullis Street in Friday Harbor. Everyone is encouraged to attend this highly informative session designed to educate anyone thinking of or currently investing in an individual retirement fund.

They say: "You don't have to be disappointed in the return of your Individual Retirement Accounts that hold stocks, bonds and/or mutual funds. Similar to stock, you can buy and sell real estate with a Self-Directed IRA account and defer your tax payment on the gain. Attending this seminar will show you how you may use all or a portion of your retirement funds to invest in real estate. Come to learn how a non-recourse real estate loan is granted to your self-directed IRA to increase your purchasing power. Seating is limited so RSVP early to 378-2101. For more information please contact your Coldwell Banker real estate agent or call 378-2101."
Invisibility cloak a possibility: This isn't exactly island-related, but scientists have identified metamaterials that may make an "invisibility cloak" like Harry Potter uses a possibility. I knew you'd be interested.
Song for Brother Sun: I have a song that I sing when I visit with my brother & sister birds - here's the short version, if you'd like to hear me sing it for you. The long version has Sister Eagle, Brother Robin, Sister Chickadee, and a fairly large cast of characters. Tell me what you think.
Click here for more news from earlier this week!
---
The information here is simply stuff we here at By Design think is important around Friday Harbor or on the Island. Some of it's news, some of it's old news, and all are just things we wanted to mention, with most of it about the things that make living here great.

There will be more next week, if anything happens.

Ian Byington





More info about the island:

This site prepared by our friends at By Design in Friday Harbor.
The information contained here is
©Copyright 1997, 1998, 1999, 2000, 2001, 2002,
2003, 2004, 2005, 2006 and next year, too
by By Design, Friday Harbor.
Unauthorized reuse of the content of these pages is prohibited;
links to other sites is intended to be to the benefit of those sites,
and for the edification of our readers,
and does not constitute endorsement or
agreement with views expressed there.
All rights reserved, except in Britain, who have their own reserve.