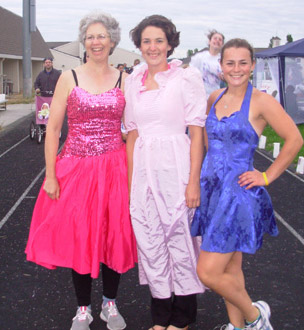 ---
Gotta Know: Island Things:
Everything
Ferry Schedule
Send A Postcard...Now!
Weather, Now
Where the Ferry Is, Right Now

Visitors' Center:
The San Juan Island Directory
IslandCam | Port Cam
West Side Cam at Highland Inn
Chamber of Commerce
MapQuest: Where We Are
San Juan Islands Visitors Bureau
Other Online News:
San Juan Islander
The Roche Harbor News
The Island Guardian
The Journal of the San Juan Islands


Prepared weekly or so by Ian Byington, if anything happens. Usually doesn't, which is why we live here.
Look through the Update Vault: The Archives of previous editions, since 1997.
August 4, 2006
Morning wishes: Every day is a new day, a birthday with presents to open and friends to join. And when it's over, there are people to thank & hug, and reasons to sleep with a smile.
Just like a birthday, here's hoping your day is full of light & love, and new.
August 3, 2006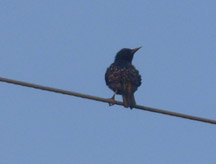 Good morning: Several of you wrote & asked if I really see the birds each morning, out & about (I figure some folks don't live places where there are birds, to ask that)....yep, they're all over the place, like the sweet starling to the left who I met this morning, with a ton of his friends.
Starlings travel in packs, like wolves & high school sophomores, far as I can figure..
Anyway, here's a little movie of a million starlings on a line this morning, with a little "Brother Sun" song thrown in....(actually, it's a 17 meg Quicktime movie that'll take a few minutes to download, if you have the time....)
Quote: "I give thanks with each breath for this wonderful world, for the chance to do what I love, for the way beauty shakes my soul, for the way that plants and animals speak to me, and for those of you feeding energy and good graces into my life. Thanks to all. I am extremely lucky to be able to be doing this work, right here and right now." - Ben White, writing from the Yucatan where he was involved in a protest to protect marine life, January 2005. Ben was laid to rest at San Juan Community Cemetary a year ago, surrounded by hundreds of friends & family.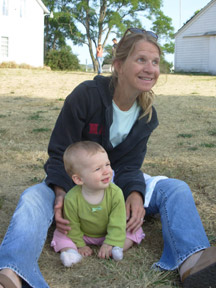 Music on the Lawn, again: It's nice to have a place you you can go hang out, hear nice music, and visit with friends, and Wednesdays in the summer that means Music on the Lawn at the Historical Musem. Last night Teddy & Jonathon & Cecil played (the Play-rite Boys) to over 140 folks, and it made for a gentle, quiet, sweet evening.
And there were folks there - Connie Wargo was hanging out with beautiful granddaughter Makayla (left), and Kevin Roth dropped by to say hey. Eva Wingren just got back from Spain & has a month before she heads back to her third year at Arizona State, and it was cool to see Amara Zee, who's wrapping up a good year directing Camp Eagle Rock next week, and her sister Amanda (with her kid & Jesse).
Babies on the way: In other news, I hear Amanda (the other one, the checker at King's Market) is expecting her baby girl any time now, this month, as are Jackie Reiff and Deb Vermiere. This month!
New biz: Chad Tuttle's got a new thing going - here's the scoop:
BAM's (Bay Aviation Maintenance) mission is to provide the aeronautical communities of Friday Harbor, surrounding Islands and beyond with professional, accurate and honest aircraft maintenance and painting needs. We believe doing things right the first time is the only way to do anything. We feel that no matter the size of the aircraft or condition of the aircraft we treat them the same as if the President of the United States owned them. As the the size of BAM grows, we hope to expand the services to one day being able to support all of your aviation needs and wants.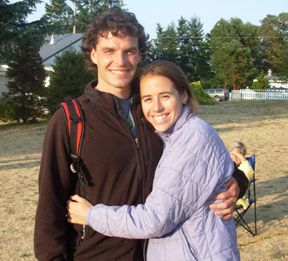 Getting married: Here's Ryan & Alana, who are set to get married in a couple of weeks.
You know how people who really care about each other have that cool glow, that warm feeling, that everyone around 'em can feel? These two have it - makes you smile.
Climate change: Someone very nicely stopped me on Spring Street and told me that one of the things they like about the Update is that it's not political. I kinda like that, too - you gotta have SOMEWHERE to go to get away from all that.

In my mind, talking about climate change (whether you call it that or global warming or the next Ice Age) doesn't qualify as political, and I intend to draw your attention to stuff about the good news/bad news aspect of it for as long as I write this little online newspiece. It's real, it's happening, and the effects will outlast us and our children.

So, for today, here's an editorial I found on the Columbian newspaper site (that's in Vancouver, Washington, south of here.) See what you think, but please...DO think. Out of sight, out of mind won't work in this case. Indeed, the last line of the editorial: "This is a time to act, not deny, a serious problem that affects our planet, our home. "

August 2, 2006
Housing needed for a week: Hey, Sally over at Island Rec needs a host family for just a week to put up a British soccer coach for British Soccer Camp next week...got room? For more details, give her a call today at 378-4953.
August 1, 2006
The play has one more weekend: "La Vie Ennui" concludes its run at the Community Theatre this weekend on the 6th - that's RuthE Wells (left) and Denise King in costume for the show...I've heard that the audience is really enjoying the show - don't miss your chance to see it!
Whales are about: Sounds like all three pods of orcas are visiting on the west side - Karoline Gullin sent in some great photos to the Orca Network folks, which you can see here.
Getaway possibility: Did you know that Victoria Express offers this deal?
Their Off the Rock Resident Discount Fare works like this: If you are a resident on the San Juan Islands or Vancouver Island and purchase a round trip ticket during our 2006 summer sailing season to Friday Harbor, Port Angeles or Victoria, you will receive 50% off the second round trip ticket.

Quote: "Wilderness is the ultimate encyclopedia, holding answers to more questions than we have yet learned how to ask. That's the magic in you. You've got it; let it out." - David Brower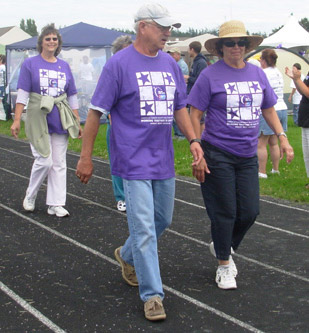 July 31, 2006
Relay for Life: At times sobering, at times energetic, at times moving, the 2006 Relay for Life ran this weekend with costumes and events and music, and with the ongoing reminder of why we were there - to help find a cure for cancer.
Here is a 62-picture portfolio of the event, including survivors and all the folks in costume - you'll be able to tell when the theme was "Prom Night"!
The Relay stretched from 3pm on Saturday till 9am on Sunday, with folks doing their walk or run the entire time. The event kicked off with the Survivors' Lap - people who have been diagnosed with cancer.
The keynote speaker for that, Seanene Kennedy, offered a moving tribute to the people who are touched by the disease, folded into her own battles with it. (In the portfolio, the survivors are the people in purple shirts....) After that, it was music and themes, as teams kept someone on the track the entire time, in costume & in spririt, for the rest of Saturday and the morning of Sunday.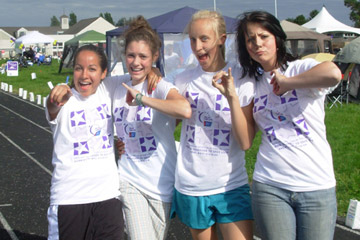 The Luminaria Ceremony after dark was touching - it included the lighting of candles all around the track & on the bleachers, with remarks by survivor Linda Guernsey, Jewel's "Life Uncommon" sung by Kimberly Cincilla, and the reading of about 500 names of people whom islanders know who have been touched by the disease. Each candle represented someone with cancer...it was touching & moving to walk the track and see so many islanders' names.
The event is a fundraiser, which nearly hit $60,000 this year (Sharon on the San Juan Islander has a nice review of who the fundraiser teams were). This year marks the third year of the event here on San Juan Island, which been directed by the indefatiguable Deanna Osborn each year.
One of the parts of the day was a reading from islander Craig Miles, who passed away spring a year ago...Craig was a friend who, in the time I knew him, lived this way:
CRAIG'S LIST TO LIVE BY


* Be glad every day.
* Be nice to everyone.
* Peace and comfort come in strange ways.
* Take care of yourself.
* Think of those who are sick and less fortunate than yourself.
* Everyday is a blessing.
* Remember family, friends and those who've helped you along the way.
* Illness is only a snapshot -- a reality check -- an opportunity.
* It's always a great day to be alive.
* Darkness (the midnight hour) is always followed by a sunrise.
* Be friendly to stangers.
* Snuggle, hold someone close as often as possible.
* When you take time off -- take time off.
* Remember what's really important -- it may not be what you thought.
* Say a simple prayer daily to the "Great One" in your life.

It's all in the timing: You've noticed the clock on the firehouse in town is stuck, and has been for few months....I even got a note from my friend Lorie asking about it....
Hey Ian, What is with the Firehouse clock? Has time stopped or what? For us people who are watch challenged it was great to look up and see what time it is. Any chance it will be fixed soon? Thanks, Lorie
I thought I'd address this with some pithy remarks about how time stands still, or how it's a natural extension of what we call "island time," which is why everything's a bit slower than you expect, or maybe there just aren't any clocksmiths around. But what's the deal?
I called Keri down at the Town offices, because I think she knows everything. She smiled (you can tell she's smiling...even on the phone) and said they're aware of the problem, but have been unable to fix it - it's not as easy as you think! So they had to send off for some experts, and they hope to have it fixed later this coming month. That's the scoop.
It's also what passes for hard news around here.
Unrelated random cool fact: Keri's husband Jeremy took that rainbow photo on the Port's site.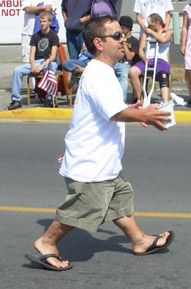 Craig's proposal: I love the little stories you hear around here - Craig Davis told me about how he proposed to Denyse by taking her to lunch, and when she looked out at the harbor, there was the ferry (he works for WSF, on deck), with a big banner unfurled from the Texas deck that said, "Denyse, will you marry me...again?" And he got down on a knee & asked her...again. It was their ninth anniversary, and she agreed to renewing their vows and a nice getaway.

Craig's mom Sue told me about all this too...sweet story. That's Craig in the parade on the Fourth this year, to the left.
Quote: "It is quite clear to me after several years in the environmental movement that all physical problems of man's impact on the environment - pollution of the air and waters, the desecration of the land, the contamination of the food chain - all start within the environment of man's mind." - Maurice Strong, founder, the United Nations Environment Program

July 28, 2006
Books, books, books: Yep, it's that time of year - the Friends of the Library used book sale gets underway tonight (for members) and tomorrow (for everybody) at the elementary school. Major events of the year: The Fair, the Fourth, graduation, and...this.
See you there!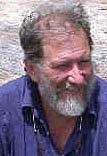 Remembering Ben: It's been about a year now since our friend Ben White (left) passed away, and Janet Thomas has some thoughts about remembering him & the work he did, and the light he brought to so many people's hearts.
Plays! Plays Plays! Yep, there's the play La Vie Ennui at the Community Theatre as well as Island Stage Left's Merchant of Venice out at Roche Harbor....don't miss the chance to see good theater...it's why we live here, dude.
Music this weekend: The Peppermill will be having Uncle Otto play on Saturday, July 29th from 6-9pm. Go by for dinner and check out their new menu!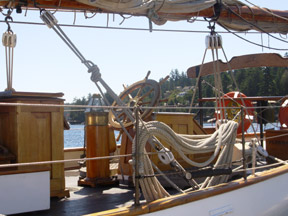 The Adventuress was here: I hope you got a chance to see that really big & beauticul boat - the historic schooner Adventuress - in the harbor yesterday. The company that owns it delivers unique hands-on environmental education and leadership experiences for children and adults. They give people a chance to learn more about the majesty and vulnerability of Puget Sound - and why the future of our marine environment matters to all of us. To find out more, please visit www.soundexp.org.

Photo at right taken by By Design's Devon Schwinge.
Bill gets appointed: There's probably no more energetic & knowledgeable person for them to pick - Bill Wright, co-owner of San Juan Safaris in Friday Harbor, has been appointed to Washington's Tourism Advisory Committee. Congratulations Bill!
The Tourism Advisory Committee was created by the legislature in 1998. The committee consists of 15 members including four legislators. The 11 non-legislative seats are appointed to represent all sectors of the travel industry and are geographically diverse. New Tourism Advisory Committee member's appointments are effective immediately and end June 30, 2007.
Quote: The illiterate of the 21st century will not be those who cannot read and write, but those who cannot learn, unlearn, and relearn. - Alvin Toffler
July 27, 2006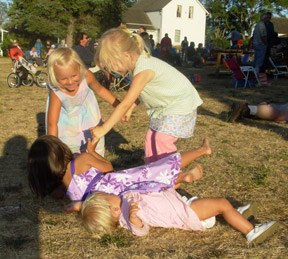 Music on the Lawn rocked: Last night's Music on the Lawn concert was pretty cool - the band played classic tunes, people were moving their feet, the kids were having fun, including these girls who are in the "all fall down" part of ring around the rosey.
This is the sixth year of music provided for free at the Historical Museum grounds, and it's a great test for those folks who say, "There's nothing to do on the island!" - if they aren't regulars at MOL, then they just don't know what they're talking about.
People bring their picnic food, their lawn chairs, their kids, and spread out for an outside evening show...totally cool.
The summer series put on by Island Rec continues next week...see you there!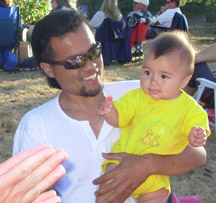 Bryce is getting big, which is one reason proud papa Wawan (left) was smiling at Music on the Lawn on Wednesday night.

Speaking of shows: Here's the word from the Community Theatre about what's up this weekend:
OK, maybe we should have programmed these things to coincide with Bastille Day, but we're close, right? Join us this weekend for one (or both!) of our programs with a light-n-breezy French influence. Pearl Django's gypsy swing concert will be Friday, July 28, at 8:00 pm, while "La Vie Ennui" continues in the Gubelman Theatre, Saturday at 8:00 pm and Sunday at 5:00 pm. For tickets, call 378-3210, or go to www.sanjuancommunitytheatre.org and click Online Box Office.

Pearl Django is one of America's most respected and busiest Hot Club-style groups. This is the band's fourth appearance in Friday Harbor since 2002, and their enduring popularity stems from their broad appeal to guitar enthusiasts, jazz buffs, bluegrass devotees and world music fans drawn to French and Gypsy accents, as well as aficionados of swing music. Tickets are $18 for adults; $9 for student reserved, and $5 for student RUSH. Reservations are recommended.

"La Vie Ennui" features Denise King as the fiery former actress Fatigée Fourbu, and RuthE. Wells as the ex-dancer Dominique Joli, who are house singers at Chez Leplee in 1950s Paris. The two are aided by Hunter Wood in the role of their accompanist Jean-Paul-Pierre. As the Chicago Tribune put it, the show is "full of charm and period 'oo-la-la,' capturing that ever-light, ever-sassy Parisian style." It has been a resounding hit with our audience in its first two weeks, and it plays just two weekends more (through August 6).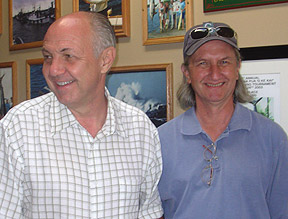 Tickets are $18 for adults; $10 for student reserved, and $5 for student RUSH. Reservations are recommended.

Bon soir!

Steve sighting: I was on the run last night, so I only had a chance to take a photo real quick, but I saw former schools superintendent Steve Enoch (left) at Haley's last night, with departing school district facilities director Scott Bell - I didn't have a chance to visit & get the scoop, but I'll call around & try to see what Steve's up to. He's been the supe for the San Juan Schools (no kidding) in California...
Quote: "Only kings, editors, and people with tapeworm have the right to use the editorial 'we'." -- Mark Twain
July 26, 2006
Reunion 2006: The FHHS Class of 1996 got together last weekend for their tenth reunion, and a good number of familiar faces turned up. Sarah Joy Staude was in town for the summer till she & her partner Julio left today to return to Costa Rica where they live now - and while she was here she helped put on the get-together, and sent me a bunch of photos from the weekend. To see who was there, click here for a 66-photo gallery of the reunion.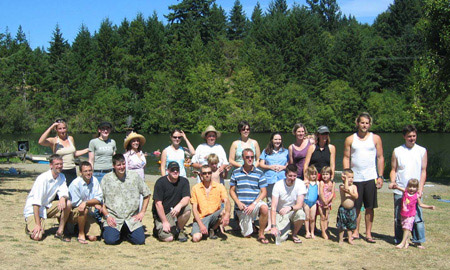 click on picture to the right for larger image

Top Row (L-R): Sarah Goodman, Sarah (Abe's girlfriend), Sunday Harrison, Lorraine Anglin, Molly Anthony Dent & son, Sharon Adler, Heidi Wilson Frye, Sarah Joy Staude,
Liziee Calendar Sinclair & daughter Cameron (+friend Zoe),
Ben Bailey & son Keegan, Juan Tobon & daughter Alexandra

Front Row (L-R): Alex Reeder, Matt Wight, Abe Hertel, Jef Diffner,
Andy Tate, Brian Marble, Ian Metke

Attendees not pictured: Jamen Burke & wife Halia & son Dawson,
Lisa Tate & daughter Sonora, Misa Peterman Heater,
Lura Lackey & her boyfriend, Brad (Lorraine's cousin), Greg King, Carina Tobon & son
Juan Pablo Jr, Tony Smith, Heidi Wilson Frye's children Hannah & Thomas & parents Jerry & Nancy,
Greg Hertel, Carolyn Adler (Sharon's mother), Krispi Staude (Sarah Joy's mother),
Sylvia Anglin (Lorraine's mother)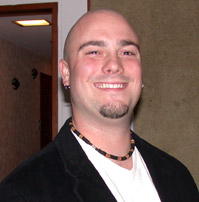 Changes at Steps: You know Steps, the restaurant just down the alley, between Pelindaba & The Golden Triangle? They have some changes afoot - here's the note from Madden (left):
Hello to all of our wonderful patrons. The last year has been fantastic and all of your support has been very appreciated. Many of you have offered suggestions that you have thought would help us, and we have been listening. As of Saturday July 22nd the menu format at Steps will be changing. We are no longer offering an a la carte style menu, but are going to have a menu geared towards more conventional dining. We will still be offering both small & large plates, but they will be more complete containing starch, veg, protein and sauce. The menu will no longer change daily (it will change with the seasons) and we are now accepting reservations. I have attached the current menu for your perusal. Come on in and check out what we have got going on. Thank all of you for your ideas and support. Sincerely, Madden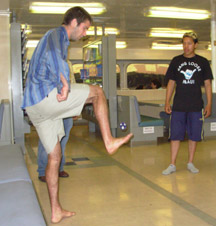 Hackysack on the ferry: Can't stop playing - that's Peter (he works for Outdoor Odysseys this summer) and Conrado (he works everywhere) coming back from their fútbol match in Mount Vernon on Sunday (they won 4-1, by the way). The local men's team, sponsored by Petro San Juan, was moved up a division this summer after they finished unbeaten & maybe unbeatable in the spring league.

Quote: Is there really the desire to know love, or to know the experience of someone having an emotion over self? Is it a desire to be itself expended in doing that which may be helpful or constructive? This can be done, but it will require the losing of self, as has been indicated, in service for others.

. . . But arise to that consciousness that if ye would have life, if ye would have friends, if ye would have love, these things ye must expend. For only that ye give away do ye possess. - Edgar Cayce
July 25, 2006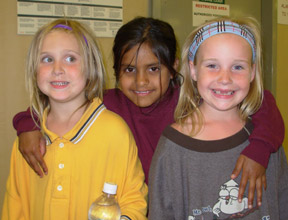 Hot, hot, hot: When the weather's in the 90s like it was over the weekend, it sure is nice to live on an island with beaches & breezes off the water....
Looks like it'll cool off a bit this week, with the heat wave capping out in the high 70s after Monday. Cool.
That's a picture of three friends on the ferry Sunday night, coming back from a trip to the mainland...
Merri Ann's got the word: In her quarterly report on the state of real estate on the island, Coldwell Banker's Merri Ann Simonson says last year's $210 million in sales is the most ever, but that things can be expected to cool off somewhat this year, with lower inventory (that means less places to sell) and interest rates creeping up.
Here's more....
Conversations about the play: The Merchant of Venice opens this week at Island Stage Left's new spot at Roche Harbor, and as part of the ramp-up to the show, Pelindaba's downtown place is hosting four get-togethers:
Learn more about the Merchant of Venice at four evening forums and enrich your understanding and enjoyment of Island Stage Left's summer Shakespeare production. Each evening will begin with a short presentation followed by discussion with the audience. Come to one or all.

All discussions begin on Wednesdays at 7:00 pm at Pelindaba Downtown. Event co-sponsored by Pelindaba Downtown, Island Stage Left, and Skagit Valley College. No admission charge.

26 July: "God made Him, and Therefore let Him Pass for a Man"
Themes, Plots, and Characters in The Merchant of Venice.
Don Baker, Ph.D., University of Colorado

02 August: "Inquire out the Jew's House"
The Ghetto in The Merchant of Venice.
Chris Westgate, Ph.D., Skagit Valley College


09 August : "I Hold the World but as the World"
A Look at Late 16th Century Venice and Europe.
Jim Hoyt, Ph.D., Skagit Valley College

16 August: "A Stage, Where every Man must Play a Part."
The History of the Play in Production, from Shakespeare's Time to the Present.
Chris Westgate, Ph.D. and Denise King, Ph.D., Skagit Valley College; and Helen Machin-Smith Director, Merchant of Venice, Island Stage Left

Mailbag: Let's see what's in the e-mailbag this week - and thanks for writing, by the way:
Hey, Ian,
Thanks for your mention of the Relay for Life you're having on the island. I got to participate in the one at the University of Washington & it was great. I hope your event goes even better. Good luck.
Jackie, Issaquah
Hey, thanks! I'll be there all day Saturday and Sunday morning this weekend - see you there! Good cause, good people, good music.
Hi, Ian,
You always talk about the Fair like it's the greatest thing in the world. Don't you think it's kind of a small event, in the big picture of things?
Jenny, Anacortes (I go to several state fairs every year)
Thanks for checking in, Jenny - You know, I think about the first lines of Kate Wolf's song, "Give Yourself to Love," when I think about the Fair: "Kind friends all gathered round - there's something I would say/What brings us all together here has blessed us here today/Love is but a circle that holds us all inside/Where strangers are as family, and loneliness can't hide...."
When we all get together as a community, the size of the gathering doesn't matter, and more people don't make it better or worse. What matters is that we come together....
Hey - Are you guys really going to build a golf course in the gravel pit? Curiously, Rob, Mount Vernon
Yes. I have my people drawing that up, as we speak. If that doesn't work, we'll be working towards that dog park we talked about. Stay tuned.
Woof.
Click here for more news from last week!
---
The information here is simply stuff we here at By Design think is important around Friday Harbor or on the Island. Some of it's news, some of it's old news, and all are just things we wanted to mention, with most of it about the things that make living here great.

There will be more next week, if anything happens.

Ian Byington





More info about the island:

This site prepared by our friends at By Design in Friday Harbor.
The information contained here is
©Copyright 1997, 1998, 1999, 2000, 2001, 2002,
2003, 2004, 2005, 2006 and next year, too
by By Design, Friday Harbor.
Unauthorized reuse of the content of these pages is prohibited;
links to other sites is intended to be to the benefit of those sites,
and for the edification of our readers,
and does not constitute endorsement or
agreement with views expressed there.
All rights reserved, except in Britain, who have their own reserve.