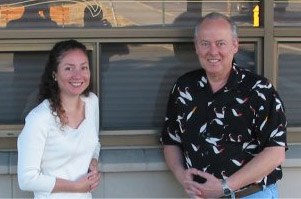 September 9, 2006
New dentist at the Tooth Ferry: Dr. Chris Clarke says things are changing at his practice:
I am pleased to announce the arrival of Dr. Michelle Reynolds at the Tooth Ferry. After 25 wonderful years I have decided to pass on the legacy of excellence in Dentistry to the next generation. I have been very fortunate to find someone who shares my values and will continue to provide the highest quality of care possible. Starting next Monday, Dr Reynolds will become the primary caregiver at the Tooth Ferry. Your support and encouragement is greatly appreciated. - Dr. Clarke
Running for judge: Remember Frank LaSalata? He served as a part-time judge uphere earlier this decade - he's running for district court judge this fall down near Seattle. Here's more...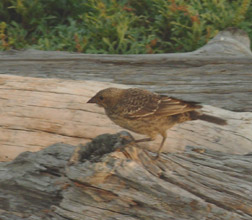 Wolverines roll on: The football team rolled over Kings last night 19-9 at their place. Next up: LaConner here next Friday.
Birds like South Beach, too: See?
Quote: Try to love someone who you want to hate, because they are just like you, somewhere inside, in a way you may never expect, in a way that resounds so deeply within you that you cannot believe it. - Margaret Cho
September 8, 2006
The moon over Griffin Bay: Full moon last night over the water, just after sunset. Bright enough to take a walk most of the night by its light. Hope you saw it.
Bowling alley's back: I dropped by Paradise Lanes to say howdy to new manager Scott Olinger & see how things are going...he says they're nearly cleaned up & some much-needed electric work is complete, so he's aiming to open this weekend if possible. Scott's an avid bowler himself (you'll remember he bowled a 290 earlier this year, and has four certified games of 300), and he says he's eager to get fall leagues going & get people coming back to the lanes for a good time.
His energy & enthusiasm are contagious - you'll like what he's doing there. Drop by & say hi.
Nate's back, too: Kira at the Rocky Bay Café tells me she & John are happy to have Nate Smith back working at the restaurant.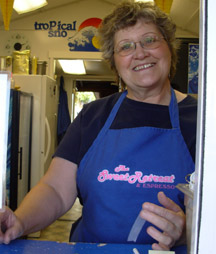 Summer's end for the Sweet Retreat: When I visited with Kathy Morton yesterday afternoon, she said she & the Sweet Retreat had a great summer (love that warm weather!) and are gearing back for the fall. She told me son Chris is moving this weekend to work in Portland, and that his girlfriend Robyn (late of Friday Harbor Realty's reception desk) is going, too.
She also mentioned (this was a surprise to me) that she was putting the shop up for sale after over nine years in business...she says she'd like to retire, and is hoping that her little store ends up with someone who puts the love & energy into it that she & her family has.
Girls soccer rocks: FHHS got its season off to a good start with a 3-2 overtime victory on the road at North Sound Christian last night.
Freshman Shelby Ness scored her first varsity goal to start the Wolverine scoring, and soph Whitney Porter added two, including one with two minutes to go in overtime to save freshman keeper Hannah Snow from having to handle a shootout in her first varsity game. "We didn't know what would happen, since we graduated eight key players last year," noted senior captain Lindsey Youngquist afterwards. "We have some skilled freshmen helping us out, and this was a good start for building this year's team chemistry."
Here's a photo of last year's squad, in the rain in last season's playoff game in November.
The Wolverines play at one pm Saturday here, against Evergreen Lutheran.
Litter no more: Lori Stokes is helping head up efforts to keep our island looking good - that's the new logo/sign they're put together, and she files these suggestions: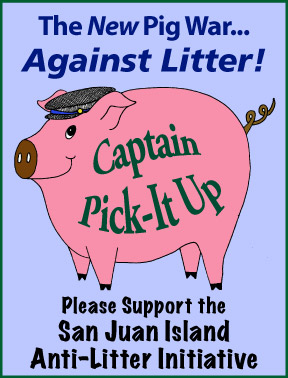 Everyone on the island is encouraged to start actively supporting the newly-formed San Juan Island Anti-Litter Initiative. About 40 organizations (including the Town, County, Friends of the San Juans, service clubs, newspapers, Chamber of Commerce, King's/Market Place, the Port, and the ferry system) are members of the initiative, which aims to significantly reduce the amount of litter on island roadsides through both clean-up and education/prevention efforts.

How can you help?
- Pick up litter when you are out walking.
- Remove the paper ferry tags from under your windshield wipers when you are returning to the island from Anacortes.
- Cover your load when you are taking trash to the transfer station.
- If you are a smoker, don't drop your cigarette butts on the ground.
- When you are out and about and have something to throw away, put it into a proper receptacle or take it home for disposal.
- If you see people littering, gently remind them that we care about keeping our island clean and ask them to put whatever they've dropped into a trash receptacle.
- Teach your children about the importance of not littering.
- Adopt a stretch of road near where you live, and clean it on a regular basis; Patt Martin of County Public Works (378-7850) will happily provide you with bags, gloves, grabbers, and safety vests, and will pick up any bags of litter that you collect.
-Talk litter with friends, neighbors, and co-workers.
Quote: Politics is the art of looking for trouble, finding it everywhere, diagnosing it incorrectly and applying the wrong remedies. - Groucho Marx
September 7, 2006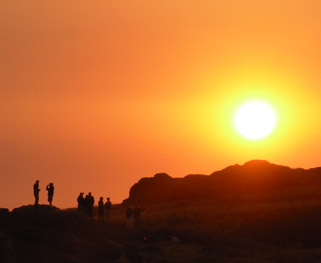 Sunday night - sunset at South Beach (right).
Back at it: I hear the bowling alley is back open, with a new manager.
I'll try & find out more tomorrow for you, unless you already know.
Island sports: FHHS girls soccer gets underway today at North Sound Christian, while FHHS tennis played a friendly match at Lynden High last night, with the newer players getting a chance to play, a lot.
This weekend FHHS football heads for Kings on Friday, while the younger Tigers all play Saturday here at the elementary field - drop by if you want to see the future. Meanwhile the younger soccer teams all commence play this Saturday, while the U-15 Girls & the U-15 Boys play off-island at Stanwood to start their seasons. The U-13 Girls take on Sedro Wooley, which always reminds me of a mastadon for some reason.
Island kids recovering: I heard that FHHS grad Lillan Roquet had her gall bladder removed shortly after she moved to Colorado a few weeks ago, but she's doing OK, while former islander & great kid Geordie Marriner (grade 9, now in Bellingham) is recouping from an appendectomy. Both are probably back on the soccer field already....
Luna on Ellen Degeneris show: I hear that on Thursday the 7th (today, baby) that the Luna & Dog video clip will air on the Ellen Degeneres show this Thursday and will be featured on the http://www.ellen.tv website. Should be interesting! (11 am on KING 5 TV/Seattle).
Luna's a fascinating whale, by the way. He died back in March - here's the story.
More climate change news: It may be that the permafrost is diminishing faster than previously thought - way faster. Not particularly good news for observers of the changes in the climate, and what it means for us AFTER it changes. Here's more....
Quote: When you're drowning, you don't say 'I would be incredibly pleased if someone would have the foresight to notice me drowning and come and help me,' you just scream. - John Lennon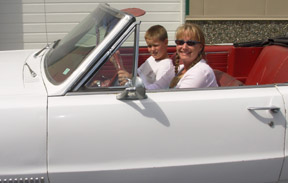 September 6, 2006
Older cars - gotta love 'em: There are a few folks around with classic cars that are not only classy in their own right, but which also are well looked after.
That's Melissa Guard & Gavin in their '65 Le Mans over at Guard Electric the other day, stylin'....
I change my e-mail address: I love hearing from you, always. But a variety of boring techie reasons have led me to change my e-mail address to:
Drop me a line & make sure it works! And add it to your lil' ol' address book, wouldja?
Don't wanna lose track of you.
Girls volleyball kicks it off: The girls got the season underway by inviting taller & more experienced LaConner over yesterday, losing their three games 25-6, 25-6, 25-11, but according to coach Travis Mager, getting better each game. "We saw the same thing in the jamboree last weekend," he noted. "After the first game, it feels like we get the jitters out, and then we play better as the match goes on."
The teams - jv & varsity - are being co-coached by Travis and Michele Mayer.
The girls play Evergreen Luthern here on Saturday at one - see ya there.
Location changes: If you're looking for Julie or Tess, here's the scoop...first, Julie:
Hi Ian, I was wondering if you could please run a little line on your awesome San Juan Update web page that I have relocated my office due to the sale of the building I was in. Tracy James opened up the office and was there 2 yrs I have been there for 2.6 so Countrywide has been on the island for 4.6 years and plans on many more wonderful years!
I am now located at the Town Square Building on the corner of Front and Spring Street. I am in the court yard right next to the elevator that goes up to Maloula's. My new address is 1 Front Street E-2, Friday Harbor. Phone numbers are the same 378-7895. I have a great downtown location now. I look forward to having everyone stop by! Thank-you!
Julie L. Corey
Countrywide Home Loans
And here's the word from Tess:
Hello!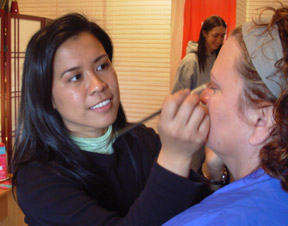 Zen Skincare Spa has a new home in downtown! I am now located at 180 First Street, Suite 4, right next door to Salon Capella, and just below Dr. Bo Turnage's office!

I thank you for your patience while making this transition so I can create an even better place of tranquility and serenity. I look forward to providing you with the same great service on your facials, waxing, body treatments, and special occasion make-up.

I will be re-opening and taking appointments starting Wednesday, September 13th! The phone numbers haven't changed, so please call me at:

Office: (360) 378-6368
Cell: (360) 840-8877

My sincerest gratitude to your patronage. Have a Zen Day!

Tess Niendorf
Licensed Aesthetician & Owner
Quote: "At root, ecology is an erotic attitude of closeness, relatedness and care. We have made it into a rational/activist project and lost sight of its heart." -- Thomas Moore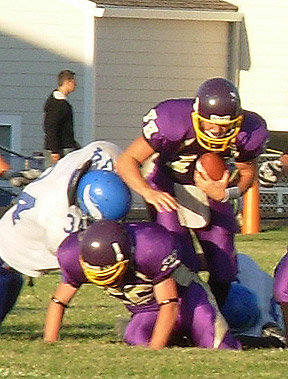 September 4, 2006

FHHS rolls over Orcas Friday night to begin its season on a winning note. Michael Knowles carries the ball in the first quarter.
On the ferry this weekend: As it happens, I got away this weekend for part of Saturday & part of Sunday, which gave me a chance to see the cars backed up on Saturday morning to get ferry tickets on the Anacortes side of things.

Sure makes me appreciate the persistence it takes to get yourself over to the island on holiday weekends. It's really not too bad, if you bring a book to read or a friend to visit with, or you come ready to explore the beach next to the ferry parking lines.

I was somewhat surprised to see the interstate on Sunday afternoon backed up with folks going to the casinos, but that's cool - EVERYBODY can't come to the islands all the time, it would get too crowded. It's cool the casinos are there for the overflow....
At least that's the way I see it.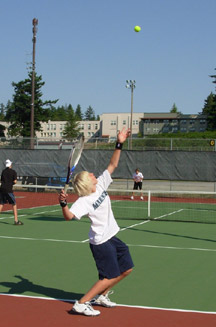 Bumbershoot: Ever since I moved to the island years ago, I've noticed that the annual Labor Day music festival in Seattle draws off a number of islanders. Yesterday Jens Townsdin and Joe Ford were coming back from spending Saturday there, seeing Blondie (remember them? Her?), Epoxy, and other bands that are more famous that you would think. Pretty cool.

FHHS tennis: I had occasion to hang out with the FHHS tennis team at their jamboree in Stanwood Saturday. For the jamboree, the players got to play three sets with three different opponents, either as singles or doubles. Coach Dick Barnes has a couple of aces up his sleeve in Josh Lehr (who has a right forearm tendon injury, and didn't play) and Keller McNairy, whose only loss was to a guy who crunched everybody & looked like he belonged on the WTA tour.
Second singles spohomore Peter Duggins showed he's added a little more mature shot-selection & a couple of inches since last year, and figures to be a force to be reckoned with. First doubles Jake Ronhaar & Micheal Sandifer (left) looked pretty good, too.
Add in the young talent that comes with the new guys on the team this year, and it should be a fun year.

By the way, since high school boys tennis is a spring sport for our level, our guys who make the state playoffs qualify in October to play in the playoffs in May.
The wreck on the westside: It always slows things down around here when there's a sudden, unexpected death - Mike Huerta died in a car wreck this weekend that sent four others to the hospital. Updated & accurate details can be found on the San Juan Islander.
Passing: Longtime islander Clyde Sunstrom passed away Sunday...he'll be much missed, by the present generation of islanders & by those who know the island over the past century, of which he was a part.
Volleyball rocks to start their season: Coach Michele Mayer took her young squad over to Darrington Saturday to play matches against different teams & see how we're progressing towards Tuesday's season opener.

Coming back on the ferry: I came along home on the 3:10 ferry yesterday, and it seemed to me the ferry workers were pretty cheerful & in a good mood, even on a weekend that's one of the busiest of the year. They take care of us...(see, Cathy? I don't print ALL the gossip I hear on the ferry.)

Quote: Hope you get the day off today, and take a moment to remember the folks in the labor movement who've helped make thing better for workers in this country (that's where Labor Day comes from, you know):
"Ten thousand times has the labor movement stumbled and bruised itself. We have been enjoined by the courts, assaulted by thugs, charged by the militia, traduced by the press, frowned upon in public opinion, and deceived by politicians. But notwithstanding all this and all these, labor is today the most vital and potential power this planet has ever known, and its historic mission is as certain of ultimate realization as is the setting of the sun." - Eugene V. Debs (1894)
"Labor Day differs in every essential from other holidays of the year in any country. All other holidays are in a more or less degree connected with conflict and battles of man's prowess over man, of strife and discord for greed and power, of glories achieved by one nation over another. Labor Day is devoted to no man, living or dead, to no sect, race or nation."
Samual Gempers, founder and president of the American Federation of Labor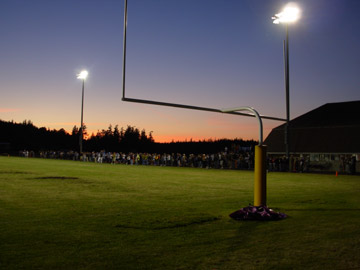 September 2, 2006
Friday Harbor football back on track: For years we've had all season to watch Orcas & have them watch our football team, too.
This year we met for our first game of the season rather than our last, and we got to know each other right away, with FHHS scoring first on the way to a 26-14 win last night.
For scoring, the Wolverines got it all from Cole Franklin passing four times to Matthew Rothlisberger for the four TDs, including one with four seconds on the clock to close out the first half. Friday Harbor got a good effort from its defense, which closed the Vikings down for most of the night.
With the win, FHHS returns to its winning form in its campaign to put together another playoff run. After two years of reaching the state Final Four, the beginning of the path back began last night.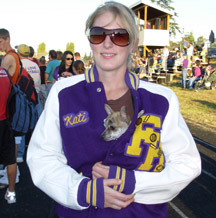 Doggone: Kati Wilson (left) has her friend to keep her warm on a fine football evening last night.
Laughs at the Theatre: The folks at the community theatre sent this along:
Lighten up your Labor Day weekend plans with our comedy show on Saturday night at 8:00 pm. David Crowe is back in town, bringing with him Cash Levy and numismatist Lloyd Althauser. Tickets are $15 for adults and $5 for students. Get yours right now by calling the Box Office at 378-3210, or go to www.sanjuancommunitytheatre.org and click Online Box Office.

These three have an easy-going style with witty observations about everyday life. If a numismatist (coin collector) seems like an odd choice for the program, think about this: If you've been collecting statehood quarters or know someone who does, you're sure to enjoy his offbeat observations on what our chosen symbols say about us.
Quote: Because we don't think about future generations, they will never forget us. ~ Henrik Tikkanen
September 1, 2006
Orcas-Friday Harbor, here: For years, the traditional rivalry between our guys & our cross-strait rivals has been the last game of the season, but with league re-alignment this year it's the first. The Vikings come to play our football team at 6:30pm tonight - see you there.
The Island Cup is on the line....
Get involved & make it happen: Got this note from Larry wight at FHHS for you:
A reminder: the Community Council, on behalf of the Gates Grant, is entertaining proposals from individuals or groups. Proposals from FHHS students are particularly encouraged. There is a mandatory bidder's conference on Tuesday, Sept 5, from 4:30 - 5:30 in the Friday Harbor High School Commons. More details can be obtained at http://sjisd.wednet.edu/fhhs/communitygates/index.html or from Larry Wight, lwight@sjisd.wednet.edu or 378-5215.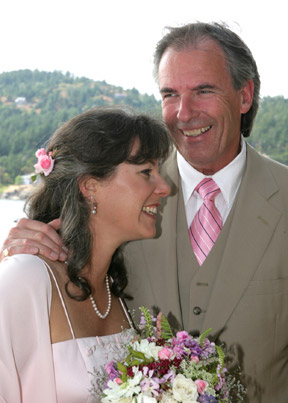 August 31, 2006
Married: It was great to hear that our friends Drew Dawson and Kathy Cope got married earlier this month - the ceremony was over on Orcas, with the reception here, and with their great kids Tyler, Sierra, and Melanie there to bless it.
Here's a photo that Marie DiCristina sent me from the day...you can tell they have the glow. Congrats & happy times to you both!
Tofino closes down: It's a popular tourist destination on the west coast of the country, which was expecting a jolt to its visitor numbers this coming weekend....not, not us. We'll get our due, as people flock to the summer's last holiday weekend here on San Juan.
But it has been very dry - a water manager from the island tells me there's been only a half-inch of rain since the first of July, and only an inch all summer. Because of improvements in catchment & delivery since the last big drought in 1994-95, we're gonna make it to fall OK.
But not so in Tofino, just across the water to the west, on the west side of Vancouver Island. They're issuing notice that they're at a Category 5 level (Category 6 means residents can't open their taps in their houses), which essentially means water is limited to near non-use. The shutdown is expected to have an impact of the flow of visitors this Labour Day weekend...here's the rest of the story, from CTV.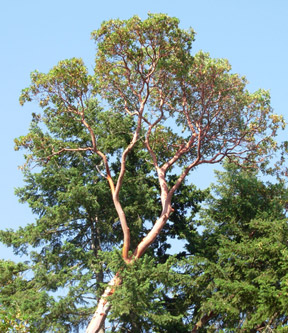 A strip of madrone bark: Not to make too much of an auspicious sign, but I went to get on my bike yesterday morning and found a strip of madrona (arbutus tree, if you're Canadian) bark on the handlebars, which had fallen away from the tree next to the house.
The tree looked so pretty in the morning sun, new and red and barkless in places.
For some reason that reminded me how nice it is to slough off old ways, old habits, old ideas in favor of new ways of seeing things, and new ways of feeling things. And, like the tree, looking better for it.
The madrone to the left is from some pictures I took for Madrona Hill B&B on Orcas, catching the late afternoon sun on its smooth bark.
New book on the block: Anna Maria over at Harrison House & Tucker House has a new cookbook that she's selling - I've eaten breakfast over there and got to eat at a wedding she put on, so I can tell you she's a heckuva cook.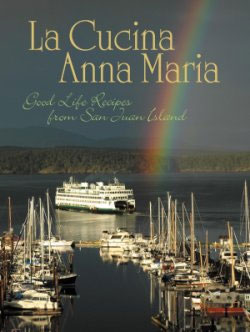 Here's what she tells me:
This cookbook has been a true Island collaboration - from the talented creative team to the recipes that showcase the fabulous fresh ingredients found here at our local farms.

The cover photograph comes from Michael Bertrand. The back cover photographs were provided by San Juan Safaris, Pelindaba Lavender Farm, and Maya's Whale Watch Charters. Alice Shull (Printonyx) designed the cover, insert pages, and forward. The pen and ink separator sheet illustrations were done by Artist Melissa Piggs, a Washington artist, depicting snapshots of the Inns.

We are selling personally inscribed copies at the Inns for $30.00. We are also offering gift box packaging that includes our famous cookies and scone mixes for the holidays. Check out our specials page for more details.
Library sponsors presentation: The topic - and it couldn't be more topical - Civil Rights and Civil Liberties in a Post-9/11 America.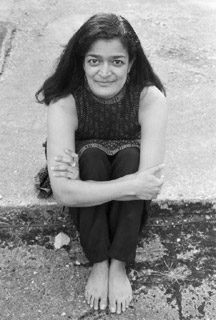 The founder and executive director of Seattle's Hate Free Zone organization will speak at the San Juan Island Library on September 6 at 7 PM.
Pramila Jayapal (right) will speak on the topic "Civil Rights and Civil Liberties in a Post 9/11 America".
This lecture is part of the library's participation in the world-wide September Project, where libraries around the globe are hosting events to promote discussion about freedom, democracy and citizenship. The lecture and question and answer session is free and open to the public. Here's more...
Event expenses will be supported by Friends of the San Juan Island Library.

August 29, 2006
School starts, anyway: Don't look so surprised - that WAS the fastest summer ever recorded, and baby, it's gone.
The kids all go back to school on Wednesday this week, and we're back at it.
To help you get in the mood, drop by the football game at 6:30pm Friday as FHHS takes on the mighty Orcas Vikings here to kickoff the season.
On Saturday, both volleyball & boys' tennis play jamborees away, then girls' soccer gets play underway on the 7th, away.
Click here for more news from last week!