September 20, 2006
Election yields little surprise: Perhaps the biggest result of yesterday's primary balloting was that the county voted "yes" by a 2214-1535 vote to recommend that the US quit Iraq, effective early 2007. The non-binding resolution mirrors others passed around the country.
Dial back in, in November.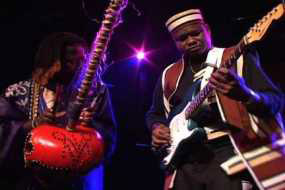 September 19, 2006
World music comes to the Community Theatre: RuthE tells me there's a good deal going down:
Ian – Have you heard/seen Alpha Yaya Diallo in your travels? We're having him bring his band (including an African dancer) to the Theatre for a concert on Sept. 29 and a guitar/drumming workshop on the following Saturday morning. I'll have a full release on him later this week, but in the meantime, see www.alphayayadiallo.com for more information. He's a phenomenal player, but probably has better name recognition in Canada than the US, nonetheless it's a BIG deal for us to bring him here. Thanks! – RuthE.
Talked me into it. I'm in.
Clean-up above & below the water: Washington State Parks and Recreation Commission is looking for volunteers to participate in the International Coastal and Underwater Cleanup Saturday and Sunday, and National Public Lands Day on Sept. 30. Here's more...
Quote: Last week ten former Nobel Peace Prize winners got together to make remarks about peace...here's what the Dalai Lama said, when he urged young people to embrace globalization. About 3,000 young people from 31 countries attended the event, held at the University of Denver.

"There are no national boundaries. The whole globe is becoming one body," the Tibetan spiritual leader said. "In these circumstances, I think war is outdated -- destruction of your neighbor is actually destruction of yourself."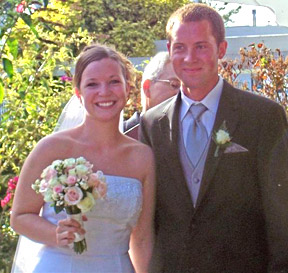 September 18, 2006
Sean & Melissa get married: Two of the nicest kids from the island got married on the 8th out at Roche Harbor.
Proud mom Jill Peacock tells me friends and relatives from near and far were in attendance to watch the happy couple tie the knot as her daughter Melissa married Sean Aylward (right).
Peace Celebration: Thursday the Library is sponsoring a celebration for International Peace Day, which will include making peace pinwheels for kids and readings & music by ten islanders. I'll be there to sing, and I hope to see you there as well, starting at 6:30pm. Should be pretty cool.
Soccer loss: The FHHS girls were game, but South Whidbey were tough as they beat our girls 2-0 on Saturday. The Wolverines return to action this Tuesday here, with Mount Vernon Christian.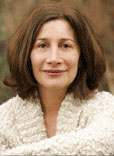 Susan's new website: Local author Susan Wingate just launched her website at www.susanwingate.com - check it out to see what she's up to, to order her new book, and to check out her ideas about writing.
San Juan Soccer:
U-15 Girls: The San Juan Ice Monkeys (1-1) dropped a 2-1 decision Saturday at Conway. The U-15 girls allowed a goal at 17 minutes, then were called for an own goal moments later to set the score at 2-0. San Juan was able to close down Conway the rest of the way, and came close with a pretty shot by Megan Cuomo, but were unable to get the equalizer. Coach Bob Leytze noted that his 12-member team played harder in the second half, even with only one substitute. "We'll get better, and we'll be a little more ready for the next game."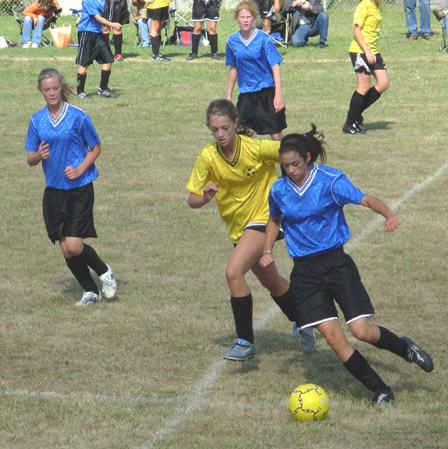 Midfielder Megan Goudie breaks to goal with help from Elle Guard (left) and Maggie Anderson. The Ice Monkeys lost 2-1 at Conway Saturday.
U-13 Girls: "It went much better in the second half," observed Coach Jeff MacDonald after the Aqua Bombs' 6-1 loss to Burlington. "We allowed four in the first half, but in the second half we clicked." Fei Cooper scored the Bombs' goal while the defense held the high-scoring Strikers to only two. "This game gives us a good base to build on," MacDonald said. "we're building an attack - we just need to work on finishing."

U-15 Boys: Four goals in the first twelve minutes provided the margin of victory as the Red Raiders (2-0) beat Conway 5-3. Cameron Byington crossed a perfect strike on the far post to Tim Samarasinghe for the first score, followed by a near identical header by Conor Lanphere from Byington for the second. Samarasinghe nodded in Jared Dean's corner only three minutes later, and Lanphere added a left-wing run off a pass from defender Elwyn Pratt for the fourth score.

Conway roared back in the second half with two scores, but Lanphere put it out of reach with his third goal (unassisted) of the day with ten minutes to go. The Raiders play at home this Saturday against LaConner.
The Red Raiders close in on defense Saturday, as they beat Conway 5-3 for their second win of the season. Players for the Raiders (in red, left to right): Cam Byington, Elwyn Pratt, Tim Samarasinghe, Jerad Dean, Conner Smith, and Trevor Youngquist. Photo by Christy Hinkle.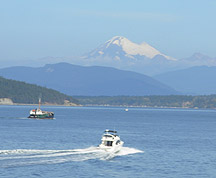 September 16, 2006
Sunny days & Mount Baker & boats - summer comes to an end in the San Juans.
(photo by Zack Reitan)

Goodbyes to old friends: They're probably two of the better known people on the island.
Chris, who has been bartending at Haley's for years, has decided to go & seek his fortune on the mainland - and his going-away party was last night.
Meanwhile, Cathy from Skagit Valley College, who was the smiling voice on the phone & behind the counter under three directors, is taking off this weekend to re-locate in Newport, Oregon.
Football prevails: The boys ground out a nice, orderly 39-0 result over LaConner last night to pump up[ their record to 3-0.
The backbreaker: LaConner nearly scored from the one-inch line, only to get picked off by Spencer Satin for a 100-yard return for a TD. The team rose to the occasion, and will return to league play next week with another home game on Friday, against Nooksack at 7:30pm.
Quote: "I have my own axiom; not to love thy neighbor as much as thyself but to love thy neighbor more than thyself. This might be quite useful practice, because out of that behavior something else happens. For example, it could help us be more aware of "the Law of the Minimum": that it doesn't matter how many plants there are if you don't have land; it doesn't matter how much land you have if you don't have soil on it; it doesn't matter how much soil you have if you don't have water for it; it doesn't matter how much water you have if you don't have air; it doesn't matter how much air if you don't have oxygen; or how much oxygen if you don't have judgment; or how much judgment if you don't have love."
David Brower, 12th Annual F. Schumacher Lecture, Stockbridge Massachusetts, October 1992

September 15, 2006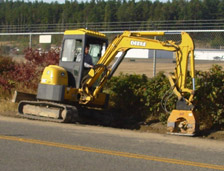 Mullis construction nearly complete: The guys working on the pipe-laying project that has slowed up traffic on Mullis Street tell me they'll be done today or early next week....looks nearly done now.
Election news: It's a mail-in ballot this time round, with the primary date next Tuesday. County Elections supe Dan Gillespie asked me to remind you to be sure & tick the box for party preference on your mail-in ballot, if you haven't already.
On that primary ballot, for our county, is a thing called San Juan County Advisory Ballot Measure #1, which is of interest - county voters are asked to recommend that the US withdraw from its occupation of Iraq. Let's see how that turns out - hundreds of cities & counties across the country have already passed similar resolutions.
In action tonight: It's FHHS football at 6:30 tonight, here against LaConner as the Wolverines try for three in a row.
FHHS tennis has a meet here vs. Sedro Wooley (the only town in Washington named after a mastodon) at 4:30pm today; tomorrow our volleyball girls visit Lopez for a tournament, while our soccer girls have a game here at 11:30am.
New ferry schedule: It kicks in after tomorrow's sailings. Get one. Or look online.
Quote: Climate change and global warming is not news, nor is the moral imperative to deal with it. Here's what one of the leading conservatives of the 1900s said to the United Nations General Assembly in 1989:
"But the problem of global climate change is one that affects us all, and action will only be effective if it is taken at the international level. It is no good squabbling over who is responsible or who should pay. Whole areas of our planet could be subject to drought and starvation if the patterns of rains and monsoons were to change as a result of the destruction of forests and the accumulation of greenhouse gases.

"We have to look forward, not backward, and we shall only succeed in dealing with the problems through a vast international, cooperative effort." - British Prime Minister Margaret Thatcher

September 14, 2006
More of a hill: Remember I told you about the bikers (see below)? I put that they went up a 243-foot climb - which, of course, is nothing. John Stimpson dropped me a note (and I re-checked my notes) - it was a 4300-foot climb.
That's different. And...wow.
Quick start for college: Students going for their associates' degrees are mostly all signed up at Skagit Valley College-San Juan, but you might want to take a peek at the class schedule for community classes & workshops as well. The campus has been undergoing a massive overhaul, so drop by & see how good it's gonna look.... Hint: When I looked online, the classes aren't posted yet for the fall, but you can get a class schedule over at SVC easy enough. Check it out.
Classes are underway next week.
Ferry meetings: Today there are ferry advisory meetings about having year-round paid parking in Anacortes & those electronic tickets (revisited, & probably coming down the pike), and discussing the ways to unload the ferries faster & re-load 'em. Check the San Juan Islander for times & places.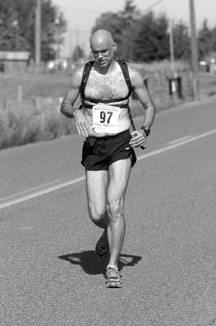 September 13, 2006

FHHS soccer drops first game: The girls were ahead 2-1 at LaConner last night, but the Braves struck for three quick goals in the last fifteen minutes for a 4-2 league decision. The Wolverines (2-1) play South Whidbey here on Saturday at 11:30am.
On the run: I always admire those long distance runners - John Sinclair ran the Skagit Flats Marathon last weekend. He reports:
I managed to pull off the marathon yesterday but it was pretty ugly after mile 18! Finish time was 4 hours 41 mins. I'll get a full race report published on my way to Siberia this Thursday. (picture at right is from mile 21!!!)

The highlight of the race was my sprint over the finish line! Oh, and the poppy seed muffins they had for afterwards!!

Best regards, John S.
It's Buy Fresh, Eat Local Week: We're lucky to live in a country which provides a great abundance of food, but even luckier to live on an island with great food, with places like the Thirsty Goose & others truly delivering the goods.

This week, Sustainable Connections' Food & Farming program is sponsoring the second Buy Fresh Eat Local Week. The Sustainable Connections program is focused on the bounty of the local food system of Whatcom, Skagit, Island and San Juan counties. Here's more, with some really cool recipes....

Words, words, words: John Goekler tells me that the results from the Bulwer-Lytton Fiction Contest 2006 are in - named after the guy who wrote "It was a dark & stormy night..." back in 1830, they seek to honor (or something) the folks who use the English language to its worst advantage.
Here's an example:
"I know what you're thinking, punk," hissed Wordy Harry to his new editor, "you're thinking, 'Did he use six superfluous adjectives or only five?' - and to tell the truth, I forgot myself in all this excitement; but being as this is English, the most powerful language in the world, whose subtle nuances will blow your head clean off, you've got to ask yourself one question: 'Do I feel loquacious?' - well do you, punk?"

Blog on: I know you always wanted to start a blog. Maybe this will help talk you out of it.
The Update, by the way is not a blog. It's much more than that.
Quote: Teenagers are facing this generation gap that leaves them without anything to hold onto from older people. - Sun Ra
September 12, 2006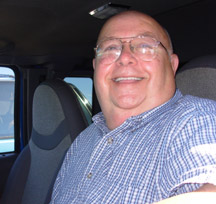 Buttons & more: When you need buttons to pin on for your campaign, or bumper stickers, or glass engraving, check with Ken Fuller (right)....he's been doing it for years & he's fun to work with.
Another good resource is Vivian Simonis, who used to work at Charters Northwest here, and lived on San Juan for a time. She's now located in Bellingham with her business, Company Gear. She's made sweatshirts for local ball teams, shirts for local whalewatch outfits, cups for businesses, pens & notepads - if it can carry a logo, she's probably done it for someone on the island. Check out her website at www.co-gear.com
And...it's her birthday on Thursday. Many happy returns, with logos on 'em.
Getting hitched: I hear Stacey & Lisa are getting married this weekend - while I don't think they'll combine their businesses & call it the Hungry Florist or anything, it does mean there will be another Lisa Brown around - the incumbent Lisa Brown works at Roche Harbor as the marketing maven.
Ken's in the news: Pretty cool when the New York Times wants to report on the good things Ken Balcomb's doing with orca research & making a better world for them & us ...here's the scoop.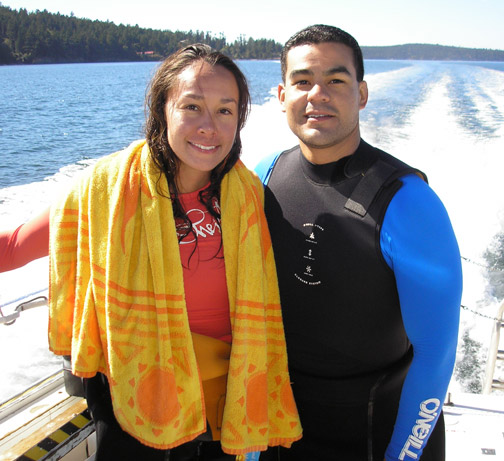 Imagine diving: Wouldn't it be great to get under the water around the island? Would it be even cooler to do it a hundred times? It was Joel's 100th dive about a month ago when he and Viviana came up to dive with Island Dive (right)...here's more.
On the road again: You know Carla who works half time at the Vistors' Bureau? She just completed all the stuff you gotta do to get certified or licensed or something to drive school buses...so she's a bus sub for the school district. Congrats!
She had to go practice driving on I-5 a few weeks back & the whole thing is kinda quick because of getting back to the ferries & all - I asked if it was a crash course in driving on the interstate & she said that's not what they call it.
Lecture: "Keeping Courts Fair and Independent" is the topic of the September 13 meeting of The League of Women Voters of the San Juans.
Following a video presentation, the question of whether we can maintain an independent judiciary in the current political climate will be addressed. Panelists include Carolyn DeRoos, Carla Higginson and Lawrence Delay, all local attorneys who together represent nearly a century of legal experience. Ms. Higginson is also a former municipal court judge and Mr. Delay was Acting District Court Judge in Alaska. Susan Dehlendorf, Vice President of the League of Women Voters of the San Juans will moderate the panel. Questions and discussion from the audience will be encouraged. The meeting will be held at 7pm at the San Juan Island Library Conference Room. Anyone interested in this subject is invited to attend.
Speaking of 100: Did you know the Journal's 100 years old this year? Here's the scoop:
The San Juan Historical Museum in Friday Harbor will host a special reception for the exhibit The Journal of the San Juan Islands: The First 100 Years, on the centennial of the newspaper's first issue, Wednesday, September 13 from 5 to 7 p.m. at the Museum's Etta Egeland Resource Center.

Journal Editor Richard Walker and special guest speakers will share stories and memories about San Juan County's granddaddy of newspapers. The exhibit traces the history of the Journal from its founding in 1906 to the present day, with original artifacts including the paper's first issue, a display of antique typewriters dating from the turn of the 20th century to the 1950s, and a reading table with bound editions of the Journal available for viewing.

This event is free to the public. Complimentary light refreshments will be served.

The San Juan Historical Museum is located at 405 Price Street, Friday Harbor, WA.

For more information, please contact the Museum at 360.378.3949.
September 11, 2006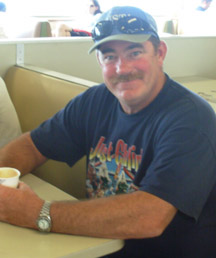 Football - the inside scoop: It was cool to visit with FHHS assistant football coach Shannon Plummer (right) yesterday on the ferry.
He told me that the Wolverines' win over Kings High on Friday was critical - Kings is a newcomer in our league this year, so it was a necessary win, cemented late with a 1-yard run by senior quarterbachk Cole Franklin and a 32-yard interception TD return by senior Brock McNairy in the 19-9 win. Coach says the boys are working hard to get ready for Friday's home game with LaConner.
Islander donates $3.6 million to Oregon State: Richard Strachen has made adonation to OSU that will help establish a position for forestry research and establish a new degree in forestry & new technology & entrepreneurship. Here's more...
Camp Nor'wester founder dies: Lucile "Rabbit" Henderson has died at the age of 101 - she and her husband started what is now known as Camp Nor'wester in 1935. Here's more...
Sound Publishing buys the Little Nickel: The Canadian owners of Sound Publishing have announced that they've purchased The Little Nickel & The Nickel Ads Classifieds (circulation: approximately 375,000), to add to the some 20 newspapers they already have, which includes the Journal, locally. Here's the rest of the story.

U-15 San Juan Girls & Boys Thump Stanwood, Sedro-Wooley beats U-13 Girls

U-15 Boys win 4-0: The Red Raiders scored early and often in the first half at Stanwood to notch their first win of the season. Conor Lanphere (above, in red, scoring his second goal of the day; photo by Shay Byington) tallied all four scores before the half, while the midfield kept the Spartan offense contained through most of the match. Keepers Dylan Nelson and Stewart Bell recorded the shutout. The San Juan squad travels to Conway next Saturday.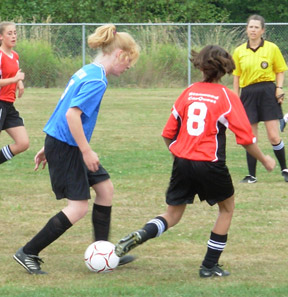 U-15 Girls win 2-1: San Juan's Ice Monkeys scored two in the first ten minutes as they cruised to a 2-1 victory to start their season. Maggie Anderson's goal (right) in the first seven minutes was followed moments later by a score from Ellie Guard, which proved the winning margin as the Spartans fought back hard, losing for the first time in three years. Coach Bob Leytze's girls also play at Conway next Saturday.

U-13 Girls drop one 2-0: The San Juan Aqua Bombs played with no subs in a 2-0 loss to Sedro-Wooley last Saturday. Coach Gina Westrich said it was a good start to the season, which "showed us what we need to work on." She said, "This is a group that will only get better, and we know we have a lot to learn."

FHHS girls soccer notches second win: Yep, they won Saturday 3-0...they'll put their unbeaten string on the line at LaConner on Tuesday, with their next home game on Saturday.
Also on the ferry: I thought the ferry workers were really nice today - that makes the ride over, which is already pretty cool, that much more enjoyable.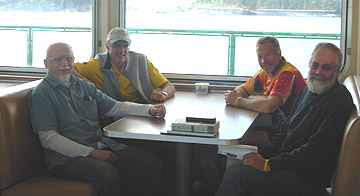 Bikers return: They looked pretty pleased with themselves - bicyclists Chuck O'Clair, John Stimpson, Bob Stavers, and Lars Sjoholm completed a 24.3 mile bike ride from Glacier to Artist's Pint on Mount Baker (tip: it ain't flat). There were 500 other riders in the event, which had a 4300 foot climb. Way to go! (Photo by Zack Reitan)
Donnie's site: One way to keep up with Donnie Galt is to check his website, for the lots he has left to sell...nice site. Check it out.
Carolee's daughter gets married: Islander Carolee Young, who ran the yarn shop & who died last November - her daughter Margaret is getting married this week in New York. Here's more...
Quote: Mistakes are a fact of life. It is the response to error that counts. -- Nikki Giovanni