September 29, 2006
Sports: The girls soccer team lost a closely played 2-0 match with a strong LaConner team last night. The back & forth game was scoreless till 25 minutes left, when they snuck a low drive along the goal's line in the right corner...the girls are playing well & it's entertaining soccer.
That's defender Beth Ware with a clear yesterday - here's more photos in a portfolio by the Update's Zack Reitan.
Your next chance to catch them is Saturday, when Meridian comes a-visiting at 1:30pm.
Football puts it on the line with tough Meridian tonight at their place, while the boys' tennis team travels to Sedro-Wooley again today..
Quote: "The problem is not the problem, it's the attitude to the problems that's the problem." - This was sent to me by my friend Ali in the UK - I can't remember who said it; perhaps she made it up herself (it's the sort of thing she would say)
Better parenting: I ran into ace teacher Nan Simpson (right) at the post office & she reminded me the new Love & Logic classes are coming up. This is a super approach to working with your kids & getting effective parenting happening at your house. Here's the deal:
Hi Ian,

If you have some space in Update, I'd love it if you could slip this in! I'm in my 6th year of providing Love and Logic classes here on the island. So far we've had over 325 families take the class.

Thanks! ~Nan Simpson

The fall Love and Logic Parenting Class will begin Monday evening Oct. 2nd. Love and Logic is a philosophy of raising respectful, responsible children who can make wise decisions. This is a six week class will meet from 6 - 8 p.m. Oct. 2nd - Nov. 6th at the Friday Harbor Elementary School library. There is still space available. Drop by the elementary school office for a registration form or contact Nan Simpson at 378-3313.
Love and Logic parenting strategies are useful for children of all ages.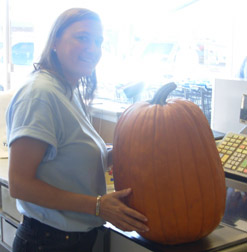 That sure is a big punkin ace cashier Kristine had to weigh in the checkout line at Kings Market Thursday....
September 28, 2006
No school: It's true: There's a teachers' inservice day Friday - no school for the kids. Plan ahead.
Tiger football: The youth football folks have a blog about their adventures this fall - check it out.
Good story: Did you see the story online that the Journal's Richard Walker wrote? Good little piece on storytelling amongst native peoples. Check it out.
Close one: Remember I mentioned to you that former islander Frank LaSalata was running for judge in King County? The election last week left him with a 22-vote margin that's under review...he was graded "well-qualified" by the bar association, so it looks like he's a good choice if he prevails....here's the tale.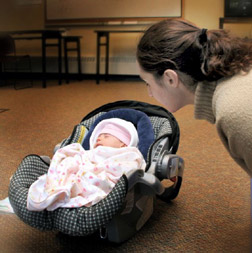 United Way - it's the way to give: The United Way of San Juan County's annual campaign gets underway in September. This year United Way celebrates its 10th year helping Islander's who need it the most. United Way contributions support more than thirty carefully selected local programs throughout our communities. From pre-school programs to support for moms (right) to teen prevention efforts to hospice support, they create a community safety net for thousands of island residents. With this years goal of $185,000 United Way hopes to reach its larger goal of $1 million over the past decade. United Way will also host a County-wide "Day of Caring" on Saturday, October 28th. Community volunteers will donate their time and energy on project for seniors and others who need help. Information on United Way programs will be in the mail to all residents this week.
Please take a moment to learn more about how United Way invests in the human resources of our community and how your support can change lives. To learn more or to volunteer for "Day of Caring" please contact Bonnie Gilmore, Director, at 378-4121.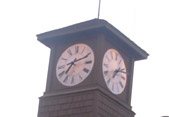 September 27, 2006
The clock's back: All summer long, people have been asking me - when are you guys gonna fix the clock at Town Hall. All summer long I've been saying: When it's time.
It hasn't run for some time now, and as Jonathon Taylor noted last night when I went by, "Hey, it's right twice a day. Better'n most clocks."
So, now it's fixed, as you can see in this photo which I shot last night when it actually was 7:12pm. Here's the story from Keri, at the Town offices:
Hey, Ian - OK, repairs have been made, they are making final adjustments, and by tomorrow- we should have a clock tower at town hall that works better then ever! Dave Smith informed me that they are even installing new lights up top so that it will be illuminated at night.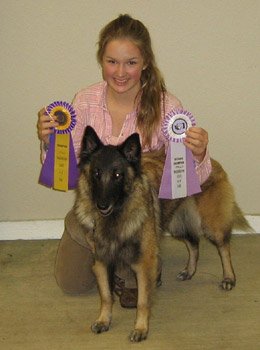 There are new hands on the clock, and it is temporarily working, until they apply the final touches! This "new" smart clock will even do it's own Daylight Savings corrections.
Thanks, Keri L.Talbott, Town of Friday Harbor Customer Service

4-H scores at the Fair: There were a number of great stories at the State Fair last week, as Cindy Gauthier reports. For example, Kelsey Guyer (right) did her personal best while showing her dog, Looker, in Showmanship and Obedience classes.
When you read the 4-H story, you'll see a bunch of photos, plus stories about what Marina Steinbrueck, Sam Fowler, Sara Stanley, Katie Ogston, Coral Black, Maxwell Haenel, Megan Brown, Blake Guard, Jenna Schmidt, Gretchen Scherzinger, MacKenzie Brown, Kelsey Jennings, Kaylee Kramer, Brittany Wachter, Miles McCloskey, Ziah Guidotti, Katie Gauthier, Grace Thompson, Rhys Thompson, Clinton Gauthier, Alex and Jennifer MacDonald, Anna and Beth Ware, and Renae Harvey did.
Here's the story - enjoy seeing what great kids we have around here.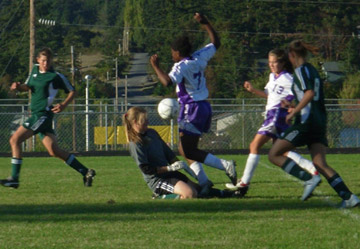 More Lauras & more books - good mix: You already knew Laura Tretter has assumed the directorship at the library, but did you know that Laura Norris has become the new owner at Griffin Bay Books?
Drop by & tell her hi!
Girls soccer rocks: The girls beat North Sound Christian last night 4-3 with a total team effort - that's Whitney Porter and Shelby Ness (background) driving the ball past the NSC goalkeeper. Here is a portfolio of pictures from the game, mostly shot by Zack Reitan.
Each picture tells a story - mostly of the girls going hard to the ball & working together. Dig it.
And come see them vs. LaConner on Thursday at FHHS at 4:30pm.
The Greens are coming, the Greens are coming: Maggie wrote to tell me:
We are organizing an event in Friday Harbor, and would like to announce it in your San Juan Update. The Aaron Dixon campaign for U.S. Senate Tour, "Out of War... and into Our Communities," is currently touring the state and will be in Friday Harbor on Wednesday, October 11, at Skagit Valley College, 7:30 pm. Please add this to your events calendar and the Political News section. If you have questions, I can be reached at Maggie Lesoing, 378-0881, maggiel@centurytel.net. Thank you!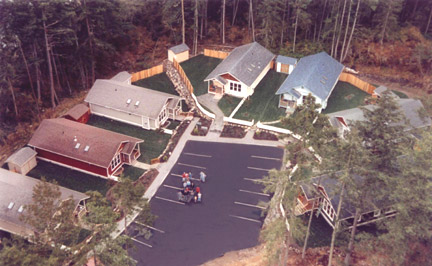 Affordable housing moves ahead: Mary Stone reports that the Leeward Cove project (ahead) is complete & open:
Ian, Here is a photo of the new Self-Help Housing development called Leeward Cove. There was a ceremony and BBQ last Friday and the homeowners who built these homes with lots of help from volunteers moved in on Friday night. Mary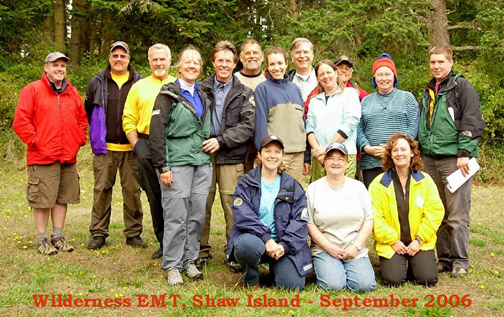 Ready for the woods: When you're in the Wilderness & hospitals & ambulances & all that are not an option, what do you do? The folks above in the picture know - Emergency Medical Services Chief Jim Cole (far left) has the story:
The San Juan School of Wilderness and Emergency Medicine of the San Juan Island EMS, graduated 13 Wilderness EMTs after an intensive two weekend course on Shaw Island. The Wilderness EMT course is a rigorous 48 hour specialty certification course for already licensed EMTs. The curriculum includes classroom work and a majority of wilderness and challenging situation practicals that stretch the EMT to accomplish traditional medical care in un-traditional settings. The group spent the two weekends in cvlassroo and camping/remote situations.

This is the second Wilderness EMT conducted within 12 months. Jim Cole, Chief of EMS and Lead Instructor says, "We are extremely proud of these students. These EMTs from Shaw, Lopez and San Juan will continue to greatly serve the islands with skilled care in challenging situations."

Co-instructor Steve Nystrom, a SOLO WEMT instructor traveled from Pennsylvania to assist with the course.
Signs of our times - it's OK now: Remember Carrie told us about the vandalism to the Salal sign (down below on this page)? Here's her update:
Hi Ian: Just a little update on the Salal sign: the sign creator Brandon Davis recommended the citrus cleaner Goo Gone to get the paint off our sign. It worked! Our sign is now back to its original beauty. Thanks for the mention on your great site! Carrie
Auction at the Museum coming up: Dolly Salazar tells me The San Juan Historical Museum has set its 2006 Autumn Auction for Saturday evening, October 21, 2006, from 6 to 8 p.m. at the Grange Hall in Friday Harbor. Here's more.
Quote: "I have my own axiom; not to love thy neighbor as much as thyself but to love thy neighbor more than thyself. This might be quite useful practice, because out of that behavior something else happens.
"For example, it could help us be more aware of 'the Law of the Minimum': that it doesn't matter how many plants there are if you don't have land; it doesn't matter how much land you have if you don't have soil on it; it doesn't matter how much soil you have if you don't have water for it; it doesn't matter how much water you have if you don't have air; it doesn't matter how much air if you don't have oxygen; or how much oxygen if you don't have judgment; or how much judgment if you don't have love." - David Brower
September 26, 2006
Memories: Ron Garner & Lynda Guernsey were on hand last weekend in Port Townsend for a celebration of Old Fort Townsend. They and others from the island dressed up as re-enactors from the Pig War period, and even shot off a very loud cannon...here's more.
Global warming warning: The Aussies get it: Here's a report from Australia.
Quote: "There is a certain degree of satisfaction in having the courage to admit one's errors. It not only clears up the air of guilt and defensiveness, but often helps solve the problem created by the error." -- Dale Carnegie
September 25, 2006
Summer this weekend: After all the rain last week, it almost felt like cheating this late in September to get one more summer-like weekend in. Temps in the 70s & clear skies....yahoo! Hope you got outside to play.
The chickadees (right) are looking for that last bit of food....
Getting it right & helping the students: See the mention at the bottom of this column (scroll down) about the Friday Harbor Marine Labs needing folks to help welcome students...? I incorrectly said something about needing housing for students, but that's not it.
They're looking for people to play host for a dinner or lunch or tour of the island with a student while they're here. So look it over, willya, and see if you can help out!
(Thanks, Bob & Claudia, for pointing that out!)
Fundraising help: It's a two-day workshop put on by Liz Illg & Nonprofits Unlimited on Nov 1 & 2 - click here for info about this outstanding workshop presented by the Labs' Bob Schwartzberg. It's called "Fund Raising for Small Nonprofits" - a 2-day course designed for staff and volunteers who work for organizations with an annual operating budget of less than $1 million.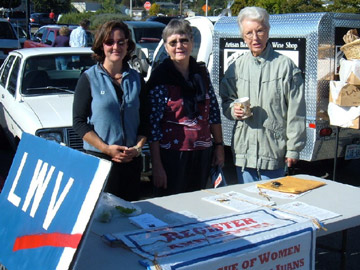 Candidate forums coming up: That's League of Women Voters prez Amy Trainer (left) with board member Marj Stanley (center) and Nancy Wight signing up voters last weekend at Saturday Market.
They have their annual candidates' forum coming along soon - here's the scoop from Janna Gingras, LWV secretary:
The League of Women Voters of the San Juans will present Candidate Forums on San Juan, Lopez and Orcas Islands in October, in anticipation of the November 7 General Election. This year, all candidates for Federal, State and local offices, both contested and uncontested, will be invited to speak.
The Lopez Forum will be on Monday, October 16 at 6:30 p.m. at the Lopez Community Center. Following the candidates' questions and answers there will be a presentation on the Lopez Library Levy. The San Juan Forum will be on Tuesday, October 17 at 6:30 p.m. at the Friday Harbor Middle School Commons. The Orcas Forum will be on Wednesday, October 18 at 7:00 p.m. at the Senior Center in Eastsound. The public is invited to take advantage of this opportunity to hear positions and issues, and to ask questions of the candidates. For more information, contact Susan Dehlendorf at 378-1082.
Quote: "The meaning of life is not a fact to be discovered, but a choice that you make about the way you live." - Hilda Bernstein, who died two weeks ago at the age of 91 after a lifelong struggle against apartheid & racial injustice in South Africa. (here's more.)
Sports updates: A lot of cool things over the past few days - here's the haps:
FHHS football: The guys played a huge Nooksack team on Friday - their QB was 6'7" and they had a 6'4" receiver - but turned a slow-out-of-the-gate 7-0 first quarter lead into a 48-14 rout. I was impressed with our conditioning & effort in the third & fourth quarter - all that extra work does pay off. We're 4-0 as we take on a strong Meridian team at their place Friday. (Side note: Royal High, who knocked us out of the semis in the playoffs the last two years, lost Friday night to Connell 31-29, their first regular season loss since 2001.)
FHHS soccer: The girls picked off Concrete the hard way Thursday night, and they told me all about it on Friday at the football game.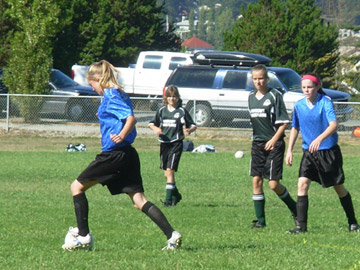 Behind 3-1 with seven minutes to go (after junior Kate Fyrqvist scored her first career goal), freshman striker Shelby Ness popped two to send the game into overtime. A scoreless OT later, freshman keeper Hannah Snow stopped three shots while senior captain Lindsey Youngquist scored the last PK to cap the shootout...doesn't get more exciting than that.
The girls play three at home this week (Tuesday, Thursday & Saturday) - see ya there.
San Juan Soccer results: The U-15 girls (the Ice Monkeys) came within seconds of a valiant draw, only to allow a goal with 15 seconds to go, losing 1-0. The girls held the visiting Mount Vernon team nearly shotless in the second half, only to give up a heartbreaking breakaway at the end. That's Elle Guard with the ball to the right... here are more photos from the game.
Meanwhile, the Aqua Bombs (U-13 girls) blew past a game Stanwood squad 3-0 behind goals by Mandy Turnbull, Jenny MacDonald, and Audrey Olshevsky. Coach Jeff MacDonald said, "We showed the improvement we hoped for. The girls played together well." The AB's are in action off-island next Saturday, somewhere.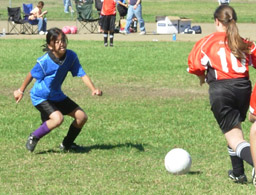 Fei Cooper's defense (left) helped lead the U-13 Girls (The Aqua Bombs) to a 3-0 victory Saturday over visiting Stanwood. Jenny MacDonald, Mandy Turnbull, and Audrey Olshefsky scored for the AB's.
Playing last year's league champs brought the Red Raiders (U-15 boys) down to earth, as LaConner won 3-1 Saturday. The RR's only goal was a penalty kick by Cameron Byington, but Conor Lanphere, Tim Samarasinghe, Nick Roberts, and Byington also produced some solid chances to score against the best defense they've seen this year.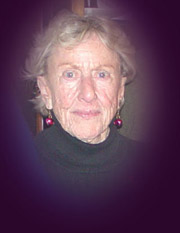 Passing: It was sad to hear about Pat Hebbron (right) passing away...Island Studios' Pat Lawrence sent me this note: "For those of you that would like to attend Pat Hebbron's Memorial Service. It will be Saturday, September 30th at 4:30P.M. at Saint David's Episcopal Church, 760 Park St."
September 22, 2006
Football inches upward: The FHHS game is tonight here at 7:30 against Nooksack, but the eyes of the Class A football world will be on the Connell-Royal game over in the eastern part of the state. Those two are high in anybody's polls (the Yakima paper has them as #1 and #2, with us #3), and that will help with those rankings.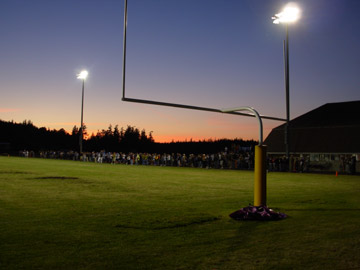 Royal, of course, is the team that knocked FHHS out in the semis the last couple of years, and is defending its state crown for the third year. That alone will probably generate some Connell fans here on the island, at least for the day....
Deborah moves on: Longtime islander Deborah Johnson has sold her little house on Rose Lane and is moving to Montana to sell & make jewelry & do massage & stuff. Her smile & gentle way will be much missed.....
Rain: Forecasts say it's gonna be sunny this weekend, but wasn't it nice to get a little rain for once? Sure needed it...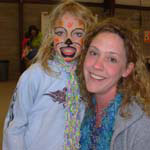 Another one rides the bus: (To be sung to the tune of "Another one bites the dust") - hey, Carla from the Visitors' Bureau got licensed and did her first substitute bus run yesterday...it's the perfect job to complement her part time work with the VB. (That's her with Ally at the Children's Festival in May.)
Hitched: Besides Stacey from the Hungry Clam & Lisa from San Juan Florist getting married last weekend, Jennifer Williams & Chuck Payne tied the knot as well - congrats!
At school: Mark Cunningham told me yesterday he took last year's valedictorian & great FHHS kid Tierney down to Cal-Poly this past week for university. Said the weather was great & (surprise!) they got to watch a soccer game....Tierney was one of the leaders for last year's girls' squad & an integral part of its success.
In the swim: Maggy Danley from the Fitness Club reports in:
Hi, Ian. Wonder if you can help us get the word out. There will be a swim team organizational meeting on Tuesday, October 3, 7:00 p.m. at the public library. Parents and swimmers are invited. Health Club members and non-members are welcome. Thanks! Maggy
ACLU speakers: What is the best approach for dealing with terrorism AND protecting free speech? Roger deRoos and the local ACLU have an education forum planned at the Grange on Sunday, Oct. 1st from 3-5pm. I've heard Mr. McKay speak before, and this promises to be a lively exchange - here's more from Roger:
What's the format? Two presentations followed by a town hall discussion. A forum intended to foster a better understanding of the need to protect our civil liberties guaranteed by the Bill of Rights of the United States Constitution while combating the threats of terrorism.
Speakers:
Mr. Michael Schein
- Attorney, specializing in general and appellate litigation
- Writer, Poet, ACLU Volunteer
- BA, Political Science, Reed College; JD, University of Oregon School of Law
- Former Adjunct Professor of American Legal History, Seattle University Law School
Mr. John McKay
- U.S Attorney for the Western District of Washington
- Nominated by President George W. Bush on 9-19-01; Senate confirmation on 10-24-01
- BA Political Science, UW; JD, Creighton University School of Law
- Leadership responsibilities with the American Bar Association (ABA) and the Washington State Bar Association

A free public presentation sponsored by the San Juan Island Outreach Group
of the American Civil Liberties Union of Washington
Co-sponsored by the San Juan Island Group 607 of Amnesty International
The ACLU is a non-profit, non-partisan, membership organization dedicated to defending
and extending the protections of the Bill of Rights to all peoples of America.
Contact Roger deRoos (360-378-6323) for additional information.

Parenting....a place to start: Cathy Cole tells me there's a third offering of the class on Culture and Adolescents which begins Thursday, October 12th at 7:00pm.
This is a six-week, 90-minute class, ending November 16th. Topics include cultural and adolescent development changes, popular coping skills and discussions with other parents. This has been a great venue for conversations, learning, resources and support. Classes will be held in the Presbyterian Church library and facilitated by Sylvia Sullard. Contact Sylvia at 378-4544 for details.

Salal just gets better & better: Carrie from the Home Trust checks in: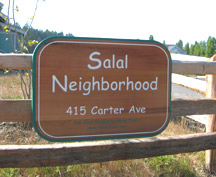 Hi Ian!
I just got done reading your Update and I especially loved the stuff about why not to blog -- LOL!
On the Salal homefront, Ann Harris (a former Board member) donated dahlias to the Neighborhood for a small Ben White memorial and New Day Gardens has offered to contribute some fall bulbs to tide us over until next spring when we can get the dahlia tubers in. The Neighborhood community has been plugging away at completing the landscaping over on Carter and we have decided to plant the dahlias in half-barrels to place around the perimeter of our large common area (that way, Ben will be a part of every community celebration!). San Juan Vineyards has just sold us 3 full-sized barrels at a discount and we need 4 more halves (or 2 full-size) to get the job done. I am wondering if any of your readers might be interested in making such a donation. Salal Neighbors are happy to come and pick them up! If anyone would like to do that, they can call the Home Trust office at 378-5541.

Thanks, Ian

Carrie

(p.s, this is a sad note: our beautiful Neighborhood sign (photo attached) which was designed by Brandon Davis at Turn Point Design got "tagged" with orange spray paint sometime late Saturday or early Sunday. The sheriff's department is on the case and hopefully, with a little elbow grease, we can get the sign back to its original state. Brandon donated the materials and used part of the old library sign -- which is fun because two Salal Neighbors now work at the library.
Students on the island: Aimee at the Friday Harbor Marine Labs (above) tells me Bob's looking for island folks to welcome some of the students & make them feel at home - here's the scoop:
Host an FHL Student: Each year hundreds of undergraduate and graduate students come to the University of Washington's Friday Harbor Laboratories to study Marine Science. These student scientists come from every state in the union and from all over the world. In fact, in the past 15 years alone, students have come from more than 60 countries.

While at FHL, these students put in long hours of study, research, field trips and bench work in their laboratories, 6 days a week. This leaves them little time for recreation, and even less time to tour our beautiful San Juan Island during their short stay of ten weeks.

It is our hope that there are families and individuals living on San Juan Island who would like to host a student or students from the Labs.

Hosting involves taking a little time to show students around the island; take them to lunch or have a Sunday Brunch at the Labs or dinner at their home.

In short, the host family would provide an opportunity for a student scientist to get to know what life is like on San Juan Island, as well as to see such sights as Roche Harbor, American and British Camps, the whale watch park at Lime Kiln, and the host families favorite places. At the same time, the host family could learn about the student scientist's work, research and future plans as well as how they spend their time at Friday Harbor Laboratories.

This fall, classes are from September 25 through December 9th.

If you are interested in being a Host Family for a student scientist in one of this fall's classes, please contact Bob Schwartzberg at Friday Harbor Laboratories at 360-378-2165 ext. 2, or by e-mail at rsberg@u.washington.edu