October 12, 2006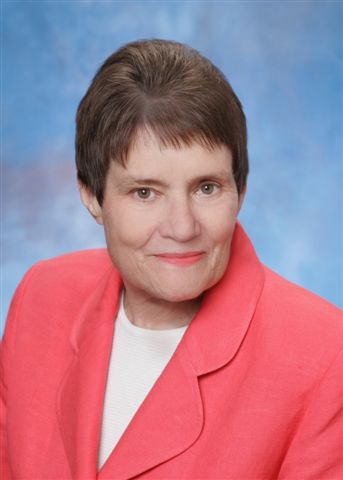 Passing: Just heard that our great friend Lynne Rogers ended her battle with lung cancer at five this morning.
Lynne was one of the great lights of the island - the kind of person everyone who knew her said someting good about. Whether working on a committee or putting on a marathon or selling hot dogs at the Fourth of July or selling real estate, she was always smiling, always saw the humor in a situation, and was always the one who put more time into it than anyone else.
Here's a portion of her bio from her website (the picture is the one she gave me earlier this year, to put on her site):
My road to the San Juans began with the emphatic statement "No, I do not want to go to the San Juan Islands in Washington for our vacation. I want to go to Lake Tahoe, like everyone else."
But by the time that we docked at Upright Head on Lopez Island, I told my husband that we would simply have to move here. Of course he thought that I had taken leave of my senses but we did move to Friday Harbor, with three little girls, two Jack Russell dogs and our beloved Siamese cat. That was in 1974. Those three girls have grown up, graduated college and are now married. We have two grandchildren, and one daughter has returned to live on San Juan Island with her husband.
She'll be missed, and our island is poorer for her passing, but richer because she was with us.
At the theatre: Besides the improv show on Friday night, there's also a workshop on how to do improv on Saturday - click on the button to the Community Theatre to the right for more info...
Home Trust helps you: Carrie at the Home Trust wanted me to tell you about a deal they have set up that can help ease a bit of stress in your life, and at the same time help them:
A Cure for Ferry Anxiety from the San Juan Community Home Trust: Reduce ferry stress & help affordable housing

With discount ferry coupons disappearing as quickly as warm, twilit evenings, ferry anxiety is on the rise. Here's a simple cure that reduces ferry stress levels while also supporting permanently affordable housing on San Juan Island. Enterprise Rent-a-Car is continuing its partnership with San Juan Community Home Trust to provide low-cost car rentals.
Here's the deal: travelers reserve a car at a discount through Enterprise using the Home Trust's special group number. Enterprise will meet their ferry in Anacortes (during Enterprise office hours) and take them to the rental car. On their return, the car is left in the Charlie's restaurant parking lot, the car keys are put in a lock box, and travelers simply stroll onto the ferry after purchasing a passenger ticket! For every car rented this way, the Home Trust earns a small commission which goes to further its mission of community preservation through forever affordable homes.
To rent a car with this program, travelers follow these easy steps:
Call Enterprise Rent-a-Car at 360-293-4325.
Give the group number: 45N0945
Give the group name: San Juan Community Home Trust
Or book online at www.enterprise.com and follow the directions for Corporate Class Customers.
Rates for a compact car: $27 a day
Compact weekend package (Friday noon to Monday noon): $30
Airport dropoffs: $50 per rental
24-hour-roadside assistance also available.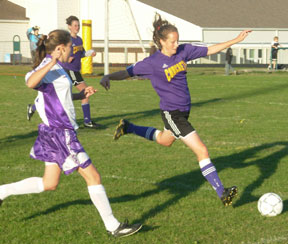 October 11, 2006
Whales are about: They usually take off to look for salmon other places by now, but Helen King at Highland Inn told me that J-pod was cruising by her westside B&B on Monday.
She also has a webcam looking over the straits in different directions - check it out!
Two close games, two wins - The FHHS girls made it interesting at Concrete two weeks ago, beating the Lions in a shootout - last night Shelby Ness tucked away a rebound shot with 30 seconds to go to snag the 2-1 victory at home.
That's Lola Elford (in white) pressuring the ball in the second half.
Share rides, save gas: It's up & going - check out sjRideshare.org as a movement begins to get folks to share rides & use less petrol here on the island. We all know each other anyway - and it's more fun to ride & chat with a friend.
Get involved - there's an online survey on the page you fill out to help get this thing going!
Space left: There are still tickets available for the annual "Doggone Good Dinner" fundraiser for the Friday Harbor Animal Shelter. The six-course dinner will be held at 6:30 p.m. Wednesday, October 11 at Duck Soup Inn. Please contact the shelter at 378-2158 for more information and reservations.

Buying for the stores: Manager Stan Reitan buys the wines for Kings Market, and he's away in Italy seeing what's available...
Meanwhile, Claudia & Rob Browne of Browne's Home Center are at the Do-It-Best trade show in Indianapolis this weekend.
Buy local! Read local! I mentioned Peter Chan's book on Monday, with a link to Amazon...heck, that was just to show you about it. I expect you, loyal reader, to buy the book at one of our local bookstores, of course! If they don't have it on the shelf, they'll order it for you.
Which reminds me, Peggy Sue at Griffin Bay Books says they have a big sale going on - drop by & save! New owner Laura Norris is off to a booksellers' conference for the week...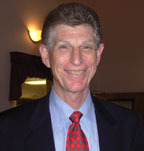 ICC & new faces: Couple of new faces at Islands Convalescent Center - most of us know each other by our kids, or our kids know us by our parents (that's why folks call me "Shay's papa" or "Cam's dad").
Well, FHHS grad Megan Pollock's dad Rusty (at right) has been the new executive director at ICC for the past couple of months - he's been in hospital administration for over 20 years, most recently in Sedro Wooley.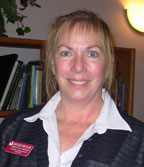 He tells me that 2006 graduate Megan is working this fall in Seattle with Princess Cruises & having a great time.
Meanwhile, ICC's new director of nursing is Randi Dooley Park (left), who most recently served as Lynn Danaher's on-site resident manager with her husband at Surina Business Park (no relation). You'll remember Randi got elected to the hospital board last year....
More stuff at the month-long open house at Chicago Title: It's always good to hear from Lori - they're still celebrating 60 years! Here's the word:
Hope you had a chance to stop by last week to pick up a hat, coaster or pen. This week we have three different gifts to choose from, so even if you came last week...come again! Our drawing starts fresh each week, so you will need to come back in and put another business card in the jar to win one of this week's prizes.

Last week Janice Clarke won the very popular calculator (drawn for every Wednesday), and Dyanne Dalrymple won the duffle bag we gave away on Friday.

We'd love to see you, please stop by!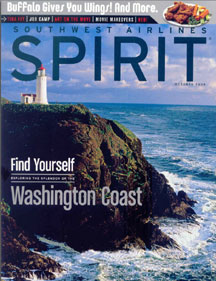 Now we're famous: Ever since the Wall Street Journal identified San Juan Island as one of the top five places in the US to retire a few years back, and mentioned that it's a pretty serious drawback that we don't have all-night gas stations, I (like you) have found it amusing to read what different media coverage of the islands has to say.
Chances are, though, that they'll get it right if San Juan Islands Visitors Bureau public relations maven Robin Jacobson is connected to the story. I'm really impressed with the job she did getting a story placed in Southwest Airlines Magazine's Spirit mag.
That's the cover that riders on Southwest see in the seat pocket in front of them (click for a bigger version), and you can read the whole article in context here (it's a kinda big download, but maybe your house is in one of the pictures.) With a monthly circulation of around 427,000 - that's getting the word out about us. Way to go, Robin!
Mentioned specifically are Lopez Island's bicycling, Orcas Island's Beach Haven Resort, Eastsound, Outlook Inn & New Leaf Café, Moran State Park & Mt. Constitution and San Juan Island's Lime Kiln Point State Park, Roche Harbor, The Whale Museum and San Juan Safaris kayaking with sightings of several mammal and bird species.

Real estate seminar: My friends at Coldwell Banker are sponsoring a free workshop tonight, put on by Mary Stone. Here's the deal:
Coldwell Banker San Juan Islands, Inc. is sponsoring a Real Estate Investment seminar free to the public on Wednesday, October 11, 2006 from 6-8:00 p.m. at the San Juan Island Fire Department located on Mullis Street in Friday Harbor. Everyone is encouraged to attend this highly informative session designed to educate anyone interested in deferring their tax burden on the sale of real estate.

Understanding the IRS tax code as it relates to the buying and selling of real estate can be challenging. Our instructor, Mary Stone, an Attorney in Friday Harbor, serves as a qualified intermediary for IRS 1031 tax deferred exchanges for her clients on a regular basis. She has been a member of the Federation of Exchange Accommodators since 1995 and will be teaching us the following:

What is an IRS 1031 Exchange?
What is a Reverse Exchange?
What Types of properties can be purchased and sold?
What is a Construction Exchange?
How much capital gains tax can be deferred?
What are the time line requirements from sale to purchase?
Financing options available for purchasing?
Second Home, Vacation Home and Primary Residences Issues?
And More . . . . .
Seating is limited so RSVP early to 378-2101.
For more information please contact your Coldwell Banker Real Estate Agent or call 378-2101.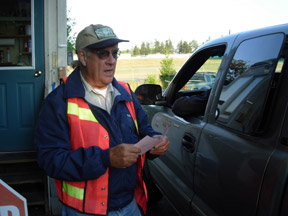 Photo (right): When you drive out of Browne's Home Center, David checks your load with a good eye to detail & a smile.
Quote: "The ultimate test of man's conscience may be his willingness to sacrifice something today for future generations whose words of thanks will not be heard." — Gaylord Nelson, former governor of Wisconsin, co-founder of Earth Day
October 9, 2006
Football back on track: The guys improved to 5-1 with a 35-10 romp in the sun over Lynden Christian Saturday afternoon. They head for Sands in British Columbia this weekend - I asked Cole Franklin if we got to play with 12 guys (Canadian ball uses 12 instead of 11, and has three downs instead of four, and a few other differences), and he smiled and said, no, just 11.
Back in town: She took off this morning, but Cindi Baker dropped onto the island this weekend with daughter Mollie - the former Island Rec director lives in Vermont now, and is in Seattle for a conference this week. It was good to see her - she & Keith last visited the island three years ago.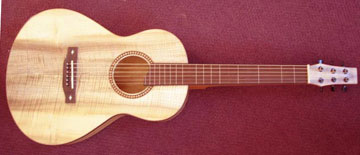 Something new under the sun on the island: Anybody who knows Mike Adams knows he's one of the handiest folks around...well, he's gone & figured out how to make guitars, and pretty fine ones at that. He's calling the venture Wheelhouse Guitars, and here's the write-up about it.
The guitar pictured is what he calls "True Hawaiian" - looks even better in person.
Deborah takes off: You know Deborah - she's been cutting my hair at Christy's since I moved here in '94. She's taking off to move to Reno next month, to be be with her fella there. Hard to lose long time islanders, and good friends....
Soccer girls tomorrow: FHHS plays Concrete on Tuesday at 4:30 here - see ya there! It's one of only two home games this month for the road warriors....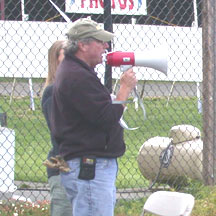 On the run: Running grand master & guru Clark Gilbert (left, at last year's Marathon) dropped me a note to let me know he's got a cool thing going:
Hey Ian:
Would you mind plugging www.runninginthesanjuans.com. Local running information with information on training routes, races (upcoming and results), training programs, group runs, about any thing someone would need to know about the running scene here in the islands. Thanks, Clark

PS: For more information about me, check out www.whereinthehellami.com.

Youth soccer: Easy to report the scores! The Ice Monkeys (U-15 girls) won 3-0 over Conway, which is the team that beat us 2-1 a month ago. We looked much more relaxed & very much improved since then.... the U-13 girls Aqua Bombs' opponent cancelled, and the Red Raiders (U-15 boys) had a bye, so they played a pickup game against a community team of mostly adults, in which the kids scored 3-4 goals. Cool weekend....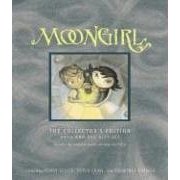 Local authors in the spotlight: I loved it that Laura at the Library used her weekly column in the San Juan Islander to spotlight local authors & their books - one she didn't mention was Peter Chan's new book "Moongirl" is pretty cool, too...have you seen it? He's a great illustrator.

Granny's Struggle: Survival perfected by years spent navigating a changing sea: Oneof the great stories around here is the story of the killer whale Granny, who was born the same year President Reagan was, 1911. Amazing animal & friend, whose longevity suggests what can happen for these magnificent animals if they have enough food & salmon, and less toxics shortening their lifespans.
From the October 9, 2006 issue of the Seattle Post-Intelligencer ...here's the story, passed on to me by the folks at Orca Network.
First of six stories by M.L. Lyke - here is an excerpt:
She leads, they follow. She is their tribal elder, keeper of family
knowledge. She holds the maps for survival. She knows when salmon return to
the rivers' mouths, knows the kelp forests where they hide, knows the
ancient underwater canyons and crevasses that once held great schools of
fat chinook.

She has lived long, seen much, some of it best forgotten: Bullets, bombs,
nets, babies born dead. She understands the world of orcas. It's always
about survival, always about community.

Her family travels together, porpoising in easy rhythm, their black fins
slicing the surface like so many windmills. They hunt together, spread out
in lines that stretch for miles. They talk, using chirps and whistles,
squawks and squeals that sound like metal files on a saw blade.
Scree-eeeeeee, scree-eeeeee.

They play, surf boat wakes, toss jellyfish, sensuously rub and roll atop
one another in sexual romps.

Their bonds are strong and formal. They travel with their mothers for life.
They are family.
Quote: An Englishman is a person who does things because they have been done before. An American is a person who does things because they haven't been done before. - Mark Twain
October 7, 2006
Your chance to get a kayak! Jason at Discovery Sea Kayaks tells me they're selling stuff for 40% off this weekend (actually, I can't remember if he said 40% of their stuff or 40% off - go check, willya?). DSK is located right above the Place Restaurant, above the ice cream place, next to the ferry.
Still thinking about tugboats - closing in on action: What happens if an oil-bearing ship runs aground here? Can you visualize the Exxon Valdez all over again? Remarkably, boats in Canadian waters are required to have tugboats to escort them, while US waters neither require it (that should be the law) or offer it (that would be good sense.)
Happily, the on-again, off-again discussion about all that is back on in Olympia, with some baby steps being made. Here's the story.
Clue about where the discussion's headed: Oil industry people say it would cost too much, and isn't needed. Same thing they said about the Exxon Valdez.
Volleyball girls win Thursday night: They beat Concrete. Way to go!
Soccer girls whump MVC again Wednesday: It was FHHS 3, Mount Vernon Christian High 0. Wahoo!
Football at home: It's a Saturday game this weekend - see you there....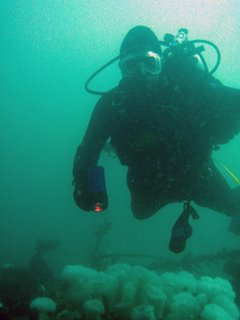 Maybe a hospital here? You know that as cool as our medical center is, it ain't a hospital. No place to sleep & operate & do all the stuff hospitals actually do. The result is that islanders have to go off-island to do stuff like have babies & get operated on & get therapy & get their tonsils out & so on. It would be great to live here AND save the trip to mainland...and that may happen. The San Juan Islander reports that a 10-15 bed community hospital is being considered. Here's more.
Diving: It's great to dive around here - and here's proof. Dawn & Mike just posted a little portfolio on their blog for Island Dive from their friend Greg (right) last month - you'll love 'em. Check it out.
Quote: Because I do it with one small ship, I am called a terrorist. You do it with a whole fleet and are called an emperor. ~A pirate, from St. Augustine's "City of God"
October 5, 2006
A good day to give: Hey, the Blood Drive's happening over at the Grange today till 5:30pm. Get over there & start pumpin'.
A good day to reflect: They're showing "An Inconvenient Truth" over at St. David's tonight at 7:15pm, followed by a discussion. The meeting & film are open to everyone, with free popcorn. If you haven't seen the film yet, this is a great chance to experience it with folks, rather than getting the film at the rental place & watching it by yourself.
October 4, 2006
Our oceans, our seas: Our county councilman Kevin Ranker wrote an opinion piece that was published in the Seattle P-I this morning, which means a million peole will see it before the day's out. It's a good piece about what we do, what we don't do, and what we need to to do about the seas around us. Entitled "Doing Right by West Coast Waters," it's a call to good sense...take a moment and look it over.
Chicago Title, redux: I was close on some of the details about Chicago Title yesterday, and tidied them up, so go read it again. I though John Bird opened it, but I was mistaken! Check it - and you still gotta go by & see them this month for their 60th celebration!
Here's an experiment: This is a video I think you'll like. (The experiment is seeing if it works on your computer, baby. Turn up your sound!)
Quote: Remarkably, a congressman running for re-election says he isn't convinced global warming is for real. This is in spite of a global consensus that it is, and even the president says it is. Wow. This is 2006, buddy, and it ain't a partisan issue, it's what's gonna leave us with no future for our kids. Here's the story.
For my part, I believe people who don't use proven science shouldn't be making big decisions.
October 3, 2006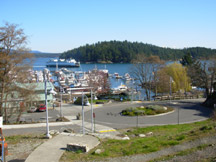 New ferry ticketing system kicks in on the 23rd: Washington State Ferry rep Sandy Gee just told me they're rolling out the new electronic ticketing system towards the end of the month.
With the new system (called Wave2Go, part of the new Electronic Fare Collection System (EFS), one won't be able to purchase frequent user books, as we have for years, although one will be able to buy multi-ride tickets. When I spoke to her, Sandy said the frequent user books we already have are good till their expiration dates. The interisland ticket books will still be used after the changeover, however.
In town here, retail places that have sold the frequent user tickets won't be able to with the new system. That's the story I'm hearing from the bookstores and rental places....Sandy tells me they're moving toward having peole buy their tickets online, to try to cut back those incredible lines at the toll booth in Anacortes. With the new system, people who have already bought a ticket can just swipe it & go through, instead of paying.
It's good to here they're thinking about that - those long, long lines are a drag. The last thing we need is a disincentive to come visit here...good to hear that's beginning to be addressed.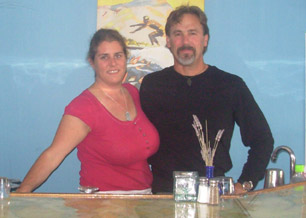 Latitude 48 is open: Drop by and visit Michelle & Robert Fawcett (right) at the former Basil's, which used to be the former Fat Cat, over on the Nichols Street side of the Market Chef.
They've re-decorated, re-named, and re-opened the place earlier this summer & it's looking good. Smells good, too, and they have a little bar in the back part now.
Lucy's sibling isn't Linus: Last week Elderhostel czar Randy Martin & Missy had their second kid, as Ava Macey was born - I hear that they & sister Lucy are doing great & happy with their new family member.
Russell's latest column: He lives here now, but he still gets published around the Northwest. Here's Russell Sadler's latest bit of writing, which he titled "Squandering the legacy of the past; stealing from the promise of the future."
Sixty years! Well, Chicago Title Company's been around for sixty years next week, with the title plant built by Sam Buck Sr & his sons Sam & Robert.
You'll remember John Bird was vice-prez & manager from '77 to '04...a lot of folks think he started it, but the company started running under Robert Buck on October 11, 1946, and the office here is now run by Lori Ronhaar (center), along with Denise Acsay & Debbie Sutliff (right), as well as Rose Carlson. They're having daily giveaways all month, as well as weekly drawings and a celebration on the 11th. Drop by & wish 'em well for the next 60!
Dinner! The SJ Nature Institute is celebrating its 12th year Saturday night, October 7, at the Mullis Center, starting at 6pm. There will be a delicious Tapas-style dinner with seafood and other treats (Persian, Thai, and Haida) prepared by Farhad Ghatan, plus winetastings and champagne. Entertainment will be provided by Marino Correia, from the Seattle Edgewater Hotel lounge, a former member of "The Kingsmen."

Tickets are $50 and 100% tax deductible. Call now for yours! 378-3646 or info@sjnature.org.
Heating with solar - finding out is free: Please join up and find out what can solar do for you! An open invitation to plumbers, electricians, general contractors, designers, developers,homeowners and Do It Yourself-ers. Orcas Power and Light Cooperative (OPALCO), Lopez Community Land Trust and Bonneville Power Administration tell me they're going to offer 2 free one-day workshops on Solar Electricity, Solar Preheat Water Systems and more.Questions?? Call Sandy Bishop at 468-3723 or Martha Warachowski at 376-3571

October 10th - Friday Harbor, 9:00 a.m. to 5:00 p.m. - Mullis Senior Center
October 11th - Lopez, 11:00 a.m to 7:30 p.m. Lopez Community Center - (Potluck Dinner)
October 2, 2006
Ferry slowdown: The Yakima limped through the weekend at less than full speed with that engine that's hurting - watch for delays if you're traveling. Don't know if it's fixed yet.
Mark opens up a new studio: I love Mark Gardner's cool photos (you'll get the idea here - keep hitting next & see 'em all), and now he checks in & says he's up to a new gig - that's him in the new place, to the right:
Hi Ian, I've recently quit my real job and have started a commercial photography business, and have attached a photo of me working in my studio. So if any of your clients need great images, I would appreciate your sending them my way. I have all the gear needed to work on location or in studio, and can do products, people, interiors, buildings, etc.

Cheers,
Mark
Beautiful weather, again: The weekend was just one of those that's nice to be outside, always. And no, it doesn't get boring.
Meridian 35, Wolverines 14: Second-ranked FHHS traveled to Meridian in Bellingham and found out why they're ranked #4 on Friday night.
We scored first, and kept it close at the half, but were unable to contain them in the second half. The loss is the first regular-season loss for our guys since 2003, but hardly signals the decline of our football fortunes. I ran into players Trent Roberts, Tyler Hart, and Cole Franklin Saturday after the game, and they were all upbeat about our chances using what we've learned if we see them again in the playoffs. Next game: Saturday here vs. Lynden Christian.
More Meridian: Meanwhile, the girls soccer team got buzzed 8-2 playing Meridian Saturday, but coach Mark Fishaut says it's nothing but good for us to play stronger teams, and that we spent much of the game playing at their level. That's good news for our young & constantly improving team.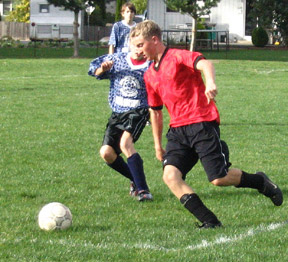 U-15 boys' forward Conor Lanphere breaks past the Burlington defense to score his team-leading eighth goal of the season. The Red Raiders fell to unbeaten Burlington 4-3 on Saturday. Photo by Christy Hinkle.

San Juan Soccer Report

Ice Monkeys Freeze Out Stanwood 4-3: The U-15 girls were in a 2-1 hole at the half, with only a Hannah Starr goal (Madison McPadden assist) to show for their efforts, but they roared out in the second half to score right away with two goals from Elle Guard. Defenders Elizabeth Taylor, Sidrah Khan, Larissa Nash, and goalkeeper Melissa Merrill closed off the Stanwood attack as Starr added the tiebreaker for the win.

"We rebounded in the second half," said coach Bob Leytze. "We were able to dominate the second half even though we had no subs, and our defense was simply stellar. It was an exciting game, but it was also satisfying to see the girls play so well."

Aqua Bombs drop one to Burlington 5-2: The score didn't tell the story, as the U-13 girls scored first and kept things close till the last ten minutes. Mandy Turnbull scored early, and Audrey Olshefsky added a second half penalty kick to knot the score at 2-2. Burlington was able to sneak in three goals in the last ten minutes for the victory. Coach Jeff MacDonald said, "We just ran out of gas, with only one sub and a much wider field than we usually play on. Still, we played good soccer for most of the game, and we worked hard."

Comeback falls short as Red Raiders lose 4-3: The U-15 boys knew they would have their hands full with powerful, unbeaten Burlington, and a 2-0 halftime deficit seemed to show why. But a couple of goals by Cameron Byington and an own goal forced by a hard shot from Conor Lanphere brought the Red Raiders back to a 4-3 score, but they were unable to score before time ran out. "Our defense made the adjustments we needed in the second half," noted coach Ian Byington afterwards. "A real key was midfielder Nick Roberts helping out on defense, and our defenders (Jared Dean, Sam Asher, Elwyn Pratt, Connar Smith, and Alex Halliday) playing insane defense - they marked their men closely, and that made the difference."

All three teams play at the elementary field this coming Saturday.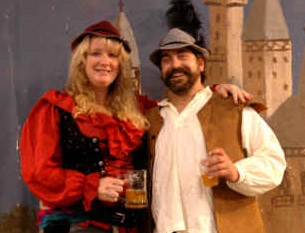 Oktoberfest comes: Janice Peterson sent me the story - it's coming next week (she says the event is mainly a community party but also a fundraiser for the Medical Guild, Kiwanis, and Lions):

Oktoberfest (12th annual) is coming up on October 14th at the Fairgrounds, 5:30-9:30 p.m., adults $8 and kids free. Great music from the Van Alen Blaskapelle Band (16 members this year!) led by Tom Starr, Dave Pratt and Terry Lush strolling with their accordions, Jim Carroll as MC (in lederhosen yet), great ales from Oren and Peggy at the Front Street Ale House/San Juan Brewing Co., terrific food from Rocky Bay Cafe and Market Chef, dancing, singing, the chicken dance, etc. etc. etc.
THANKS!
Ooompahpah.
Janice Peterson
Quote: "Where you used to be, there is a hole in the world, which I find myself constantly walking around in the daytime, and falling in at night. I miss you like hell." - Edna St. Vincent Millay