October 20, 2006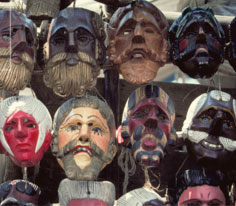 Friday Harbor High Homecoming tonight: The parade is downtown at 5:45 or so, followed by the pep rally. The game features us & Cascade Christian (#7 vs #8 in the latest state poll), so it should be a good measuring stick for our continued improvement as well as a gauge for our state aspirations.
It's also a good chance to visit with friends - see you there!
On the road: Last week my friends Bob & Dylan Nelson went down south (that would be Seattle) to see the Who, which is Pete & Roger these days. Earlier this week, Steve & Nancy Raichlen went down to see The Stones. Rock on!
Masks Workshop: It's a workshop in the spirit of last year's Women's Summit - the Salish Sea Women's Circle presents a one-day workshop called "Soul Masks" with Bea Harris on the 28th, up on Cady Mountain. Here's more (it's the pdf/poster of the event - may take a moment to load.)
Soccer roundup: The FHHS girls dropped a league match at LaConner 3-0 on Tuesday, but came back for a nice 3-2 win over Nooksack the next day. They now get a bit of rest as they next play on Tuesday for their last regular season home match - don't miss 'em! They're doing well this year; for a young, freshman-loaded team, they're doing absolutely super.
Dividing the land in 2006 - different from before: When Richard Durhack, Virginia Norgaard and Neva Durhack wanted to divide their (they thought) 20 acre parcel into two 10-acre lots, I'd guess they thought it would be a slam dunk. Imagine their surprise when their request was denied because the county's cool & precise GIS system identified their lot as actually a bit smaller - 19.1 acres, which when divided, is against the code.
Now the case goes to Whatcom County Court to review the way this county measures parcel size. Here's more, from the prosecutor's office.
Advertising that works: I had three phone calls yesterday asking how to advertise on this site, which currently gets some 1200 unique (and incredibly well-informed, after) visitors a day from all over the island & sometimes around the world?
Call, silly. I'm at 378-7275. Or write at the address near the bottom of the page.
Remember, this is America's San Juan Island Website. Really.
Aggie at the Theatre: Yep, that's tomorrow night. Check the Community Theatre site for details.
The Place - a new look: They'll be remodeling all November, so they expect to be closed at The Place Bar & Grill for that month, but they're also taking holiday bookings. Kathy & Steve just posted the new fall menu on their website...yum.
Turtleback campaign under a million: It's getting closer. Here's the deal.
What it takes to change: You know, gas jumping up in price has cooled some folks' extra driving - that's good.
Less water in parts of the country has made people conserve (just wait to see what Western Washington looks like after this winter) - that's good.
More & more people are aware of the toxins in our water & air that are killing us & other species, and are cutting back - that's good.
Good first steps, but what's it take to make those changes before the climate changes, or before ecosystems collapse? It's time to plan action...whether it's a carbon tax, or conservation, or adjusted technologies, it's time for people's consumption patterns to change. Inaction is simply not a practical or moral choice. Here's more.
Quote from the founding father: "The purpose of separation of church and state is to keep forever from these shores the ceaseless strife that has soaked the soil of Europe with blood for centuries." - James Madison

October 18, 2006
Where are the whales? While J-pod has been cruising the west side the last couple of weeks, three other killer whales have not appeared for months and are feared dead...female & mother K-28 as well as L-pod members L-43 (another mom) and L-71 ( a younger male) haven't been spotted since the first part of September. Here's more....
October 17, 2006
What's going on with Tiger Football - it's all here: It's cool - the three Tiger teams are reported on, here on the Association's blog. Cassie Kurtz told me the news, in brief:

Our website is updated....Freshman Tigers are 5-1, Juniors are 5-2 and Seniors are 2-4. Freshman and Juniors start playoffs on Oct. 28th. Seniors need to win next weekend to go to playoffs.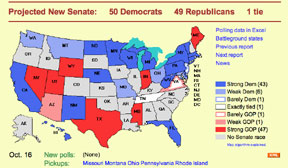 A site for political junkies: Sure, the election is still 3-4 weeks away, but if you're one of those who likes micro-examining the trends, this site (right) has a state by state, district by district analysis of all the press-reported polls across the country for both Congress & the Senate.
Yesterday (it may still be up) they had a story about all the women running this year - definitely a welcome trend.
See what you think.
Island Rec needs a bit of help: Corelia writes, looking for volunteers:
I am looking for volunteers for the Teen Halloween party on Tuesday October 31st. We usually have about 200 kids, 6th grade-12th that come and have about 45 volunteers for the event. Are you interested in volunteering? Do you know anyone who might be?

We have two shifts on Oct. 31st the first is decorating from 1:30 til ….. The second shift is from 7:15-10:15 during the party. Things that volunteers do during the event include, security, checking teens in and out, serving food, and helping with activities. Please let me know if you are interested or if you know of anyone that might be interested. You can contact me at 378-4953.

Quote: The bond that links your true family is not one of blood, but of respect and joy in each other's life. - Richard Bach
October 16, 2006
Rained, finally: Wasn't it nice to get some water on the ground? Overall, it was a weekend for all seasons: Sunny skies on Friday, daylong fog in Friday Harbor (with its attendent late ferries) all day Saturday, and rain & sprinkles & more rain on Sunday.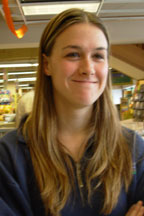 Maybe it'll snow today.
Three's company: Yep, there are at least three Paulas working at Kings Market....guess which one this one (right) is. Right! It's Paula.
The play's the thing, really: I'm just telling you, it was great.
I went to the first night of the Benefit Players' four one-acts (they call the set "Eclectica") on Saturday. I loved the goofy little George Kaufman skit that opened it, enjoyed the Carol Burnett-like one act after that (with Yvonne Mancuso & the always "what will she do next?" Roberta Leed), then noticed that people were laughing so much through Doug Schirmer's "Actor's Nightmare" that the actors had to wait to give their lines, and were still laughing during intermission. If you can keep a straight face during that show, you seriously need to lighten up. Well-paced with Jill, Maureen, and Warren playing off Doug's nuttiness - nicely done.
After that was RuthE's stream of consciousness rant Guarding Erica, and except to tell this is the bit they meant when they said there is adult language & stuff (it really isn't a kid piece, and is possibly a bit spicy for some adults), it was simply the best thing I've seen her do, and one of the best monologues I've seen on an island stage.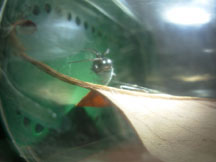 Here's the rest of the press release & date & such, but seriously, my dear play fan, rope off some time the next couple of weekends to catch these people in action. Like their name suggests, the money raised from the play goes to a benefit - this time to help Marc Wynn out with his medical expenses. See ya there - I'll go again.
Black widow, really: That bug you see in this rather blurry picture I took Friday (right) is a black widow spider from the west side, which Tom Schultz from the county extension office showed me. He captured it earlier in the week. You can click on the pic to see a larger version.
Don't let 'em bite you.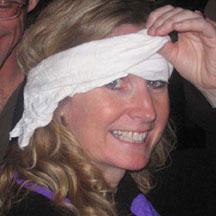 Octoberfest: I heard from perhaps ten folks on Sunday that Octoberfest was great! That included Marie, who sent along this nice portfolio (including the photo to the left of Deborah Hopkins) and this note:
Hi Ian, Missed seeing you at the Octoberfest! It was my husband's & my first time and we had great fun. Fabulous food, great games, cheerful music, silly dances, nice crowd. I heard there was over 450 in attendance. Here's a few photos. Marie DiCristina
Concords in town: They said they were just in town for the weekend - longtime islanders Laura & Eric Concord were at the Benefit Players show Saturday night. They used to manage Snug Harbor, the Panacea B&B (then the Concord Inn, now called the Kirk House), and do tons of theater stuff around the island.
The eyes have it: He's the eye doctor over on Mullis Street - Dr. Chris White's new website is a dandy - see if you don't agree.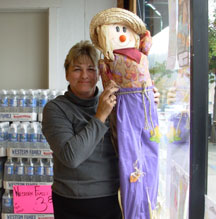 Speaking of Halloween: Yep, it's just around the corner - and the whole town is getting pretty dressed up already.
One of the reasons King's Market always looks so festive through the seasons is because Candace (right, with friend) expends her creative touch in decorating the place.
Soccer girls rock on: FHHS plays at LaConner tomorrow, fresh off last Thursday's 3-1 victory over North Sound Christian.
Volleyball comes close: Senior Sarah Heeren said Saturday's game with Shoreline Christian showed the team's improvement, and that the girls are looking forward to the District playoffs in a couple of Saturdays (the 28th).
Football rocks on: The guys ran their record to 6-1 over the weekend, beating Sands High in BC 41-13. That served as a warmup for homecoming this Friday against Cascade Christian at 7, with the parade & pep rally right before. next up: Nooksack, there on Wednesday, then home on Thursday with Mount Vernon Christian..
Hunting restrictions in place: There are new restrictions on the type of weapons that may be used for hunting in the islands. Here's more, from the County Prosecutor's Office.
More football: Senior Tiger coach Roy told me they won Saturday 26-12 (if I remember right), with one game left next week, and the playoffs the week after that. I'll try & find out more this week how the other guys are doing.
More soccer: The U-15 girls (the Ice Monkeys) pulled together a nice shutout but failed to score in a 0-0 draw, while the U-13 girls (the Aqua Bombs) allowed 4 first half goals in a 5-0 loss to Sedro Wooley in which they played a much better second half. The U-15 boys had a forfeit win as Stanwood failed to show up, so they played an intersquad game with some of the high school players.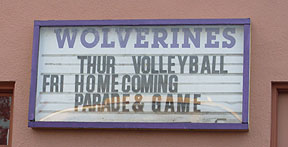 The signs they are a'changin': Besides reading the Update, I know the other way you get the news - by looking at that sign on the side of the drug store.
Ever wonder who changes it? I ran into Elisa & Nate Howard, who do so many things for our kids & our schools, and they had just come in from the rain setting it up for homecoming week. They said they change it every week or two, depending what's going on. Thanks, you guys!
More about Turtleback Mountain: Not much time left to raise that money. Another story, this one from Oregon Live...
About whales who are about: The Orca Network has dozens of reports from folks all over about orca sightings, as well as other marine mammal sightings - here's the Western Prince report from the weekend:
Saturday, October 14th....and foggy. Really foggy, to start with
anyway. It was definitely "instantly" October today! About 2 p.m.
we found J-Pod in Haro Strait, one group by shore, and one group
about a mile and 1/2 off Hannah Heights. We spent time watching the
whales foraging, porpoise diving and swimming, more foraging, and
some time just traveling. They stayed in basically the same area the
entire time we were out. The fog lifted enough to be able to see the
San Juan shoreline. On our way out San Juan Channel we noted a
harbor seal with a huge salmon in its mouth. On the way back in
Captain Ivan saw another large salmon launch itself out of the
water. Looks like J-Pod is taking advantage of this run of fish as
they've been spotted off the west side of San Juan for five days
running now.
~Nan Simpson, Naturalist - Western Prince
San Juan Island
Quote: But I, being poor, have only my dreams; I have spread my dreams under your feet; tread softly because you tread on my dreams. - William Butler Yeats
October 13, 2006
Rest in peace: Thanks for your notes - as soon as we find out more about Lynne Rogers' memorial (see below), we'll post it.
Football: Tomorrow the FHHS squad heads for Sands, British Columbia for the school's first international game in ages...pretty cool.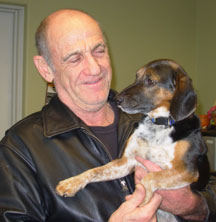 Tom & Hastings: It was great to have Tom McMillan drop by the By Design office yesterday with his very well-behaved friend Hastings to visit...he reported that his whale watching business was good this summer, and that now he's headed downsound to offer trips through the winter, mostly out of Seattle.
One of the reasons he dropped by was to give us some really, really cool marine pictures - mostly killer whales - for his website. We so liked one of them that we immediately added it to his masthead on his website - check it out. The photos were taken by an incredibly talented woman from the UK named Emma Foster, a marine biologist & photographer who works here summers with Ken Balcomb & the Center for Whale Research. She has hundreds of her photos on her site - I think you'll be amazed. Lovely stuff.
Noted: Last week I was working on a website with a client & we both agreed we liked the direction the project was going, so I said, "It's cool - great minds think alike." He just laughed and said, "Actually, fools seldom differ."
Touché.
Moving: You know Christine, the teller at Wells Fargo? She's leaving soon to move to go to Central Washington U, to get ready for school starting in January.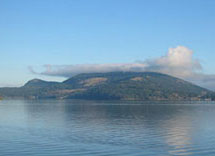 Save Turtleback Mountain: You know one of the great landmarks around here is Turtleback - you can see why it's called that in the picture. This nearly 1600 acre area is for sale, and the San Juan Preservation Trust and others are working hard to buy it, to protect it from development. They have till the middle of next month to raise the last million and a half to procure the property - check out their website to see if you can help.
While you're at it, save the country: You know, you wouldn't THINK of getting on a spaceship to Mars without checking to see if there was enough food, water, air, and Netflix to make the trip there & back.
You know you wouldn't - neither would I.
As the US approaches 300 million in population, I believe the big part of the story is that we're headed on a trip into the future without any consideration for whether the resources to feed, house, and care for more people will be available in the future, and with little - too little, I believe - concern for conserving wisely what we have. Here's the story from the mainstream news...
And yes, that matters for little, out-of-the-way islands, too....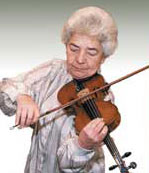 Agnes to play: One of the finest musicians in the islands (and in the world) will be playing at the Community Theatre on the 21st - Agnes Vadas. There's more info on the SJCT site, but here's a bit about her.
A child prodigy, Vadas gave her first performance at the Academy of Music in Budapest when she was six years old. Early in her professional career, she toured in Eastern Europe and the Soviet Union, won many competitions, and at the time she left Hungary during the revolution of 1956, was the nation's State Soloist. Vadas subsequently appeared through Western Europe, and eventually moved to the United States where she taught at several prestigious universities. In 1980 she performed as a member of the San Francisco Opera Orchestra, as well as solo engagements. She officially retired in 1993 when she moved to Friday Harbor, although she still performs both here and in Victoria. Vadas last appeared in recital at the Theatre in 2003.
Benefit Players are at it again: RuthE from the Players tells me they open this weekend & sent a bit about the four-part show:
Combining the comedy of manners, the clarity of an adrenaline-filled moment, the stream-of-consciousness logic of a dream state, and the wry retelling of an audition experience, the San Juan Benefit Players have concocted another night of great comedy in a program called "Eclectica: Four Short Plays for the Fun of It." The Benefit Players Theater is just off Tucker Street at the corner of Guard Street in Friday Harbor. There will be seven performances. Admission is by donation, and all donations are tax deductible. A portion of the proceeds from this event will go to offset extraordinary medical expenses for Marc Wynn. Here's more on the San Juan Islander...
Quote: "I lived in an attached house. My father used to drive into the wrong driveway all the time. He'd say, Damn it, how do you tell one of these houses from another?" - Paul Simon, singer
October 12, 2006
At the theatre: Besides the improv show on Friday night, there's also a workshop on how to do improv on Saturday - click on the button to the Community Theatre to the right for more info...