Portfolio: Check out the kids in the Halloween parade on the 31st!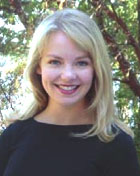 November 3, 2006
Hear me out on this one: It's cool to have a hearing doctor in town. I went to visit Dr. Stacie Baisch yesterday for an examination with my sons, and found her to be well-informed, helpful, and full of ideas for treating hearing loss (the boys & I are musicians - they are budding punk musicians - and we're concerned about hearing loss & possible damage. Don't wanna end up like Pete Townsend.) The tests showed we're all OK, which is a relief.
She tells me, "I've recently made arrangements to provide services one time per month on Orcas Island, as well as branched out by providing hearing screenings for companies that have employees exposed to noise for hearing conservation efforts."
Married to local tree guy Casey Baisch (he runs Baisch Tree Service, in case you're going to trim those limbs before the winter winds), Stacie received her degree at Western Washington and did her Doctor of Audiology work at Northwestern. Her office is located across from the EMS place on Spring Street, in San Juan Chiropractic with Mark Earnhardt, next to Islander's Insurance, on the other side of Connie's hair place, just up from Spring Street School.. You know where I mean. Here's more info...
FHHS football pushes on: The Wolverines ran into a tough Coupeville team last night, but pulled it out in the third quarter for a 12-7 lead, then held on for the win. They travel to Sumner on Tuesday for their next game, then play on the 11th if they win. (Info gotten from our friends at San Juan Islander, 'cause I had to work yesterday & couldn't make it to the game. I love it that they cover this stuff so well.)
Benefit Players, at it again: They'll be offering "An Evening of Song and Spoken Word" next weekend - I'll tell you more when I get more info. Part of the proceeds from the last show went to Marc Wynn; all proceeds from this show will go to help with Marc's medical expenses.
Kids on the ferry: It's the Saturday ferry & sports drill: tomorrow there are three soccer teams going on the 8am ferry, as well as a couple of youth football teams during the day - and they'll all come back, too.
And yes, you saw it right - there were three school buses full of FHHS kids going to the College Fair in Seattle this morning. Things are a little quiet at the high school this morning....
Changes: Looks like Glenn & Valerie Kalmus have sold Snug Harbor Resort to Eric & Tamara Nelson (here's more)....I hear Emma Eden has moved off-island, to go live in Arizona....Fire Chief Bill McLaughlin has resigned after sixteen years of service....I had heard the Brook Vissar was ceding her role as Chelsea in "On Golden Pond" to understudy Deb Langhans while she deals with some medical stuff; the preview last week went well, by all reports. The show opens tonight .... meanwhile, her husband Piet has resigned from the school board.
Quote: "I'm 65 and I guess that puts me in with the geriatrics. But if there were fifteen months in every year, I'd only be 48. That's the trouble with us. We number everything. Take women, for example. I think they deserve to have more than twelve years between the ages of 28 and 40." - James Thurber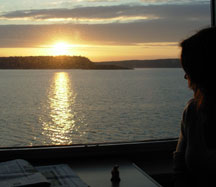 November 2, 2006
You're always on my mind: I was talking to someone yesterday and said something about, "Yeah, I had you in the back of my mind," and my friend said, "Oh, is that your medulla oblongata?"
Teri McPadden takes in the sunset last Saturday evening on the ferry, coming home....
Internet comes to the ferries: The Washington State Ferry folks announced today they'll be starting wireless service to ferries downsound later this month, and expect to offer on-board internet service for our routes in early 2007.
The service will be fee-based (about $7/day, or $30/month) and will also include spots in the terminals to hook up as well.
Football on the road to glory: FHHS travels to Coupeville today for its opening playoff game at 4pm. They enjoyed a very rare weekend off last week, which is nothing but good for resting, healing, and gearing up for the month ahead, AND today's game. The first step of the journey begins this afternoon....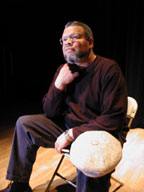 The benefit: The Benefit Players concluded their run of Eclectica last weekend....they take the donated dough they make at the shows & offer it to somebody who's needing it. That's why they're called the Benefit Players, see?
This show benefited Marc Wynn, who had some medical stuff happen a few months back & ran up some bills while dealing with it (the helicopter flight alone was a start...it's why we gotta get that $100 a person thing going.) I'm mentioning all this to let you know there are real people with real needs around our island, and there are real folks doing things so that we're working together to help each other.
It's why we live here.
Food, food, food: The future of sustainable agriculture - it's pretty important, baby. You like to eat, right?
So, here's the notice about a potluck Friday night at 5:30pm you won't wanna miss - from Candace at the WSU Extension office:
Dear San Juan Islanders, We hope you'll come to the free community harvest dinner and a movie at the Grange on Friday, November 3rd. The potluck (of mostly local food) will begin at 5:30 pm, followed by the showing of the acclaimed documentary, "The Future of Food." Anne Schwartz, award-winning grower and food activist, from Blue Heron Farm in Rockport will lead a group discussion on sustainable agriculture. Please bring your own dishes and utensils since this is "zero waste" event! Hope to see you on Friday to honor our neighbor farmers and for good conversation!
This note is from: Susan Anderson, Kris Bayas, Eliza Buck, Candace Jagel, Elaine Kendall, Marion Melville, Helen Venada, and Ron Zee.
More Friday night action: Here's the word from the Banana Belt, with its changes:
Our friend Angie told us to send this to you.... The Banana Belt has been operating as a clothing and accessories store (who hasn't gotten an umbrella from there?) under the same name for 11 years. Marilyn Chapman worked for the original owner for about 4 years, and then owned the store herself for 7 years before selling the store to new local owners and retiring.
The Banana Belt Moon & Jules Banana Belt Boutique
"Fresh Styles for the Isles"
Clothing, Shoes and Accessories For Men and Women

NEWS FLASH!!! Marilyn Chapman Retires! New Owners of Banana Belt invite YOU to her retirement party! Hundreds of Dollars in Prizes!!! Live Music! Food! Fun! Prizes! Special Party Shopping Discounts!
WHERE? Banana Belt at 1 Spring Street West
WHEN? This Friday November 3rd
Reception 5:30pm to 6:30pm • Prize Drawing starts promptly at 6:30pm • Party and discount shopping concludes at 8pm • Come wish Marilyn a happy retirement and meet the new owners of Banana Belt!
Quote: If a playwright tried to see eye to eye with everybody, he would get the worst case of strabismus since Hannibal lost an eye trying to count his nineteen elephants during a snowstorm while crossing the Alps. - James Thurber
November 1, 2006
All dressed up, and somewhere to go: There were Halloween parties all weekend, and yesterday was a perfect chance to wear that costume one more time.
That's Kira, Angela & Rachel at the Rocky Bay Cafe during work yesterday...and here's a 65-photo portfolio of the FHES kids in the costume parade downtown at midday.
As one observant high school junior told me, watching all the working folks downtown in their costumes: "This must be the only place where the grownups all act like kids, and the kids all want to be grownups."
Friendly face back on the island: It was cool to run into Lynn, the school district's former business manager, yesterday - she and her boy came up from Everett just for the dress-up day...she's working with the Everett ESD now. She was a key part of helping our school district straighten its financial affairs out in the first part of this decade.
More anniversaries: Yep, it was Haley's tenth year this month, and Browne's has their 60th coming up. Nice to have businesses that hang around....
Where the sidewalk ends.... They poured the sidewalk that goes between Whidbey Island Bank & the lot next to Guard Electric yesterday....should be dry today.
October 31, 2006
Reclining nude: Yep, that's the name of the piece of art everyone's talking about. Click here for more info, and pictures....
Speaking of pictures: The FHES kids' Halloween costume parade is usually mid-day through town, rain or shine. Check it out! Meanwhile, they're all grown up now, but here are the kids from 2005 & 2002...see who you know!
More pictures: Tammra from Argyle House B&B was in Arizona last weekend at some store with 49 tvs going, and she said all of a sudden there was a "Good Morning, America" special about the San Juan Islands...on all 49 tvs! Made her homesick to see all those whales & ferries & sunsets, times 49.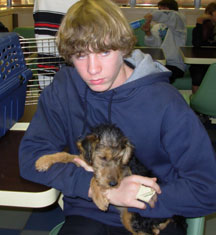 This ferry meeting matters: There's a lot of good reasons to go to the regular ferry meetings - the open house at the Mullis Center tomorrow from 4-6pm will include a discussion of traffic re-direction to help ease congestion around the terminal, and maybe even allow for more ferry service in the future. Drop by & see what's happening, and let 'em know what we think. Sometimes it helps if we do that, 'cause we live here & we get it. Here's more...
San Juan Pupdate: Yep, that's Shawn Cutting (right) with his dog on the ferry Saturday.
More thoughts on DST: I think it's the best day of the year - the Sunday after DST changes, because you get an extra hour of sleep.

What would be even cooler: Blow off the idea we gotta make it up in the spring, and kick the clocks back an hour then, too. Just keep doing that till the clock comes back around to where you started. We can all use the rest. And you'll get up with the sun, anyway, whatever time it is.

Think about it. Write your legislator.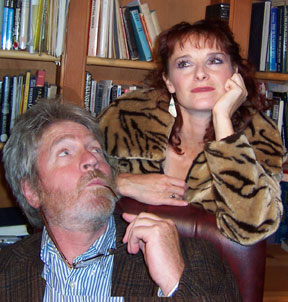 Another play on the way: You know that "On Golden Pond" opens this weekend (click on the button to the right for more info!), so I wanted to get you to pencil in the upcoming Island Stage Left show as well. Here's a bit about it, from Helen & the group:
Island Stage Left presents: "Educating Rita" by Willy Russell at the Roche Harbor Pavillion from Nov 16th - Dec 10th Thursdays - Saturdays @ 7:30pm, Suns @ 5:30pm (except Sat. Nov 18th @ 2:00 pm only...no performance on Thanksgiving Day) Also as part of Roche Harbor's Christmas Festivities on Dec 15th @ 7:30 Admission free. Donations welcome.
"Educating Rita" centres on the relationship between two people from opposite sides of a cultural and academic divide. University lecturer Frank needs to earn some extra money, so he agrees to tutor an Open University student. His student, Rita, is a brash, earthy hairdresser with a recently discovered passion for higher education, much to the dismay of her husband Denny. In her attempts to appreciate literature, Rita challenges the attitudes of a traditional university, teaching Frank to question his own understanding of his work and himself. Daniel Mayes and Krista Strutz (see photo) play Frank and Rita.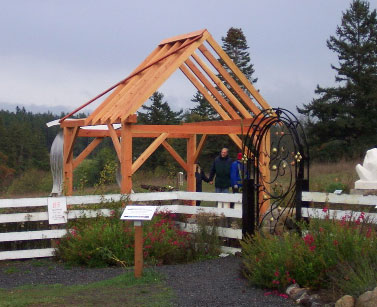 Amrita checks in: Remember yesterday I told you about Amrita & her horse? I forgot to mention that she has a cool website (made by her friend Yvonne Gifford) with more pretty pictures of pretty horses than you've seen in a while.
I also wanted to tell you that was her husband who made & donated the timberframe (right) out at the sculpture park. Pretty cool stuff....
Because we love it: The County Agricultural Survey was just completed.

The new county Agricultural Resources Committee (ARC), a volunteer citizens advisory committee for the County Council, reached out recently to local farmers, food producers, and citizens engaged in agriculture to assess their needs and issues. The ARC's mission is to "achieve the protection and restoration of the agricultural resources of San Juan County".

Two hundred surveys were mailed to agricultural producers around the county. Twenty-three questions were asked in the survey in order to better understand the needs of our islands' farmers. The survey included questions regarding land use, farm labor, economics, education, technical support, markets, regulation, land preservation, and their reasons for farming.

The results of the survey indicated that the three issues of primary importance to our producers were: 1) preservation of agricultural land, 2) increased education and technical support, and 3) addressing restrictive and often inappropriate regulations. The overwhelming response to the question "Why do you farm?" was - "We love it." Addressing the critical issues identified by the survey will help guide the continuing work of the ARC. Here's more (it's a download of the press release, in Word.)

Quote: "I don't like the subtle infiltration of 'something for nothing' philosophies into the very hearthstone of the American family. I believe that 'Thou shalt earn the bread by the sweat of thy face' was a benediction and not a penalty. Work is the zest of life; there is joy in its pursuit." - Branch Rickey
October 30, 2006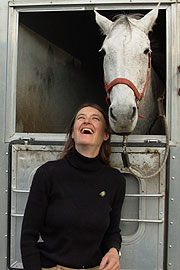 Early, are ya: If you didn't set your clock back on Saturday night, you probably got to work an hour early. Now the boss is impressed, eh?
Fox hunting - on the mainland: When I saw Amrita Ibold and her horse coming back from the mainland, I dropped over to her trailer in the ferry line to see where she'd been. She says she was in Bellingham, fox hunting. She laughed at the look on my face & said they don't chase real foxes - they use a form called drag hunting in which the dogs chase the scent, in this case cloth that's been soaked in fox urine.
Amrita's farm is out on West Valley Road - Sweet Water Farm.
Sandpebble sold: I dropped in to the Sandpebble Sunday & Susan Williams told me she's sold the store after nearly 30 years (it opened in 1977) to the Niedringhous family...the new owners will be in charge by mid-week this week. Drop by & say hey!
With the closure of Big Daddy's earlier this year and the sale of Boardwalk Books last year, the Sandpebble joins the list of stores started in the '70s that have changed hands....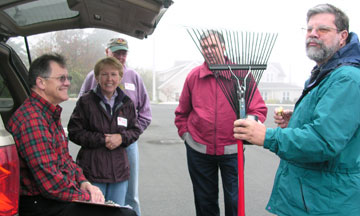 The Day of Caring: Yep, Saturday was the United Way's Day of Caring... here's a note from Carol Marble:
Ian: Attached is a photo of some volunteer workers getting assignments for the San Juan Island part of United Way's day of caring, as Curt VanHyning of the Senior Center assigned yard clean up jobs. (Pictured, left to right, Curt VanHyning giving out assignments, Bonnie Gilmore, director of United Way. Chuck Rust, Bill Henikman, and John Manning.)
It was a lot of work but very rewarding to help folks unable to do their own yard work get things cleaned up for the winter! Carol
The islands as backdrop, again: Michael Donnelly has a new book called False Harbor out - set in the San Juan Islands, here's one of the reviews:
"False Harbor captures the aura of the Northwest to near perfection. Vivid characters and dead-on descriptions pull the reader into lives and places that reveal their hidden truths grudgingly. Donnelly has blended Nature and human nature seamlessly." --Donald E. McQuinn, bestselling author of Warrior
Friends drop in: As Chicago Title finishes its monthlong celebration of being ipen for 60 years, manager Lori sent me this tidbit:
You'll never guess who just dropped in today to do some research. Joe Guiterrez who was the manager for our office from 1965 to about 1974. What a treat! - Lori L. Ronhaar, Manager

Seasons end: After putting together onr of the best regular-season records in the program's history, the FHHS girls soccer team ran into the district playoffs against Lynden Christian, who beat us 3-0 on Saturday. The girls showed great improvement this year in a season which might have been spent as a re-building year, but the girls played like they weren't ready to wait for the future. Good group of kids, good year. Way to go, Wolverines!
Incidentally, the last time the two teams met was a similar situation: In 1998, after losing to LC 5-0 & 4-1 in the regular season, FHHS played its first soccer playoff ever against Lynden Christian, losing only 2-1 after leading most of the match.
Meanwhile, the volleyball Wolverines lost 3-0 to Nooksack at districts in Bellingham, but showed their season's improvement by nearly winning the second match in the game.
Tiger football rocks on: The Seniors played tough & lost, but the Juniors & Freshmen won their football games on Saturday Here's the details in the Tigers' blog, which will include this weekend's plans as soon as they're announced.
On the boat home: That's Dean & Tammy (left) on the way home from girls basketball on Saturday's ferry...
Soccer update: In middle school soccer, the three teams were all over the place, but it was a sunny Saturday, just right for season-ending matches. All three head for the tournament on Saturday in Burlington next weekend.
Ice Monkeys 2, Conway 0 - The U-15 girls set aside sniffles and a couple of head colds and beat the visitors with hustle and a steadily-improving defense. Scoring was provided by Mikki Leytze and Elle Guard. "It was super game, in my book," said coach Bob Leytze. "The girls came to show they're ready for the tourney - we're definitely one of the better teams right now."
Aqua Bombs 4, Stanwood 0 - The U-13 girls got a hat trick from speedy forward Fei Cooper, then Mallory Dahlquist tacked on the fourth for a strong win on the road. "Our passing was sharp, and we worked the ball up the field as well as we have all season. It was a great way to end league play," said coach Jeff MacDonald afterwards. "It'll be hard for anyone to play us, the way we played today."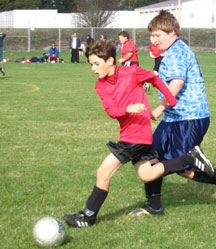 LaConner 4, San Juan 0: The Red Raiders (U-15 boys) had several good chances to score, but they kept clanging into the post, while host LaConner was able score two early and two late for the win.
I thought our defense looked good against the older, more experienced boys. They have to be the favorites in the tourney - they won it last year - but we hope we see them there just one more time. It was a tough game in which our guys came of age.
That's Robin Lohrey (right) winning the ball in the second half. (Photo by team photographer Christy Hinkle.)
Quote: "Your memory is a monster; you forget - it doesn't. It simply files things away. It keeps things for you, or hides things from you - and summons them to your recall with a will of its own. You think you have a memory; but it has you." - John Irving
October 28, 2006
Floating high: If the island seems a bit lighter this morning, it's because the three Tiger football teams, two of the middle school soccer teams, and the FHHS volleyball & soccer teams are all playing on the mainland today. For the FHHS teams, it's playoff time...we'll keep you posted.
Meanwhile, the U-15 girls soccer team (the Ice Monkeys) play at 11:45 at FHES, while all the nearly 200 island soccer kids play their last weekend today from 9-noon....drop by & see 'em!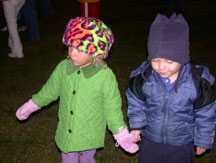 I thought this was the cutest couple I saw at the homecoming game last weekend. Yep, he's holding her thumb. Photo by my friend Amy Schmidt.
Quote: That's what makes it so fun to be on a team. You're sitting at your house, thinking up this wild, crazy stuff as to how it's going to go, and the other guys are sitting at their houses doing the same thing. - Bill Walton
Gas down, a bit: It's cool that petrol prices here on the island have drifted below $3, but knowing the oil companies were gouging the working folks of the country is more than a bit distressing...again, it's in the mainstream news! Where's the outrage?... here's the story....
Homecoming last weekend was a blast - check out these photos from the evening.

Kidding around, and more: It's the Backyard Barnyard - Small-Scale Livestock Workshop and Farm Tour! Candace from over at the WSU Extension sent this over for us:
Have you always wanted to keep a few chickens or goats, but just haven't figured out how to get started?

Come learn what you need to set up your operation and begin enjoying the benefits of keeping livestock on small acreage.

This year's Backyard Barnyard workshop will focus on pastured poultry, goats, swine, and sheep, with a special overview by veterinarian Tim Cuchna of reproductive health, vaccinations and worming, foot care, feeding, lambing and kidding, and first aid. Bryan Cornelius, San Juan County Conservation District will brief participants on the Environmental Quality Incentive Program (EQIP), which provides funding for watershed protection on farms with livestock.

The afternoon session includes tours of local farms with livestock operations. Small is beautiful. Join us!

Date: November 4
Time: 8:45 a.m. - 4:00 p.m.
Location: Skagit Valley College Community Room (Lower Level)

For information and to register, contact Candace Jagel at (360) 378.4414 or candace_jagel@wsu.edu

Was that you, speedy? You know what the tracker on this website said last night? It said 1349 unique visitors looked at this front page yesterday (some looked more than once, but I just count 'em one time).
Heck, there's only 7000 people on the island...that's amazing. Thanks for reading, my friends. And thanks for writing (see the bottom of the page to get my e-mail)...I love hearing from you.