November 30, 2006
No school on San Juan Island on Thursday!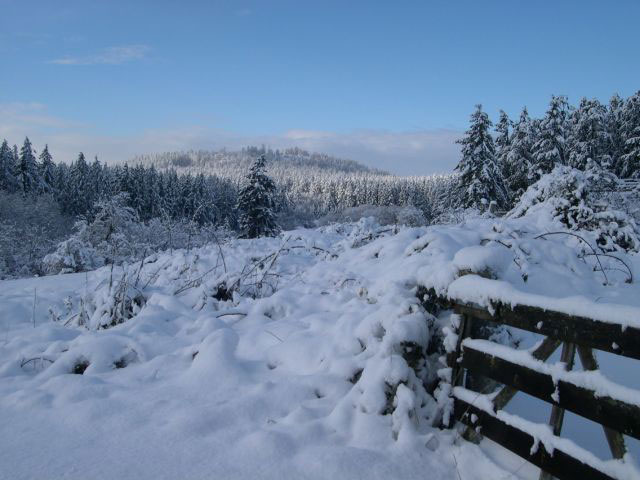 Sugarloaf Mountain, by Kevin at the Animal Inn
Weather: Let's see if it's warmer today...I'm guessing it's near time for this stuff to melt. We gotta get the kids to school sometime.
The planes are OK: I checked in with Craig at Kenmore Air & he said that the seaplanes & land planes are keeping to the schedule pretty well through all this nutty weather we've been having. Check 'em out on their site for ongoing specials, too.
Skin care: Mary-Brooke just started up Mira Bella Skin Care, right above the Fitness Club - drop by & see her new place. Here's the scoop from her website:
Mary-Brooke Barger, a WA licensed Skin Care and Massage Therapist, has been in practice since 1987. She combines comprehensive knowledge and expertise in both areas to create a unique experience that is both therapeutic and relaxing. She is a: member American Massage Therapy Association (AMTA), member Aesthetics International (AIA), and a Nationally Certified Massage Therapist, (NCBTMB) with 19 years clinical experience.
---
November 29, 2006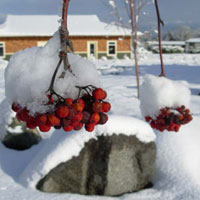 No school on San Juan Island on Wednesday!
Weather or not: It never rose above freezing on Tuesday - not even close - although with clear skies all day it made for a pretty way to pass the hours. The school district has once again called off classes for Wednesday, which strikes me as wise since it's supposed to get near 10 degrees tonight, and all that snow that didn't melt Tuesday is still around. Better to be safe....
The other side, school-wise, of the closures is that the days missed are tacked on somewhere else on the calendar...we may end up going to school pretty late in June.
The other thing to watch for when all the snow melts - which should begin Wednesday - is where all the runoff runs off to. Back in December 1996 when we had that four-foot snowdump, the weather changed quickly to a 55-degree heatwave which flooded the town's streets & nearly filled Sunken Park.
The Town has put in new drainage since then; this week could provide a test of that.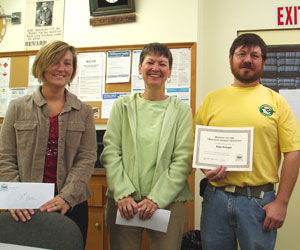 Hooray for big losers: Speaking of Town runoff, did you hear about the Town's contest for folks who work there - the deal was to see who could lose the most pounds between mid-September & mid-November. The winner? Matt Pranger (the svelte one on the right) dropped 25 pounds to win first place, followed by Keri Talbott, left (2nd place) and Wendy Picinich (3rd.)
Kellé Wilson tells me the whole office lost a total of 83+...way to go!
Quote: Our nation has both an obligation and self-interest in facing head-on the serious environmental, economic and national security threat posed by global warming. America has much to gain in terms of jobs and trade by meeting the growing world demand for advanced, environmentally sound technologies. - John McCain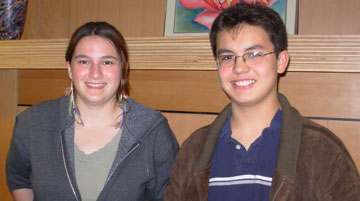 Winter reading: The Library held its fourth annual Young Authors' Fiction Contest back in June, but I just posted the stories this week for you to read them.
The stories are here... Karl Smith (home-schooled) won first prize in the high school, while last year's winner, Heaven De La Zerda of Friday Harbor High School, won second place. Meanwhile, Genivieve Iverson (right, below) took first in the middle school division, followed by Nana Eisenhauer, middle (2nd) and Emily Schultz (third).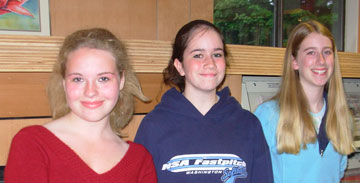 ---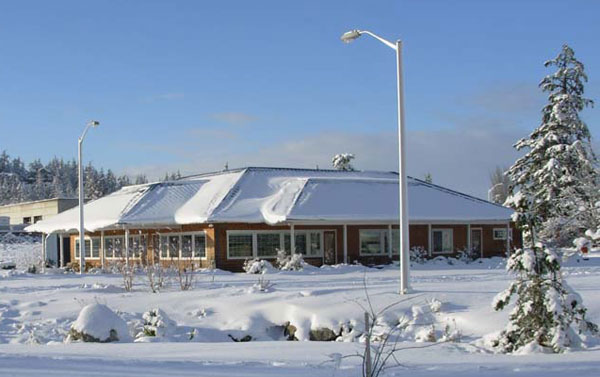 The Mullis Center, blanketed.
November 28, 2006
No school on San Juan Island on Tuesday!
Enough snow, not enough school: Thanksgiving break continues for the teachers (they're playing in the snow, too!) and kids for another day, as Spring Street International School and the public schools are closed again....I'm telling you now so you can sleep in, rookie.
The Monday night weather forecast is for cold, cold, cold - maybe as low as 10 degrees. Stay warm - it's supposed to warm up later in the week.
A walk for you: So, I took a walk from my office at Guard Electric (where the international corporate suites of By Design are located) into town and back, so that you could see what the town dressed in snow looks like. This assumes you have electricity at your house. If you don't, close your eyes and imagine it.
Here's my little gallery of nearly thirty photos in the snow, and thanks for giving me an excuse to get out in the snow, my friend. Only one kid hit me with a snowball, and three missed. Pacifist that I am, I tried to talk 'em out of it before unloading on them. That'll teach 'em.
Here's another set of pictures that my friend Tim took Sunday night. Love his stuff.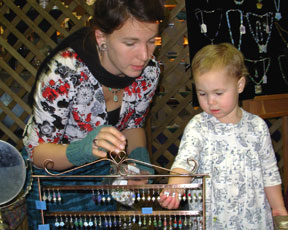 Pix from the Artisans' Fair: Did you get a chance to see the pictures from the Artisans' Fair? That's Indigo helping mom Laura sell jewelry...there's more here.
Slow Internet: My friend Brenna from the bank said the Internet was slower Monday because the entire USA is shopping online because it's CyberMonday. That explains it.
All I got for Christmas was my two front teeth: Ran into ace dentist Mike Horn's wife Jennifer on Monday - they're expecting their first kid in April. They're pretty excited....
Good idea: You know how when you sign up for something online (like when you're buying something, or registering for something), they ask for your e-mail address. You already get way too much spam, and you wish you could use another address...now you can.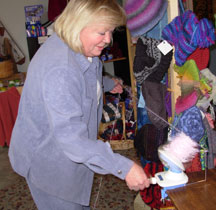 At 10 Minute Mail, you can sign up for an e-mail address that - you guessed it - expires in ten minutes, just long enough to get registered or order or whatever you're doing. It's free - great idea. Check it out, and see if that helps with the spam flow a bit.
Julie (right) at the Yarn Shop: You know the yarn shop, right next to Softwear? Owner Julie Taylor's been there for years, and is still smiling when knitters & weavers roll into the store. Drop by & say hey - she's Travis Mager's mom (the guy with San Juan Property Management.)
Note from Debbie for Tuesday: The Chamber of Commerce's Debbie Pigman asked me to tell you:
The Chamber of Commerce Downtown Forum will not meet tomorrow, November 28, due to weather conditions. The meeting will be rescheduled.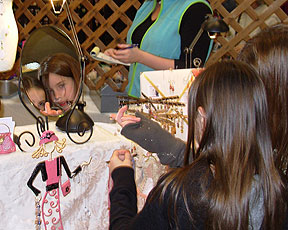 Closures: That reminds me - I was gonna put a list of folks who are closed here, but didn't. It's too slippery - stay home. everybody.
There.
Trying on jewelry at the Artisans' Fair Saturday (right), before the snow came.
Quote: "There is a spiritual side to our connection with the planet. And in this material world, that's anathema. It is somewhat worrying. What I say.. it makes life. It gives us fulfilment. It makes us whole human beings. And without it, we make mistakes. And, boy, are the leaders of the world making mistakes at the moment." - Bob Brown, Australian politician
---
November 27, 2006
No school on San Juan Island on Monday!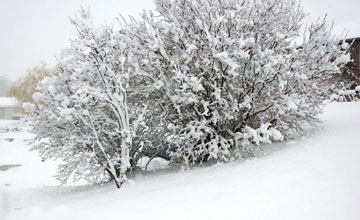 More snow: After a freezing night, what did you expect?
If you live off-island, here's a nice, artistic portfolio by Tim Dustrude of all the whiteness... (click on that picture above for an even cooler, bigger version.)
If you live on the island, just go look out the window & dig it.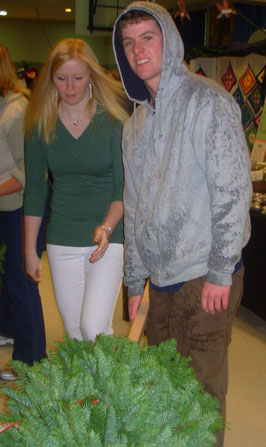 The Artisans' Fair was a blast: The annual crafts show, featuring only island-made arts & crafts by islanders, was well-attended Friday, when there were so many cars you couldn't park close to FHES - jammed. Saturday wasn't as crowded, but most of the artists I talked to said it was a good weekend. Here is a portfolio of folks & their booths, and a few shoppers - you know them all....
That's Caitlin & Brock (right) selling the ever-popular wreaths for the high school.
Around town: Dropped in to Daisy Bloom (across from Downrigger's) to meet Michelle (Nash) Waldron - she's taking over as the new owner of the clothes shop. She's a 2001 FHHS grad, now married to former Wolverine football star Ben Waldron. Drop in & say hey!
Sarah's back: Saw Sarah Pope with her new husband Adam Sunday morning, eating breakfast on the way to the ferry...good to have the old-timers back to visit....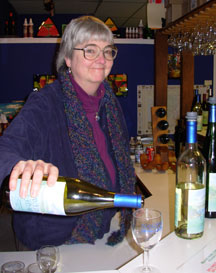 Kathryn pours it for you: I dropped by Island Wine to say hi to Kathryn (left) & David & see how they were doing - they had a nice steady flow of folks coming in to taste the wines & buy 'em, and you can see why - they have this special going on. Here's the word from their flyer:
During the holiday season our case discounts are even better! All San Juan Cellars Wines can be purchased with a 20% discount on one case, or 25% discount on two or more cases. Mixed cases get the same discount. (offer valid through 12/31/06)
Vivien's party: Vivien Burnett at Dolphin Arts says her customer appeciation open house is this weekend on Friday the 1st (5-7pm) and Saturday the 2nd (10am-5pm). She says there will be new jewelry designs from Deborah Johnson, new night shirts, by popular demand, and new dansko shoe styles, as well as 40% off all cotton clothing & screen-printed shirts.
See ya there!
Speedy: Shannon Miniken ran the half marathon yesterday in the Seattle Marathon - brrr! Way to go, Shannon!
Quote: The refusal to rest content, the willingness to risk excess on behalf of one's obsessions, is what distinguishes artists from entertainers, and what makes some artists adventurers on behalf of us all. - John Updike
November 26, 2006
No school Monday: Three different teachers called to tell me (so I could tell you) that they've already been called today - Sunday - about tomorrow's school cancellation.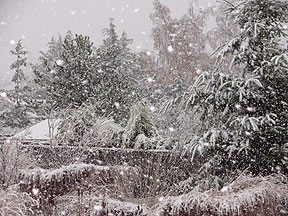 And then it snowed: After promising all Saturday night that it would snow, the snow began in earnest around 10am Sunday, and continues to pile up. The weather report says it may be down to 26 tonight, so stack the wood, stack the books & get ready to settle in.
There have been a few OPALCO outages (I know 'cause people call & ask if my lights are on, which they have been), so get your house ready, just in case.
Speaking of climate change: It couldn't be more appropriate: The Supreme Court will rule next year whether the government has responsibilities to protect the country as the evidence that climate change is happening continues to mount. Here's more.
November 24, 2006
Snow coming? I saw Eric Kessler at the library, and he said it was snowing in Anacortes earlier today...maybe coming this way.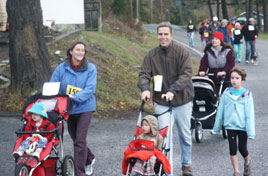 Turkey Trot: Here's the story about yesterday's race, as reported by Paul Hopkins:
Temperatures near 40, a breeze and threat of rain didn't deter 92 islanders and visitors from participating in the second annual "Turkey Trot," a 5K (3.1 mile) run and walk which started at the Best Western-Friday Harbor Suites. This year's event saw a three-generation family (the Williamsons), couples, individuals, strollers and dogs.
Islanders Ross Lockwood and Pam Stewart walked away with first place in the men's and women's divisions, respectively. They also walked away with this year's trophy, a turkey.
Lockwood set a course record with a time of 19:02 as did Stewart at 22:05. Complete results can be found at www.runninginthesanjuans.com, your local running information web site.
Entry fees for this years Turkey Trot were $5.00 and two cans of food. Proceeds and food will be donated to the Friday Harbor Food Bank. The event is produced and managed by Island Athletic Events, LLC with special thanks to Kings Market and Best Western-Friday Harbor Suites.
Blast from the past, into the future: Did you know that the San Juan Update has been happening since 1997...specifically, November 24, 1997? You can click on the links below (in the Vault) to see what was going on back then, or use the search thingie at the bottom of the page to see if I talked about you or someone you know in the past nine years.
Pretty cool. Proof that I have a longer attention span than I thought. Thanks for reading, and for telling me what's going on.
November 22-23, 2006
Thanks, y'all: Before I carry on with the rest of the story here, I just thought I'd take a moment & thank you for reading the Update the way you do. I looked at the tracker, and we had nearly 1400 folks, besides you, drop in on this website yesterday. I know you did, because I hear from you in the store, on the street, on the beach, on the ferry, in the mail from Australia & Canada & England & Brasil & Costa Rica & even the island here.
I carry you with me - thanks for the energy you share when you let me know you're there. You make it easy to have a grateful heart - all the best to you & yours this holiday week. Love ya, Ian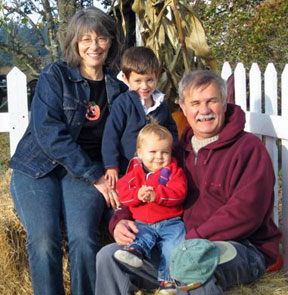 More grandparents' pix: Here's a picture of Judy & Jim with their grandchildren: Ty James Anderson is Jack Lawrence Anderson's older brother. It's what Thanksgiving's about - getting families together. (Picture from Judy - thanks!)
Rain, rain, rain: Looks like we're making up for the summer's dryness by the bucketful...close to tropical today, if a little cool.
Grand Opening: Moon & Jules down at the Banana Belt have special stuff happening this week, to wit:
Hey, Ian - You asked me to send you our Grand Opening info. It's been going on all week, with new super specials added each day, promo gifts, prizes and a 20% off Clipper ad mailed to everyone on San Juan Island. Wednesday is "Love Our Locals" Day: Everyone that shows us a driver's license with an SJ island address gets a cool gift!* (*While quantities last, must be at least 18 yrs old). We are open Thursday November 23rd from 10-5:30 so people can get their guests out of the kitchen and send them shopping! Friday has special hours, special gifts to early birds, and the Grand Opening Party starting at 5:30pm! Thanks again for your help!
What about Thanksgiving, from the Indian point of view? I think it's fair to feel that the notion of sharing & caring, as well as being grateful - it's all a central part of one of this country's most positive holidays. Happy Thanksgiving to you & yours - a great place to start togetherness.
For native peoples, though, the aftermath of the next four centuries took some of the shine off that first contact with the visitors from Europe. Here's a look at how some conscientious teachers are handling that.
Dinner! The annual community dinner is Thursday at the Grange - here's the scoop from the San Juan Islander.
Quote: No man can call himself liberal, or radical, or even a conservative advocate of fair play, if his work depends in any way on the unpaid or underpaid labor of women at home, or in the office. - Gloria Steinem

November 21, 2006
The Branding Contest: Pretty fun - Gordy Petersen has been running a branding contest, the results of which are posted on the Island Guardian. He explains:
"As you know, the branding process can be VERY expensive, then everyone in the community says 'I could have come up with that – or something better'! As you might know, the Town of Friday Harbor funded branding research a few years ago and came up with 'A Natural Playground.' We used it for a bit, but two County Commissioners didn't like it, so we stopped. It made one of them think of Disneyland.
"Unlike the Town of Friday Harbor, our branding contest is not expensive at all and it shows. It is sad that any money was spent on the lame slogan 'A Natural Playground'. Like I said, we can do better and I think we did. So here are the top entries so far."
You have to check it out. You'll crack up. It's great.