Here's a little portfolio of our island, looking good dressed in snow.
January 19-20, 2007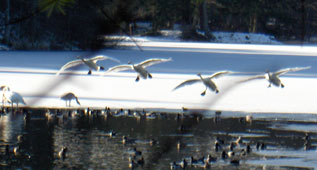 Swan song: There are a great number of trumpeter swans around the island, and Shannon Bailey was kind enough to show you what they're up to:
Hey, Ian - Thought you might like this picture I took Sunday at Lakedale. I was taking pictures of the swans, when four or five more dropped in. It was beautiful to watch. Shannon

Remember who loves you, baby: If I were there, I'd sing a song for you, but till then, here's one for you by friends of us all:


San Juan Island Times: I mentioned below that I had asked around a bit to see if anyone had heard of the San Juan Island Times, since it was mentioned in that article about Nancy Friday, that she had written for them. No one of the oldtime islanders I called had a clue what I was talking about, but folks did write in:
Ian, I have lived on the island since 1943 and I don't ever recall hearing of the "San Juan Island Times". Over the years there have been several one sheet "news papers" that were placed under the windshield wipers of cars in the downtown area. I recall one that "published" for three weeks, I don't recall the name.... We enjoy the San Juan Update, keep up the good work.
Regards, Warren Jones

With that in hand, I think Brook Visser has the answer:
Hi Ian
I just couldn't help myself and looked up San Juan Island Times on Google. It's in Puerto Rico.
Oh well...
Brook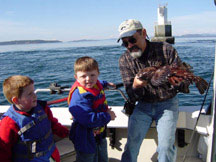 New kids, new boats, new all the way around: I saw my friend Jim Maya yesterday (right), and he says he has a new whale watching boat for this coming season, and he's pretty excited about it. (Here's what it looks like.)
Meanwhile, library director Laura Tretter became a second-time aunt this week as her sis Susan delivered her second girl, Mia. Everybody's fine...
Dawn of a new blog: Looks like Dawn Nivinski's got her new blog up & running...
How's the kelp? Do you, like I have for years now, wonder where the kelp goes in the winter, and how it did in last week's snow? Here's a picture of summer kelp...I'll go see what's going on now on the beach & report back to you.
Speaking of running: Whoa - I was taking my walk on Sunday so I could take the pictures I told you about & because I do that each Sunday anyway because once you find out how beautiful it is, what else COULD you do?
And, in the ice & snow, coming towards me was the relentless Jane Hutchison, getting her run in, in spite of the weather. She stopped for a moment & showed me the crampons (little spikes) she had on her running shoes, which sure beat my slippery running shoes...she said you can get 'em at Browne's & at Harbor Rental, next time it's that slick.
Island treasure: One of the island's real treasures is our county's extension service...if you don't know much about Tom Schultz's operation, check out his newly-re-designed website, 'cause it's pretty cool.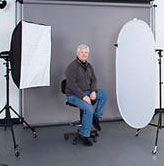 New Business in Town! (Mark sent me this....) Rainshadow PhotoGraphics, owned by local photographer, Mark Gardner, has launched the San Juan Island's only full-service photography and digital imaging business. (That's Mark in the studio to the left - click on the photo for the big picture!) Our studio is 900 sq ft with a 600 sq ft open shooting area for both portrait and commercial photography, and is located in the Surina Business Park, 50 Malcolm Street in Friday Harbor. The studio is fully equipped with the latest in lighting, backgrounds and everything else needed to make great images. We also provide digital imaging services on both PC and Mac computers, and have film and flat bed scanners, as well as large format printers for making museum-quality prints.
To celebrate our opening we are offering several specials, including a couple's portrait for Valentines Day, free ZAPP image files for artists, and a free print package for portraits. Check our website for details.
Christiane notes the birthday of the heir apparent: Here's her pictures as young Charlie turns two!
Everybody needs a sunset: Here's one.
No whaling help from Australia: While it's good news to hear the Australian environment minister say that he won't allow Japanese whaling ships to dock in his country, he also surprised folks by saying he thinks the actions of San Juan Island-based anti-whaling outfit Sea Shepherd are actually hurting its own cause. Here's more.
Quote: I, with a deeper instinct, choose a man who compels my strength, who makes enormous demands on me, who does not doubt my courage or my toughness, who does not believe me naive or innocent, who has the courage to treat me like a woman. - Anais Nin
---

January 18, 2007
Tonight at Pelindaba: Amelia at Pelindaba's got the word about tonight's film:
PELINDABA FILM CLUB - "AMANDLA!: A REVOLUTION IN FOUR PART HARMONY"
A powerful exposition of the often close connection between popular music and social change that has pervaded history for generations, whether it be for social change or political revolution. In this powerful film, covering the role of black south African music in the ultimate dismantling of Apartheid, all three came together – the music providing cover and support for political changes dramatic enough to produce profound societal change. Film showing (103 mins) commences 6:30pm, followed by discussion.
Get your Relay Team together & get ready for Locks of Love: Sharon over at the Relay for Life says it's time to start making plans:
Imagine this, it's warm, tents fill the Friday Harbor High School football field. Hundreds of people from all the islands march around the track. Others snap photos as stylists cut hair islanders grew long to donate for Locks of Love. What's going on? It's the fourth annual San Juan County Relay for Life set for Saturday, July 28 and Sunday July 29, 2007.
The theme of this year's American Cancer Society's Relay for Life is "A Field of Dreams." Relay is an overnight community celebration where individuals and teams camp out, barbeque, dance, and take turns walking around a track relay-style to raise funds to fight cancer. At nightfall, participants will light hundreds of luminaria around the track in a moving ceremony to honor cancer survivors as well as friends and family members who have lost the battle.
Now is the time to organize your team for the event. Robin Scott (378-7453) is the chair of this event and Debbie Dickinson (298-1558) is co-chair. Call them for more information or if you would like to volunteer. More committee members are needed. A Kick-off Rally will be held at 1 p.m. Saturday, March 3 in Friday Harbor. Another Kick-off Rally will be held on Orcas Island on another date.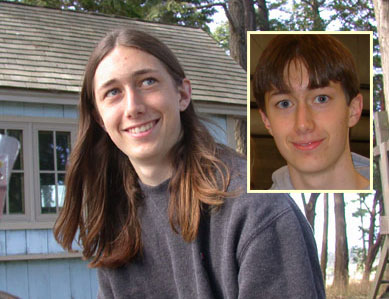 If you are interested in donating your hair to Locks of Love, a non-profit which provides hairpieces to children suffering from long-term medical hair loss, the cut hair must be 10 inches long. Hair from men and women, young and old, all colors and races is needed. Hair may be colored or permed, but not bleached or chemically damaged.
That's son Shay (right), who donated his long-then-short hair to LOL last year. He also helped DJ the event last year as well.
Septic deal: Coldwell Banker San Juan Islands, Inc. is sponsoring a "Septic Systems & Wells in San Juan County" seminar free to the public on Wednesday, January 24th from 6-8 p.m. at the San Juan Island Fire Department located on Mullis Street in Friday Harbor. Local industry specialists will offer a presentation and lead a question and answer session for their topic.

Rick Petro of Orcas Island Sewage Design will discuss the new regulations effective for 2007, maintenance and management of septic systems and the associated costs of septic and associated facilities. Al Mauldin, of Mauldin's Well Service on San Juan Island will address the drilling of wells, well and water testing and typical well maintenance.

Seating is limited so RSVP early to 378-2101.

Quote: "It is more fun to talk with someone who doesn't use long, difficult words but rather short, easy words like "What about lunch?' " - Winnie the Pooh

---
January 17, 2007
Making it big: According to this online article, author Nancy Friday used to write for something called the San Juan Island Times in the days before she composed her more famous My Secret Garden, which is currently playing as a show in New York.
Made me curious, so I called several islanders who have been around since the '60s & '70s, and didn't get much...do you know anything? Drop me a line if you have an info & I'll share it here.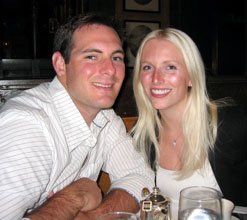 Going to the chapel: I called Nancy Troxel about the inside scoop on Zabeth & William getting hitched, and you can feel how proud she is, as she writes back:
Hey Ian,
Yes, Elizabeth Troxel and William Shuman are engaged, at last. Those who have kept in touch with them are probably not at all surprised.
Thanks so much for giving us a call. I actually was thinking of sending a picture to post on your site.
Although the kids have been talking about a wedding, I think Zabeth was pretty surprised when William gave her a ring. We were all together on a family Christmas trip to Colorado and our Kathryn (who will graduate from WSU in May) was sure something was up when William and Zabeth went out to dinner by themselves. The next day they hammed it up on the slopes for some pictures.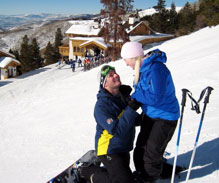 Their relationship stuck through the college years while they attended different universities in different states and now they both live in California and have found great jobs in their chosen fields. We are very proud of them.
The wedding will be in California in the Fall but if I can talk them into an Island wedding, I will let you know! Nancy
Quote: It is well to give when asked, but it is better to give unasked, through understanding;
And to the open-handed the search for one who shall receive is joy greater than giving.
And is there aught you would withhold?
All you have shall some day be given;
Therefore give now, that the season of giving may be yours and not your inheritors'. - Kahlil Gibran
---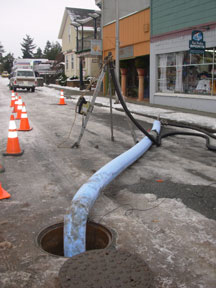 January 16, 2007
Piping up: This pipe setup (right) was happening in front of Island Studios downtown Saturday....Most everybody I spoke to assumed someone was pumping out the sewer.
Didn't look or smell like that to me, so I went & asked the fellow working on it (his name's Ed, from Salem, Oregon) what was going on. He says his company was hired by the Town to make pipe lining (or new pipes, depending on how you look at it) inside the existing sewer lines, so he's spraying heated polyurethane into the lines. He'll be working around town this week as well, so tell him howdy.
MLK March: There was a march & gathering planned to remember Martin Luther King Day yesterday, and for the fifth year in a row people got together at the Grange for a little march (it was cold!) and readings & song. Shari Larson told me it was cool that people came in spite of the ice, and Janet Thomas said these kind of things are important reminders that we're not alone, trying to make things better in the world.
Peace.
Show, next week: Sally Browne just sent me a story I know you'd want to know about:
A new Performing Arts Society has been formed on the island! And their very first concert will be held at 7:30 p.m. on Wednesday, January 24, at the Benefit Players Theater (corner of Tucker and Guard). The concert will feature Hanneke Klein-Robbenhaar on violin and Sally Browne on cello, playing duets by Bach, Gliere and Dotzauer. Admission is by donation, and all money received will go towards the cost of bringing the Theater's new grand piano up from Seattle.
The Performing Arts Society aims to foster the growth and appreciation of the performing arts in our community, as well as to provide performance opportunities for the island's remarkably talented performing artists, featuring new compositions, vocals, acoustic instrumentation, chamber ensembles and piano works.
If you enjoy listening to music, you are invited to attend PAS's concerts. If you are a performing artist, you are invited to join PAS and have the opportunity to keep in touch with the community of musicians around you, to enjoy their music, and to share your own talents with them as well as the community at large. PAS will focus primarily on San Juan Island, but welcomes people from everywhere. Thanks! Sally Browne, 378-4106, celloma@gmail.com
Quote: We can drift along as though there were still a cold war, wasting hundreds of billions of dollars on weapons that will never be used, ignoring the problems of people in this country and around the world, being one of the worst environmental violators on earth, standing against any sort of viable programs to protect the world's forests or to cut down on acid rain or the global warming or ozone depletion. We can ignore human rights violations in other countries, or we can take these things on as true leaders ought to and accept the inspiring challenge of America for the future. - Jimmy Carter
---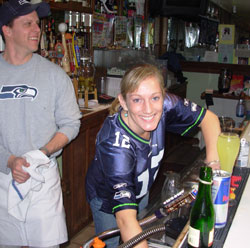 January 15, 2007
Seahawks hit the wall: If it seemed a bit quiet in the streets of Friday Harbor yesterday, one of the contributors was the Seahawk-Bears game, won in overtime by Da Bears after Seattle forced a valiant tie but were unable to score in OT.
One of the more crowded places was Haley's where Sarah & Bobby hustled to take care of the fifty or so folks there, most of whom stayed till the bitter end.
The murmur in the crowd was that a lot of fans will now shift their loyalty to the surprising Saints next week.
Islanders in the news: Jennifer Rigg mentioned to me yesterday that sis Nicky Rigg, who spent a couple of years teaching in China, has left to travel to Thailand now...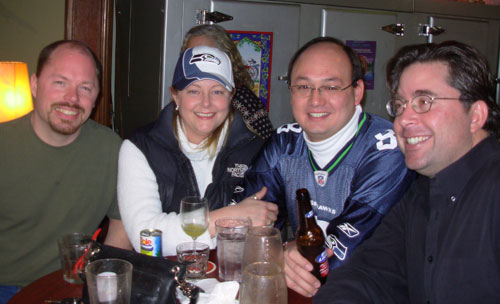 ....it was nice to run into Cathy Degnan & Sara Staben this weekend, visiting from their new homes in Oregon & Seattle, respectively....
...that's Doug Rhine (left), Leasa Burch, Peter Wangoe, and Chuck Payne enjoying the Seahawk game yesterday - you can tell by the smiles it was the third quarter when the 'Hawks were ahead.....
....Colleen Bennett told me about a cool website that sets up a random but engaging selection of websites for you to look at - it's called www.stumbleupon.com and it's pretty addictive, so watch out. Let me know what you think.
California says Navy can use allow sonar: It appears that state's gonna allow sonar testing, which is hard on whales, even deadly. What's next for Washington state? Here's more (you may have to register).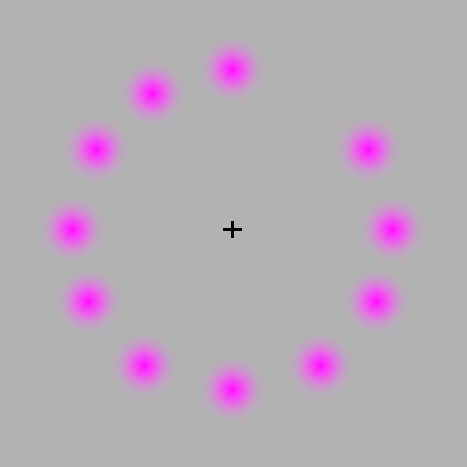 This'll drive ya mad: If your eyes follow the movement of the rotating pink dot above, you will only see one color, pink. However if you stare at the black "+" in the center,
the moving dot turns to green.
Now, concentrate on the black "+" in the center of the picture. After a short period, all the pink dots will slowly disappear, and you will only see a green dot rotating.
It's amazing how our brain works. There really is no green dot, and the pink ones really don't disappear.

This should be proof enough, we don't always see what we think we see.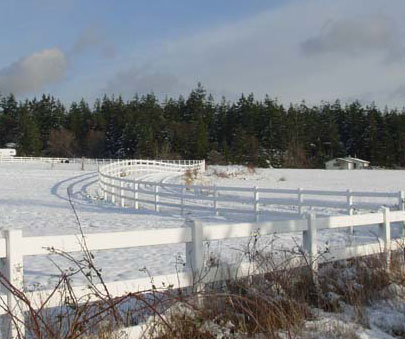 Photos from the snowy weekend: I knew you wanted to sleep in on Sunday morning, so I got up for you & walked around Pear Point Road, from Jackson's Beach all the way around & then back into town. Here's a little portfolio of our island, looking good dressed in snow. See what you think.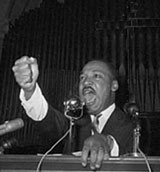 Quote, with love having the last word: Forty years ago this year, Dr. King delivered an address later entitled "A Time to Break the Silence" about his opposition to the then-raging Vietnam War. Below is a piece of that courageous address; here is the complete text. For all we accomplished under his leadership, much remains to be done...
We can no longer afford to worship the god of hate or bow before the altar of retaliation. The oceans of history are made turbulent by the ever-rising tides of hate. And history is cluttered with the wreckage of nations and individuals that pursued this self-defeating path of hate. As Arnold Toynbee says: "Love is the ultimate force that makes for the saving choice of life and good against the damning choice of death and evil. Therefore the first hope in our inventory must be the hope that love is going to have the last word."
We are now faced with the fact, my friends, that tomorrow is today. We are confronted with the fierce urgency of now. In this unfolding conundrum of life and history, there is such a thing as being too late. Procrastination is still the thief of time. Life often leaves us standing bare, naked, and dejected with a lost opportunity. The tide in the affairs of men does not remain at flood -- it ebbs. We may cry out desperately for time to pause in her passage, but time is adamant to every plea and rushes on. Over the bleached bones and jumbled residues of numerous civilizations are written the pathetic words, "Too late." There is an invisible book of life that faithfully records our vigilance or our neglect. Omar Khayyam is right: "The moving finger writes, and having writ moves on."
We still have a choice today: nonviolent coexistence or violent coannihilation. We must move past indecision to action. We must find new ways to speak for peace in Vietnam and justice throughout the developing world, a world that borders on our doors. If we do not act, we shall surely be dragged down the long, dark, and shameful corridors of time reserved for those who possess power without compassion, might without morality, and strength without sight.
Now let us begin.
---
January 13, 2007
What's so good about the play? Remember last week I told you not to miss the FHHS production of "The Diary of Anne Frank"? When I told you that, I spoke as one speaks, with faith - the high school shows consistently amaze, and the odds were good.
Now, I have seen, and believe.
Last night's show was the best in the past fifteen years, I believe, and that's something. The story itself is compelling, and this production makes it even more so. Sammy Michael's Anne is the whole package - bright, annoying, loud, thoughtful, thoughtless, charming, delightful, and even in love. She's able to play off her dad (played by Theo Pratt, whose commitment to the part goes beyond his shaved head - this is Theo's most thoughtfully realized part yet, and he feels like a caring, loving, distraught-at-times papa), and the different, often negative, personalities that she's cooped up with.
The undercurrent of history - the Nazi occuption of Holland & the murder of millions of innocents - darkens the stage effectively, giving the light that was Anne a place to shine.
The show plays tonight at 7:30, and tomorrow ends its little run at 2 with an afternoon show. I'm going to go again & see these fine actors do it again - hope you do, too.



click on the photo to enlarge
Report from Paris: You already knew our friend Tracy James moved to France 2-3 years ago, and now some islanders are going to drop in on her & the country. When I saw FHHS French teacher Nancy Jones on the ferry last weekend, she & Bob were heading for Seattle to take the four French students you see above (Alinson Nash, Hannah Burke, Meaghan McCormick, and Priscilla Hawkins) for a month in France. She promised she'd ask the kids to write, and here is their first report:
Bonjour from Paris!

We want to thank all the people that helped support us getting here and we are having a great time. We have been here for four days now and it seems like a month. We have walked many streets of down town Paris, enjoyed beautiful museums, seen wonderful art, went shopping and so much more.
Paris is absolutely wonderful and words cant even explain the beauty of this city. The food is great here, although it's very expensive. The history is so rich and it's really evident in every aspect of the city. The language is really overwhelming when you first get here but you slowly get used to it as you walk around.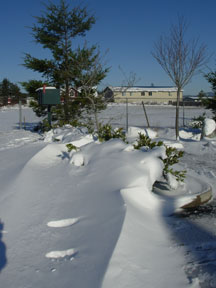 Don't make plans yet: It's not set in stone just yet. As some of you saw on the news last night, some school districts around the state may apply for a waiver from the 180-days rule which our state requires each year (that's 180 days the kids gotta go to school.)
Seems like a good idea for us to ask for one, and I hear there's a good chance our school district may do that. So don't make your plans (or cancel them!) just yet for mid-winter break till the official word comes out.
Will we have to make up the snow days or not? The drama continues. Stay tuned. And I'd say we're in good hands with our school district - they show pretty good judgement in these kinds of situations, I think.
Although Thursday morning looked pretty with those clear blue skies, it was cold & the windy evening continued into the morning, keeping the wind chill factor way cold, and helping shut down the schools & ice up the streets of the island (right).