Great to see our kids doing so well - drop by & see the show.
"When you change how you see the world, ... your whole world changes." - Aman Motwane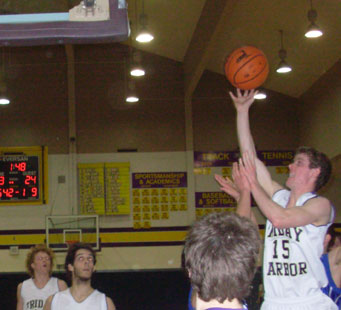 LaConner Beats Wolverine Boys & Girls: The Friday Harbor boys lost 52-42 to LaConner Friday night at home, as the Braves avenged the Wolverines' 58-50 win a month ago. FHHS got as close as six halfway through the fourth quarter after trailing most of the game, but cold shooting in the last three minutes allowed LaConner to pull away. Scoring was led by senior Brock McNairy's 12 points (right).
The Lady Wolverines played what Coach Eric Jangaard called "one of our best games of the year," as they tied LaConner with four minutes to go, only to lose 55-46 to the taller Braves. FHHS got 18 points from juniors Kiersten Radden and 11 from Amanda Root to pace the Wolverines, who lost a month ago to the same team by 25.
The teams return to action today at 2pm (boys varsity)/4pm (girls varsity) at home with Lynden Christian, before playing three games here next week, including Thursday's makeup game with Shoreline Christian.
New islander: New grandpa Harvey Brown told me last night he made it just in time to see Leila deliver Joseph Nicholas Chambers Thursday in Anacortes...new grandma Lisa Brown & dad Jared were also there to welcome the 9-pounder.
Even MSNBC likes it here: They have a report that this is a great place to go diving. Coulda told you that.
Reminds me - I saw diver & tech guru Chris Teren today - he's back on-island from Argentina.
Quote: "By cultivating the beautiful we scatter the seeds of heavenly flowers, as by doing good we cultivate those that belong to humanity." - Robert A. Heinlein
February 2, 2007
Free movie at the Library: "Lemony Snickett's A Series of Unfortunate Events": I dropped by the Friday night film at the Library a couple of weeks ago & it was cool to see so many parents & kids sprawled out in the fireplace area (Adrienne moves the shelves that are usually there) to watch. Starts at 6:30pm with popcorn & stuff to drink. See ya there!
Big Sale!: Teri & Maureen at Dominique's (next to the Little Store) wanted me to tell you about their big sale this weekend:
Please let your readers know that our sale continues! All Fall/Winter clothing is now 50-75%, with the exception of denim. Also included in the sale are Junior Drake and Hobo handbags, Hanky Panky underwear, PJ Salvage pajamas, all shoes and boots, scarves, socks and hosiery. We have also received new shipments of Tribal, One Girl Who, and Pink Lotus yogawear, with more spring merchandise arriving almost daily. Everyone is encouraged to please come have a look! As always, thank you Ian!
Class of 1997 Reunion: Alisa's pulling together this summer's reunion for the FHHS '97 grads - she tells me the date to save is July 20 & 21st, 2007. If you graduated in this class and haven't already received emailed info, make sure Alisa (Felthous) Schoultz has your current contact info: alisaschoultz@hotmail.com or 360-298-0226.
The folks she doesn't have e-mail for (can you help?) are Amanda Aley, Carrie Fisher, Abbe Galbreth, Travis Maddox, Josh Netherton, Rob Penwell, Sarah Porter, Mike Shaw, Bryn Shuman, Aaron Whiting.
Another show, by donation: I loved "The Last of the Red Hot Lovers" when I went to see it a couple of weeks ago (review: under the January 22 listing here) and I think you you will too - this weekend & next.
Bon Accord's garage sale this weekend: Patrick tells me he's selling the stuff: He says:
It's 8 ~ 11 am Saturday at 312 Treeline Dr. If you or anyone you know is interested in kayaks, kayak gear and/or camping stuff (tents, pads..etc.) come on over! Lots of gear at great prices. 370-5869
Thank you, Patrick
Another show! The folks at the Community Theatre have the preview for what promises to be a thought-provoking show this weekend:
Theres more happening this weekend than football. We have our preview performance of Pack of Lies on Saturday at 7:30 pm.
The preview night is a great bargain, with tickets 24% off the regular evening price. Get yours now by calling the Box Office at 378-3210, or use our online reservation request system at www.sanjuancommunitytheatre.org. Prices this Saturday are $13 for adults and $7 for student reserved. There will be $5 RUSH for students at the door on available seats, but seating is limited in the Gubelman Theatre, so reservations are recommended.
Set in the Cold War era of the early 1960s, this espionage thriller play couldn?t be more timely, as we?ve seen a new terrorism plot foiled this week in London. Dozens of people participated in our opening discussion event on Wednesday, and there are more to come, but first you ought to see the play. Be the first in your circle of friends to see it and to be talking about it.
The Box Office is open Friday 11-4, Saturday 11-2, and reopens at 6:30 pm for the show. Get your tickets now!

Quote: "On the mountains mistakes are fatal. In politics, mistakes are wounding emotionally, but you recover. Personally, wilderness helps me get back in touch with natural rhythms, helps me reflect and, in the process, restore my creativity." - Mark Udall
February 1, 2007
Weekend of basketball & wrestling: The FHHS roundballers have four games left in the season, all at home, starting tomorrow night (4:30 & 6) and at noon on Saturday. After playing Tuesday & Saturday next week to round out the season, both the boys & girls' teams get district play underway on the 13th to see what the playoffs look like this year.
Meanwhile, FHHS wrestling coach Gordy Banry tells me the team takes to the mat this weekend with the district tourney, with regionals & state in the weeks after that. With the re-alignment of the league & a smaller turnout this season for the team, it's hard to tell how we'll do, but we'll keep an eye on 'em.
Show in Portland - we are made of dreams & bones: Remember Dianne Kornberg, who worked at the Marine Labs for a while? She has a show of her art going on in Portland - here's samples from what she's done, with plants & skeletal remains. Interesting stuff - check it out.
Quote: "Progressive art can assist people to learn not only about the objective forces at work in the society in which they live, but also about the intensely social character of their interior lives. Ultimately, it can propel people toward social emancipation." - Salvador Dali
January 31, 2007
Colonized: Friday Harbor House has hired Matt Colony as their new executive chef...he comes here from the Beach House at Purdy in Gig Harbor...here's more.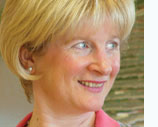 Checking in with Cat: Over the years at school here in Friday Harbor, zillions of kids got to have Cat Bordhi as their teacher, and most left her classroom knowing a bunch more than they started. She's one of the great ones.
In 2002 she became a fulltime writer (she won the Nautilus Award
for Young Adult Fiction for her first book, Treasure Forest, which I thought was one of the better young fiction books I've read) & workshop giver, and it's going great for her (and her readers & workshop participants!) these days.
Check her website to see what's going on...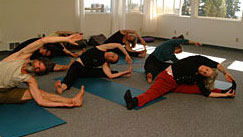 Yoga all around: You'll be able to sign up for yoga classes later next month at Skagit Valley College for the spring, or if you're looking for yoga classes now check out Amy's Halcyon Yoga Studio, Jeannie's Yoga Path (right), or Cathi's Namaste Yoga and Reiki Studio.
Deliver me, deliver me, 2007: Someone told me they were teaching their kid the Lord's Prayer & when the kid was saying it by herself, she said, "Lead us not into temptation, but deliver us from E-mail."
I cranked up my spam filter after that.
Report from Lynn, down south: Lynn Danaher was down in Antarctica earlier this month, and filed this report from there, which makes me wanna go visit:
It is hard to describe Antarctic without using seemingly inadequate
adjectives. Majestic, heroic, epic....vast untamed, dangerous, all seem
somehow unable to convey the impact of the landscape nor its huge
population of penguins... The penguins are so tame and unafraid you just
walk among them..staying the prescribed 15 feet away, they are with chicks
now so the nesting and feeding behavior are easily observed.
There is almost no vegetation anywhere so the shores are rocky with small
bits of seaweed. no trees, very sparse bits of moss and grass in
protected areas. the temp is cold, but it has been sunny with
surprisingly little wind. The icebergs which are everywhere are like
massive floating islands or delicate ice blue sculptures. We are
returning from the first trip crossing the drake passage again, a bit of
swell and dense fog. The ship has 2 radars and great electronics....
you can tune into our day by day "daily expeditions reports" with photos
at www.expeditions.com I did jan 4th, and 10th check it out.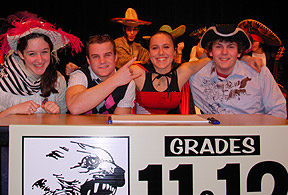 Knowledge Bowl - get your tix now! SJPSF prez Luanne Hoeller asked me to remind you - last year was a sellout! - if you didn't know already (that's last year's Junior-Senior squad):
Everyone is invited to come out and watch some of our brightest middle school and high school students match wits against the best our island service organizations have to offer. This year the Kiwanis, Lions, Rotary, and Soroptimists will try to keep up with the Middle School, Freshman/Sophomore, and Junior/Senior student teams in the annual Knowledge Bowl.
Last year's competition was a nail-biter to the end with the community theatre packed with people and positive energy. This year we plan to build on that success! In addition to making a great evening out, and highlighting our students' successes, the Knowledge Bowl helps raise funds for the San Juan Public Schools Foundation. The San Juan Public Schools Foundation puts all proceeds to work enhancing education in the public schools on San Juan Island. Please join us at 7:00pm, Thursday, February 8th. Tickets ($3 Children, $5 Adults, and $10 Families) are available in advance or the night of the event at the theatre box office.
Love runnin': It's cool Greg O'Byrne works the island into his runner's log. Check it.
It's the kissing season: It's Valentine's Day soon, and near spring, so people's thoughts naturally turn to the season of snoggin' - so I got you this little video to kinda get you focused, especially for those of you who have kissed too many frogs & not enough princes (or princesses, or other heirs apparent...).
Happy V-Day!
Where are the orcas? Down visiting California, of course. Members of K-pod were spotted south of San Francisco over the weekend...here's the story, with pix...
Spotters needed: Brendan from the DEM tells me this is coming up:
The National Weather Service and the San Juan County Department of Emergency Management are sponsoring a weather spotter training class on Thursday February 8th from 1:30 – 4:00pm at the District 3 Fire Station on Mullis Street in Friday Harbor. There is currently a shortage of trained observers in the islands, and more are needed in order to help increase the accuracy of local forecasts.

More info is online at www.sanjuandem.net/weather or by calling 378-9932.
Jenny's here: Replacing longtime Whale Museum denizen (for over 25 years) and director (the last three years) Rich Osborne's not easy, but they've done it. Jenny L. Atkinson takes over as Director of the Whale Museum from Rich, who is moving to Port Angeles.
Rich will continue as a participant in the Museum's Stranding Network and other research projects. Jenny comes to the Museum from the Freedom Forum First Amendment Center based in Nashville, Tenn.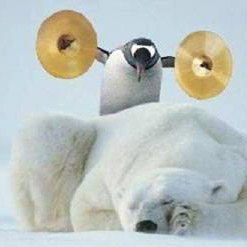 Speaking of the San Juan Public Schools Foundation: Newly elected Jim Skoog (Treasurer) and Paul LeBaron (Vice Prez) join President Luanne Hoeller and Secretary Kelly Snow on the board this year.
Speaking of Antarctica (right): Did you see March of the Penguins? I think that's a still from the movie for the part when people fell asleep. (Just kidding, Morgan. Nobody fell asleep when I saw it, here in the theater with half the crowd under eight years old & cheering for the penguins the whole way.)
The Pelindaba Film this week - it's at 6pm Thursday night: Amelia says it's "Nowhere in Africa" - an epic drama of a German-Jewish family who immigrate to Kenya shortly before World War II to build a new life on a new continent while Europe is torn apart. It's the winner of the 2002 Oscar for Best Foreign Film and many other international film awards.
"This is an intelligent epic told without special pleading, a film able to cut deep enough to reveal a keen specificity of experience." (Kenneth Turan, of the Los Angeles Times)
Farmer's Market - it's this week: Winter Farmers' Market at the Grange Hall. Saturday, Feb 3rd from 10 till 1.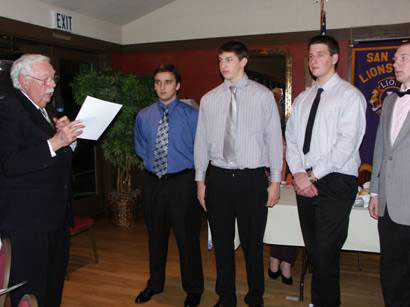 San Juan LEO CLUB Charter Night: Lion John Bostrom works harder than just about anyone in this community doing stuff for kids - he sent me this report prepared by Bill Waxman:
History was made Saturday afternoon and early evening, January 20, 2007 at the San Juan Island Yacht Club, when the brand new San Juan Leo Club was chartered.
The club's officers were installed and members inducted following a delicious three course meal prepared by Yacht Club staff under direction of manager Gayle Rollins. A musical background for the festivities was provided by 12 year old Robyn Lohrey who played both piano and violin during the meal.
Approximately 100 people were in attendance from San Juan Island as well as surrounding Lions Clubs from British Columbia, Anacortes and Bellingham. Mayor David F. Jones, Town of Friday Harbor made Saturday, January 20 "San Juan Leo Day" by official proclamation endorsed by the Town Council.
Lions Club District Governor, Garry Lütz also attended and sanctioned the proceedings thus making the induction of the new members and their officers official. San Juan Lions Club President, Jim Carroll resided as master of ceremonies. David Goss, President of Lions Club Bellingham, Central, presented Leo President Nicholas Groseclose with a Bellingham Lions Pin and a donation of $100.00 to the Leo Club Treasury.
The list of inductees included children and grandchildren of current members of the San Juan Lions Club. Especially touching was the fact that grandchildren of charter members of the San Juan Lions Club were among those inducted.
Instrumental in accomplishing the formation of the first Leo Club in our Lions Zone (H7) was John Towson, Past President of San Juan Lions Club, with the able assistance of Lisa Brown and John Bostrom as well as the staff of the San Juan School District and Friday Harbor International School.
The young people inducted were:
Tyler Brow, Clinton Gauthier, Nicholas Groseclose, William King, James McCormick, Eddie Nash, Alex Oettinger, Landis Peterson, Kyle Schaffer, Jordyn Taylor, Priscilla Hawkins, Christine Olshefsky, Tristan Wood, Cole Howard, Sasha Moghadam, Richie Ochoa, Albert Strasser, Cody Price, Josh Buck and Tanner Buck.
It was a wonderful experience for all in attendance and marked a starting point for a whole new generation of people who have made a commitment to provide ongoing service to their community and the world at large. We take great pride in what was accomplished here.
Quote: "Why does Sea World have a seafood restaurant? I'm halfway through my fish burger and I realize, Oh, my God.... I could be eating a slow learner." -- Lynda Montgomery