February 14, 2007
Happy Valentine's Day, my friends!
People meet & fall in love with each other different ways, and it's always great to hear the stories. Here are a few from Update readers that they were kind enough to share with you & me. Love, Ian
PS - Here's a little song for you, for the day...your love is shining through.
---
February 13, 2007
Tyler goes to Eastern: Among all the athletes around the state announcing their football/college intentions, FHHS' talented 175-pound senior Tyler Hart is heading for Eastern Washington.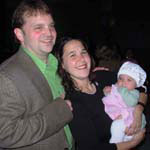 Market Chef takes a break: Tim wrote & asked me to tell you:
Hi Ian, we were hoping you could let folks know that The Market Chef will be closed for 3 weeks while we have a little mid-winter R&R and replace some flooring in our kitchen! We will be back and ready to rock and roll again on Tuesday March 5th. Thanks!
Laurie (and Tim, Sam and Talulah)
Tide turning? This article in the Everett paper this weekend makes it sound like electricity generated by tidal power is close to a done deal, but as far as I can tell, this "green" alternative has some problems that need to be resolved before it's implemented - especially in terms of what the effect will be on marine life. Finding another part of our biosphere to sacrifice so we can have more energy - that's not the answer. Read more....
February 12, 2007
And a good weekend was had by all: A little sunshine goes a long way - there were runners on the roads, people in the streets, and even a few boats out...hope you were able to get outside & play.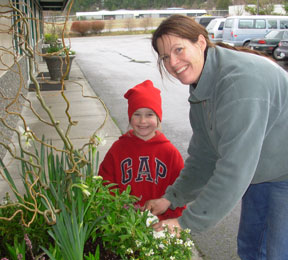 How does your garden grow? That's Michelle and her girl Bailee (right) helping put plants in at the Guard Electric Building on Friday - Michelle and her husband Brian own Giannangelo's Landscaping, and they do a super job, the three of them.
Here's a sunset: A nice blogged photo of an island sunset...see what you think.
Here & there: Yesterday was Stephanie Keys' 40th birthday, and since it was Amy Lear's last week, they had a party out at Amy's yoga studio on Saturday night, with hundreds dropping in. I hadn't been out there before - beautiful setup, in a beautiful setting.
While I was there, I got the news that Peg & Jim Knight are expecting twins - congrats!
Other news: Jodi Calhoun told me about this blog which discusses places to eat around here...see if you agree with the reviews. (I do.)
Sea Shepherd & the Japanese whalers: Last week Friday Harbor-based Sea Shepherd nitiated an action to protest whaling by Japan, by boarding a ship & spilling acid on the deck, injuring two crewmen. Here are two acounts from different sources of the event: Common Dreams | Yahoo News.
Getting ready for Easter: Remember I gave you tips for reducing your impact on the planet last Christmas? Here are some ideas for Easter...see if you agree.
Bikers need support on the ferries: I support what Shannon's talking about here, and I hope you do, too:
I live in Friday Harbor and I work in Anacortes. For many reasons, I commute to work on my bicycle whenever possible. Because of this, I was really excited to see the Bicycle Commuter Program offered by WSF (which you can see here - http://www.wsdot.wa.gov/ferries/bpp/ ). However, you can imagine my disappointment, when I discovered while attempting to enroll in the program, that it is offered on all WSF routes EXCEPT THE SAN JUANS! So for the past several months, I've been making phone calls and writing letters and I think I may finally have some success, but I would like your help. A representative from WSF called me and said they are working on making this available on the San Juan Islands routes, but that it would really help if I were to show up at the Tariff Committee meeting on Monday, Feb. 12 at the Mullis Center between 2 and 4 PM to help make this happen.
I am asking that anyone else who would like to see this program available in the San Juans, also show up and show your support.
Thanks for your help!
Shannon Dean
Quote: We were taught to believe that the Great Spirit sees and hears everything, and that He never forgets. - Chief Joseph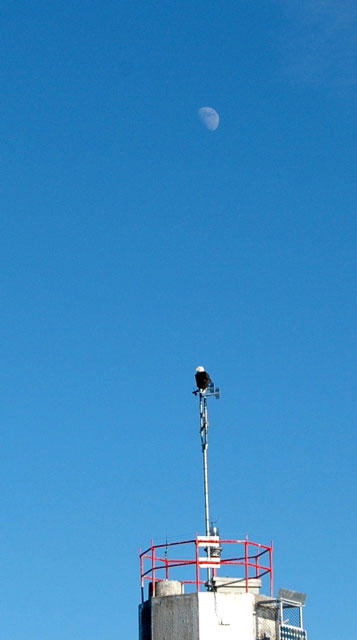 February 9, 2007
Photo at right by Jim Maya, from his new boat, the Peregrine, a couple of weeks ago when it was sunny.
Remodel: Have you seen the pix of the King's Market re-model, downstairs? Here they are, from their website.
The ferry meeting next week: The ferry meeting next week is at 2pm, not 4 - at the Mullis Center, Monday. See you there (see below for more info). Pretty important stuff, people.
Helping with the killer whale recovery effort: Well, it means getting informed, citizen.
SB 5488 - Title: An act relating to orca recovery.....Summary of Bill: The Department of Fish and Wildlife (Department) is designated as the lead state agency for achieving the recovery of Southern Resident orca whales. The Department is required to form an interagency orca recovery team to coordinate the state's efforts to recover the Southern Resident orca whales. The team must include: the Department of Natural Resources, the Department of Ecology, the Puget Sound Action Team, the Hood Canal Coordinating Council, relevant city and county governments, and other appropriate entities invited by the Department.
For more information & updates on this bill, click here for more (it'll send you to a pdf to download).
On the road again: The FHHS roundball teams wrap up their regular season tomorrow at Shoreline Christian, whom they played last night in a make-up of last month's snow-cancelled game.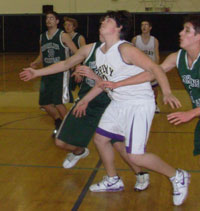 The girls had a rough time of it with the league-leaders, while the boys cruised to a 20-point victory, which ended with the future on the floor: sophs Ryan Aylward, Pablo Lopez, Zac Hayes, Jordan Nash and frosh Parker Lawson played the last two minutes. That's soph Richie Ochoa earlier in the game, angling for a rebound.
Meanwhile, the wrestlers are at Castle Rock for the regionals.
Movie & chow at the Library: A chili supper, a showing of "An Inconvenient Truth", and a discussion with local scientists about global warming, is being held Saturday evening, Feb. 10, presented by the San Juan Island Library and the San Juan Island Democrats.
Sarah Gilman from Friday Harbor Labs and Shannon FitzGerald from San Juan County Community Development and Planning Department will present their perspectives and research on various aspects of the climate crisis locally and around the world.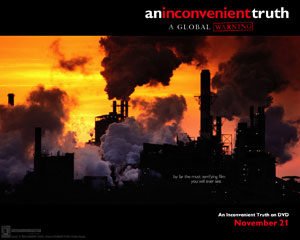 The moderator will be Ron Zee, manager of the San Juan Islands Conservation District, and also chair of the San Juan County Democrats. Zee attended a Nashville training session in December with former vice president Al Gore who has spent the last 18 months traveling the world to carry the message of global warming.
The chili dinner, a fund raiser for local Democrats, starts at 5:15 in the community room of the library.
The cost for that is $10 with pre-purchased tickets from Griffin Bay Books or Garden Path Café. Tickets at the door will be $12. The film and discussion will be held in the main part of the library and are free to the public.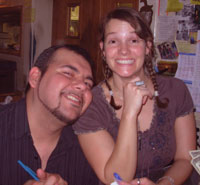 At Mi Casita's: That's Richard & Ann smiling as they take my dough last night at Mi Casita.
Quote: Man is flying too fast for a world that is round. Soon he will catch up with himself in a great rear end collision. - James Thurber
February 7, 2007
No crying over spelt milk:
Mike Griffin sent in this news about our champion spellers:
A couple of Tuesdays ago, each of the local 4th through 8th grade classrooms sent their spelling champions to the Main Stage of the theatre for the 2nd Annual Friday Harbor Spelling championship. By the 18th round, the 29 spellers had been reduced to just 2 finalists, locked in a verbal battle across the solitary microphone.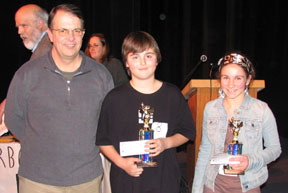 Friday Harbor Elementary School 5th grader Katie Lamphere and Friday Harbor Middle School 6th grader Michael Barsamian fought it out for another 10 rounds before the word "fluorescent" allowed Michael to take the lead. He then successfully spelled "delirium" to clinch the title, the trophy, and top prize money. (That's Rotary's Mike Close with Michael & Katie, in a photo by Mike Griffin.)
The Rotary Club of the San Juan Islands sponsors the local spelling bee event, and donated prize money of $875 to the schools of the 1st and 2nd place winners for support of the school literacy programs.
Speaking of school: The FHHS teams played Darrington last night, with the boys handily beating the Loggers by keeping a ten-point (or so) cushion throughout the game. The girls closed an eight-point gap with three to go to one, but were unable to put away the Lady Loggers in the last seconds.
When I was at the game, I got wrestlers Chris Newman, Mike Fyrqvist, Jacob Foley and Kyle Miller to pose for a picture with coach Gordy Banry, but my camera's batteries expired on me. Luckily, that won't keep our district winners (those guys) from heading to regionals this weekend. Good luck, guys!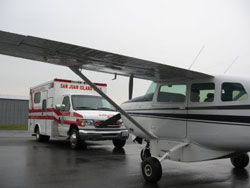 Island Air provides air ambulance service: Sometimes you gotta get there fast, and now you can. Island Air is helping fill a gap for getting folks to the mainland for medical emergencies...here's the scoop.
Open House at The Whale Museum: The Whale Museum is inviting the community to attend their open house on Tuesday, February 13, from 3:30 p.m. until 5:00 p.m. to meet the Museum's new Director Jenny Atkinson. Attendees will also get a sneak peek at what's new at the Museum prior to the reopening for the season. The Whale Museum will reopen to the public on February 16.
More lunch to munch: The Backdoor Kitchen tells me they re-opened for lunch this week. They will be serving lunch Monday thru Thursday 11-3. Dinner will begin in early March.
If it's the dead of winter, baseball must be just around the corner: You can keep up with the island Little League with their new website at http://www.fridayharborlittleleague.com/ ...you're registered to play, aren't you? Check it out! (Thanks to John Sandifer for sending it over!)
Ferry People to discuss rate increases: The Friday Harbor meeting (when the WSF folks come) is set for next Monday at 2 at the Mullis Center, and we'd like to present them with this petition. It's important you sign it, to support the notion that continued increases in the ferry fares just whack us economically & decrease our chances of making things work, here.
Petitions are available to sign at: Anne Sheridan Photography, Garden Path Cafe, Griffin Bay Books, Harbor Rental, Vic's, and By Design.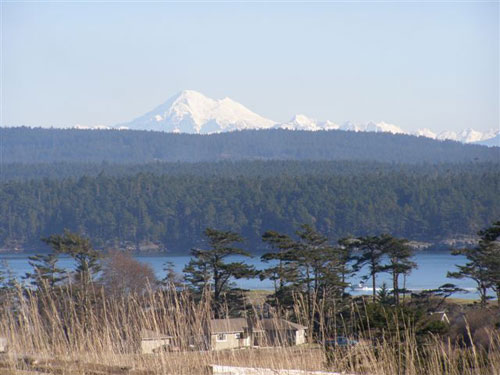 Mount Baker, as seen from the south end of the island, with Lopez Island helping
provide some of the horizon. Photo by Claire Foster.
Victoria checks in from New York: It's always good to hear from Victoria Compton (her married name is Jorasch, these days):
Hiya Ian!
I hope everything's going well with you. I sure miss you guys. It's about 17 degrees here, and New Yorkers' attitudes are even chillier! I'm just writing to tell you about something funny that happened, in a small world kinda way.
I just finished my website (www.victoriacompton.com), and wanted to add a touch of music to the intro, so I googled an independent musician, Robert Rich, whom I like and whose music was perfect for my site. I found his email address and asked if I could buy the rights to one of his pieces, Requiem, or trade for artwork. He kindly wrote back and said, sure, he'd trade for some artwork.
I got busy on a few drawings that he might like, and in the meantime, he googled me and discovered that I was from San Juan Island originally. Here's the wacky part: his mom and dad, Dick & Sue Rich live on the island and are very active in the community. Also wacky: Robert lives in Palo Alto, where my husband, James, is from (James is also agitating to move there in a few years...I'm working on converting him to the PNW, though).
How's that for small world stuff!
Anyhoo, I know I've said it before, but I'm really, really homesick! If anyone wants to come to NYC for a visit, we have a spare bedroom and a view of the Empire State Building.
Love, Victoria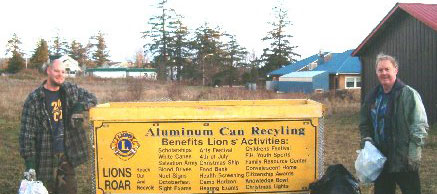 Recycling - five tons worth: Frank Penwell (right, with son Rob) has a earth-friendly tale to tell:
The San Juan Lions Club wishes to thank all the island residents and visitors who are making our Aluminum can collection program, ROAR (Reach Out And Recycle), a tremendous success. In 2006, the San Juan Lions collected approximately FIVE TONS of aluminum cans and brought to Skagit Steel & Recycling in Burlington.
Special thanks to the Senior Center, the Town of Friday Harbor Town Council, San Juan County Officials and Consignment Treasures for allowing us to place our collection bins at the Food Bank, the Sanitation Site and Consignment Treasures. The Lions Club are also accepting other types of aluminum at Consignment Treasures located at 6739 Roche Harbor Road.
This project is an Island "Win, Win, Win" project.
• Helps preserve our environment,
• Provides funds for Lion's community projects,
• Saves the tax payers dump hauling costs.
Please encourage your friends, neighbors and visiting guests to help our environment by recycling aluminum cans. Look for the ROAR recycle bins on the island. (No bottles or tin cans please.)
Thank you so much.
ROARing with you, San Juan Lion President, Jim Carroll
ROAR Founder & San Juan Lion First Vice President, Frank Penwell
Angie checks in: Remember Angie Gogerty from here? She lives in Longview working at the prosecuting attorney's office, but writes some pretty nice things for me to share with you, including a poem that sums it all up:
Hi Ian! If you remember, I wrote you quite a while ago when I found your website. I grew up on San Juan Island and was so happy to be able to continue seeing what was going on through your site! My daughter Katie Cain is 17 and going through confirmation.
As I was writing her letter (they go on a retreat this weekend and parents/family/friends were asked to write letters) I decided to include for her my favorite poem. As I reviewed it I realized why I love it so much. It's because it reminds me of my childhood on the island, which was so special. My twin sister and I would spend summers running through fields and picking flowers, using our imagination. That is what children should do all day!
The poem is "Out in the Fields with God" by Elizabeth Barrett Browning. I am sure you have seen it, but let me know if you agree about it describing life in the islands……

Out in the Fields with God
by Elizabeth Barrett Browning

The little cares that fretted me,
I lost them yesterday
Among the fields above the sea,
Among the winds at play;
Among the lowing of the herds,
The rustling of the trees,
Among the singing of the birds,
The humming of the bees,

The foolish fears of what may pass,
I cast them all away
Among the clover-scented grass,
Among the new mown hay;
Among the hushing of the corn
Where drowsy poppies nod,
Where ill thoughts die and good are born,
Out in the fields with God.
Workshop Opportunities at San Juan Community Theatre: There are two workshop opportunities this month to learn how things work behind the scenes at San Juan Community Theatre.
On Tuesday, February 13, at 7:00 p.m. Don McLaskey will lead a free workshop to introduce people to stage lighting. Participants will learn how different lighting elements create different effects as well as how to operate the light board that controls the stage lights. For more information, call Don at 378-3211, ext. 22.
A two-day workshop in stage management will be taught by Melissa McKay February 17 and 18 from 10:00 a.m. to 4:30 p.m. There is a $35 participation fee for this detailed instruction on how the stage manager works with the director during rehearsal to prepare to run performances. Melissa will teach you how to turn your organizational and communication skills to keep rehearsals and productions running smoothly. Please register for this workshop by February 15.
To register for either workshop, sign up at the Box Office Tuesday-Friday, 11-4, Saturdays 11-2, and one hour before any performance, or call 378-3210.
Quote: "You must be the change you want to see in the world, dear." - Gandhi, to his wife