March 6, 2007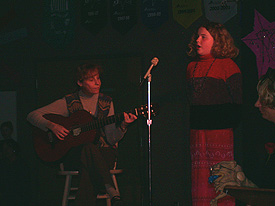 Passing: To hear that Marcia Zakarison passed away yesterday is to hear that someone passed away too young. Her unexpected death at 50 leaves the island community without a gifted healer & leaves Tom and Alaina & Emily without a loving, involved wife & mom. That's her on the guitar backing up Emily back in 2003 at a talent show (right).
We'll be missing more than a doctor; we'll be missing our friend. She touched so many people here.
New vacation rental: Stephanie & Jack Piconi know a little about lodging - they built up Lakedale both as a campground & a resort before selling it a few years ago. Now they're back it, with their vacation rental they call Haro Strait Haiku over on the west side. Here's the details - looks like a nice place to stay.
Meanwhile, Jack tells me that Cember (FHHS grad, about ten years ago) is on the cusp of graduating in environmental law at the Golden Gate University School of Law in San Francisco, and taking her bar exam in the summer. Pretty cool....
Pelindaba news: See the sculpture further down this page, out at the lavender fields? That was done by Micajah Bienvenu - here's a bit more about him, from his webpage.
Also, at Pelindaba this Friday at 7, there will be an environmental forum about the Western Bluebird Re-introduction Project. Their remarks about the project:

Western Bluebirds were common in San Juan County until the 1960s. As part of a project to emphasis Garry Oak/grassland habitat, four partners are working to re-introduce these beautiful, blues gem to San Juan County.
The four include Barbara Jensen of the San Juan Islands Audubon, Kathleen Foley of San Juan Preservation Trust, Bob Altman of the American Bird Conservancy and Gary Slater with the Ecostudies Institute.
These four partners will be leading a presentation and discussion of issues surrounding their work and the current status of Western Bluebirds.
Come early for good seats and try our hand-warming Lavender Hot Cider!
Quote: What is the poem, after it is written? That is the question. Not where it came from or why. - Allen Tate
March 5, 2007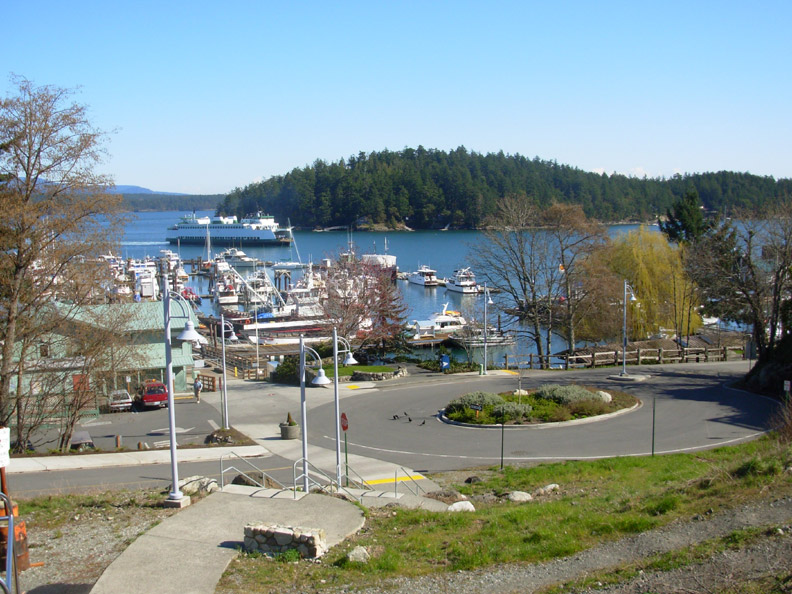 Sidney run back in, for this year: It's running this spring & summer for sure...here's the deal. After leasing the terminal in Sidney, BC for years, this winter it was announced that BC Ferries is picking up the lease this year. This immediately raised questions about what the Washington State Ferries will do with its Anacortes-Orcas-Friday Harbor-Sidney run. Some of those questions remain.
I called WSF spokesperson Susan Harris, who tells me the run will be re-instated next month on April 1 as planned (the ferry doesn't run through the winter) and will be on schedule this spring and this summer, as planned. The lease with the Port of Sidney actually runs out in early autumn. Susan says negotiations are underway with the BC Ferries for what the picture looks like after that. She wouldn't speculate about how those negotiations might end up - keep the run, but dock in a BC Ferries-run terminal in BC? Possibly a BC Ferry coming over to Anacortes? Ditch the whole thing? She was mum about all that.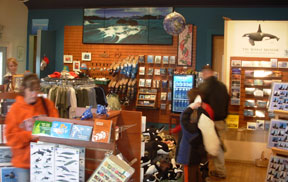 Whale Museum - looking good! I went by the Museum this weekend to check out how the exhibit hall was looking after its usual winter facelift, and I gotta say, I think you'll like it. There's a new and improved area for kids to do projects, color & play, and the Storm Boy presentation at the entrance reminds you that storytelling about the whales plays such an important part of what we learn & know about these animals (and when you're called a killer whale, you need good PR).
I like what Sue's got going in the gift store as well (right) - it's well-stocked with high quality gifts & pictures, for this time of year. And...the place was busy this past Saturday - a good sign for the coming season.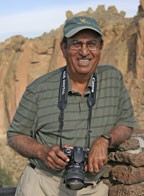 The pictures tell the story: You've seen his pictures the last three years on the walls at the Golden Triangle Restaurant in downtown Friday Harbor when you've gone there for your Thai food fix - now you can see a more complete portfolio online.
Anand Khokha lives on the west side of the island, and has made some wonderful trips around the world. His photos center on the faces of the people he encounters. He engages with the people he meets, and as you can see on his site, he seems to capture not only their image but their spirit.
Sometimes joyful, sometimes sad, sometimes spiritual, always engaging. Take the time to look over his pictures & see what you think.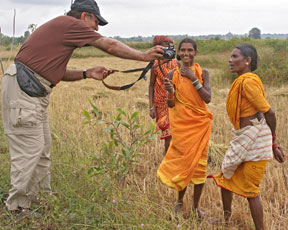 Besides that, he offers the proceeds from the sale of his photos to an orphanage in India...that's written up in the website as well. Great stuff, by a great photographer. See what you think.
Last weekend - good turnout for Trail Run at Moran Park: There were a bunch of islanders among the 113 runners who ran did the 25K & 50K Second Annual Orcas Island Trail Runs at Moran State Park, the last weekend of February.
Familiar names on the results list: Clark Gilbert, Laura Tretter, Jesse Buffum, Randy Gaylord, Jane Hutchinson, Paul Hopkins, and Chris Schoff; Park Ranger Chris Guidotti was part of the Moran State Park crew that helped clear the trails to ready them for the race, afetr all the storms this winter.
Here's more about the run, and here's their website with results.
This is the part I found interesting - the topography of the race course.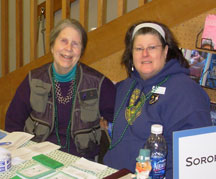 Soroptimists selling tickets, still: You know they sell out most years, so get yours - tickets to the St. Patrick's Dinner & Auction, on the 17th. That's Emily & Jana selling their tickets at King's on Saturday.

Their main fund-raising event of the year, also known as "Corned Beef and Cabbage," features traditional foods as well as a vegetarian option. There are 2 seatings for dinner with entertainment. There is a silent auction and a live auction.
Sixgill shark washed ashore in Shelton: If you read the Update, I know you like marine biology-related stuff, so I wanted to share this press release from down near Shelton. Here's more, from the Orca Network folks:
A 14-foot sixgill shark, possibly the largest ever seen in the Puget Sound region, died shortly after it was found near Shelton.
Residents of Hammersley Inlet near Shelton were surprised and excited when a massive sixgill shark, one of the largest ever seen in Puget Sound, washed up on their beach last week.
The "very pregnant" female, more than 14 feet long, apparently had left its normal habitat in ocean waters up to 3,000 feet deep to give birth in the protected habitat of Puget Sound, according to Greg Bargmann, marine fish biologist with the Washington Department of Fish and Wildlife.
"This is the largest one I've ever seen in Puget Sound," Bargmann said. "We have been doing shark projects for years, and we have never been able to find an adult male or female. This is very exciting."
"I have been looking for an adult for years," Bargmann said. "It is kind of sad that it died before giving birth, but we will get a tremendous amount of information from this."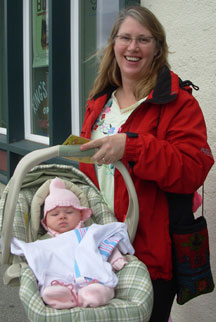 During the examination, Bargmann found 76 unborn sharks dead inside the female. Another four had been extruded on the beach. He said he always questioned reports of sixgill sharks giving birth to more than 100 "pups," as they're called, but now he's convinced it could happen.
Looking great: Maybe the baby's a little sleepy, but Shannon Calverly showed me how Tasha's growing, and smiling in her sleep. (right).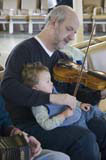 Irish Music Camp kicks off today: That wonderful camp that Randal Bays and Dan Paulson started in '02 begins workshops today over at the Marine Labs. The music spills into local watering holes & the Comminuty Theatre during the week, and there's dancing at the Grange as well. Here's the website with all the details - see you there. Beautiful music, beautiful idea, a great week for the people who come.
Quote: Equality, rightly understood as our founding fathers understood it, leads to liberty and to the emancipation of creative differences; wrongly understood, as it has been so tragically in our time, it leads first to conformity and then to despotism. - Barry Goldwater
March 2, 2007
Elderhostel happening: Randy from Skagit Valley College's Elderhostel program asked me to share this with you (this all goes with the boat, below):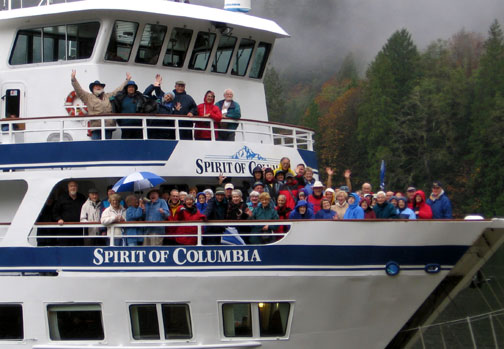 Yearning for Learning? Find Out More about Lifelong Learning Adventures with Skagit Valley College, Elderhostel, and Road Scholar Programs at Information EventArea adults who are age 55+ can find out about exciting lifelong learning adventures at an event at the Mullis Center on March 23 from 9:00-11:30 AM. Sponsored by Skagit Valley College, the forum will be moderated by Maria Small, a local Elderhostel "Ambassador". The program will describe local Lifelong Learning opportunities, as well as those available throughout the region, the country, and the world.
Admission to the event is free. Refreshments and door prizes will be provided. Elderhostel is the world's leading provider of educational travel opportunities for adults age 55 and over. The not-for-profit organization, which collaborates with nearly 2,000 educational and cultural institutions worldwide, offers short-term programs – from a few nights to several weeks in length – that explore subjects ranging from astronomy and aviation to winemaking and zoo studies. For more information, call Randy Martin at Skagit Valley College/San Juan at 378-3265.
Show on Saturday: The Cemetary Club starts this weekend with a preview on Saturday - check it out.
Stuff tomorrow: I know I'm dropping by the Farmers' Market at the Grange at 10-1, and there's the Relay for Life Kickoff...here's the story about that, from Sharon:
San Juan County's Relay for Life is set for July 28 and 29 in Friday Harbor, but now is the time to gather together and get motivated. This year's Kickoff takes place from 1 to 4 p.m. Saturday, March 3 at the Inns of Friday Harbor at 410 Spring Street. Please join us for food, fun, prizes and entertainment.
Relay is an overnight community celebration where individuals and teams camp out, barbeque, dance, and take turns walking around a track relay-style to raise funds to fight cancer. At nightfall, participants will light hundreds of luminaria around the track in a moving ceremony to honor cancer survivors as well as friends and family members who have lost the battle.
If you wonder what it is like to participate, come to the Kickoff and talk to others. If you've been involved before, the Kickoff is a good time to reconnect with other relayers. For more information about this year's Relay visit www.sjirelay.org.
Quote: "The animals that depend on instinct have an inherent knowledge of the laws of economics and of how to apply them; Man, with his powers of reason, has reduced economics to the level of a farce which is at once funnier and more tragic than Tobacco Road." - James Thurber
March 1, 2007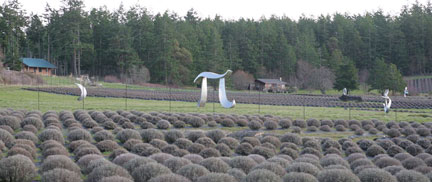 New sculpture at Pelindaba: My friend Marie DiCristina sent me this nice photo of new sculpture out at Pelindaba, so I asked Stephen Robins what the deal was, and he replied:
Sculptor is Micajah Bienvenue who lives on the island. Name of the main piece is "Pi in the Sky." In addition to Pelindaba Lavender Farm (where most of his pieces are on exhibit for sale), his work is in front of the Theatre and, I believe, recently at Whidbey Island Bank near MarketPlace.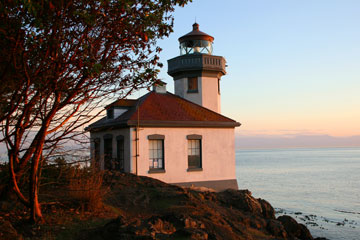 Another cool place to eat lunch: New Golf Club manager Paul Hopkins says they're open for lunch, starting today...drop by & see 'em!
Great photos: Sandy Buckley just added some new photos to her site, shot down near Cattle Point...if you haven't seen her stuff, you really should check it out.
I love her composition & colors, like her shot of the Lime Kiln lighthouse here.
Wow.
Lecture at the Labs: I love the lectures they offer every so often at the Marine Labs. Today at 7, labs director Ken Sebens is presenting in The Commons. His title is: "A swan song for coral ensembles? The present and future of corals and coral reefs."
This is the third in the San Juan Nature Institute's Winter Lecture Series and all are welcome.
Woolley problem: Does it bother anybody but me that the woolley mammoth they found in Eastern Washington in 1878 is housed not in Spokane or somewhere local, but in the Chicago Natural History Museum?
Poem for you: This is the e. e cummings poem several of you asked me about...it's like he knew what it's like to live on an island....
i thank You God for most this amazing
day:for the leaping greenly spirits of trees
and a blue true dream of sky;and for everything
which is natural which is infinite which is yes

(i who have died am alive again today,
and this is the sun's birthday;this is the birth
day of life and of love and wings:and of the gay
great happening illimitably earth)

how should tasting touching hearing seeing
breathing any--lifted from the no
of allnothing--human merely being
doubt unimaginable You?

(now the ears of my ears awake and
now the eyes of my eyes are opened)
Teen Writing Contest winners announced: The 2007 winners are in for this year's writing contest! Here's the word & the winners from Shannan at the library:
Hello again!

Well, I've managed to at least leave a message now for all of the winners of this year's writing contest. We had a great selection of poems and short stories to choose from and some very tough decisions, but here is the list of the winners with congratulations to all!
Hear My Words
San Juan Island Library Teen Writing Contest • 2007 Winners

High School: Poetry

1st place: Kelsey Kennedy for "Island Girl"
2nd place: Rebecca Mason for "Infidelity"
3rd place: Addison Rankin for "Por Que"

High School: Short Story

1st place: Katya Moghadam for "Dylan Fishing"
2nd place: Katie Johnson for "Everything Beautiful"
3rd place: Bryce Fintel for "Archetypal International Airport"

Middle School: Poetry

1st place: Margaret Nash for "Softball"
2nd place: Petrea Islam for "Child of Sea"
3rd place: Nicole Le Baron for "The sorrows of time"

Middle School: Short Story

1st place: Megan Cuomo for "Murder"
2nd place: Nana Eisenhauer for "Boarding School"
3rd place: Julian Perren for "The Legend"

All of the winners are being given first chance to attend a writing workshop at the library with Author Terry Trueman on March 15th after school. Also, as soon as I can type them all up and check for typos, all of the winners will be published into a book that will be added to the library's shelves!

Congratulations to our talented student writers! And to the teachers who guide them!

Cheers, Shannan
Quote: What is the difference between genius and stupidity? Genius has limits. - Albert Einstein.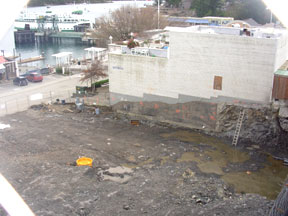 February 28, 2007
A hole to be filled: You saw it from the ferry - there's a big hole just across from Downrigger's, just below Vinny's...that's the spot where a new complex will be set up with shops and condos this spring. Here's what it'll look like when the work is done.
Celebrating Candy: Pat McDole tells me that Key Bank will hold an all-day open house on Thursday to celebrate Candy Dossett's 45 years with the bank - the 1964 graduate of FHHS has been working at banks in their different forms since 1962 in town, including San Juan County Bank when it was located in the present Coldwell Banker building (looks like a bank, doesn't it? That building is 100 years old this year....)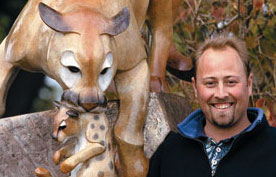 Pat told me she really liked the Journal's writeup about Candy online (see it here), especially the line that she's been a constant in a sea of change. I liked the way the article puts her career in the context of things changing here on the island, in our last half-century of history. Drop by tomorrow & congratulate her for a long and productive time!
More new work: Remember when Napier Gallery was across from the Market Chef, with all those cool bronzes Jason would make? Well, he's still creating beautiful sculptures, as you can see on his updated website. He & Danielle are on the road now doing art shows, but will be back on-island next month.
New masthead: Somebody told me they thought the new masthead at the top of this page looks like people hiking in the desert in Utah. Actually, that's folks at sunset at South Beach late last summer, but if we end up with too many desert people, I'll tell the Utah Visitors Bureau.
Walk-on tickets: Looks like I have about 5-6 passenger spots on one of the new electronic ferry tickets - I can't use 'em before they expire Friday! Call me at 7275 & we can make a deal.
Quote: Do you know the difference between education and experience? Education is when you read the fine print; experience is what you get when you don't. - Pete Seeger
February 27, 2007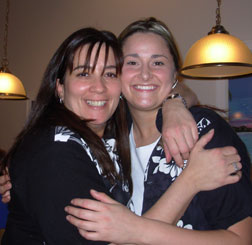 Off to the Bahamas: Ace waitress Sara Totten (right) over at Jimmy's at the bowling alley won a trip to the Bahamas, and left on Saturday. Her buddy Bridget's probably smiling because of all the shifts she'll cover while Sara's gone...
Coming to run: The San Juan Island Marathon is set for the first week of June, and Maple Valley's Chris Holland is training for it. Here's his blog.
Working on the salmon treaty: Yep, the US & our friends in Canada are back at it, working on a salmon treaty - much needed to try to revive depleted stocks on both sides of the border. Here's the scoop.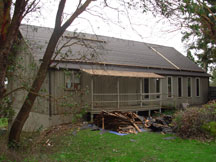 The Reformation, redux: It's all in progress, now, but senior warden Steve Simpson says the renovations going on at St. David's Episcopal Church will allow the building to offer more chances to host community events. (That's the view from behind, last Sunday.)
Both the sanctuary & the undercroft are being enlarged, and the parking lot will be moved behind the building so that the spot where it is now can be used for outside, yard-based events. The 1960s-era church will have some structural refurbishing as well - the church is presently meeting at the old Pig War Museum, now used as the theater for the Benefit Players Theater, and will for some months; completion is hoped for by mid-summer.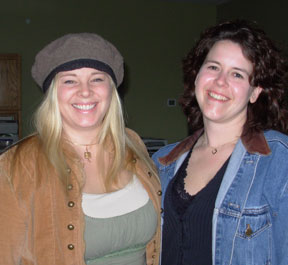 Getting married: It was nice to visit last weekend with newly-to-be newlyweds & former islanders Kimberly Cincilla and Kristina Thalacker (right, left to right, right?) - Dr. Kimberly's practicing chiropractic & Kristina's practicing law down in the Seattle area (I reckon they'll keep practicing till they're really good at it, which is cool 'cause they're already pretty good....).
They have wedding plans ahead: Kristina's planning an island wedding with her fella Ron in September, while Dr. K just got asked (and accepted!) by her fella Jason to get hitched.
Got your tickets? The eighth annual St. Patrick's Day Extravaganza, sponsored by Soroptimist International of Friday Harbor, will take place Saturday, March 17 at the San Juan Island Yacht Club. As in previous years there will be two seatings for this event. Both seatings include a full holiday dinner, dinner music, and raffle drawings. A cash bar will be available.
The first seating, from 4:30 to 6:00 p.m., will feature the Island Irish Session and a silent auction. Tickets for the first seating cost: Adults $15, Seniors (62 plus) and Children (under 12) $10.
The second seating, beginning at 6:30 p.m., will feature dinner music by Island Irish Session. A live auction follows. Tickets for the second seating cost: Adults $20, Seniors (62 plus) and Children (under 12) $15.
Tickets are available at The Toy Box, The Garuda & I and from Soroptimist members. Tickets will also be sold at the following times: Friday Harbor Marketplace and Kings Market on Saturday, March 3rd and Saturday, March 10th; Friday Harbor Marketplace on Friday, March 16. Unsold tickets will be available at the door. Raffle tickets will also be available at the markets during ticket sales and at the Yacht Club the night of the event.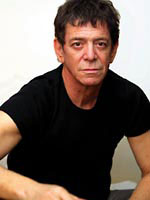 The St. Patrick's Day Extravaganza is the Soroptimist primary fund-raiser of the year. Proceeds will be used to provide local scholarships and fund a wide variety of programs to help islanders in need.
Plan to support this event by attending with your family and friends. If you are unable to come to the party, consider purchasing tickets for others who would like to attend. For more information, please call Mitzi Johnson at 378-5442.
That's Claudia Piff and Kristen Mouk above, selling tickets at Marketplace.
Quote: One of my rules is: Never listen to your old stuff. - Lou Reed, rock singer/songwriter (right)